App-based ride services like Uber and Lyft have begun to dominate the taxi market in the USA, but in Asia, Grab is the app to have. Grab, which was formerly known as GrabTaxi, is an Uber-like service that offers rides, lifts, and on-demand taxi service with flat rate fees based on the car, the city, and waiting times. Unlike local taxi which can be unreliable in many cities, Grab allows you to quickly book a ride from your app, wait for it, and then pay through the app or use cash. This feature makes it safer for foreigners to travel, simply because you would not have to worry about hailing an illegitimate taxi. Grab vets all of its drivers, and with flat rate payments, you would not have to worry about being charged more than you owe.
History of Grab
In 2011, Anthony Tan, then a Harvard Student, drew out an idea for an Uber-based taxi booking app after a classmate complained about the difficulties of hailing a taxi in Malaysia. Tan eventually drew up a booking service, which he pitched at the 2011 Harvard Business Plan Competition, placing second, which helped him to earn angel investors. The service launched in 2012 as MyTeksi, and quickly expanded as GrabTaxi, and then as Grab.
Today, Grab operates in 30 cities throughout Malaysia, Philippines, India, Thailand, Singapore, Vietnam, and Indonesia.
How it Works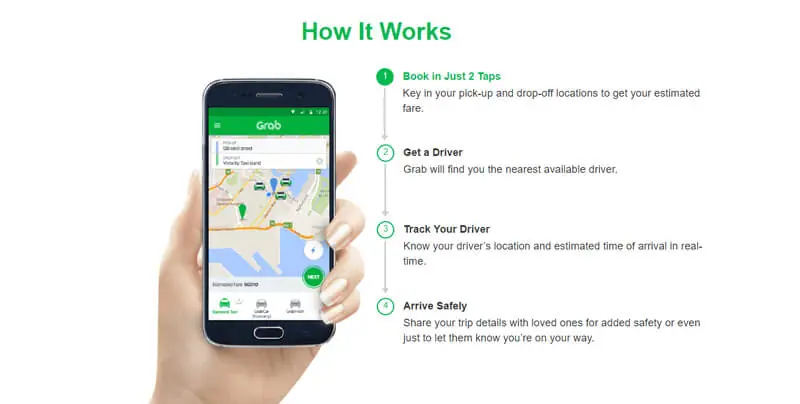 Grab allows you to book a taxi up to 7 days in advance using their app and GPS services. You can choose the starting point, drop off point, time, and select whether your travel is for personal or business reasons. You can also leave notes to the driver to specify what you will look like or where you will be. You just simply need to download the Grab app (Apple and Android), sign up (Google, Facebook, Mobile Number) and verify your mobile number.
Start Using Grab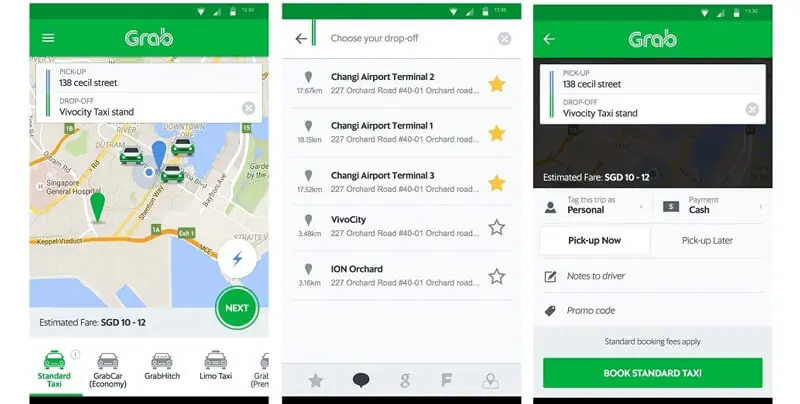 Once you input your starting point and drop off point, you can continue to choose your car type, will see your flat rate fare. The app also shows you how many drivers are in your area. Grab will choose the closest driver to your pickup location (even if you are booking from another country) and you can choose Cash or GrabPay, which you will have to set up before using.
From there, all you have to do is wait for your ride. The driver will mark you as picked up when they get there and mark you as dropped off when you arrive at your stop, which you can confirm in your app. After your ride, Grab will automatically bill your credit card using GrabPay, or you will pay in cash based on the option you chose in advance. It's so simple!
Grab Car and Taxi Options
Grab offers a variety of car and taxi options intended for most types of users. It allows you to choose the best option for your needs and budget.
GrabCar is the standard unlicensed car service offered by Grab, which operates similarly to Uber. Drivers must register to use their car or rent one, verify their information, and purchase commercial insurance. From there, they can offer rides through the app, and show themselves as available when they are out to look for a rider. GrabCar offers a great deal in terms of ride and car options.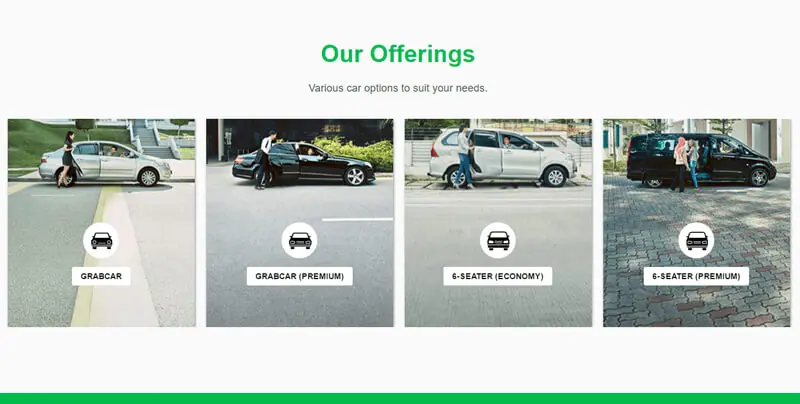 GrabTaxi is a service that pairs with many licensed taxi services in most of their cities, allowing you to get a professional, licensed taxi through the app. GrabTaxi includes Citicab, Premier, Trans-Cab, SMRT, and some other services depending on where you are, and you can choose between the standard GrabTaxi or the LimoTaxi.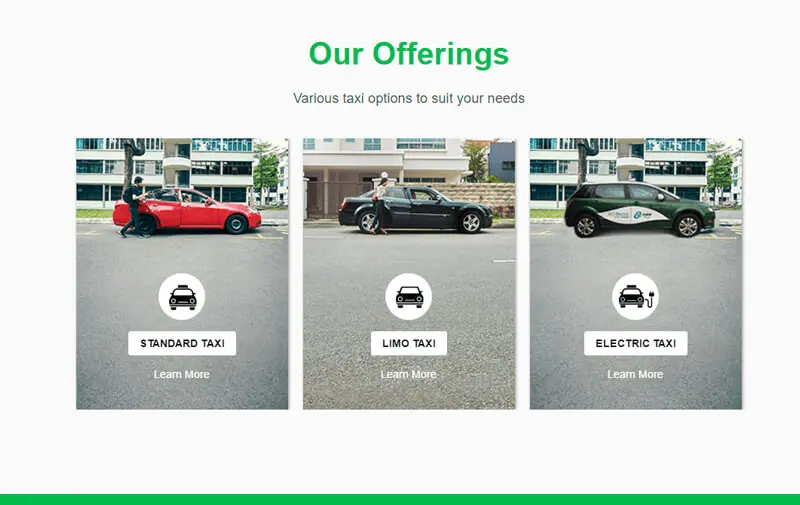 GrabHitch is a social ride-sharing option offered through Grab that you can use to book cheaper rides. GrabHitch works by connecting you with another driver who is going in the same direction, allowing you to get a ride from private drivers who are conducting personal errands. GrabHitch has longer wait times than GrabTaxi or GrabCar, but does typically cost 20-40% less per ride.
Grab also offers GrabBike (motorcycle), and GrabExpress (courier service) depending on the area. However, service availability depends on the country and the city.
Advantages of Grab
Grab has a lot of benefits, most of which include easy booking, insured drivers, rider ratings, and low or at least confirmed wait times.
Licensed and Insured Drivers – Grab drivers are required to register as a local business, convert their car to a commercial business, sign up in person at the Grab office, and purchase commercial insurance to cover you and your belongings. If you choose GrabTaxi, you are also connecting with licensed Taxi drivers, not with inexperienced drivers. However, GrabHitch does not include this protection.
Flat rate fees – Grab uses flat rate fees that you can see upfront before your ride. This feature takes the surprise out of many taxi fares, and allows you to choose a ride that best suits your economic means.
Shorter wait times – With over 30,000 drivers in 30 cities, Grab rides are typically readily available.
Rated Drivers – Just like Uber, Grab allows you to rate your driver after riding, which means that drivers who are difficult to ride with have a bad rating.
In Short…
Grab and Uber are two very similar services, and both of them operate in almost the same regions. This similarity also means that consumers have options to choose between them. Grab is an easy to use on-demand car and taxi service that you can use to hail licensed taxis or business driving services in Malaysia, Philippines, India, Thailand, Singapore, Vietnam, and Indonesia. If you're planning to use it, all you have to do is remember to verify and set up your account, and set GrabPay up in advance of booking a rental.