WordPress is an ideal Content Management System (CMS) for businesses, blogs, and personal websites thanks to its vast array of free and premium themes, plugins, and features. WordPress plugins allow you to extend and expand the built-in functionality of the WordPress CMS to create frontend and backend features that can make your site more useful, more secure, and more valuable to you or your business. With over 47,000 plugins in the WordPress Plugin directory, you can download and install almost anything. While many of these plugins are not free, they allow you to benefit from third party development to add thousands of features and services to your site.
If you are not sure where to start, the following includes the top 15 most essential WordPress plugins for any website in 2017.
Search Engine Optimization (SEO)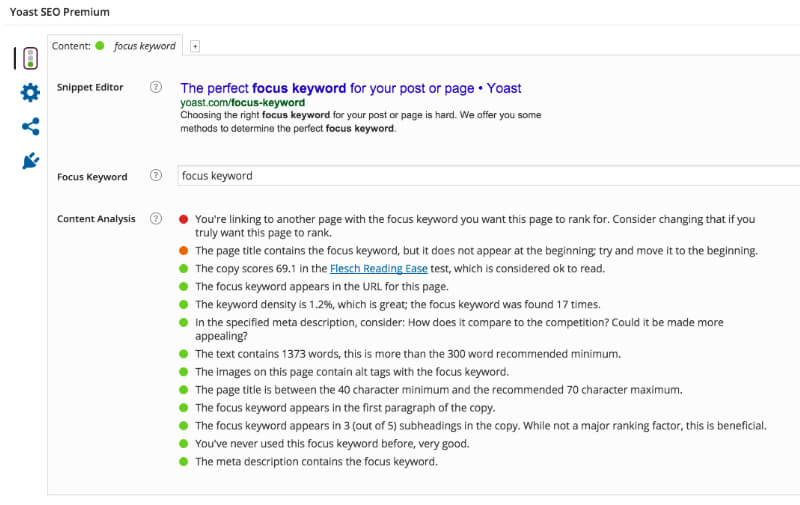 Yoast SEO – Yoast SEO is one of the oldest SEO plugins for WordPress. The plugin works to help website owners optimize their pages and posts for SEO without technical knowledge. Yoast integrates with the backend of WordPress and shows up under your posts and pages. It allows you to analyze content for keywords, check the overall SEO score, configure metadata, check readability, check and optimize links, set categories, clean up links, set sitemaps, and edit robots.txt and .htaccess for better optimization. The premium version includes a redirect feature, the option to set multiple focus keywords, the ability to edit social media preview text, and even premium support from the development team.
Cost: Free or starting from $69 for one website (Find out more)
All in One SEO – The All in One SEO pack is available in a free or Pro version, and just like Yoast SEO, it works to help you optimize your site for search engines. The plugin allows you to access and edit anything from basic to advance items quickly, in short, update your SEO to the best of your technical abilities. All in One SEO includes XML sitemap creation and submission, support for Google Accelerated Mobile Pages, Google Analytics support, custom post types, canonical URLs (useful for mobile sites), redirect support, search engine updates, title optimization, meta tag generation, a duplicate content finder, and much more. For shop owners, it can also integrate directly into e-commerce plugins including WooCommerce. All in One SEO is a plugin pack that includes Nonce Security, XML Sitemaps, Robots.txt, Video Sitemap, Bad Bot Blocker, performance tracking, and much more.
Cost: Free or starting from $97 per year for one website (Find out more)
E-Commerce
WooCommerce – WooCommerce is a powerful plugin that allows you to set up an e-commerce shop using your WordPress website. WooCommerce powers approximately 30% of all online stores, making it one of the most adopted e-commerce platforms available. The plugin provides you everything you need to develop a full feature storefront with products, sales, various shipping options, different payment options, and an inventory management system. WooCommerce also integrates into third-party logistics, inventory management, and analytics to allow full control of your sales and distribution.
Cost: Free + Additional costs for extensions and payment processing fees (Find out more)
Page Builder
Visual Composer – Building a unique website is crucial to standing out on the web, but for anyone who is not a web designer, it can be expensive and time-consuming to hire a web designer and keep them on a payroll for each time you want to update. Visual Composer allows you to build a unique website using a drag-and-drop system to create and build your site. Essentially, it allows you to set up different pages using drag and drop functionality easily, create themes to easily duplicate pages, and control color, style, and other on-page elements without any knowledge of code or PHP.
Cost: $34 Regular for 1 site, $170 Extended for 1 SaaS application (Find out more)
Page Builder by SiteOrigin – Page Builder by Site Origin is a free to premium WordPress page builder with similar drag-and-drop functionality like Visual Composer. The plugin allows you to drag and drop page elements including columns, icons, menu items, and rows to create unique pages for your site, inside of your existing WordPress theme. It also allows you to build buttons, sliders, widgets, and custom headlines to customize your website fully.
Cost: Free or starting from $29 for a single site license (Find out more)
Security
Wordfence Security – Wordfence Security is a security application intended to protect your site from hackers and malicious software. The plugin includes a firewall, a real-time defense feed to monitor live traffic, an application to block brute force attacks, manual blocking, and login security. These features allow you to secure your login pages, block users who fail to sign in correctly (for too many times), prevent many types of hacks and also scan for malicious software. The premium version allows you to block visitors by country, schedule scans, audit passwords, and review IP addresses.
Cost: Free or starting from $99 per year for one site (Find out more)
iThemes Security – iThemes Security makes it easy to secure your WordPress site by protecting it from brute force attacks, fixing common security flaws, protecting user login data, banning known attackers, scanning the site to identify vulnerabilities and much more. With over 30 ways to add security to your site, it gives you a peace of mind. The premium version adds some bonus features such as a two-factor authentication for logins, scheduled scans, security keys, password comparison, and other safety features.
Cost: Free or from $80 per year for the premium version (Find out more)
All In One WP Security & Firewall – This plugin works to block malicious software, brute force attacks, and improve user login security. All in One WP Security & Firewall is designed for any beginner, intermediate, and advanced users, and offers unique features for each. It also provides a security point scoring system to make it easy to see how secure your site is at a glance, without checking various features. Functions include blocking users, host and IP address blocks when users have too many unsuccessful login attempts, user scanning to ensure security, database and file system protection, configurable backup and restore, a .htaccess firewall intended to stop malicious scripts, security scanner, WhoIs lookup, spam protection, and data security.
Cost: Free (Find out more)
Backup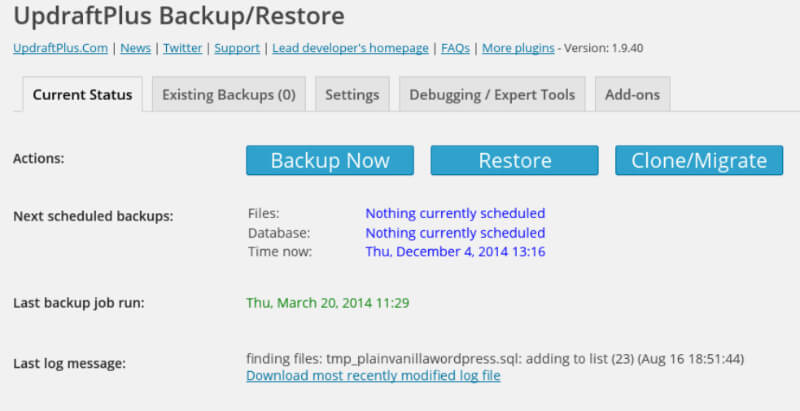 UpdraftPlus – Backing up your website is crucial to ensure that you can restore your site in case of a hack, server attack, or other issues. UpdraftPlus is one of the most popular WordPress site backup plugins, with support for backups to most digital cloud storage platforms as well as to server and hard drive systems. The plugin allows you to customize backups to save specific parts of a website, as well as to schedule backups. The premium version allows for site cloning, data encryption, and set up automatic restore in case of an outage.
Cost: Free to starting from $70 for one site for Premium (Find out more)
Backup Guard – For one-click backups, unlimited backups per website, even cloud backups with little resources usage, BackUp Guard is an easy option for non-technical users. The plugin offers free backup, backup customization, and download/import functionality. You can also purchase a premium license to access website migration, scheduled backups, cloud backups, FTP access, mail notifications, and background mode.
Cost: Free to from $9.95 for a Silver Personal License (Find out more)
WordPress Backup to Dropbox – This free WordPress plugin performs scheduled backups of data and SQL dumps to a Dropbox account. The plugin makes it easy to create cloud backups that you can access and download from anywhere, with simple setup and no technical expertise required. Once your website is backed up, you can download and upload it from any device where you can access your Dropbox account.
Cost: Free (Find out more)
Others
WP Super Cache – Site speed is a concern for search engine optimization as well as for user experience, and WP Super Cache helps you to achieve it by creating a cached version of your website. The plugin generates static HTML files for your website based on your settings and then serves them to most types of visitors so that the site loads more quickly. This feature is advantageous for reducing load times, as static HTML loads much more rapidly than dynamic PHP.
Cost: Free (Find out more)
Google XML Sitemaps – A sitemap is a file that shows Google (and other search engines) where to find pages on your site so that they can 'crawl' the page and add it to their search engine directory. Google XML Sitemaps is a free WordPress plugin that automatically generates and updates your sitemap as you add new pages, it updates Google and Bing and helps to ensure that all of your pages come up in the search results.
Cost: Free (Find out more)
Google Analytics Dashboard for WP – Google Analytics is a powerful tracking tool and the Google Analytics Dashboard for WP allows you to import all of your Analytics data right into WordPress. It is also relatively straightforward to set up, so you do not need anything more than access to your Google Analytics and your WordPress site. By installing this plugin, you will be able to see all your website traffics on your WordPress dashboard.
Cost: Free (Find out more)
Contact Form 7 – Contact Form 7 is a flexible, versatile, and free contact form plugin for WordPress. The plugin allows you to set up one or more contact forms with support for Akismet Spam filtering, Ajax, and CATCHPA to prevent spam. It is also compatible with most themes you can find on the market today.
Cost: Free (Find out more)
Regardless of using free or paid plugins, they allow you to do more with your WordPress site by adding features, increasing security, and making otherwise technical processes like XML and backups simple. You can choose from these or thousands of other options in the WordPress store. However, you should exercise caution when installing plugins, as most are from third-party developers. While this list of 15 essential WordPress plugins is all safe, you should always take the time to double check a plugin by looking it up online before you download it.
Good luck with your WordPress site!