LG Electronics Singapore, a leader in innovative home appliances, unveils its latest addition to its esteemed PuriCare lineup: the LG PuriCare AeroTower 2-in-1 Purifying Fan HIT. Seamlessly integrating cutting-edge technology, the AeroTower HIT represents the pinnacle of innovation, blending fan and air purifier functionalities. Building on the success of the renowned LG PuriCare AeroTower, the AeroTower HIT redefines functionality, style, and convenience, delivering cleaner and fresher air to homes.
Revolutionising home comfort
Breathe easy with the LG PuriCare AeroTower HIT's advanced 3-step Filtration System – comprising the Pre-Filter, 360-degree HEPA (H13) filter, and a Deodorisation Filter to enhance indoor air quality. The AeroTower HIT recognised for its superior filtration capabilities, captures an impressive 99.9% of fine dust and effectively traps particles as small as 0.1 microns.
Moreover, LG's UVnano technology reduces airborne bacteria on the fan blades, providing an extra layer of protection. Equipped with a PM 1.0 Sensor and intelligent LED indicator, it detects and notifies users of airborne contaminants, creating a healthy living environment and safeguarding the household's well-being.
Tailored airflow for every corner
Indulge in personalised comfort with the AeroTower HIT's versatile modes. Whether you are unwinding in the living room or resting in the bedroom, the AeroTower HIT ensures that the air quality remains consistently fresh and pure by adapting to the user's preferences.
With the flexibility to choose between dynamic airflow in Wide mode or a gentle breeze in Natural wind mode, users can tailor any indoor environment to their liking. For moments of tranquillity, the AeroTower HIT offers a pleasantly quiet wind that mimics the soothing natural breeze in Sleep Mode, thanks to its advanced low-noise technology.
The LG PuriCare AeroTower HIT boasts exceptional coverage, surpassing its predecessor's with an area of 23.2 square metres. This expanded reach allows it to effectively purify the air in large living spaces, ensuring pristine air quality in every corner of your home.
Real-time insights and enhanced portability
Stay informed about indoor air quality with the AeroTower HIT's LED type Dust sensor and Illumination Sensor. The LED display offers real-time feedback, allowing users to effortlessly monitor the performance of their air purifier fan to ensure their home always enjoys clean, healthy air.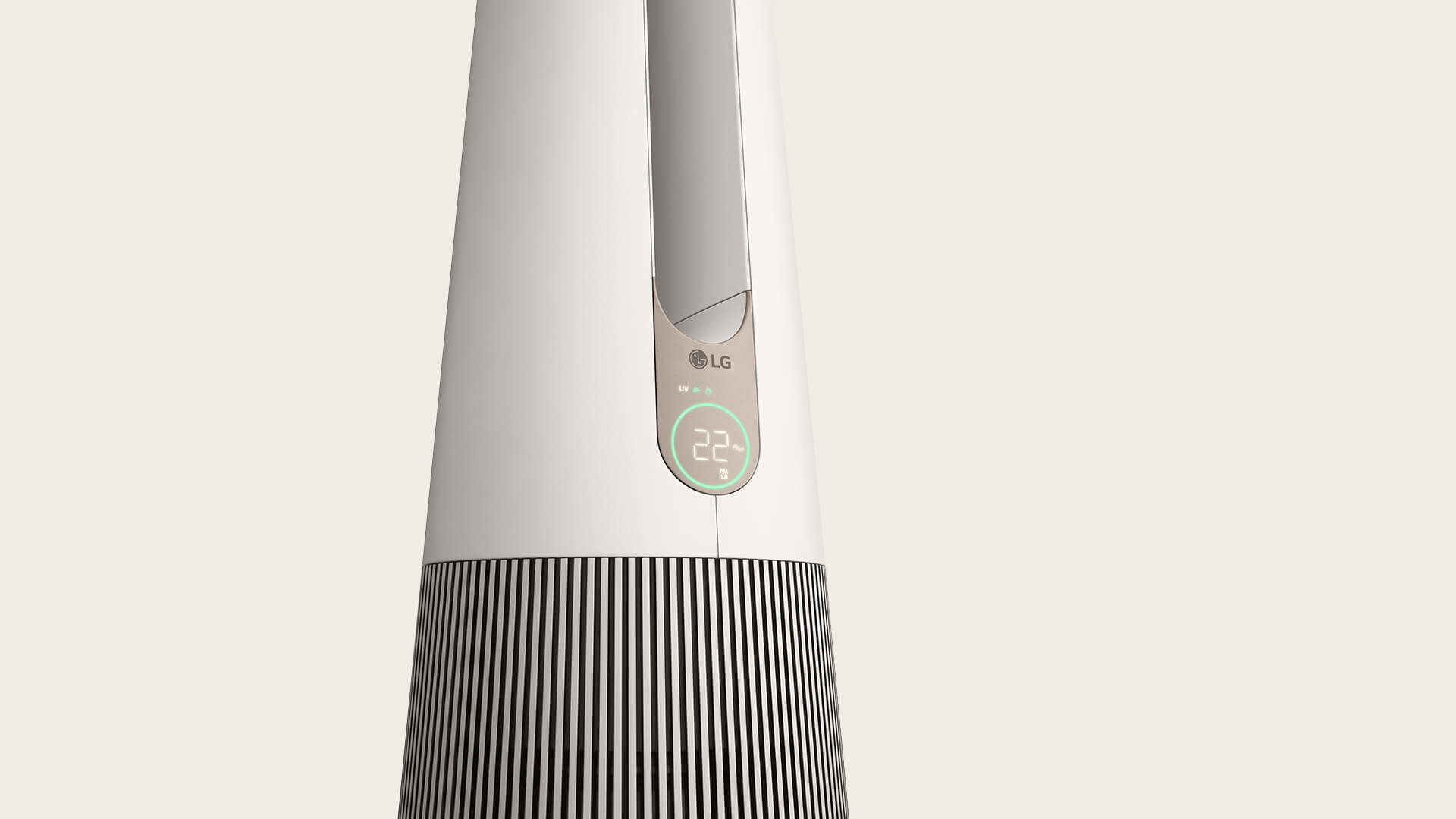 The LG PuriCare AeroTower HIT sets itself apart with its lighter construction compared to the AeroTower, seamlessly combining sleek, contemporary design with enhanced overall performance, making it an ideal addition to any room decor. Its cylindrical base draws in air from all directions while the upper part mimics the wind flow between a canyon's walls, resulting in a powerful yet silent airflow as low as 23dB.
Enhanced smart home experience with LG ThinQ
Seamlessly integrate the LG PuriCare AeroTower HIT into any smart home ecosystem with LG ThinQ. Users can receive filter replacement alerts and remotely control their AeroTower HIT via the LG ThinQ app, ensuring homes always enjoy the freshest air. The AeroTower HIT's Smart Sensing System offers real-time data on PM1.0 levels, odours, temperature, and humidity, empowering users to maintain the air quality of their homes effortlessly.
"LG is dedicated to developing innovative solutions that enhance the quality of life," said Justin Seong Jun Hyuk, Product Director of LG Electronics Air Solutions Company. "The LG PuriCare AeroTower HIT is a testament to our commitment to delivering innovative solutions that cater to the evolving needs of consumers. Experience the future of clean and comfortable living with the AeroTower HIT, where every breath is fresh air."