With its mesmerising blend of history and ultra-modernity, Singapore never ceases to captivate. As one gazes upon its impressive skyline, it's evident that Singapore isn't just a hub for finance and culture and groundbreaking technological advancements. And surprisingly, it's not just the grand feats of engineering that catch one's eye; even something as humble as a water purifier gets a touch of Singaporean innovation. In a city where the humid air often wraps around you like a warm blanket, having immediate access to pristine, refreshing water is nothing short of a blessing.
But how does one navigate the labyrinth of choices? The hunt for that perfect water purifier, a blend of sleek design and unmatched functionality, can be challenging. Within the walls of modern HDB flats and in the expansive lounges of luxurious condominiums, there's a clear trend: Singaporeans are gravitating towards state-of-the-art, aesthetically pleasing, and efficient water purifiers.
Visualise a scenario: An executive, just off a series of virtual calls, reaches out for a glass of chilled water, and the purifier answers promptly. In another home, a parent seeks warm water, just the right temperature, to steep a comforting brew of afternoon tea. It's not just about quenching thirst; it's about integrating quality and convenience into daily rituals. With 2023 on the horizon, the Singaporean market has anticipated these demands, lining up an array of water purifiers, each more impressive than the last, ensuring every household finds its perfect match.
Sterra 7 Tankless Water Purifier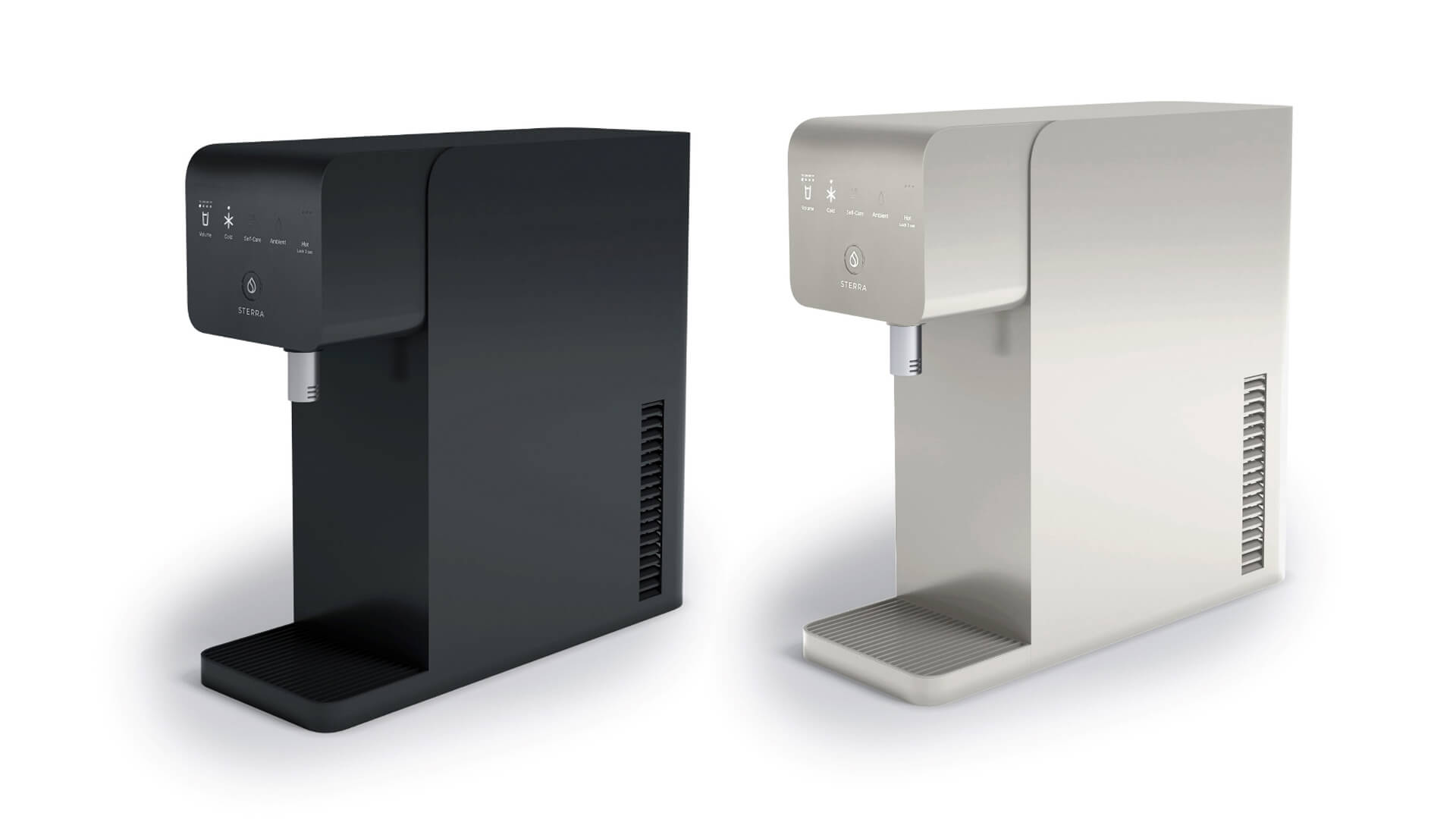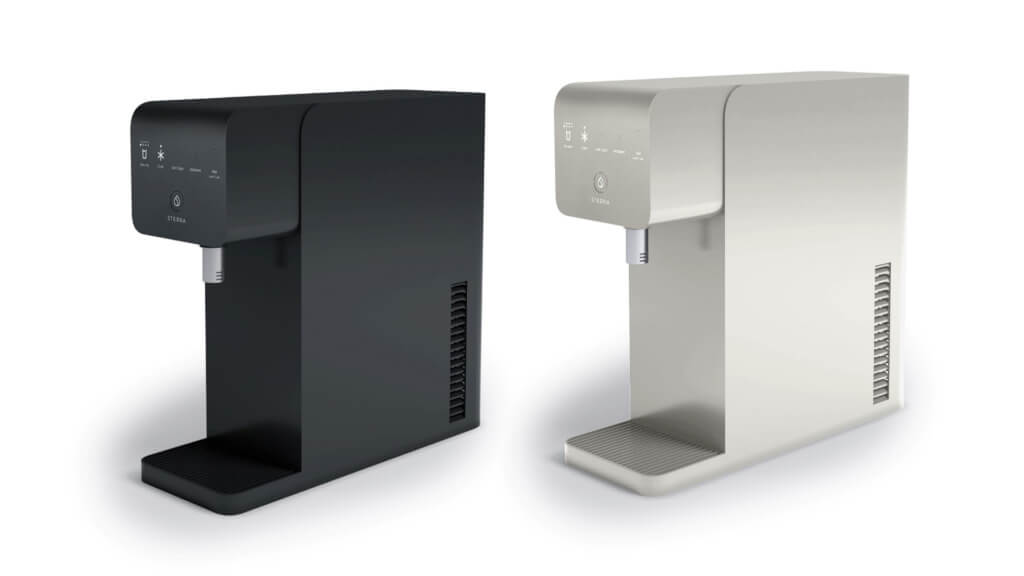 In the unique climate of Singapore, where 1 in 5 water purifiers face leakage due to high humidity and temperature, Sterra 7 stands as a beacon of innovation. Its pioneering Hydra 7+ Technology ensures no condensation or leakage, backed by rigorous quality control and tailored temperature settings ranging from a cool 5°C to a boiling 87°C. This sleek and premium design, available in Black and Light Grey, matches top brands spec-for-spec, offering unmatched value.
Harnessing the power of nanotechnology, Sterra 7 goes beyond standard carbon filters. Its advanced nano-filters meticulously remove heavy metals and bacteria while retaining essential minerals. With customisable filter options in Alkaline and Neutral, an extendable nozzle, and a stainless steel flow path for utmost hygiene, Sterra simplifies water purification. The package comes complete with FREE delivery, installation, a one-year warranty, and a two-year filter set, redefining convenience and quality in water purification.
Pros:
The Hydra 7+ Technology ensures zero condensation and leakage
Versatility with 6 distinct temperature (5°C, 15°C, 25°C, 50°C, 70°C, 87°C) settings for personalised hydration
Slim and sleek design suitable for any Singaporean kitchen
Cons:
Might have a slightly larger footprint than some other slimmer models
NAMI Water Purifier by Hydroflux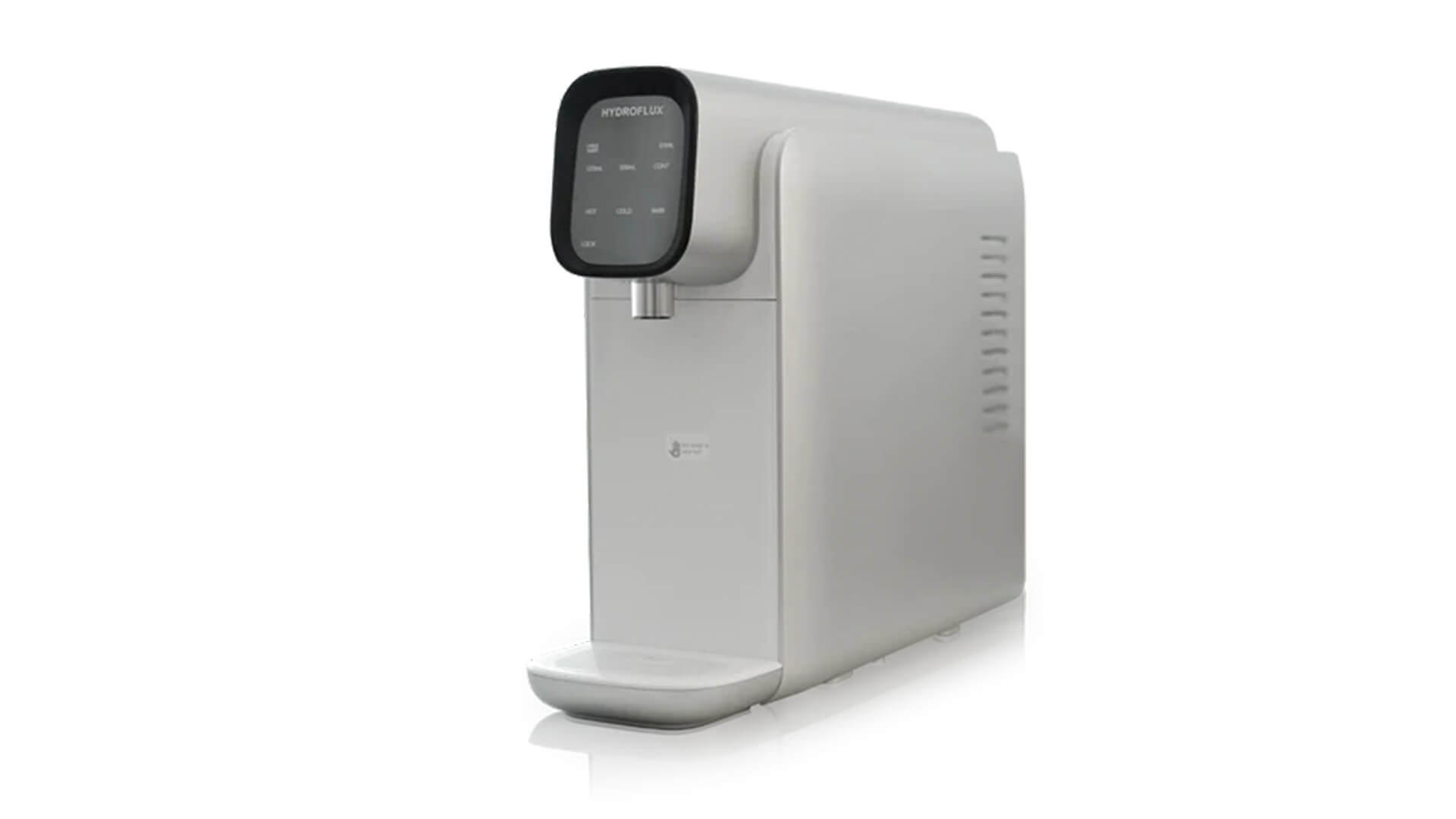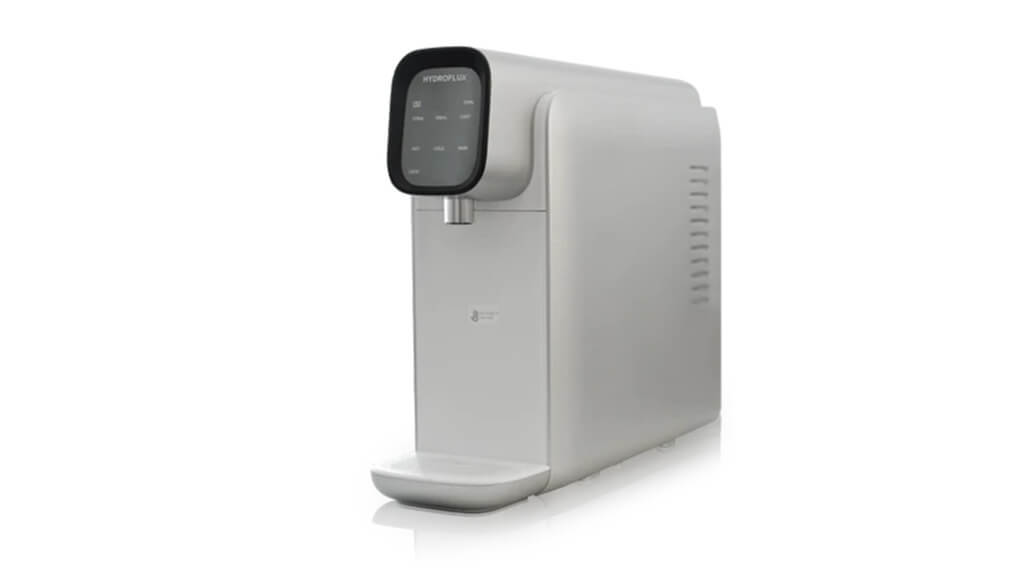 NAMI redefines personal hydration with its sophisticated design tailored for modern homes. Recognising the diverse needs of families, it boasts five distinct temperature settings, ensuring optimal warmth for your beverages, whether it's the morning coffee or preparing a baby's milk. Its slim and aesthetic design complements kitchen interiors and minimises clutter, freeing up essential counter space. But what truly sets NAMI apart is its commitment to hygiene: the automatic sterilisation feature and the robust stainless steel internal flow path ensure every drop dispensed is pure and uncontaminated.
Pros:
5 temperature settings, ranging from cold detox water to piping hot for instant meals
Designed to integrate seamlessly into modern kitchens without occupying excess space
Features like auto-sterilisation and a durable internal flow path ensure consistently clean water
Cons:
The flow rate, though adequate for average homes, may not be sufficient for larger households with high demand
Noticeable noise when dispensing water due to its compressor technology
Prone to leakage and condensation
HANA Water Purifier by Hydroflux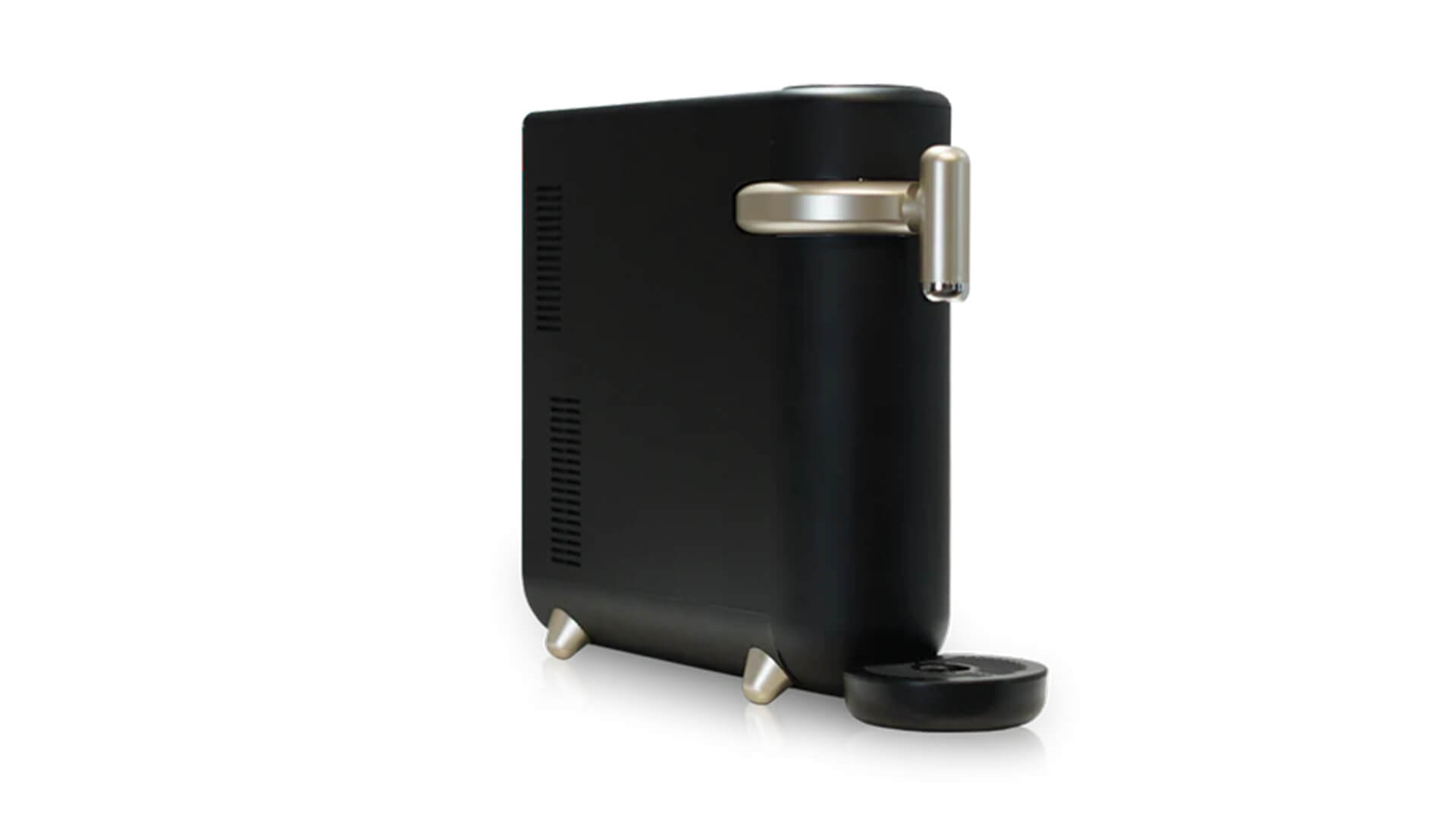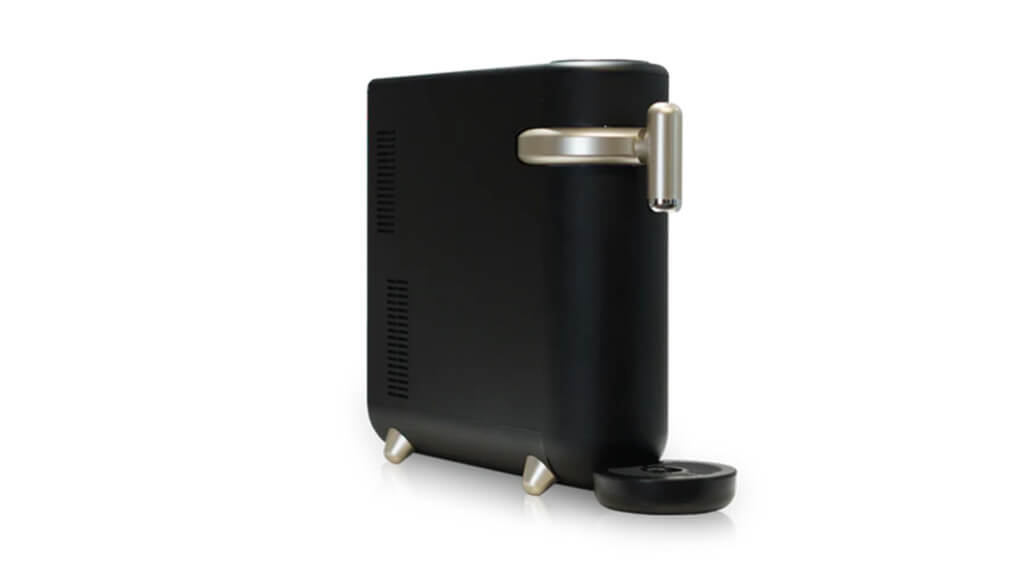 Elevate your hydration game with HANA, an embodiment of modern-day convenience blended with sophisticated design. Its 180º rotating faucet addresses kitchen space's constraints, ensuring hassle-free placement and accessibility. The purifier doesn't just promise a powerful flow, but it also offers customised temperature settings for an enhanced drinking experience. Maintenance is a breeze with its self-replaceable 3-in-1 filter system. Yet, it's worth noting the filter replacement frequency may not align with everyone's preference.
Pros:
The 180º rotating faucet ensures easy installation and use in any kitchen setting
Powerful water flows across cold, lukewarm, and hot settings, accommodating various needs
Cons:
Dispense up to 200ml at one go, and a maximum of 400ml cap may sometimes limit immediate water needs for larger gatherings
Only comes with 3 temperatures: Hot (85ºC), Room (27ºC), Cold (6ºC)
ONYX Water Purifier by Livingcare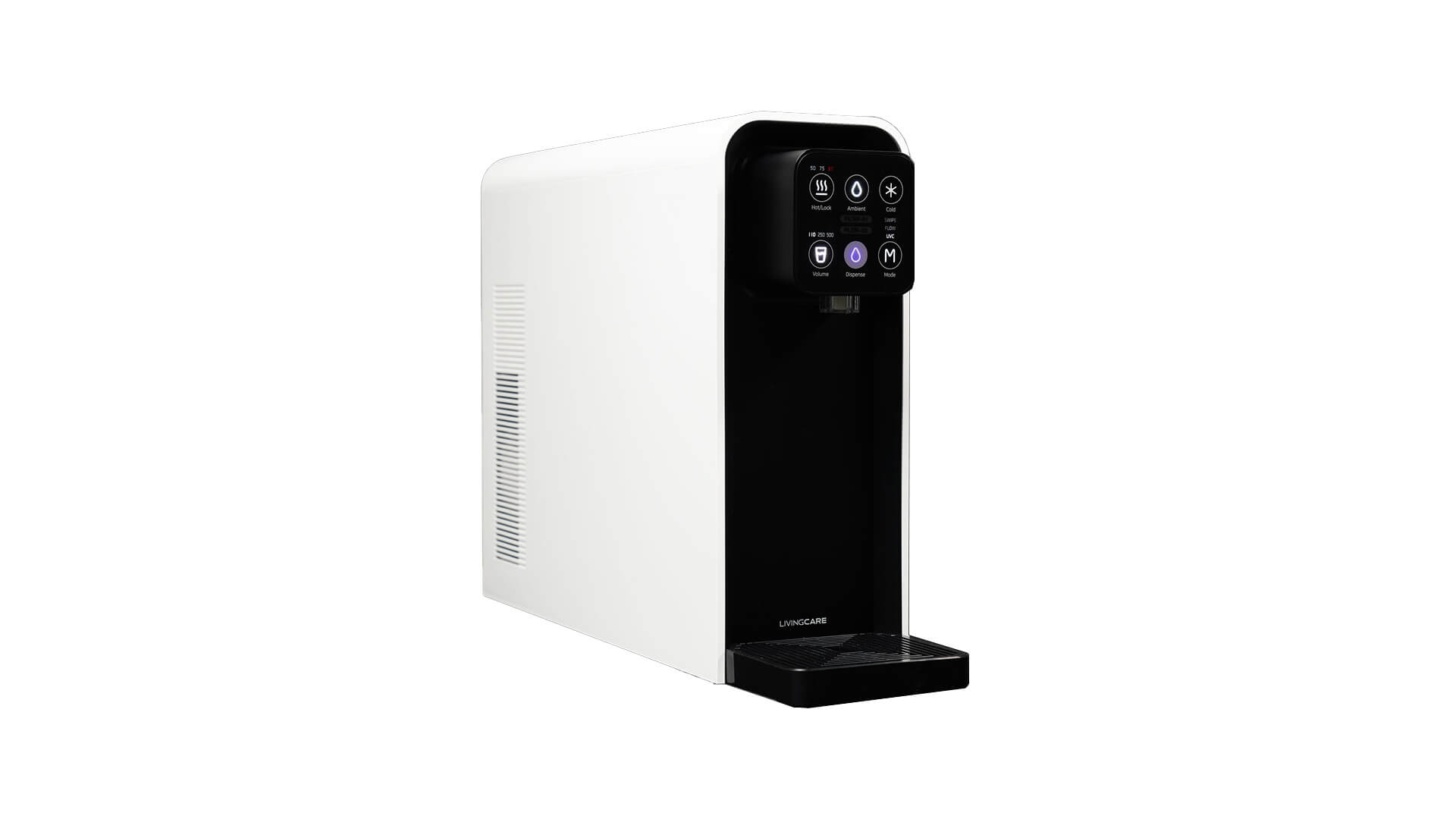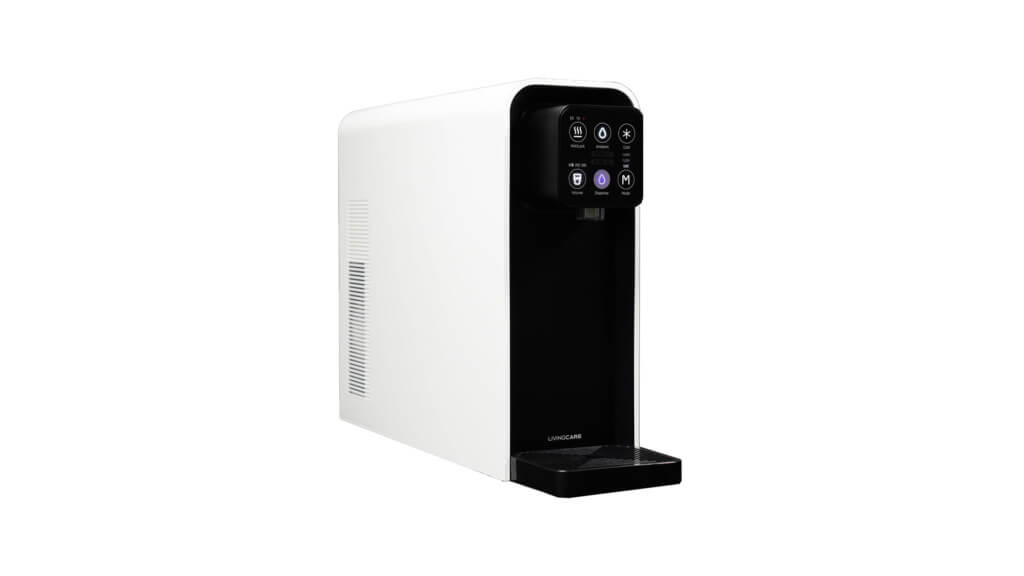 Introducing ONYX, a game-changer in the water purification world. It's not just a purifier but a testament to cutting-edge technology. Featuring dual thermoelectric modules, it swiftly adapts to your temperature preferences, ensuring instantaneous delivery. With an anti-microbial coating and a 6-stage RAON filtration system, ONYX promises pristine, soft water without compromise. However, its high-tech nature might take some users a while to navigate and could come at a premium.
Pros:
Dual thermoelectric modules make switching between temperatures seamless
An anti-microbial coating ensures a barrier against potential pathogens
The 6-stage RAON system guarantees the removal of contaminants, delivering only the softest and cleanest water
Cons:
Use semiconductor technology which may result in expensive repairs
The purifier's high-end tech attributes could make it expensive for certain households
No continuous dispensing option available
Jewel Water Purifier by Livingcare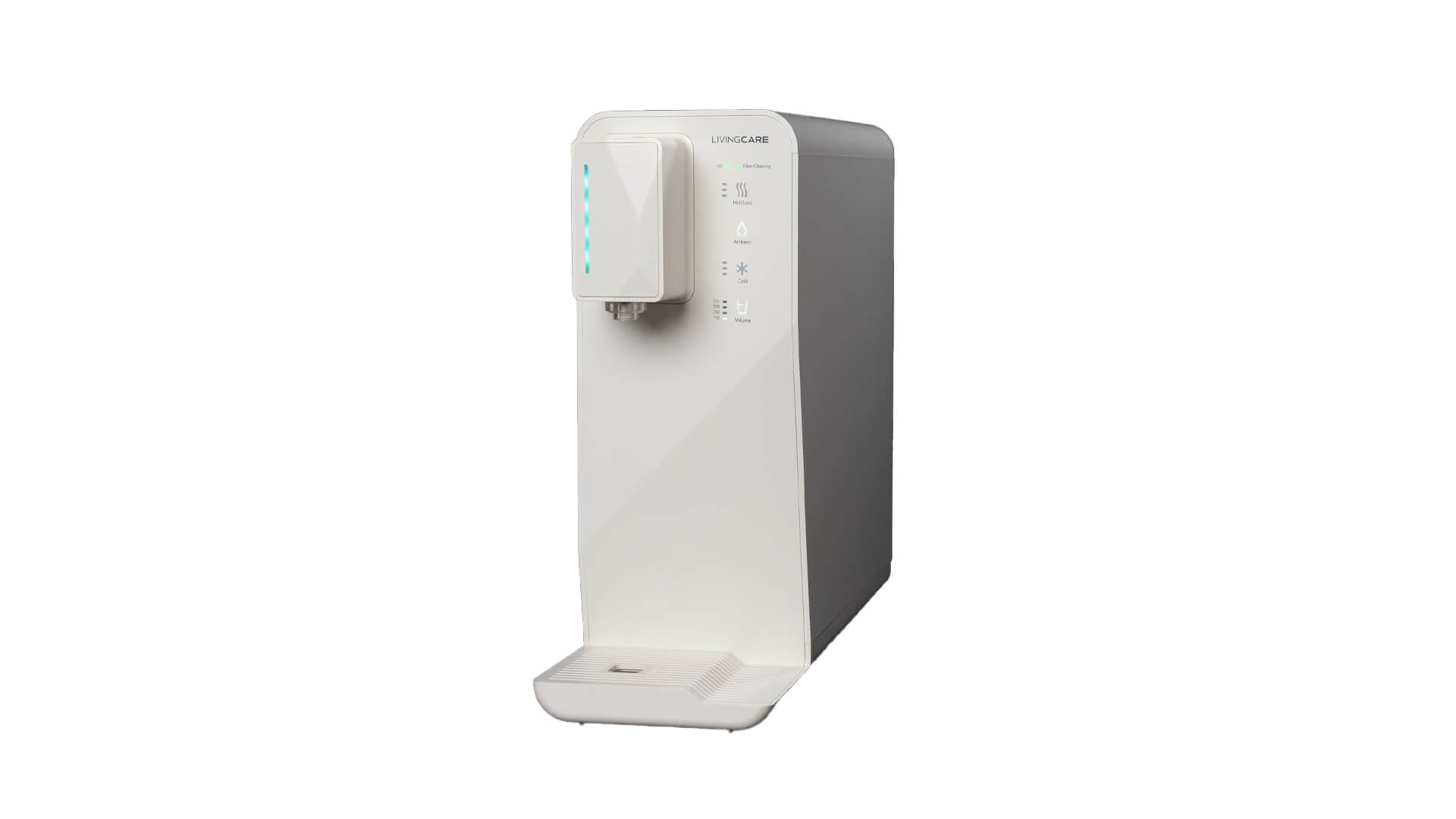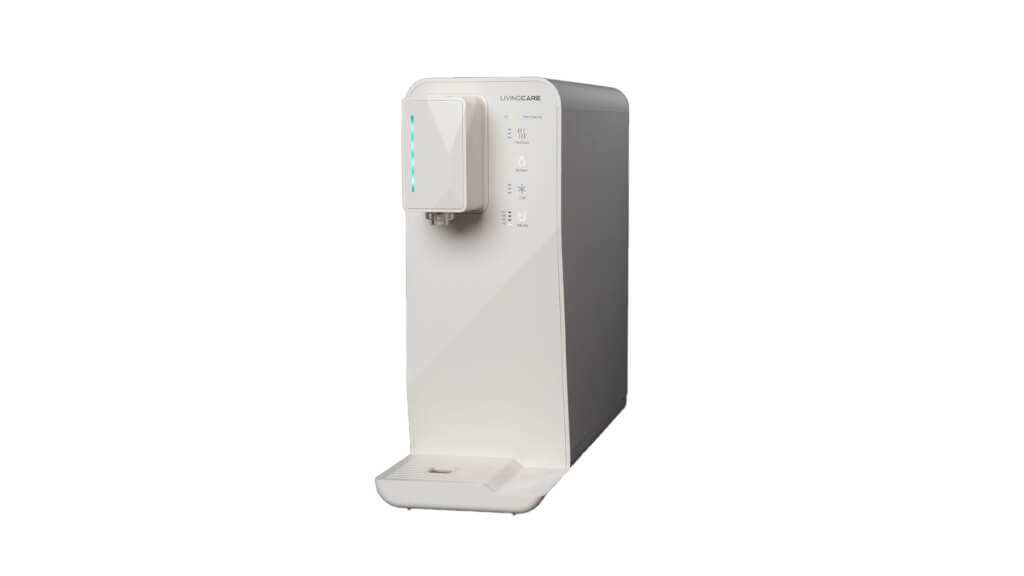 Embrace the future of hydration with Jewel, the slimmest, truly tankless water dispenser by Livingcare. This groundbreaking design, sized at a mere 13cm in width, seamlessly integrates into limited spaces, making it perfect for smaller kitchens. Harnessing patented thermoelectric semiconductor technology and enriched with natural antioxidants, it offers seven instant temperatures ranging from 7-90°C, ensuring a customised experience for tasks from baby formula preparation to quick noodle fixes. A filter change indicator, UV sterilisation, and the child-lock safety feature further accentuate its user-centric design.
Pros:
7 diverse temperatures to cater to a multitude of needs
Zero standby energy consumption
Cons:
Use semiconductor technology which may result in expensive repairs
The purifier's high-end tech attributes could make it expensive for certain households
Twist & turn filters replacement might not be the easiest to manage
Joy Water Purifier by Happie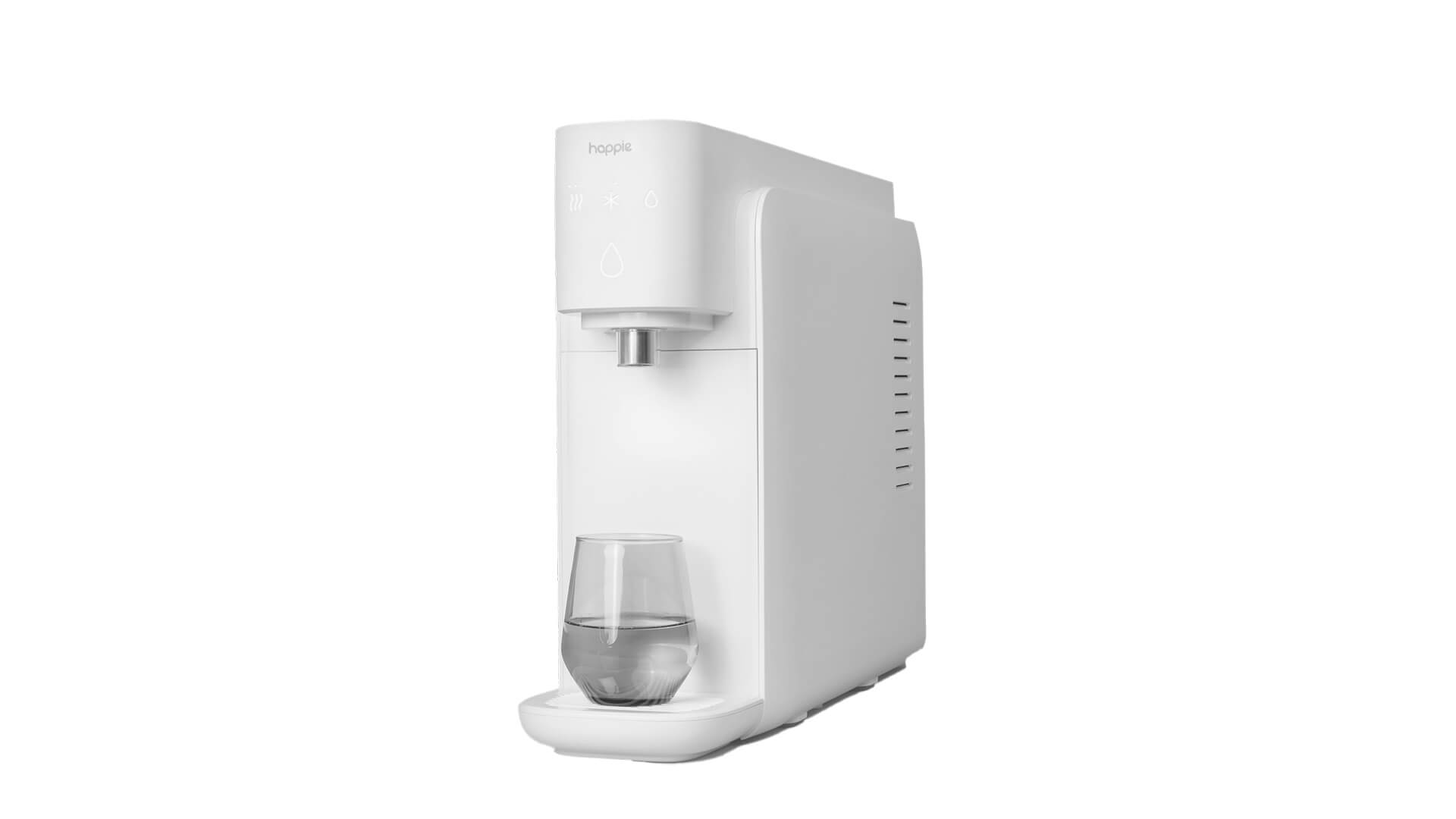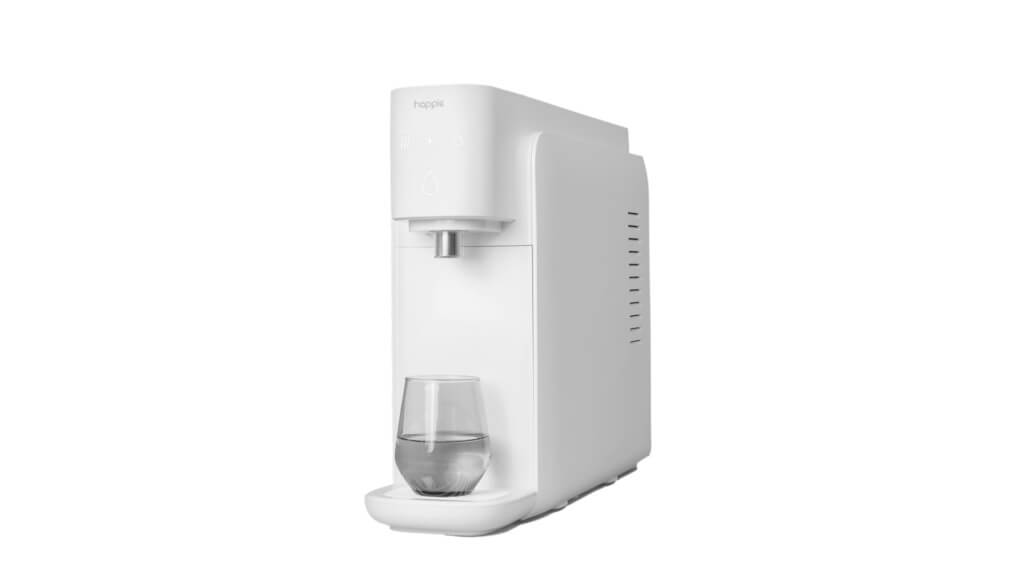 Happie's Joy Water Purifier redefines purification standards with its groundbreaking STEALTH technology. This ensures clean water and sterilises the filter's insides, protecting against a myriad of contaminants. It offers six temperature controls, ensuring your beverage is at the perfect temperature, from piping hot tea to icy refreshments. The LED display panel, adjustable faucet for all cup sizes, and auto-sterilisation features make for an efficient, user-friendly experience.
Pros:
STEALTH technology: Enhanced filter lifespan and superior water flow
6 temperature settings to cater to diverse beverage needs
Compact and elegant design with intuitive touch features
Cons:
Noticeable noise when dispensing water due to its compressor technology
Prone to leakage and condensation
STAR+ Water Purifier by Futur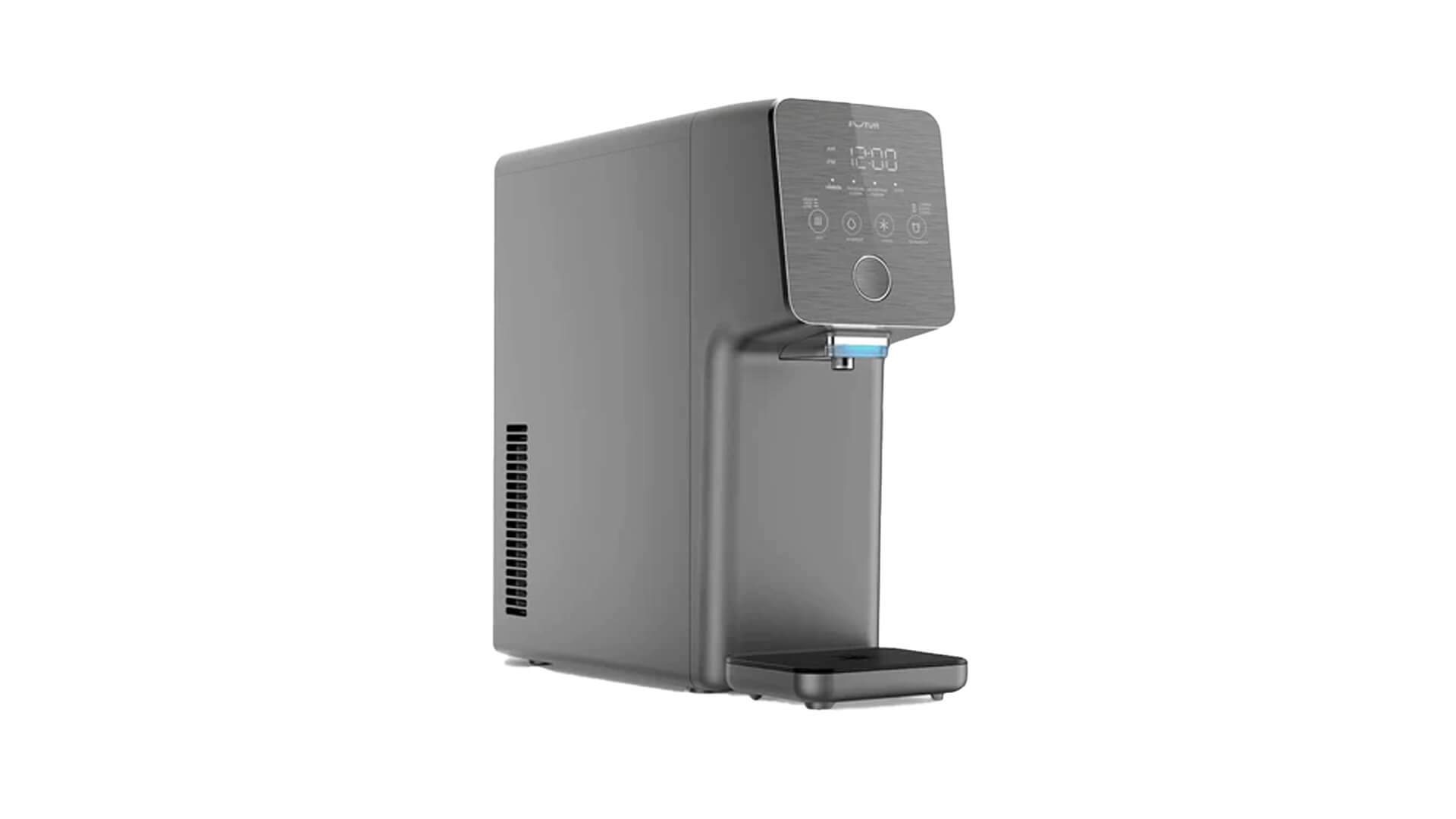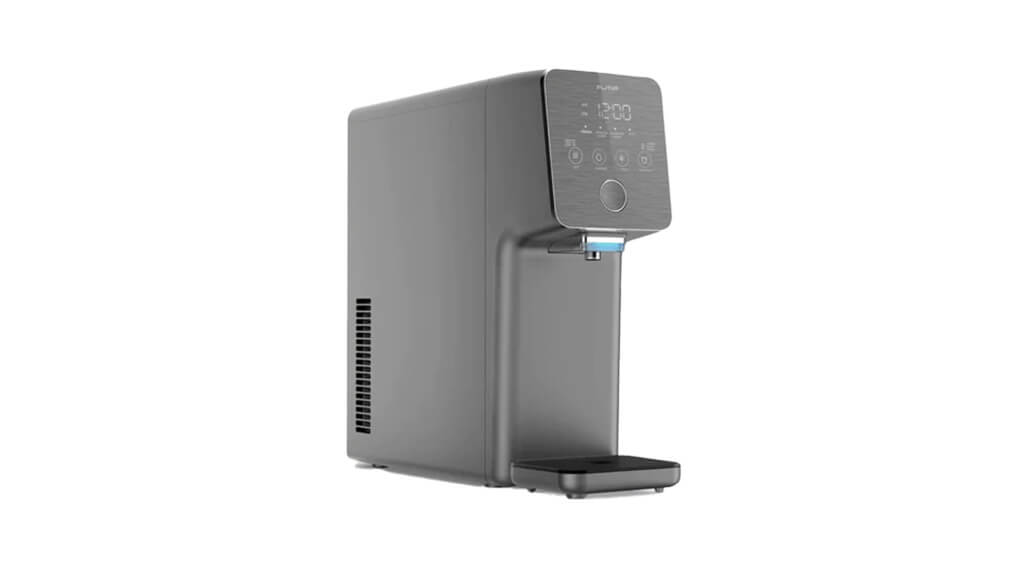 Elevate your water consumption with STAR+, boasting an 8-stage comprehensive filtration system that ensures the utmost purity, from eliminating heavy metals to enriching with essential minerals. Its sleek design, which dispenses water at five diverse temperatures, is optimised for space-conscious kitchens, while its stainless steel flow path ensures a rust-free, faster water flow. The accurate filter change indicator, VioLEDS UV sterilisation, and high-speed machine flushing promise a healthy, hassle-free hydration solution.
Pros:
8-stage filtration for unparalleled purity and mineral enrichment
Versatile temperature settings with 5 options from icy cold to steaming hot
Duo cleaning capabilities using VIOLEDS UV Sterilization and High-Speed Flushing
Cons:
No continuous dispensing option available
Filters replacement might not be the easiest to manage
Choosing the right water purifier: The last drop matters
Navigating the waters of purification technology can be daunting, given the many options available. However, discerning consumers recognise the importance of features that cater to specific needs. The market offers diverse products, from sleek, space-saving designs to advanced filtration systems. With features like varying temperature controls, self-maintenance, UV sterilisation, and innovative filtration technologies, the choices cater to both functionality and lifestyle needs. Ultimately, the key lies in understanding individual preferences and requirements, ensuring that the selected purifier seamlessly integrates into one's daily routine while guaranteeing the utmost purity in every drop.