The Molly 15: Into The Future exhibition makes its world premiere at Funan, on 10 November in celebration of Molly's 15th birthday!
Home to POP MART's Singapore flagship store, dive into Molly's universe at Funan, Level 1 Centrestage, along with the kaleidoscopic appearance of MEGA Space Molly as you witness the never-before-seen exclusive collection all in one place. Standing at 70cm, 1000% of its original size, be prepared to be awed as POP MART collaborates with CapitaLand malls to bring you the magical experience of Molly's world this festive season!
"As Singapore's leading mall operator known for curating unique and experiential retail offerings, we take pride in fostering collaborative relationships with our tenants. We are pleased to be partnering POP MART, one of the largest players in the collectible art toy market in Asia, to bring our shoppers a whimsical and interactive festive experience, both online and offline. We have also lined up a special project with POP MART to make this year's festive season memorable for shoppers across CapitaLand malls in Singapore," said Mr Chris Chong, CEO of Retail & Workspace (Singapore & Malaysia), CapitaLand Investment.
Mr Tan Tong Hong, Director of POP MART Singapore added, "We are proud to present "A Jolly Molly Christmas" in CapitaLand malls all around Singapore along with the Molly 15: Into the Future exhibition at Funan. Being able to be the first in the world to unveil the MEGA Space Molly Christmas on 17 November is a significant one for us. Since the successful launch of POP MART's flagship store in Funan and pop-up store in Bugis Junction, we are thrilled to punctuate this festive season and commemorate POP MART's 11th anniversary with such a milestone partnership as a testament to the strong partnership we share with CapitaLand that goes beyond landlord and tenant. In line with our expansion plans, we're also excited to announce that we'll be bringing POP MART a step closer to you with the opening of a second store in a CapitaLand mall located in a suburban area, so please look forward to our happy announcement."
Molly 15:  Into The Future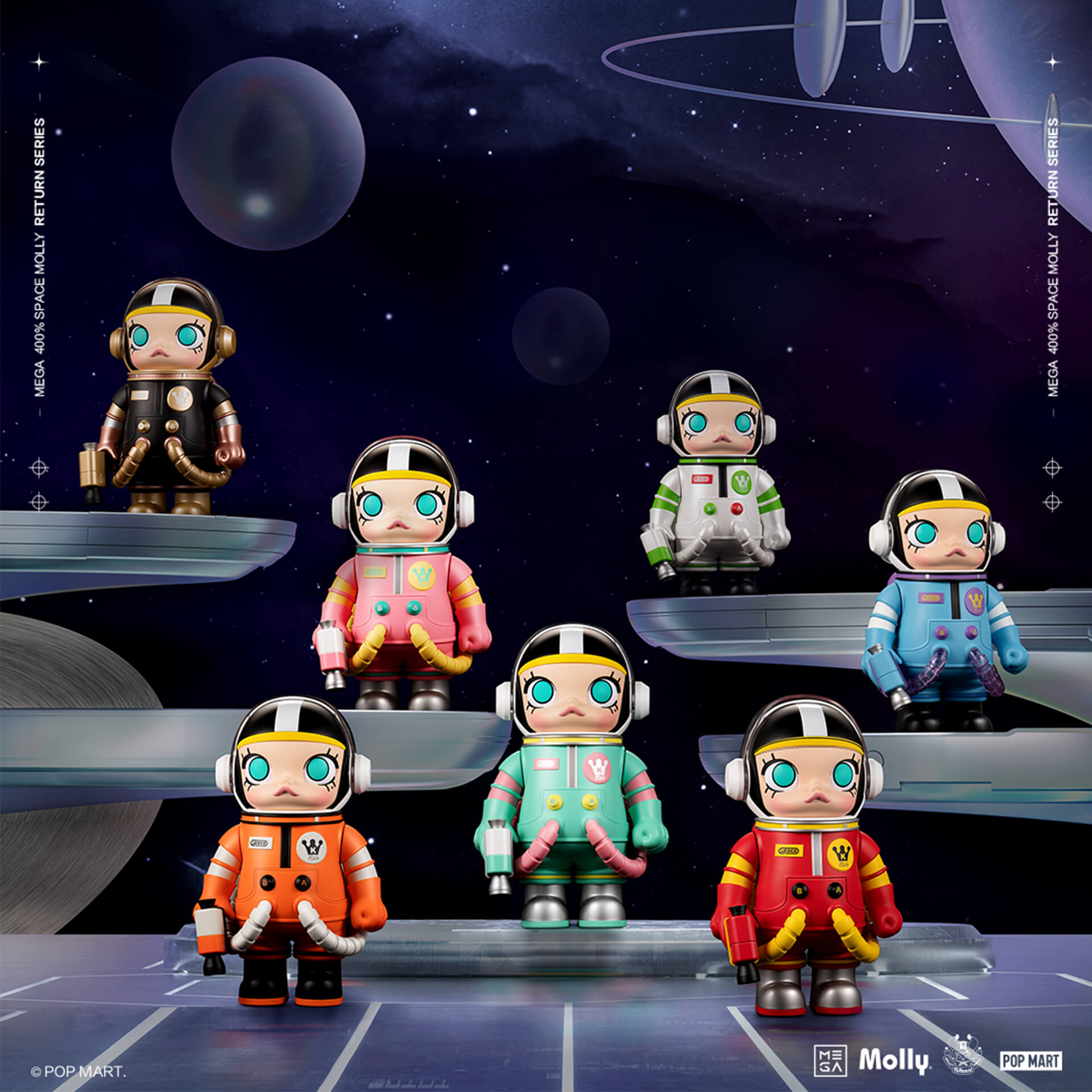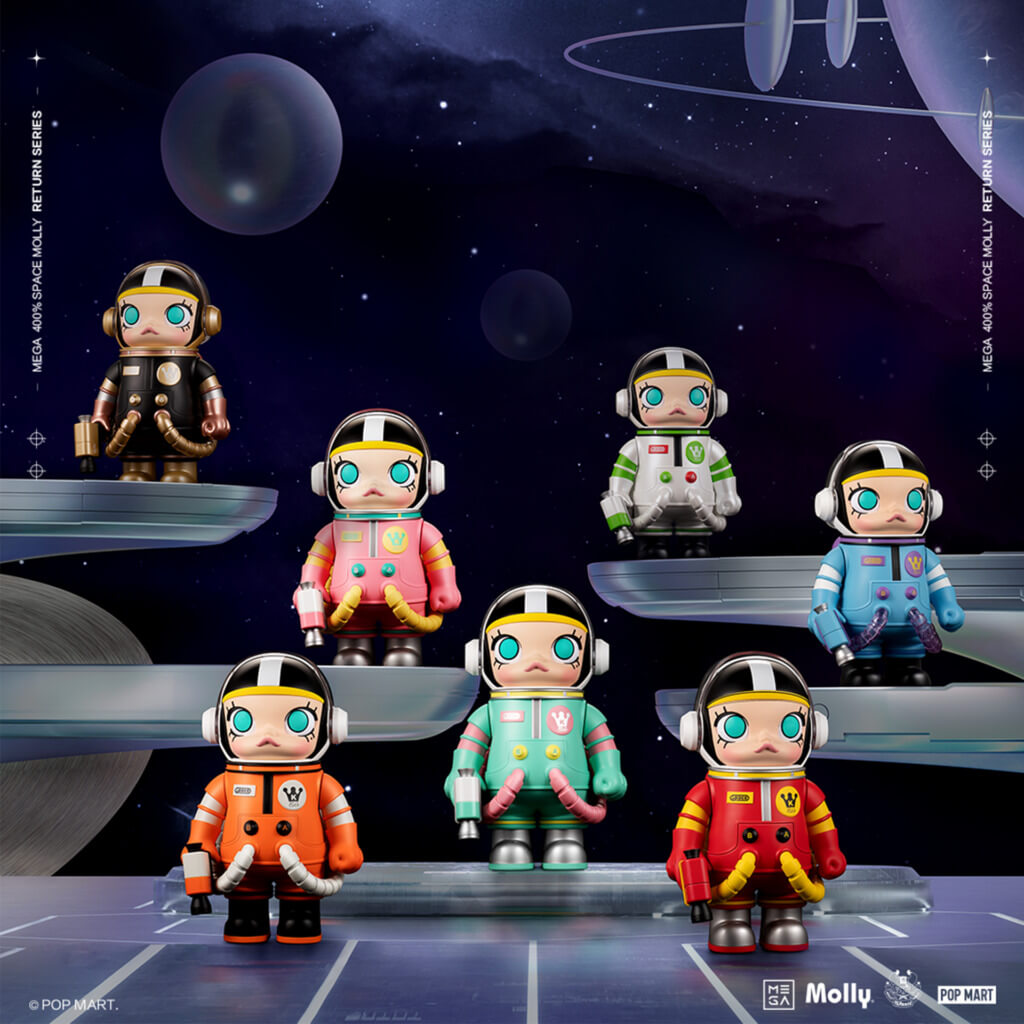 Exclusive and highly coveted MEGA Space Molly figurines await you at the free exhibition! Discover the archive of the limited-edition MEGA Space Molly collection that made its debut earlier this year to raving success and marked Molly's entry into the luxury pop art collectors' segment. Feast your eyes on the artist edition, not-for-sale MEGA Space Molly Blank, which will also be displayed at this showcase.
Are you a fan of pastel or vibrant colours? Be sure to snap Insta-worthy shots with MEGA Space Molly Watermelon, Jelly and Painter, which come in both 1000% and 400%. Keep a lookout for the highly sought-after MEGA Space Molly X Keith Haring 1000% collaboration figurine, which created a huge buzz during its debut in October this year. There will also be six uniquely themed MEGA Space Molly: Return Series in 400%, namely Guava, Squash, Tomato, Blueberry, Cabbage and Peach joining the league. For those who favour sleek and earthy tones, look out for the MEGA Space Molly Blank in 1000% and MEGA Space Molly Toffee in both 1000% and 400%.
Spot our favourite yellow and porous friend who lives in a pineapple under the sea! Kids would be thrilled to recognise the MEGA Space Molly x SpongeBob SquarePants, one of the main stars of this event – standing at 1000% and 400% of its original size. Prepare to be starstruck by familiar faces up-close and at full scale!
In celebration of POP MART's 11th anniversary and to commemorate the partnership with CapitaLand malls, Singapore will be the first in the world to debut both the 400% and 1000% MEGA Space Molly Christmas figurines exclusively at this exhibition.
Exclusive merchandise and  deals
Want to unbox your very own POP MART figurine? We've got you covered!
On 11 November from 12:01AM – 11:59PM, enjoy a special deal of 30% off any two POP MART blind box cases from the selected series in a single transaction, including the Molly Birdy Series, Sesame Street Hip Hop Series, Sesame Street Party Series, Sesame Street Classic Series, Satyr Rory Summer Fun Series, and Satyr Rory Cuddly Cuddlesome Series. Be sure to grab this amazing deal while stocks last!
Also on 11 November from 12:01AM – 11:59PM, shoppers can purchase MEGA Space Molly: Return Series in 400% at S$199.90 each. Only 36 pieces will be made available. CapitaStar members stand to receive 11,111 STAR$®  (equivalent to S$11.11 worth of eCapitaVouchers) upon purchase of this limited model. Both promotions will be made available on eCapitaMall.
The MEGA Space Molly series has gained wide attention and has become one of the most sought-after art toy collectible globally. With this one-of-a-kind exhibition coming to town, be sure to catch Molly at the Molly 15: Into The Future exhibition at Funan! Visit our  website  from 10 November for full details of the campaign and shopping deals.
CapitaLand malls and POP MART have more in store that's sure to delight! Keep a lookout for more information on our "A Jolly Molly Christmas" campaign, which will be released at a later date.