Marketers today must be able to conduct marketing data analysis, be experienced in effective marketing copywriting, efficiently generate new marketing strategies, accurately promote their product, and so on.
If you're not prepared to spend a large amount of time and money by throwing yourself into a college degree, then you're going to need a faster and more efficient way of remaining competitive in a changing market.
With more and more things shifting to the digital world, there is growing pressure on companies to invest in digital marketing. This is one reason why many professionals are tossing their hat into the digital marketing ring.
To provide you the opportunity to increase that skills, we've rounded up some of the best digital marketing courses where beginners can learn new strategies and experts can discover timely approaches and improve their skills.
1. Google Online Marketing Challenge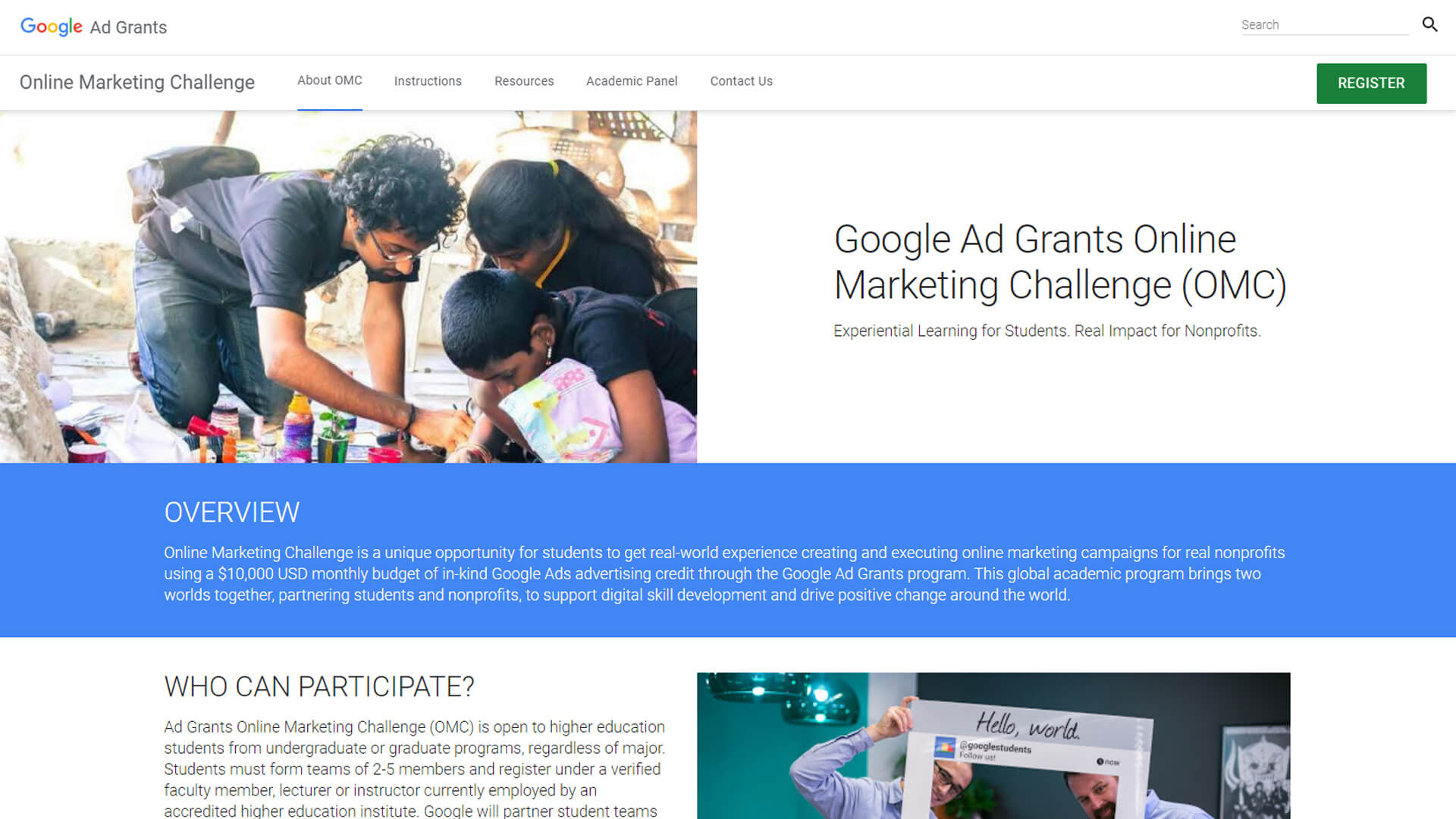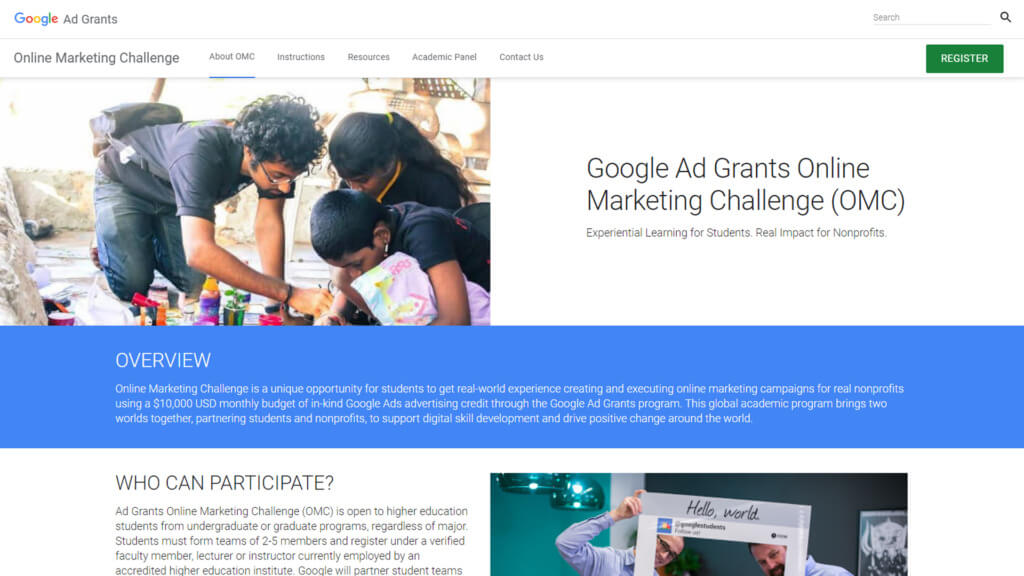 Online Marketing Challenge is a remarkable opportunity for students to gain real-world experience in designing and developing online marketing strategies for real non-profits using a US$10,000 monthly budget of in-kind Google Ads promotional credit through the Google Ad Grants scheme.
The Global Academic Initiative puts together two worlds, collaborating students and non-profits, to promote the growth of digital skills and accelerate social progress across the globe.
Ad Grants Online Marketing Challenge (OMC) is available to graduate or graduate students in higher education, regardless of their degree. Students must form teams of 2 – 5 members and register with a certified faculty member, professor, or teacher currently employed by an accredited higher education institute. Google will collaborate with chosen non-profits that are part of the Ad Grants program and have agreed to join in the Challenge.
Link: https://get.google.com/onlinechallenge/
2. Google Digital Garage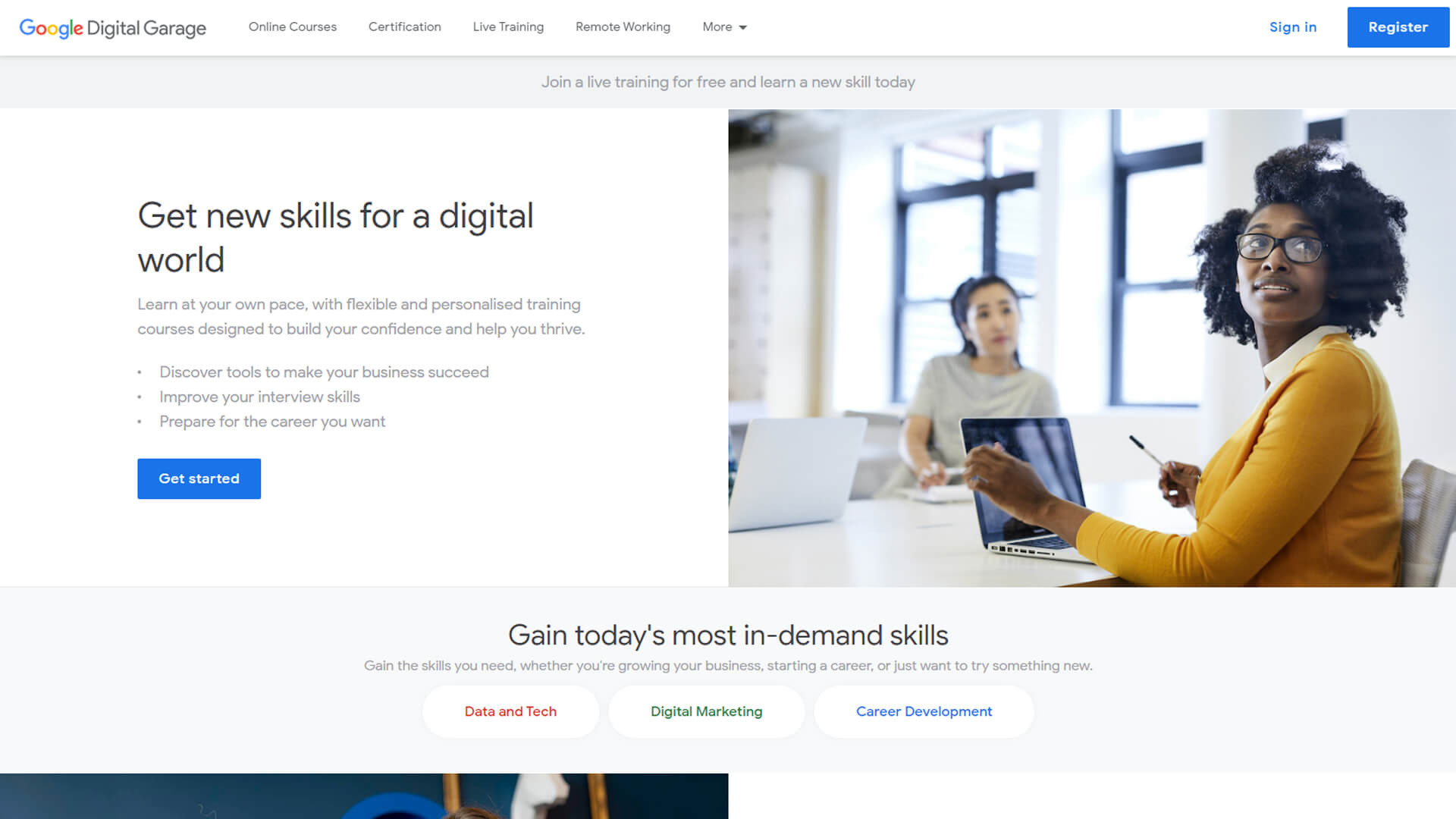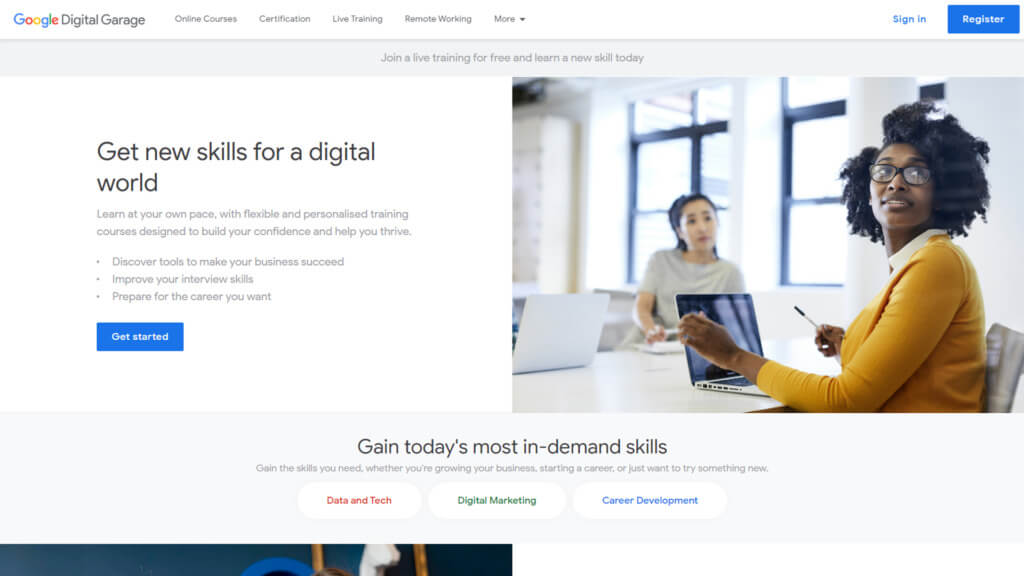 The Digital Garage is a one-stop digital marketing mastering platform.
This course is an introductory course in digital marketing intended for beginners who want to learn the fundamentals of digital marketing and are designed to help your profession or company expand.
The Interactive Garage has a user-friendly interface that helps the learner to go through hours of tutorials and self-governing assessments at his or her own speed. You can easily watch online tutorials with subtitles and transcripts. A professional may refresh his or her learning, while a beginner may extend his or her knowledge.
Link: https://learndigital.withgoogle.com/digitalgarage
3. Google Analytics Academy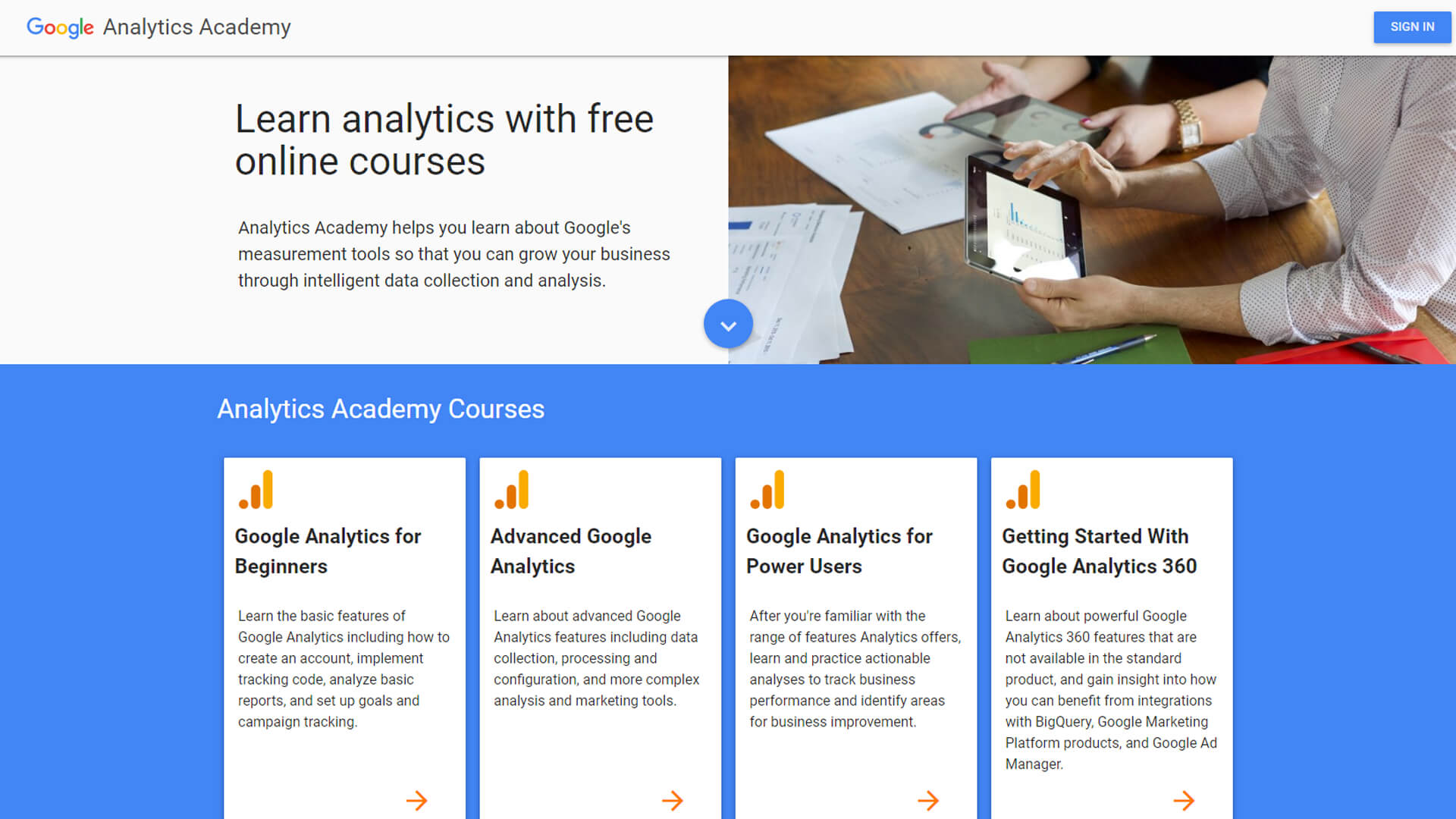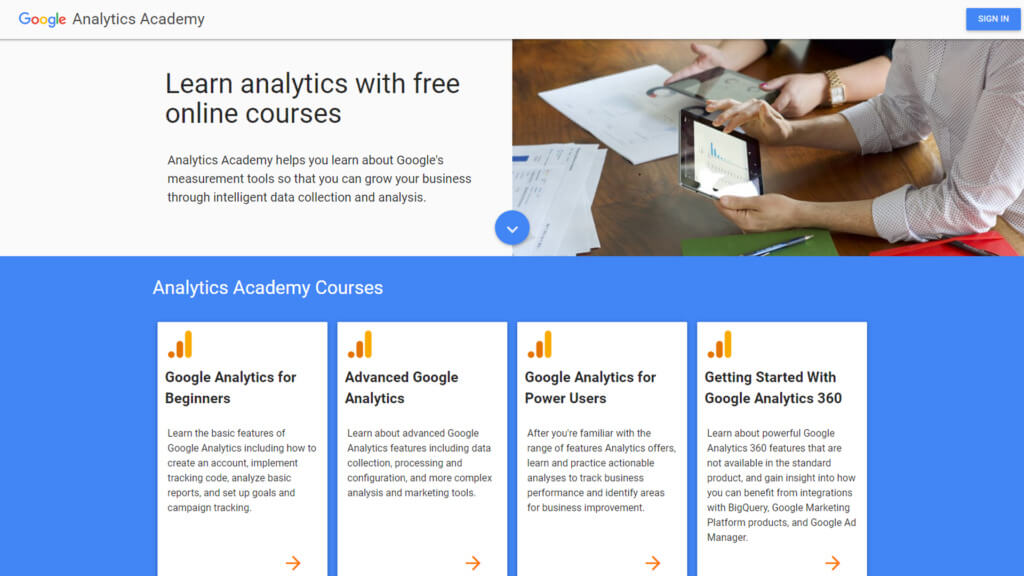 Analytics Academy helps you learn about Google's measurement tools so that you can grow your business through intelligent data collection and analysis.
The Analytics Academy Courses covers:
Google Analytics for Beginners
Advanced Google Analytics
Google Analytics for Power Users
Getting Started With Google Analytics 360
Introduction to Data Studio
Google Tag Manager Fundamentals
Link: https://analytics.google.com/analytics/academy/
4. Google Career Certificates (Coming soon!)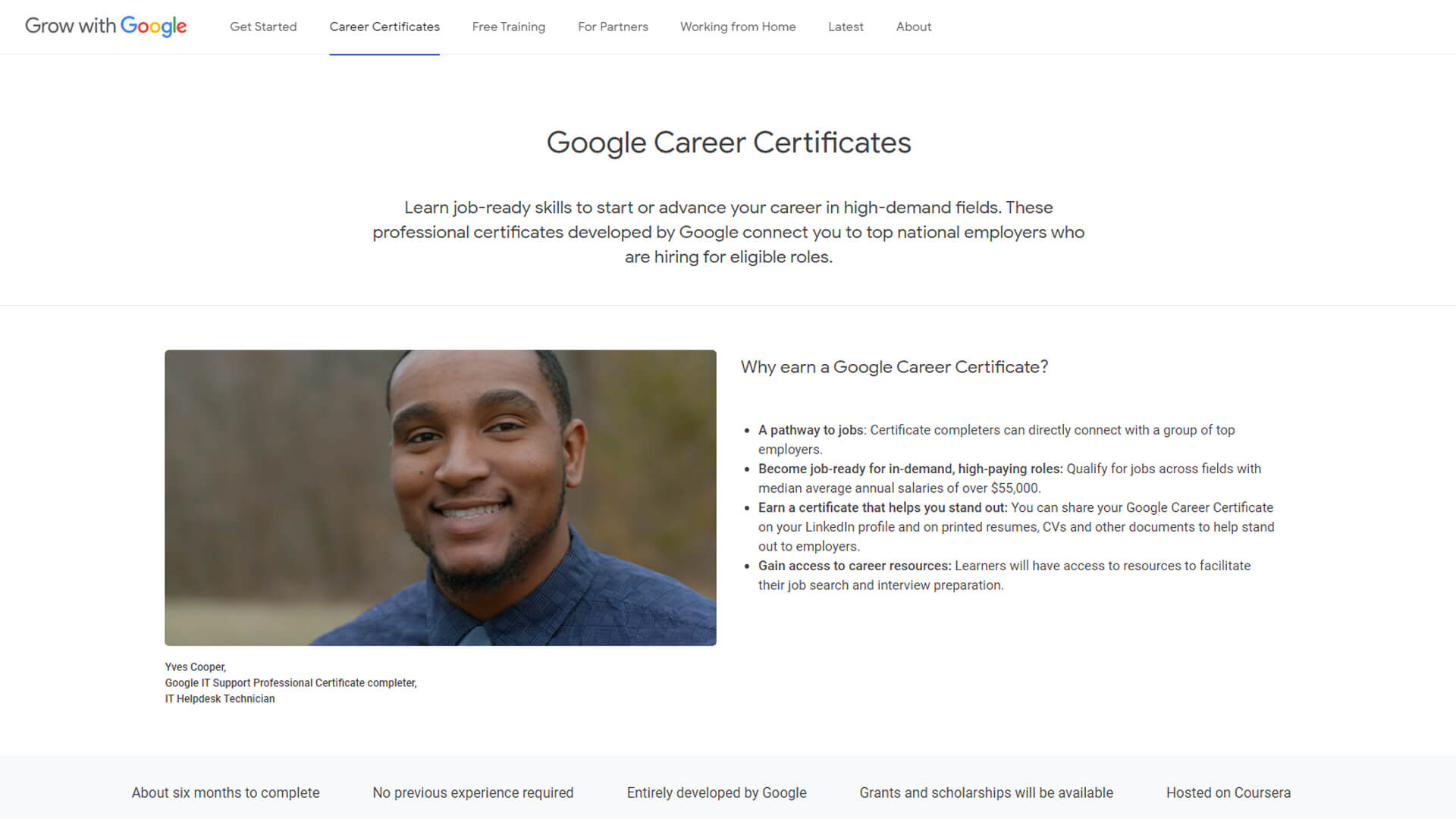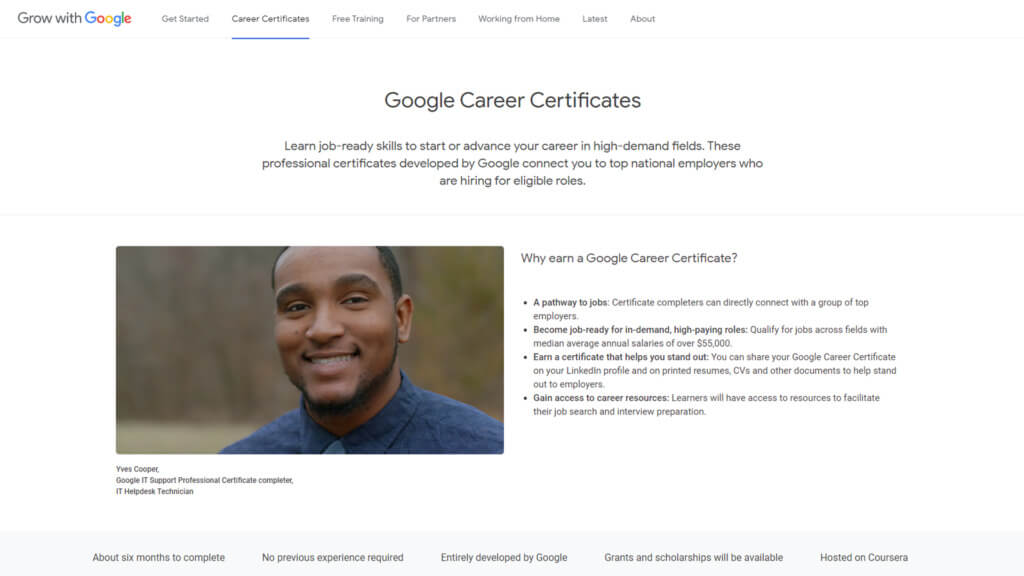 Learn work-ready skills to launch or progress your career in high-demand sectors. These professional certificates established by Google connect you to the top national employers recruiting for qualified positions.
The Google Career Certificate offers a pathway to jobs where you can connect directly with a network of top employers and apply for work in sectors with average annual wages of more than US$55,000. You will also receive a certificate that makes you stand out when posting your Google Career Certificate on your LinkedIn profile and written resumes, CVs, and other documentation. Students may also have access to tools to support their career search and interview preparation.
Jobs that are covered include:
Data Analyst
Project Manager
UX Designer
IT Support Specialist
Link: https://grow.google/certificates/
5. Google Skillshop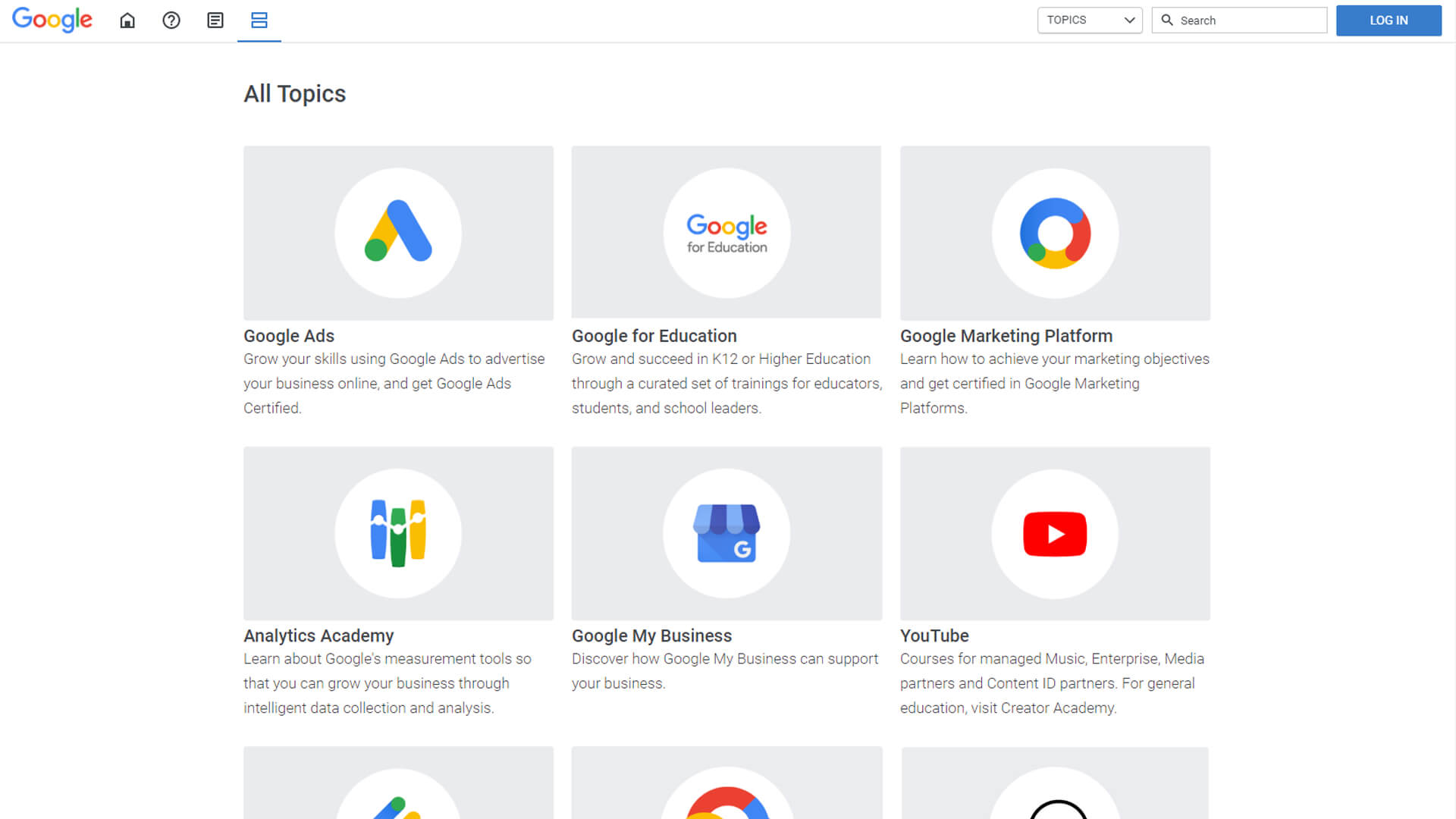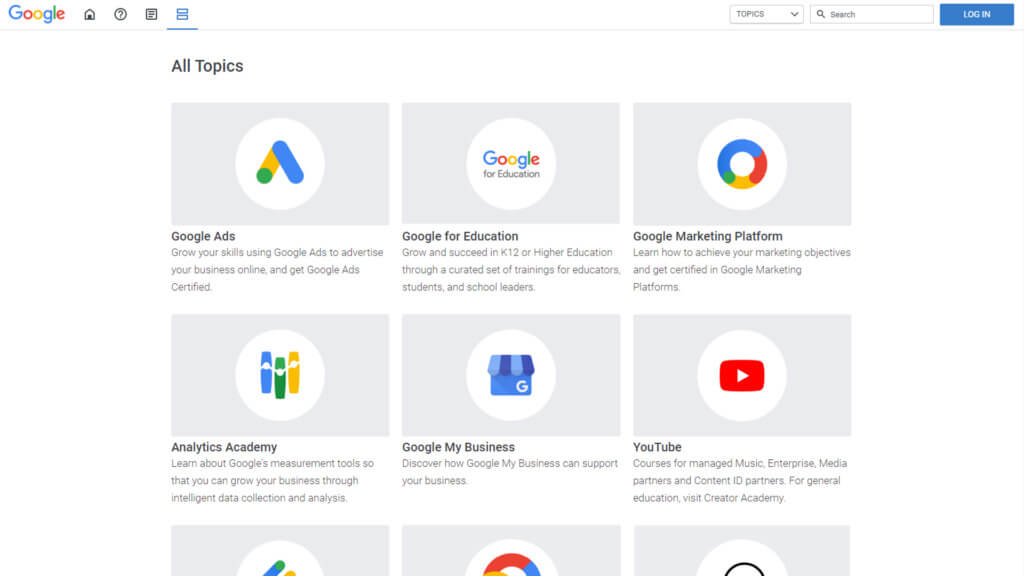 These Google byte-size courses will help you master the different products that Google offers. These include training programs for Google Ads, Google Marketing Platform, Google My Business, Google AdMob, etc. Based on your level of knowledge of Google products, you can sign up for any of these. The learning portion of all these courses is free, except there could be an extra qualification expense if you wish to go on.
Link: https://skillshop.exceedlms.com/student/catalog/browse
6. Ahrefs Academy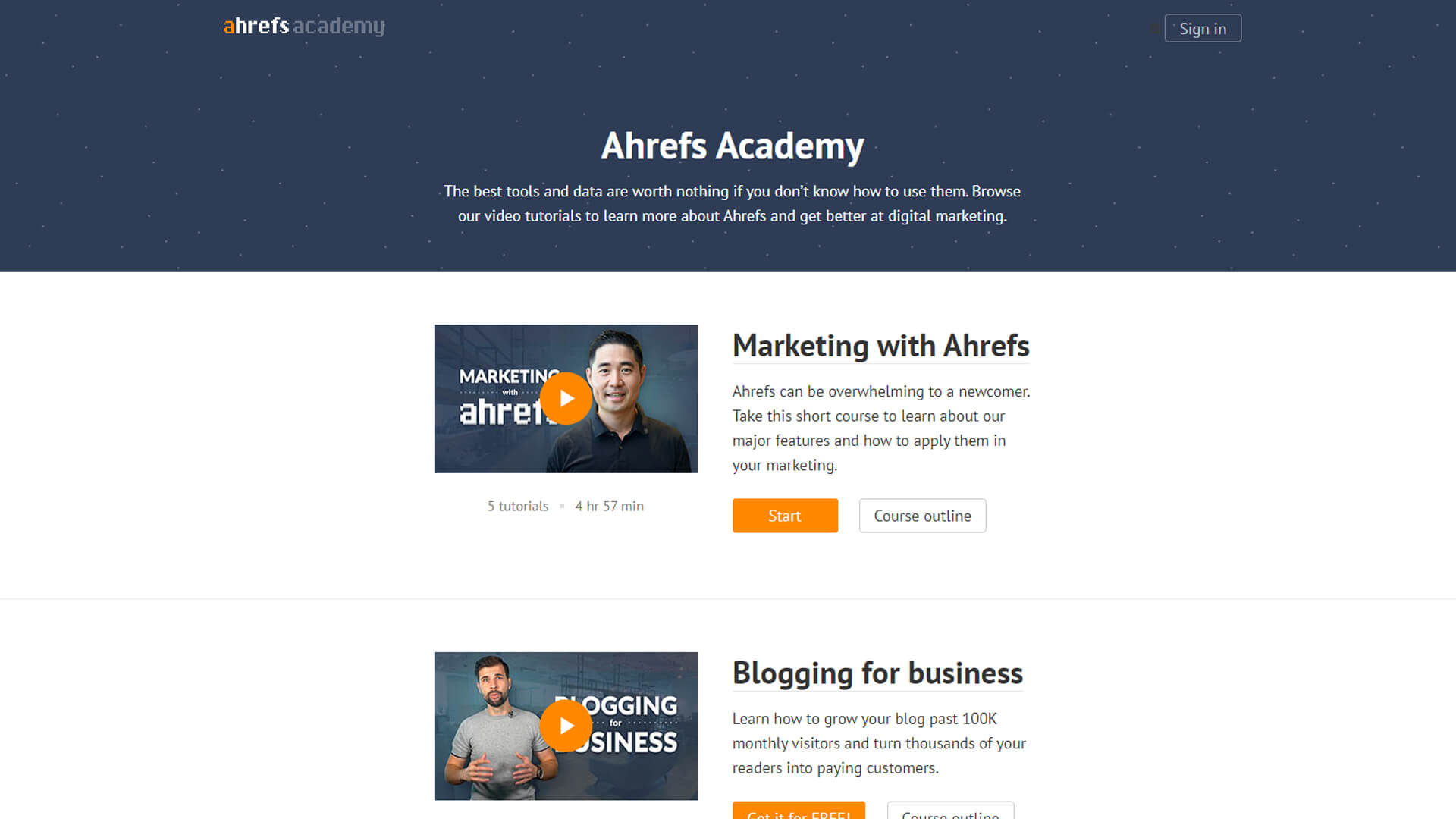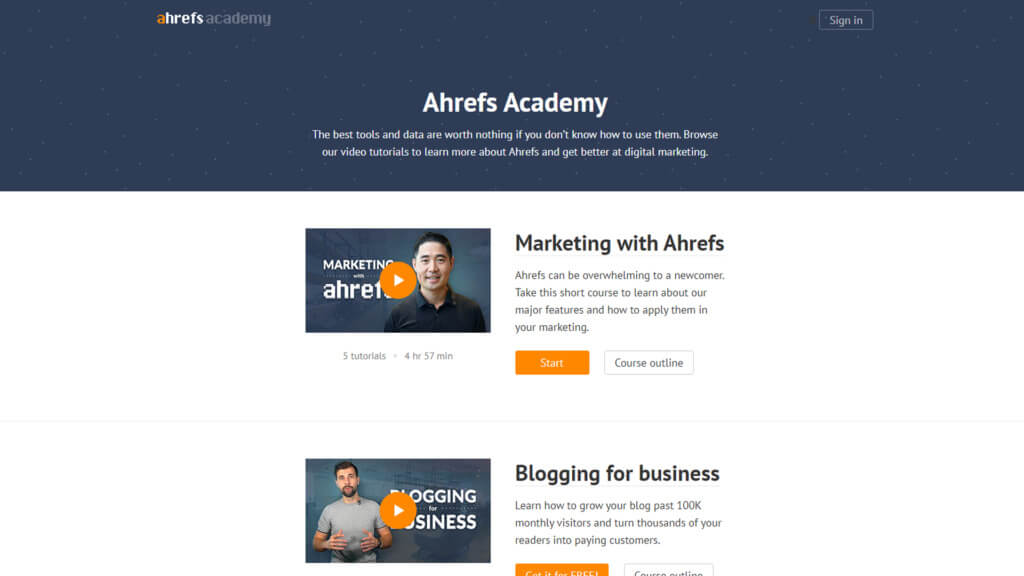 Ahrefs helps you learn why your competitions rank so high on search and what you have to do to outrank them. It offers tools to maximize your search traffic, study your competitors, and track your niche.
Ahrefs Academy encompasses all of the most relevant essential aspects of quality content marketing, such as keyword analysis, competitive research, link building, link acquisition, and tactical SEO.
Each tutorial contains strong examples to justify the advice it gives; moreover, it applies to the key features of Ahrefs and how to adapt them to your marketing needs.
Link: https://ahrefs.com/academy
7. SEO Training Course by Moz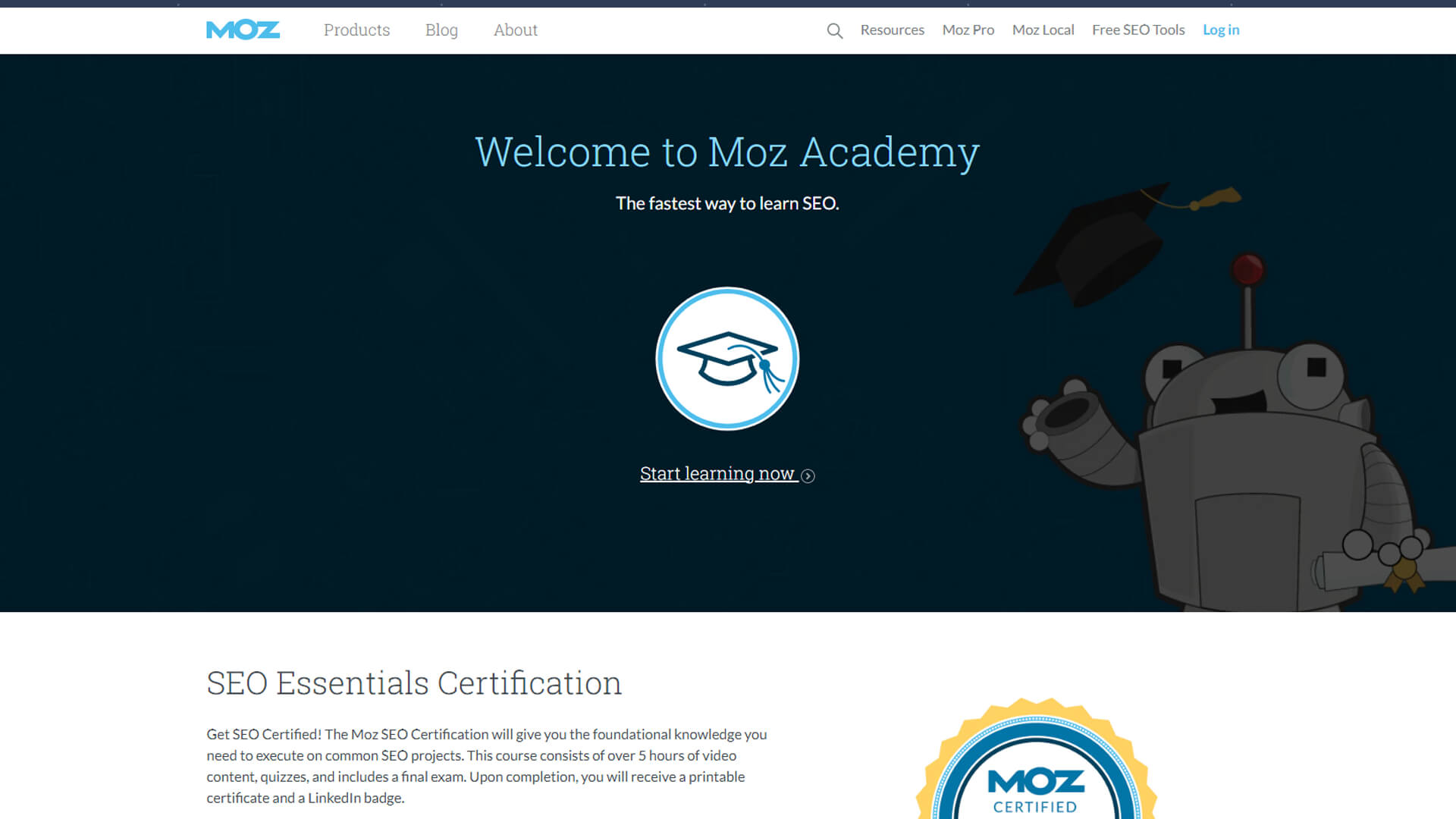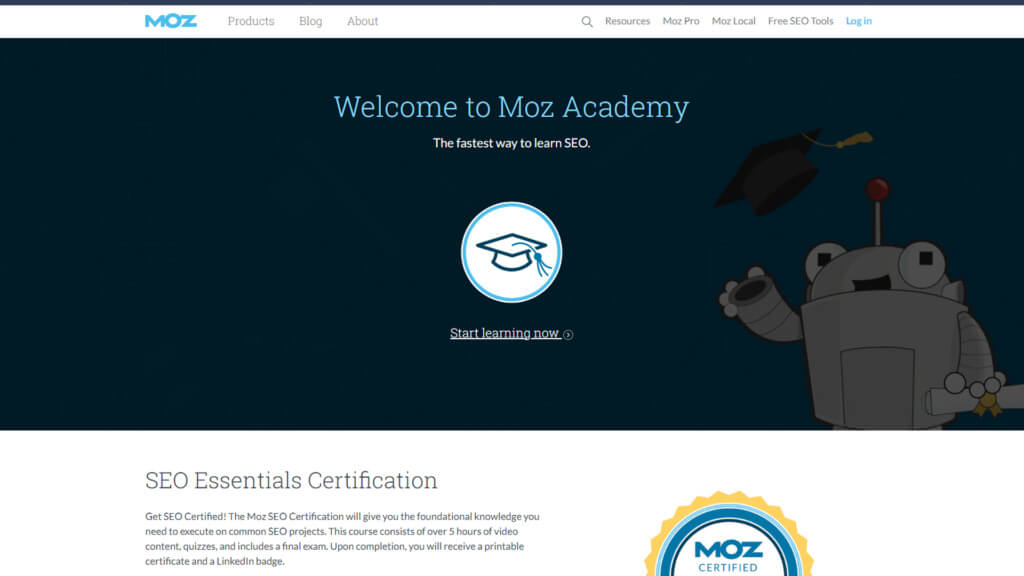 Whether you're a beginner, need sophisticated on-page strategies, or just update yourself to build better traffic, Moz's SEO learning center is your place to go to learn more about search engine optimization.
If you're limited on time, they've distilled all the SEO basics you need to know into a handy hour-long video collection. It includes various SEO topics that can help you score higher on the search and be seen by more people. You'll hear about the factors that influence your online search visibility and how you can adjust your website to make search engine traffic more relevant. It also includes off-site SEO, such as link building and how to do proper keyword analysis that will have the most impact on your SEO.
Link: https://moz.com/training
8. HubSpot Academy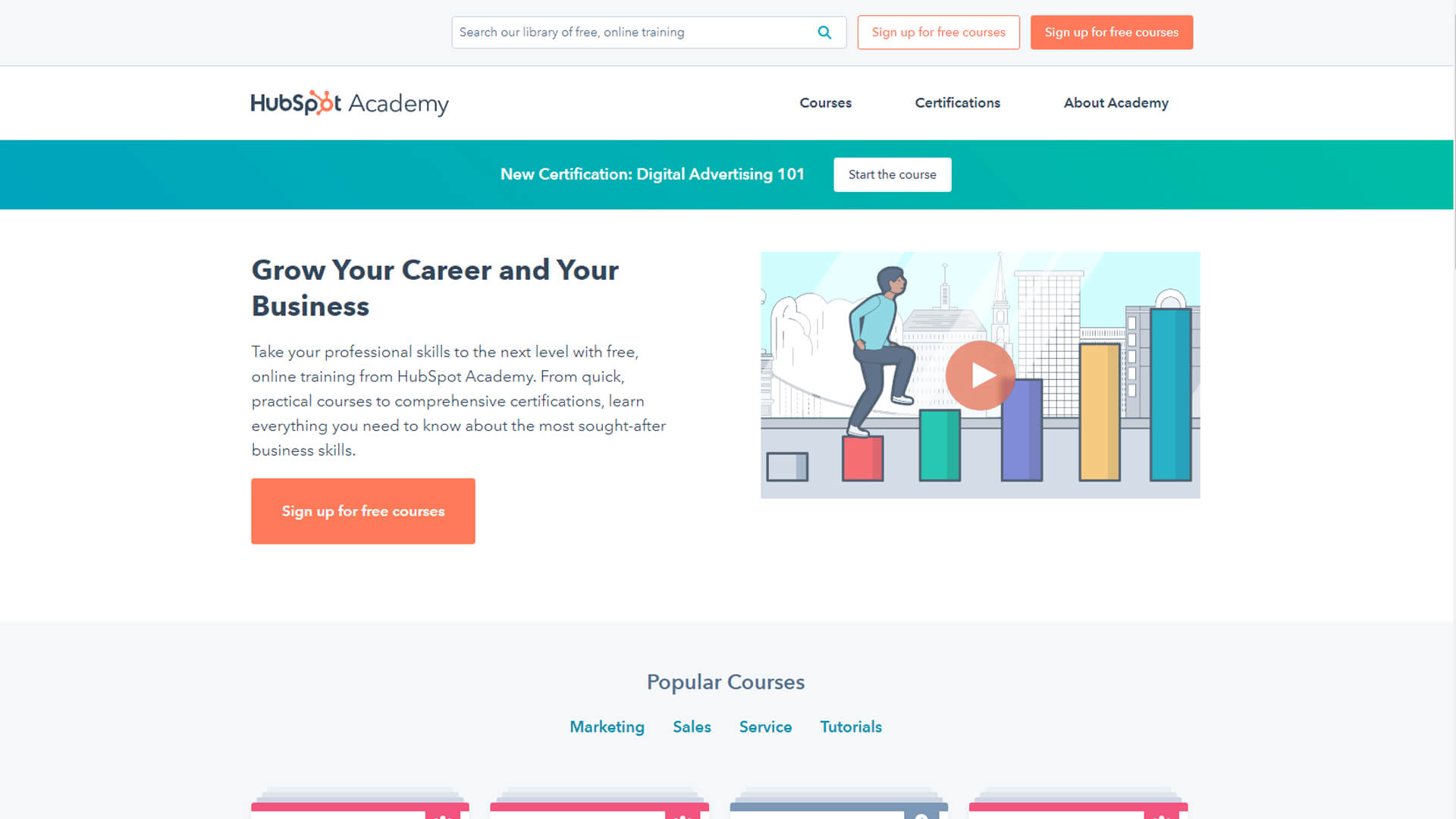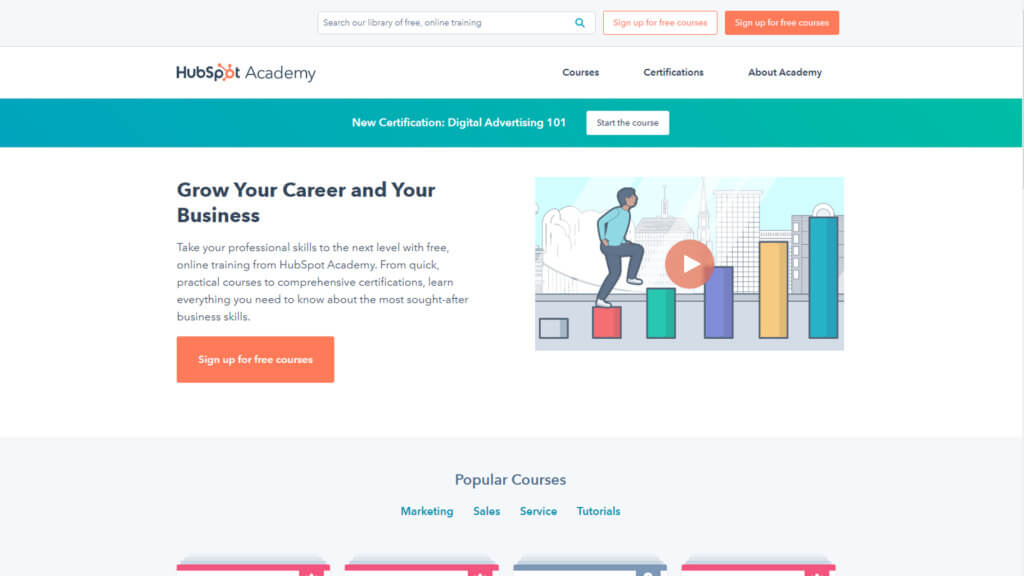 The HubSpot Academy delivers an extremely detailed digital marketing course that pushes your business skills to the next level with free online training. From fast, realistic courses to extensive certifications, you will learn more about the most sought-after business skills. Some of the most common courses include inbound sales, email marketing, content marketing, growth-driven design, inbound marketing, etc.
After the certification exam, graduates will also be accredited for their resume or LinkedIn profile to prove that they have expanded their marketing expertise with the HubSpot Academy.
Link: https://academy.hubspot.com/
9. Twitter Flight School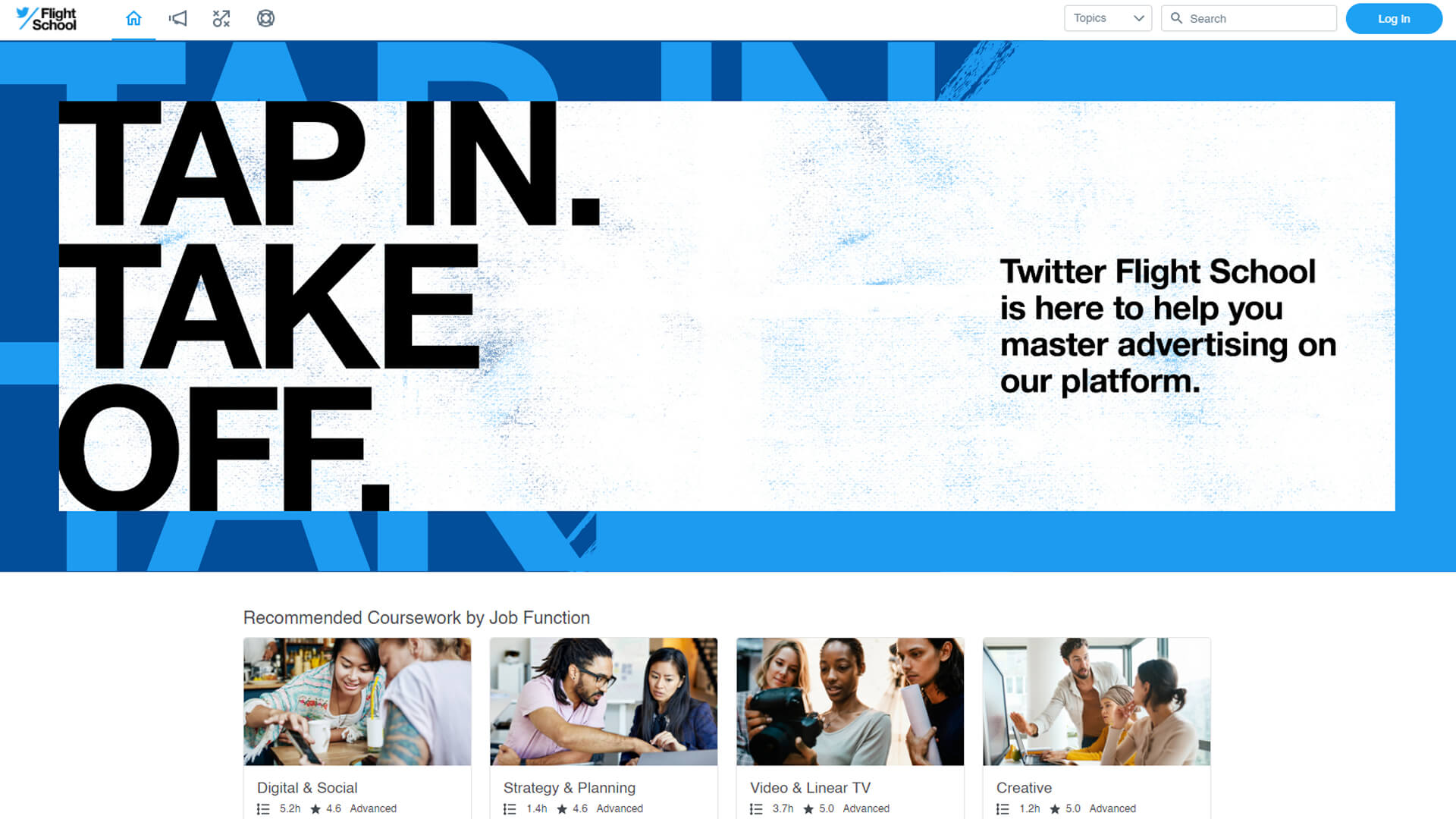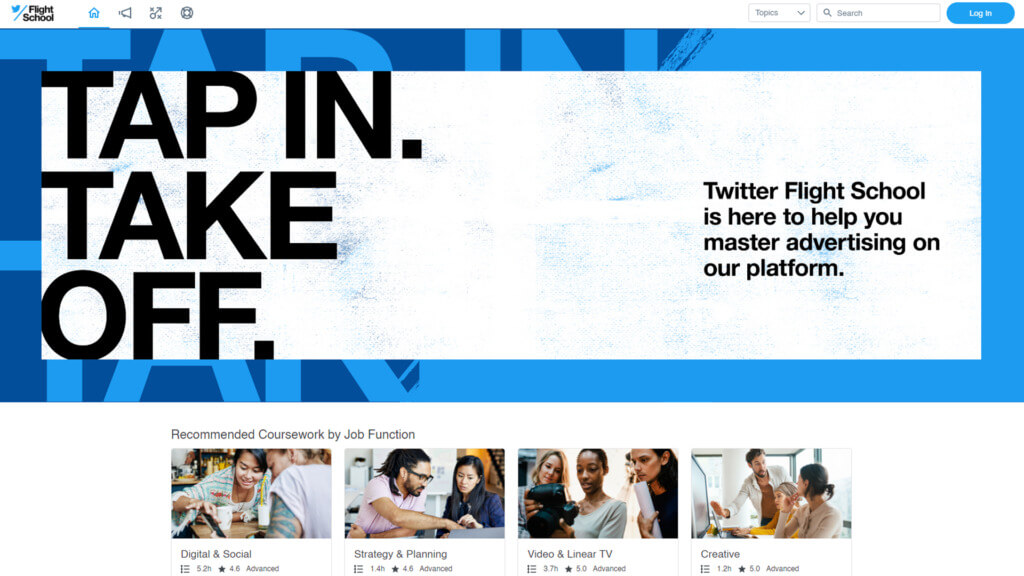 Twitter Flight School helps to guide you in developing the knowledge and expertise you need to fulfill the advertising targets of your clients on Twitter.
The course is split into task roles and different job scopes. They will help you learn about Twitter ads, which will also allow you to understand how to structure strategies to accomplish clear advertising goals to create and implement video campaigns on the website.
Link: https://www.twitterflightschool.com/student/catalog
10. Facebook Blueprint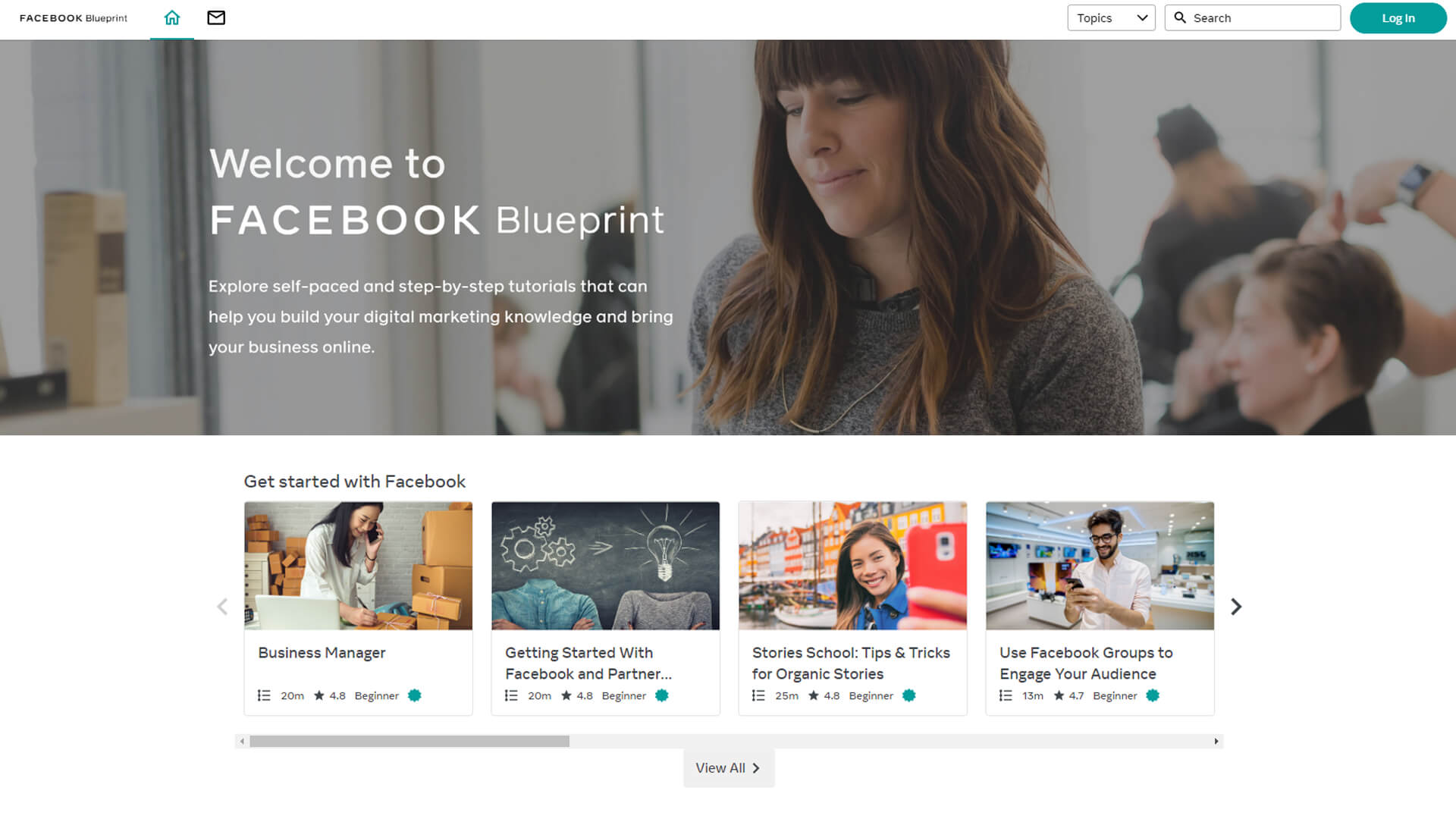 Facebook Blueprint allows you to explore fast, free, self-guided courses to help build your marketing skills across Facebook, Instagram, Messenger, and WhatsApp.
Learn about the best practices of marketing through a series of free, self-paced online courses. Blueprint eLearning can help you market more effectively on Facebook's platforms, from small businesses to agencies, and all you need is a Facebook account.
Link: https://www.facebookblueprint.com/student/catalog
11. Hootsuite Academy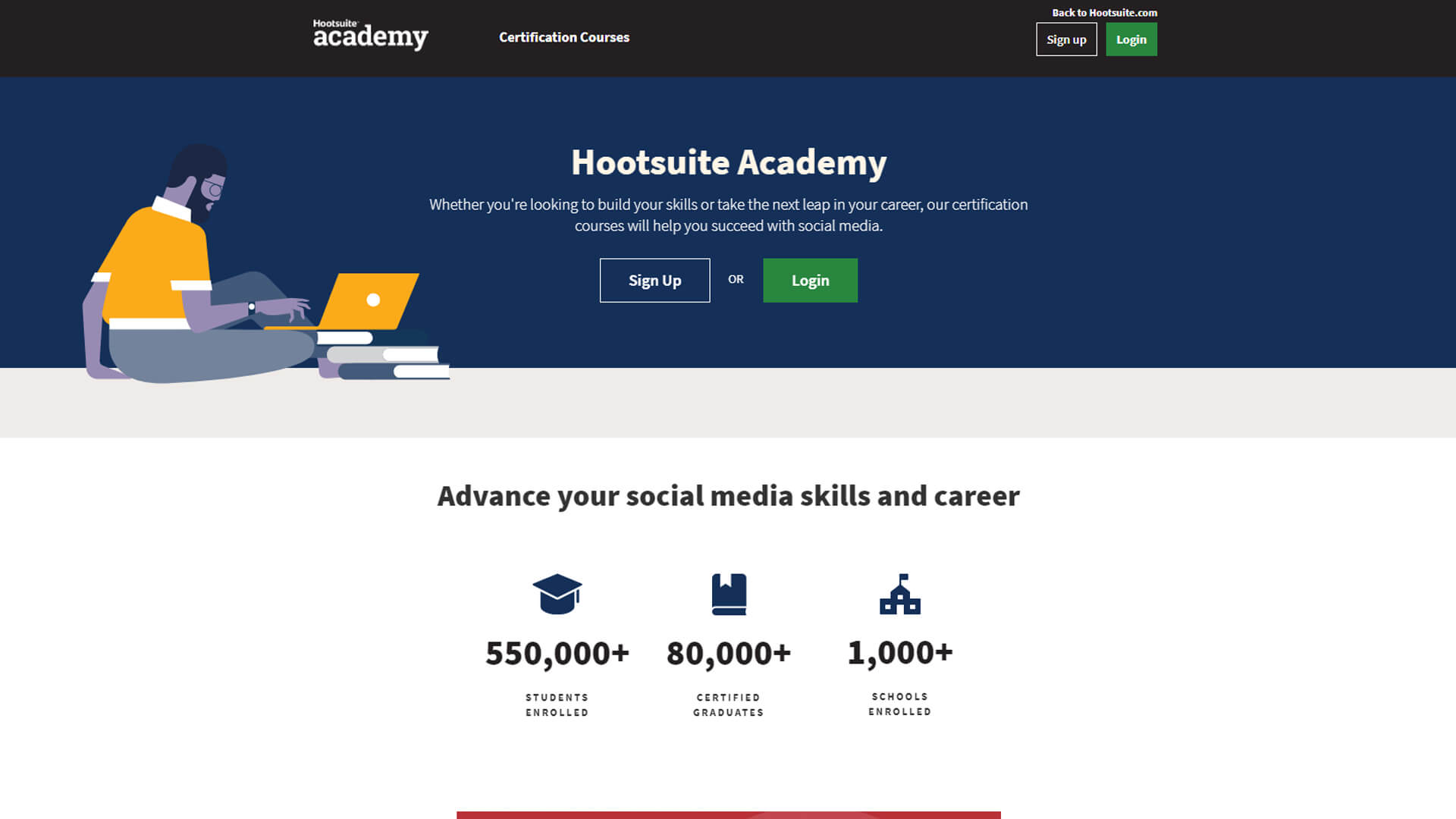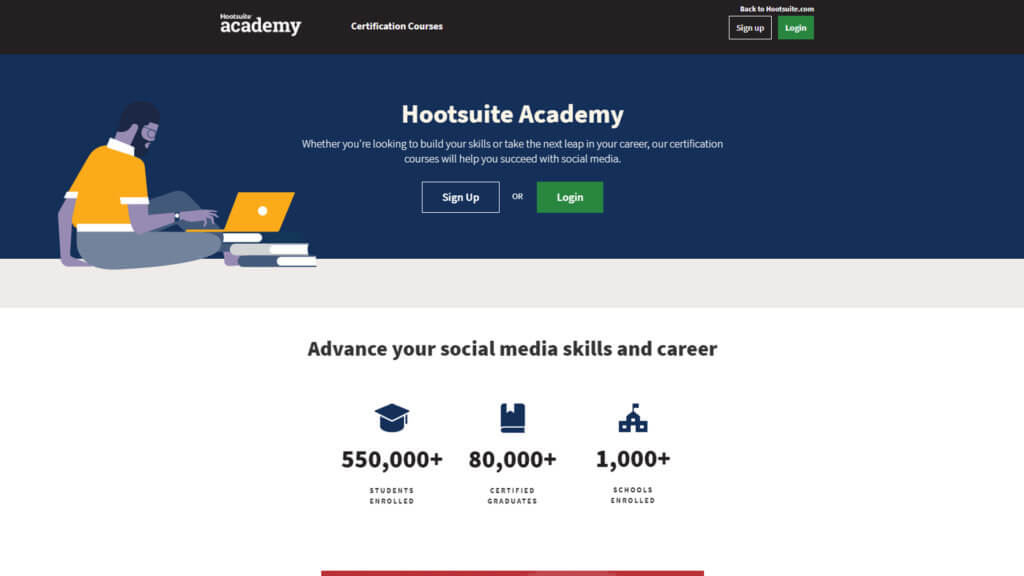 Whether you're trying to develop your skills or taking the next jump in your career, Hootsuite's certification courses will help you excel in social media. Hootsuite Academy provides a handful of paying curriculum materials to satisfy the increasing need for social media expertise in the workforce.
You can opt to learn from a wide variety of paid courses, including how to use Hootsuite to help plan your social media campaigns or learn how to thrive in social marketing.
Link: https://education.hootsuite.com/
12. Microsoft Advertising Training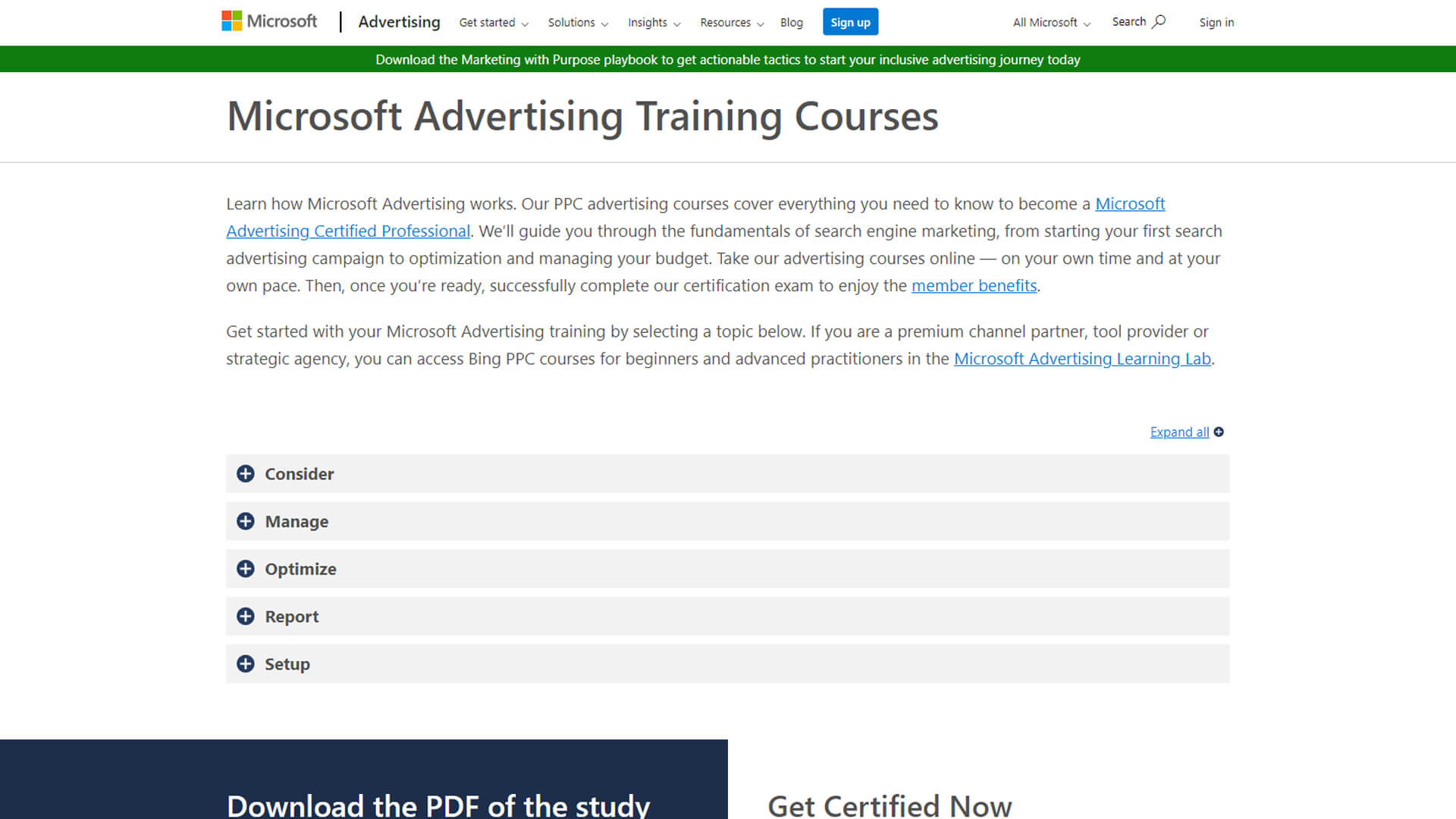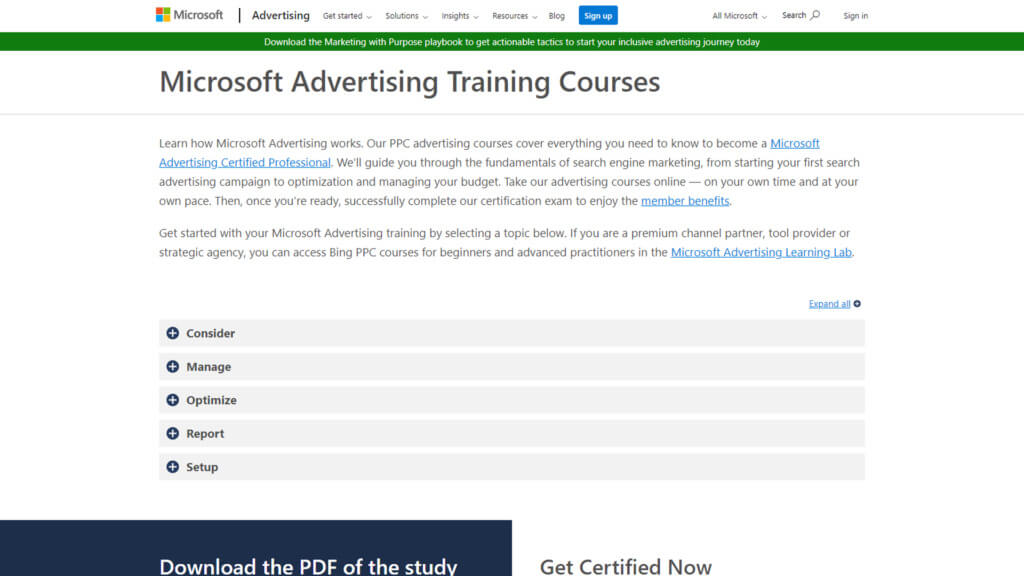 Microsoft Advertising Training courses (formerly known as Bing Ads Accreditation Exam) include everything you need to know to become a Microsoft Advertising Certified Professional. They will lead you through search engine marketing basics, from launching the first search ads campaign to optimizing and controlling your budget.
Take online advertising courses — your own time and at your own pace. And, once you're able, successfully pass the certification exam to take advantage of the membership benefits.
Link: https://about.ads.microsoft.com/en-us/resources/training/courses
13. WordStream's Growth Academy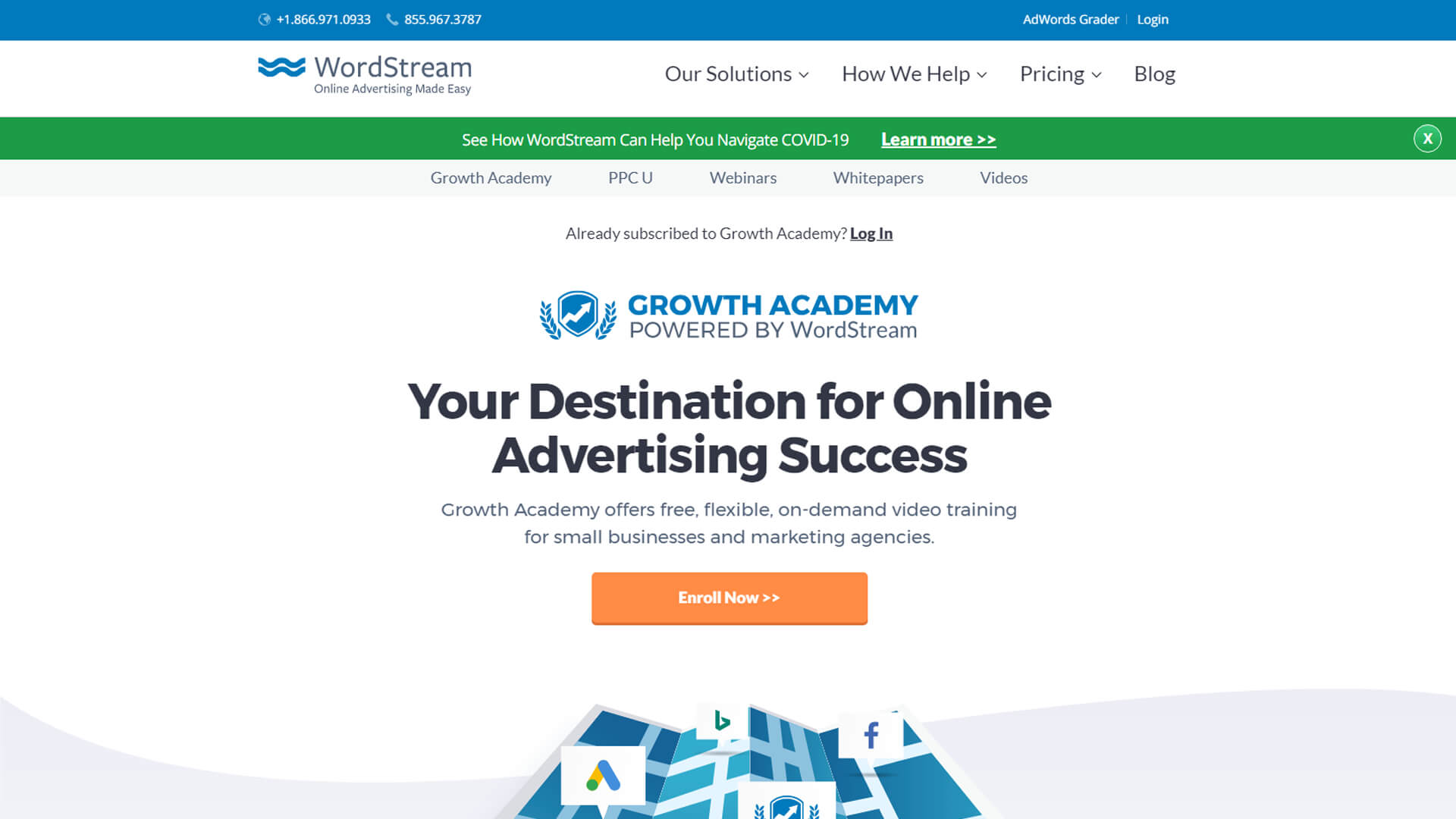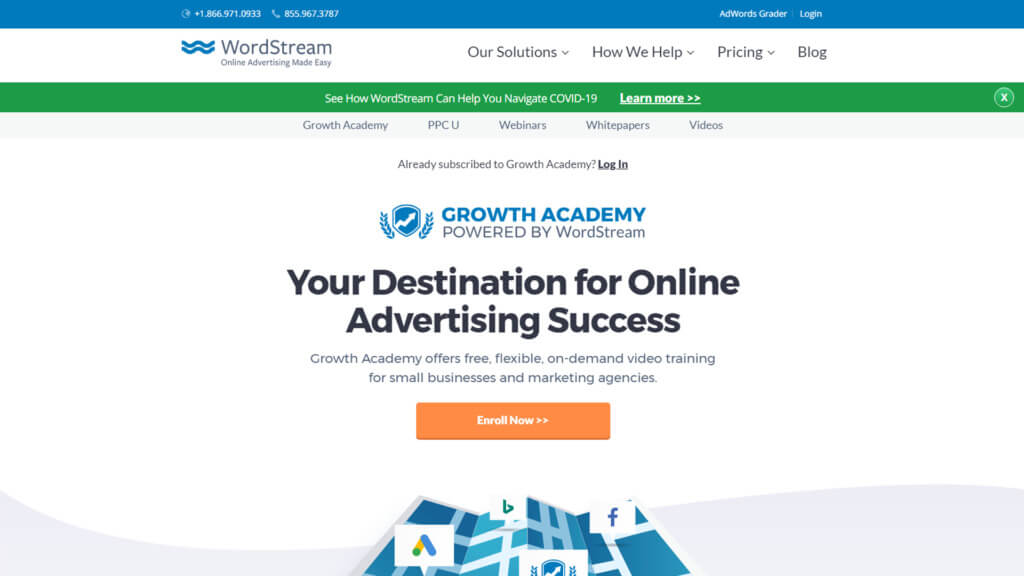 Growth Academy is a detailed, immersive framework for your business's growth through digital marketing, including online ads, lead generation, e-commerce, and more. Not only is it fully accessible, but it is often taught by some of the industry's leading marketing experts.
The Growth Academy is set up with a particular aim in mind: to give advertisers and companies a greater shot of success — in various disciplines and regularly.
Link: https://www.wordstream.com/growth-academy
14. Free Digital Marketing Certification by Digital Defynd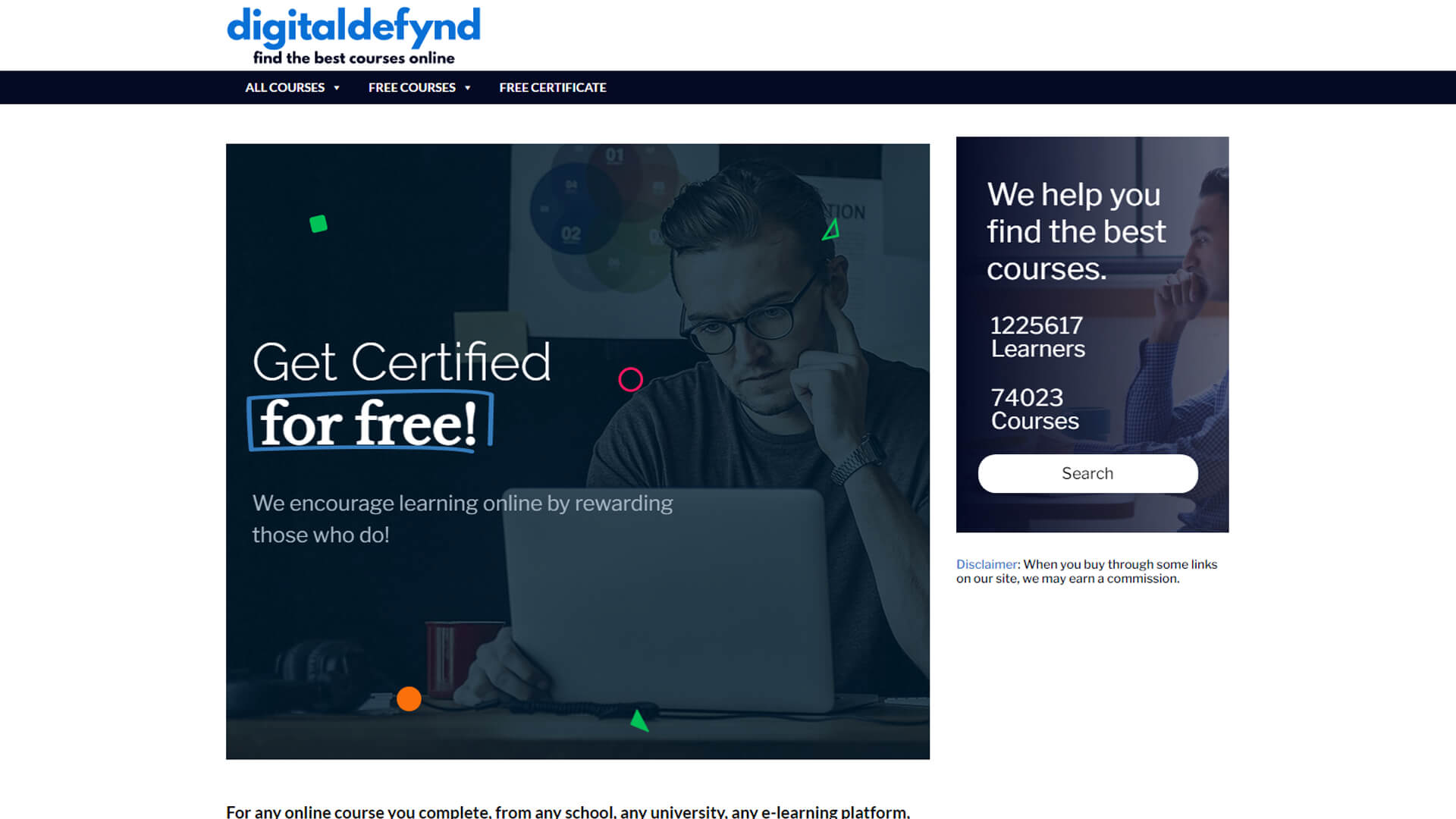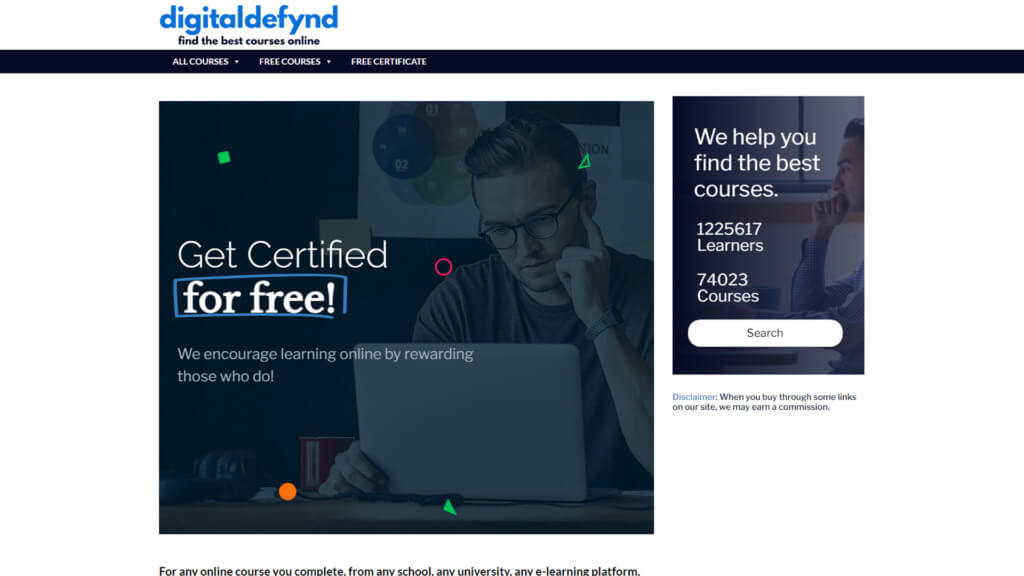 Digital Defynd rewards all learners with a fully free digital marketing certificate. You need to qualify for a certificate to complete some digital marketing course somewhere on the globe. Any digital marketing course that you've finished will give you a Digital Marketing Certificate from Digital Defynd. Much of this regardless of whether or not you want a course using their website.
Link: https://digitaldefynd.com/free-digital-defynd-certificate/