In the world of technology, a groundbreaking collaboration can often redefine what's possible. Enter the ASUS Vivobook S 15 OLED BAPE Edition, a stunning blend of advanced tech and street fashion, thanks to ASUS's partnership with the iconic streetwear brand, A BATHING APE (BAPE). Born in Harajuku, Japan, in 1993, BAPE has been a cornerstone of Japanese street fashion for over 30 years. With a mission to take Japanese fashion culture global, BAPE has birthed iconic motifs like the APE HEAD, BAPE CAMO, and BABY MILO. Now, these iconic designs find a new canvas on the Vivobook S 15 OLED BAPE Edition, making it not just a piece of technology but a statement of style.
But make no mistake, this laptop isn't just for show. Underneath its eye-catching exterior featuring BAPE's vivid and dazzling designs, lies a machine built for performance. Powered by a 13th Gen Intel Core i9 processor and 16 GB RAM, it's designed to handle everything from streaming and work to high-end entertainment. Add to that, a 2.8K 120 Hz OLED display, certified by Harman Kardon and Dolby Atmos, and you've got a laptop that perfectly marries fashion and function.
CPU: Intel Core i9-13900H Processor 2.6 GHz
RAM: 16GB LPDDR5
Graphics: Intel Iris Xe Graphics is only available in models with Intel Core i5/i7/i9 processors and dual-channel memory
Display: 15.6-inch, 2.8K (2880 x 1620) OLED 16:9 aspect ratio, 0.2ms response time, 120Hz refresh rate, 600nits HDR peak brightness, 100% DCI-P3 color gamut
Storage: 1TB SSD
Ports: 1 x USB 2.0 Type-A, 1 x USB 3.2 Gen 1 Type-A, 1 x Thunderbolt 4 supports display/power delivery, 1x HDMI 1.4, 1 x 3.5mm Combo Audio Jack
Battery life: 75WHrs, 2S2P, 4-cell Li-ion
Wireless: Wi-Fi 6E(802.11ax) (Dual band) 2*2 + Bluetooth 5.3
Dimensions: 359.3 x 229.4 x 17.9 mm
Weight: 1.60kg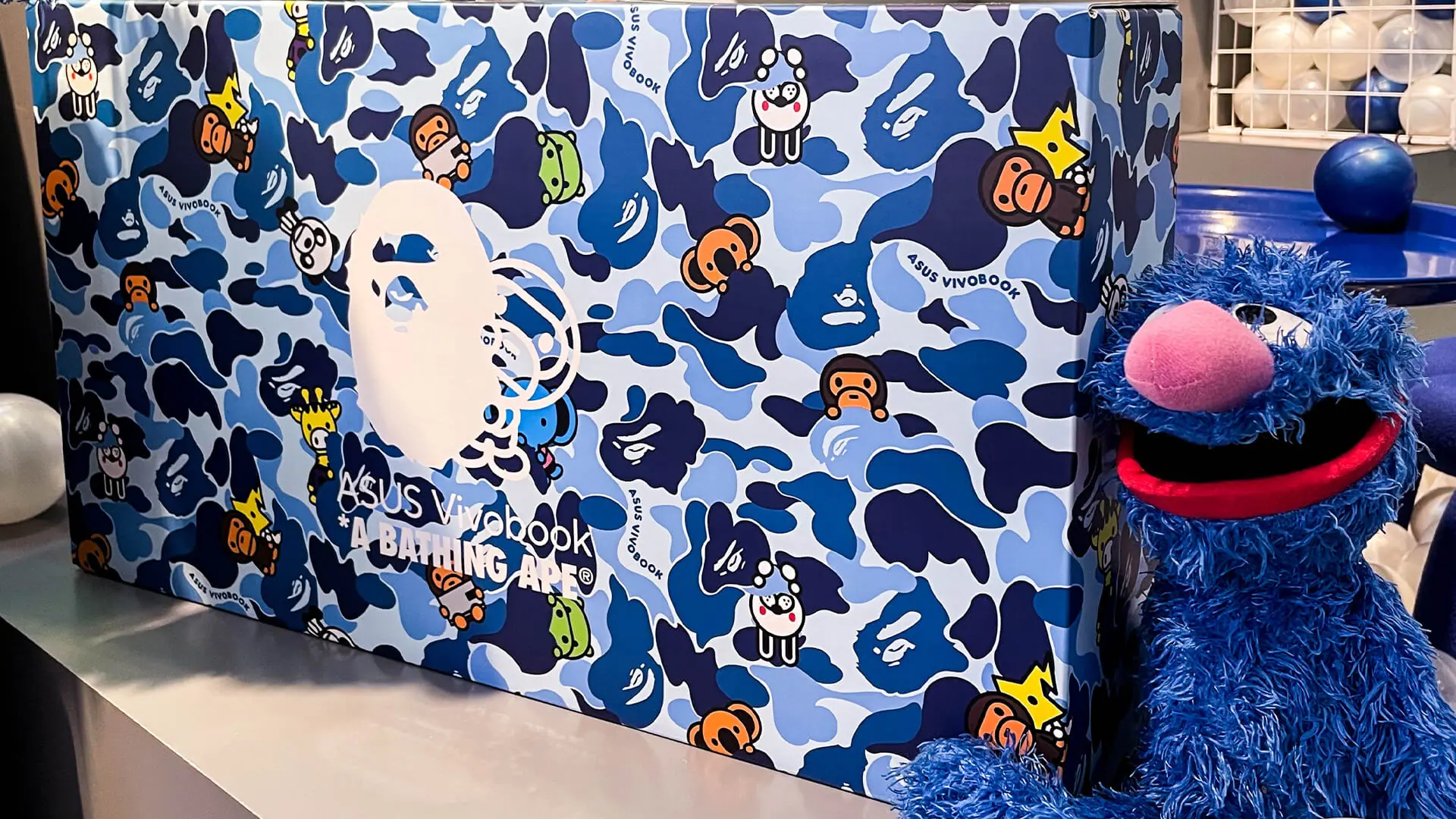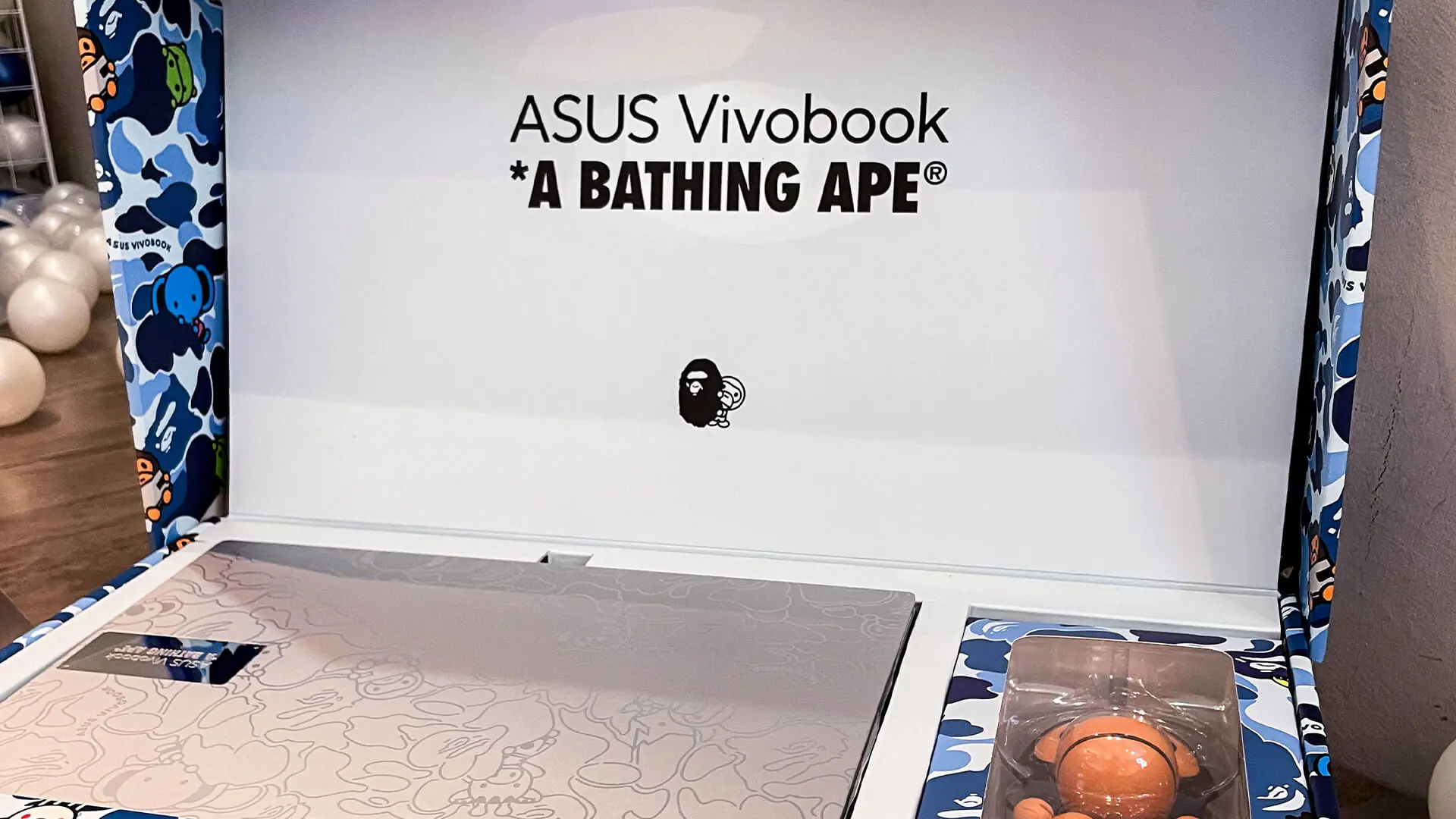 A design that turns heads
Adorned with the iconic BAPE camo pattern and BABY MILO print, this laptop is a fashion statement in itself. The metallic lid features a linear camo design that has been meticulously photo-light-etched, along with a reflective PVD-processed stainless steel logo tag, adding a touch of luxury. Colour options include Cool Silver and Midnight Black, allowing you to choose a hue that complements your personal style.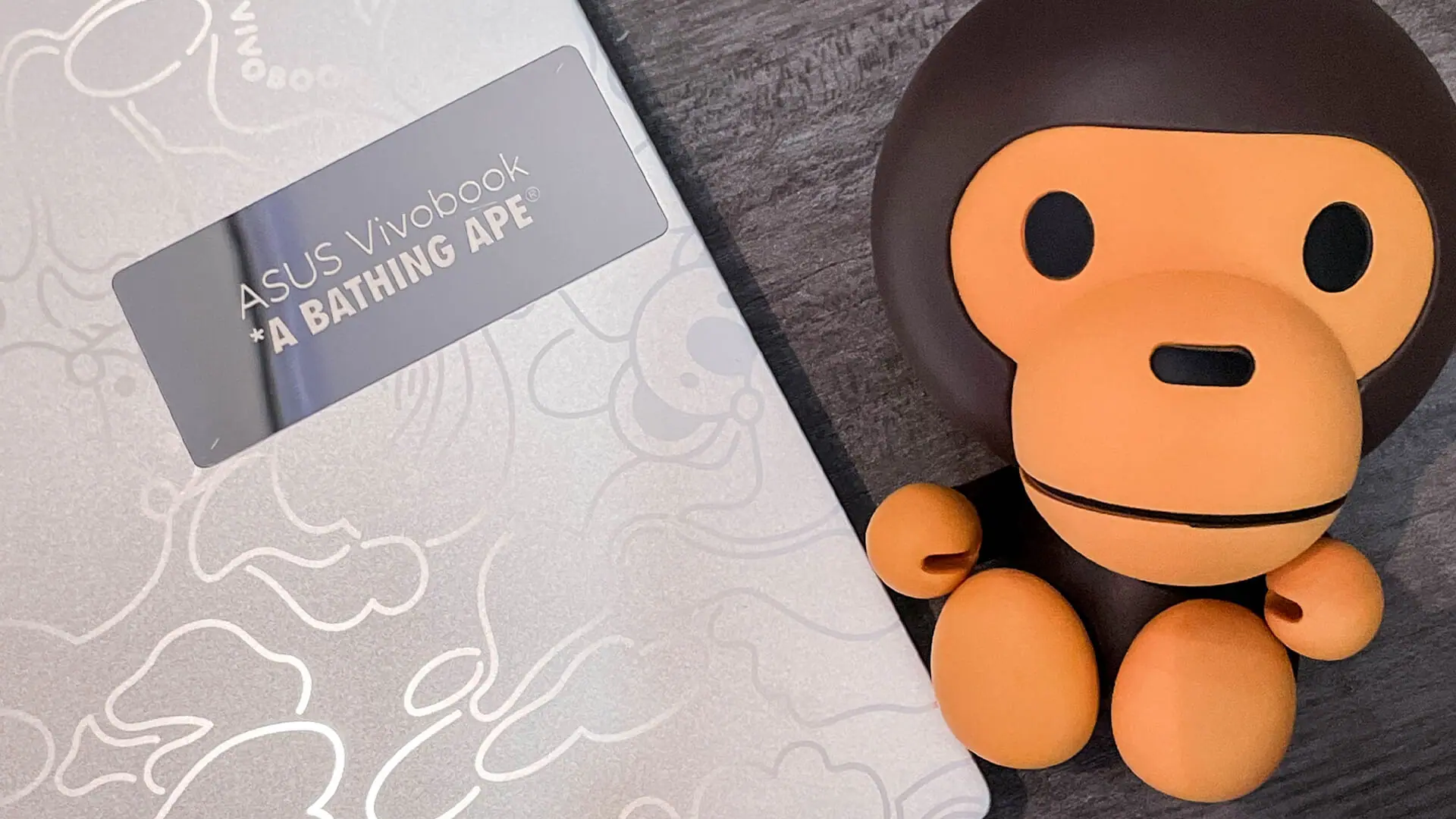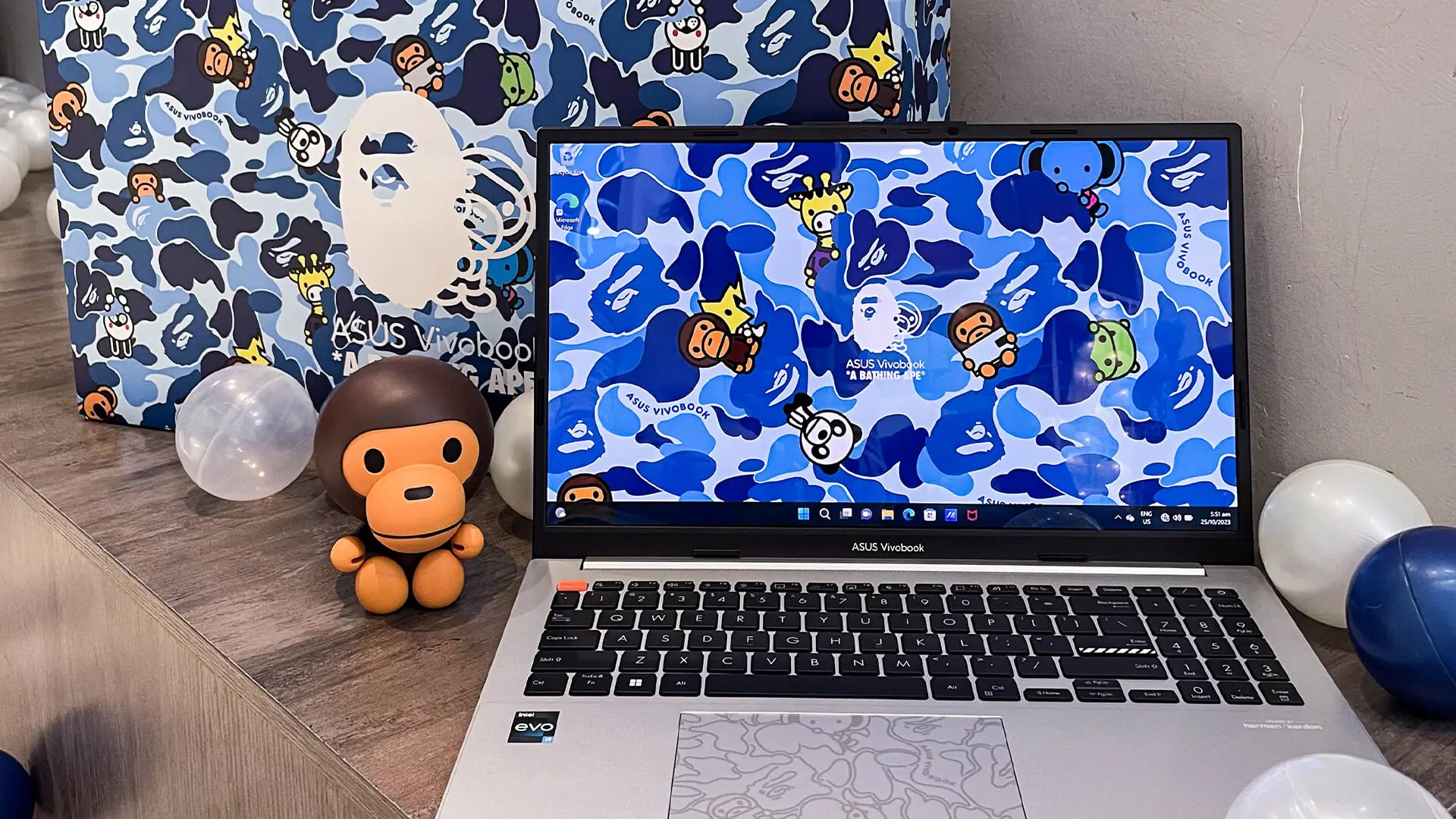 The ASUS Vivobook S 15 OLED BAPE Edition also offers a well-rounded selection of ports to meet various connectivity needs. It features 1x USB 2.0 Type-A and 1x USB 3.2 Gen 1 Type-A for your standard peripherals. At the same time, the Thunderbolt 4 port not only supports fast data transfers but also facilitates display connectivity and power delivery. For multimedia presentations or dual-screen setups, the HDMI 1.4 port comes in handy. The laptop also includes a 3.5mm Combo Audio Jack for your audio requirements and a DC-in port for charging. This range of ports makes it a versatile choice for both work and entertainment.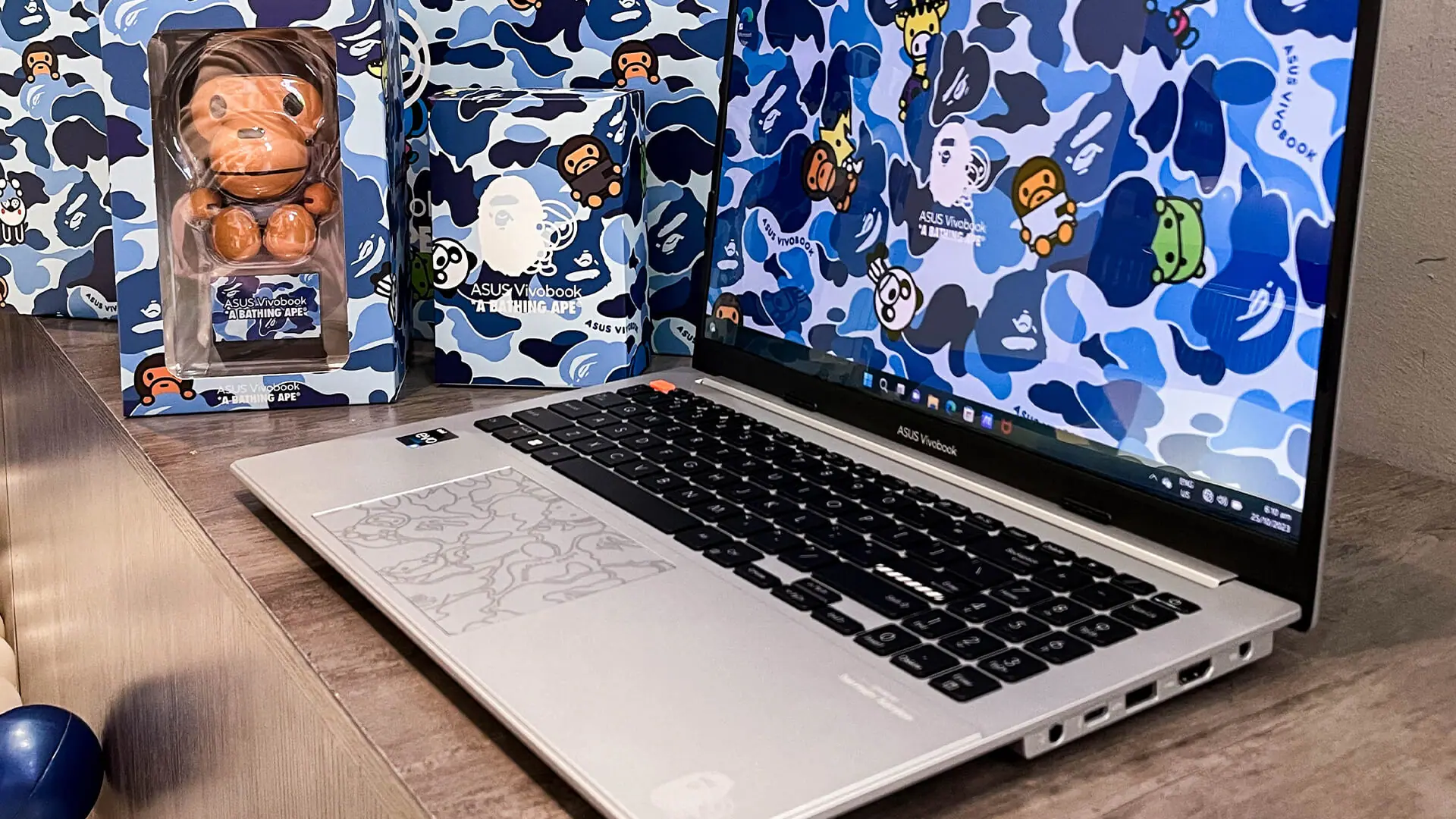 A display that brings your content to life
The ASUS Vivobook S 15 OLED BAPE Edition boasts a 2.8K 120 Hz OLED display that is nothing short of mesmerising. With a resolution of 2880 by 1620, it offers incredibly crisp and vibrant visuals, making it perfect for any task that requires keen attention to detail. If you're a graphic designer or video editor, you can work on your projects with unparalleled clarity, ensuring that the final output meets high standards. The 86% screen-to-body ratio and 100% DCI-P3 colour gamut further enhance the visual experience, making the colours pop and providing a broader viewable area.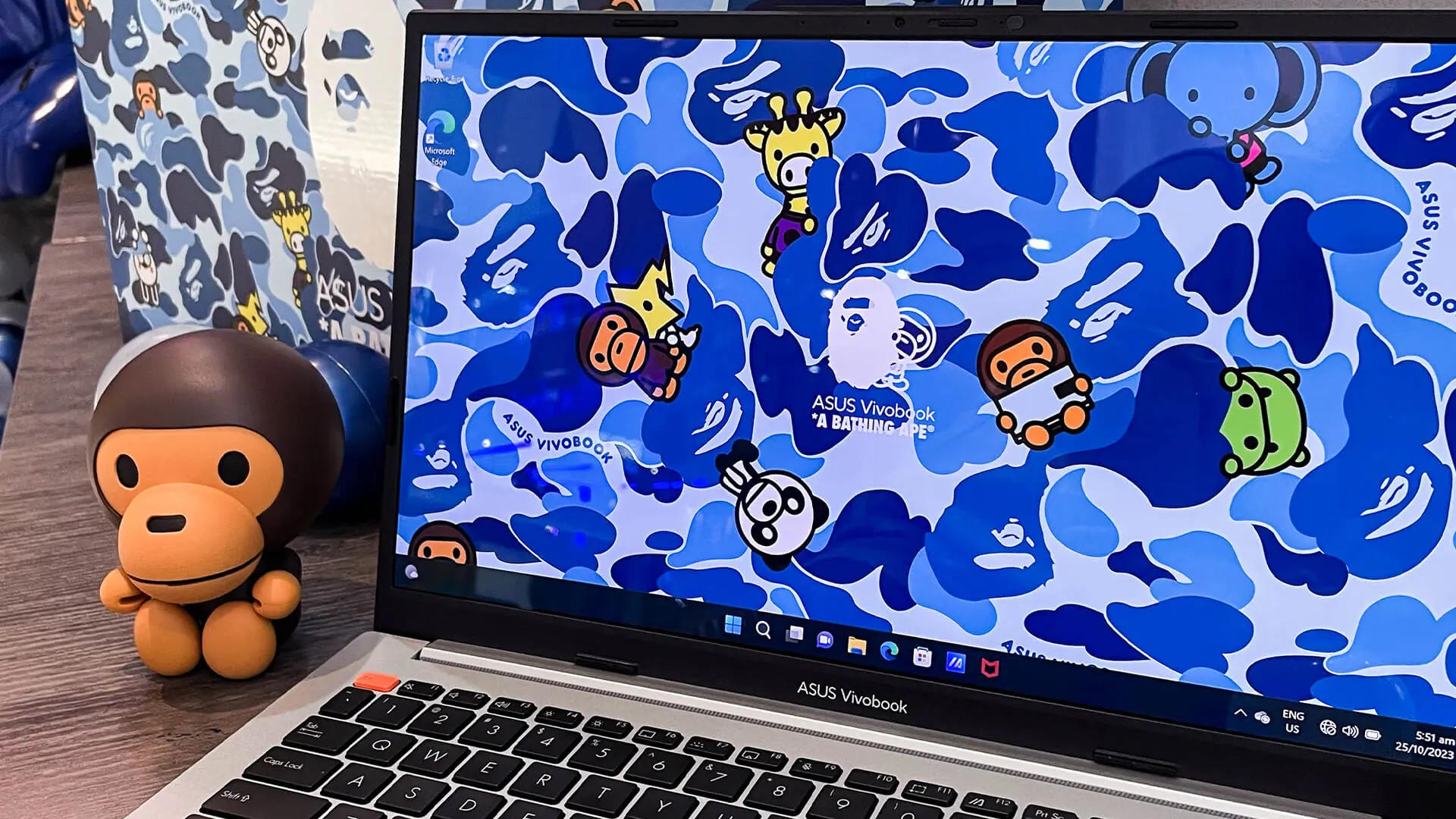 But it's not just for work; this display is a game-changer for entertainment as well. Certified by Harman Kardon and Dolby Atmos, the laptop offers crystal-clear audio and a breathtakingly realistic soundscape for music and movies. This, combined with the display's 600 nits peak brightness and ultrafast 0.2 ms response time, turns your laptop into a mini entertainment hub. Whether binge-watching your favourite series or enjoying a movie night, the Vivobook provides an immersive experience that will make you feel like you're in the middle of the action.
What sets this display apart are the certifications that focus on your well-being. It comes with TÜV Rheinland certification for flicker-free and offers a low blue light hardware solution. These features are crucial for anyone who spends extended periods in front of the screen, as they can help reduce eye strain and fatigue.
Work made easier with 13th Gen Intel processor
When it comes to work performance, the ASUS Vivobook S 15 OLED BAPE Edition is nothing short of a powerhouse. It's equipped with a 13th Gen Intel Core i9-13900H processor and 16 GB RAM, ensuring you can run multiple applications simultaneously without a hitch. Let's say you're in marketing, managing various campaigns that require you to have several tabs open for social media management tools, analytics dashboards, and content creation software. This laptop will handle it all smoothly without slowing down or freezing.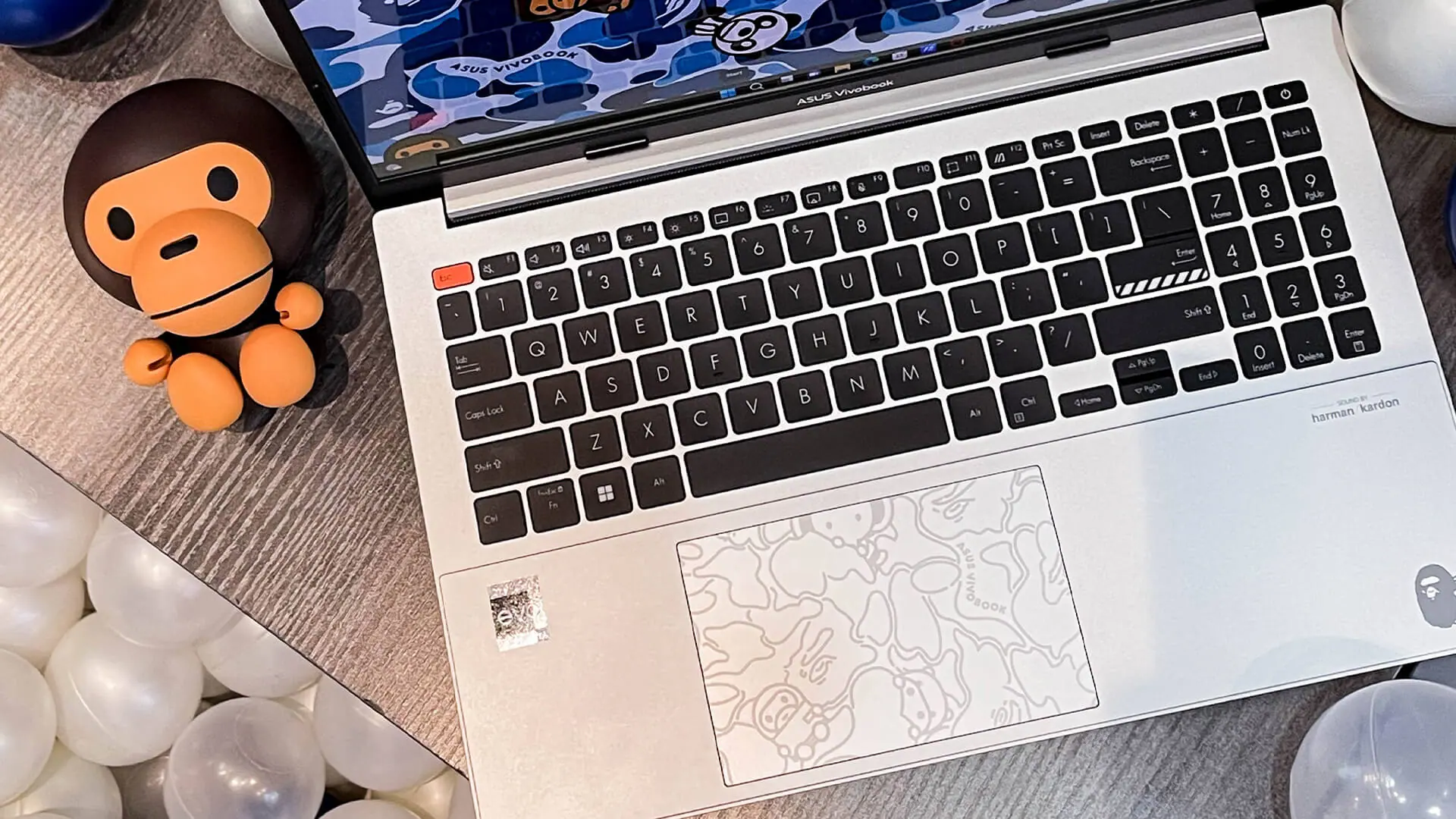 The fast charging and high-speed connectivity will ensure you can get your work done efficiently without worrying about running out of juice or dealing with slow download speeds. The laptop's 14 cores also come in handy for multitasking, allowing you to run complex computations while simultaneously participating in video calls or editing presentations.
Unique to the collaboration: The accessories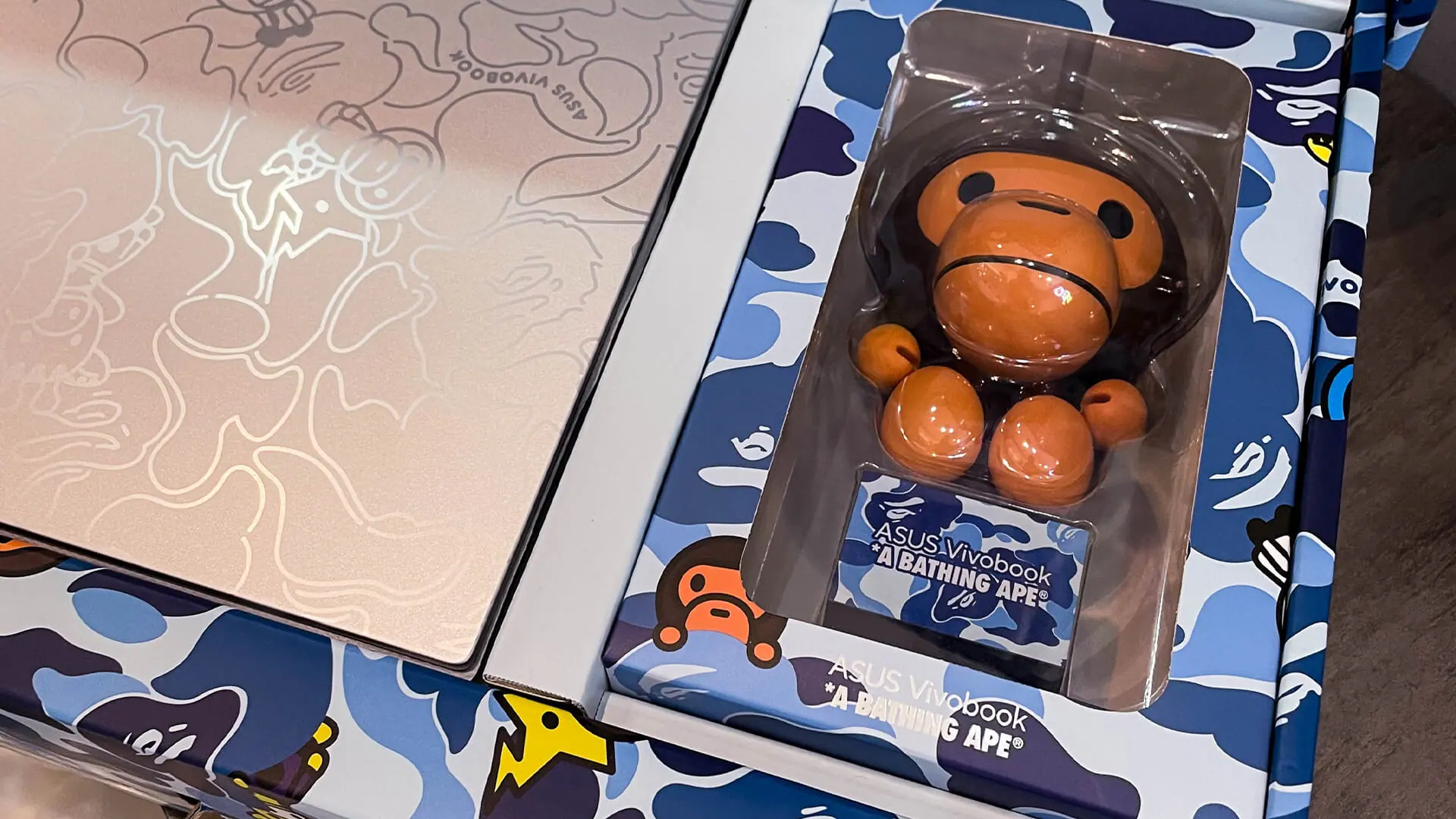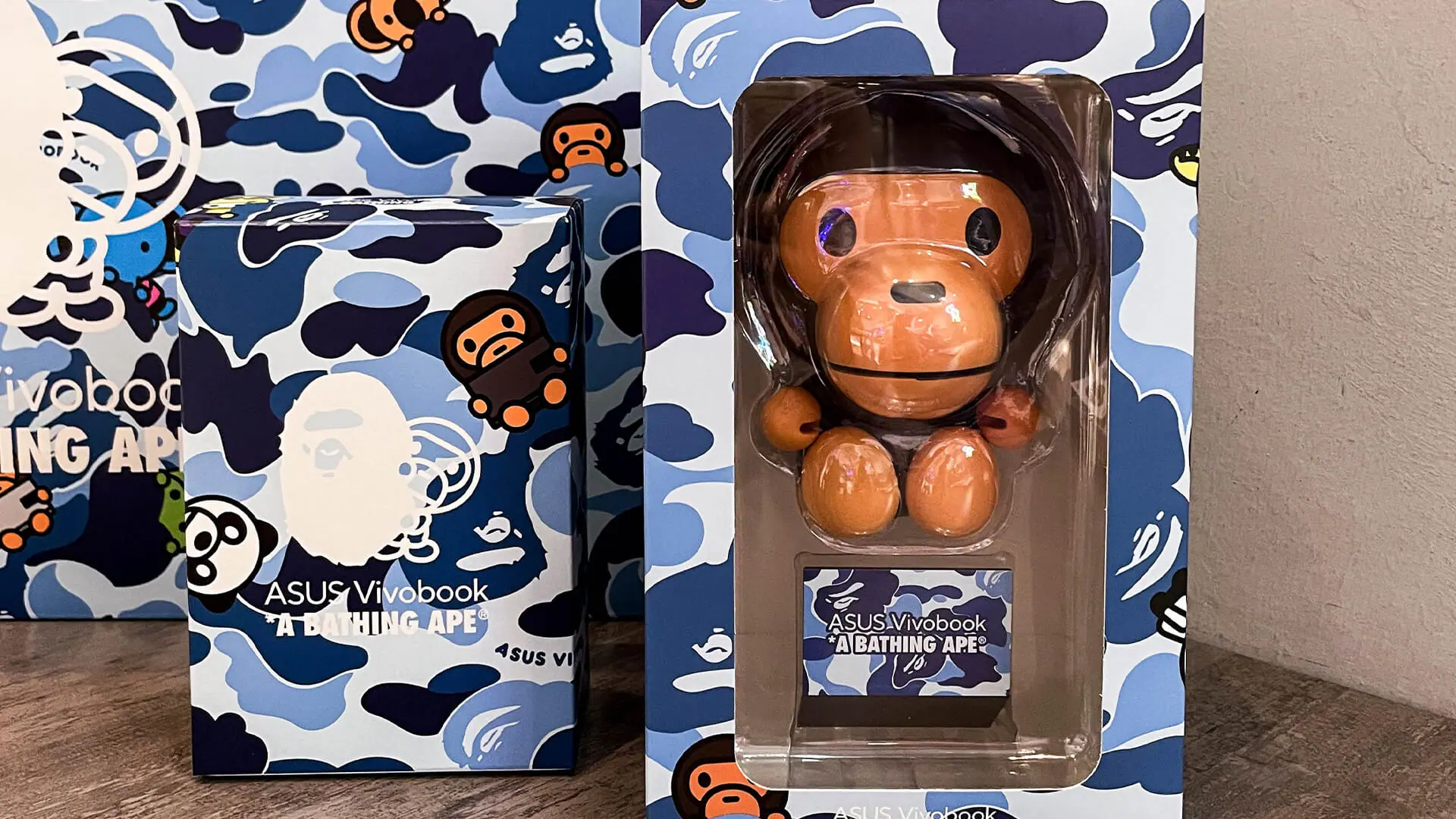 This collaboration bundle includes a laptop bag that is far from ordinary, adorned with the iconic BAPE camo graphic. The bag's 180-degree opening makes it convenient to insert or remove the laptop, and its multiple pockets help you stay organised. You also receive two sets of stickers for added personalisation. One set is for general use, while the other is designed for keyboard customisations. This makes the laptop truly your own, blending seamlessly with BAPE's streetwear aesthetic.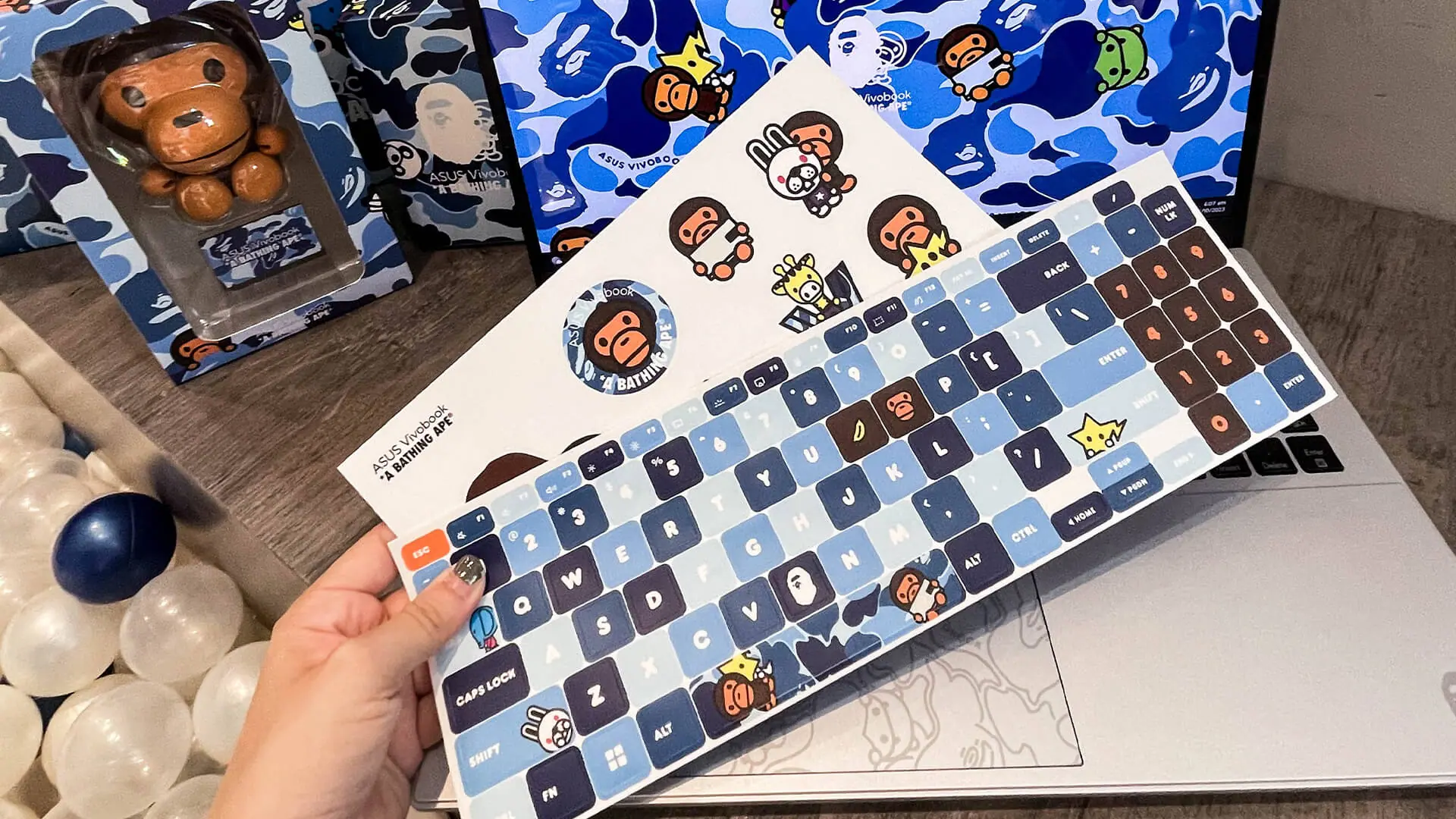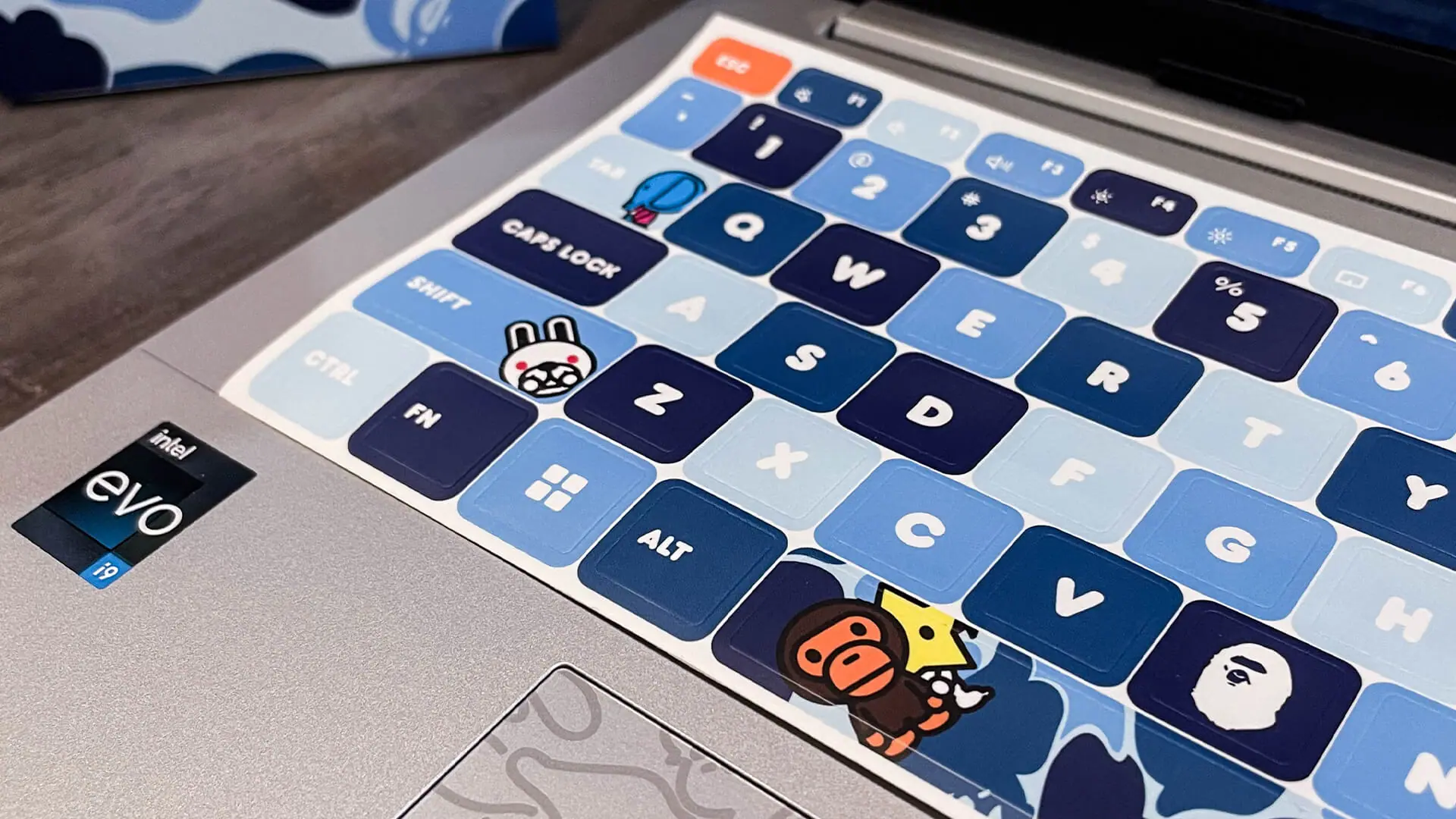 Completing the bundle are two more standout items: a BABY MILO figurine and a special edition ASUS Marshmallow mouse. The BABY MILO figurine is not just a decoration; it holds a miniature ASUS Vivobook in its lap, bringing a touch of playful BAPE flair to your workspace. The ASUS Marshmallow mouse is also a part of the bundle, featuring the same eye-catching BAPE camo design. It comes with a swappable shell, allowing you to choose between colourful and black looks, and it even includes a handy strap for easy portability. These accessories aren't just afterthoughts; they're integral parts of the ASUS Vivobook S 15 OLED BAPE Edition experience, making the entire package a collector's item for any BAPE or tech enthusiast.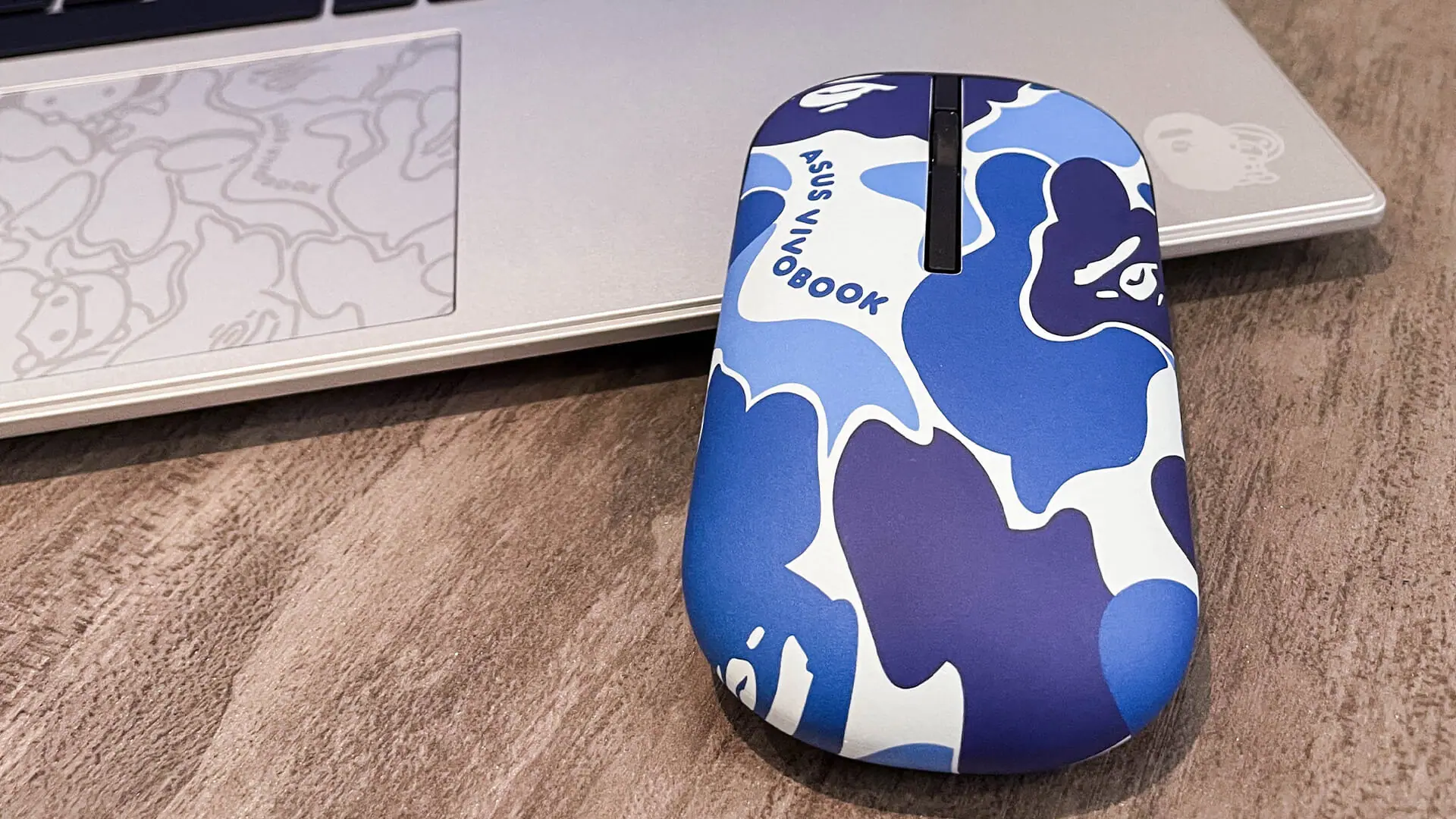 The verdict: ASUS Vivobook S 15 OLED BAPE Edition
If you want to make a statement with your tech gear while not compromising on performance, the ASUS Vivobook S 15 OLED BAPE Edition has got you covered. The partnership with BAPE offers an unbeatable blend of style and substance, turning heads while delivering on its promises of high-speed performance and functionality. The laptop's design isn't just about aesthetics; it's about an entire lifestyle. With the BABY MILO figurine, customisable mouse, compact carry bag and for S$2,349, you're not just buying a laptop; you're buying into a culture.