As 2022 progresses, the number of high-refresh-rate gaming displays with 4K resolution continues to rise. ASUS ROG Swift OLED PG42UQ gaming monitor is part of the ASUS ROG Swift gaming series. It's a fantastic 4k gaming display with a giant 41.5-inch screen that displays razor-sharp pictures and text. It also has superb ergonomics and viewing angles, making it perfect for various applications.
ASUS has long been a leading brand in the gaming industry. Furthermore, they are consistently at the top of the gaming monitor lists, and this new monitor is no exception. The PG42UQ features an anti-glare Micro-texture coating that reduces reflections and allows you to see more true onscreen colors. In addition, its blistering 0.1 ms response time and ultrafast 138 Hz (overclocked) refresh rate provide exceptionally immersive gaming on a bigger scale.
Display: 41.5-inch, 4K (3840 x 2160) OLED 16:9
Color Space (DCI-P3): 98%
Response Time: 0.1ms (GTG)
Refresh Rate (Max): 138Hz
HDR Support: HDR10
VRR Technology: G-SYNC Compatible
Ports: 1x DisplayPort 1.4 DSC, 4x USB-A, 2x HDMI 2.1, 2x HDMI 2.0, 3.5mm Combo Audio Jack, 1x USB 3.0 (Signal)
Dimensions: 932.08 x 611.3 x 255.4 mm
Weight: 14.77 kg
Massive display with strong tripod support designed for gamers
Because it lacks a tower pedestal, the ASUS ROG Swift PG42UQ seems more like a TV than a desktop monitor. The back panel is constructed of solid plastic and is adorned with ROG Swift-specific features like the stand's distinctive appearance and ROG eye logo. Measuring 932 x 611 x 255 mm (with stand) and 932 x 551 x 37 mm (without stand), the ASUS ROG Swift OLED PG42UQ is a sizeable 41.5-inch monitor with a remarkable build quality. Because of its size, you should consider your workspace before purchasing this beast.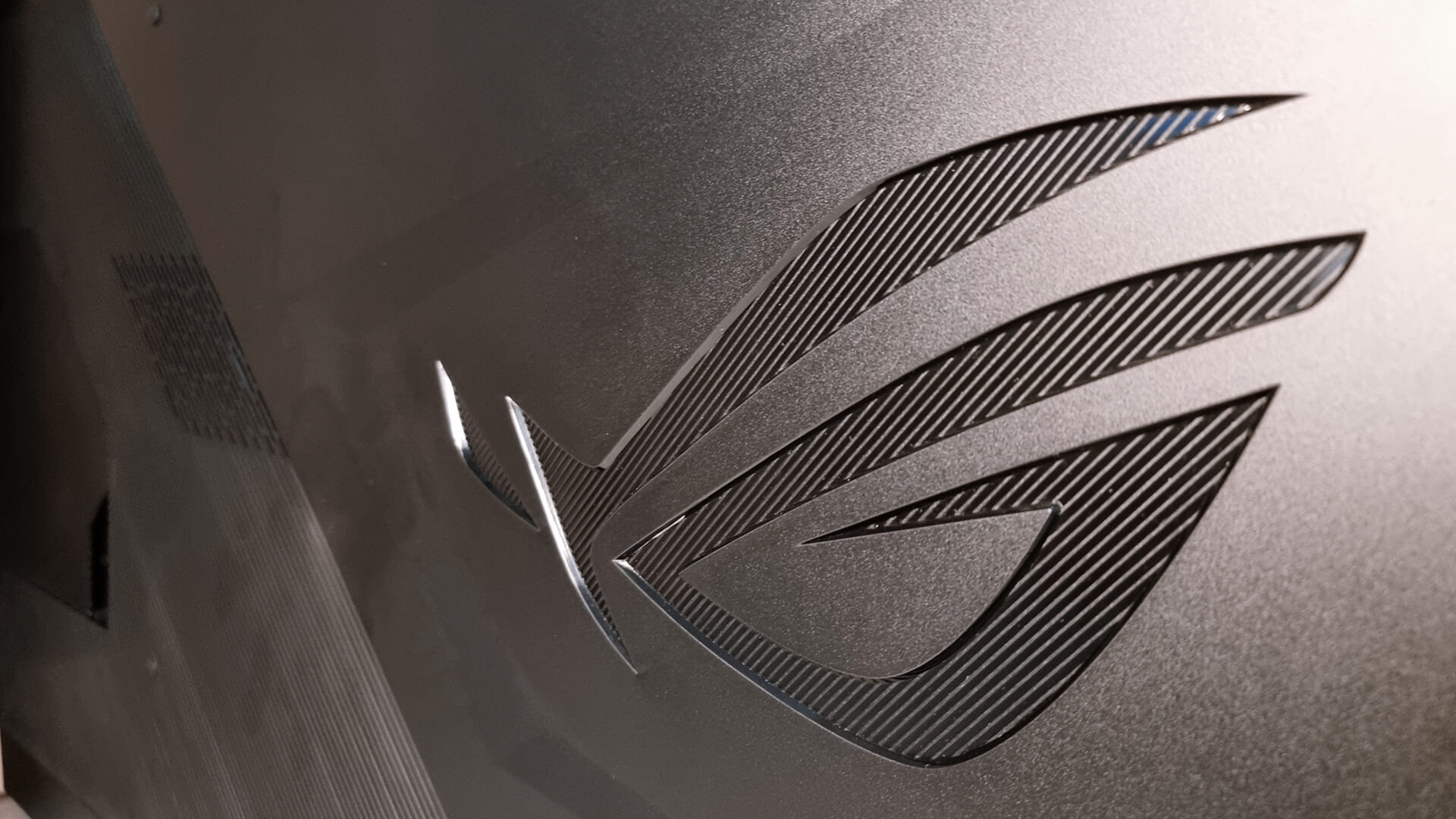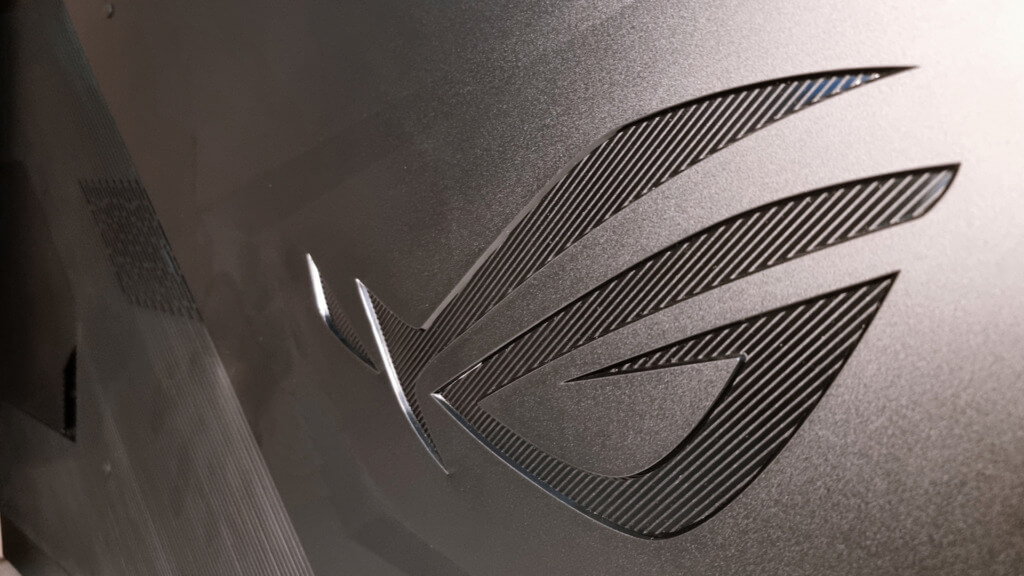 The unique heatsink at the back provides increased surface area for heat exchange, resulting in more effective cooling performance even during extended gaming sessions. In addition, the reduced temperature allows for greater OLED performance with less image sticking. To reduce distractions, this powerful fanless system runs quietly as well.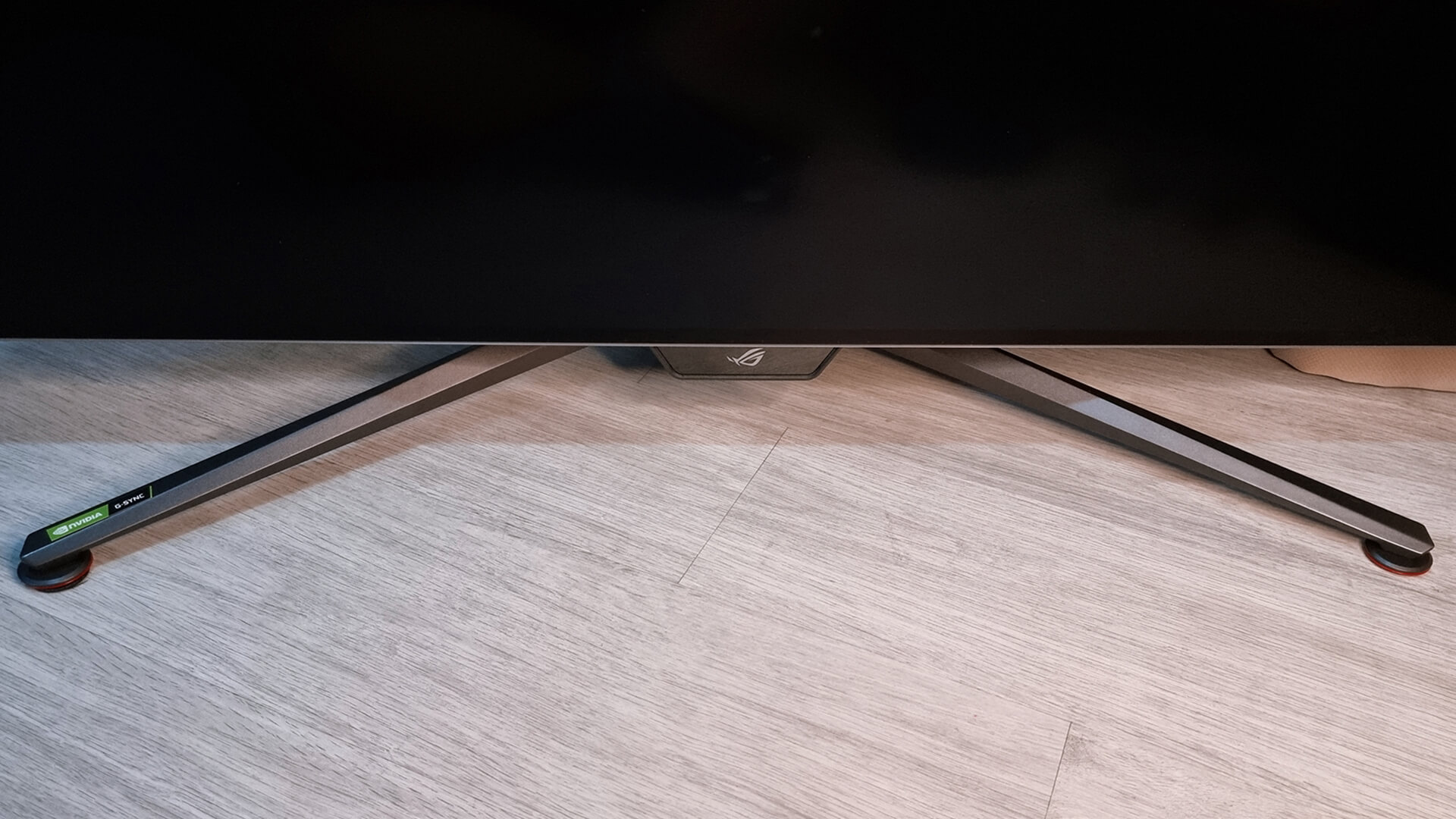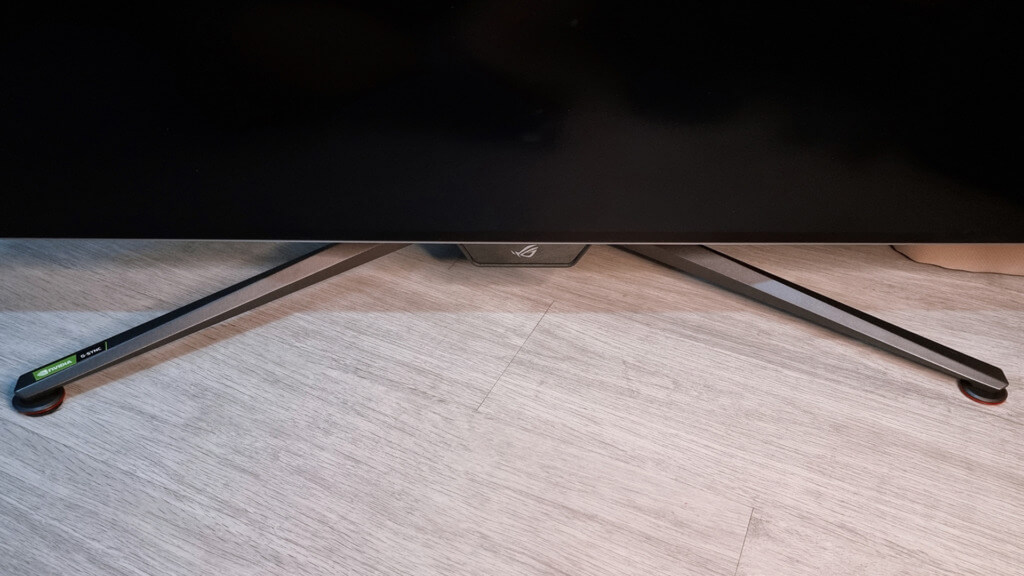 Because the display has incredibly thin bezels, it's not that easy to notice or get distracted by them. In addition, the screen includes a micro-texture anti-glare, matte coating that effectively prevents reflections without introducing too much graininess.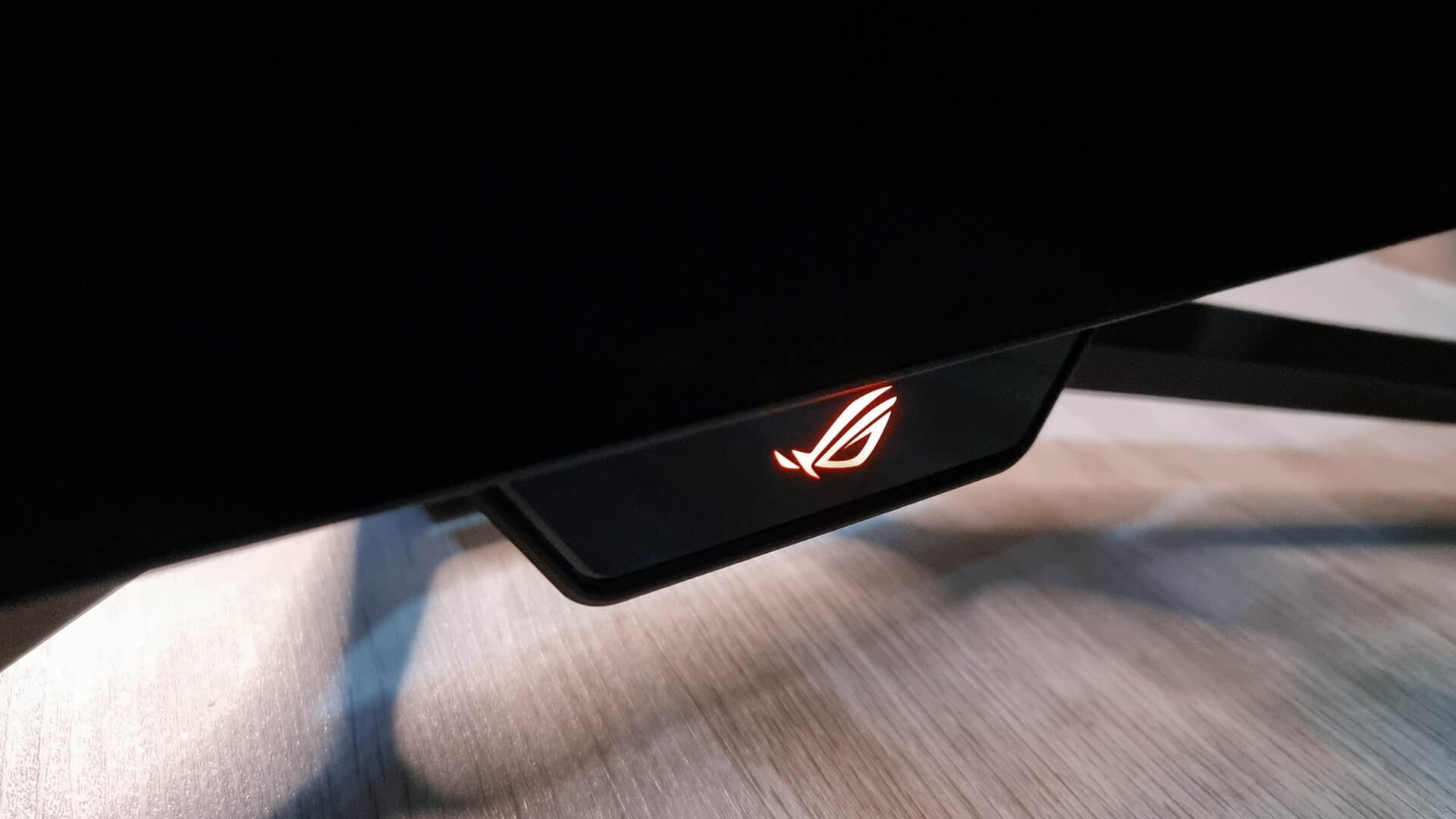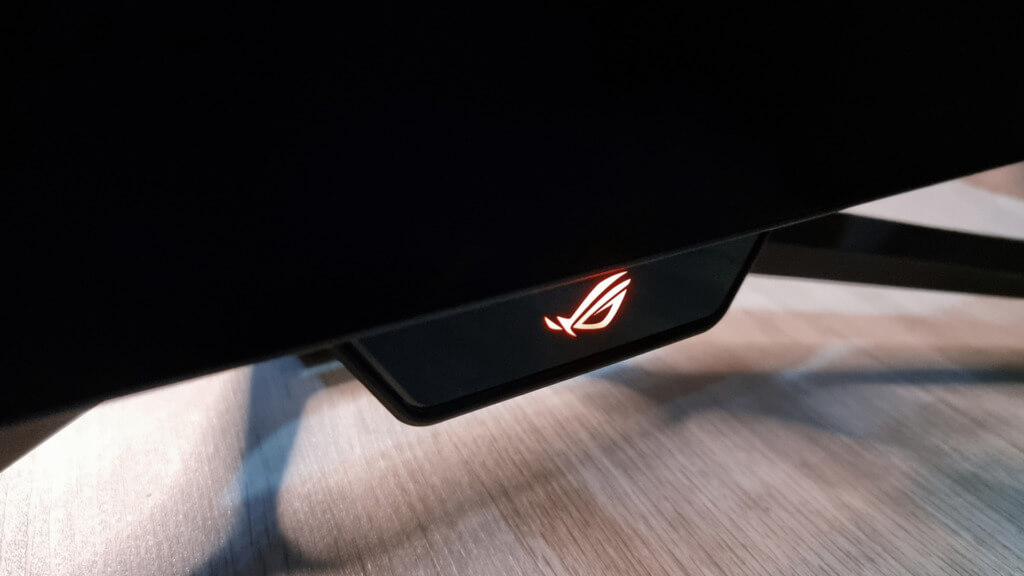 The ASUS PG42UQ is a big monitor; however, the stand has limited ergonomics because it can only tilt, although it's better than stands on other huge displays. The rear has input covers, and the wires may be routed through the stand for cable management. It takes up a lot of space on the desk, which is expected for such a wide display, but at least there's room between the stand for your mouse and keyboard. It even has a slot on top for attaching things like a tripod, such as a webcam.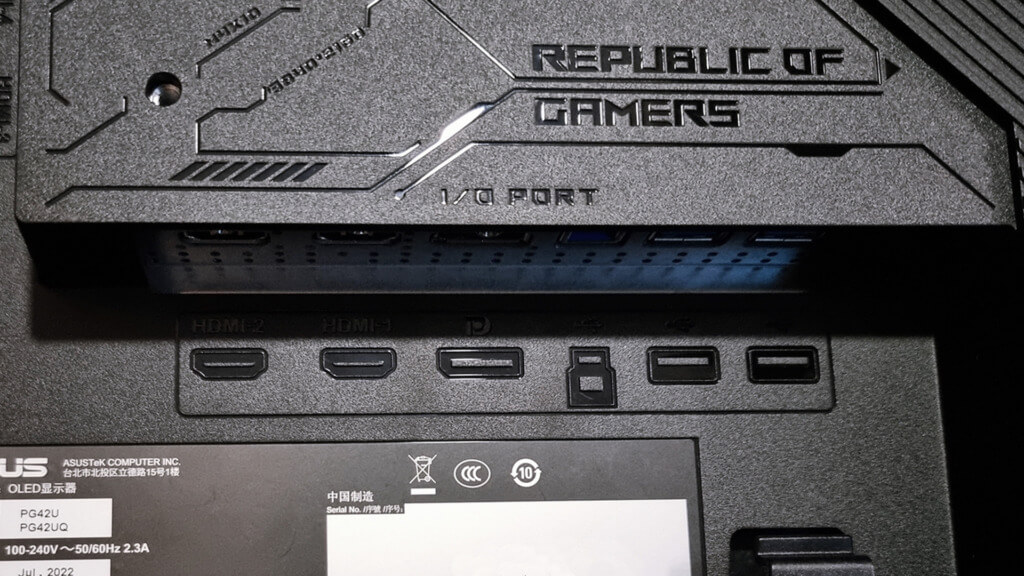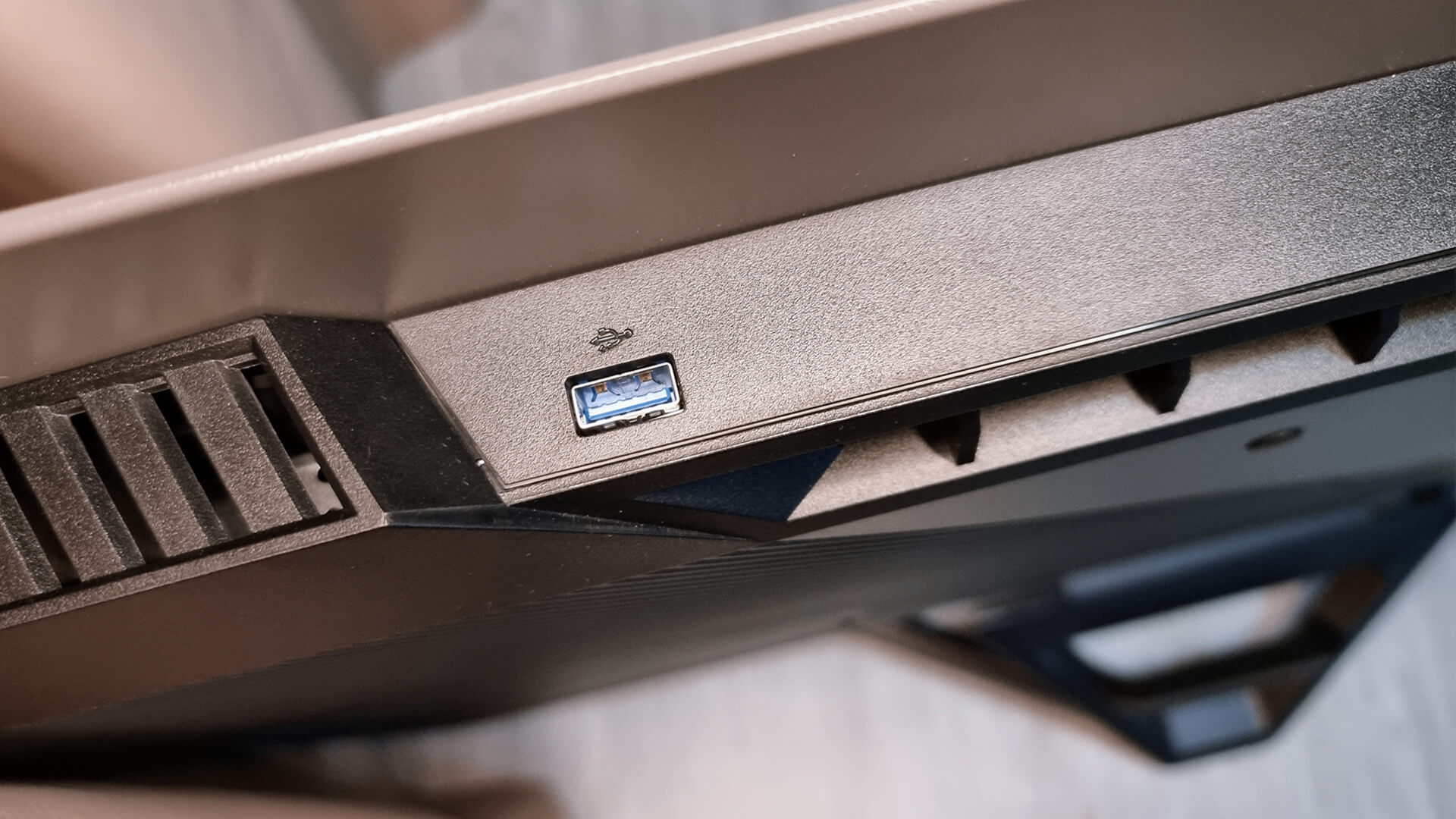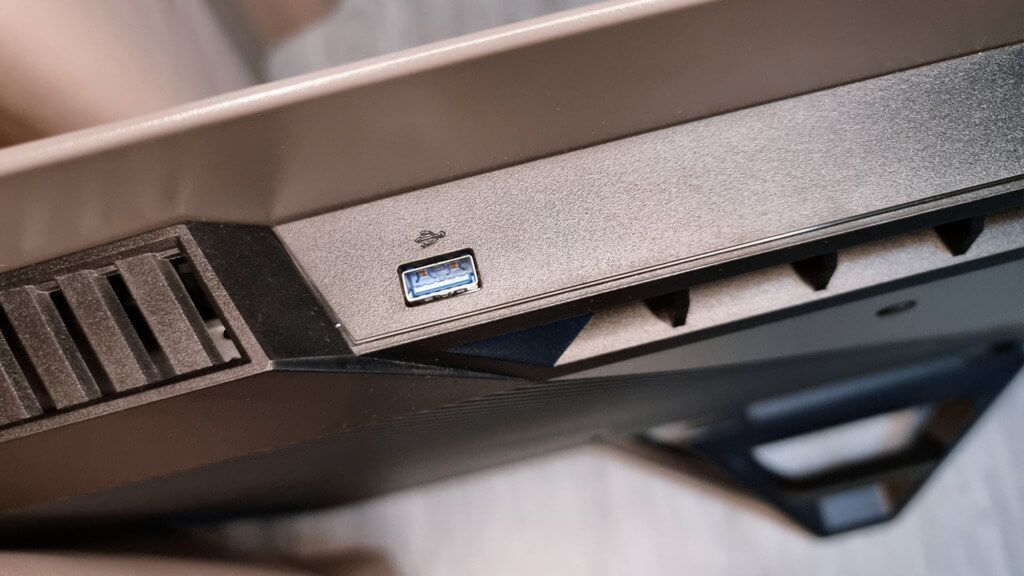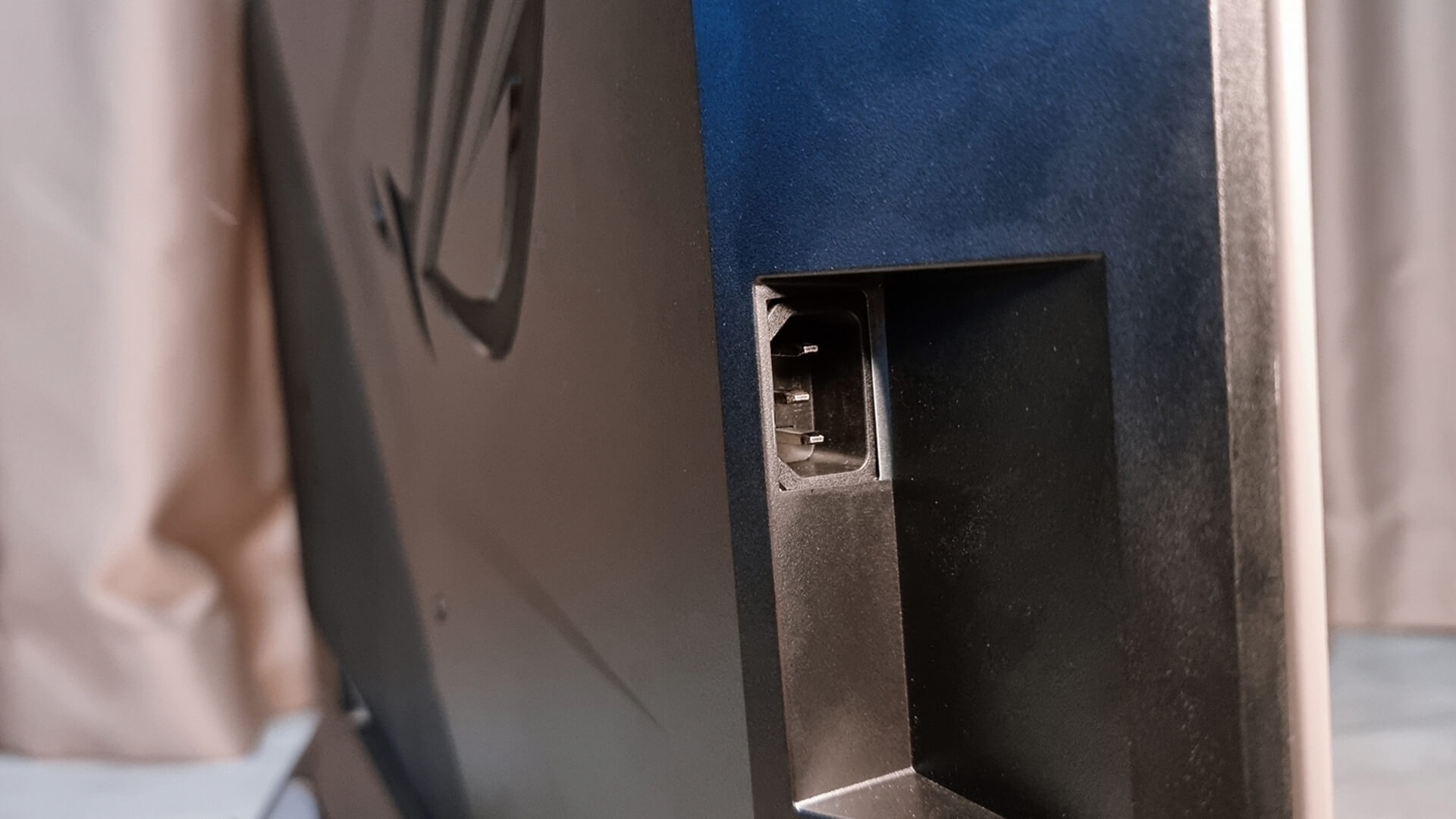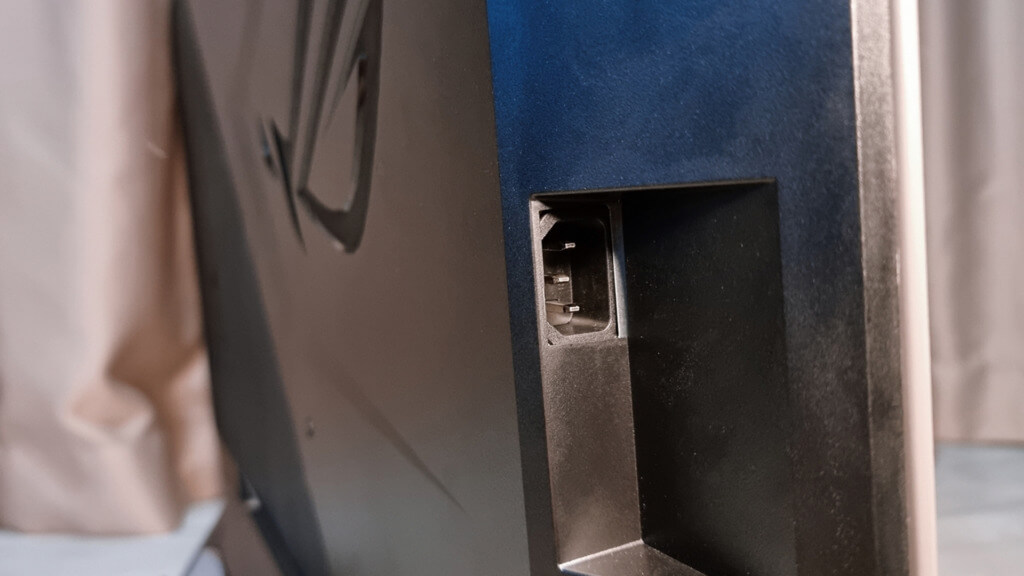 The connectors of the PG42UQ OLED gaming monitor are concealed and may be removed or put in without difficulty. Two HDMI 2.0 and two HDMI 2.1 ports are revealed when the little hatch is removed. You also get one display port v1.4 and four USB ports. Two ports are located on the side of the HDMI ports, while the other is on the display's bottom and top sides. A headphone-mic combination connector is also included on the monitor's bottom, and the OSD menu is easily accessible through a 5-way navigation joystick underneath the screen.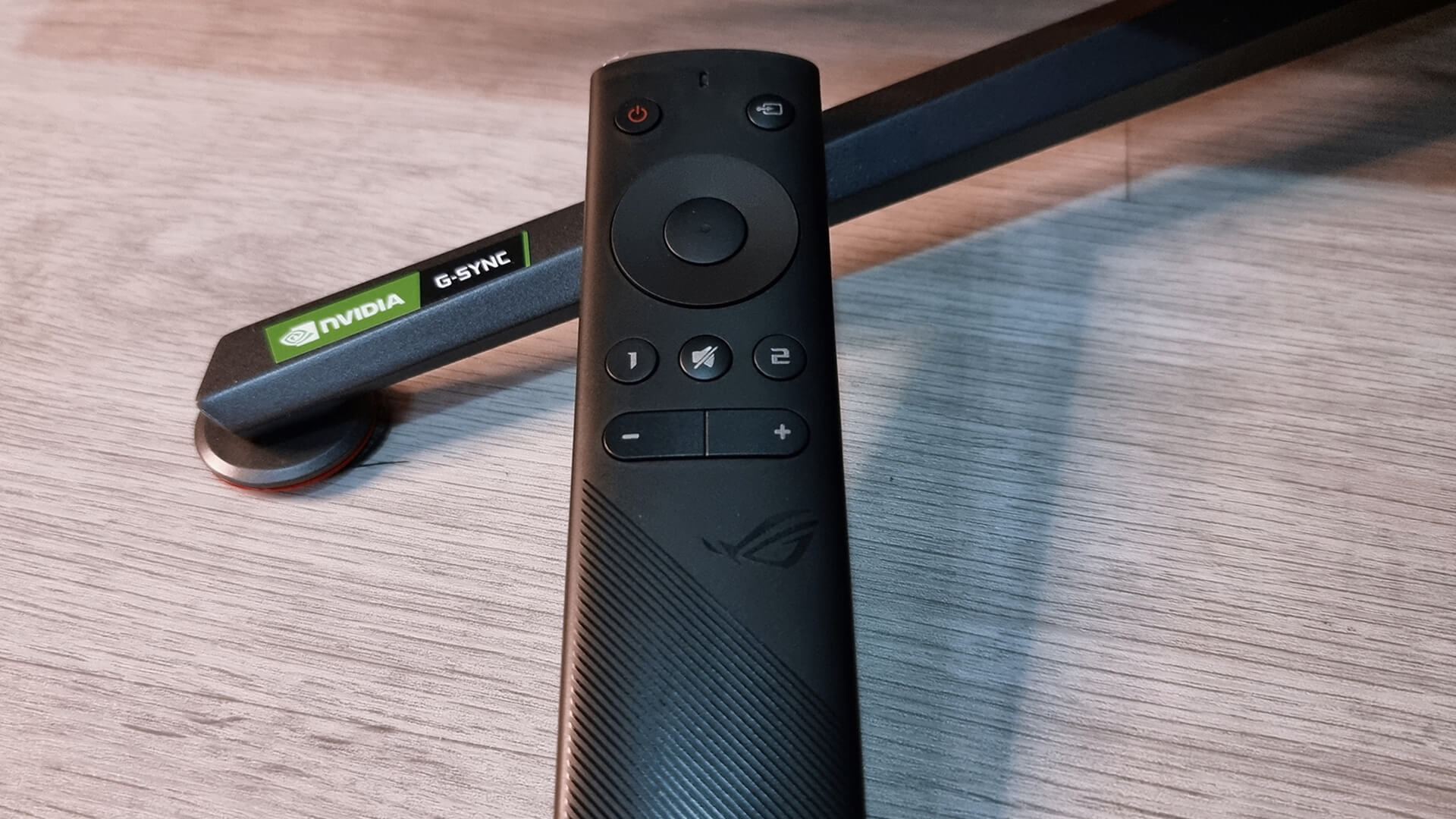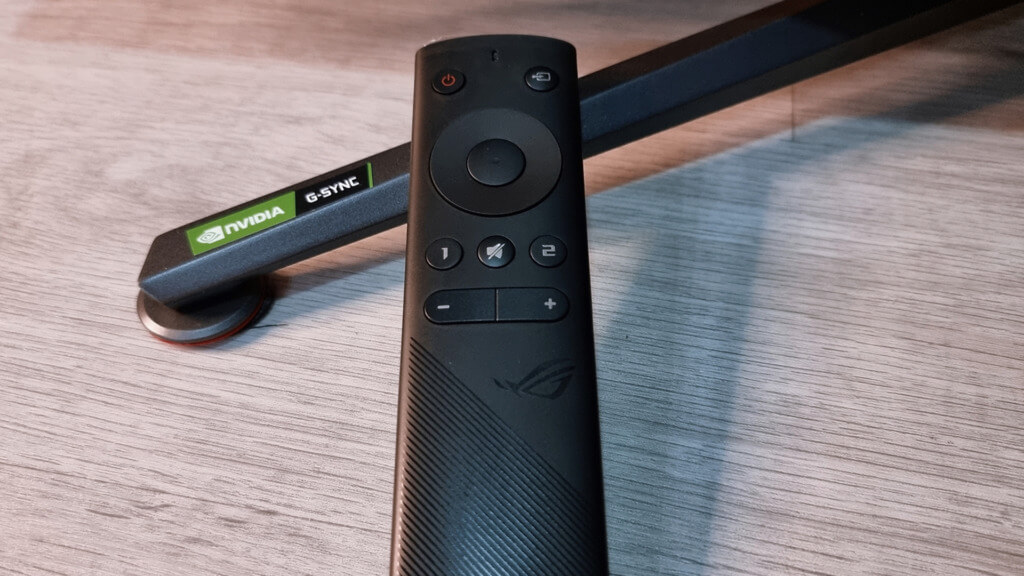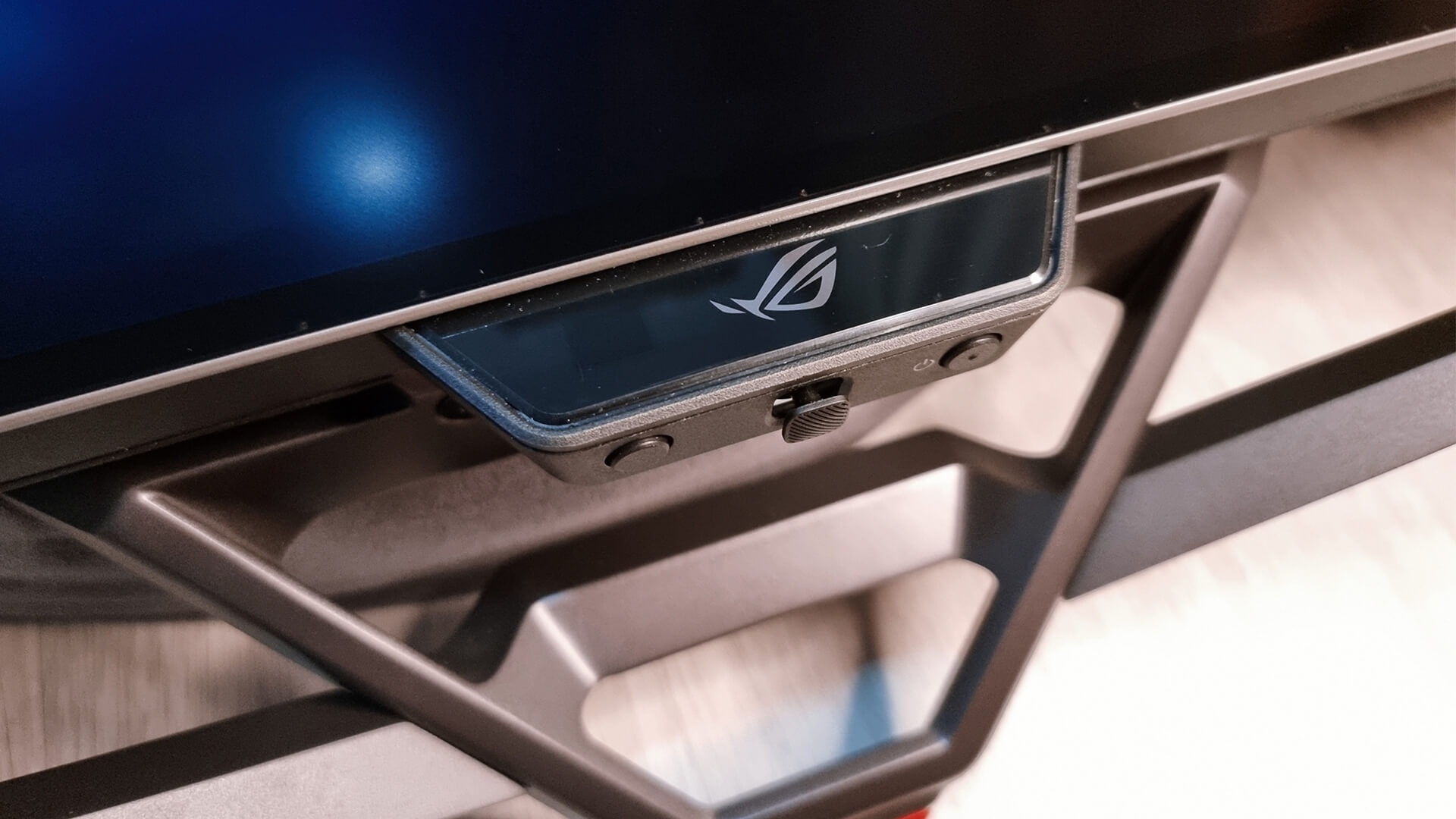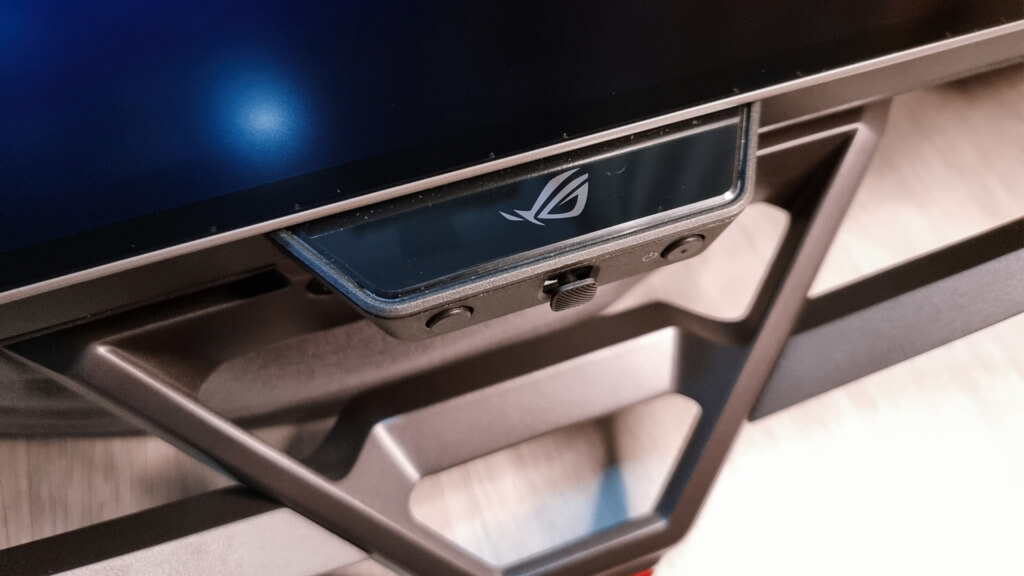 Excellent OLED display that provides highly immersive gameplay
The ASUS ROG Swift PG42UQ features a 41.5-inch OLED display with a resolution of 3840 x 2160, an overclockable refresh rate of 138Hz, and a response time of 0.1ms.
As an OLED screen, the ASUS ROG Swift PG42UQ has an infinite contrast ratio for true blacks and an instantaneous pixel response speed for no visible trailing behind fast-moving objects. This ROG Swift OLED gaming monitor is equipped with the most recent generation of OLED screens, engineered for increased efficiency and brightness. In addition, the sub-pixel layout enhances the viewing experience by providing detailed images and precisely defined text.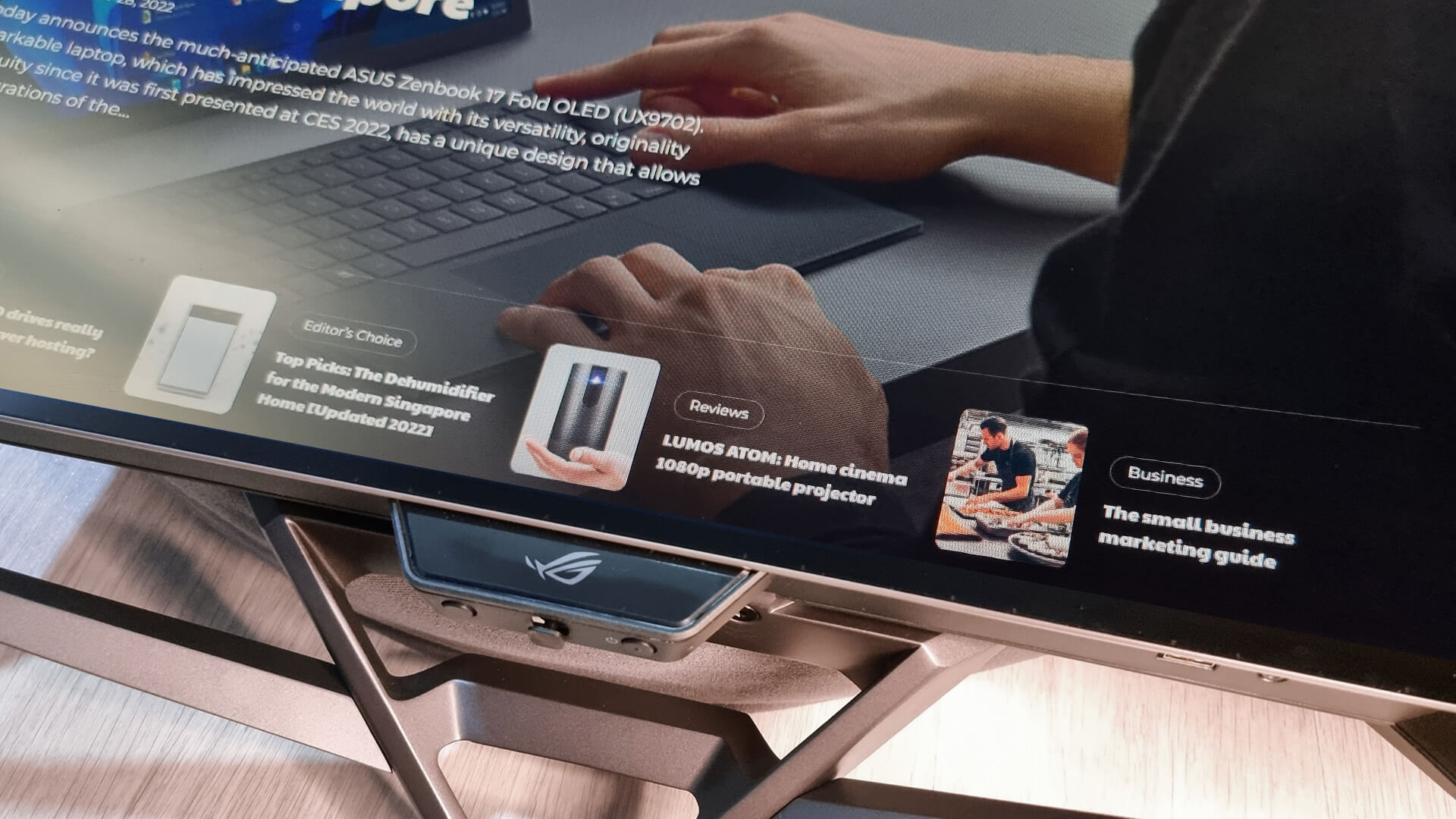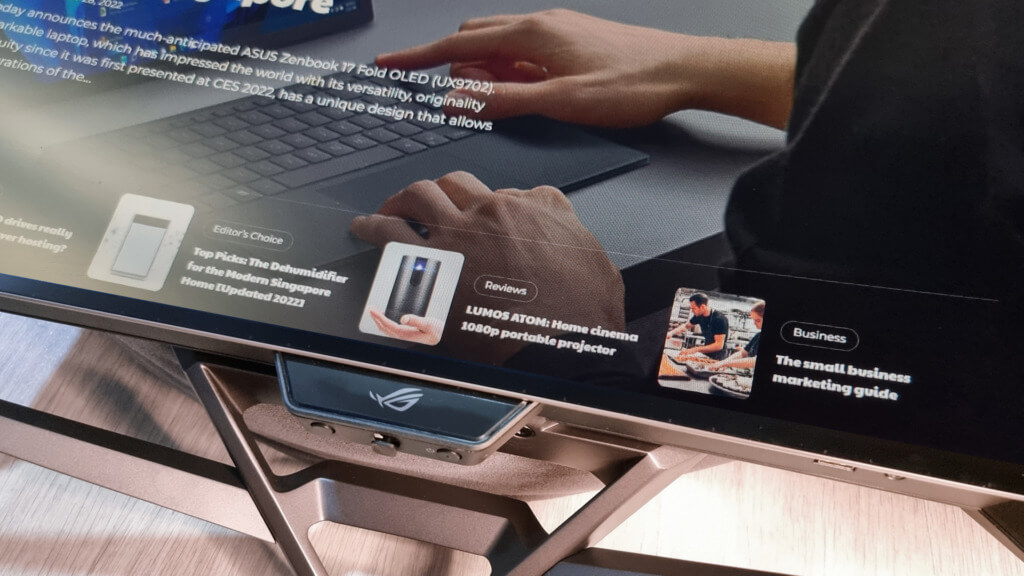 There is no backlight; hence there is no backlight bleeding, blooming, IPS/VA glow, or other similar visual distortions associated with LED-backlit panels. Moving on, the ASUS PG42UQ OLED gaming monitor boasts a broad color gamut that covers 98% of the DCI-P3 color gamut and has a color difference of Delta E 2, resulting in rich and brilliant colors.
For HDR content, the monitor has three modes: HDR Gaming, HDR Cinema, and HDR Console. The ASUS ROG Swift PG42UQ is also certified Nvidia GSync compatible, so you don't have to worry about tearing and stuttering while gaming, and there are no lags or sluggish feel. You may also overclock the display to 138Hz for a bit of improvement in motion clarity compared to 120Hz. The input latency is 1ms, which is barely noticeable. The PG42UQ uses Display Stream Compression (DSC) technology and HDMI 2.1 with full 48 Gbps bandwidth for mind-blowing pictures. This makes this gaming monitor great for FPS games like Fortnite. Still, the sheer size and punch of the panel make it perfect for graphics-intensive games like Assassin's Creed: Valhalla, Red Dead Redemption 2, and even Cyberpunk 2077.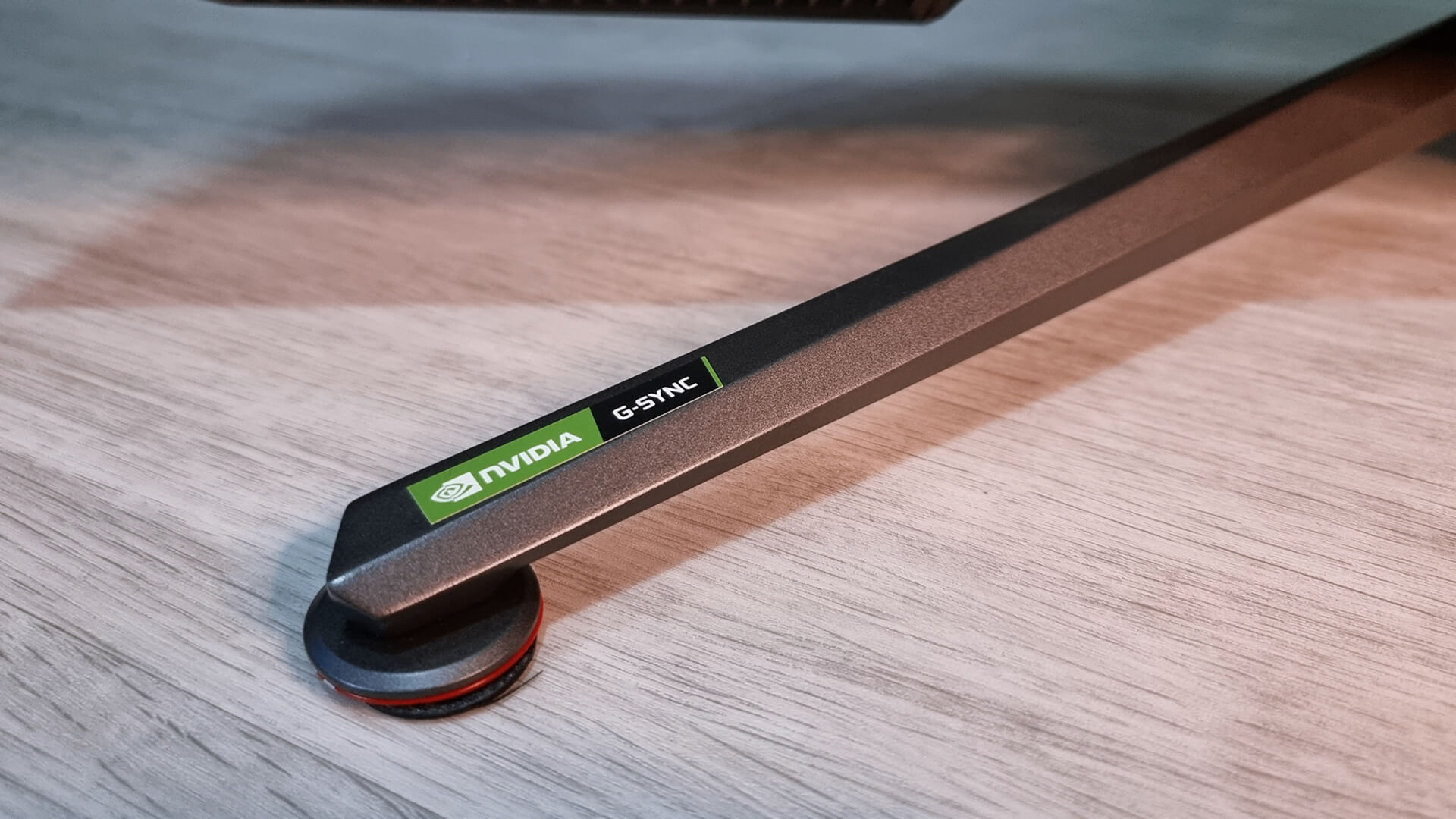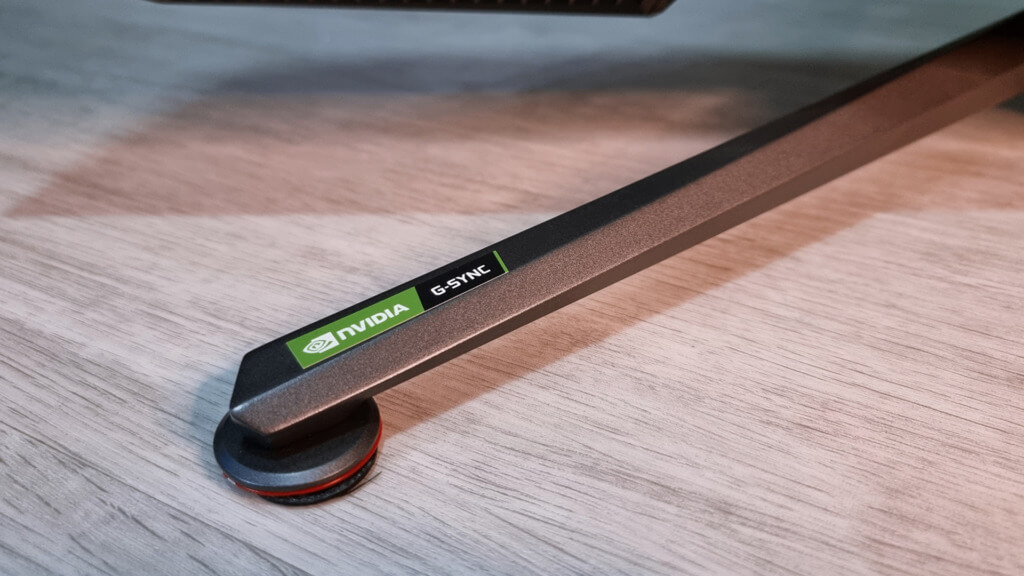 You'll most likely engage in extensive gaming sessions that last several hours if you're a player. If you use a monitor that does not have flicker-free technology, you are placing additional pressure on your eyes, which can cause damage over time. That is why this monitor comes with TÜV Rheinland-certified ASUS Flicker-Free technology that removes flicker, ensuring comfortable viewing experiences. The new hardware-based ASUS Low Blue Light technology also lowers potentially harmful high-energy blue-light emissions.
Incredible sound with Harman Kardon speakers
Gamers with little desktop space may appreciate the versatility given by this display— when they are ready to get serious, they may also want more reliable sound, which these built-in monitor speakers cannot supply.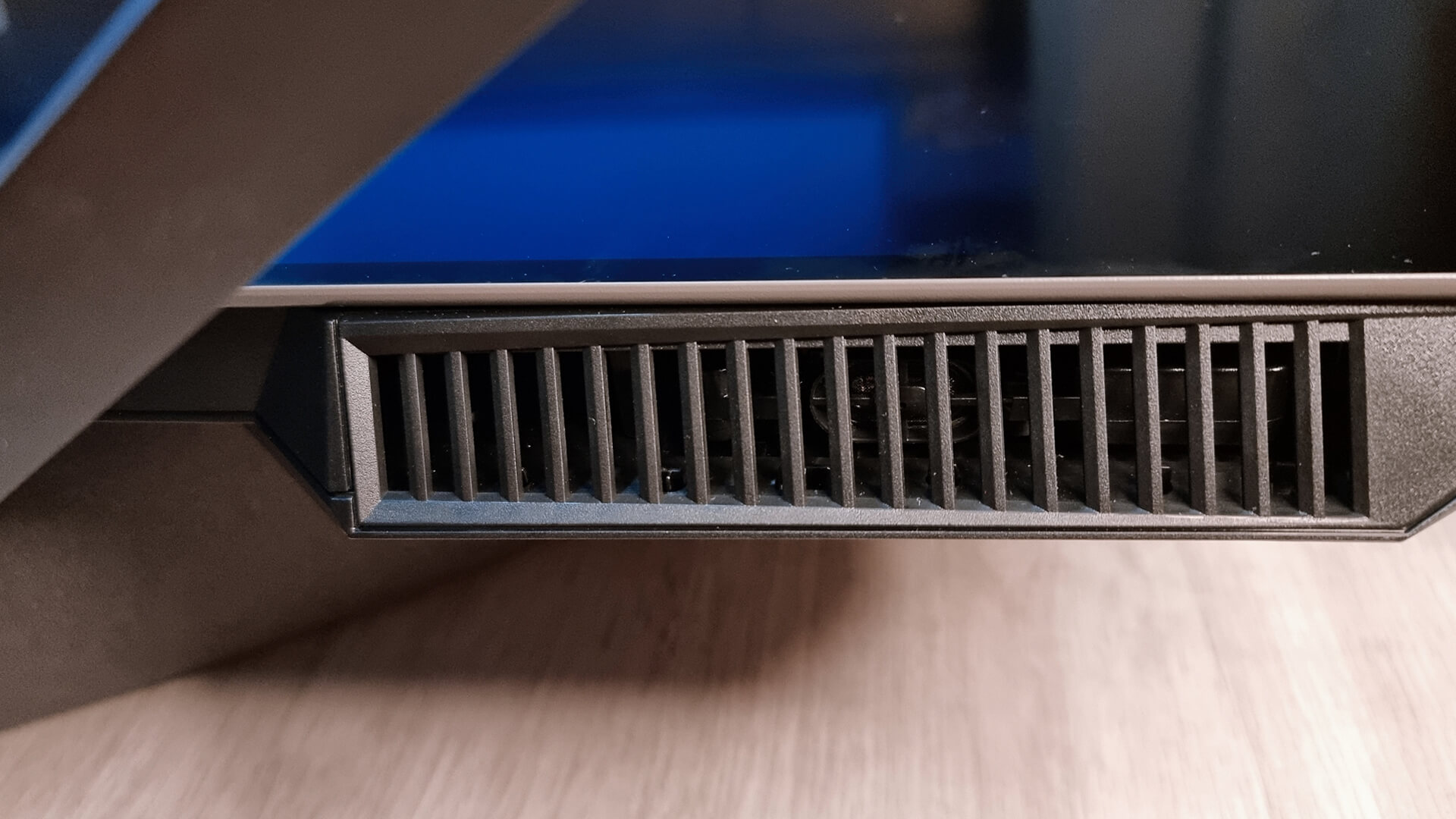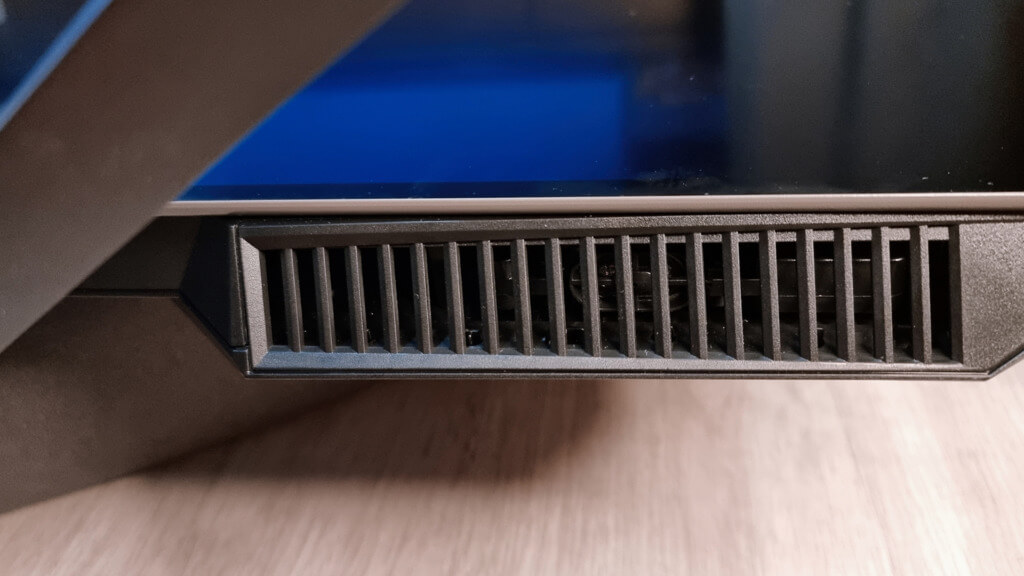 The monitor comes with three stereo speakers ready to use out of the box. Two Harman Kardon 10-watt front speakers and one 15-watt woofer provide exceptional audio fidelity. It outperforms most monitor built-ins by providing a larger spectrum of sound. It's one of the few monitor speakers that can be utilized for both gaming and entertainment purposes.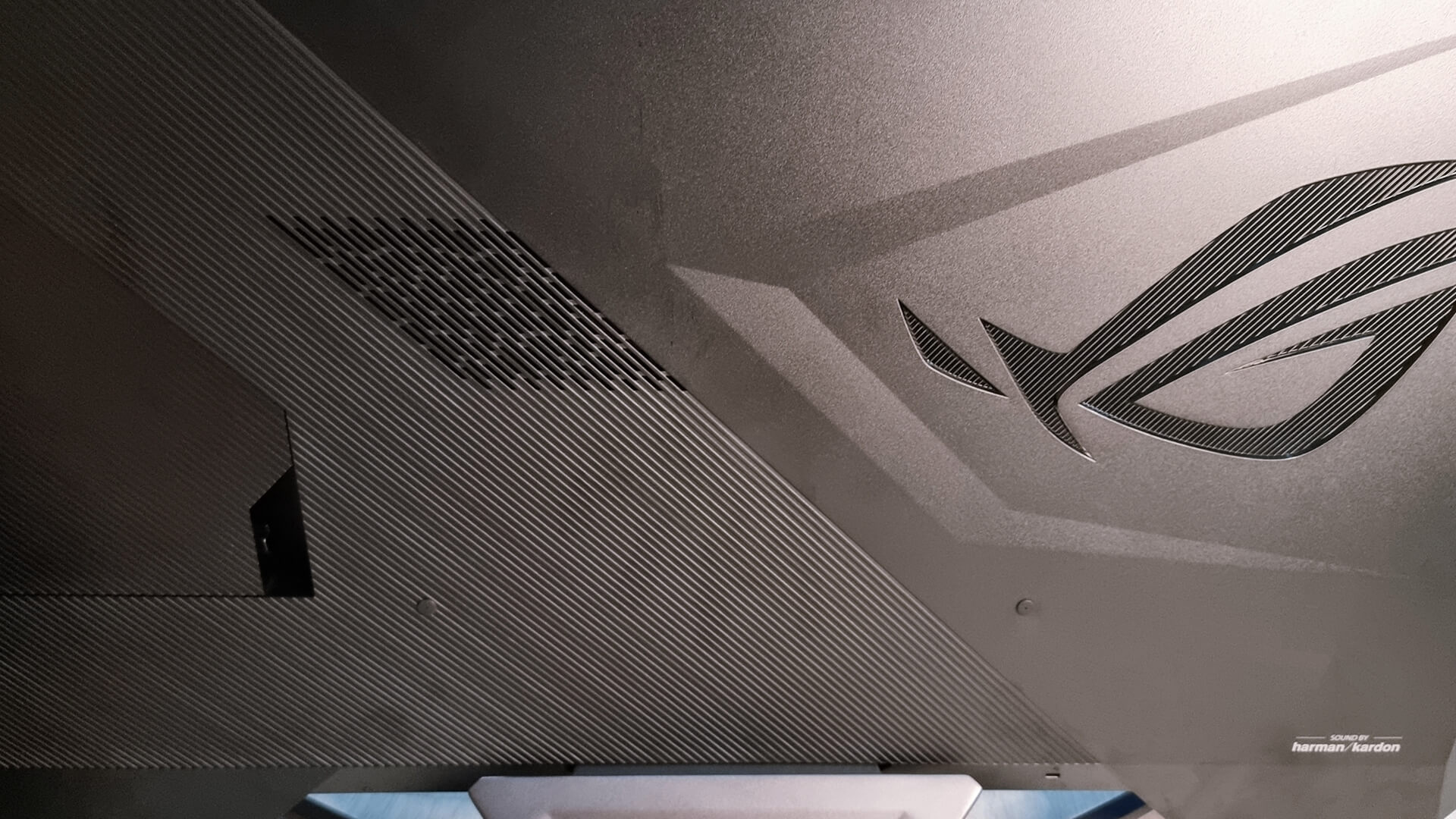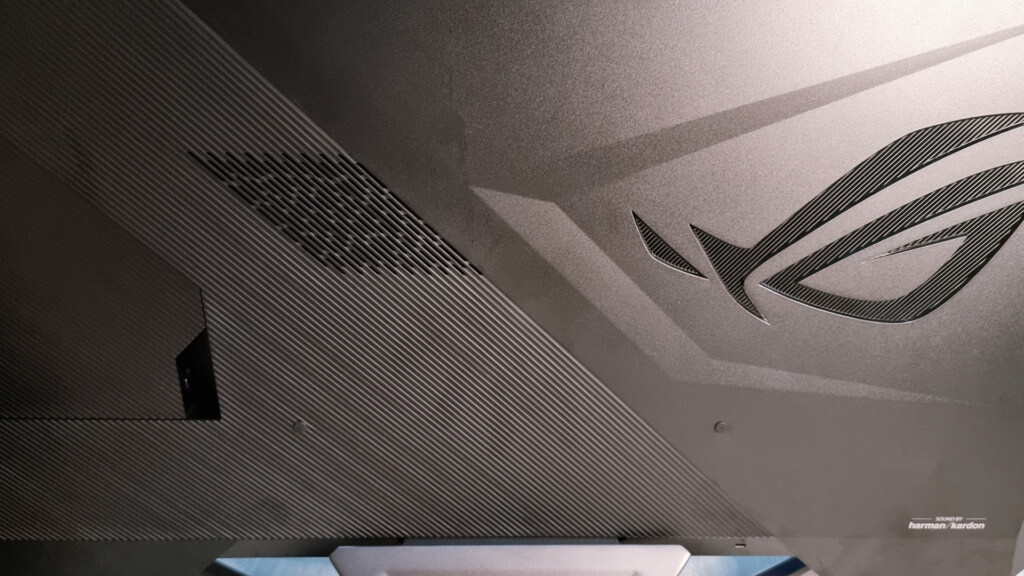 You'll be astonished at how effectively these speakers performed, especially when attempting to identify where you're fired at in Call of Duty: Blackout, Apex Legends, or CS:GO.
The verdict: ASUS ROG Swift PG42UQ
The ASUS ROG Swift PG42UQ is not a flashy entry to the best gaming monitor list but is brimming with quality. Its unassuming appearance did not deceive gamers, as it packs a punch and provides an amazingly fast gaming monitor. Furthermore, its OLED display is a delight to use for gaming and entertainment because of its inherently limitless contrast, beautiful color, and issue-free lighting. The default setup performed well, and the sRGB emulation mode is decent.
The 41.5-inch screen size is still huge for a desktop monitor so it won't suit everyone. Still, it is an intriguing choice if you want a large format display for gaming, multimedia, and consoles while still being useable on your desk for typical office tasks.
Overall, the PG42UQ is an excellent gaming monitor. The MSRP are S$2,549 for the PG42UQ and S$2,749 for the PG48UQ, respectively, and they will be available in September 2022.