Korean mobile game company, Netmarble, has launched a new game to the App Store and Google Play Store globally, called Seven Knights. Seven Knights is one of its highly successful games, topping the Korea Google Play's Paid Apps chart in September 2014, and remaining in the top three for 48 consecutive weeks. To celebrate the upcoming launch, Netmarble also introduced a new website for Seven Knights in four languages – English, Traditional Chinese, Thai, and Korean.
Seven Knights has impressive graphics and rich contents, bringing turn-based RPG (Role-Playing Games) to mobile gamers as players collect and upgrade hundreds of heroes, blazing through battles with various battle styles and options.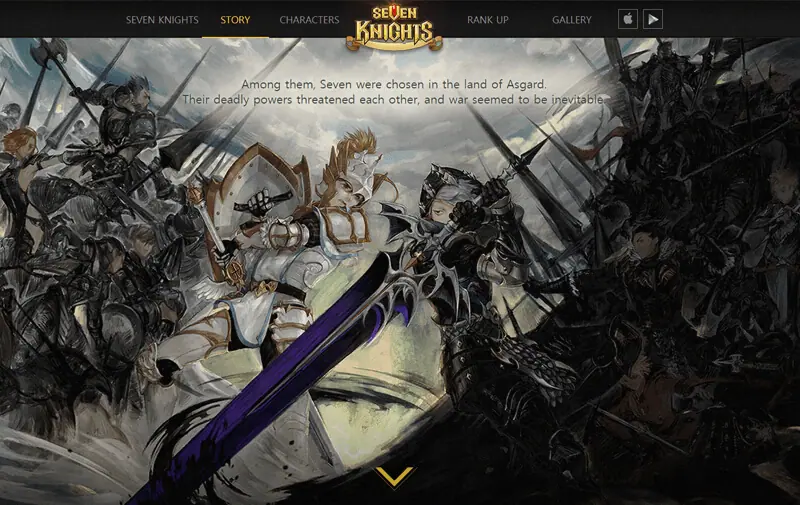 The battle system in Seven Knights features a "hands-free" system (automatic play function) whereby players would just enter the battle, and the AI will automatically attack the monsters based on the best available attack options.

The formation customization is also another main feature of the game that allows players to allocate characters to the team and customize their formations. This system opens up more customization options for players and, at the same time, is the key to winning battles.

Besides the basic Story Mode, there are many battle modes for players to battle toe-to-toe with other players online. One of these modes is the Castle Rush mode where guilds can fight among themselves for supremacy.
Seven Knights Key Features
Great Storyline – Follow the story of Evan, as the God of Destruction divided his power into twelve pieces and distributed it to twelve chosen leaders on earth.
Automatic Play Function – Players can rely on the game's AI system to fight through the various battles.
Multiple Game options – Adventure, Celestial Tower, Daily Dungeon, Raid, Arena, Castle Rush, Guild War and Boss Fight modes available.
Formation System – Ability to customize the characters in team and their formation, provides never-ending possibilities for battles.
Visually Striking Graphics – Impressive graphics and in high quality animations with dynamic skill effects.
Seven Knights: Official Korea Trailer
"Continuing Netmarble Games' commitment to bring its diverse portfolio of high quality games globally, we are extremely proud and excited to launch Seven Knights , the company's first RPG to be published in the West"

Seungwon Lee (President of Overseas at Netmarble Games)
My Take on Seven Knights
With over 230 characters in-game characters and unlimited customization options, Seven Knights is an excellent game as it allows players to customize their characters, team and most of all the gameplay styles. The graphics and animations are also pretty dope!
Auto-play function is extremely suitable for lazy players like me, that just want to let it go, allowing the AI to fight it out. Overall, Seven Knight is a great turn-based game that combines various battle options with impressive visuals and scintillating storyline.