Growth hacking involves constant experimentation, testing, and data collection in order to determine the best way to expand in any channel available for your business. To do this effectively, you need the growth hacking tools and resources that will allow you to check your market, generate conversions, and see data from your existing channels.
Growth hacking is different from marketing because it is not just about pushing your products and services to consumers, it is about finding and aggressively expanding into new avenues and channels, increasing your reach through your existing channels, and always working to improve your conversion.
Taking a growth-centric approach to your website or business means adopting new tools, utilizing them to the best of your ability, and phasing them out if they are not offering you the growth that you need. If you need new tools to accelerate growth in 2018, these 15 growth hacking tools are what you need to get started.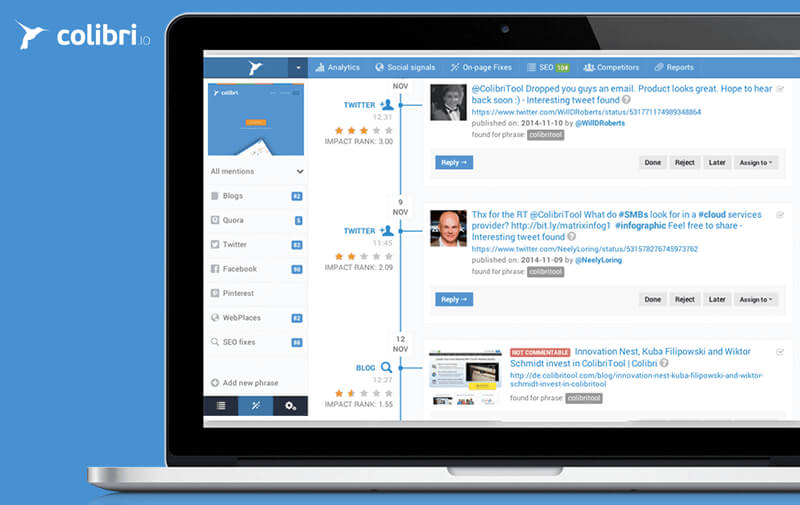 #1 Colibri IO – Colibri IO makes it easy to monitor and track your brand online to see mentions and brand awareness. It is a product that allows you to find opportunities on social networks and in search engines. It gives you the capability to monitor your competitors, as well as their brand. You can also use it to track topics, questions, and trends on sites like Twitter or Facebook, Blogs, Reviews, Forums and other sharing sites. In this way, you can join relevant discussions to offer help, to promote your brand, and even find relevant consumers. It will also assist you to source for content, find SEO opportunities, discover content in your niche, and much more.
Cost: From $95 per month
#2 Sumo – Sumo offers a full suite of free and premium growth hacking tools designed to help you accelerate growth. The app includes a list builder to help you build an email following, heat map to show which areas of your website are working, social sharing, conversion optimization, and more. The free/basic option allows you to use all of the apps with a traffic cap, while premium versions offer additional features including A/B testing, additional insights, advanced display rules, templates, live optimization, and professional support, etc.
Cost: Free to starting from $29 per month
#3 UnBounce – UnBounce allows you to build, launch, and optimize landing pages with no technical knowledge. The platform integrates templates and a drag and drop builder for creating individual page elements. With this solution, you can create custom landing pages, integrate with other 3rd party platforms (WordPress, HubSpot, Infusionsoft, Marketo or Salesforce), and then A/B test to improve the conversion of the pages. UnBounce is a powerful tool because it allows you to create unlimited custom pages even without a web designer.
Cost: From $79 per month
#4 Nimble – Nimble is a full-service Customer Relationship Management (CRM) platform with email, calendar, and contact synchronization, task management, automatic profile creation, calendar management, and reminders to help you follow up with clients and leads. The platform also offers a number of other services including sales automation, marketing, reporting and analytics, social tracking, data integration, and much more. Nimble is incredibly powerful, offers most of the essential tools you need for growth hacking, and is relatively affordable even for small businesses.
Cost: From $22 per month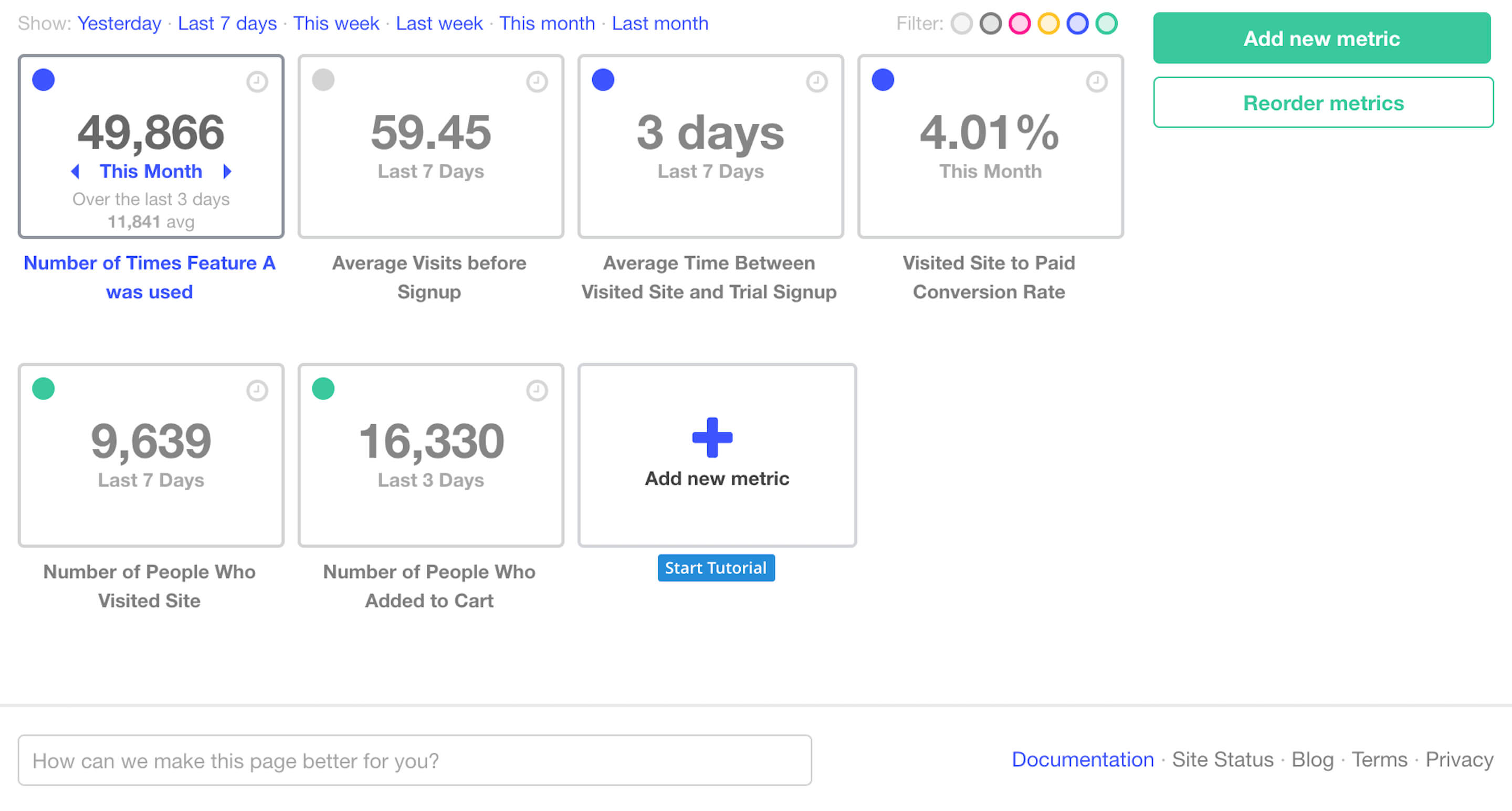 #5 KissMetrics – KissMetrics offers customer intelligence and analytics to help you understand consumer behavior to drive growth. It combines behavioral analytics, segmentation, and email campaign automation to understand and engage your customers in every step of the way. The platform is designed to help increase conversions, understand customers, and engage with visitors to make sales. They also offer custom solutions in e-commerce, SaaS, and for agencies. While KissMetrics provides very valuable data, they are among the most expensive growth hacking solutions on this list.
Cost: From $500 per month
#6 Clicktale – Clicktale offers some services similar to Crazy Egg (customer visit visualization), as well as a full range of data analytics, conversion tools, heat maps to see engagement, and management tools. This solution allows you to see consumer behavior on your site, make key decisions based on which parts of your site work, increase engagement and conversion, and use data to monitor how well your efforts work.
Cost: From $9 per month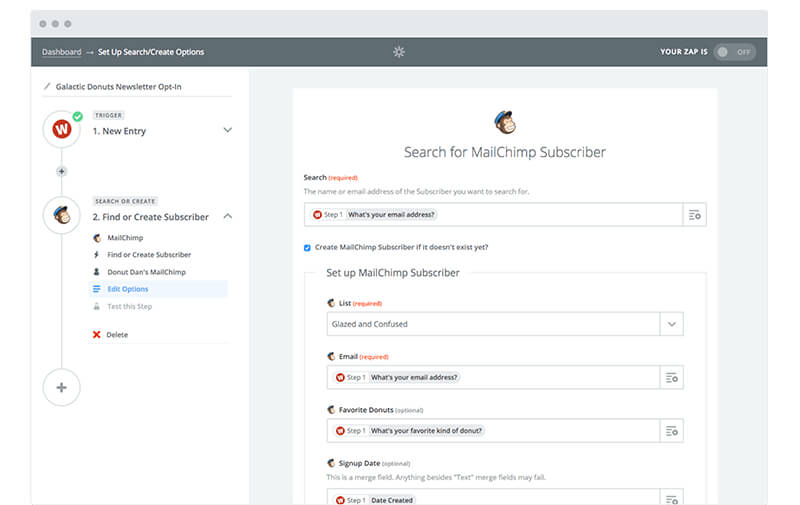 #7 Zapier – Zapier is a time-saving platform that automates data sharing between apps so that you can get back to focus on growth hacking. The application allows you to integrate your apps import data, set up workflows based on events, create automation to finish routine tasks, and set up easy actions that react based on events. Most importantly, Zapier allows you to set up automation with just a few clicks, inside of over 750 popular applications.
Cost: Free to starting from $20 per month
#8 AWeber – AWeber is a MailChimp alternative that offers more in terms of automated email marketing than it's larger competitor. As a result, AWeber is more valuable to growth hackers who need to save time, and who want to kick off specific reactions in response to signup based on answers on a form. AWeber includes email marketing, subscription forms, email templates, automation, integration with Shopify, PayPal, Salesforce, Facebook, and other platforms, importing, analytics, and much more.
Cost: From $19 per month
#9 Drip from Leadpages – Drip offers sophisticated email marketing automation that allows you to set up complex if this then that rules to send off specific emails to clients based on their reactions and interactions with previous emails. It also allows you to interact with social media, set up workflows, and integrate with dozens of other apps to improve productivity. Drip's primary value is that it allows you to create custom emails based on up to 30 different reactions per action, enabling you to highly customize how you connect with leads.
Cost: Free or starting from $41 per month
#10 SnapEngage – SnapEngage is a live chat software application that allows you to offer a chat service to visitors on your site. Unlike many other chat services, SnapEngage also allows you to see which pages your visitors have been to, what they are looking at, and if they have an existing customer profile with your accounts.
Cost: From $60 per month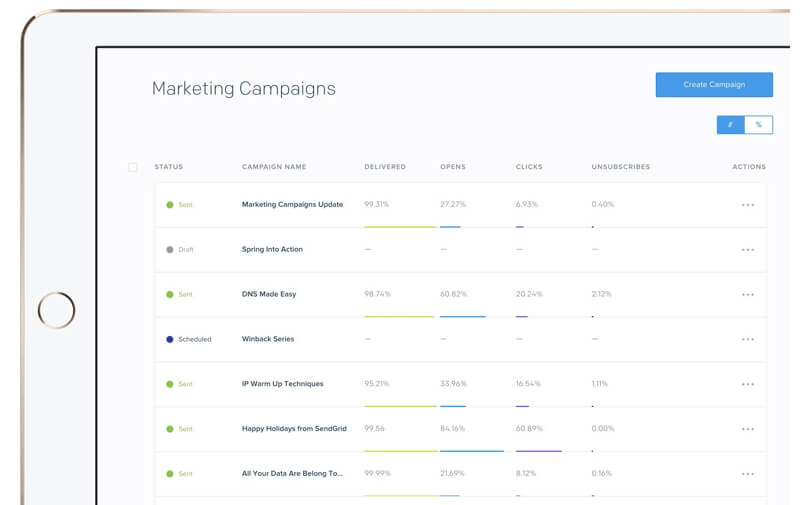 #11 SendGrid – SendGrid combines email marketing with an email API to allow you to create, send, and automate email all from one app. Unlike many other email applications, SendGrid also supports transactional emails for automated updates in case of a purchase, sign-up, login, etc. SendGrid also includes tools and tracking to help you to optimize engagement and conversion, create automated marketing campaigns, targeting, and more.
Cost: From $9.95 per month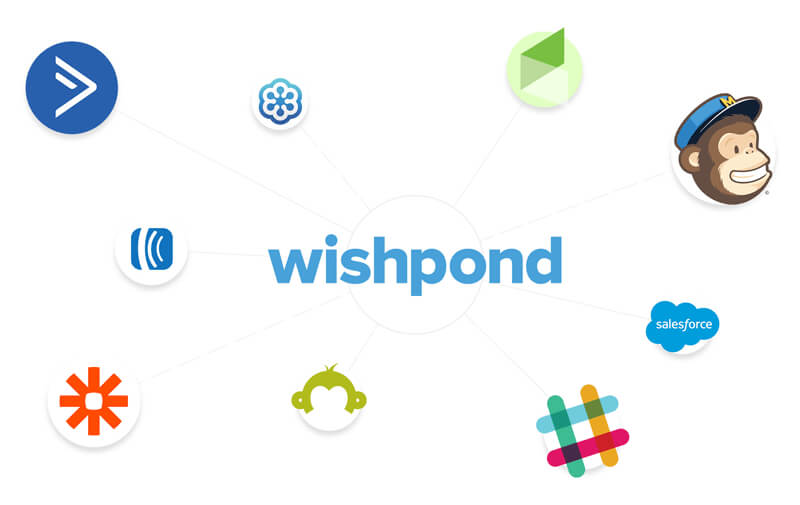 #12 WishPond – WishPond is an easy to use marketing tool that helps you to build website elements for creating and driving conversion. The application allows you to create drag and drop landing pages, popups and forms, contests, promotions, giveaways, and marketing automation based on real-time events. You also get real-time analytics, event scoring, lead scoring to determine when a lead is ready to make a purchase, and integrate with most other marketing tools.
Cost: From $49 per month
#13 Olark – Olark is a live chat tool that integrates with your website to allow you to customize and manage your live chat experience. Unlike other platforms that refresh on a daily basis, Olark provides real-time reporting on the chat volume, so you can monitor what day and time you are busiest, which agents are managing the chats, and how your customers are rating their chat experience. There is also a feature to automate messages based on a visitor's behavior on your site. Other than just a normal chat tool, Olark also allows you to integrate it with your favorite software such as HubSpot, Salesforce, Slack, MailChimp, etc.
Cost: From $12 per month
#14 Just Reach Out – Just Reach Out is a unique application that helps you to maximize your PR exposure by getting in touch with journalists (& bloggers), finding relevant conversations on the web to inject yourself into, and by making yourself available to journalists writing about your niche. This platform can help you to significantly increase your PR, by ensuring that journalists know you are there, by interacting with conversations that matter, and by getting mentions for quotes in articles.
Cost: From $65 per month
Alternative ContactOut – ContactOut lets you find the email address of pretty much anyone on LinkedIn or GitHub. It primarily features a lightweight and easy-to-use Google Chrome extension that fetches the email addresses of LinkedIn or GitHub users, along with their phone numbers and links to their social media profiles. The extension also lets you save your leads, and the tool provides you with a dashboard to organize their profiles. If the extension is unable to find your lead's email address, or if you cannot find the person that you are researching on either LinkedIn or GitHub, ContactOut also has a comprehensive search portal that lets you find the email addresses of anyone on the Internet.
Cost: From $19.99 per month
#15 SE Ranking – SE Ranking is an all-inclusive cloud-based SEO software that allows you to get 360° SEO analysis of your website. It helps to save time by grouping selected keywords and distribute them effectively and efficiently among pages of your sites. At the same time, the platform allows you to do keywords and competitor research, which put you in a better position for SEO and SEM efforts. SE Ranking also can perform backlinks monitoring to see who is linking back to your website. It is a simple yet powerful platform for your SEO needs.
Cost: From $4.20 per month
Growth hacking is extremely important because it allows you to rapidly expand through any available channels. You should explore and try new software, adopt the applications that are profitable, and keep moving forward. Most of the growth hacking tools include a free trial so you can test their effectiveness before you invest. Good luck with your growth acceleration!