ASUS released their first ROG-branded smartphone in 2018. The phone that effectively launched the gaming smartphone sector into the mainstream. It wasn't the first to carry the parent company's gaming DNA, but it was by far the most popular among the general public.
ASUS hit the ball out of the park this year with the release of the ASUS ROG Phone 5. This phone is one of the best gaming phones on the market, if not the best. With its brilliant display, long battery life and charging speed, and fantastic speakers, it's also one of the best phones for gaming, as well as watching any media.
Although there're some improvements over its already powerful predecessor, the phone has a few flaws, too, including its limited camera suite. However, with each successive ROG phone, they become fewer and fewer. As a result, the ASUS ROG Phone 5 has managed to gain some quality-of-life benefits over other Android phones to the point where it's comparable with non-gaming users as long as you don't need the best camera smartphones.
OS: Android 11 / ZenUI
Display: 6.78-inch AMOLED (1080 x 2448), 144Hz, HDR10+
Processor: Snapdragon 888
GPU: Adreno 660
RAM: 16GB
Storage: UFS3.1 256GB
Rear cameras: 64MP ultrawide (f/1.8), 13MP ultrawide (f/2.4), 5MP macro (f/2.0)
Front camera: 24MP (f/2.45)
Video: Up to 8K at 30fps
Battery: 6000 mAh
Charging: 65W, supports Quick Charge 5.0 and PD 3.0
Colors: Phantom Black, Storm White
Size: 173.00 x 77.00 x 9.90 mm
Weight: 239g
Designed like a gaming machine
The ROG Phones series make its presence felt. That is also the case with the ROG Phone 5. Like the previous ROG phones, it has a dramatic and distinctive glass sandwich design. Even while ASUS has worked hard to tone down its "gamers" design language for most ROG products, including smartphones, the ROG Phone 5 still has it, although it now feels more "muted."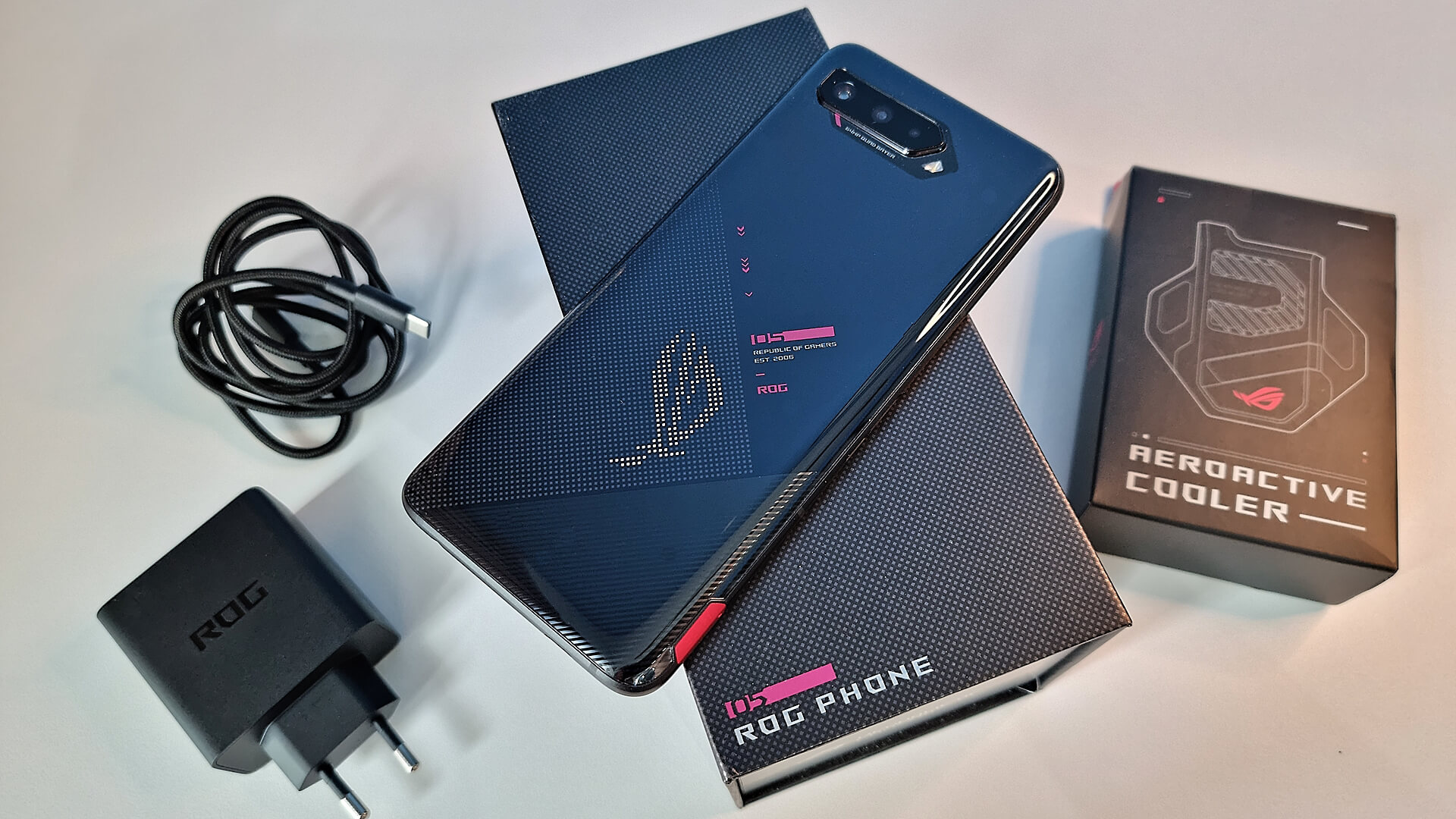 The ASUS ROG Phone 5, which comes in white (Storm White) and black (Phantom Black), is instantly recognizable as a gaming phone, with space-age graphic patterning on the glossy back and an illuminated ROG logo.
When the phone is turned off, there isn't much to notice on the front of the new ROG Phone 5. However, you can't help but notice the back when its logo lights up to juxtapose its black dot-matrix pattern finish with hot pink '80s punk rock highlights. This dot matrix design is based on the famous ROG Zephyrus G14 laptop, allowing text and other simple images to be shown on the lid.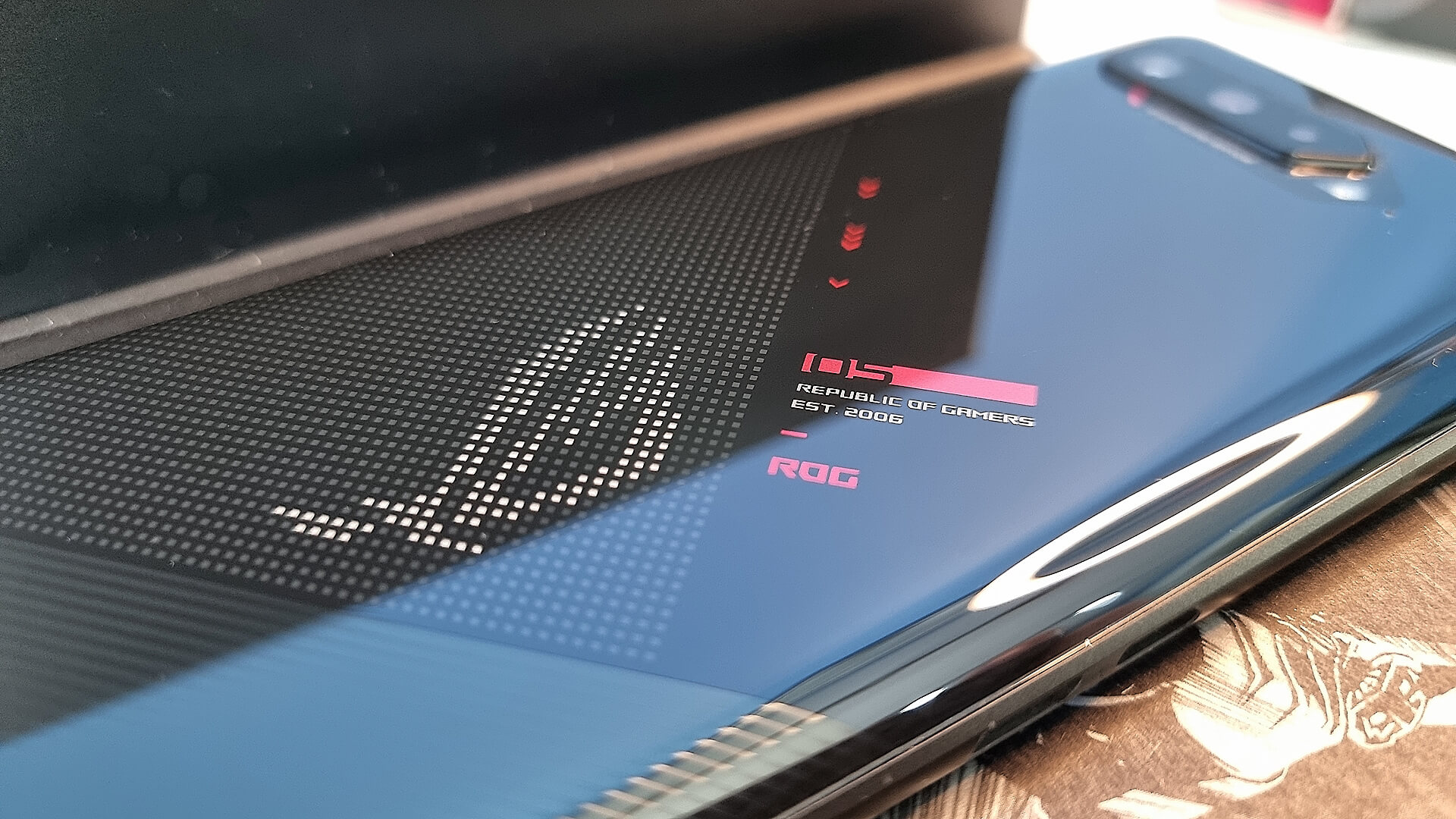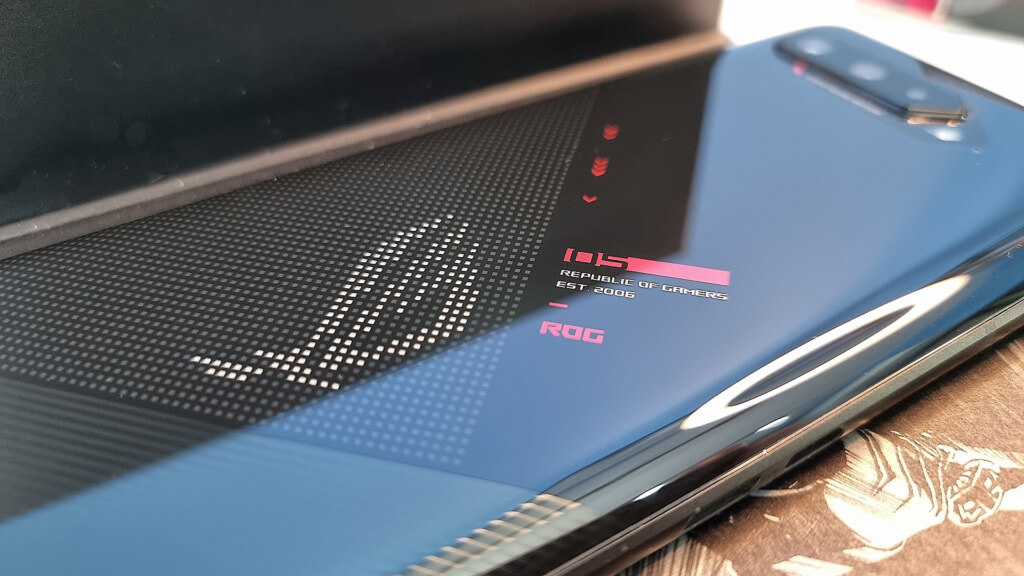 The ROG Phone 5's 173 x 77 x 9.9 mm dimensions make it feel big and awkward, but that's the price of the massive 6000 mAh battery inside. The phone's 6.78-inch display dominates the front, with minimum bezels all around. With a 20.4:9 aspect ratio, which makes it easier to grip with one hand, but it's far too long to be used with a single hand.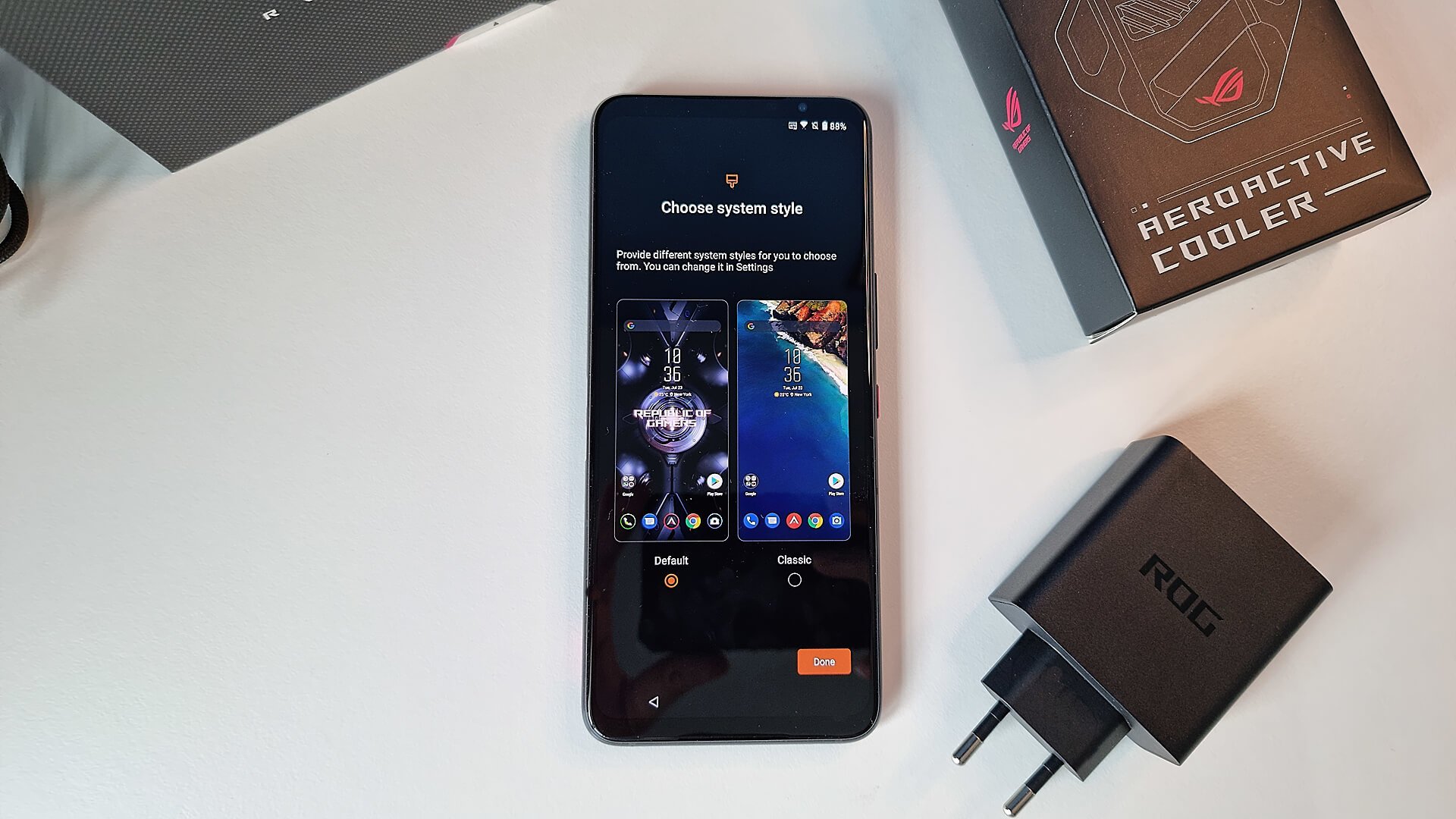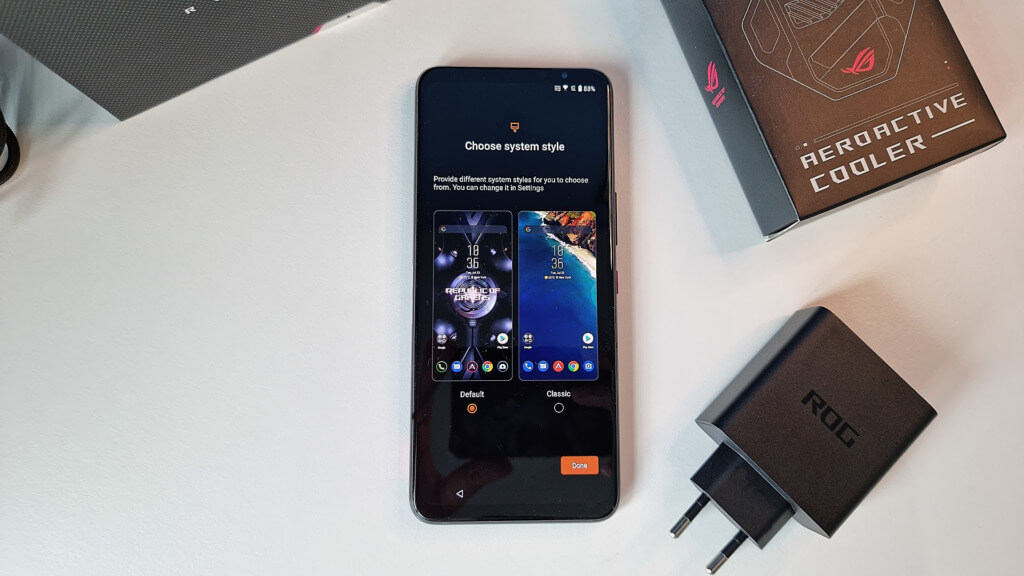 The front camera, which is nestled in the top bezel, and its front-facing stereo speakers are tucked away at the very borders of the top and bottom bezels.
Weighing in at a substantial 239g, which you'll notice when you first pick it up., it's not a problem if you're gaming two-handed, but it can be uncomfortable during regular use with a single hand, especially given the display's height.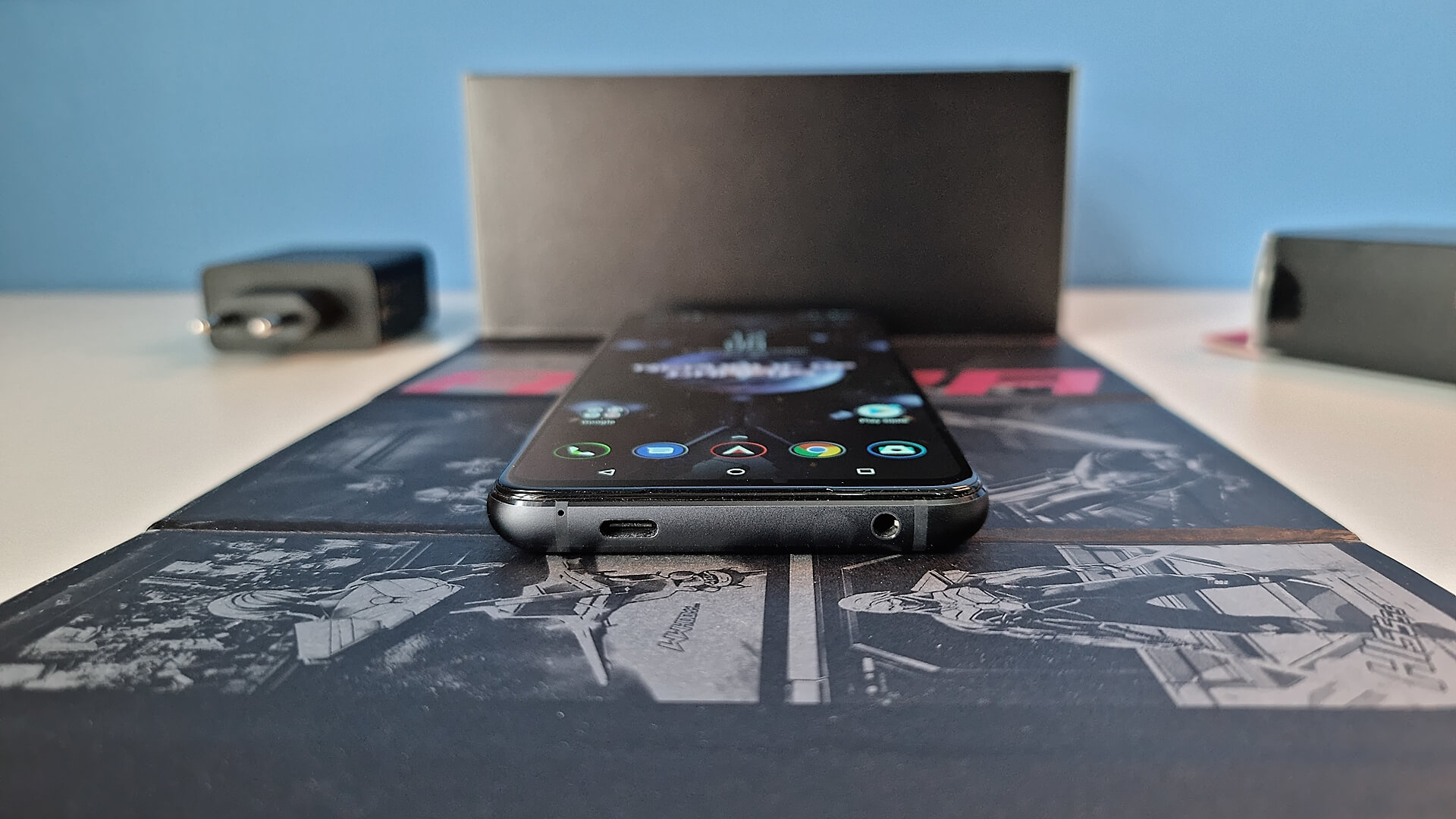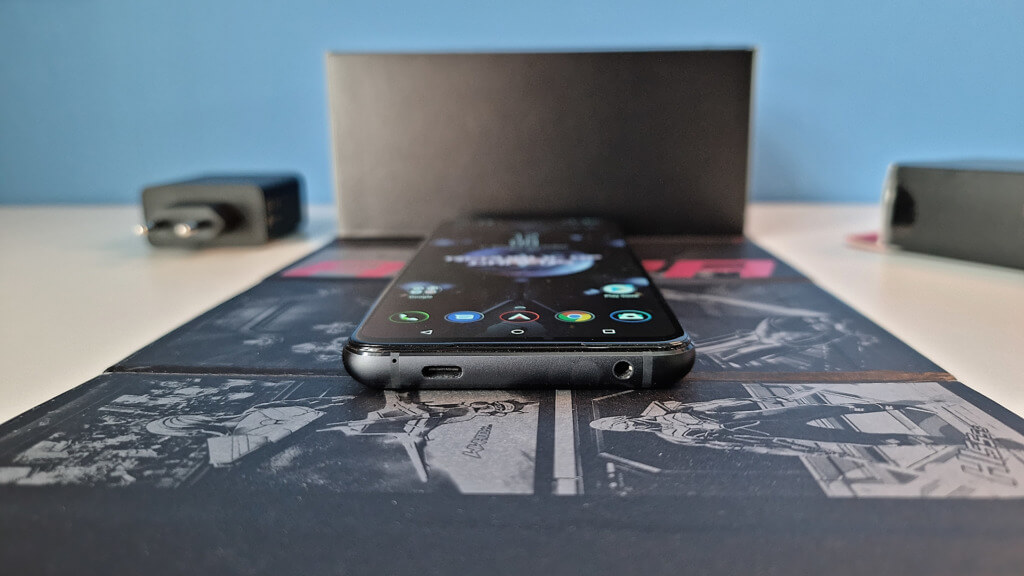 The ROG Phone 5 sports a side connector for the optional Aeroactive Cooler 5, but right next to it is a full-fledged USB 3.1 port. On the bottom edge is another connector (USB 2.0); both ports support QuickCharge and Power Delivery 3.0, but only the one on the side can handle QC 5.0. The 3.5mm jack can be spotted on the bottom as well.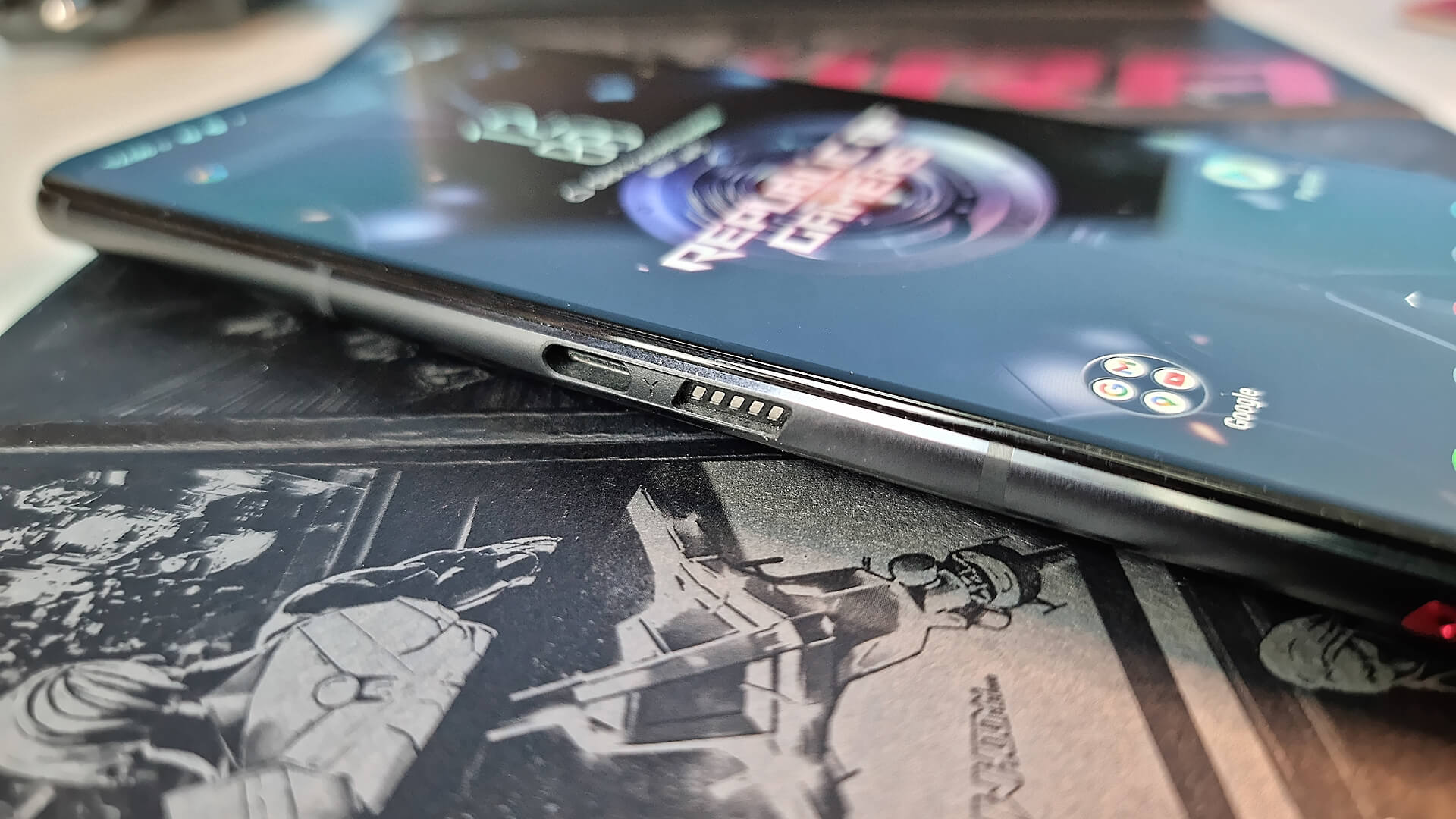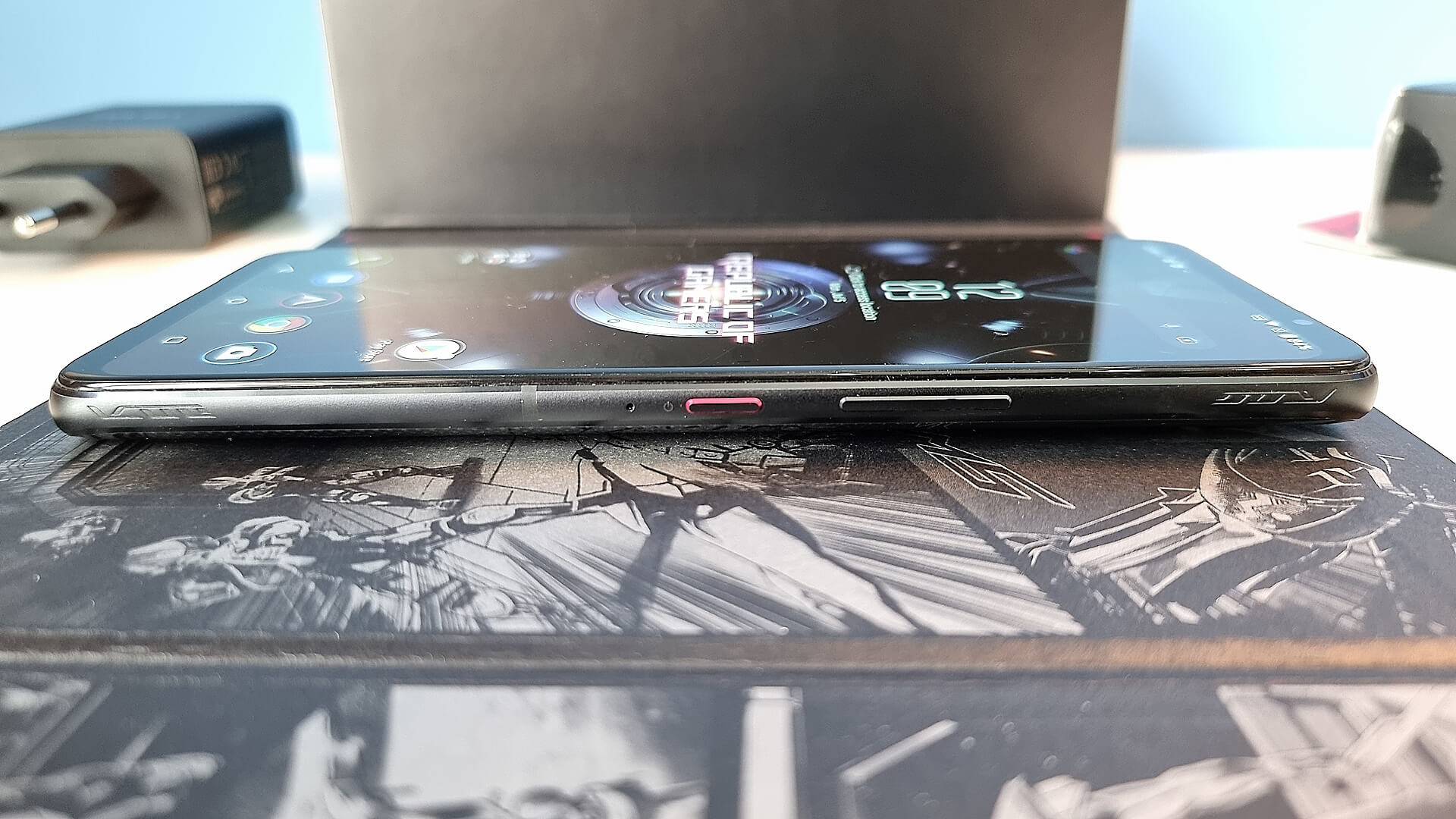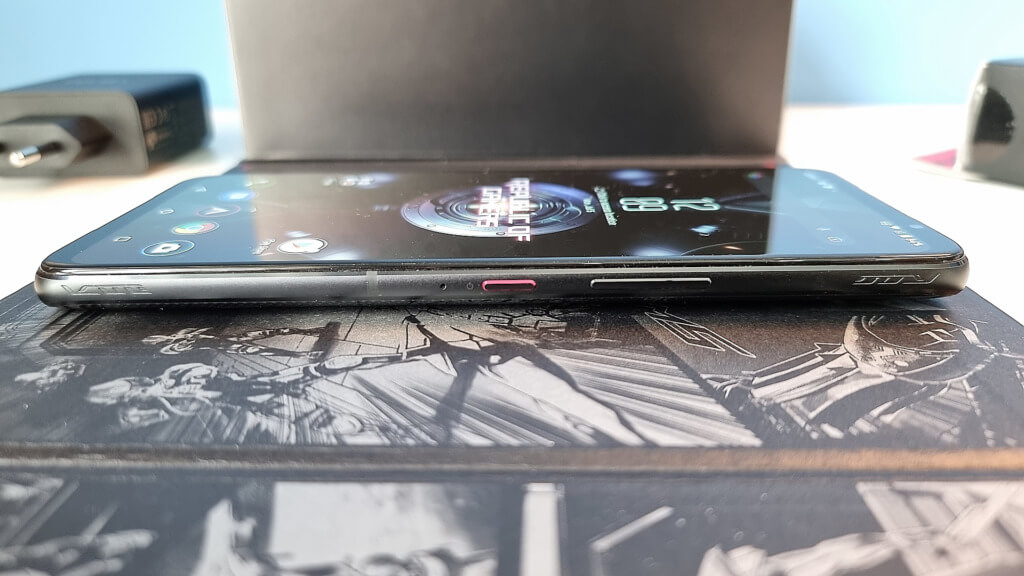 AirTrigger 5 is, by far, a favorite feature of the ROG Phone in general since they provide a similar experience to classic controller triggers without the need for additional hardware. You can also customize the actuation points depending on whether you want a touch or press-based activation. Ultrasonic sensors detect pressure and touch inputs on the AirTrigger 5 buttons. The functionality may also be adjusted in the settings, and it can be used to open apps or activate other functions.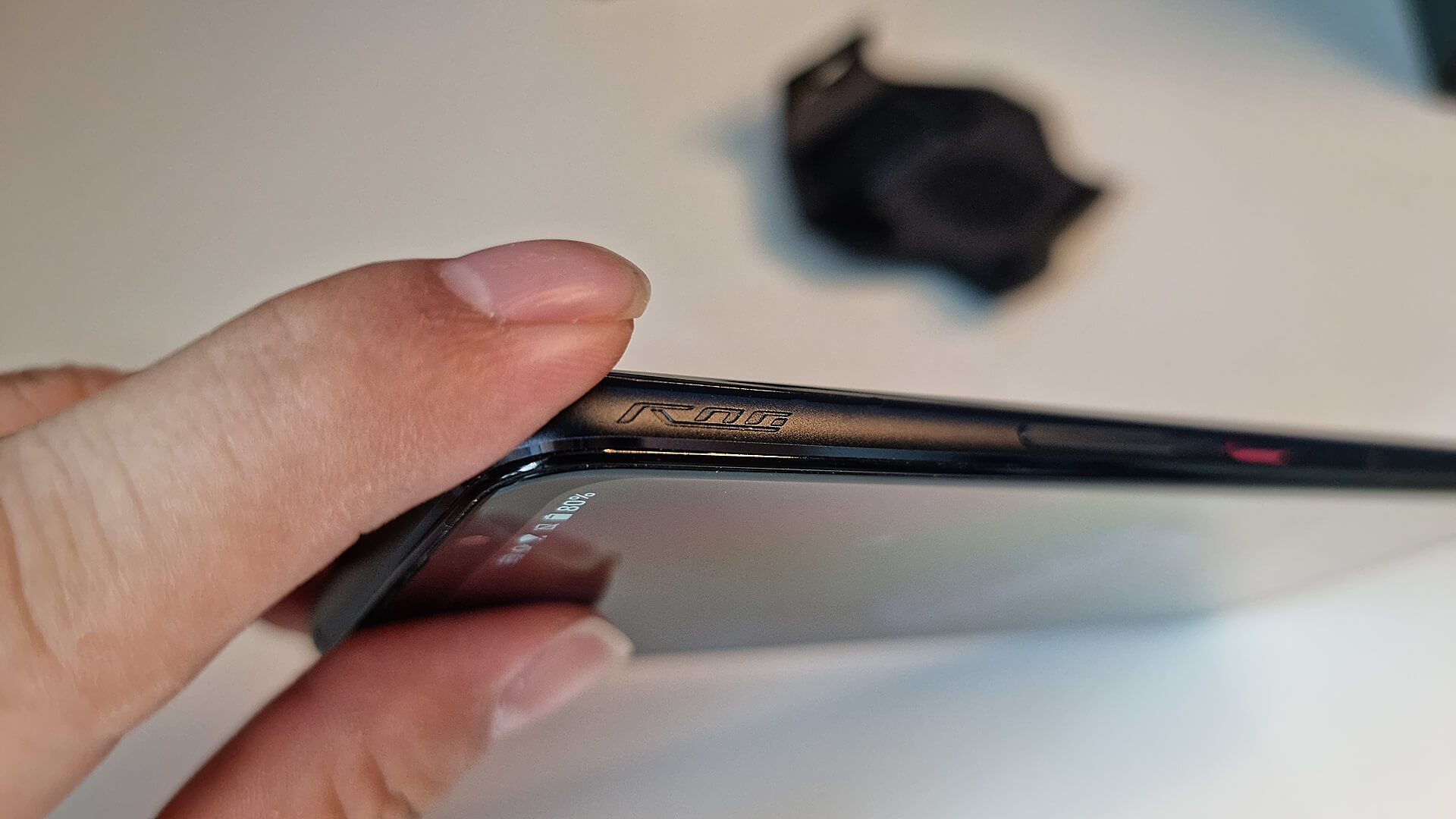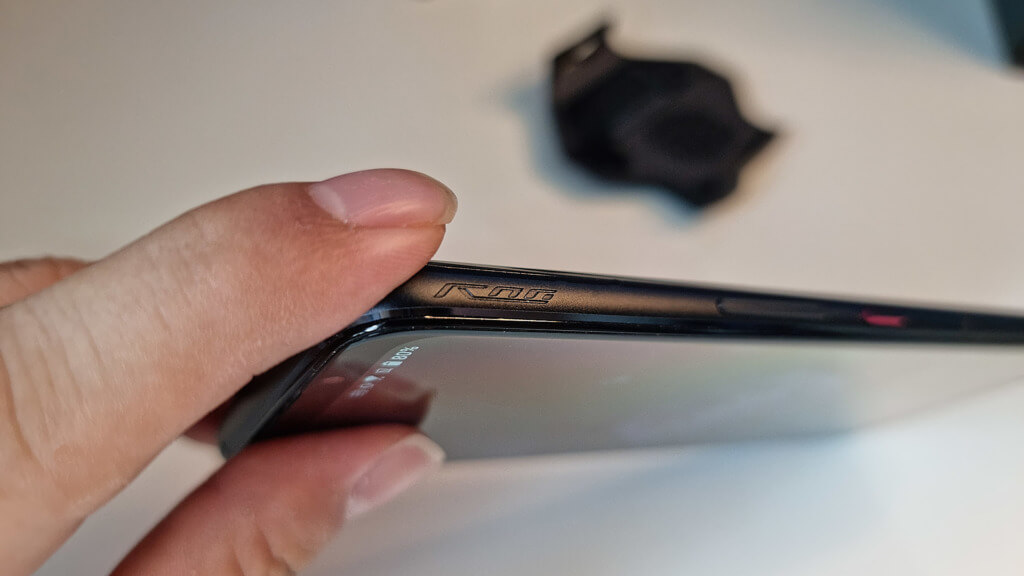 144Hz screen built for gaming
The 6.78-inch 144Hz / 1ms bespoke AMOLED display from Samsung is the star of the show. The ROG Phone 5 has a stunning display ideal for gaming, boasting an industry-leading 300Hz touch-sampling rate, offering you buttery-smooth gameplay with an ultra-low 24.3ms touch latency. During intensive combat, the phone can record every interaction on the screen up to 300 times per second, registering every touch and slide with precision.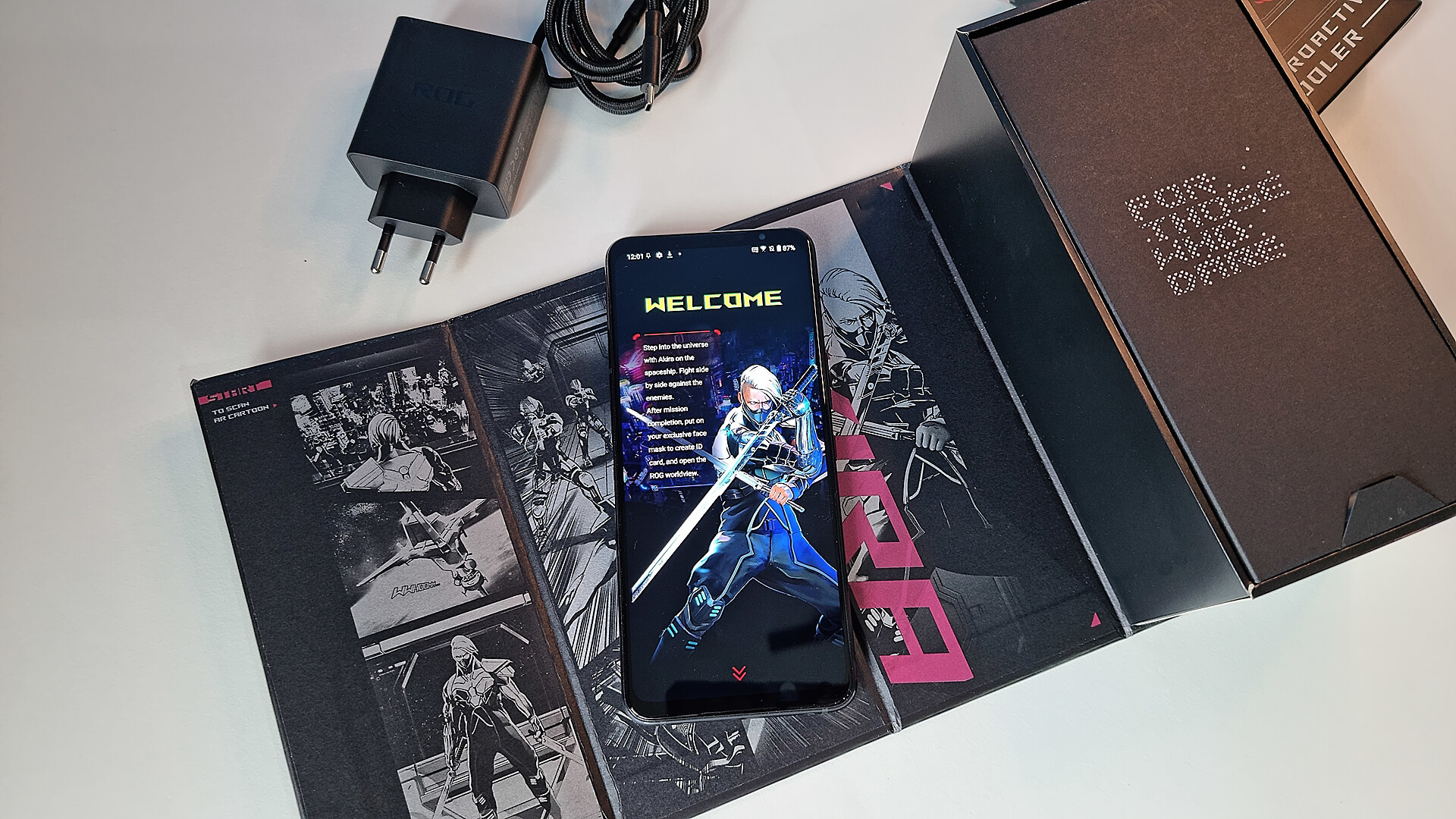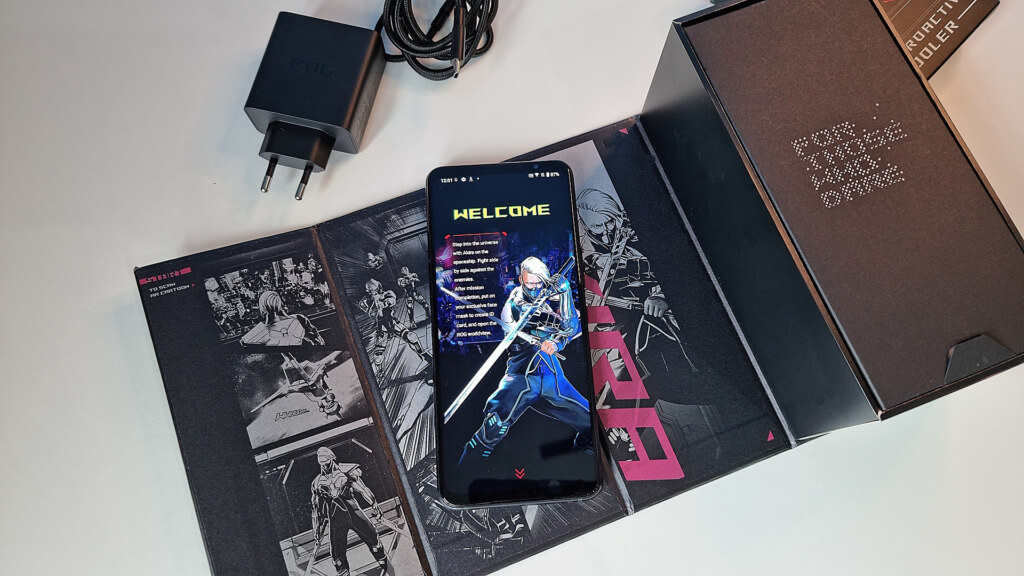 In addition, it's a big-screen offering excellent color reproduction with Delta-E < 1 color accuracy. Delta-E is a color-accuracy benchmark widely adopted by professional monitor manufacturers. This means that the ROG Phone 5 displays the most accurate colors possible for a superb visual experience.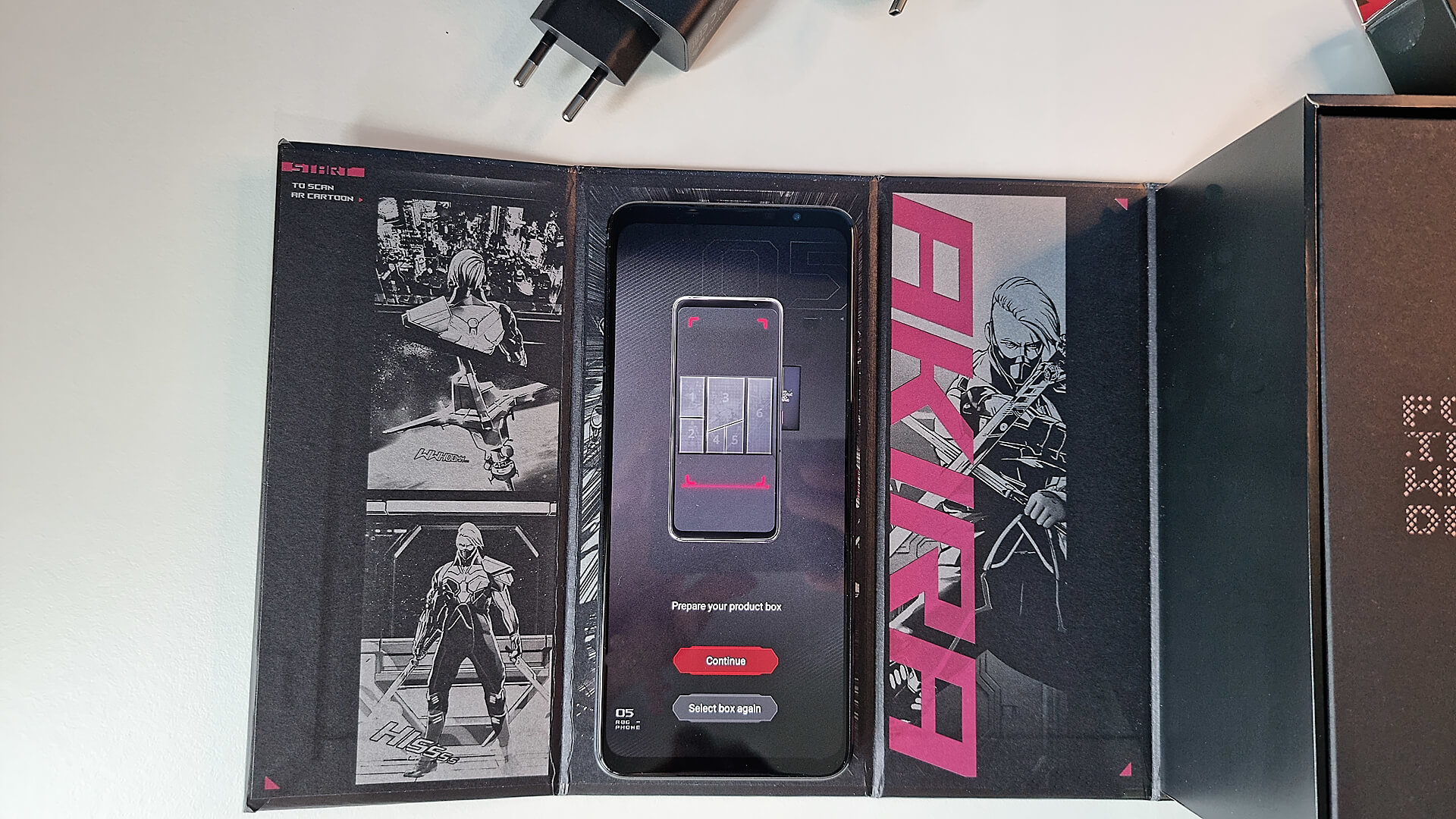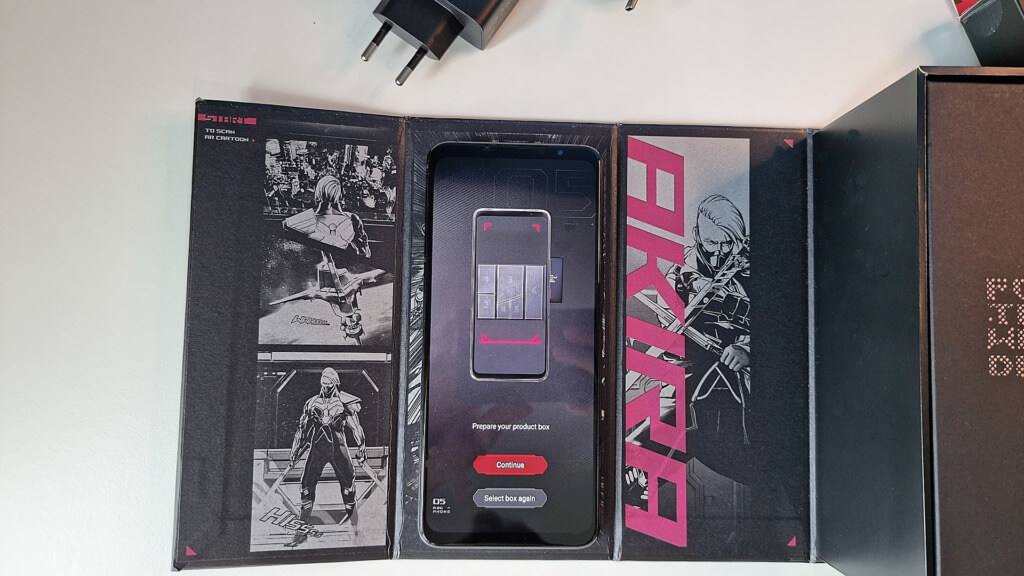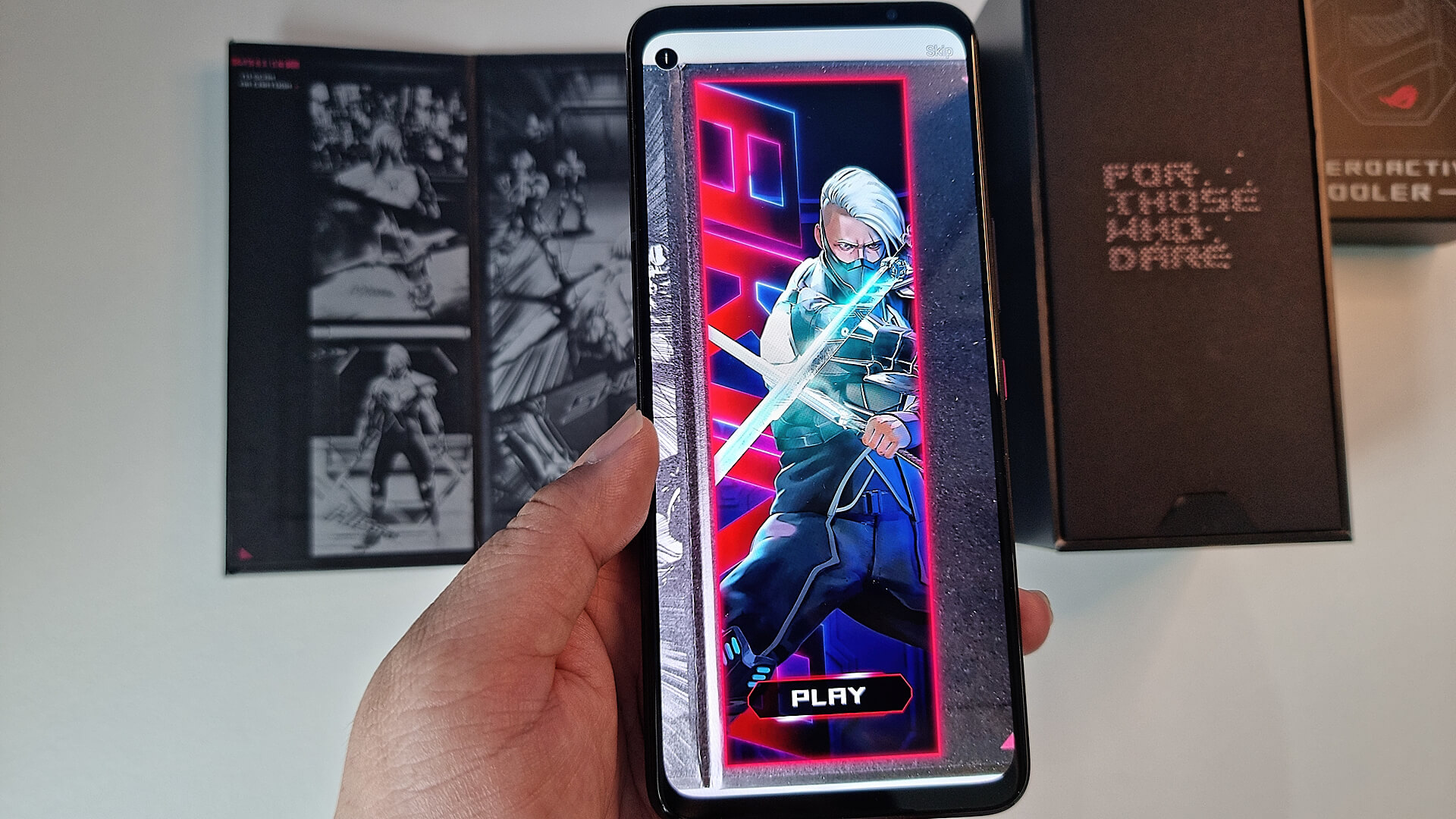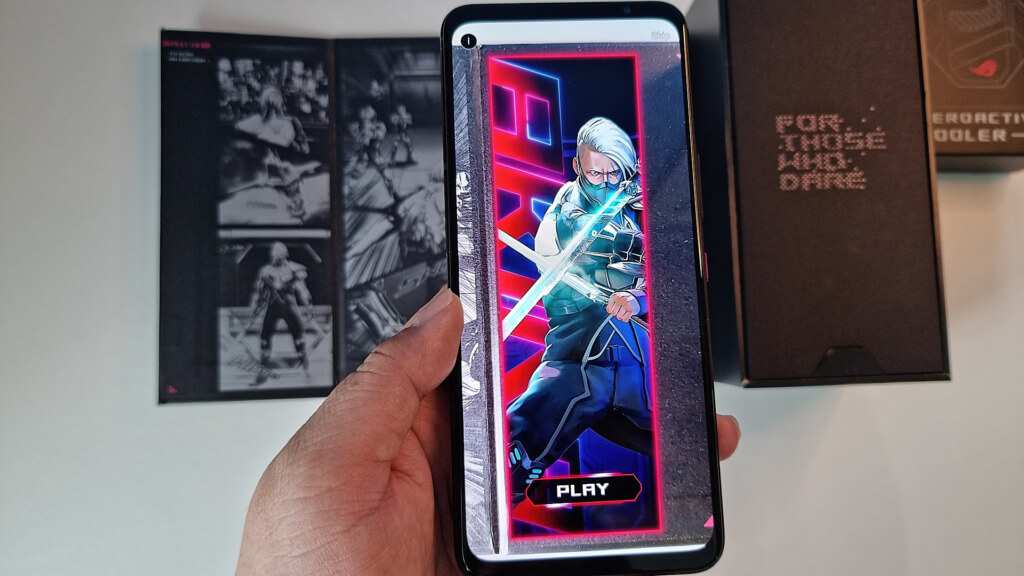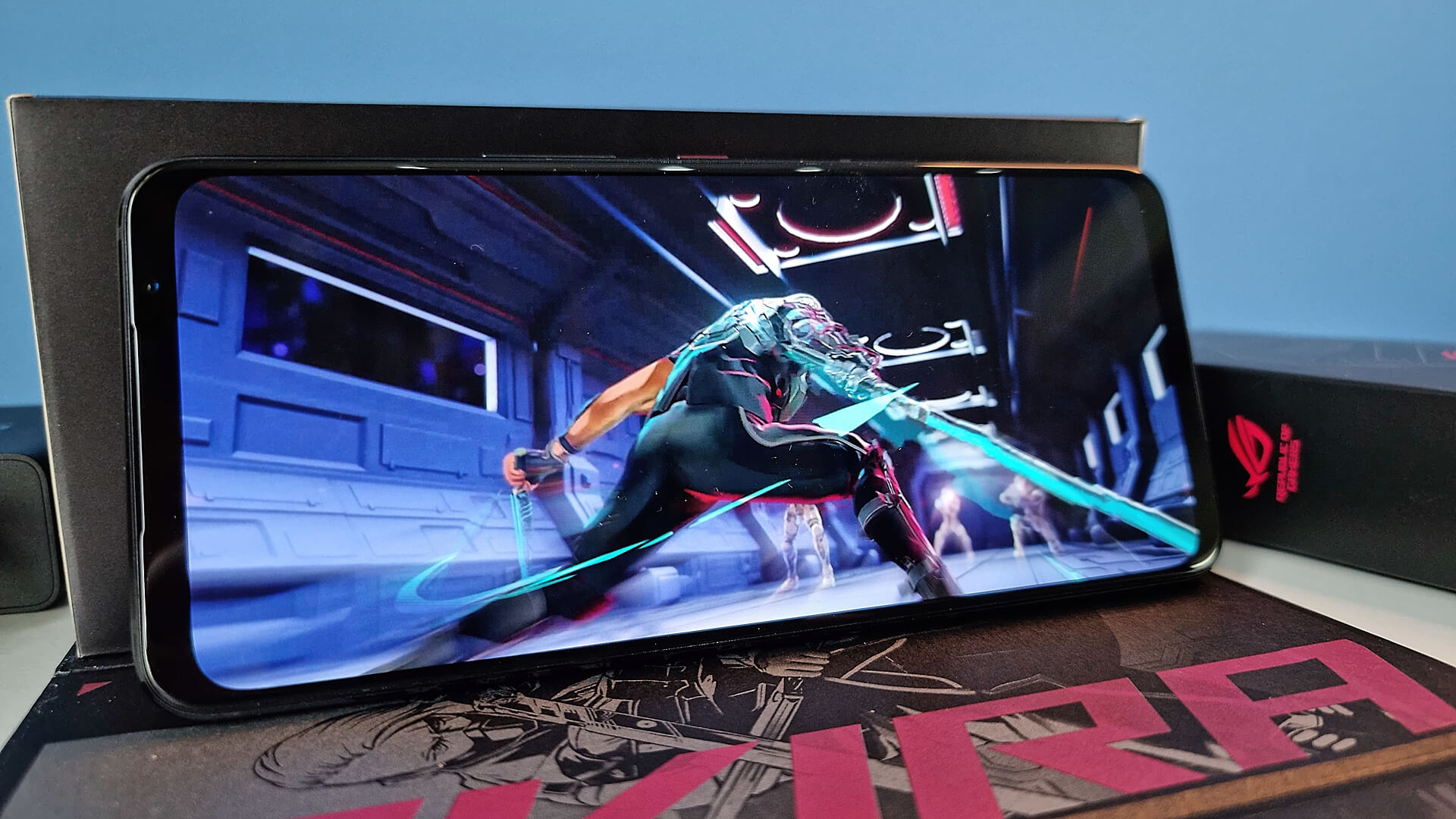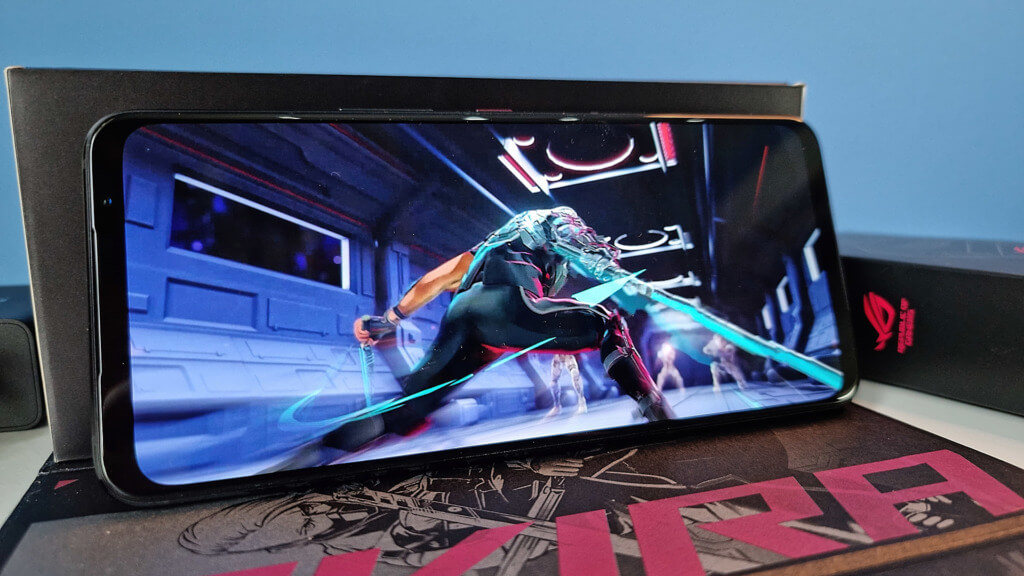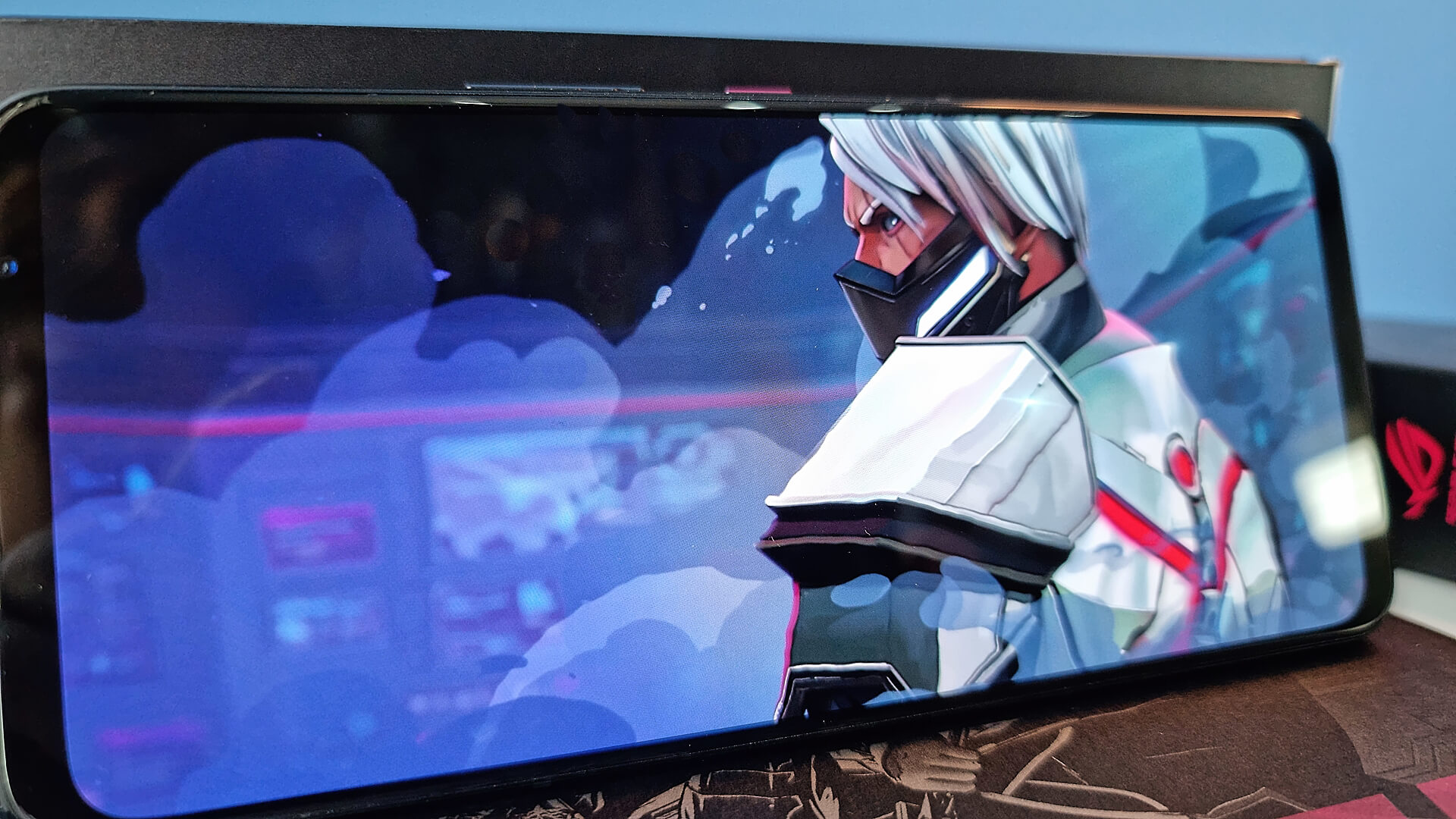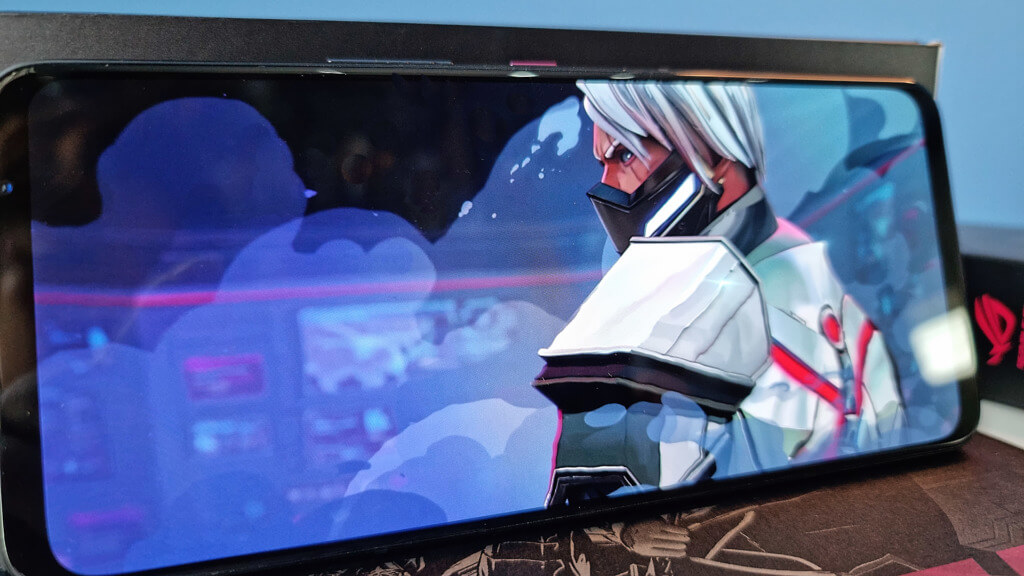 Further enhanced with the new always-on HDR technology that improves non-HDR visuals and decent brightness, the display provides more than adequate for a game of PUBG or LoL.
With those deep blacks and excellent contrast ratio, watching movies, playing games, or doing anything else is a great experience. The colors are very vibrant, vivid, and punchy. It's even better with the HDR10+ support.
GameFX audio system delivers superior sound
The ASUS ROG Phone 5 now has a set of symmetrical 7-magnet dual speakers for truly balanced stereo sound effects. Optimized in collaboration with audio specialist Dirac, the ROG Phone 5 can be crowned as one of the most incredible phone speakers available in the market. They're punchy, forceful, and will leave you speechless with their depth.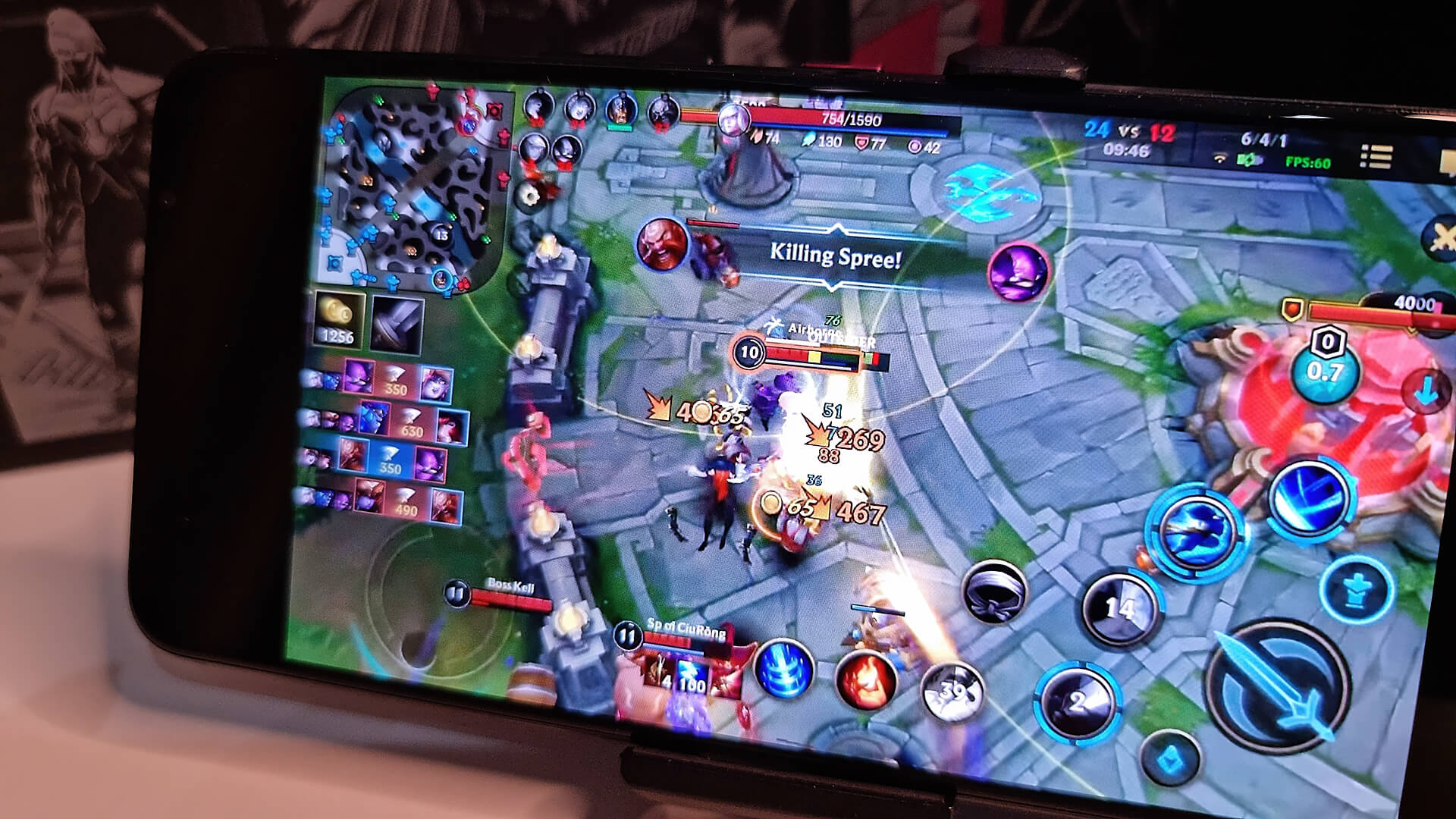 When gaming, stereo separation is good enough that a gunshot or footstep can be isolated. There's a sense of ambiance and immersion when viewing movies, and the speakers can go loud enough to drown out some entry-level PC speakers and most laptop speakers when pushed to their limits.
Unlike its predecessor, the ROG Phone 5 has an audio connector (3.5 mm headphone jack) and the ESS DAC that guarantees high-resolution audio output. ROG Phone 5 uses an audiophile-grade ESS DAC to ensure top-quality audio reproduction and deliver premium crystal-clear sound to your headphones via the 3.5 mm audio jack.
In short, this is audiophile jargon for high-resolution audio, and it's all quite impressive.
Armoury Crate put forth a strong showing, paired with a powerful mobile processor
The ROG Phone 5 outperforms its predecessors and competitors in terms of gaming performance. The specifications and display used in each ROG Phone 5 make gaming look sharp and operate smoothly, while several other features enhance the overall experience, whether you're gaming or watching movies.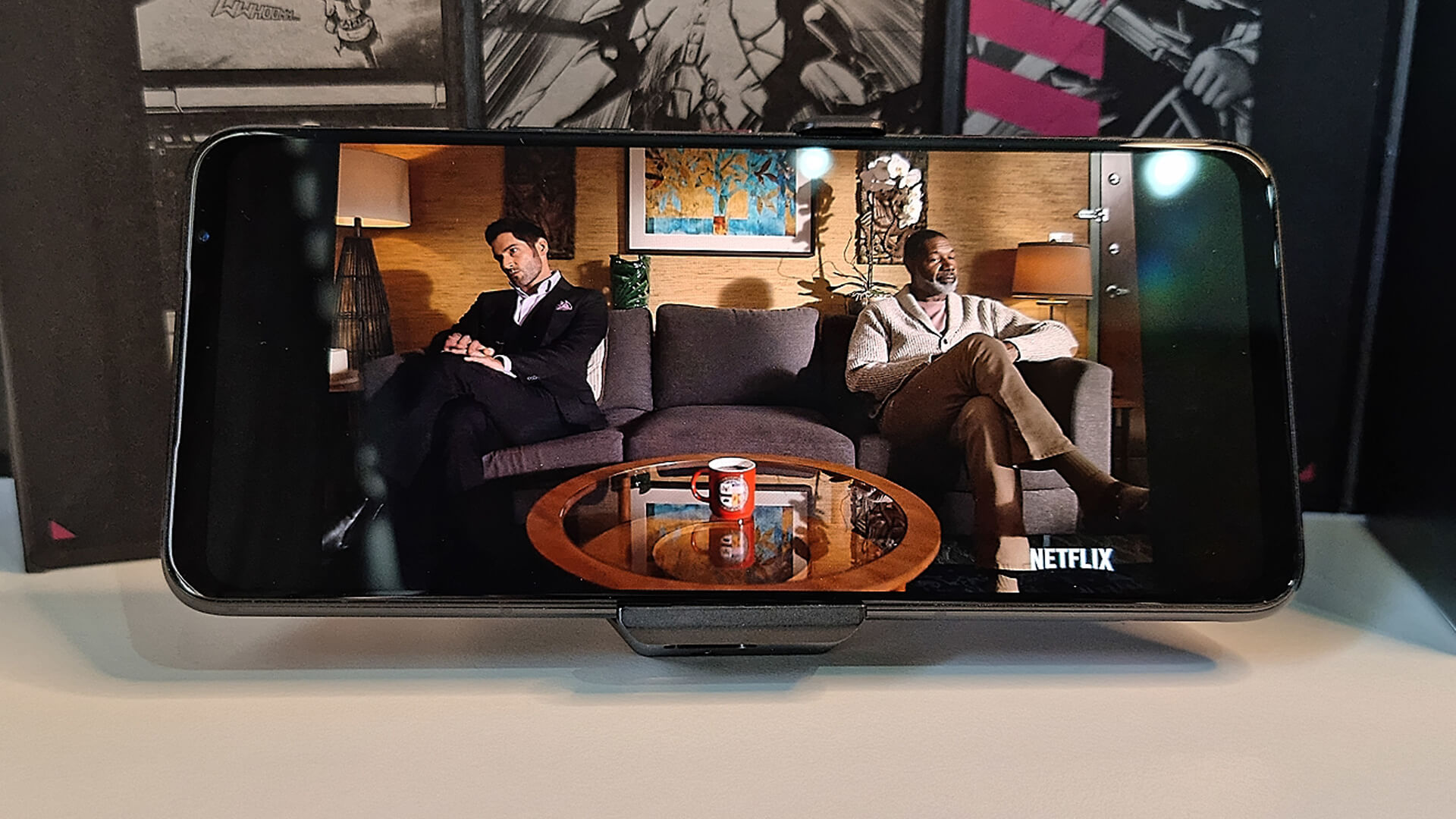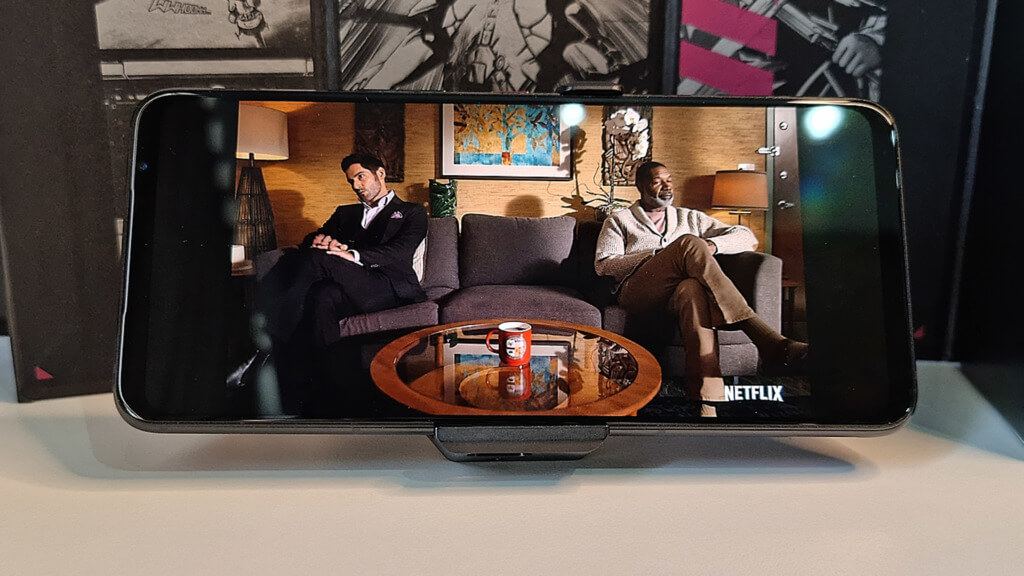 The ROG Phone 5 will deliver the best performance possible because it is a smartphone designed for gamers who won't settle for anything less than absolute power. As expected, Qualcomm's high-end Snapdragon 888 5G Mobile Platform powers the gadget, which can deliver better performance while being more energy-efficient than its predecessor. The Snapdragon 888, as Qualcomm's first chip with a 5nm manufacturing process, performed admirably in tests, which included a lot of multitasking, video streaming, and hours of continuous gaming.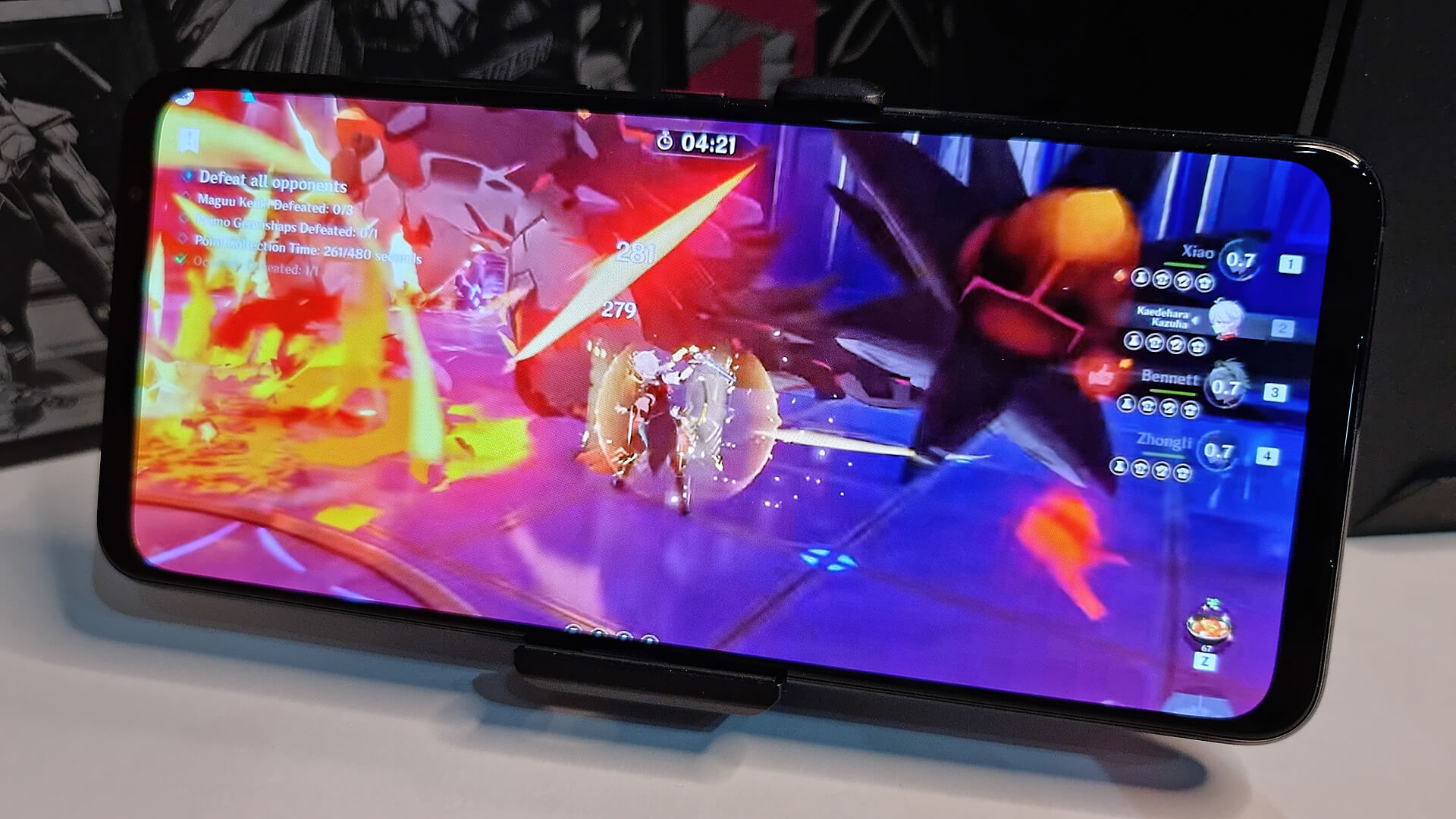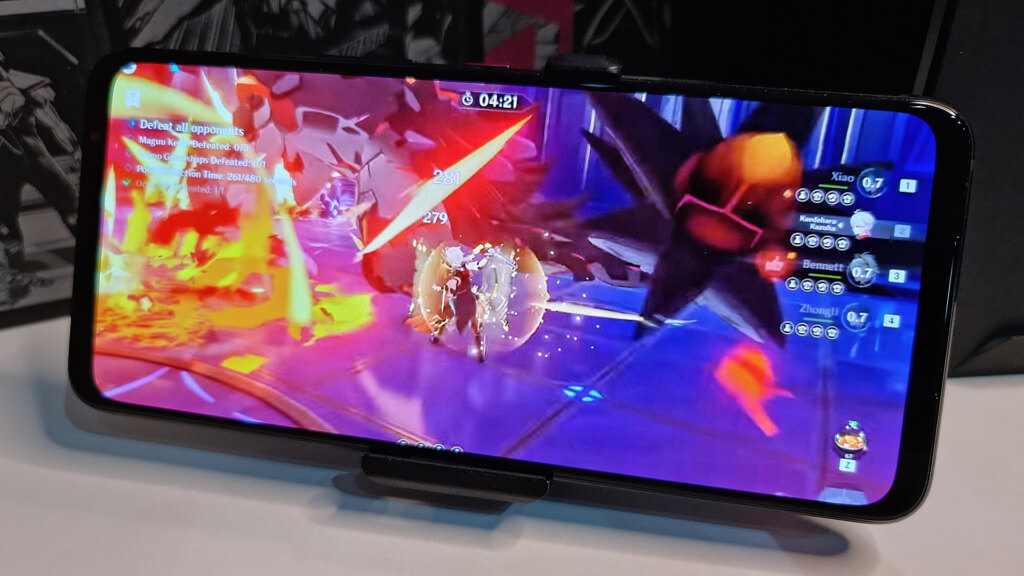 Paired with an Adreno 660 GPU, the phone performed admirably well in games like Genshin Impact, League of Legends, Ragnarok X: Next Generation, etc.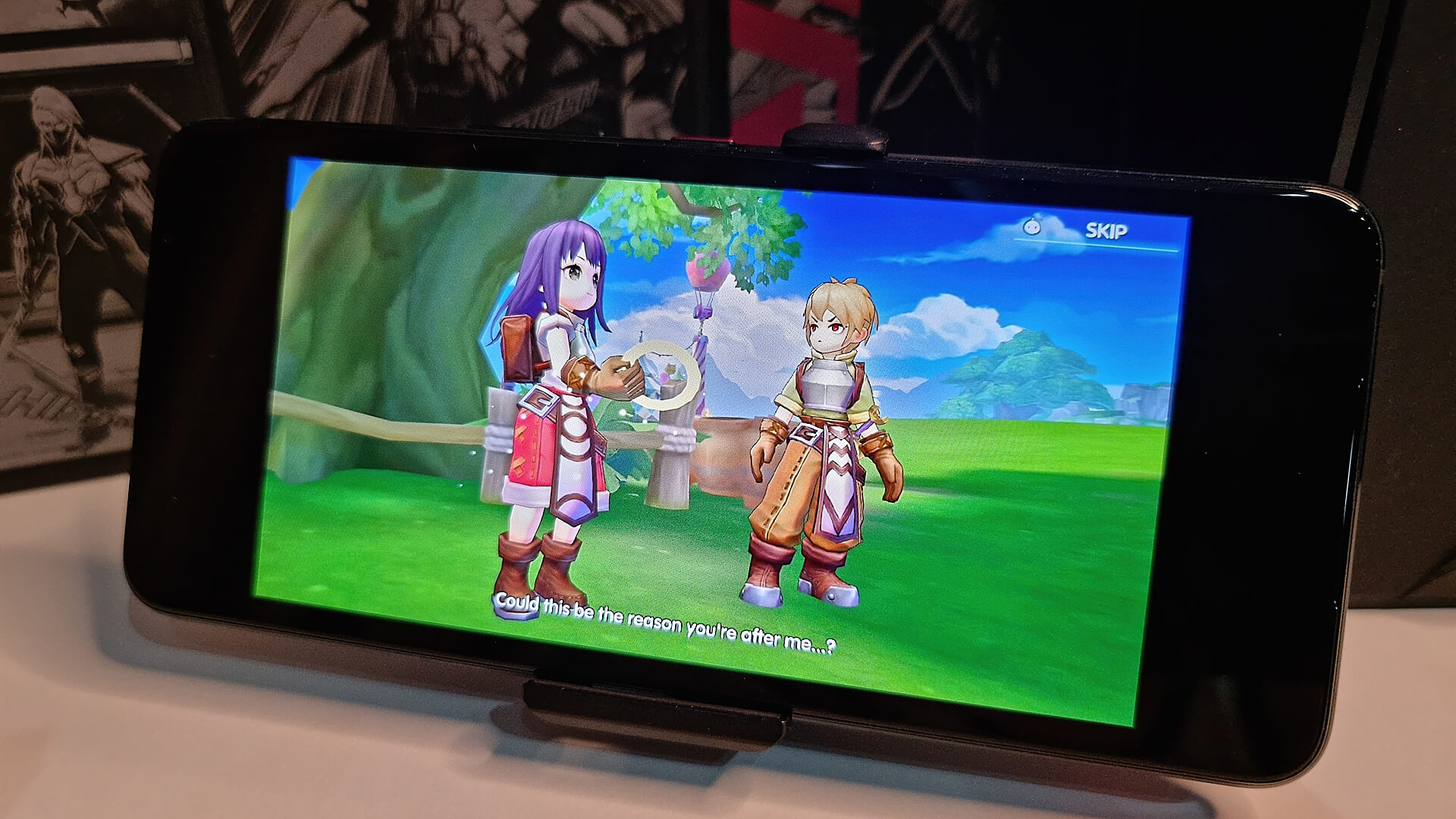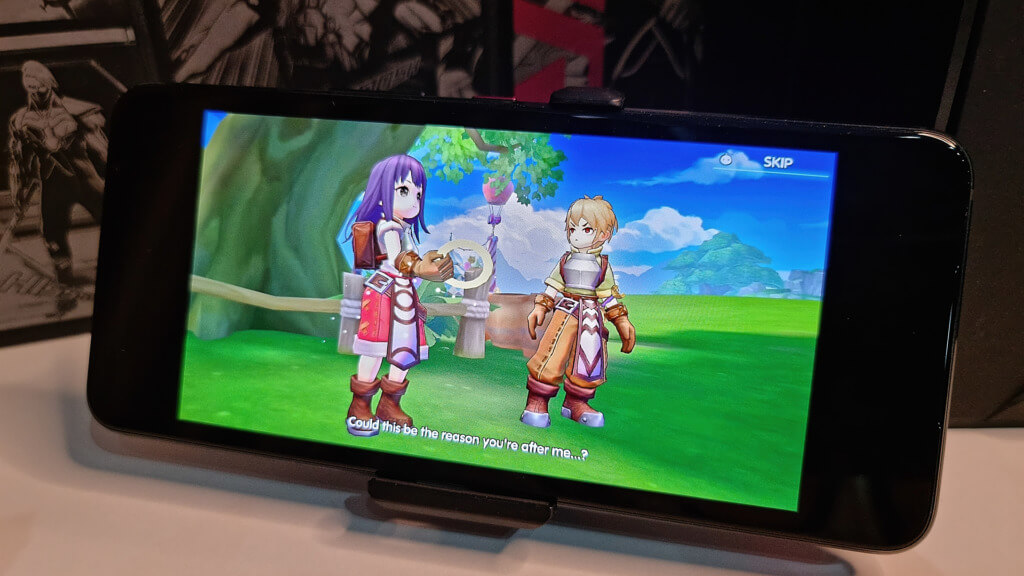 To keep the heat signatures in check, you can adjust the setting via the Armoury Crate app. The Asus Armoury Crate app has been updated to include more modes and customizations, making it the most gamer-centric software available on a smartphone. It allows you to create a "scenario profile" for each game, in which you may change parameters to get more out of each game and, as a result, squeeze more performance out of the ROG Phone 5. A profile includes information such as the refresh rate you want the screen to run at and how much you want to boost the CPU, graphics chip, and RAM power. On a per-game basis, you can also disable network switching, background data, and app synchronization. You can also change the colors and animations on the secondary screen at the back and the ROG logo. If you're used to PC gaming, the closest parallel is the Nvidia's GeForce Experience.
Accessory: AeroActive Cooler 5
Like what we have seen in previous models, ASUS is offering accessories for the current ROG Phone 5 as well. The AeroActive Cooler 5, which comes standard with the ROG Phone 5, connects to the side using a connector and has a built-in fan to keep the central area cool, further increasing airflow directly to hotspots on the back cover of ROG Phone 5. In addition, the AeroActive Cooler 5 now features two more triggers on the side, making your gameplay more productive and the accessory more helpful than ever before, allowing a genuine console-like control experience.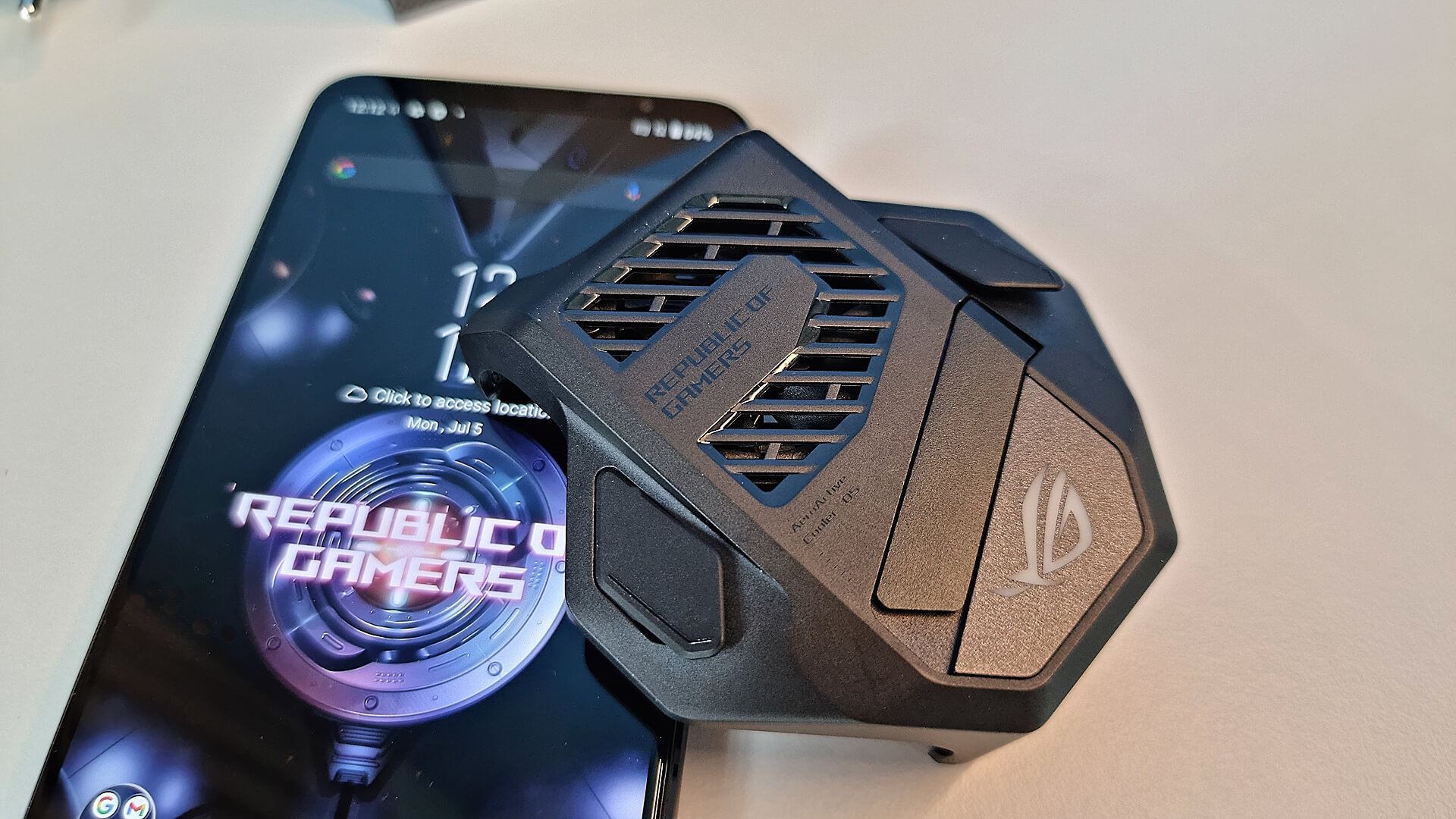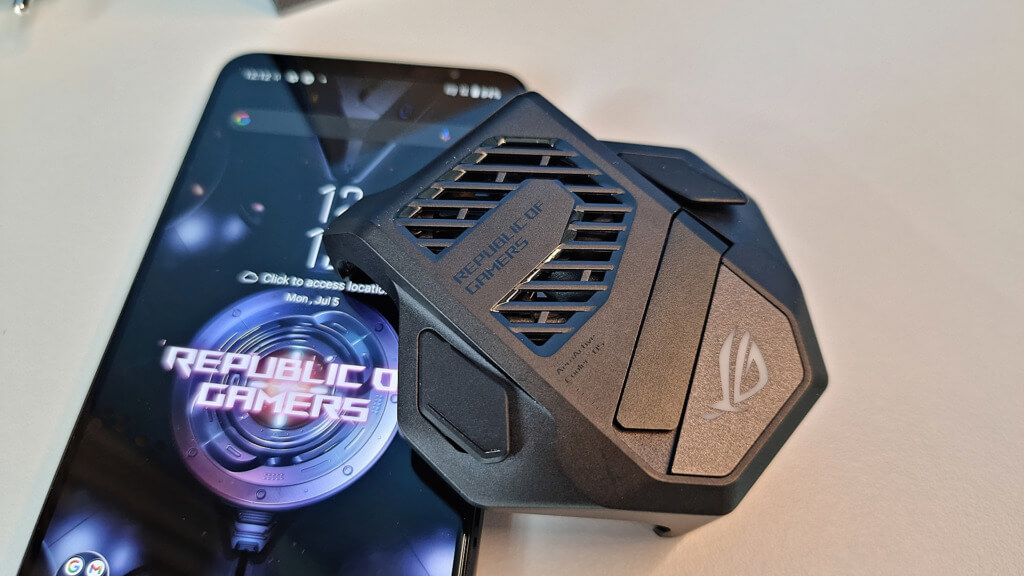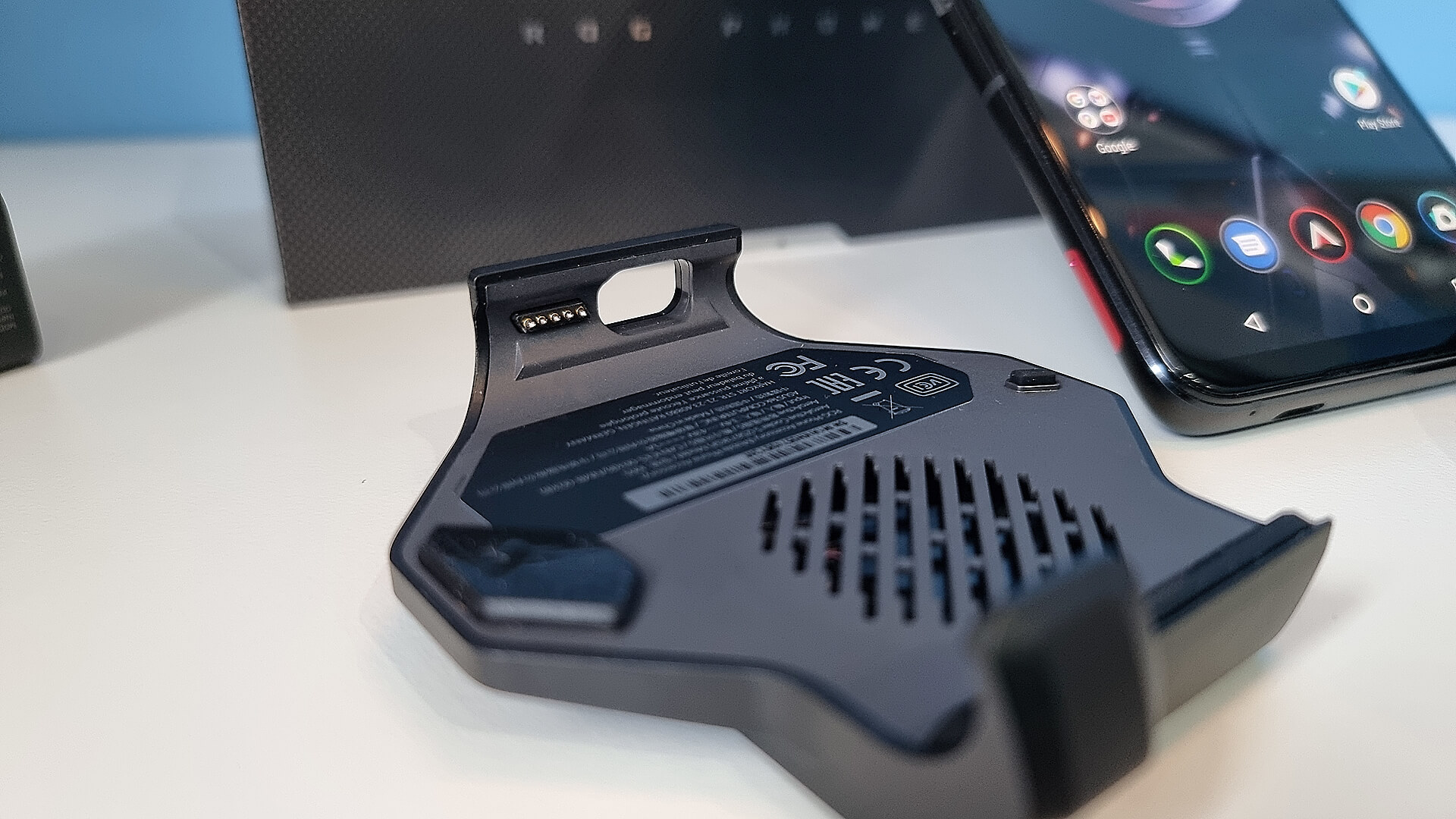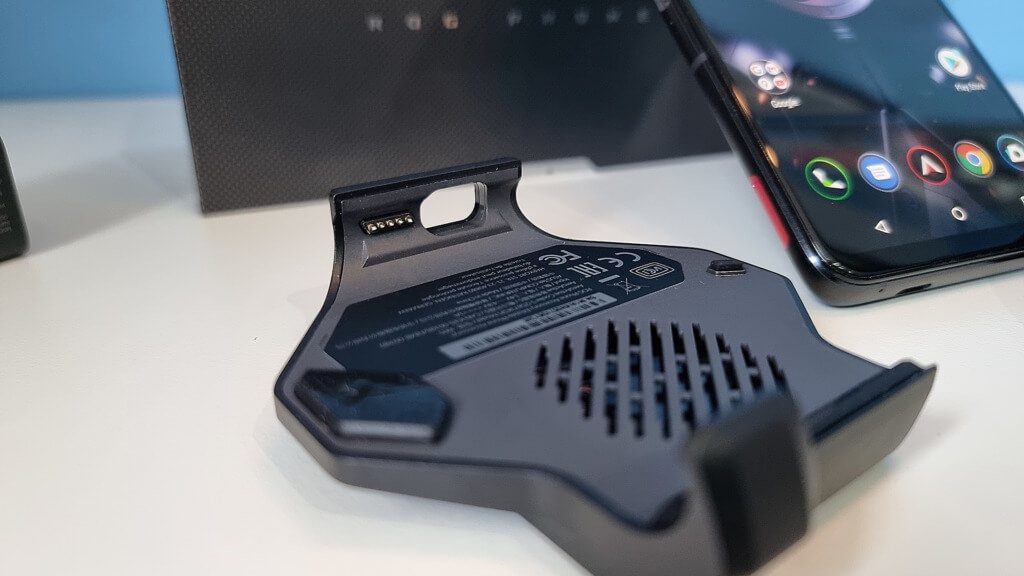 The AeroActive Cooler 5 can cool down the device by up to a stunning 15°C, and it also doubles up as a kick-stand that is strong enough to make the phone stand firmly while you're watching your favorite Netflix shows.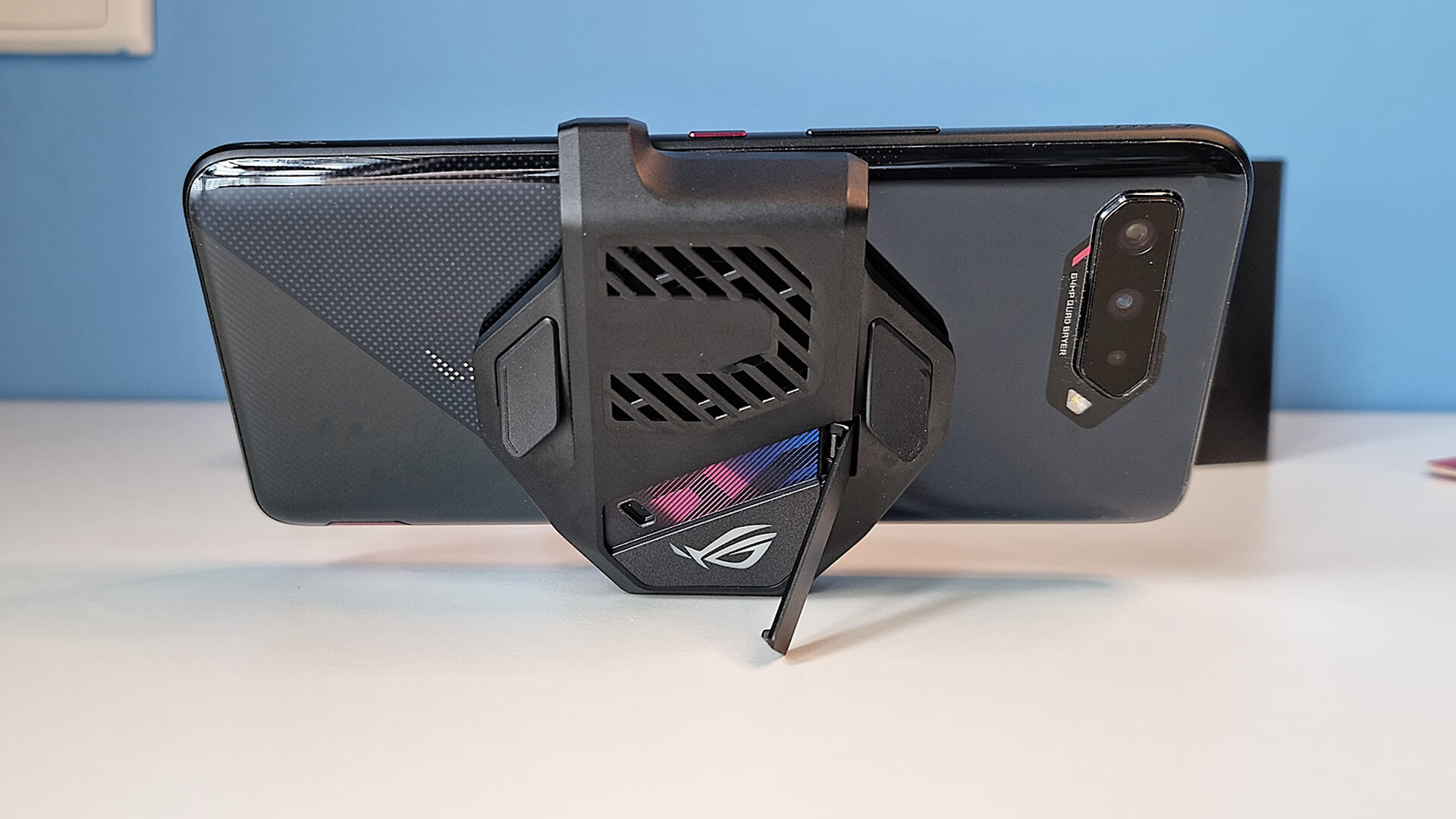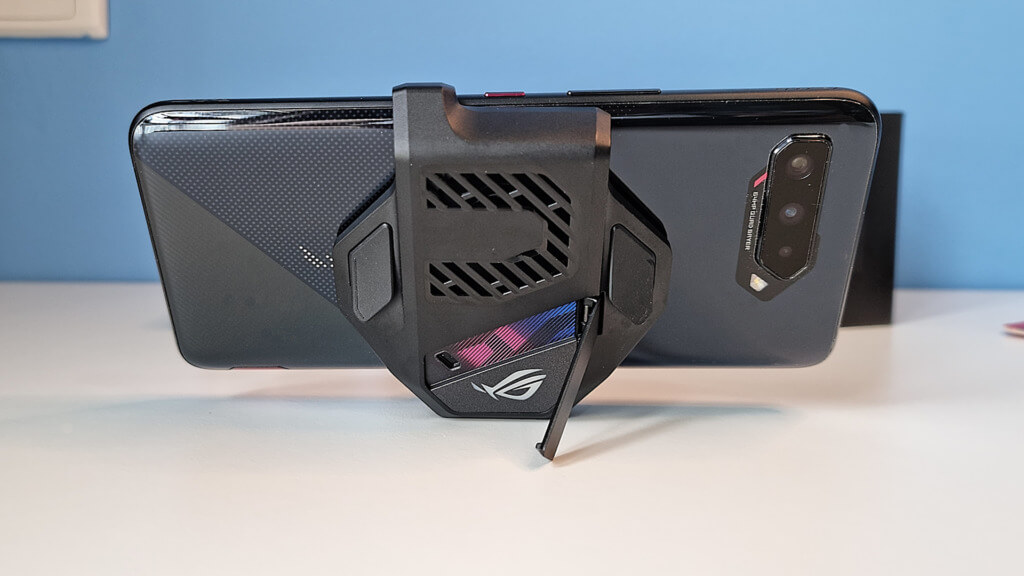 The verdict: ASUS ROG Phone 5
ASUS has proven once again that it can produce a gamer-centric smartphone with all of the capabilities of a flagship smartphone plus a slew of extras.
The ROG Phone 5 is at the top of the list if you're seeking for the best mobile gaming performance. However, if you're a casual gamer looking for a device that can do everything (including taking good images) and has basic high-end features and style, this isn't the device for you. Having said that, the camera on a gaming phone is often an afterthought and is rarely a deal-breaker. Other key disadvantage includes the lack of water and dust resistance, often found in new smartphones in the market.
All in all, technology-wise, this ASUS smartphone features state-of-the-art components in most areas. With built-in triggers, a stunning 144Hz AMOLED display with excellent touch reaction times, impressive audio chops, and incredible power under the hood, the ASUS ROG Phone 5 is undoubtedly one of the best mobile gaming experiences available.