The realm of home entertainment has been gloriously uplifted with the advent of the BenQ W4000i 4K projector. As you unbox this epitome of BenQ's technological advancement, you're not just unboxing a projector but a gateway to a cinematic odyssey right in the comfort of your abode. The W4000i doesn't just project images; it crafts an enthralling visual saga with its 3200 lumens of brightness, painting every scene with a palette of over a billion colours, courtesy of the CinematicColor and HDR-PRO technologies. The allure begins with its promise of "innovative cinematic visuals and immersive entertainment," a pledge to transform mundane walls into vibrant canvases of storytelling.
The triumvirate of Optimal HDR Tone Mapping, Leading Local Contrast Enhancer, and Dynamic Black technology meld seamlessly to transcend the conventional brightness constraints, optimising contrast effects for an authentic HDR performance. It goes beyond the rudimentary projection of pixels into the realm of narrating visual tales, unmasking the intricacies within every frame's dark and bright details and enriching the 4K image depth. This is where the narrative isn't just seen but felt, with every nuance of light and shadow playing a pivotal role in conveying the story.
This attention to detail, the endeavour to not let a single shade go unnoticed, sets the W4000i apart.
Projection System: DLP 
Resolution: 4K UHD (3840×2160) 
Contrast Ratio: 2,000,000:1 (w/ Lightsource Dimming)
Brightness (ANSI lumens): 3200 
Throw Ratio: 1.15 ~ 1.50 
Zoom Ratio: 1.3x 
Input Lag: 17.9ms (1080P 60Hz), 17.9ms (4K 60Hz), 21ms (1080p120Hz), 8.7ms (1080P 240Hz) 
Speaker: 1x 5W Chamber 
Inputs: 2x HDMI (+ 1x Internal HDMI), 2x USB Type A, LAN (RJ45) (10/100 Mbps), RS232 in (DB-9pin), DC 12V Trigger (3.5mm Jack)
Dimensions: 420.5 x 135 x 312 mm
A closer look at the W4000i's design finesse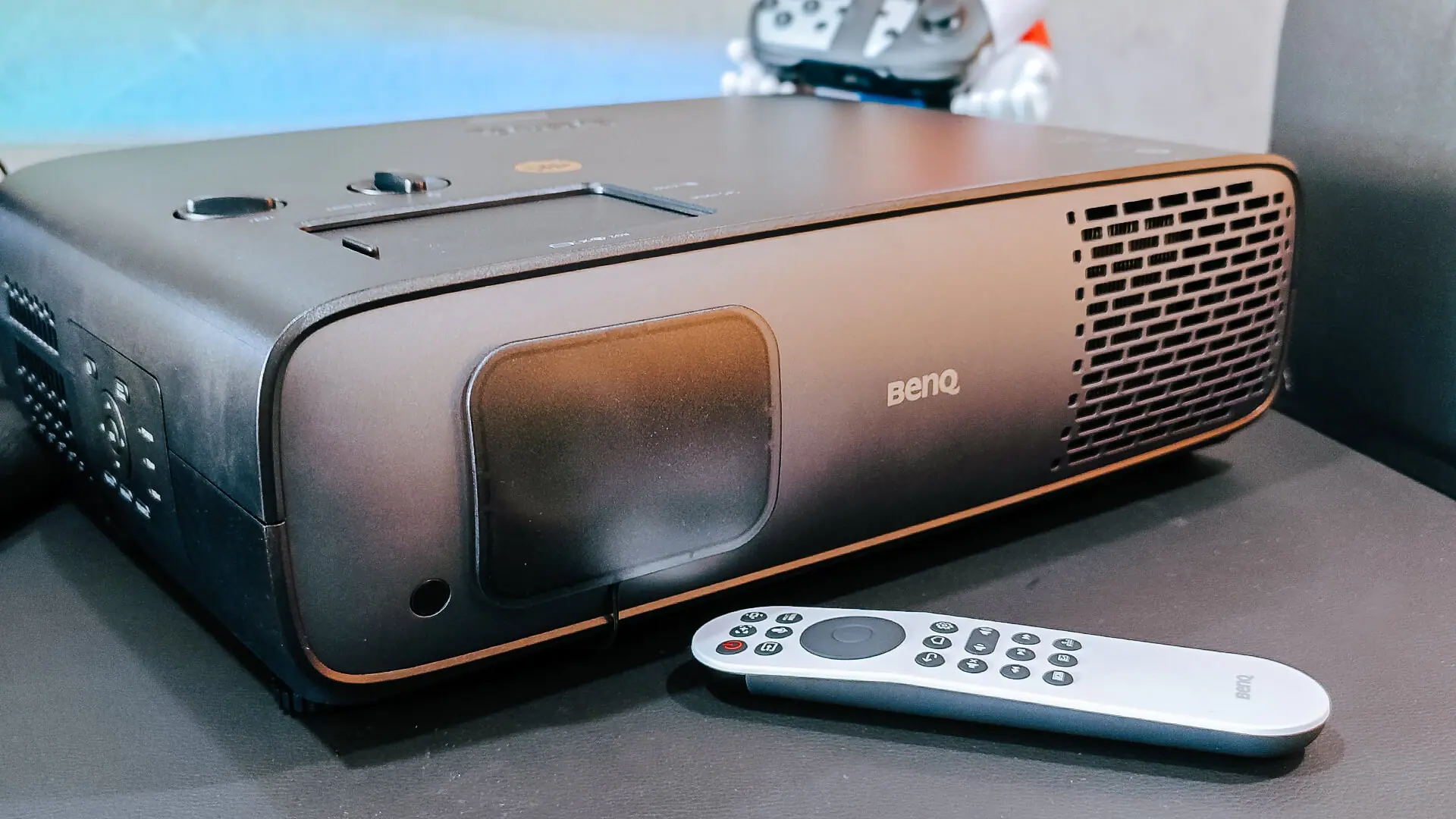 The BenQ W4000i is a fine blend of aesthetics and functionality, embodying a design that caters to the serious home cinema enthusiast and the casual viewer. Its matte black finish is pleasing to the eye and serves a practical purpose; it helps the projector blend seamlessly into a darkened room, enhancing the cinematic experience. The lens, stylishly recessed into the front left side, is sufficiently large, hinting at the promise of precise, geometrically correct, and refined images.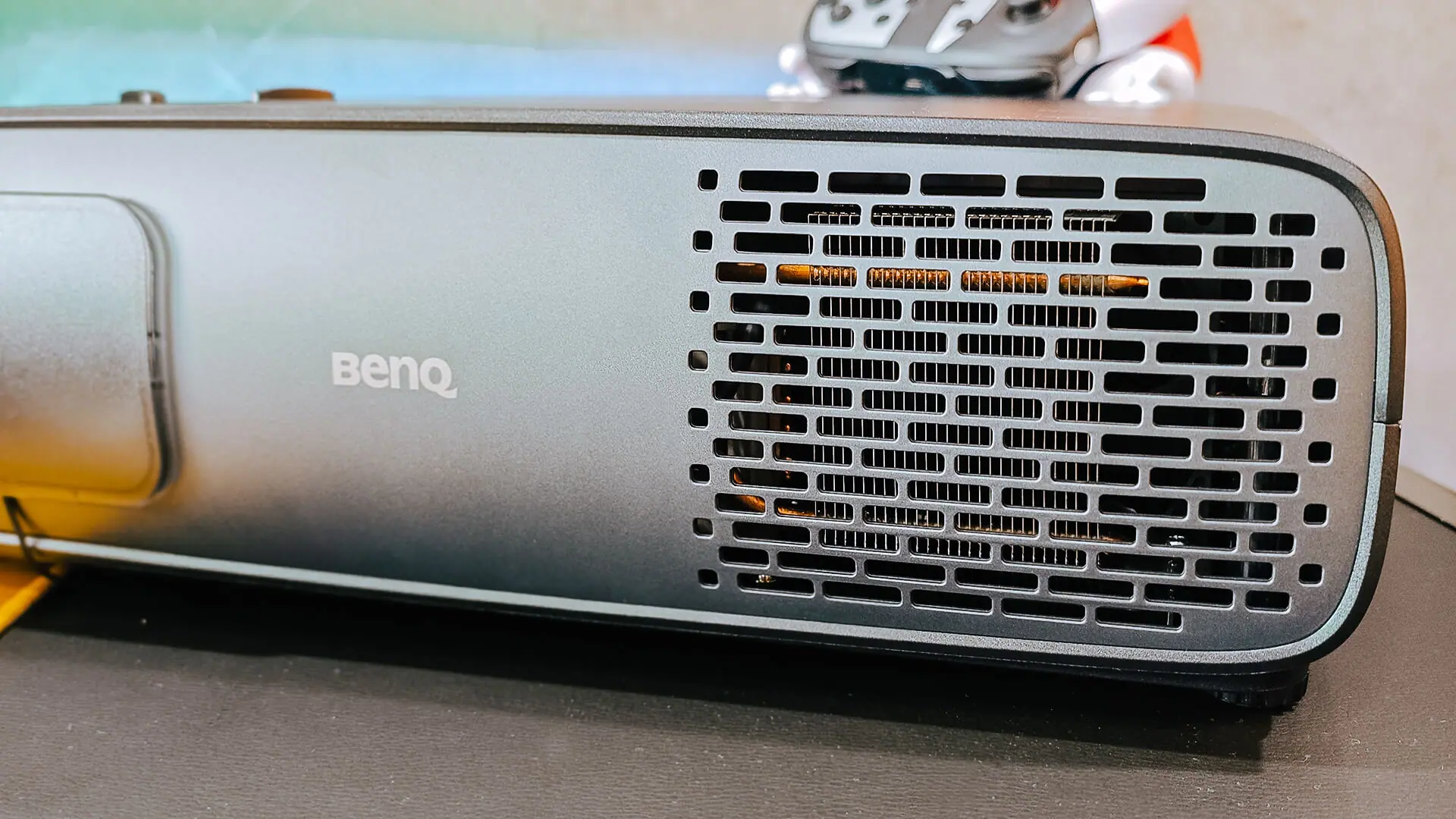 The design isn't just about serving the hardcore cinephile. With its rounded edges and smart cooling grille, the W4000i is designed to complement your living room's aesthetics rather than disrupt them. It's slightly larger than its siblings, the W2710i (not available in Singapore) and TK860i, but still able to find a snug spot on most coffee tables. Despite its large size, measuring 420.5 mm x 135 mm x 312 mm and weighing 6.6 Kg, the projector exudes a modern vibe with a blend of matte and glossy surfaces. At the same time, its black colour scheme adds a touch of sleek elegance, ensuring it's not a source of unwanted reflected light.
The W4000i holds a little surprise at its rear—an elongated square bulge that conceals a bay for a provided smart dongle, adding built-in Wi-Fi and video streaming features to the projector's repertoire. This thoughtful addition underscores BenQ's attention to providing a user-centric design, enhancing the projector's functionality without cluttering its form.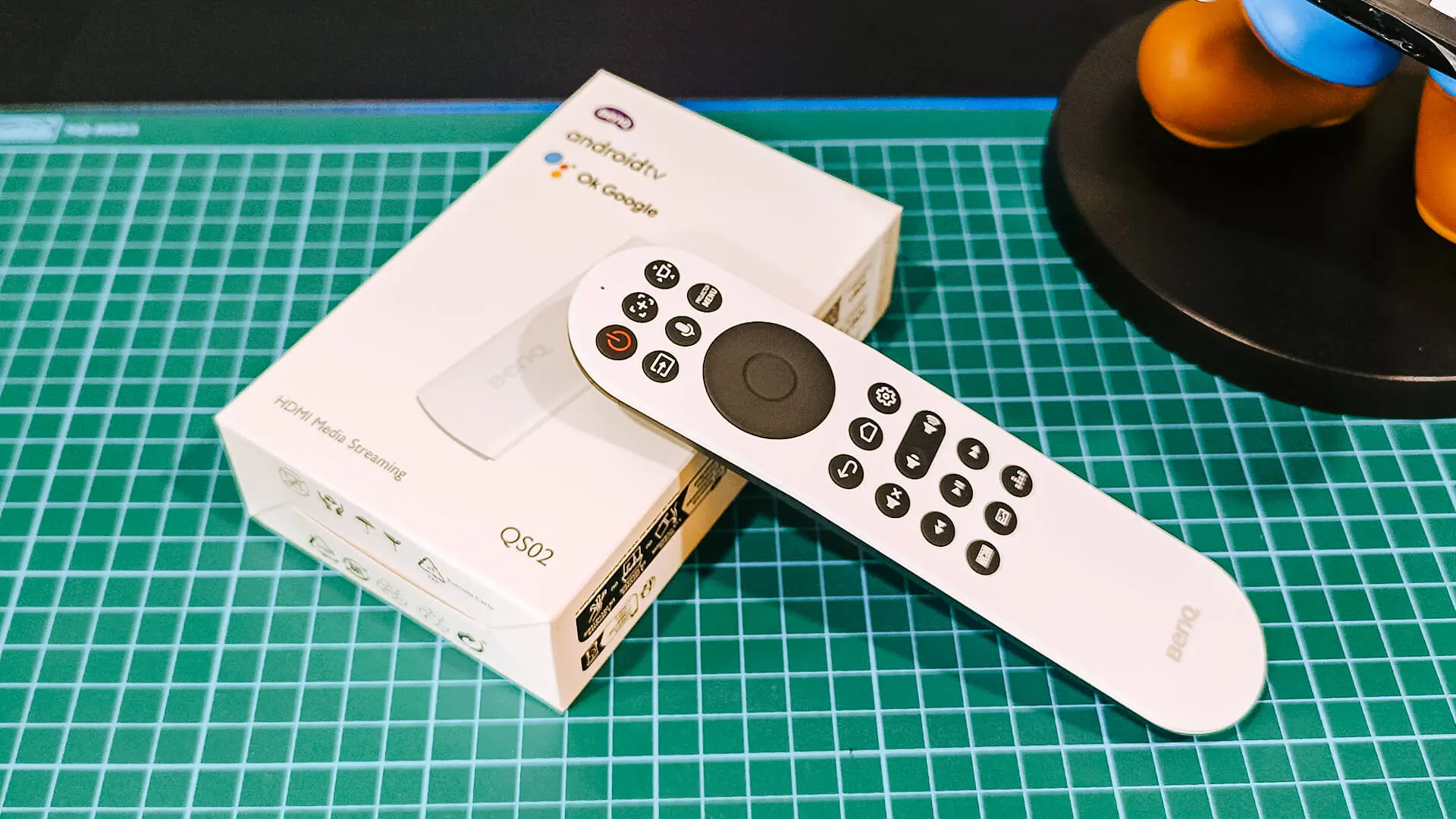 Accompanying the projector is a QS02 Android TV dongle, as well as a gloss-white remote control boasting backlit buttons, and a spacious layout, making navigation a breeze even in the dark. Although it might take a little getting used to, it's a step above the other controls provided by most projectors in the market.
On the unit itself, a conveniently located control panel on the right side (when viewed from the rear) houses easily accessible buttons for menu access, navigation, and power control. This user-friendly interface, coupled with the tactile nature of the controls, ensures a hassle-free experience even when the projector is ceiling-mounted, allowing for easy operation without the remote control.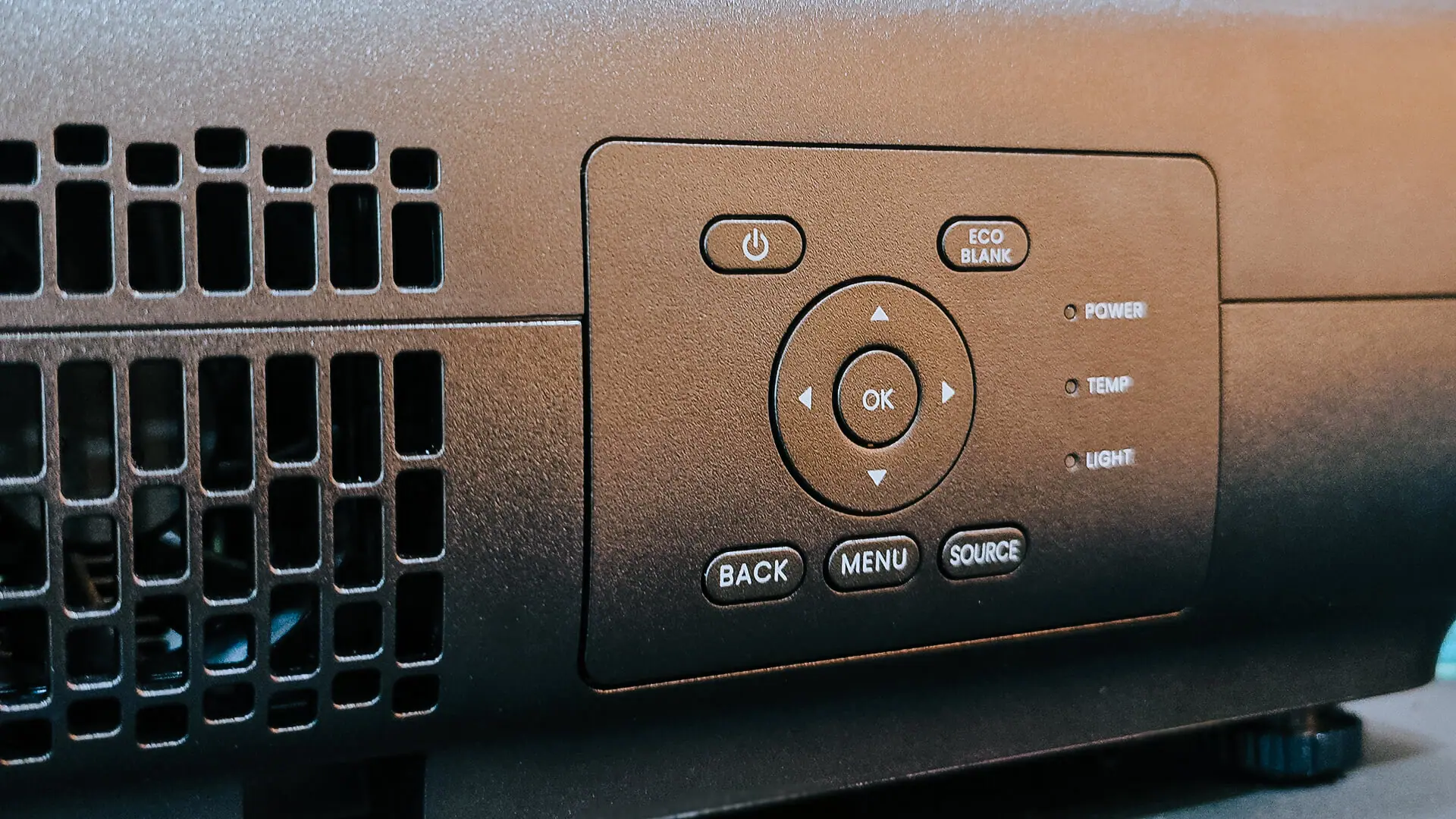 The W4000i doesn't skimp on ergonomic features either. With horizontal and vertical lens shift and zoom capabilities, fine-tuning the position of the projected image is a breeze, obviating the need to move the entire projector. This flexibility is a boon when accommodating different room configurations or mounting preferences.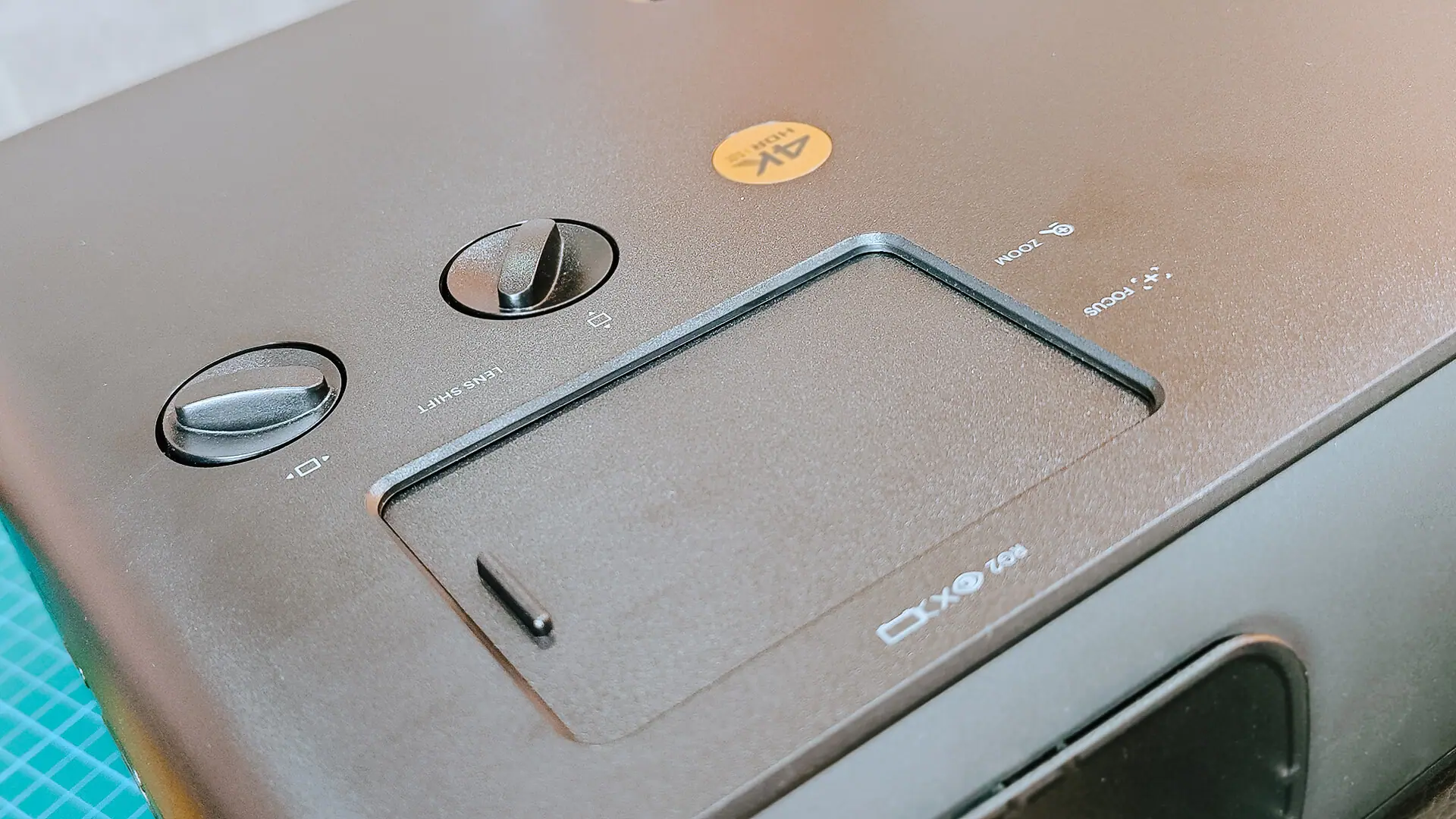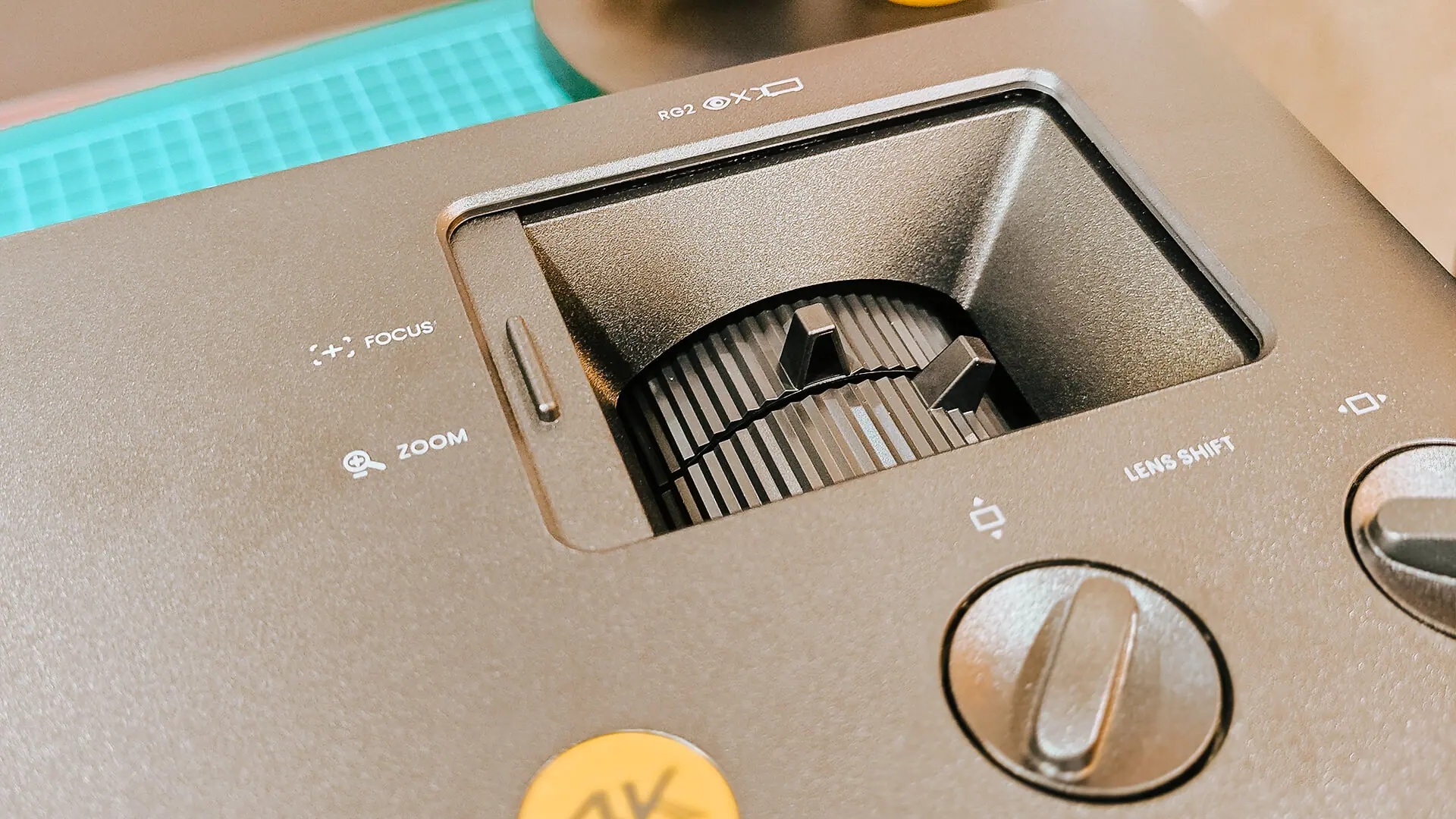 When it comes to connectivity, the W4000i is generously endowed. It houses multiple HDMI and USB ports and audio outputs, facilitating connections to gaming consoles, Blu-ray players, and sound systems. One of the HDMI ports even supports Enhanced Audio Return Channel (eARC) functionality, providing a seamless audio connection to your sound system.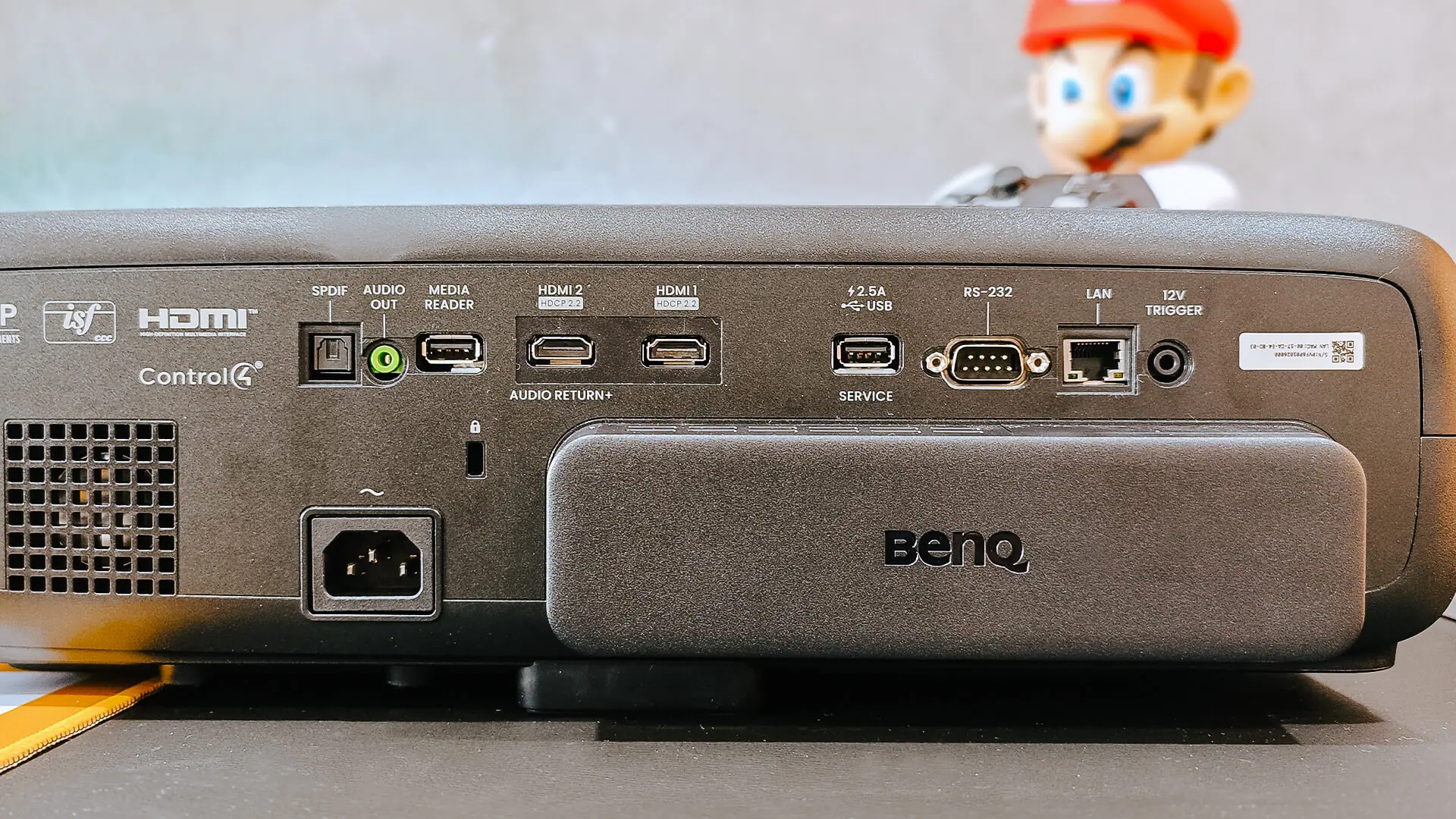 The projector's ventilation design is geared towards keeping the unit cool during extended use while also incorporating noise control mechanisms to keep fan noise to a minimum, allowing for an uninterrupted viewing experience.
Performance excellence with 4K UHD and 1.3x Zoom
The BenQ W4000i not only impresses with its visual and audio performance but also offers a practical advantage in installation. A notable feature of this projector is its 1.3x zoom capability, which maximises the available space by offering a range of throw distances. This flexibility allows for big-screen entertainment without the hassle of complicated installation procedures. The zoom feature ensures that the projector can be adjusted to provide a large, clear image irrespective of the room size or seating arrangement, making the W4000i a hassle-free choice for varying home theatre setups.
The lens, often the unsung hero of projection quality, plays a pivotal role in the W4000i's superior performance. The projector boasts a native resolution of 4K UHD (3840×2160), ensuring the images are sharp, crisp, and detailed, replicating a real cinema-like experience. Projection quality shines bright with a luminosity of 3200 lumens, ensuring the visual output remains robust even in moderately lit rooms. This brightness is particularly beneficial in enhancing the HDR impact and the wide colour filter performance in a fairly dark room setting, making the W4000i versatile for various lighting conditions.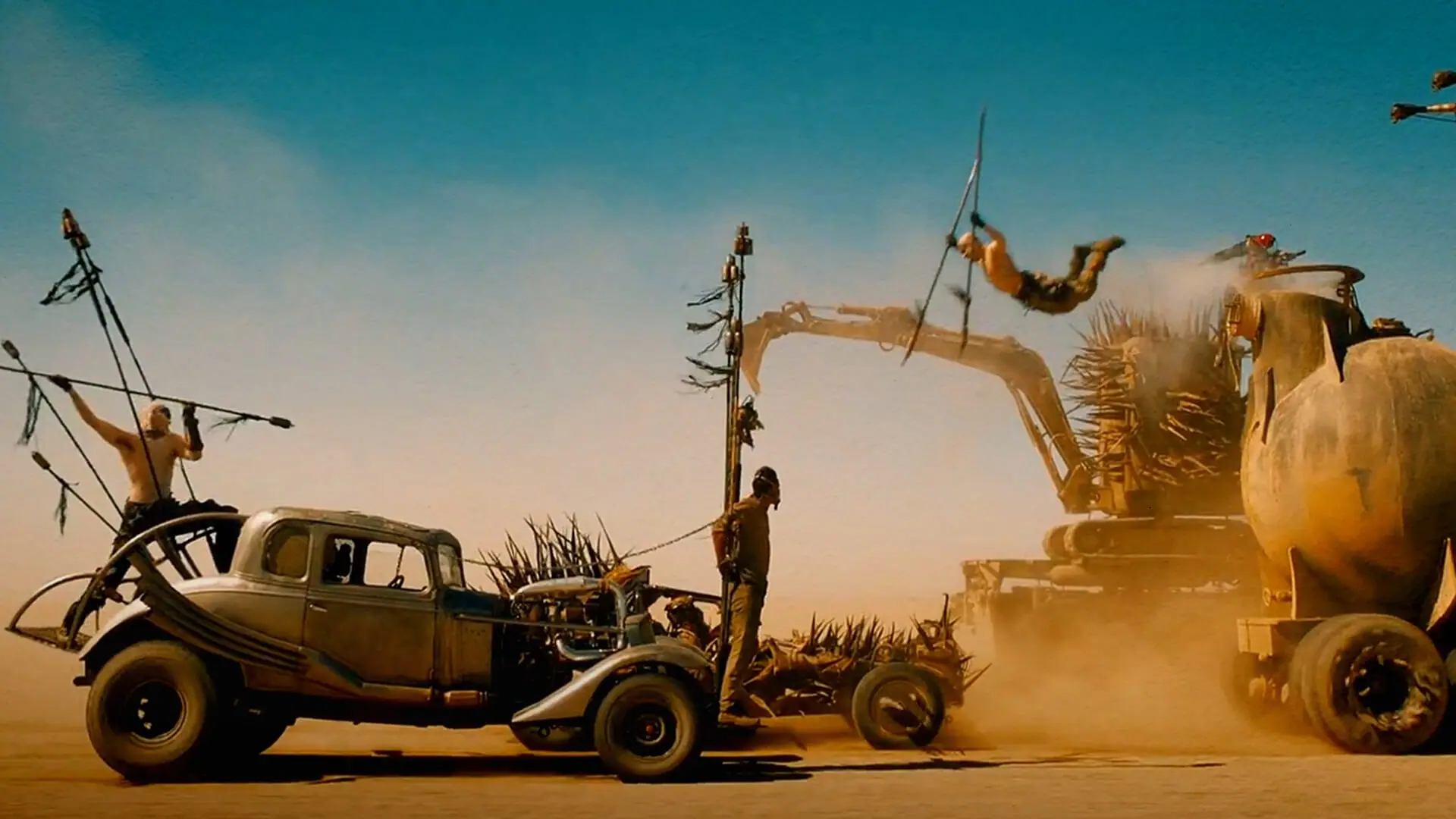 Now, imagine cruising through the fast-paced scenes of "Mad Max: Fury Road" or diving into the intricate futuristic cityscapes in "Blade Runner 2049". The W4000i takes these visual narratives a notch higher with its HDR-PRO technology. This tech marvel enhances the projector's overall dynamic range, ensuring perfect details in shadows and highlights, intensifying the drama and realism in bright and dark scenes.
The BenQ W4000i projector is a maestro when it comes to colour accuracy, boasting a 100% DCI-P3 and Rec.709 colour gamut coverage. This ensures that every hue you see on screen is as true to life as possible, rendering a spectrum of colours that are both rich and accurate.
The Filmmaker Mode on the W4000i is a feature worthy of praise. Displaying a bright, colourful HDR image, the projector's extended colour range and outstanding brightness inject a vibrancy and three-dimensional realism into the picture, often unattained in projectors of this calibre. This colour richness is particularly prominent in the pure blues, greens, and especially reds, making the viewing experience a colourful spectacle while preserving the motion cadence, cinematic colour, dynamic range, and brightness as the directors intended for the big screen.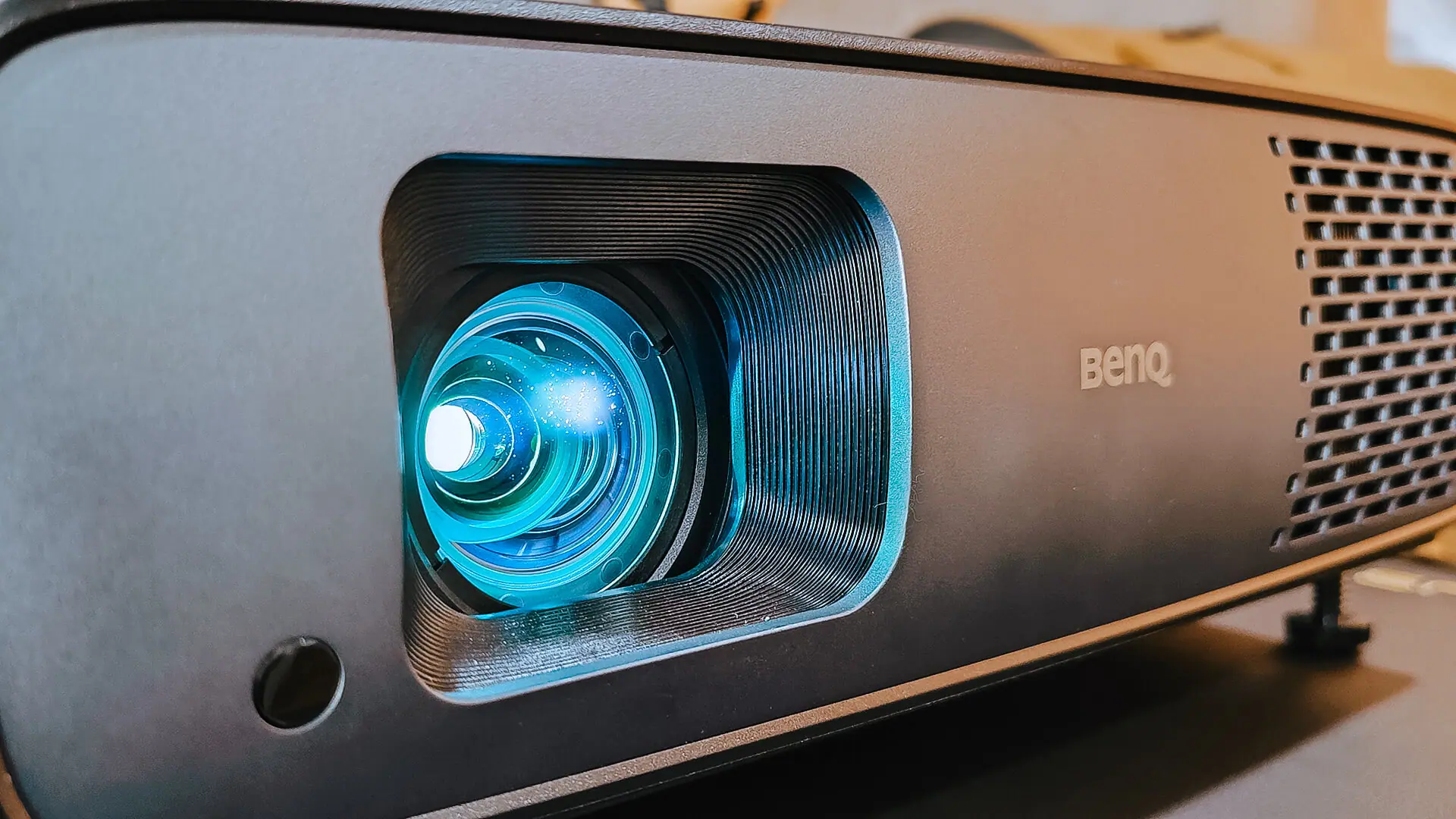 One of the challenging tests for any projector is its performance in brightly lit rooms. The W4000i, with its high lumens rating, ensures that the images remain vibrant and the narrative engaging even when the room is awash with daylight. So whether it's a sunny afternoon movie marathon or binge-watching your favourite Netflix series in a well-lit room, the W4000i is ready to deliver.
Shifting the spotlight to audio performance, the W4000i has a built-in 5W speaker developed by Trevolo. The HDMI Audio Return Channel (eARC) and Dolby Atmos support on the W4000i take the auditory experience to a new pinnacle. With eARC, the transmission of high-quality audio from your TV to the projector is seamless and lossless, ensuring that you hear every whisper, every beat of the music as clearly as possible. The Dolby Atmos support augments this auditory journey, enveloping you in a three-dimensional audio experience that is as immersive as the visual spectacle.
While it can produce a decent dynamic range by projector sound standards, it's advisable to pair the projector with an external sound system for a more robust experience, especially in larger rooms or in a bigger crowd. Though clear and intelligible, the sound could do with more power and projection to match the grandeur of its accompanying visuals.
Seamless access to a world of 4K streaming entertainment
BenQ smart projectors, particularly the W4000i model, revolutionise how you interact with your entertainment setup, making it a seamless extension of your digital lifestyle. With a dedicated smart dongle, namely the BenQ QS02 Android TV dongle, the W4000i provides a window to many online content. This dongle, included in the package, is your ticket to the vast libraries of streaming services such as Netflix, Disney+, Amazon Prime Video, and Hulu. It's not just about viewing content; it's about experiencing it on a grand scale, with every frame in crisp 4K HDR quality.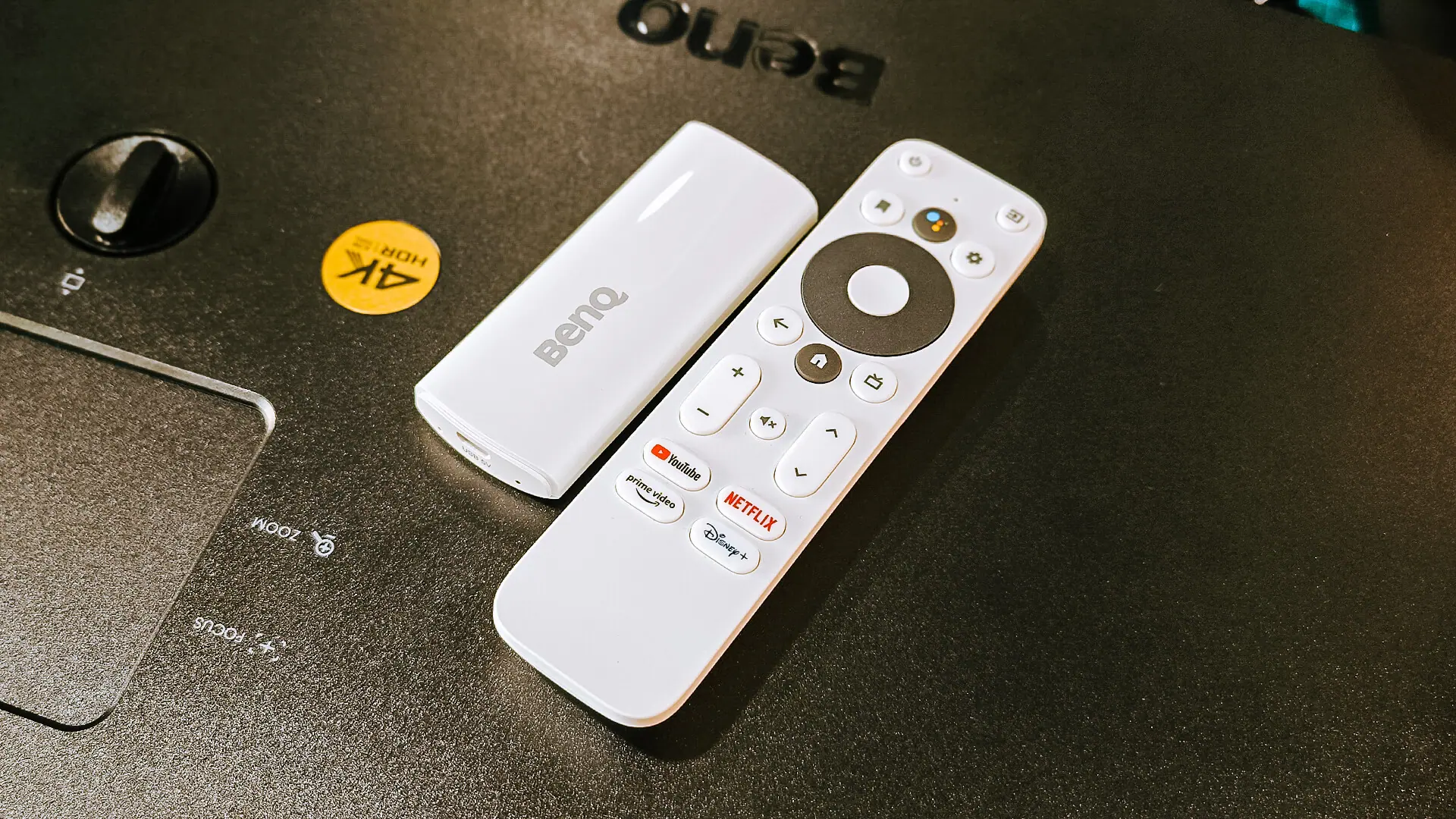 The integration of Android TV via the QS02 dongle opens up a world of over 5,000 native apps available on the Google Play Store, ensuring that your entertainment options are virtually limitless. This isn't just about streaming; it's about creating an ecosystem where all your favourite digital platforms are housed under one large, cinematic roof.
One of the highlights of this setup is the native support for Netflix, a long-awaited feature that is now delivered without the need for any sideloading or use of a customised launcher. This dongle and the pre-installed apps signify BenQ's commitment to delivering a user-centric entertainment solution.
The dongle isn't just about intelligent features; it's a hub that adds Bluetooth 5.0 and Wi-Fi 6 connectivity to the mix, ensuring that your projector is ready for the modern digital era. The hassle-free installation of the dongle, secured at the back in a dedicated housing with an internal HDMI port, is a thoughtful design choice to enhance user convenience.
The verdict: BenQ W4000i Home Theatre Projector
Drawing to the close of this review, the BenQ W4000i Home Theatre Projector emerges as a compelling candidate for those seeking to elevate their home entertainment setup. Its features, like the HDR-PRO technology and Filmmaker Mode, are thoughtfully integrated to cater to a broad spectrum of audiences, from cinephiles and gamers to the everyday user, ensuring a rich and immersive viewing experience.
The connectivity features of the W4000i broaden its appeal further, offering a versatile companion to your various entertainment gadgets. The inclusion of Android TV support, accessed via an included TV dongle, opens the door to a vast realm of online entertainment on a grand scale. While the price tag of S$4,499 may pause some, the range of features and the cinematic allure it offers substantiates the investment for those with a penchant for high-quality home theatre experiences.
In a final reflection, the BenQ W4000i embodies aesthetic appeal and functional finesse. It's not merely about watching movies or playing games; it's about enhancing those moments with clarity and vibrancy that resonates through every frame. The projector is available at BenQ's official stores on Shopee and Lazada.