The digital sphere, encompassing websites, apps, and products, is the paramount platform where companies interact with their customers. This environment is dynamic and multi-layered and features an ever-evolving landscape shaped by user behaviour. Each company has its unique set of customers, and there there's no uniform formula to perfect this interaction, whether it's about designing a user-friendly website, crafting compelling copy, or creating a product that hits the sweet spot. Tailoring your platform to resonate with your customer base is essential and a significant challenge.
This is precisely where A/B testing tools come into play. These invaluable instruments allow companies to test, tweak, and optimise their digital environment. They play a pivotal role in everything from web design, copy fine-tuning, product development, and crafting an experience tailored to customer needs. As a digital marketer, these tools enable you to run experiments to decode your unique customer preferences. Let's delve into the world of high-quality A/B testing tools that will elevate your user understanding and experience in 2023.
HubSpot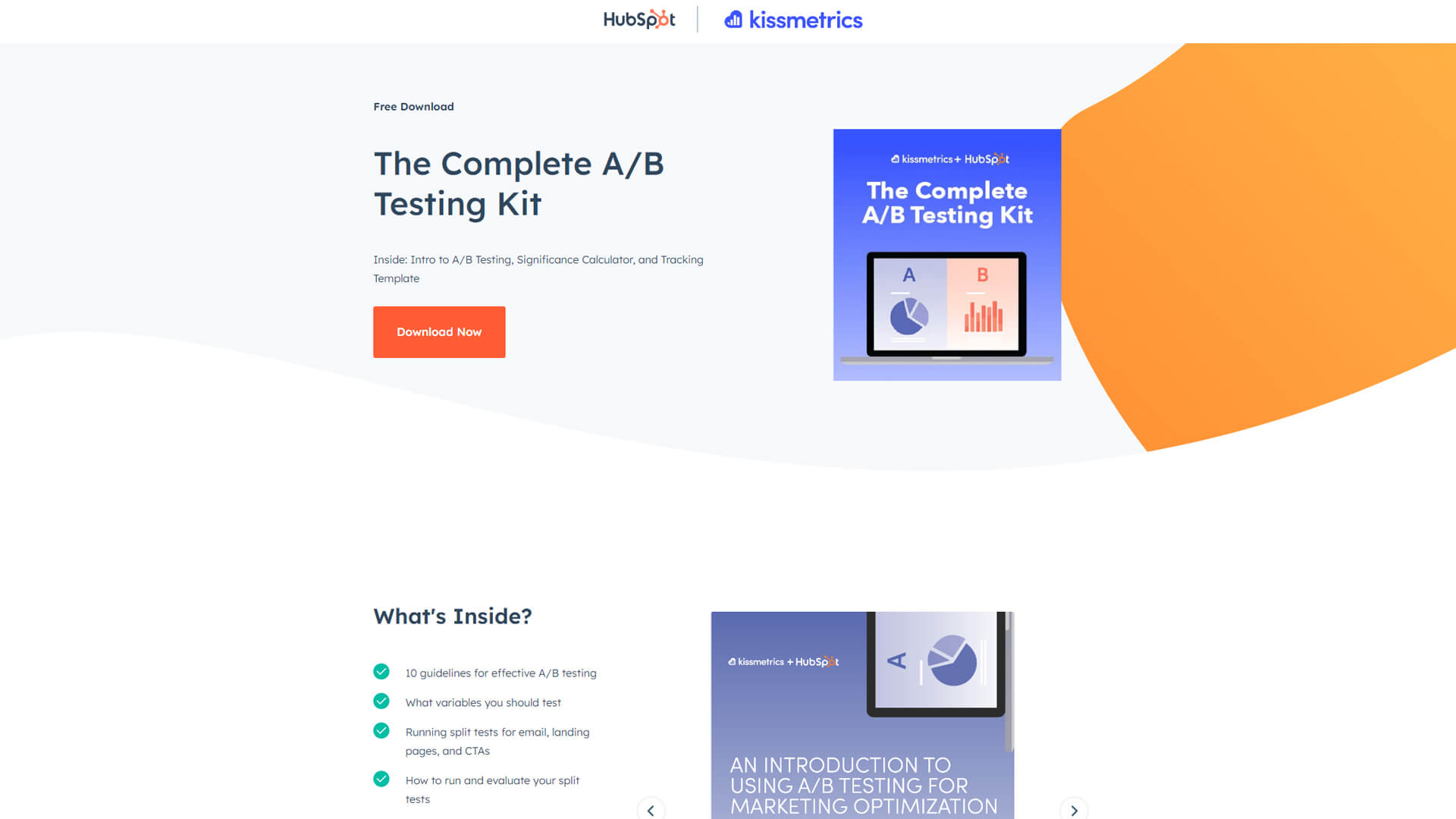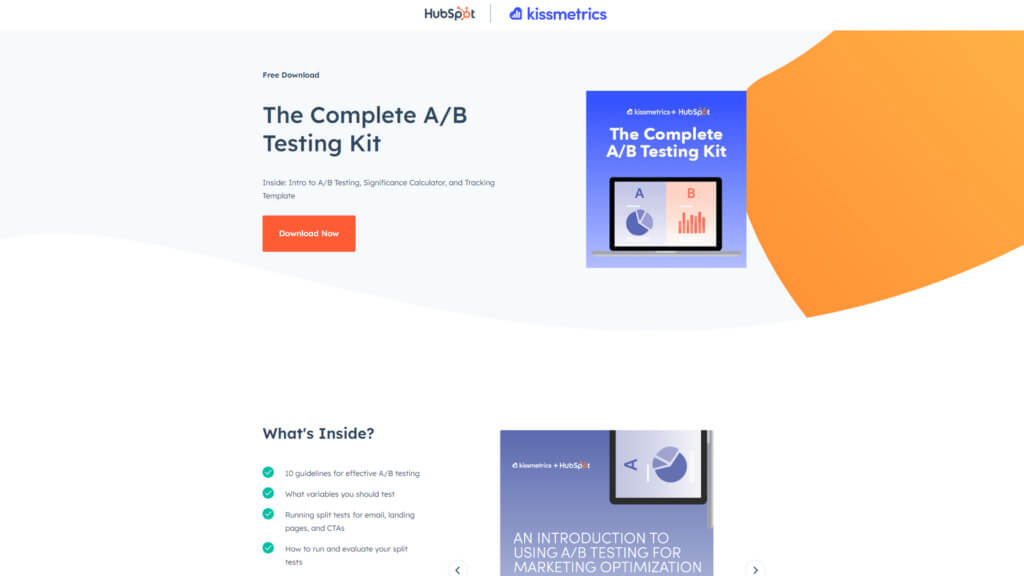 The world of A/B testing can appear daunting when you're just dipping your toes in. This is where HubSpot's A/B Testing Kit shines brightly. This free tool is ideal for beginners and businesses seeking a structured method to track their existing tests.
HubSpot's A/B test tracking template is a comprehensive guide providing instruction and inspiration in a user-friendly spreadsheet. The best part? You don't need to make complex code changes or calculations. It also offers a statistical significance calculator to help you understand the outcome of your tests. This free tool is the perfect gateway to understanding A/B testing and tracking existing experiments for those on the onset of their testing journey.
Google Optimize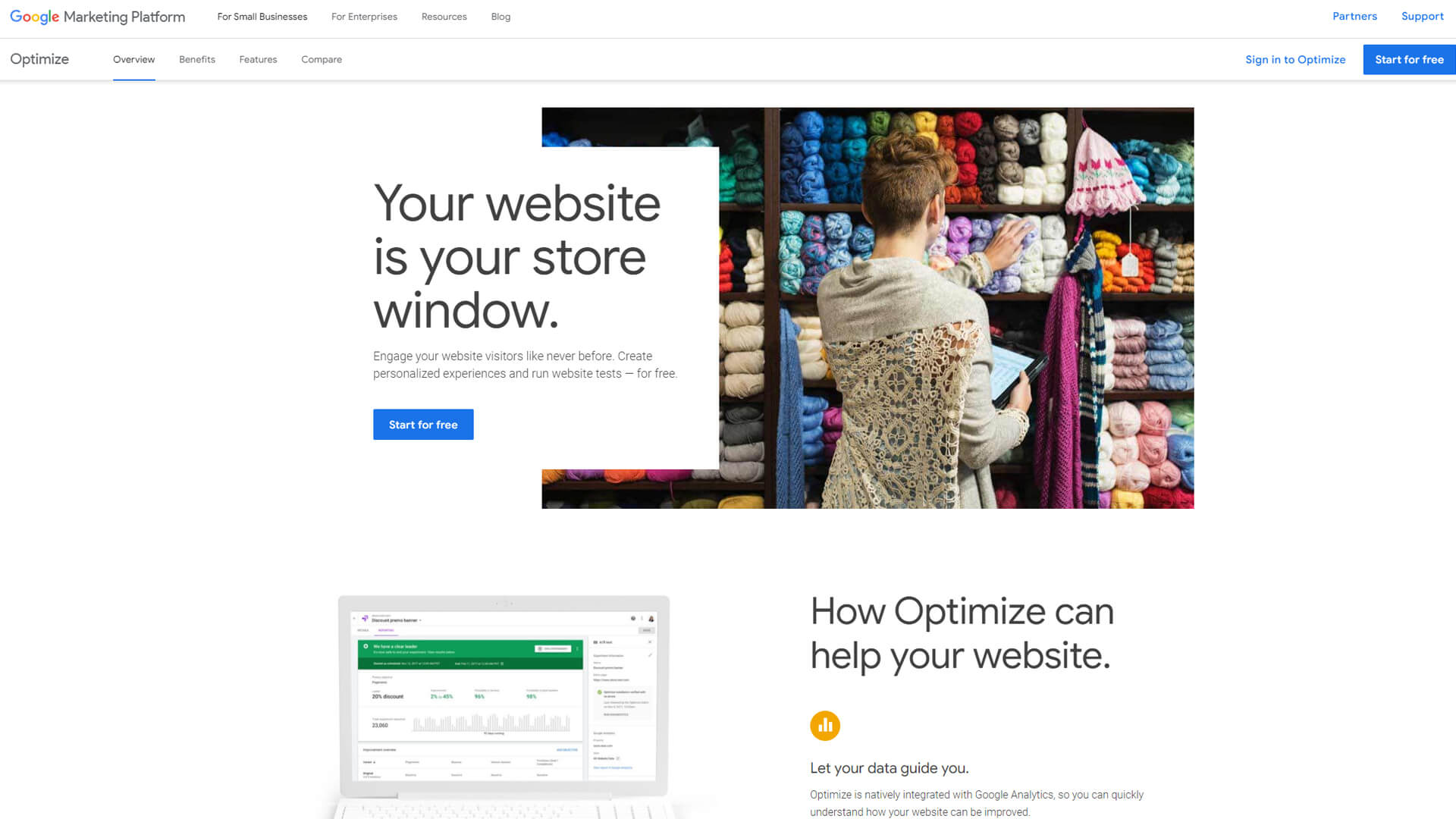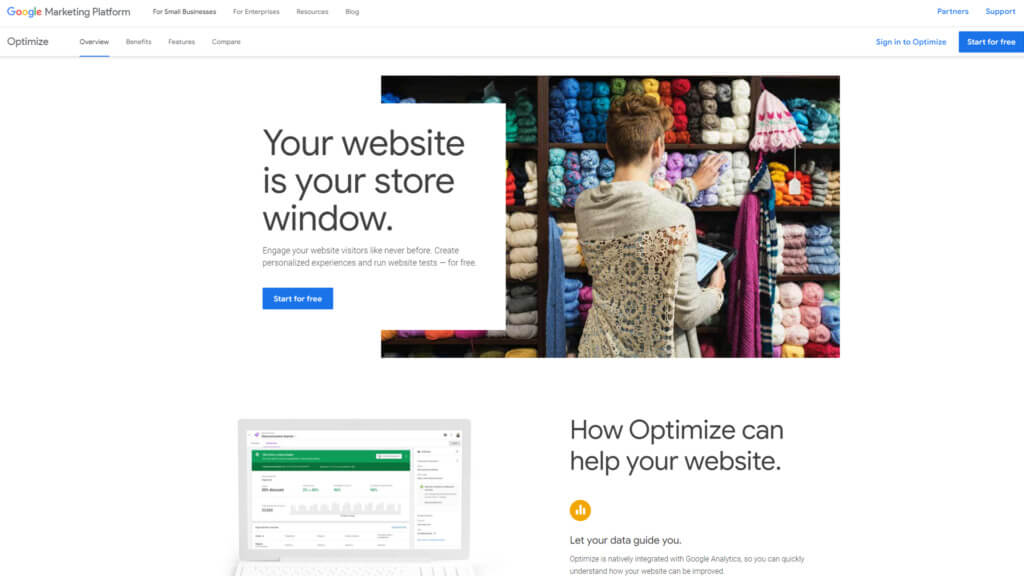 In the realm of A/B testing tools, Google Optimize stands tall as a popular choice. As part of the Google Marketing Platform, it offers tools to refine your website and create personalised experiences for your audience segments.
What truly sets Google Optimise apart is its seamless integration with Google Analytics. This lets you glean crucial insights about your experiments and understand the most effective tests. The tool supports A/B, multivariate, and split URL testing and features an easy-to-use no-code visual editor. Plus, it allows you to customise your tests based on visitor requirements and user attributes. Google Optimize offers both client- and server-side testing, making it adaptable to your testing needs.
Freshmarketer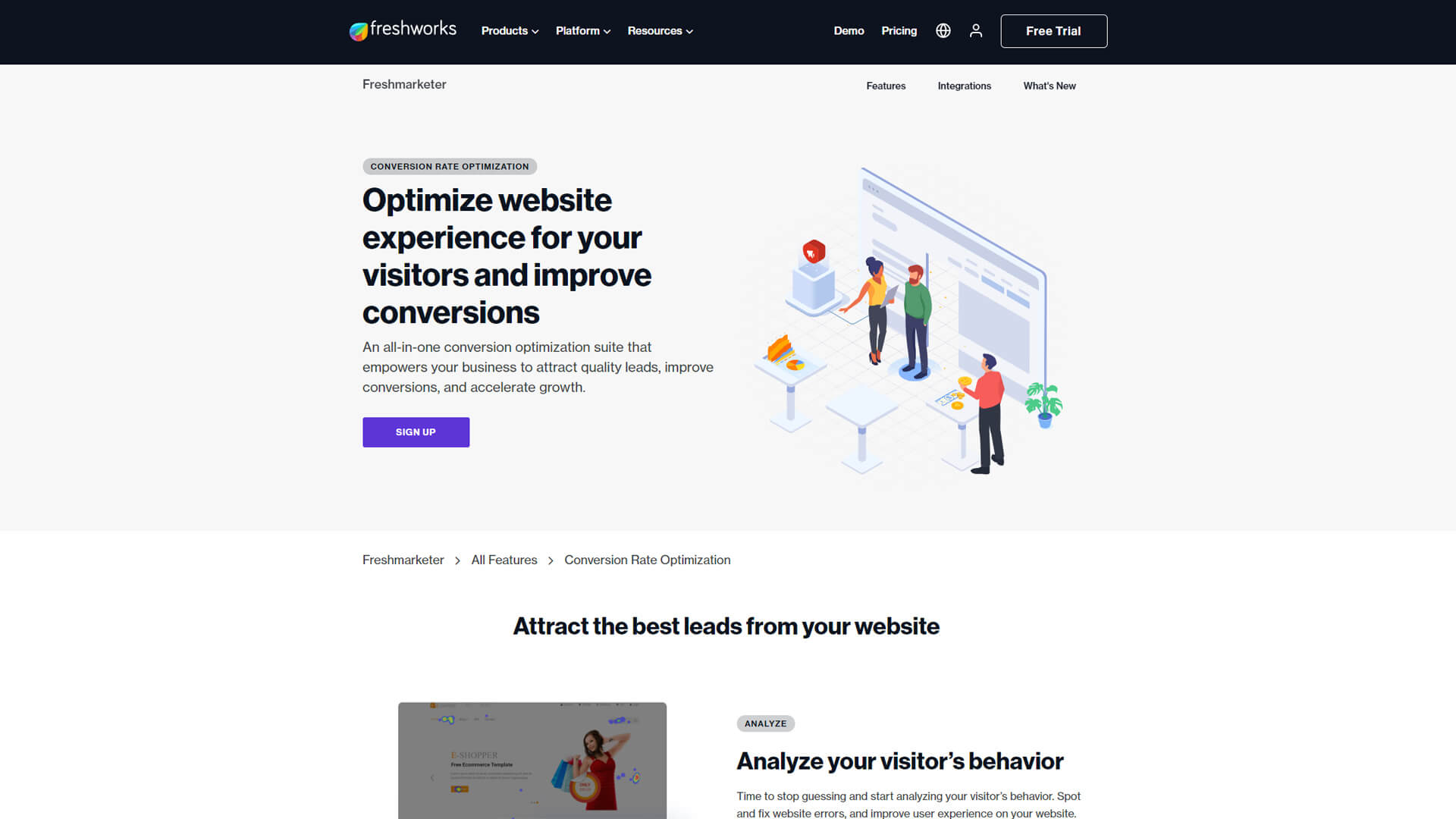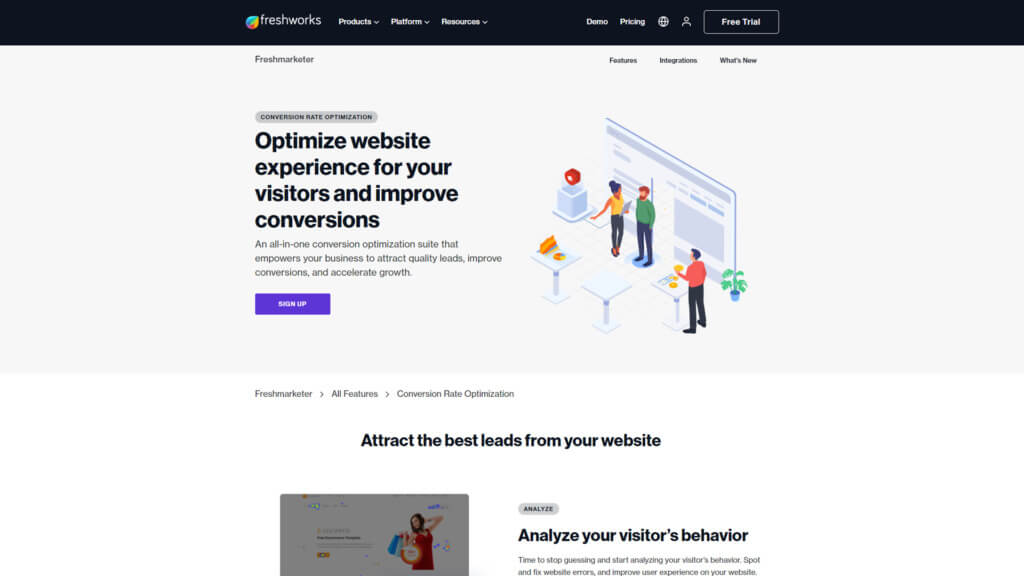 Freshmarketer is a comprehensive tool designed to test, target, and validate your experiments, with the bonus of tracking revenue. This tool brings in a unique feature: session replays. These replays give you unique insights into how individual users interact with your website, helping you to identify problem areas and design A/B tests to meet customer needs better.
Aside from the usual A/B and split tests, Freshmarketer also provides detailed reports that show conversions over time, revenue tracking for each version, and the significance level achieved with your tests. Moreover, the tool is fully equipped to handle client- and server-side testing. Its unique strength lies in its integrations with third-party tools, making it a versatile and convenient tool in your A/B testing arsenal.
VWO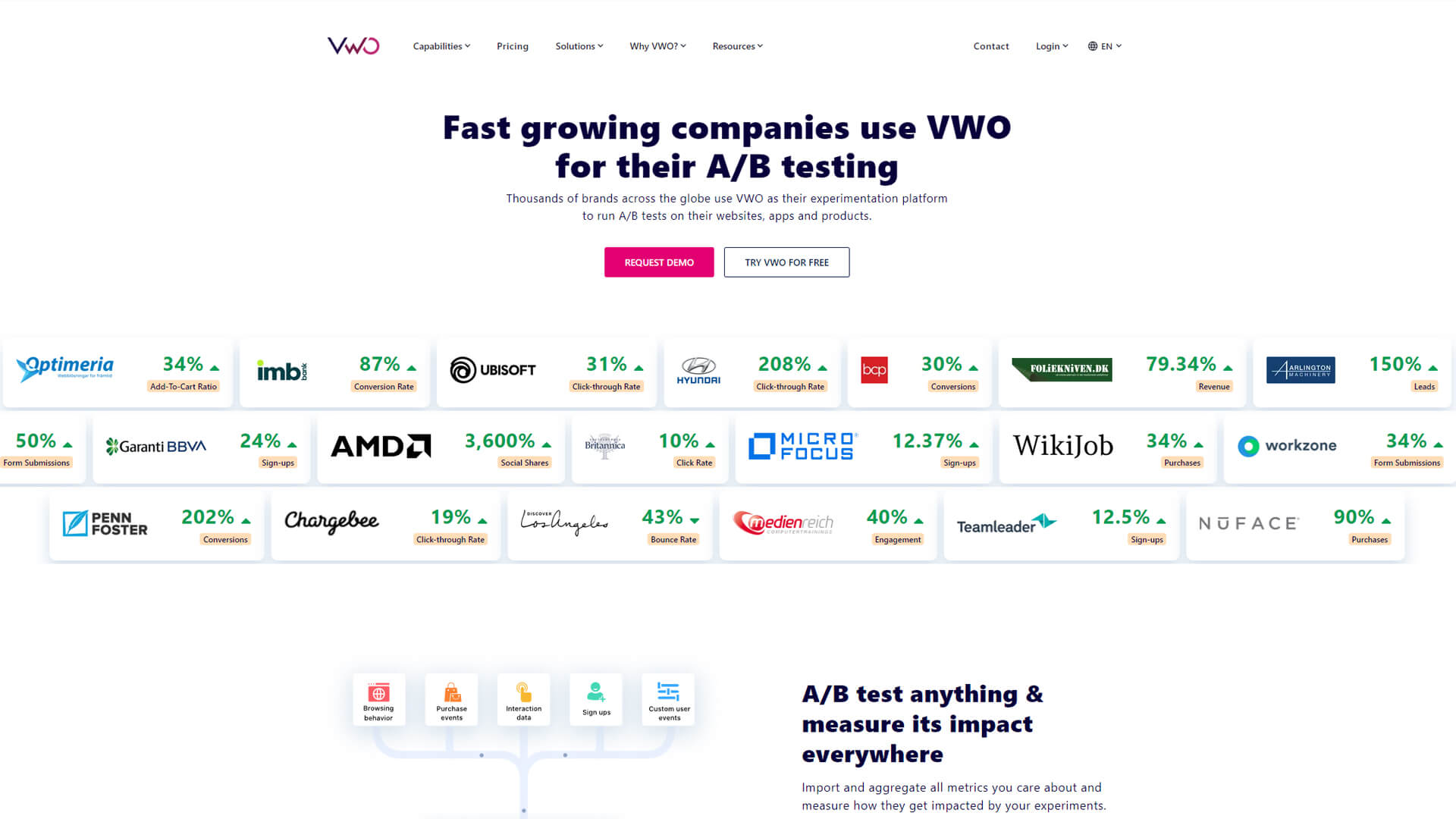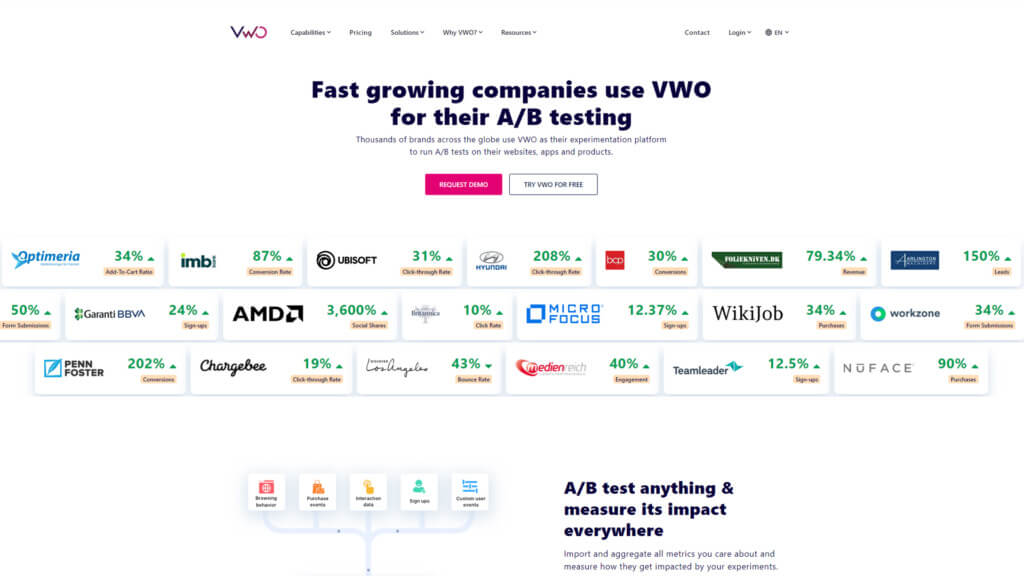 VWO has emerged as a leading A/B testing and conversion rate optimisation tool for Visual Website Optimizer for enterprise brands. Its defining feature is its suite of powerful integrations, enabling you to push data into your external tools, thereby streamlining your processes.
VWO offers more than just standard A/B testing. It provides multivariate and split URL testing, heatmaps, user recordings, surveys, and more. Its advanced targeting features allow you to select audiences based on geographical location, device type, traffic source, and user behaviour. Furthermore, VWO's SmartStats feature employs Bayesian statistics for more accurate and actionable test results, helping you confidently make data-driven decisions.
Optimizely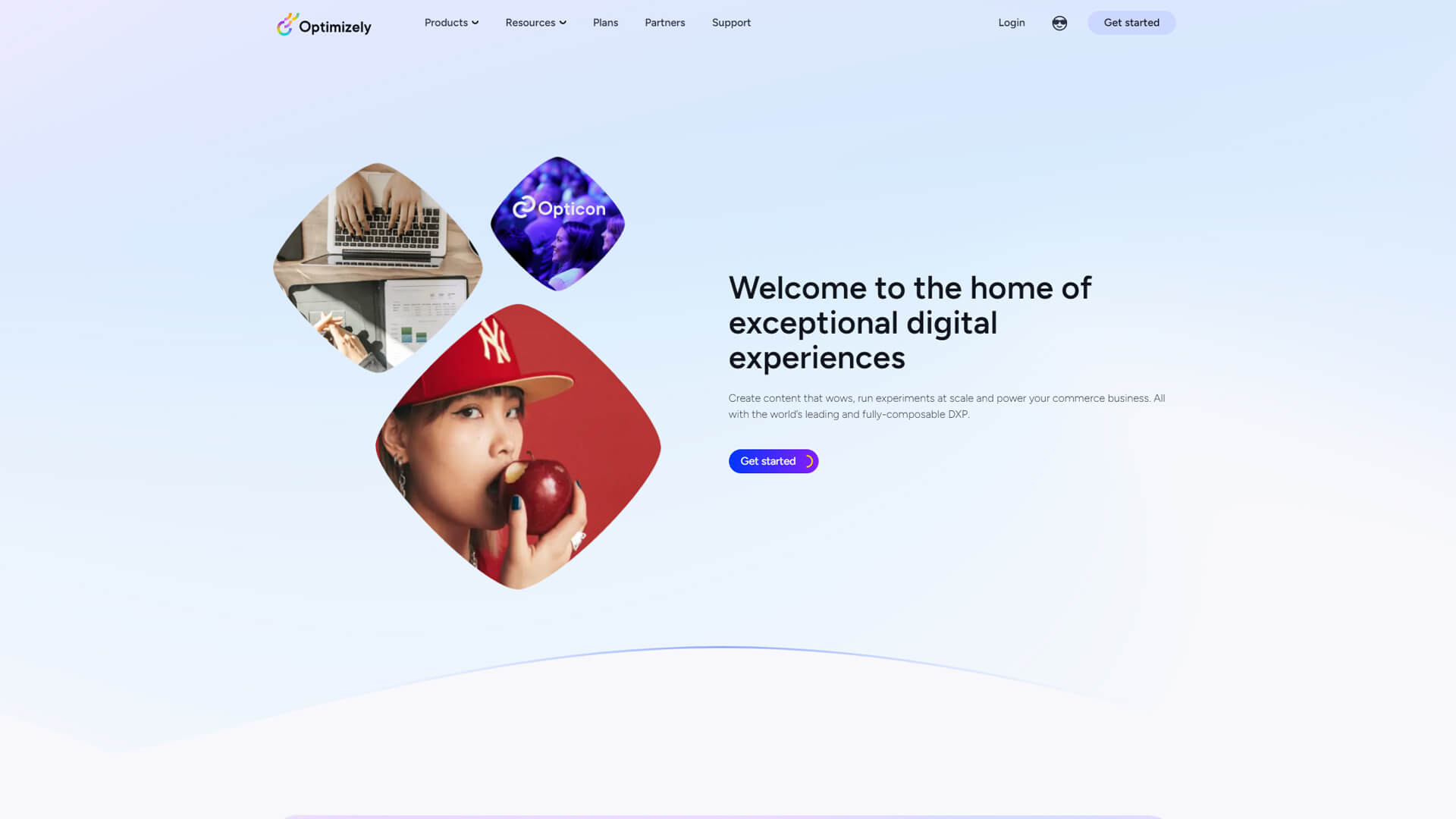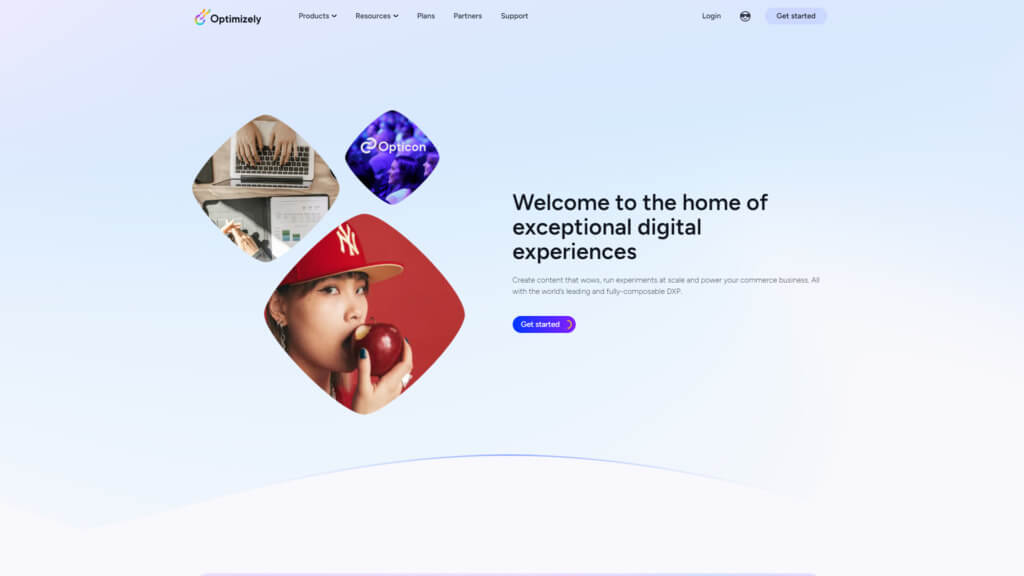 Optimizely is the gold standard when it comes to digital experimentation. This comprehensive platform provides the capabilities that marketing, product, and engineering teams require to experiment and iterate on their digital properties.
The key feature that makes Optimizely stand out is the ability to run unlimited concurrent experiments, enabling constant testing and refinement to create the most effective customer experience. Its comprehensive integration ecosystem ensures that your test data can be easily paired with other important data sources. Optimizely supports A/B testing, multivariate testing, server-side testing, and multi-page and multi-channel testing, providing comprehensive flexibility to fit your testing needs.
AB Tasty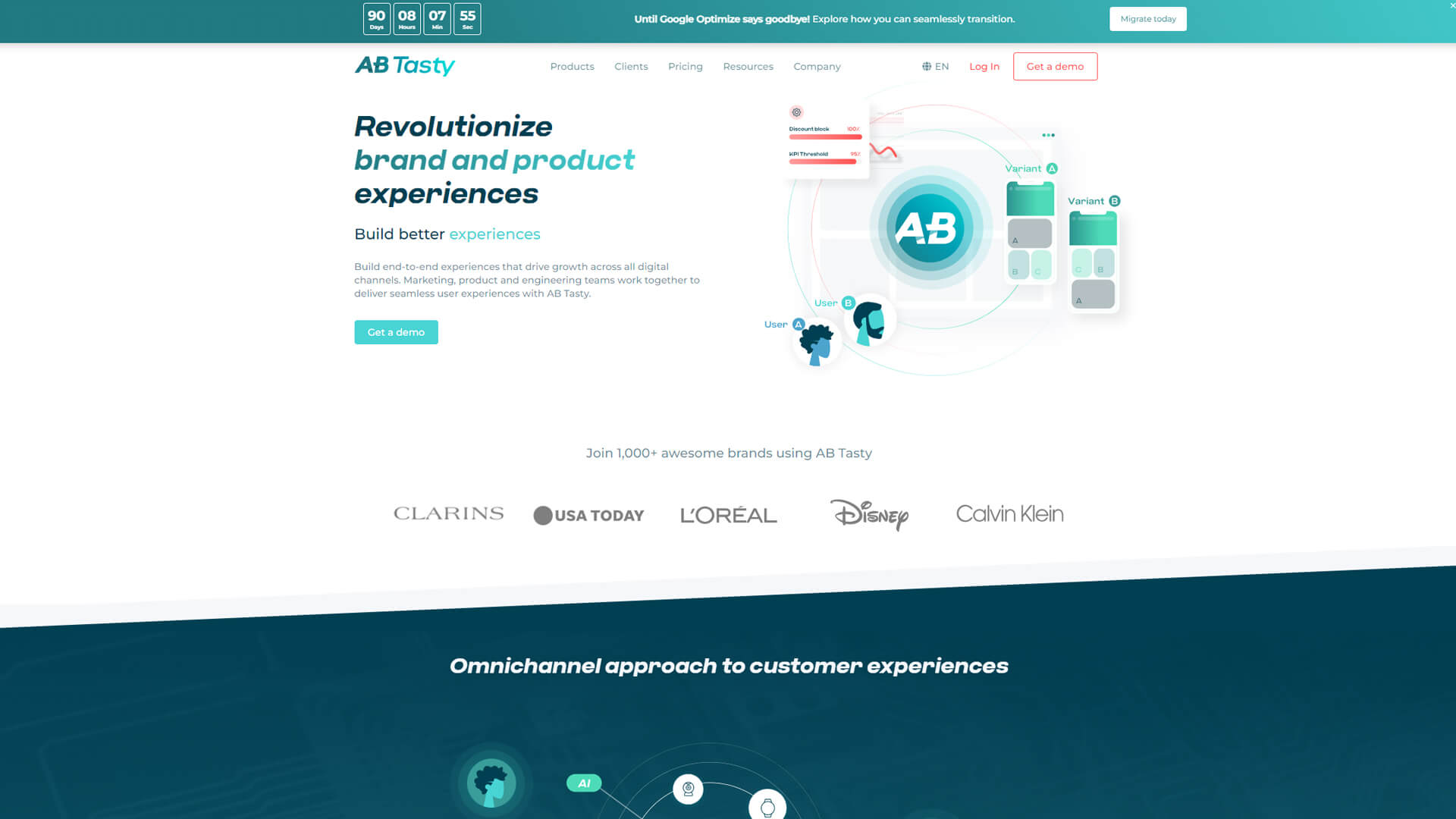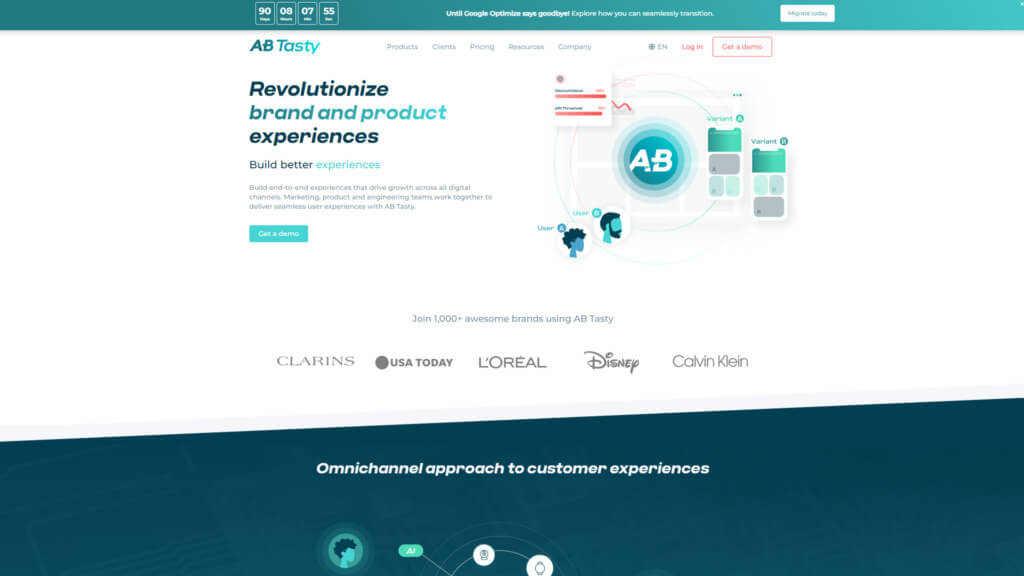 AB Tasty is an all-in-one optimisation platform offering a variety of features, including A/B testing, multivariate testing, funnel testing, and AI-powered personalisation. Its user-friendly interface and robust reporting options make it easy for non-technical users to design tests and analyse results.
One of its unique features is the nudge engagement and social proof capabilities that allow businesses to guide user behaviour based on real-time data. It also has strong third-party integrations that enable enterprises to connect AB Tasty with other tools in their tech stack.
Convert Experiences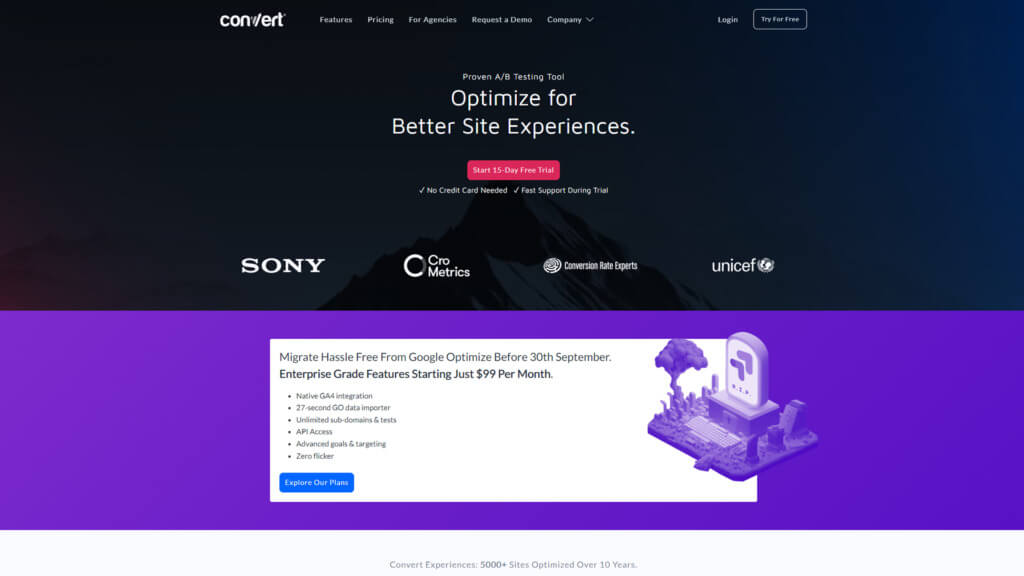 Convert Experiences is known for its commitment to privacy, making it a top choice for businesses concerned about user data security. The platform offers classic A/B testing features alongside multivariate and multi-page experimentation.
An exciting feature is its "Developer mode" which caters to the technical user, allowing JavaScript and CSS modifications for a granular level of control. Convert Experiences' robust API enables companies to seamlessly integrate the platform with their existing data systems.
SiteSpect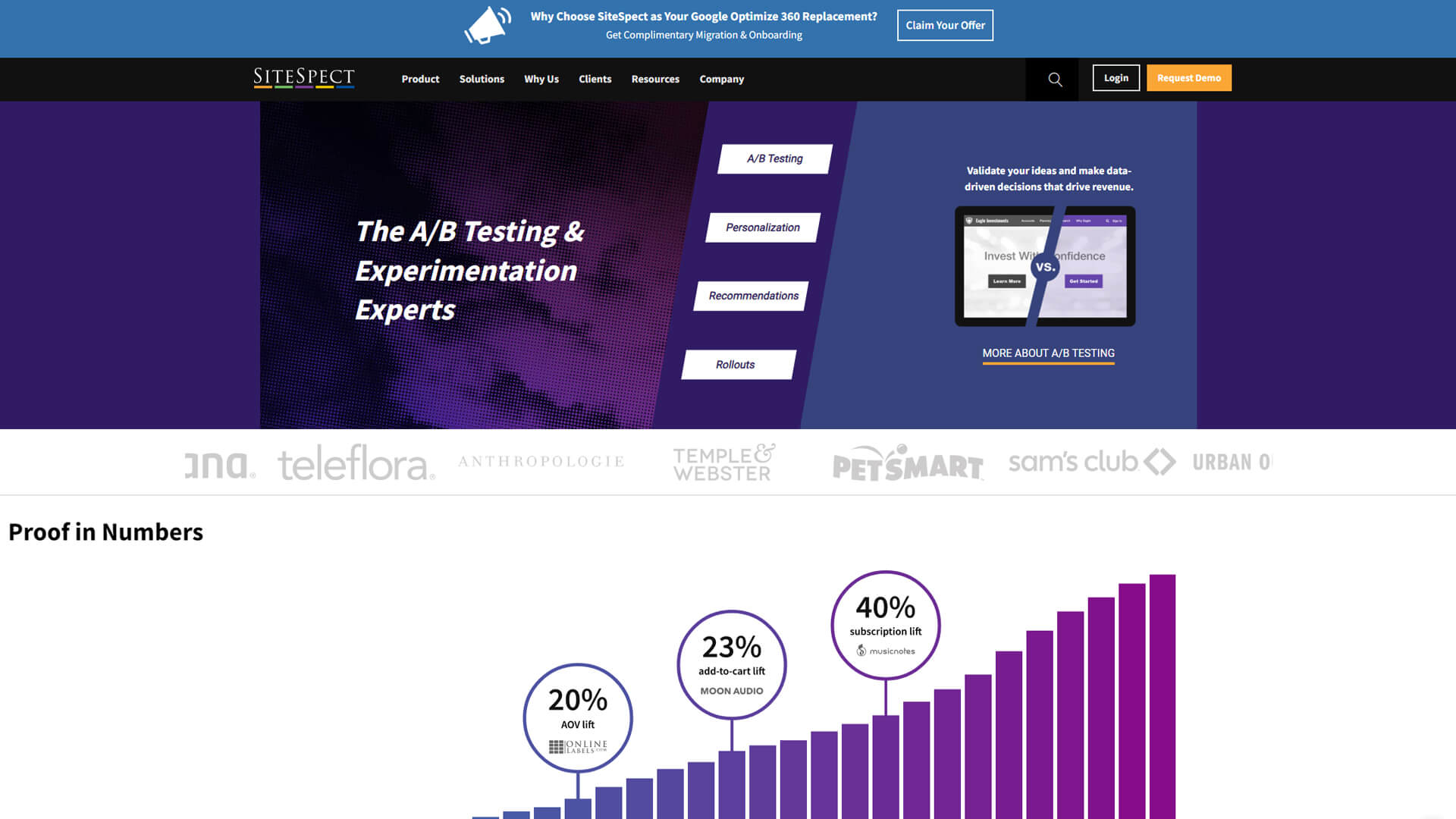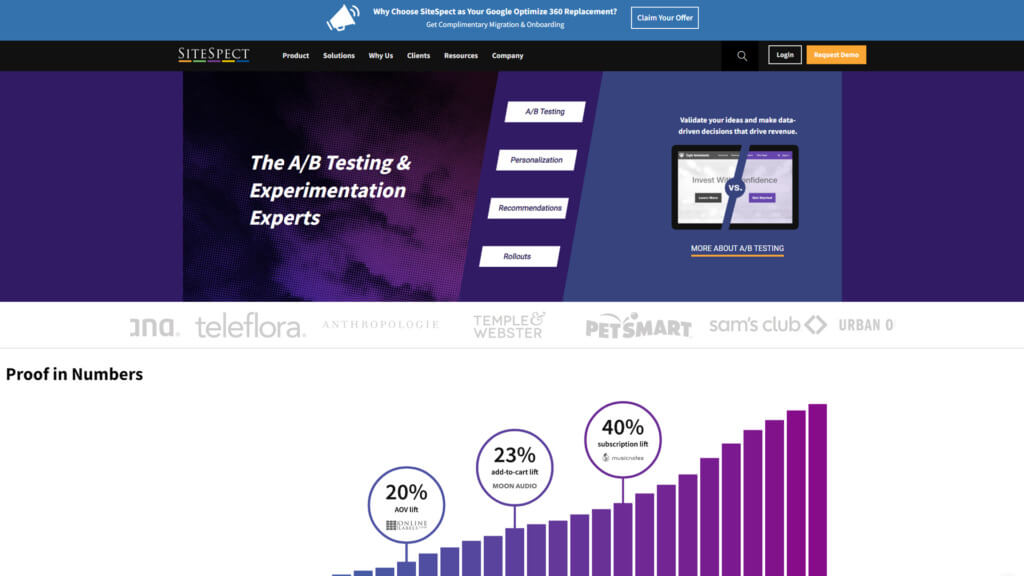 SiteSpect is a sophisticated platform offering an array of testing methods, including A/B and multivariate testing. Its stand-out feature is server-side testing, allowing businesses to test changes on the front end and within the back-end infrastructure.
This platform is ideal for complex websites or applications where server-side changes are vital for improving the user experience. It also provides robust analytics and real-time reporting, making it a comprehensive tool for businesses seeking a higher level of sophistication in their testing.
Kameleoon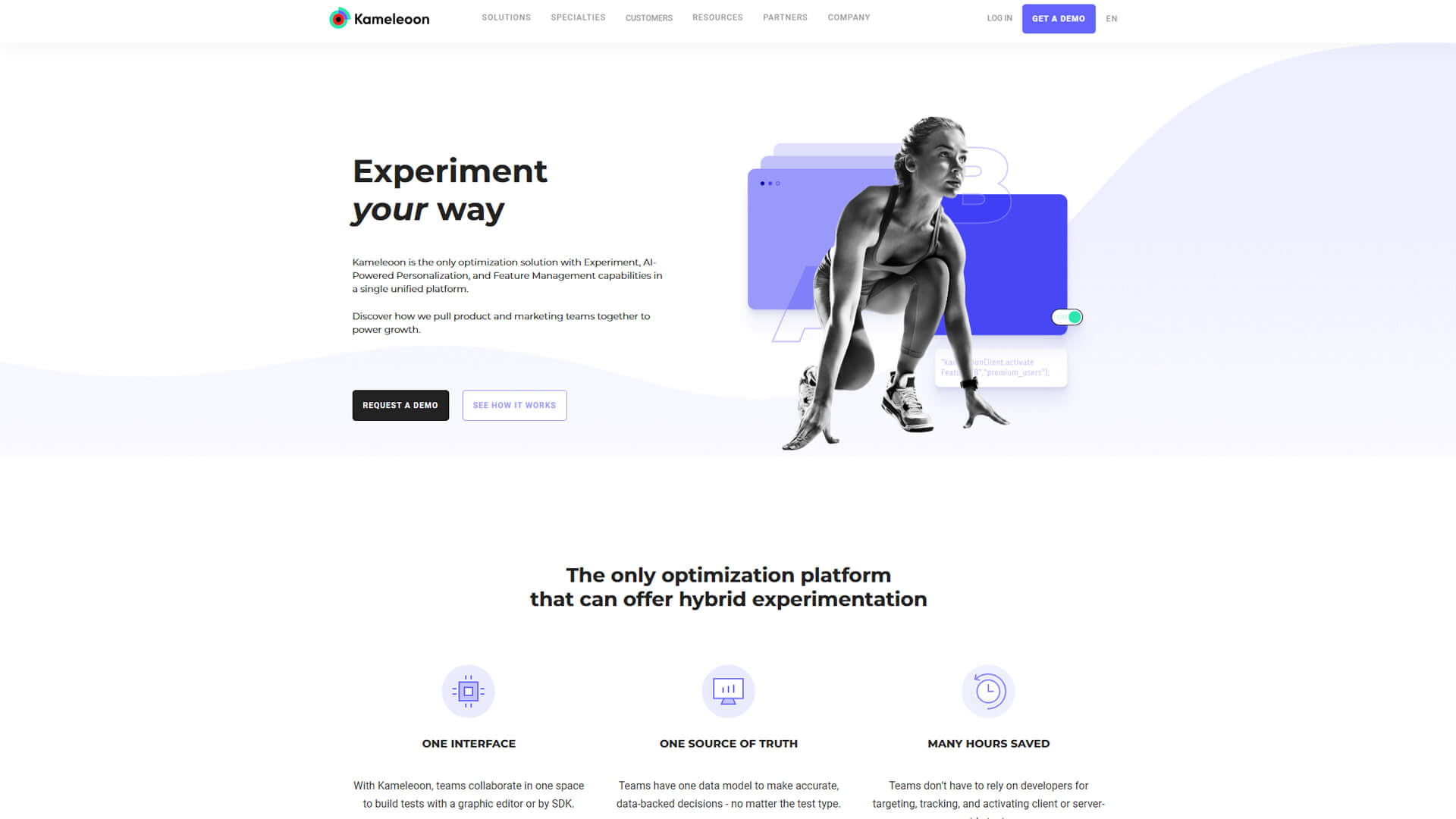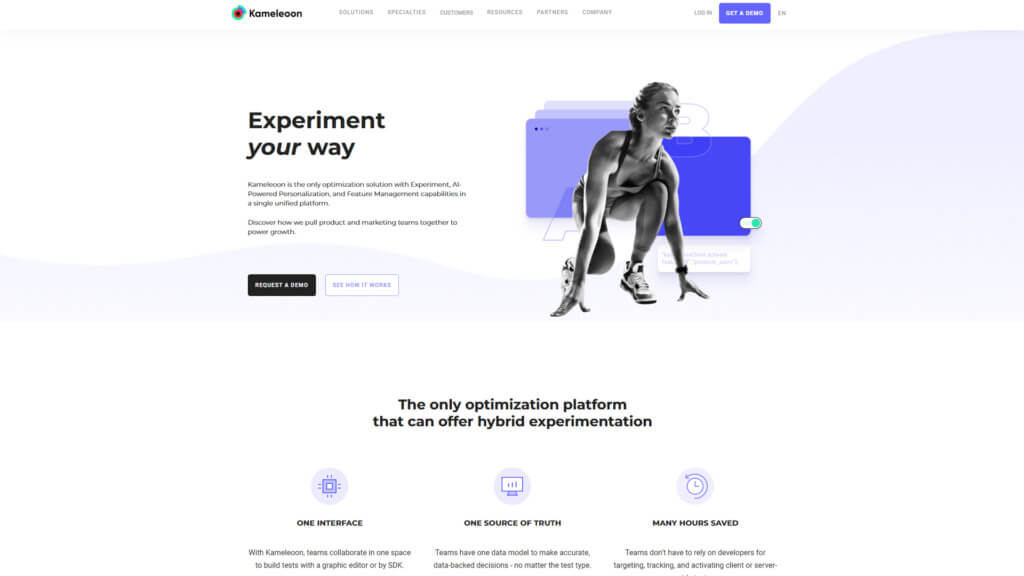 Kameleoon is an AI-driven personalisation and A/B testing platform that optimises customer engagement. It offers both client-side and server-side testing, thus providing flexibility depending on your testing needs.
One of its notable features is predictive targeting, which uses machine learning to automatically identify and target visitor segments based on their likelihood to convert. This feature allows businesses to maximise conversion rates and provides a more personalised user experience.
Zoho PageSense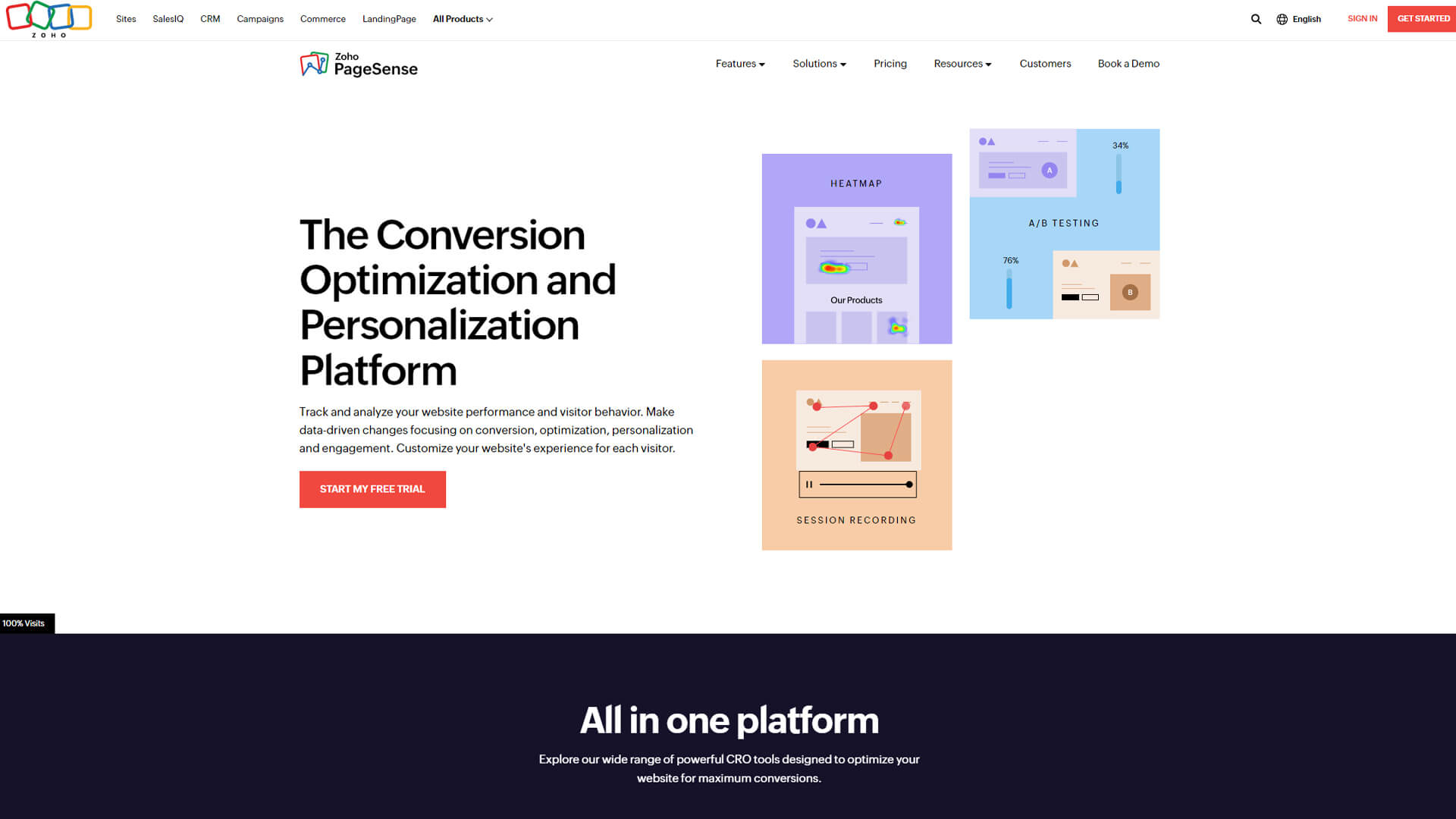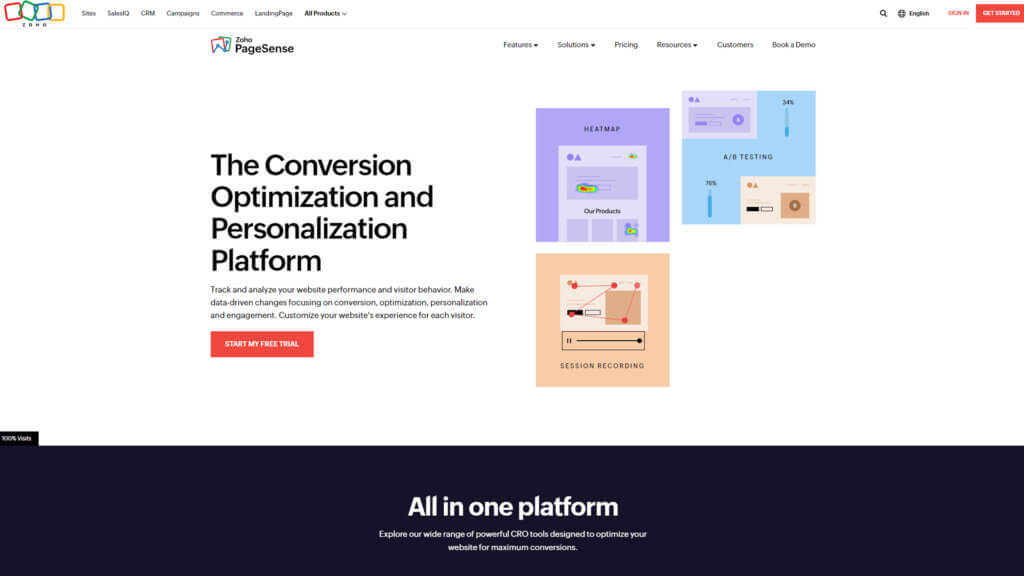 Zoho PageSense provides a comprehensive suite of tools for optimising your website, including heatmaps, funnel analysis, session recordings, form analytics, and A/B testing. It's an ideal choice for small to medium-sized businesses, offering a simple and intuitive interface.
One unique aspect of Zoho PageSense is its seamless integration with other Zoho products. If you're already using Zoho CRM or other Zoho tools, PageSense could be an efficient choice that fits perfectly into your current ecosystem.
Final thoughts and action points
Commencing your A/B testing journey may seem overwhelming at first. Remember, these tools are here to simplify the process and empower you to make data-driven decisions that echo your unique customer base. The tools we've discussed today offer varying features and pricing models, catering to businesses of all sizes and budgets.
Whether you're a beginner or a seasoned tester, these tools can provide fresh perspectives and drive continuous improvement. Consider your business needs, the technical proficiency of your team, and the integration level you require with other software. Use these considerations to guide your choice and tailor your approach.
A/B testing is not a one-time activity; instead, see it as an ongoing process of learning and adapting to your customer's customer's changing preferences. The tools you choose will propel your business towards an enhanced understanding of your customers, improved user experiences, and increased conversions.
The time is ripe to take the next step. Invest in an A/B testing tool that aligns with your needs, and witness the benefits unfold. Make 2023 the year of data-driven decision-making and customer-centric strategies with these premier A/B testing tools.