Practicality always trumps aesthetics when it comes to laptops. Still, in an era when most laptops can easily cater to productivity and even gaming needs, all the extra qualitative factors make a laptop stand out from the crowd. This is especially true for high-end laptops like the ASUS Zenbook 14X OLED Space Edition.
The ASUS Zenbook 14X OLED Space Edition was designed for a specific group of individuals. It will not only exceed their expectations in terms of performance but will also look beautiful while doing so.
The Zenbook 14X OLED might be one of the best laptops this year, thanks to the quality of its sharp and bright OLED display and the remarkable speed of its processor. And, considering the hardware beneath the hood, it will probably compete for the top spot among its competitors.
CPU: Intel® Core™ i7-12700H Processor 2.3 GHz
RAM: 16GB LPDDR5
Display: 14.0-inch, 4K (3840 x 2400) OLED 16:10 aspect ratio, 0.2ms response time, 60Hz refresh rate, 550nits HDR peak brightness, 100% DCI-P3 color gamut
Storage: 1TB SSD
Ports: 1 x USB 3.2 Gen 2 Type-A, 2 x Thunderbolt 4 supports display / power delivery, 1 x HDMI 2.1 TMDS, 1 x 3.5mm Combo Audio Jack, Micro SD card reader
Battery life: 63WHrs (ASUS website)
Wireless: Wi-Fi 6E(802.11ax) (Dual band) 2*2 + Bluetooth 5
Dimensions: 31.12 x 22.11 x 1.59 ~ 1.59 cm
Weight: 1.40 kg
Prestigious limited edition with a one-of-a-kind space-themed design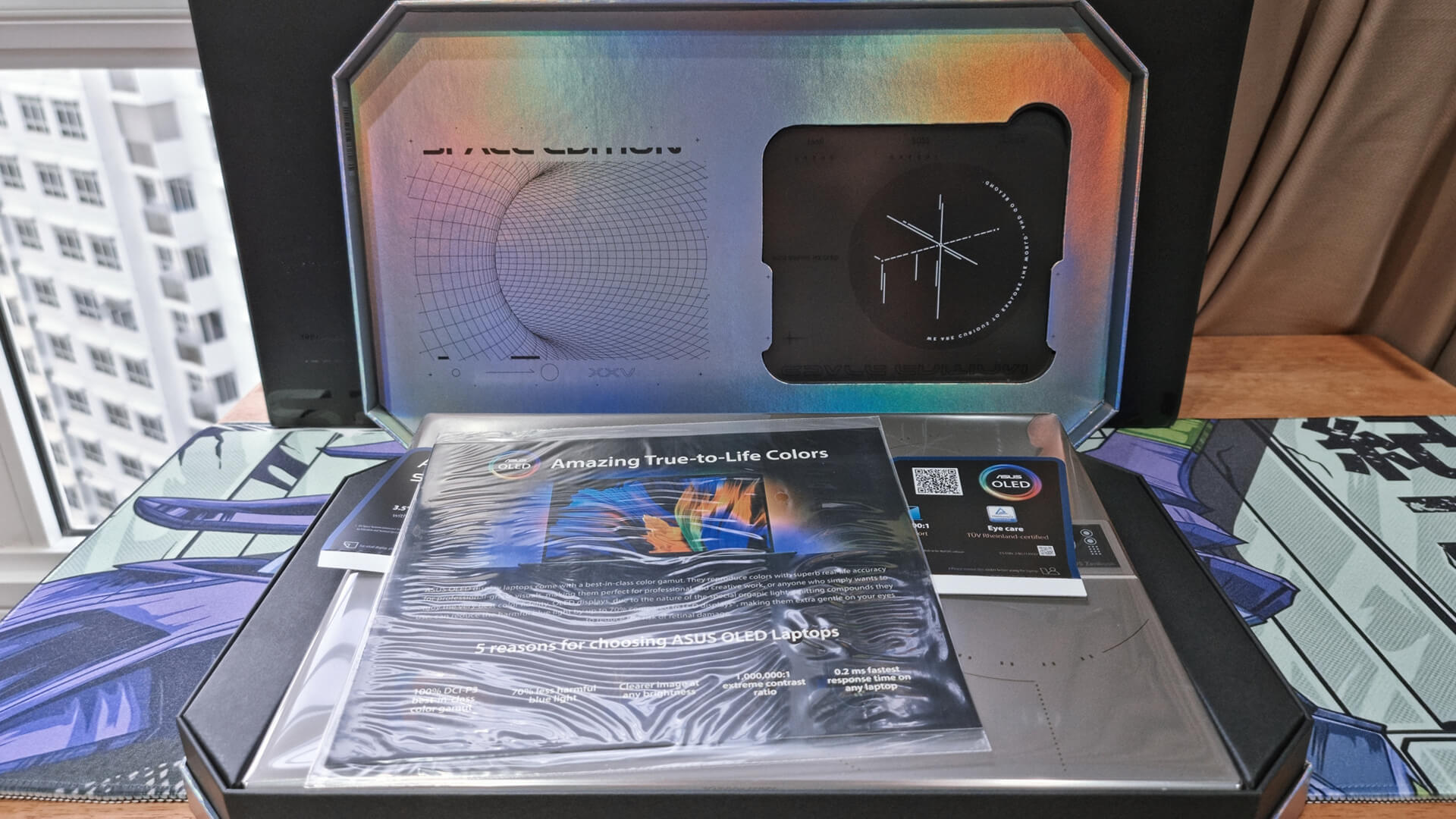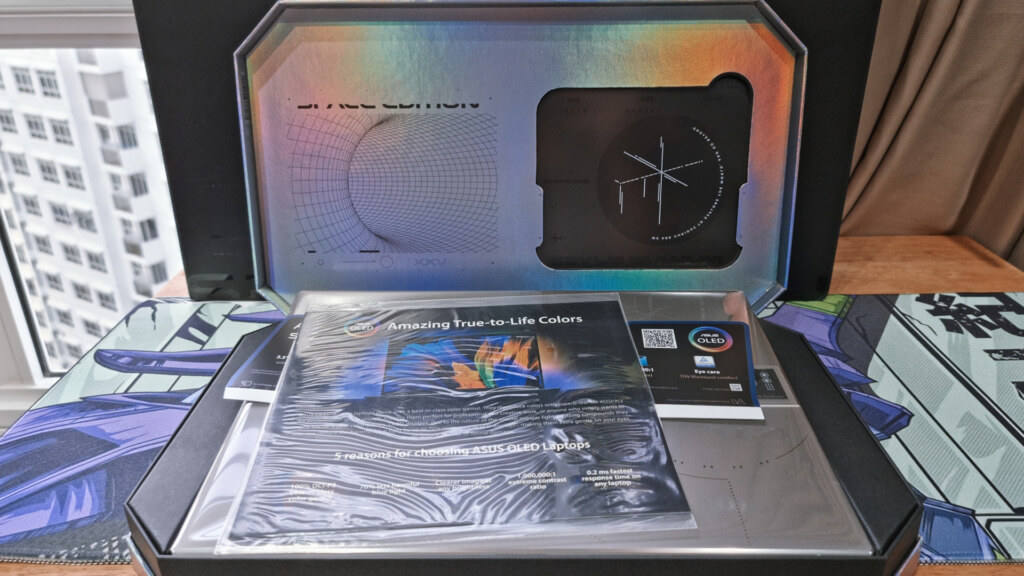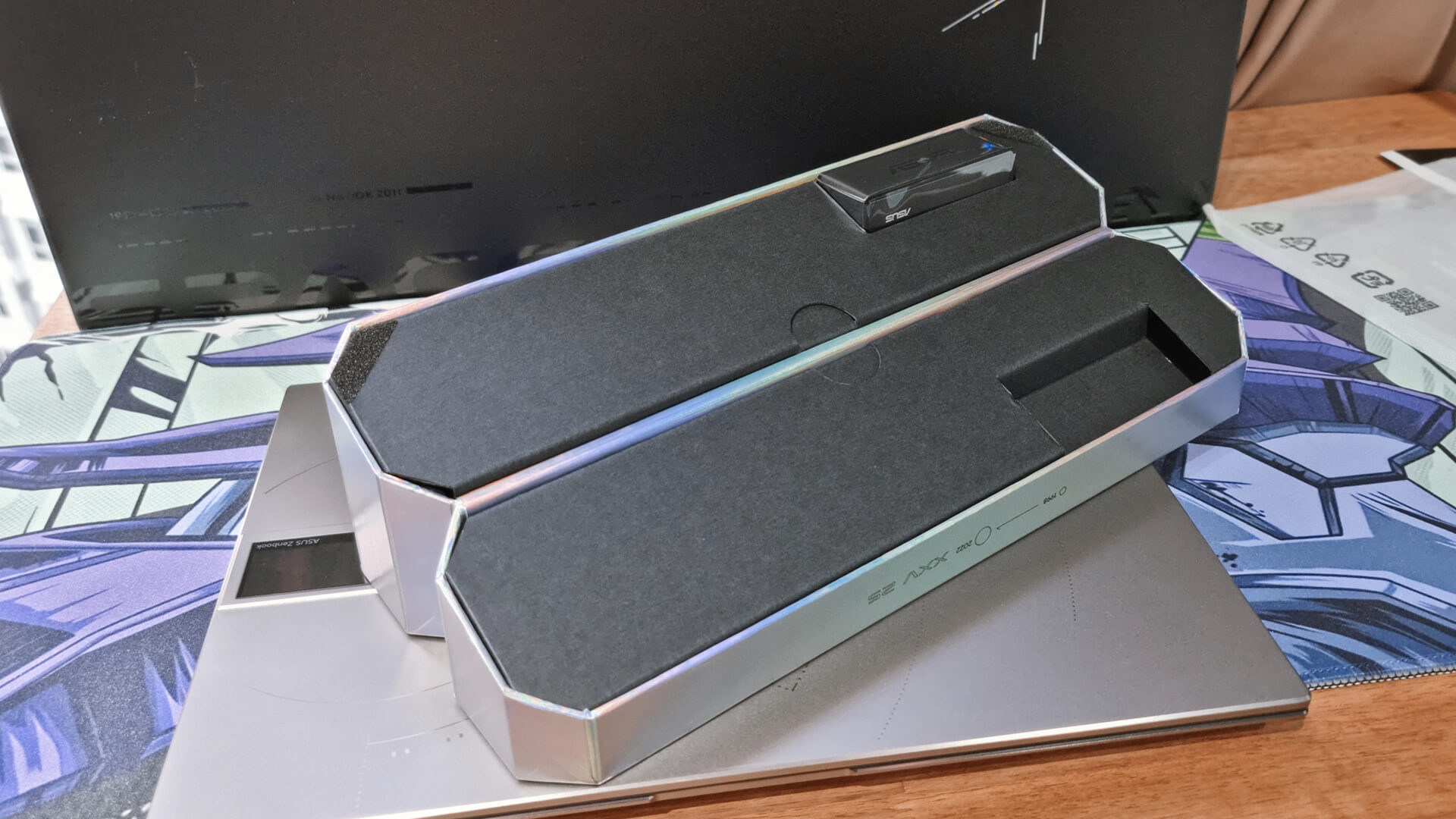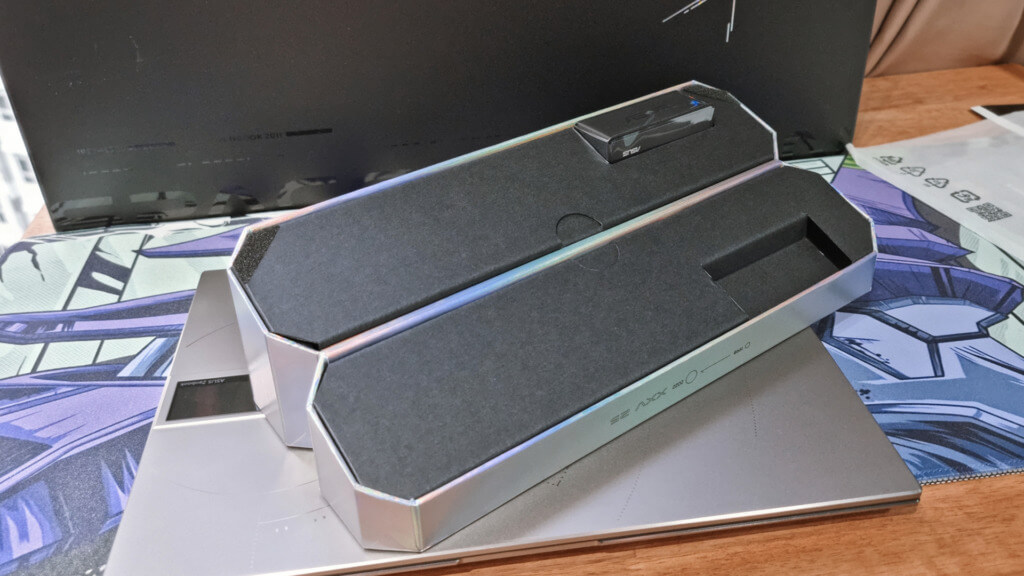 The dimensions and overall qualities of this Zenbook 14X Space Edition are comparable to the typical Zenbook 14X model, including an all-metal design, a 16:10 touchscreen, a same-sized keyboard, and an Ergolift hinge.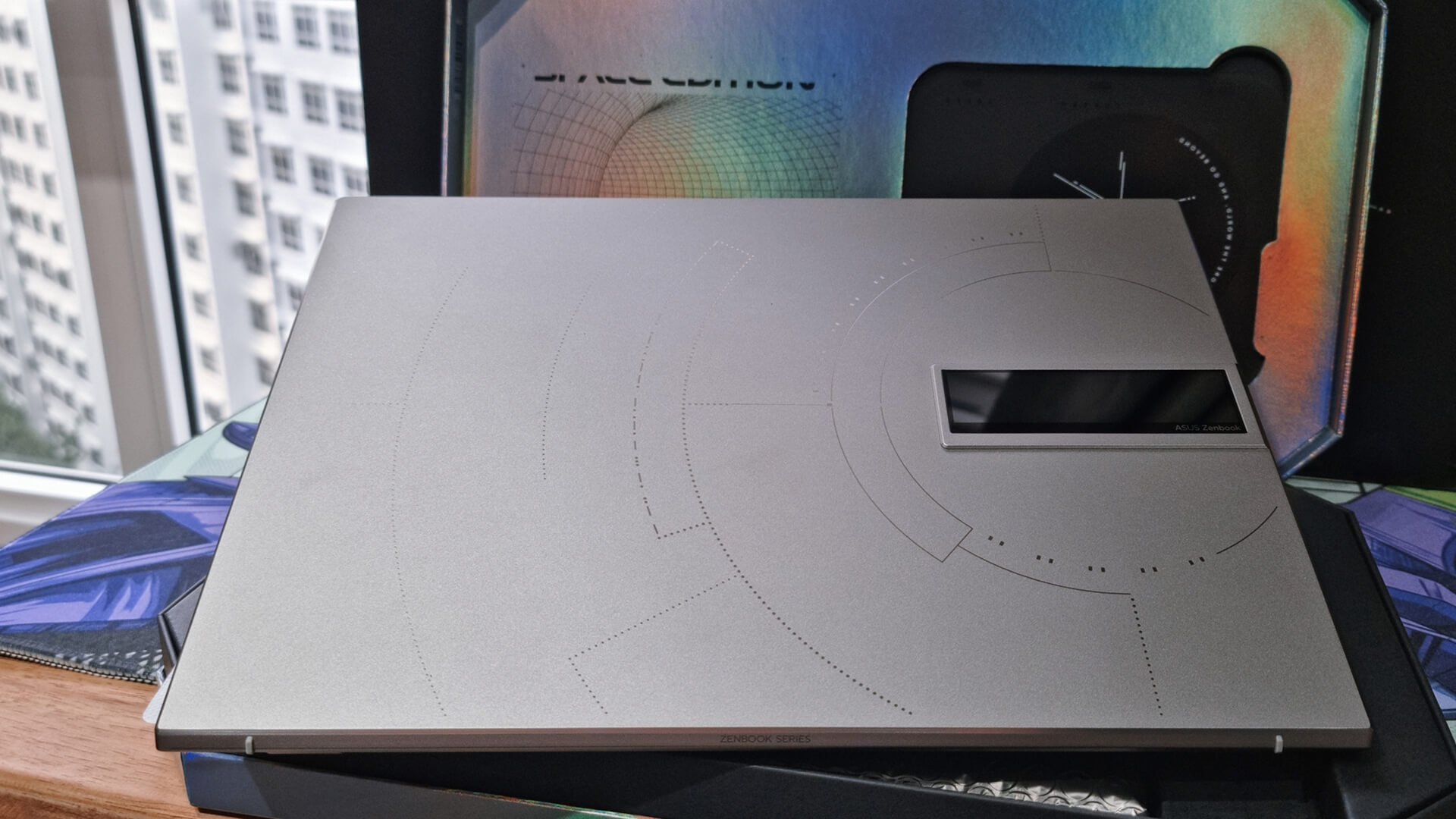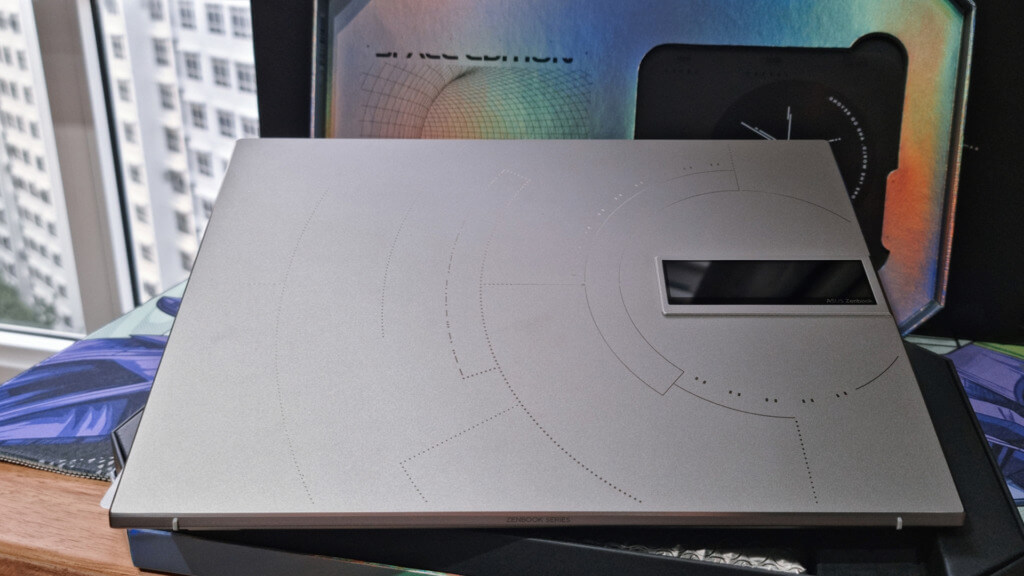 Compared to the MacBook, the dimensions of this Zenbook are nearly identical. The Zenbook weighs 1.40 kg compared to 1.36 kg for the MacBook. In addition, the Zenbook has a thickness of 1.59 cm, whereas the MacBook has a thickness of 1.54 cm. The tight, compact design also helps the overall look while making it ultraportable.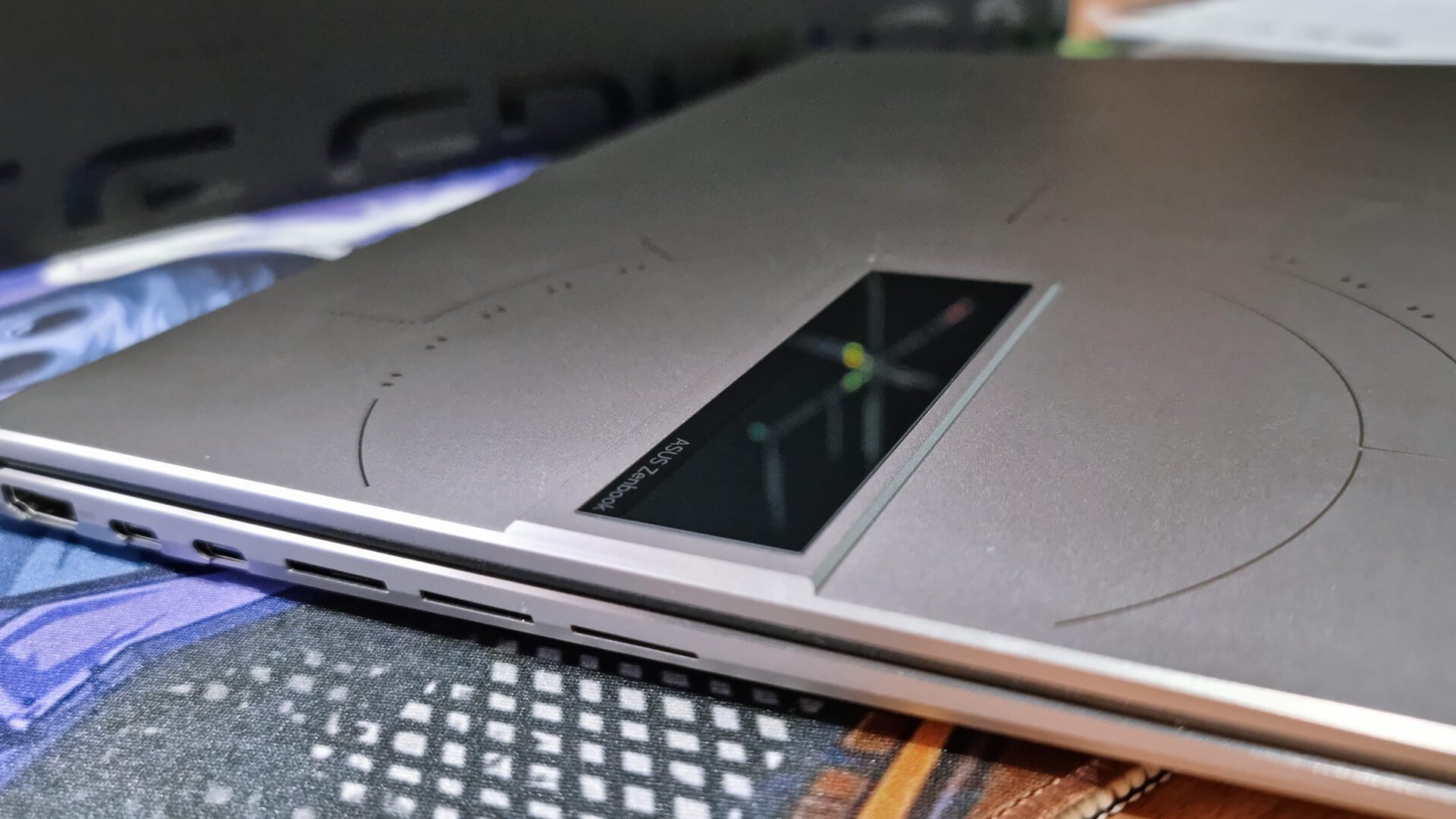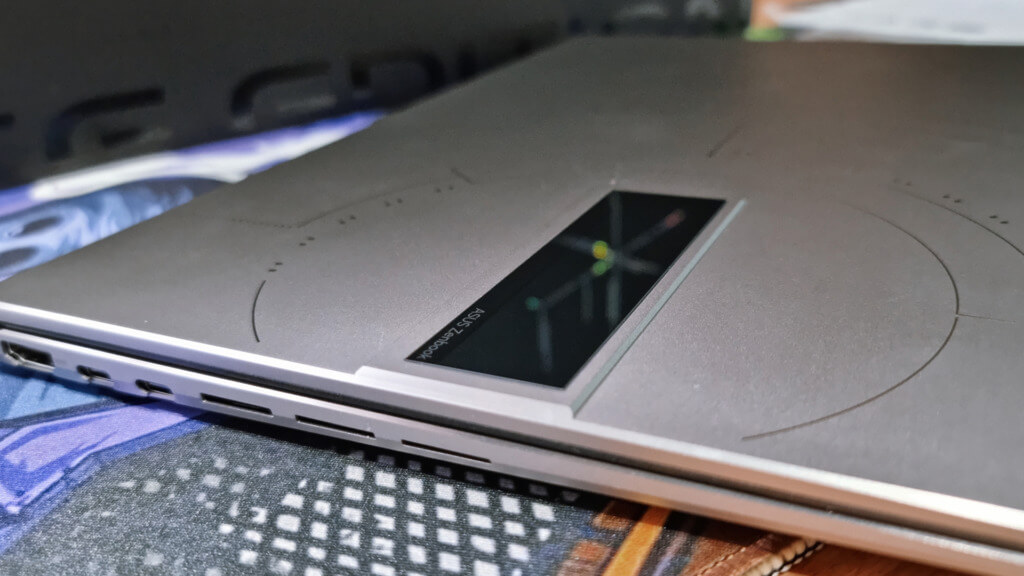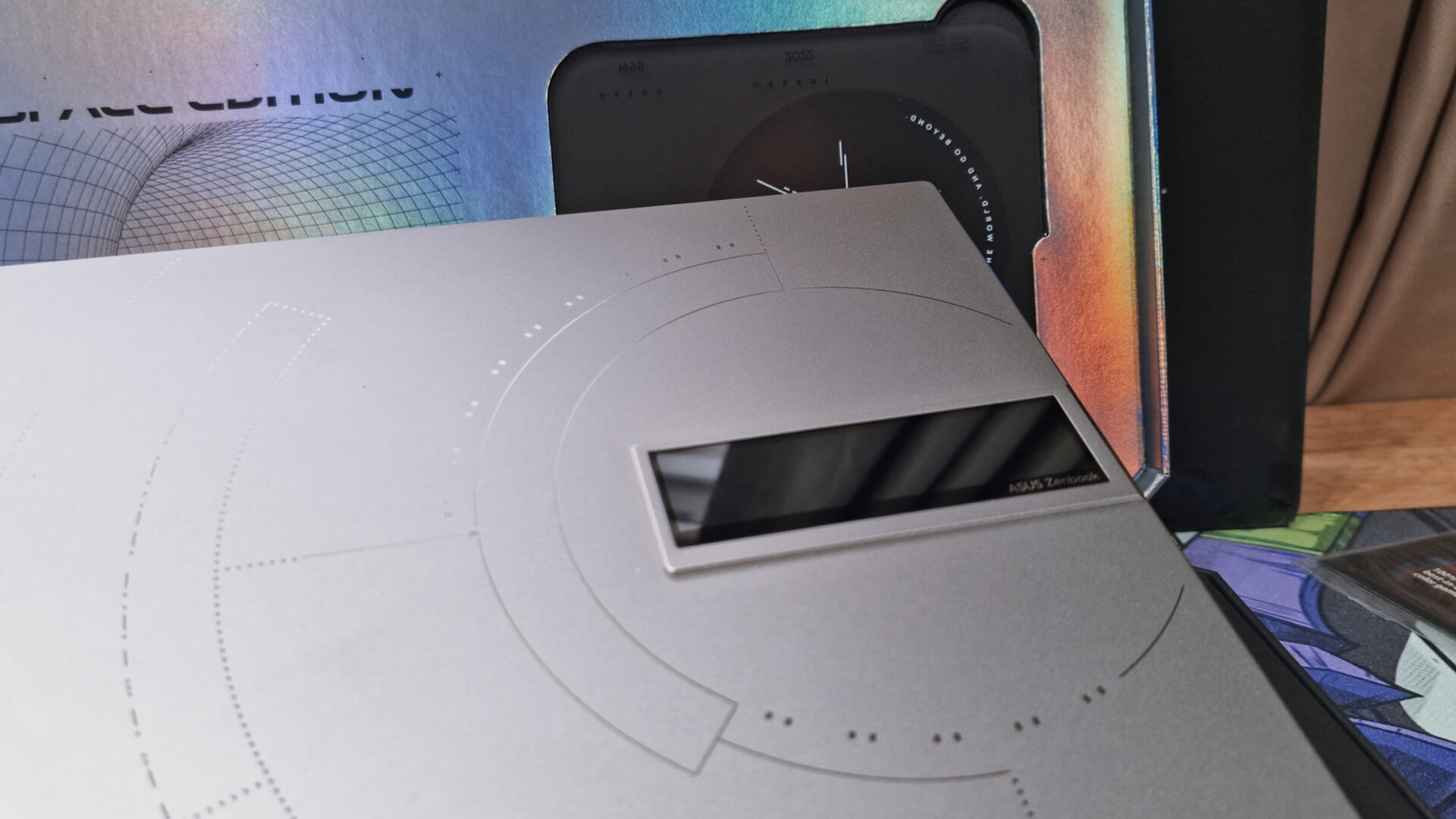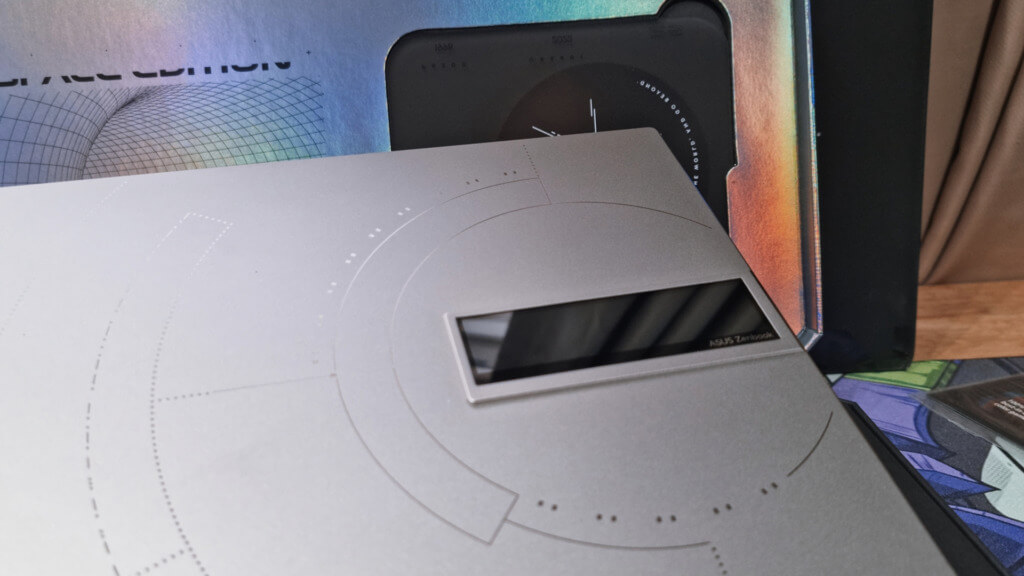 This Space Edition model is a cosmetic modification of the standard 14Xs aimed to honor the 25th anniversary of the launch of the ASUS P series of laptops used on the MIR Space Station, the forerunner to the ISS that is now in space.
The gorgeous aluminum surface with brushed edges feels incredibly luxurious and durable, and the laser etchings on the lid depict the shape and curves of a space station capsule. This laptop welcomes you to this one-of-a-kind design among the sea of laptops in the market. It is finished in a special Zero-G Titanium tint, a nod to the widespread use of titanium in spaceship construction.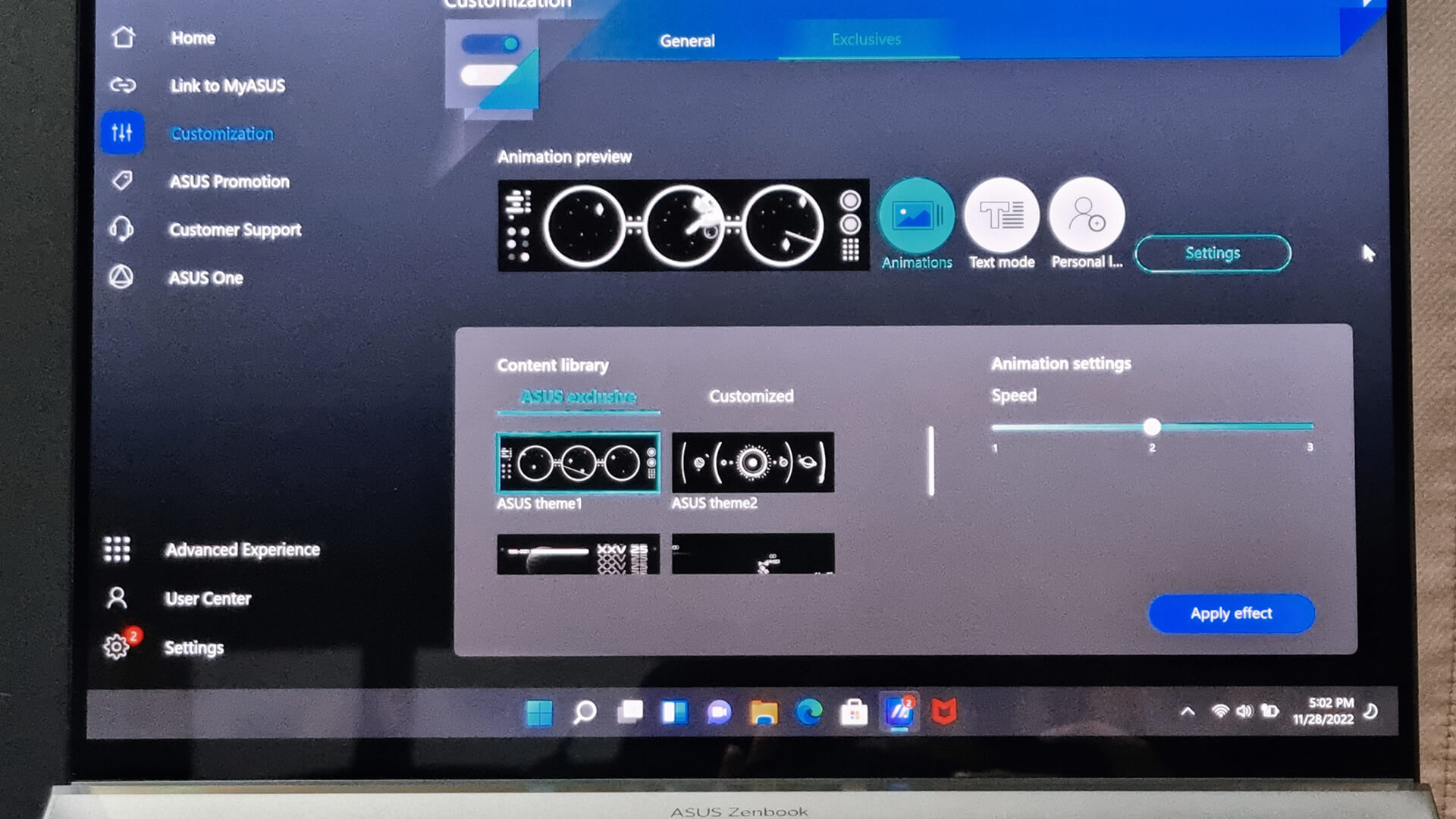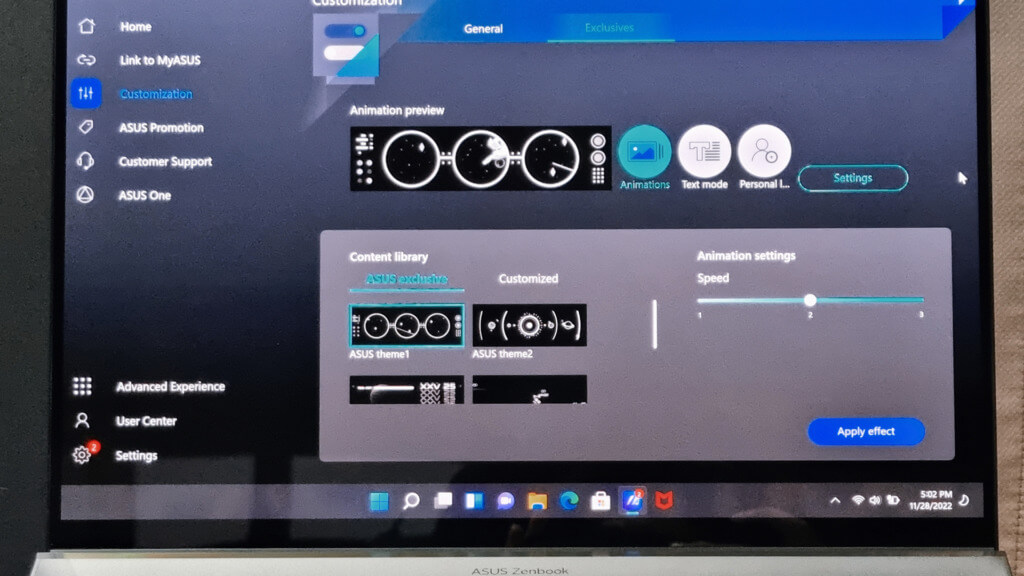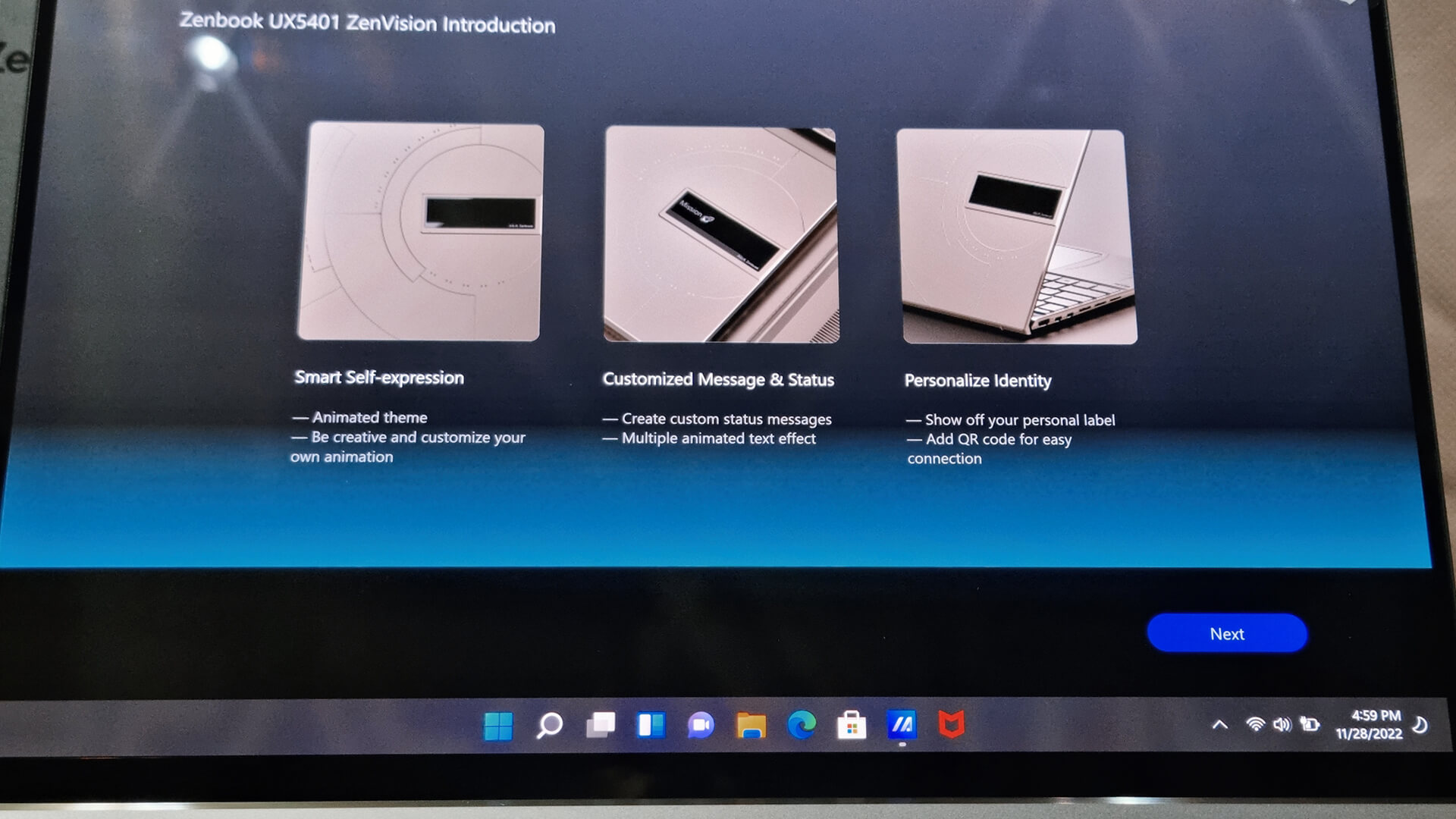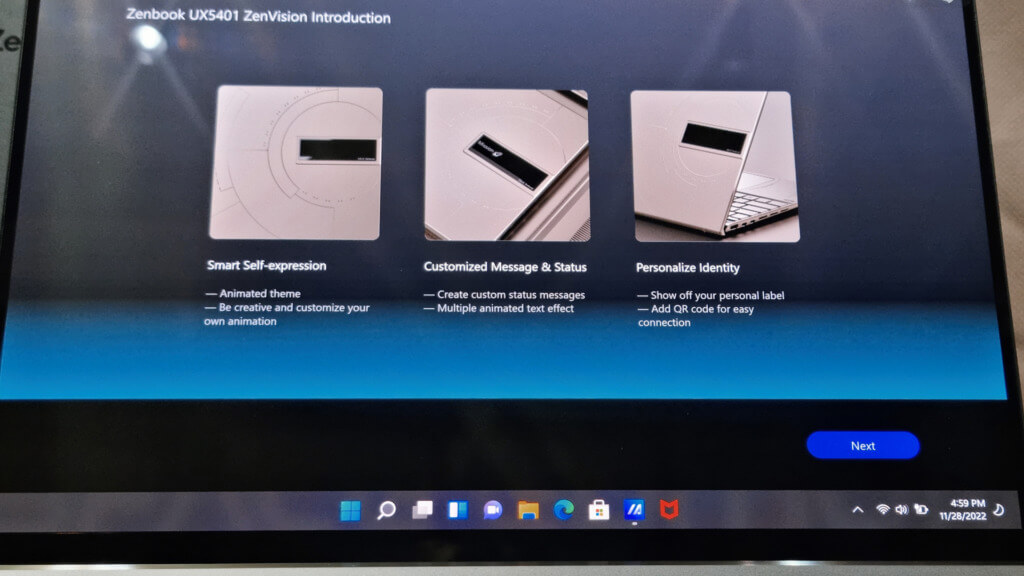 You'll also notice the 3.5-inch ZenVision display, which comes alive with cosmic animations. It is customizable with Smart Notifications that can indicate the time, date, or battery status. Other themes, like the Space Theme mode, are also available, which displays unique space-related animations.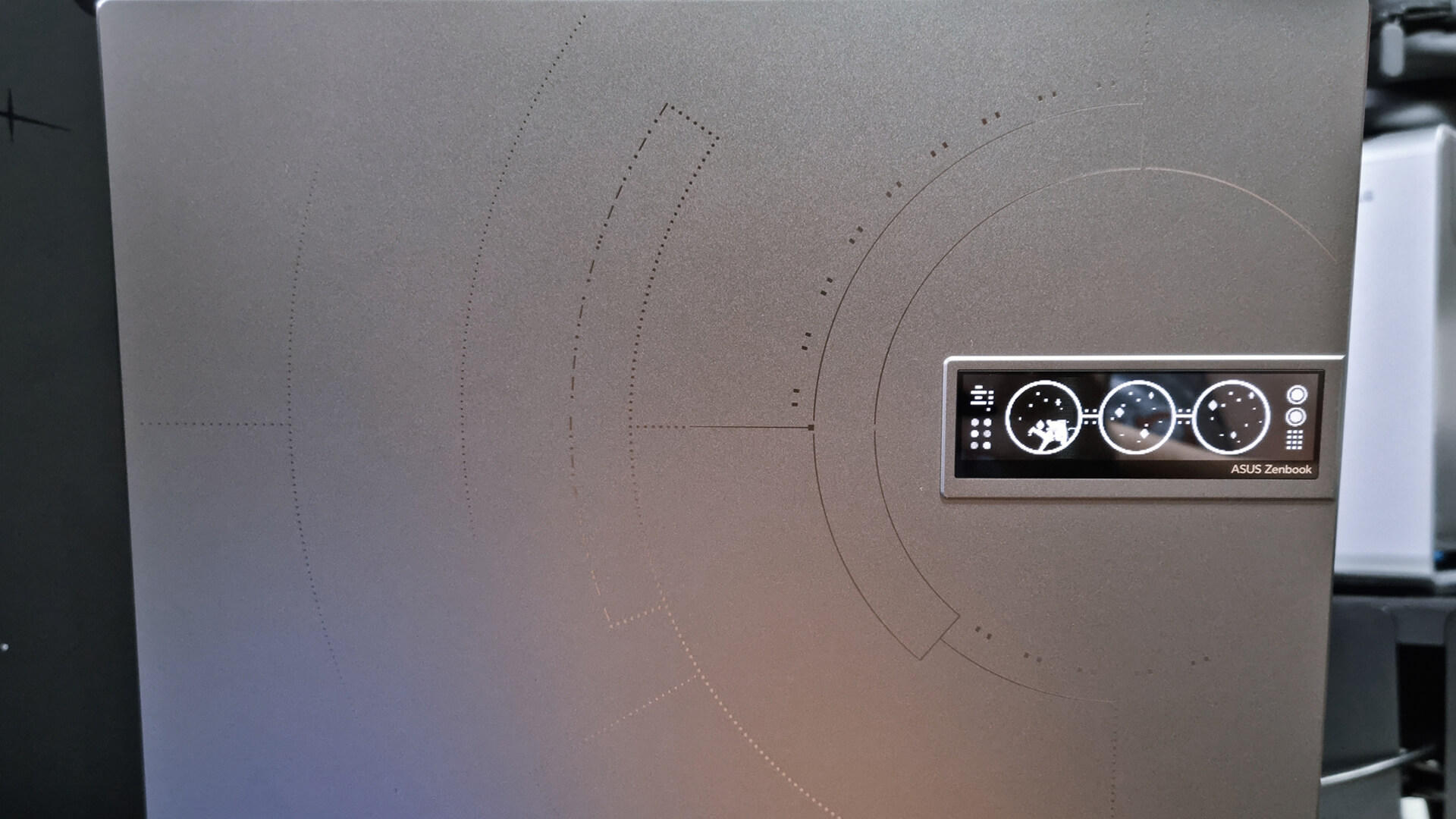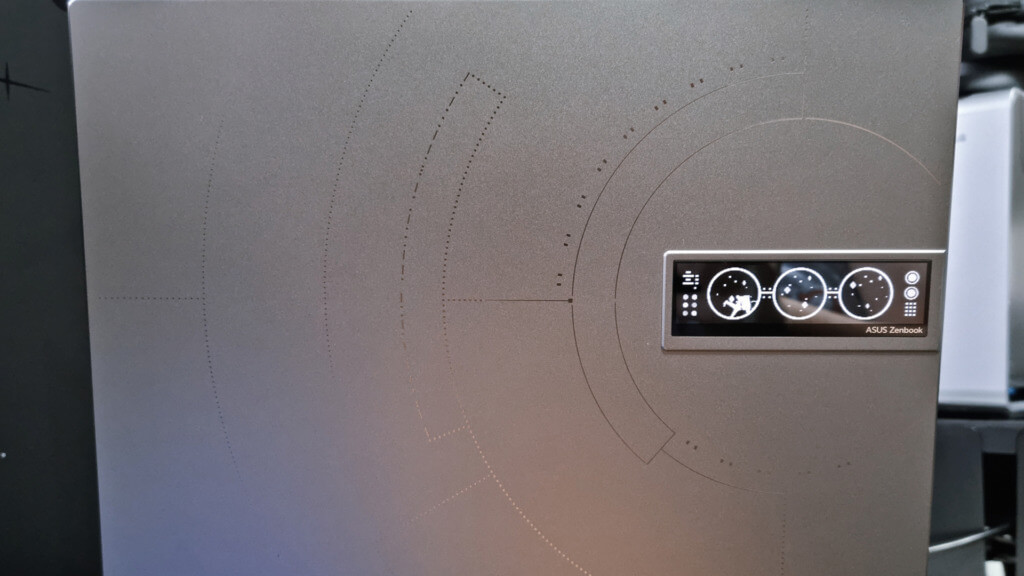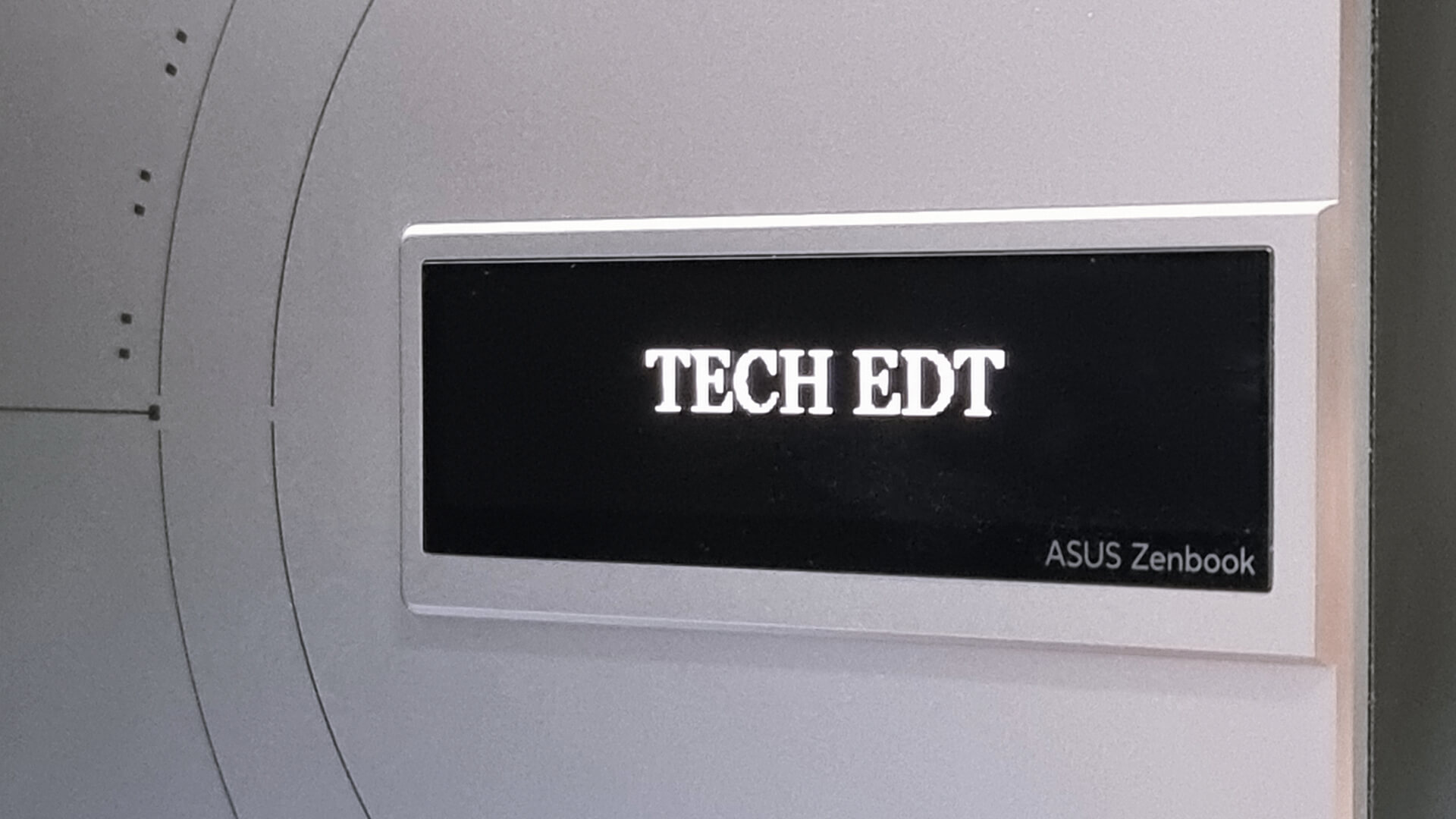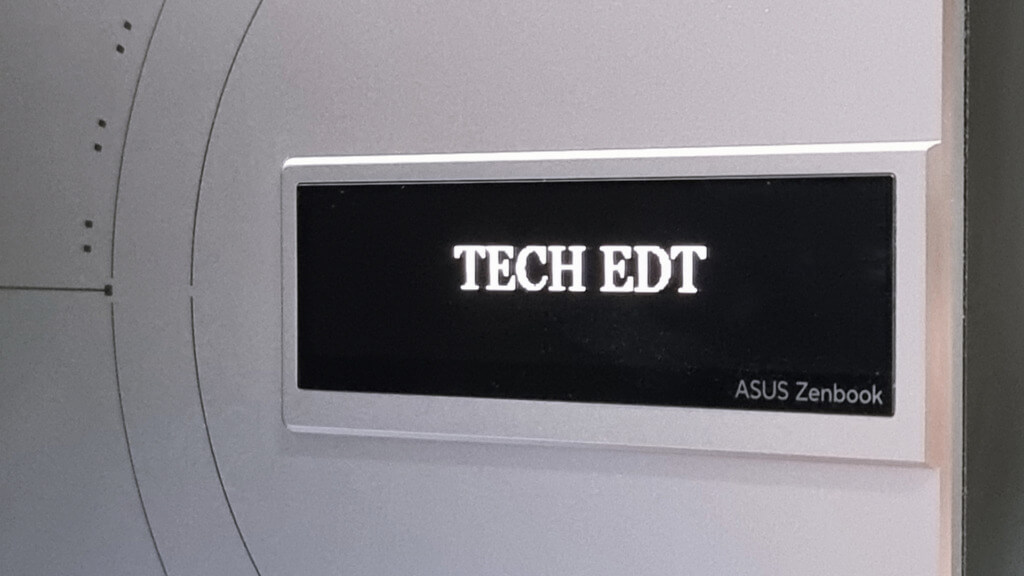 This Zenbook also has the ErgoLift hinge, found on almost all ASUS laptops, for comfortable typing. When the laptop is opened, the precision-engineered ErgoLift hinge elevates the back slightly, tilting the keyboard to the optimal typing angle. This movement also lifts the chassis, allowing for better cooling and audio quality.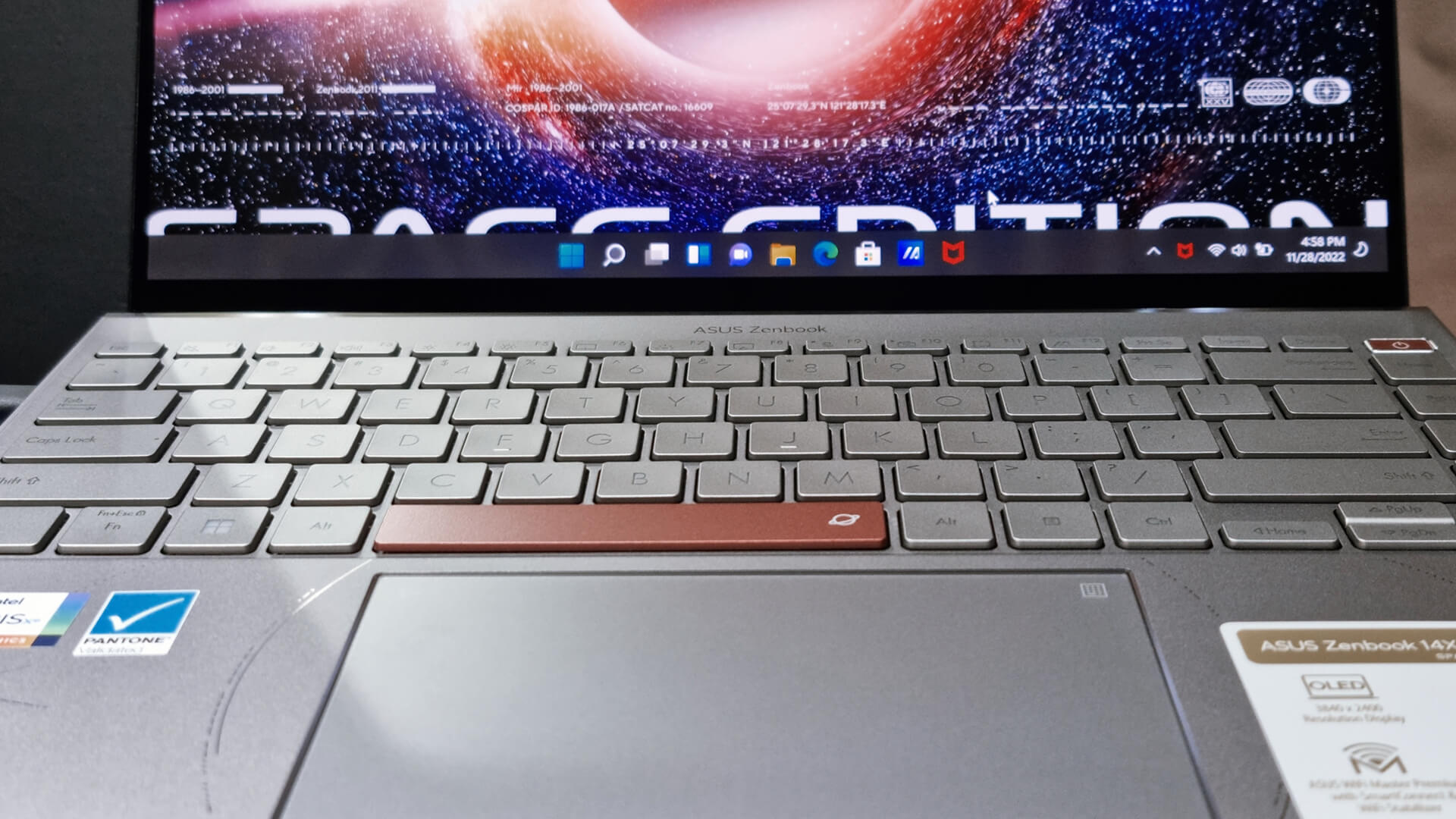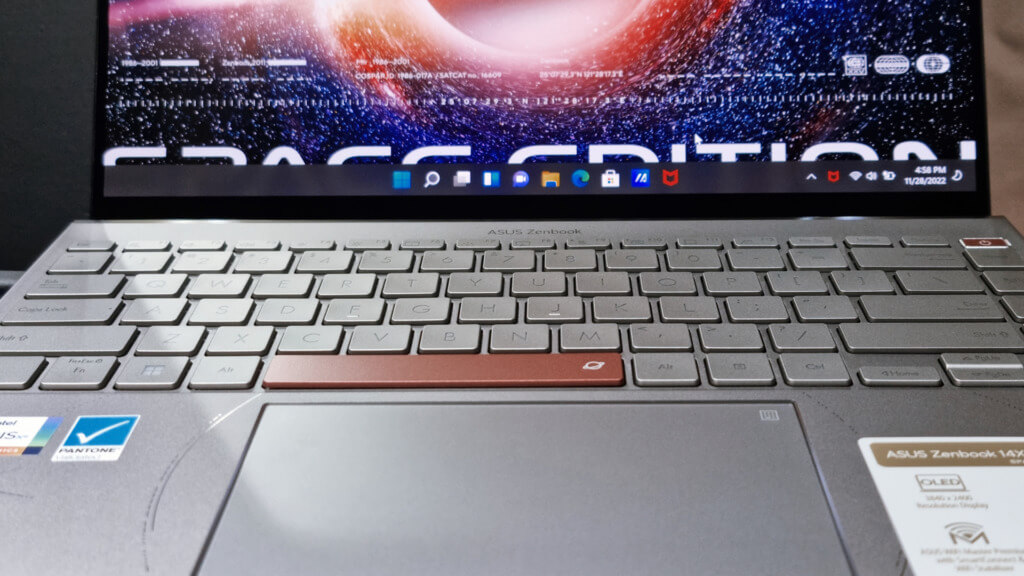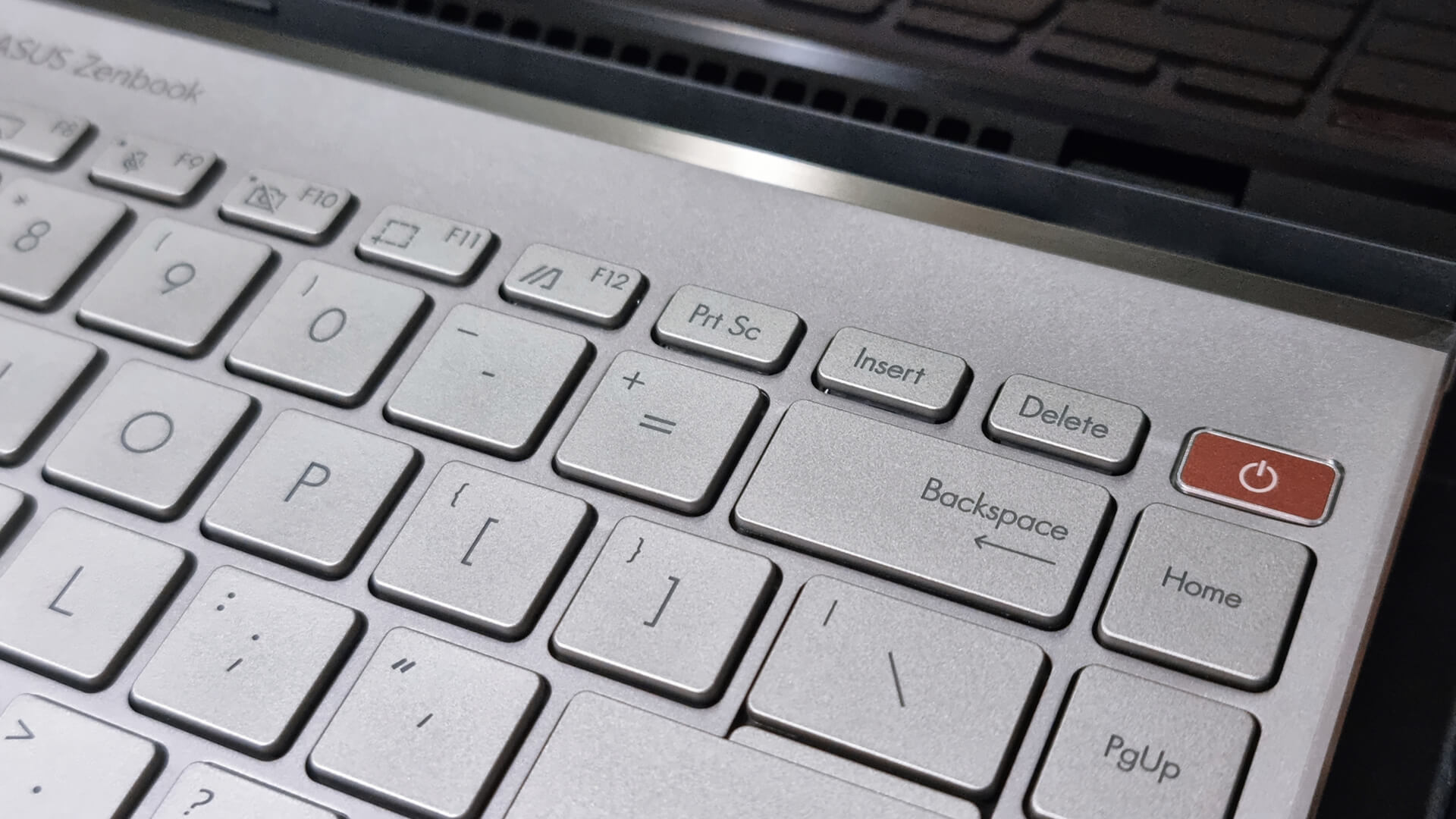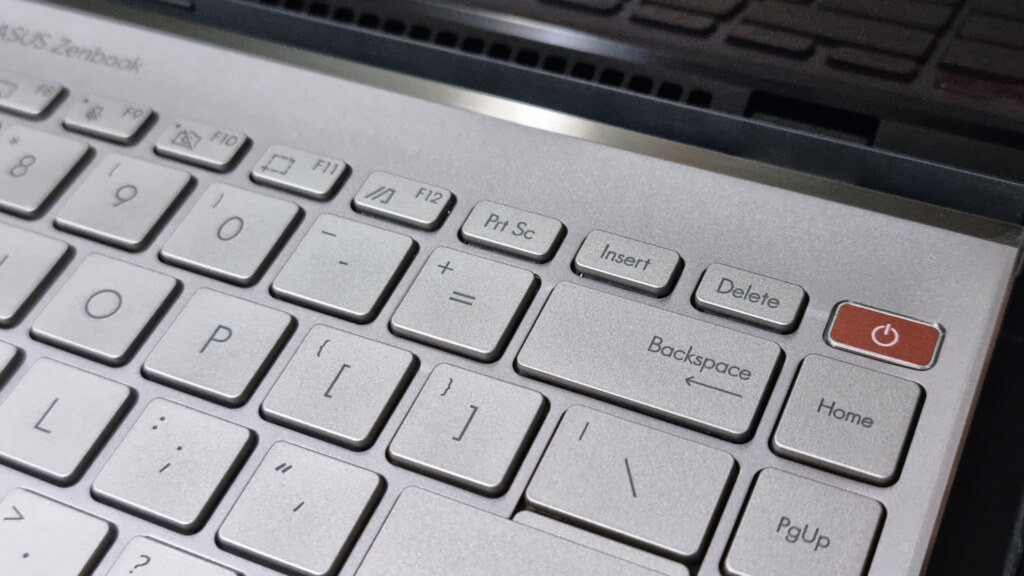 The newest ASUS ErgoSense keyboard and touchpad are designed to provide an unparalleled input experience that syncs with how you move, feel, and touch. The keyboard has keys that are comfortable to type on, and the trackpad is snappy. The trackpad may also be used as a numberpad for quick data entry. When you need one, you may press the top-right numberpad symbol to turn it on or off or on the top-left icon to alter the brightness.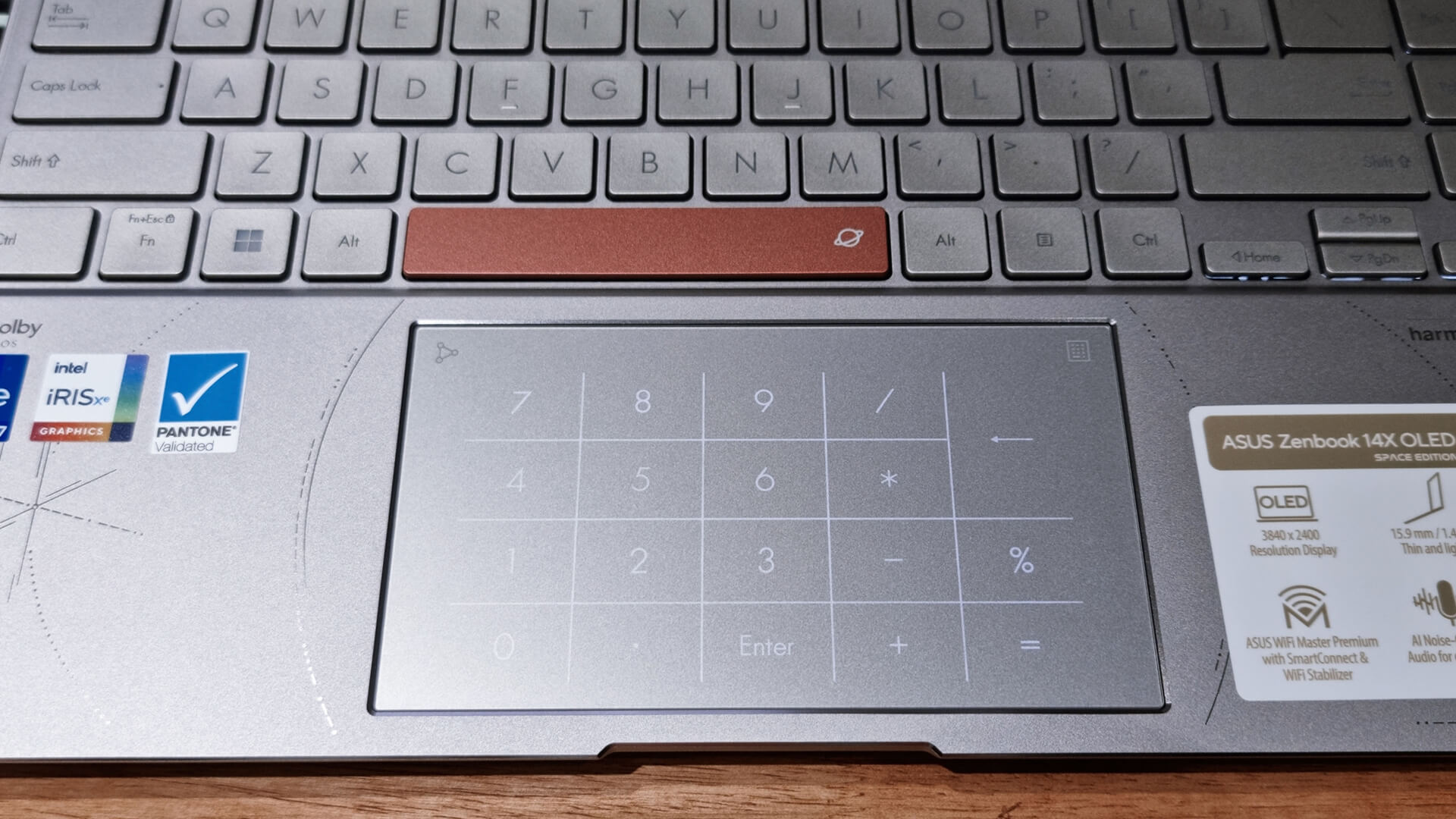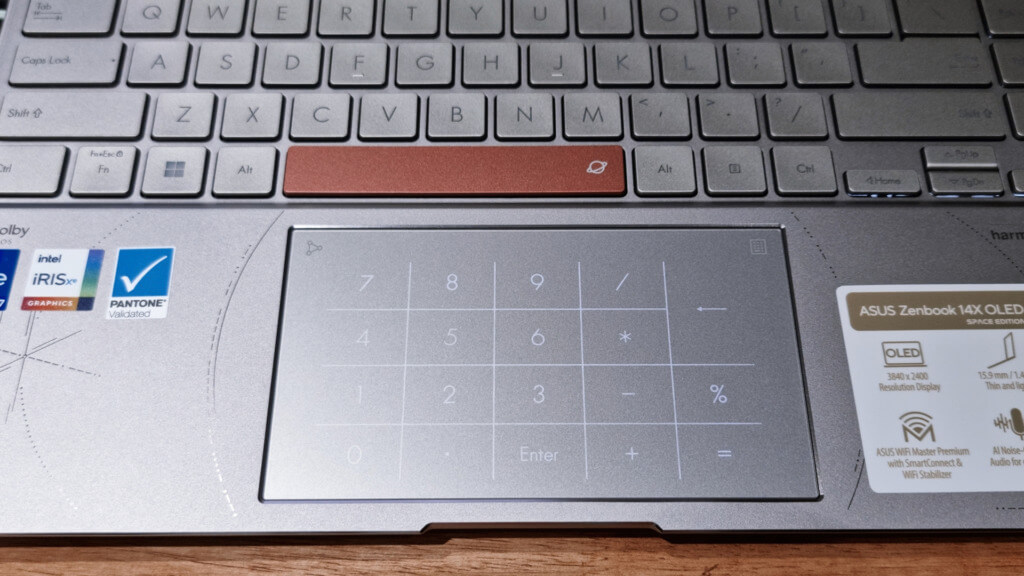 The ASUS Zenbook 14X OLED Space Edition also has a good selection of connectors. A microSD card slot, a 3.5mm headphone/mic jack, and a USB 3.2 Type-A connection are on the right side. On the left, you'll find an HDMI port and two Thunderbolt 4 connections for quick data transfers and connecting to multiple 4K displays.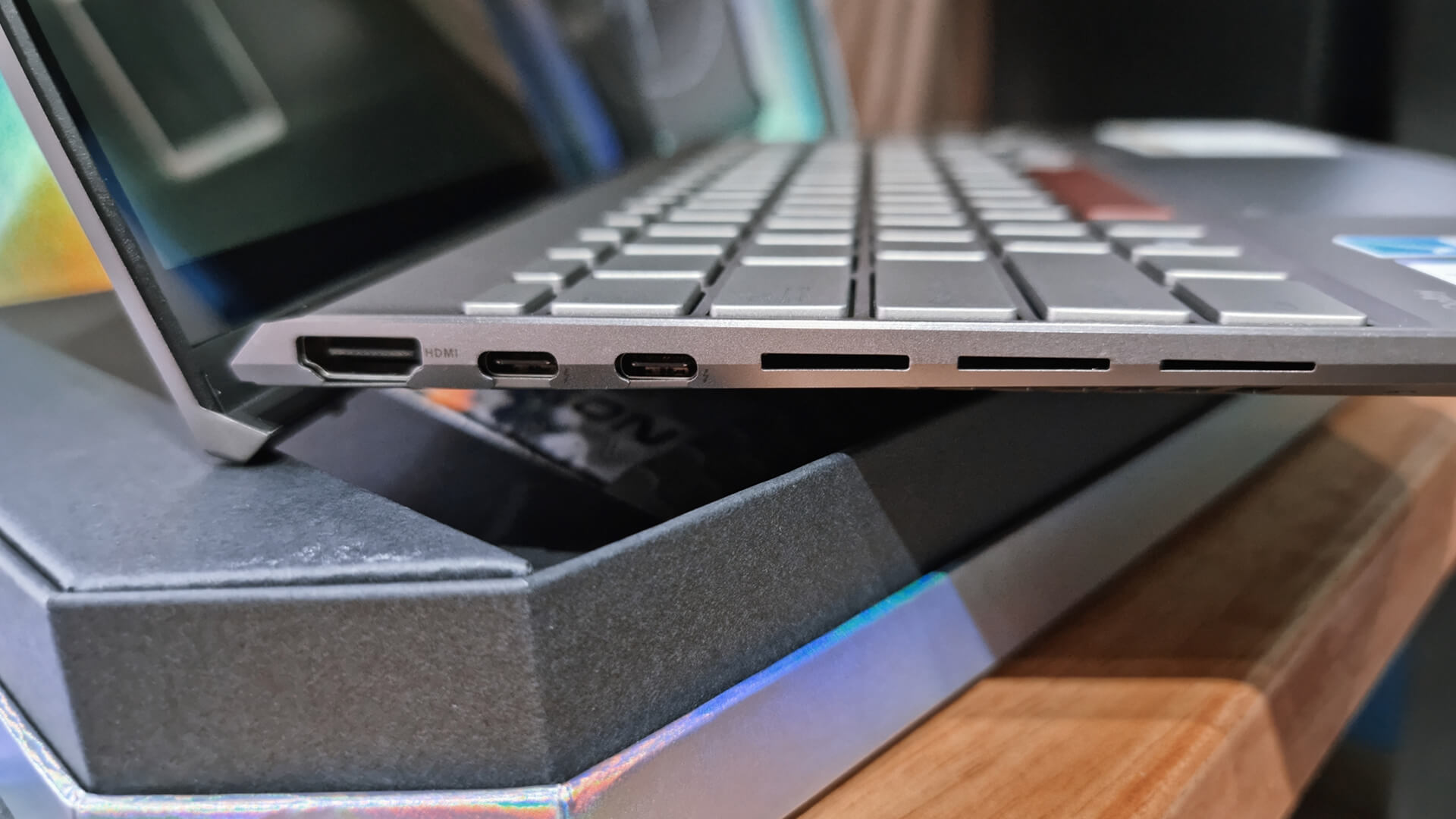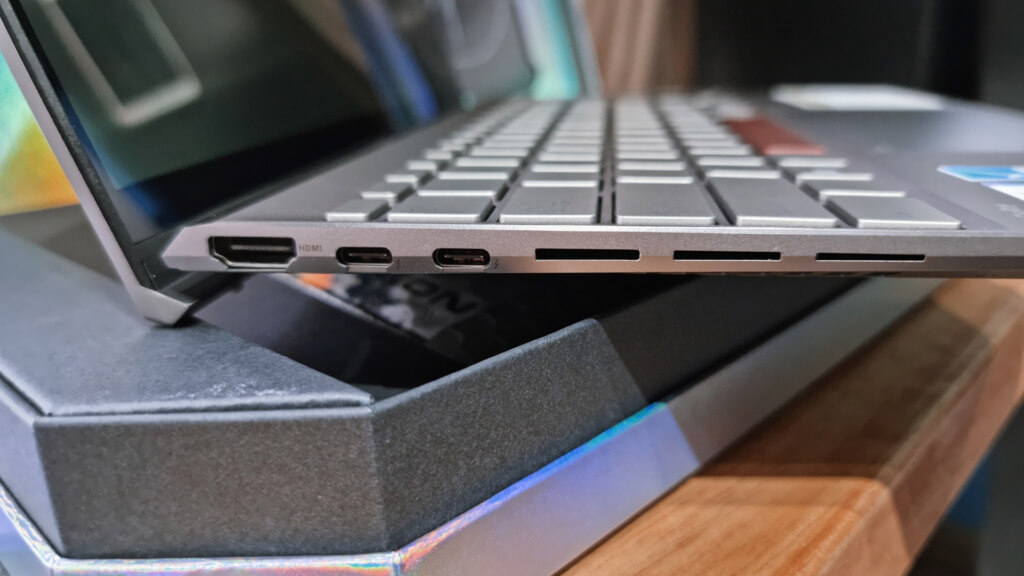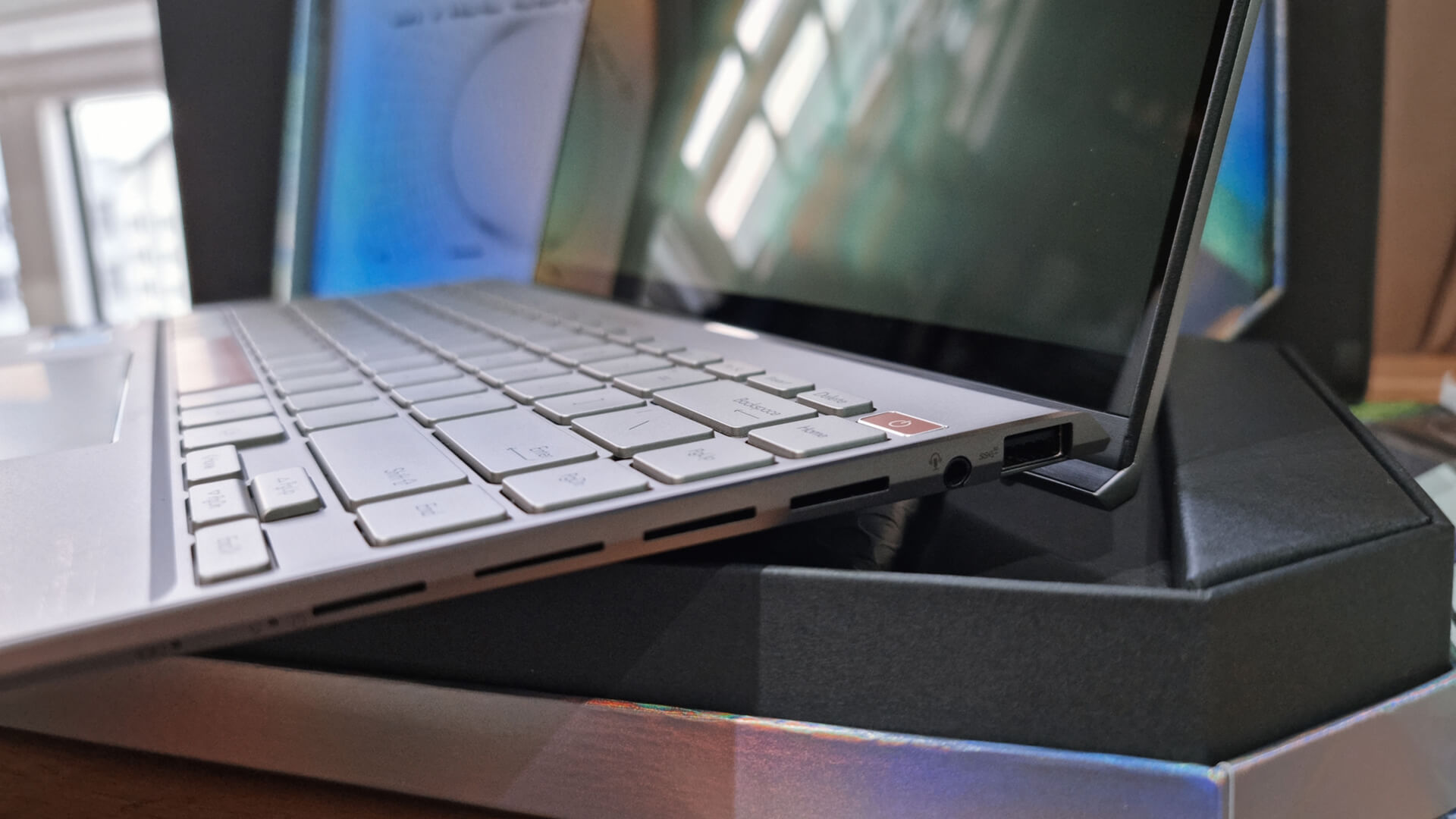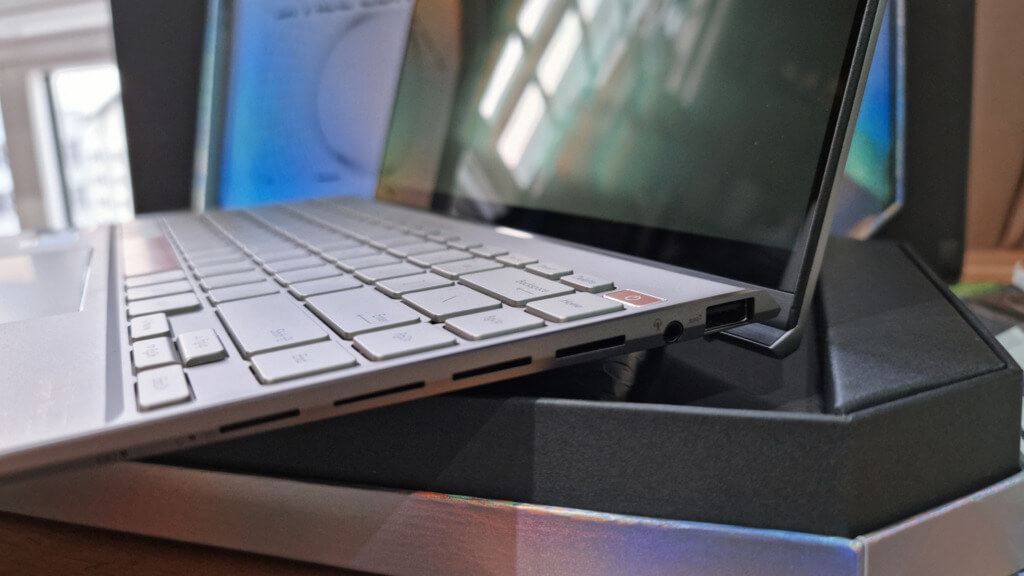 This laptop blends beauty and elegance with extreme durability as well. It has been torture-tested to space-grade requirements for resilience to intense vibration and high/low operational temperatures using US Space Systems Command Standard SMC-S-016A testing techniques. Furthermore, it satisfies the MIL-STD 810H durability criteria of the US Department of Defense to ensure optimum dependability and reliability.
Outstanding 4K OLED HDR NanoEdge touch display
The 4K OLED display has a resolution of 3840 x 2400 pixels. It is brilliant and colorful, with up to 550 nits of peak brightness, a cinema-grade 100% DCI-P3 color gamut, and DisplayHDR True Black 500 certification, providing you with out-of-this-world visuals. The colors appear natural, but the visuals are also clear and bright, with Pantone Validated certification for exceptional color fidelity.
The OLED technology, in particular, gives it sky-high contrast with inky blacks and pristine white backgrounds. Each and every nuance of color and detail is perfectly rendered.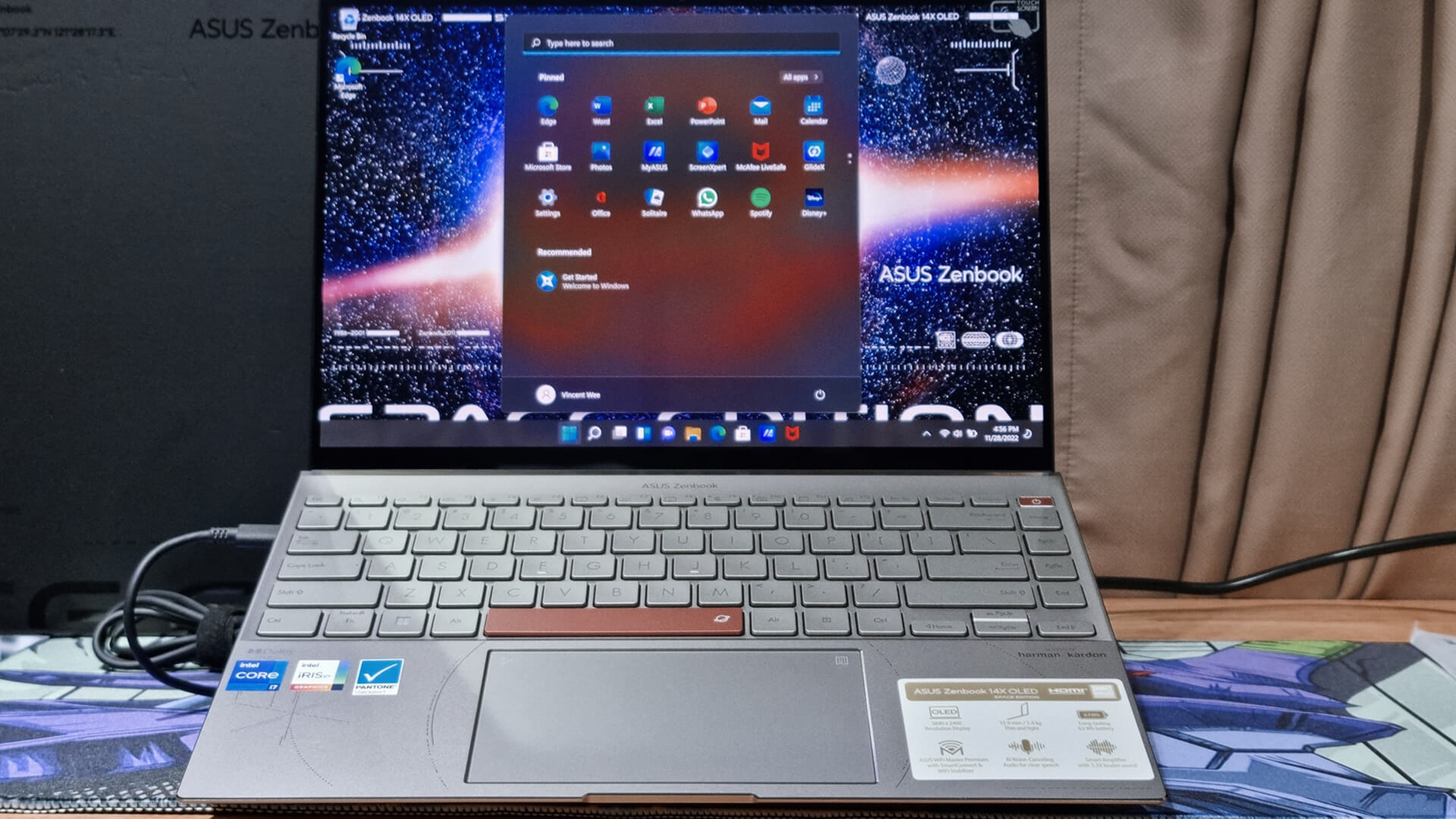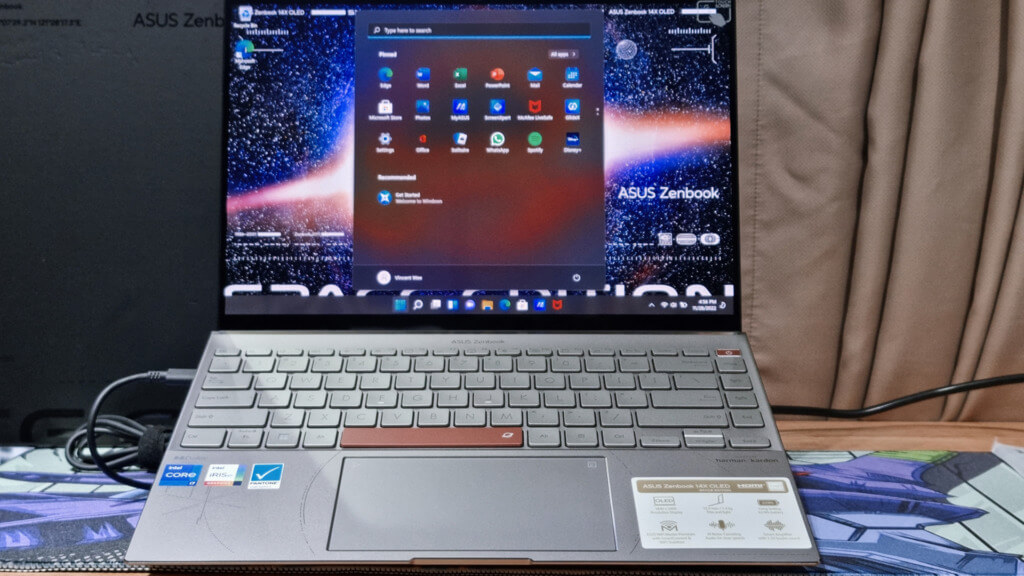 Its 16:10 aspect ratio and 4K resolution are ideal for productivity and immersive entertainment experiences. The dazzling 4K OLED HDR NanoEdge touchscreen of the Zenbook 14X OLED Space Edition's spacious 16:10 aspect ratio helps you see more websites and documents than a regular 16:9 display.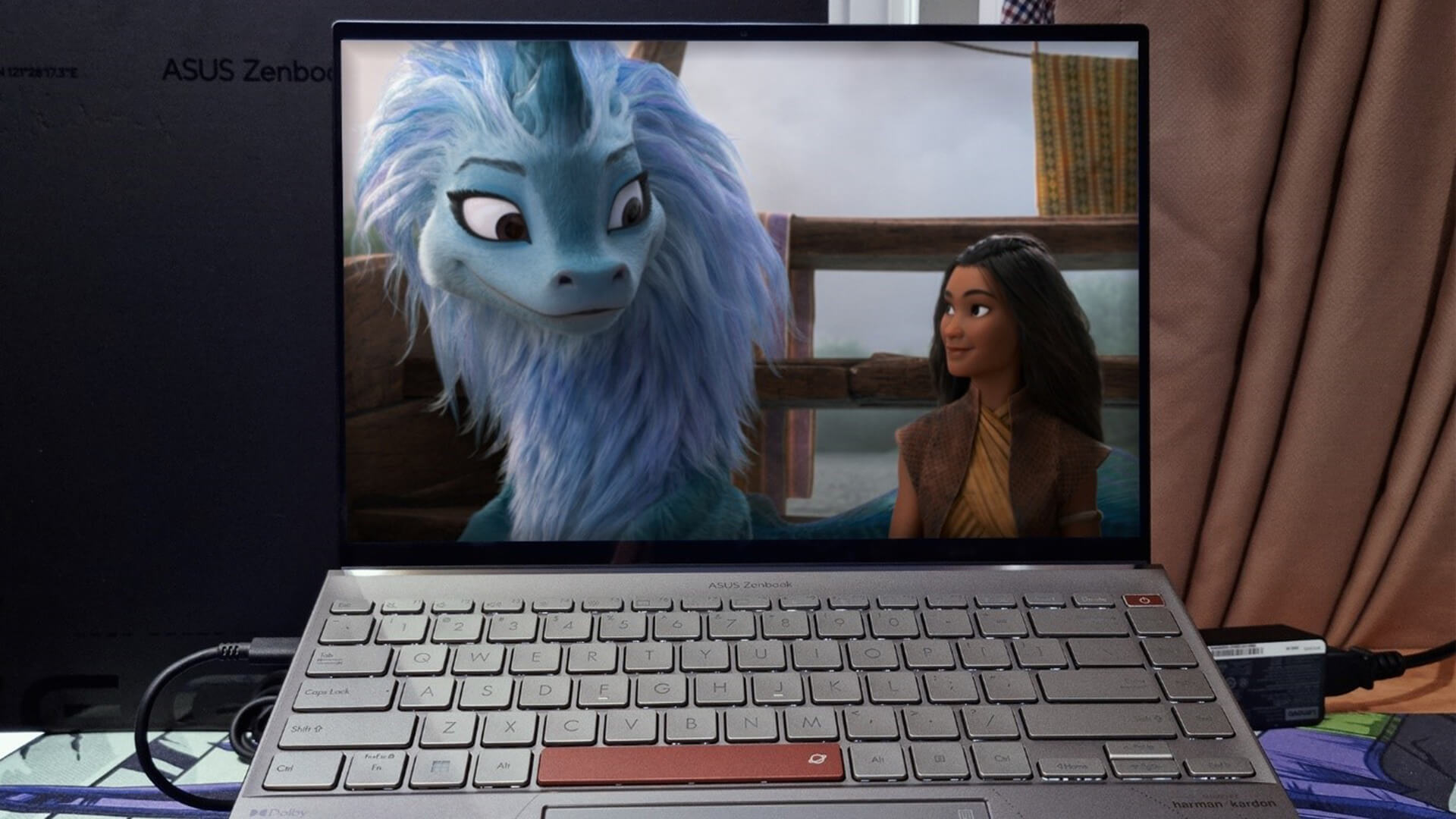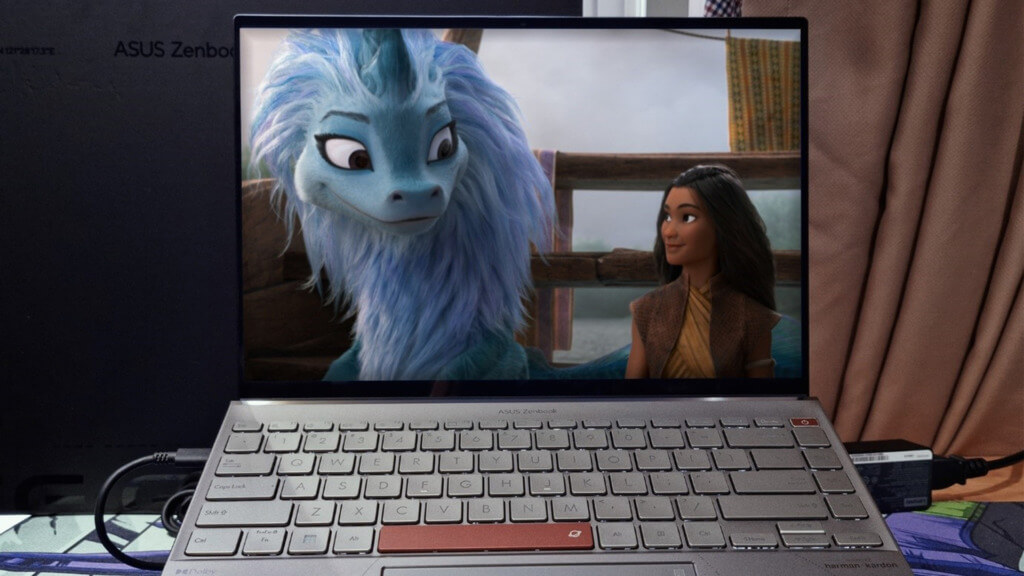 At the same time, its 4K (upgraded from FHD without any price increase) resolution provides the highest possible degree of visual detail, perfect for atmospheric entertainment, taking you to a whole new level of immersion. The Zenbook 14X OLED Space Edition is a delight to use for watching movies, whether animation like Raya and the Last Dragon on Disney+ or live-action spectacles like Ex Machina on Netflix, thanks to the narrow bezels that reach a 92% screen-to-body ratio.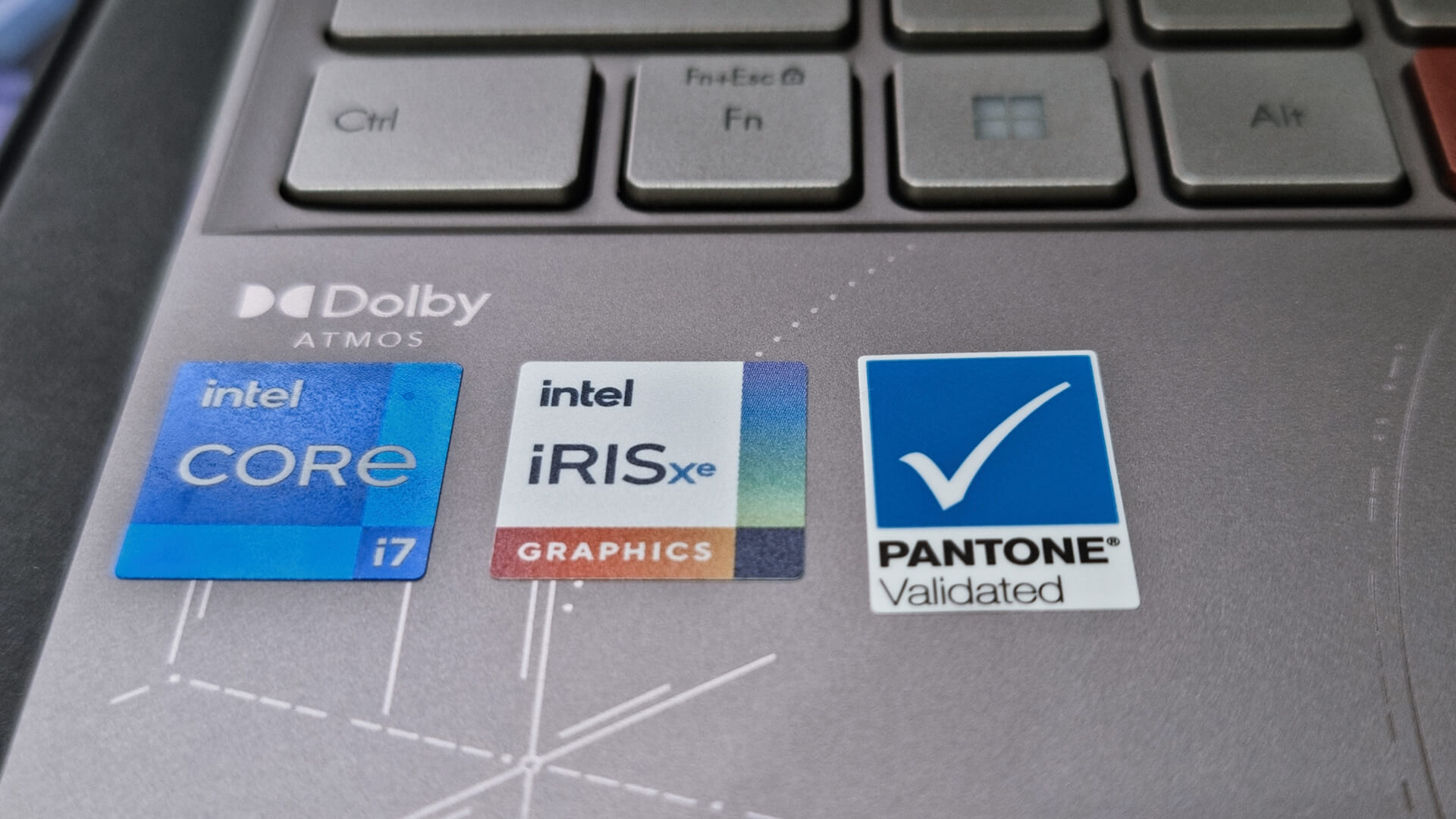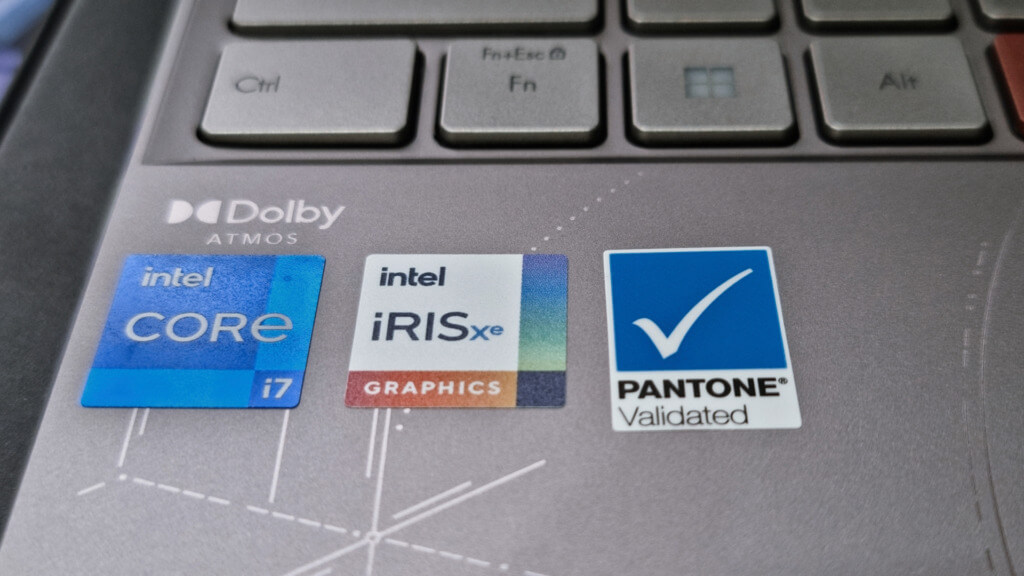 The touchscreen is as fluid and responsive as you'd expect from a high-end laptop. This touchscreen feature helps to simplify the process of navigating on the laptop, making it accessible and convenient. When compared to traditional trackpads and mice, it opens up a wide range of possibilities for users. Accessing and switching between applications is also simplified.
Immersive audio experience with Dolby Atmos
The Zenbook 14X OLED Space Edition sports a stereo sound system certified with Dolby Atmos and by Harman Kardon for unparalleled audio quality. The stereo speakers are blasted out of grills on the underside of the laptop, and music bounces off the table beautifully and when on one's lap thanks to the Ergolift hinge and the tilted design of the D-Panel. The laptop can blast audio at a decently high volume, which is probably as good as it gets.
The speakers are an excellent choice for mixed-use. It is high-end and sounds fantastic right out of the box. Voices and lead instruments are clear and prominent in the mix, thanks to the balanced mids, making it suited for a wide range of music genres as well as vocal-heavy TV shows and movies.
Also, because of its smart amplifier, which can offer up to 350% more volume than a regular amplifier, the sound quality is superb for everyday usage, movies, or music.
Multitasking performance that is exceptional
The ASUS Zenbook 14X OLED Space Edition performs admirably, thanks partly to the newest 12th Generation Intel Core i7 CPUs, 16GB LPDDR5 RAM, and Intel Iris Xe integrated graphics.
Playing numerous 4K YouTube videos and listening to Spotify music while editing videos on Adobe Premiere did not affect the laptop's performance. Even under such duress, the touch response was consistent, and the system ran smoothly, making it a perfect laptop for work productivity.
Commemorating 25 years of ASUS laptops in space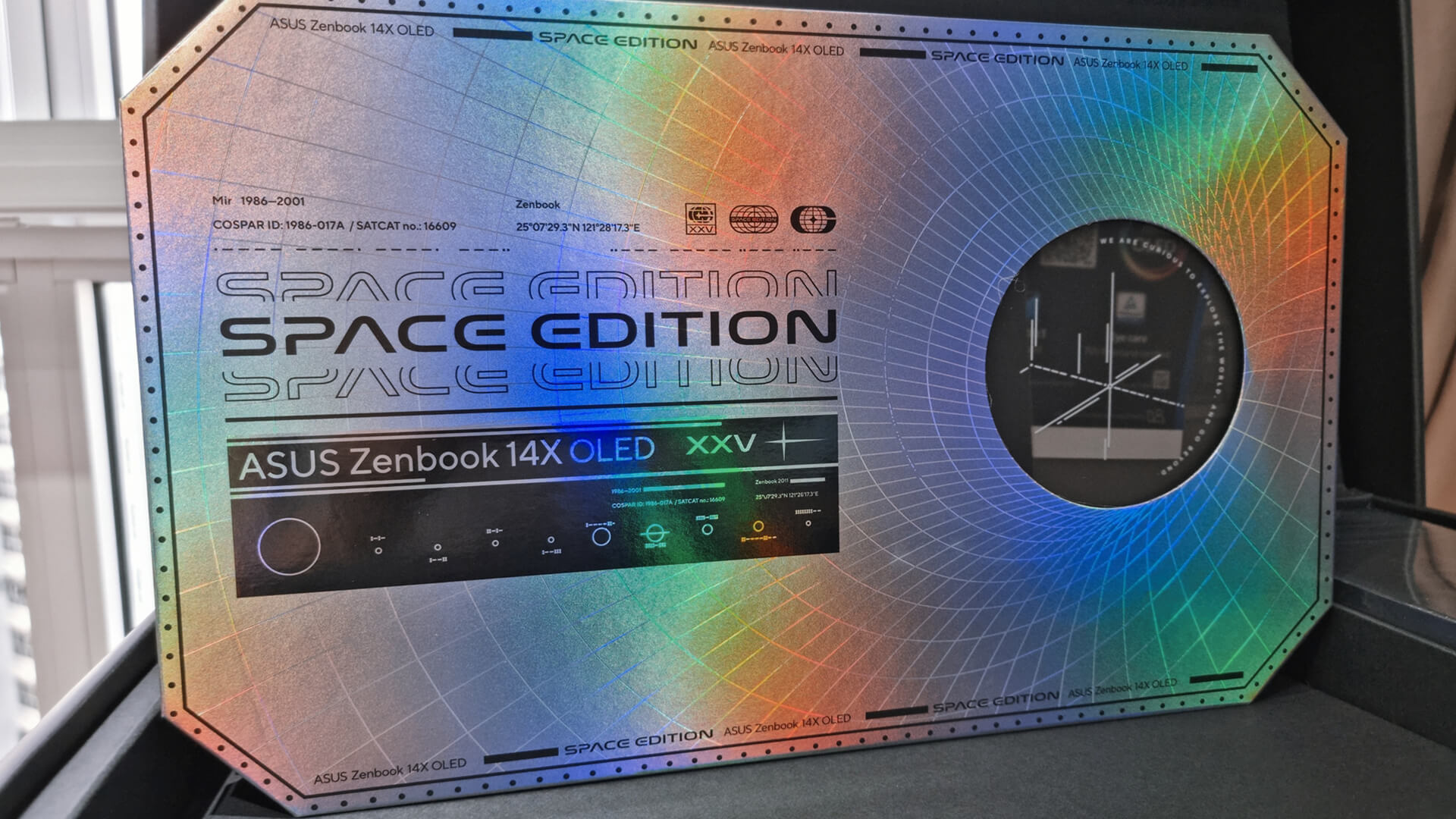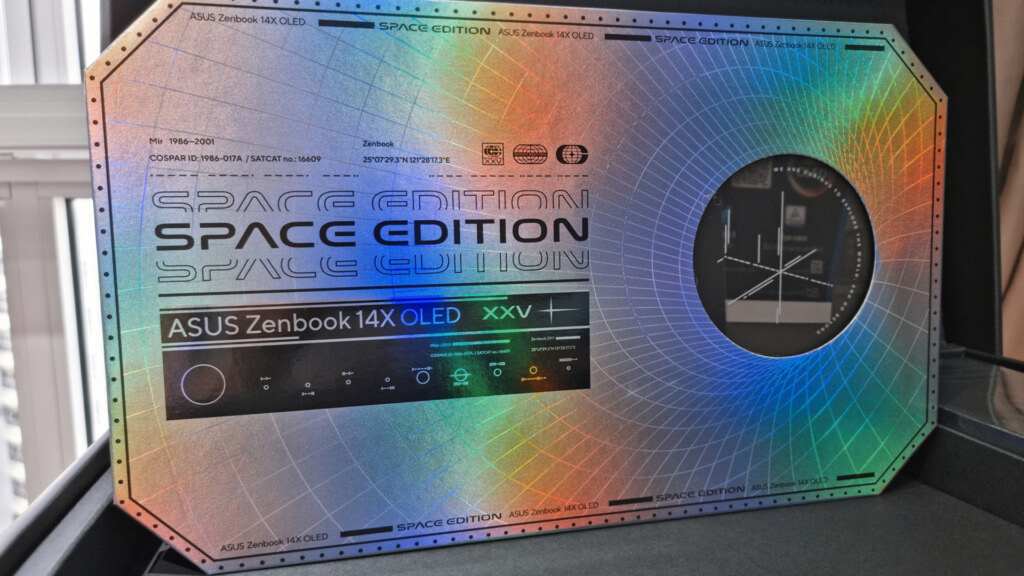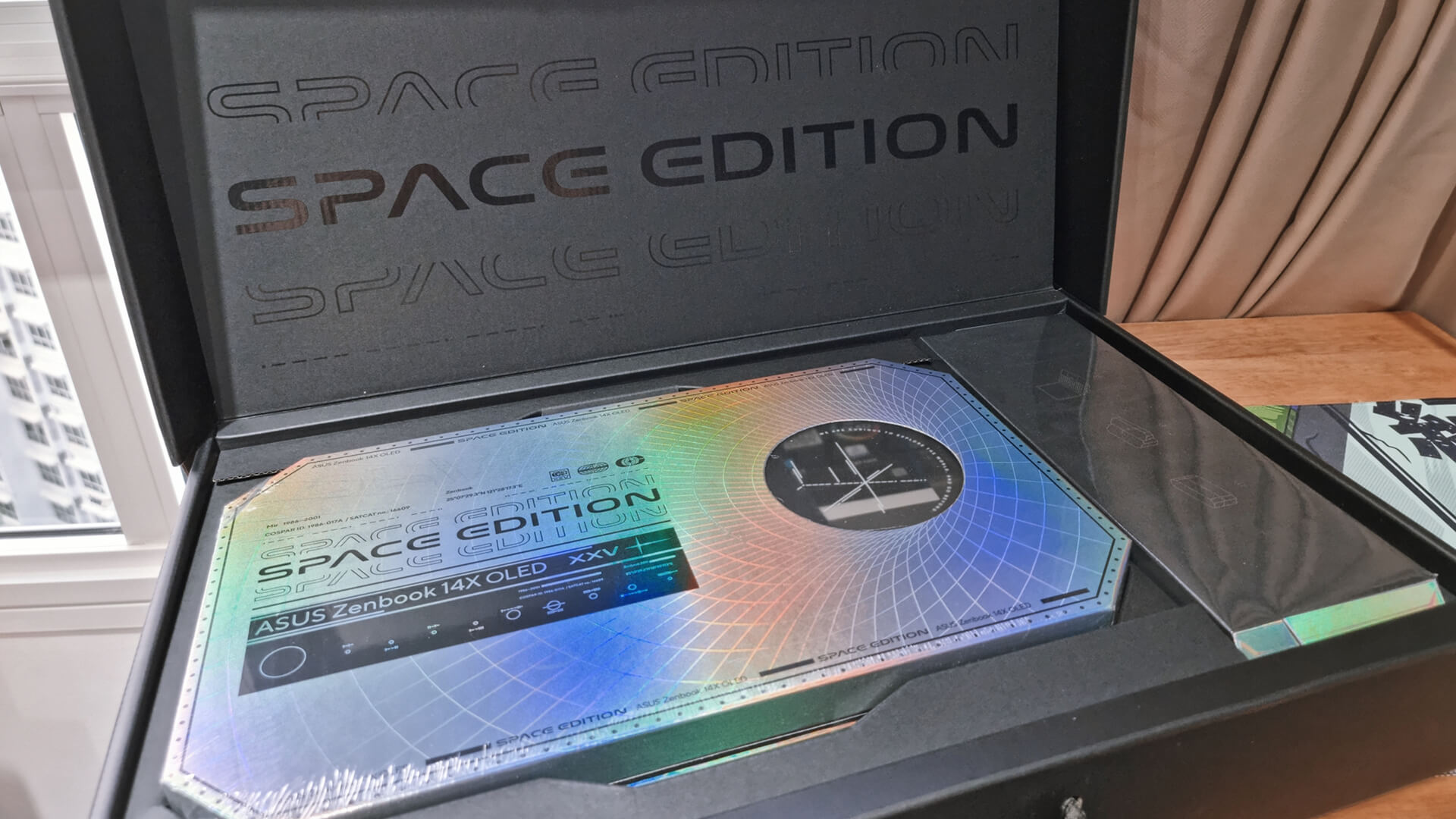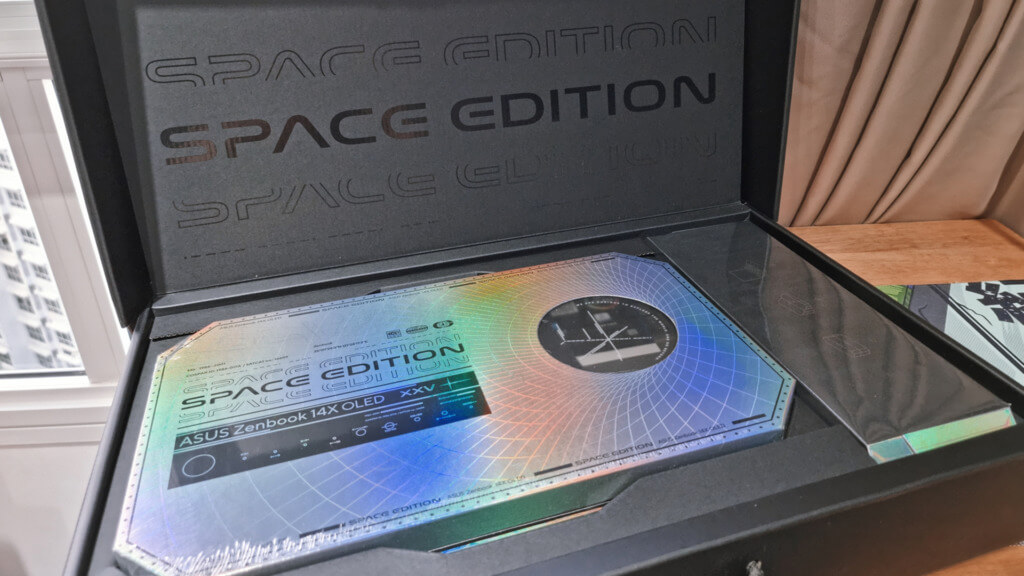 Since an ASUS laptop P6300 flew on a space mission in 1998, ASUS computers have accompanied pioneers to push the boundaries and seek the extraordinary. An astronaut at the time remarked that the ASUS laptops aboard the station were the most dependable, functioning flawlessly even after 600 days in orbit. ASUS made this special edition of the Zenbook to celebrate the event.
The ASUS Zenbook line looks beyond the horizon to discover new worlds and forges ahead with incredible power, speed, and innovation.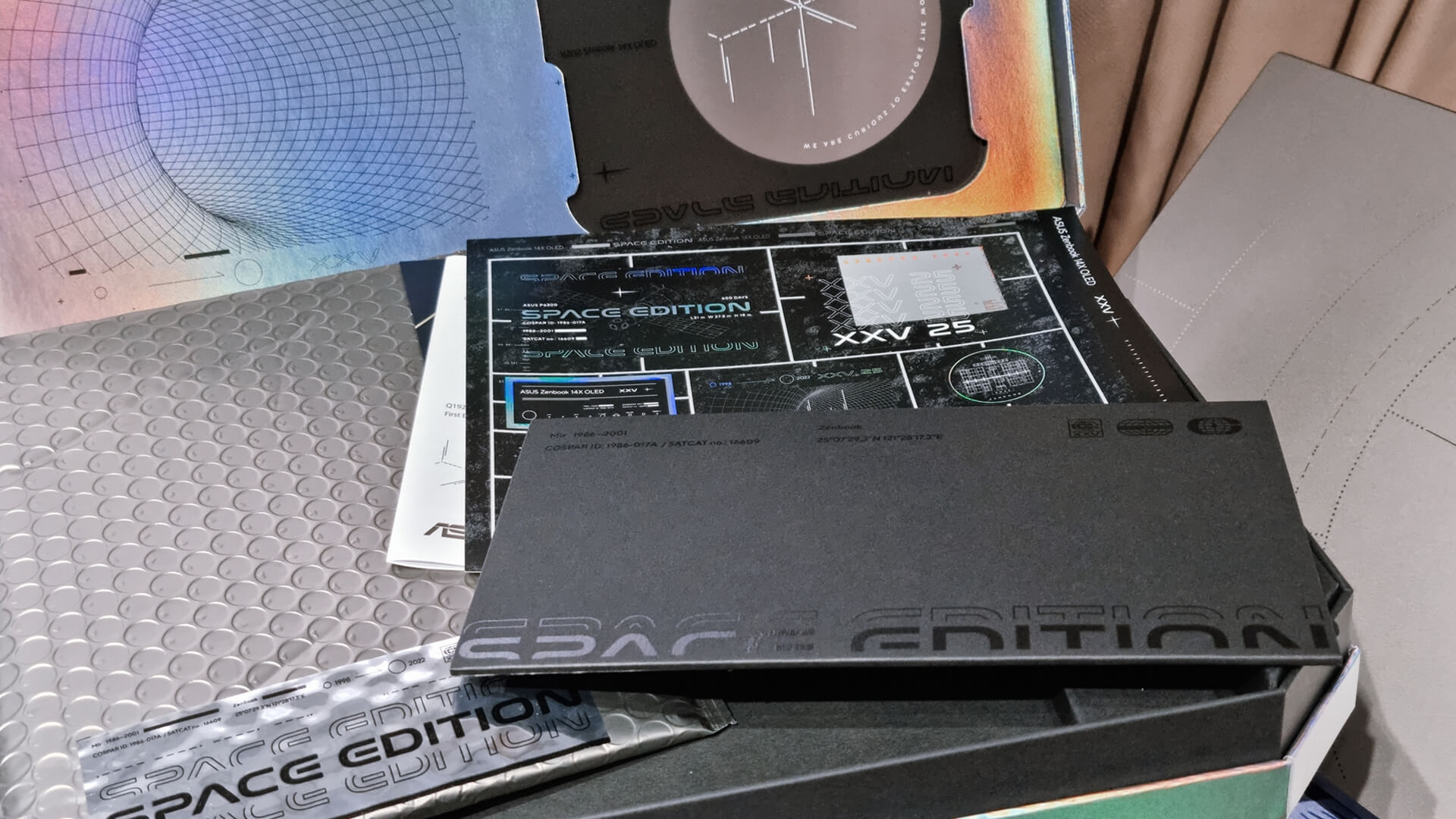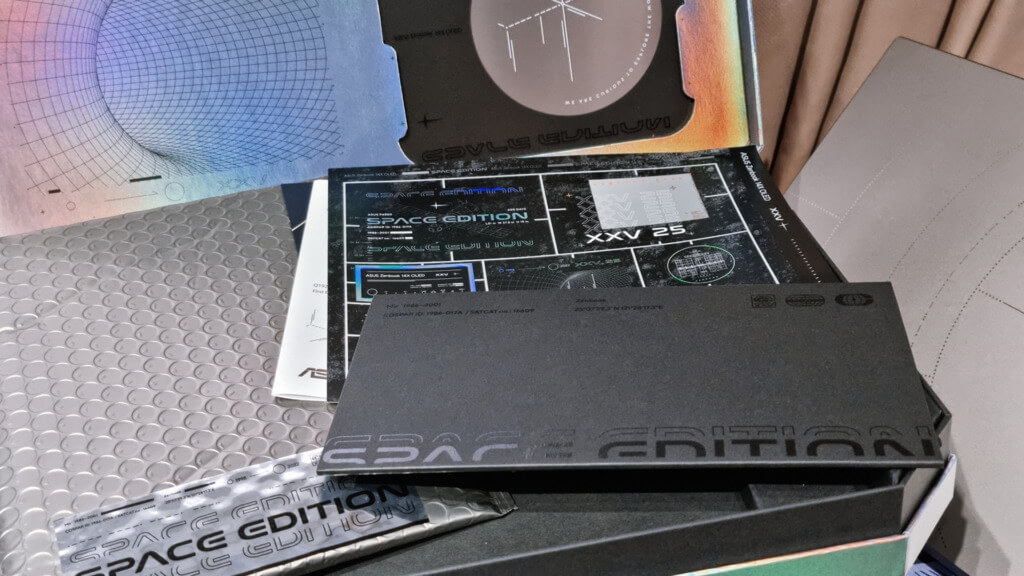 With the launch of this laptop, in addition to its unusual aesthetic, the ASUS Zenbook 14X OLED Space Edition comes in a special edition box that provides a more satisfying unboxing experience and includes some bonus goodies.
The verdict: ASUS Zenbook 14X OLED Space Edition (UX5401Z)
The ASUS Zenbook 14X OLED Space Edition is clearly a collector's edition, with its unique space-themed appearance. Overall, the build quality, display, and performance are all top-notch.
Aside from specs, the 14X Space Edition features a space-themed design, the Titanium-G color scheme, and extras packaged in the box, making it hard to resist. At S$2,698, this laptop will appeal to those seeking beauty yet require a robust, extremely portable notebook for daily use.