Every new generation of technology has a leader—the fastest processor, the most powerful GPU, and, in the case of the BenQ EW3880R 37.5-inch WQHD+ HDRi IPS curved ultrawide monitor, the most feature-rich gaming monitor available in 2021.
Curved monitors are becoming increasingly popular, as many of the top monitors feature aggressive curves. One of the main reasons is that as monitors have grown in size, it has become challenging to maintain an accurate image across the entire screen when seated close to the monitor. So curved monitors were one of the solutions devised by monitor manufacturers: a gentle curve brings the screen's edges into your field of view, ensuring that the image remains accurate and uniform even if you're sitting very close to a large screen.
BenQ is well-known for manufacturing high-quality monitors in a variety of sizes and resolutions. Its latest BenQ EW3880R is worthy of serious consideration from anyone who can make full use of it, boasting top-notch functionality and impressive performance along with every metric.
Straightforward design with BenQ's design language
As soon as you take it out of the box, you can see the BenQ design language. The BenQ EW3880R appears to be a cross between the BenQ EW3270U and the BenQ EX3203R, with a wider view and more immersive sound.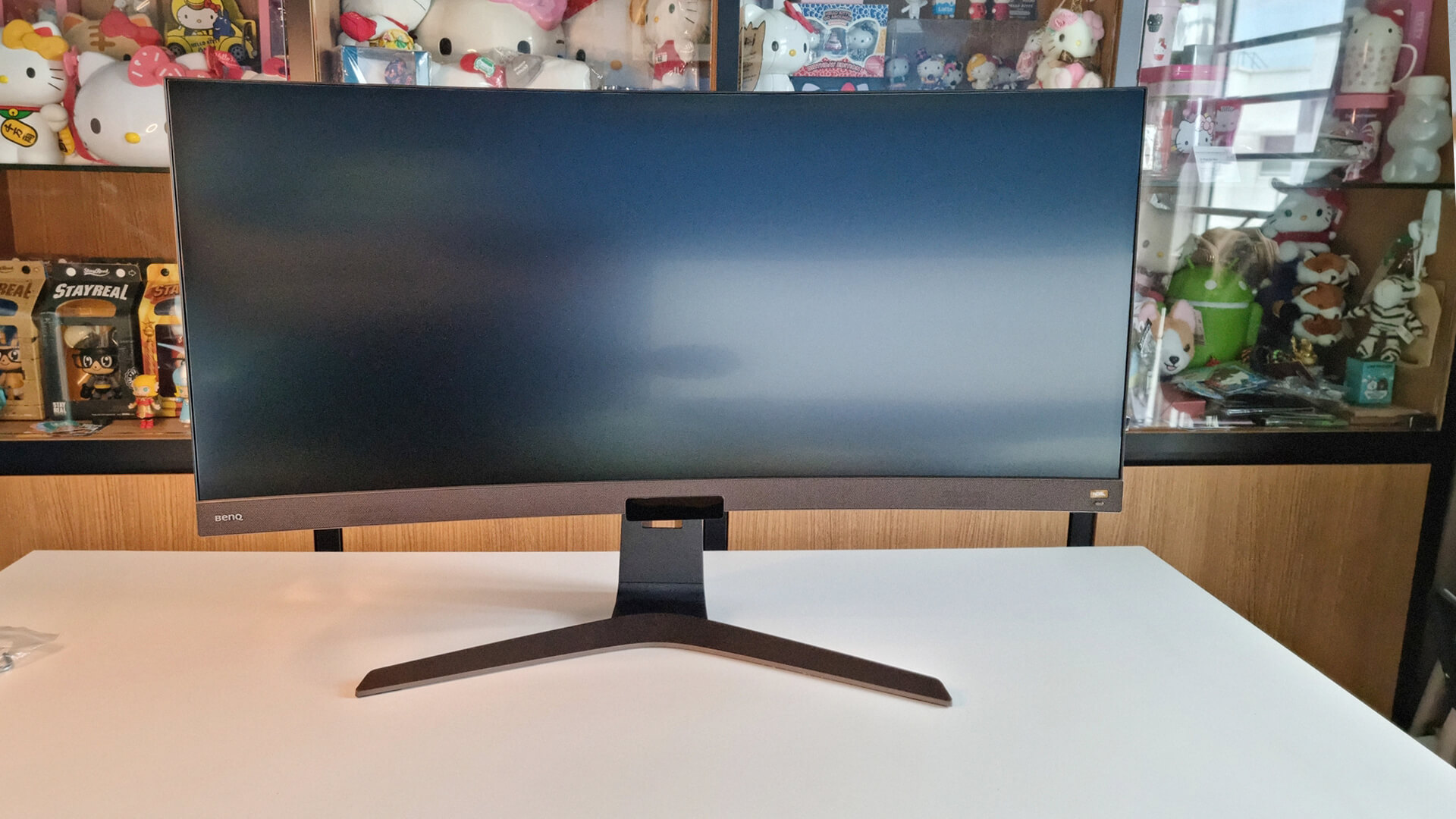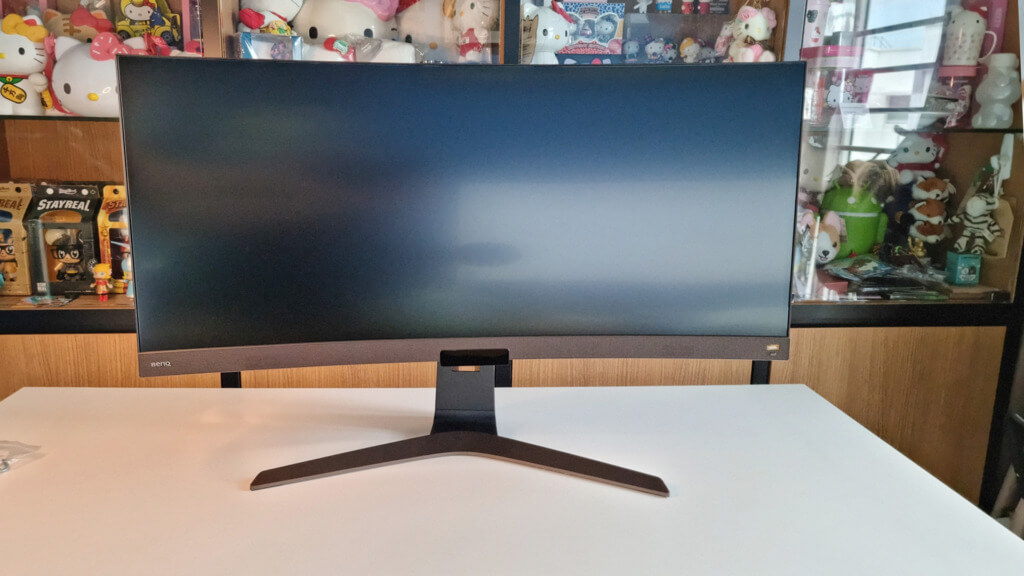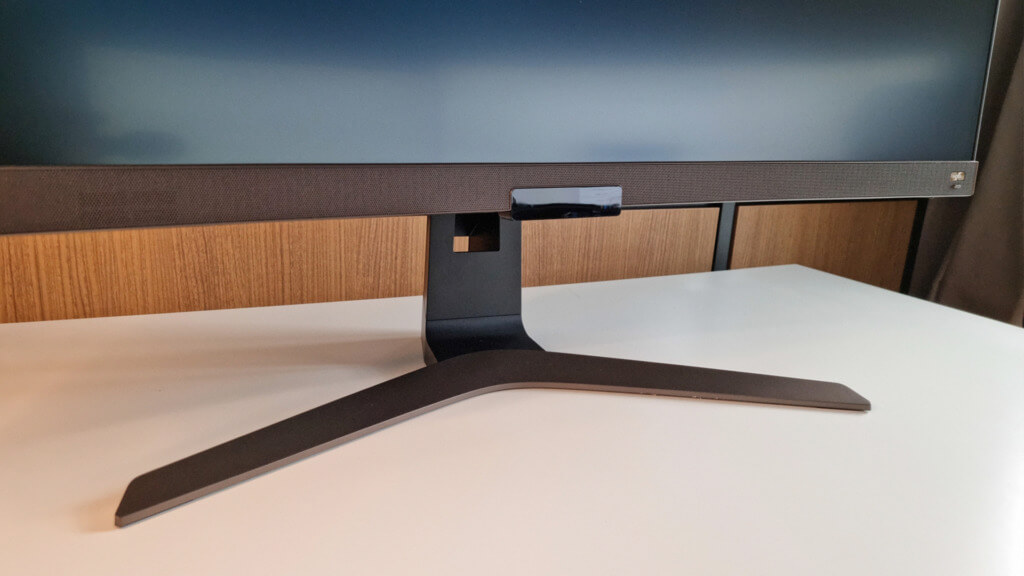 The styling is similar to many other recent models in the series, with a somewhat rustic appearance. The use of bronze-colored plastics for both the bottom bezel and the stand base is primarily to blame. This contrasts slightly with the black plastics used for the stand neck and the central sensor suite. This includes a light sensor for B.I.+ and HDRi functionality, which allows the screen to adjust brightness and color temperature based on ambient lighting. As part of a 2.1 setup, the bottom bezel houses two 3W treVolo speakers. The top and side bezels are dual-stage, with a relatively thin panel border and a thin hard plastic outer part.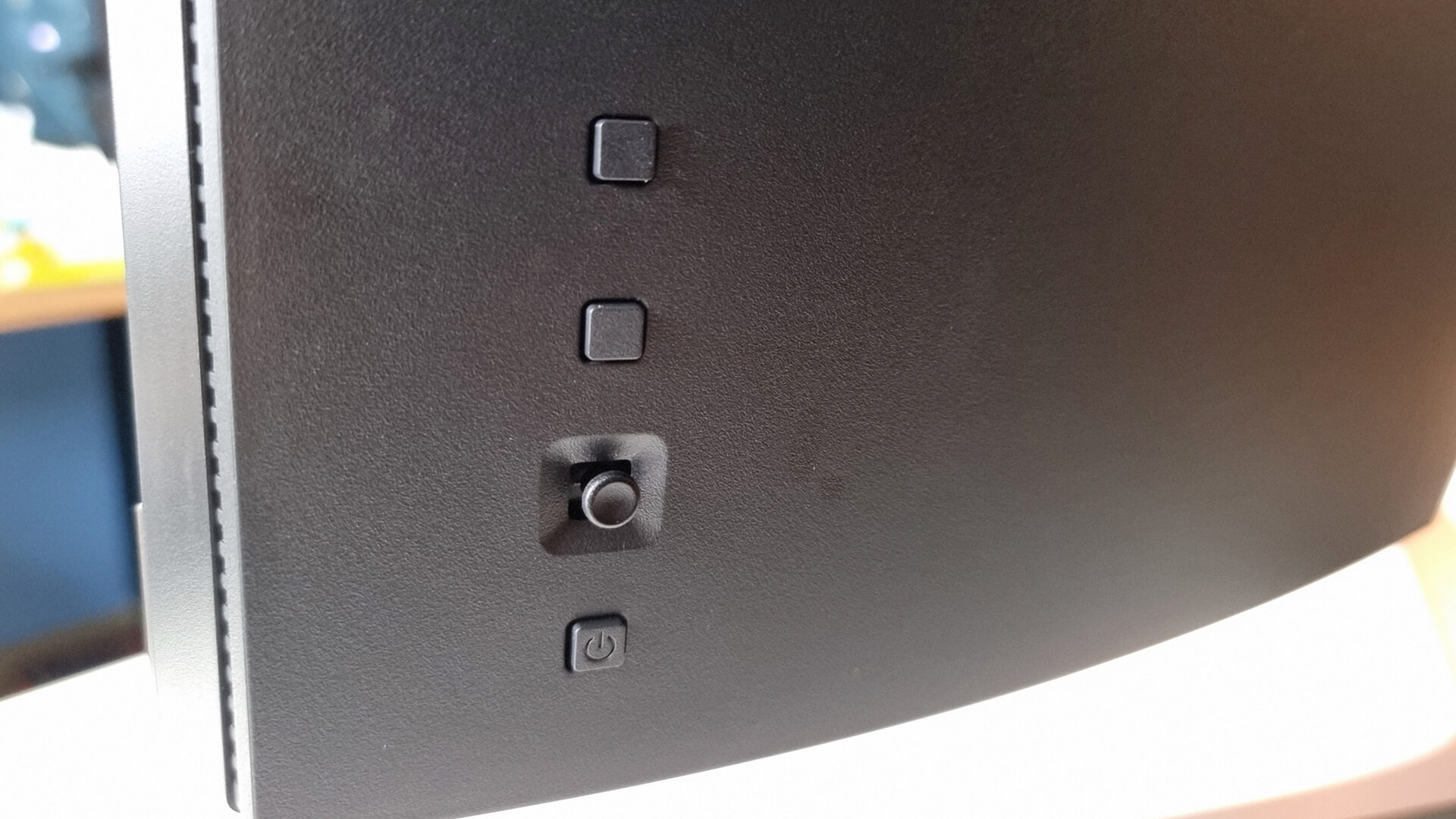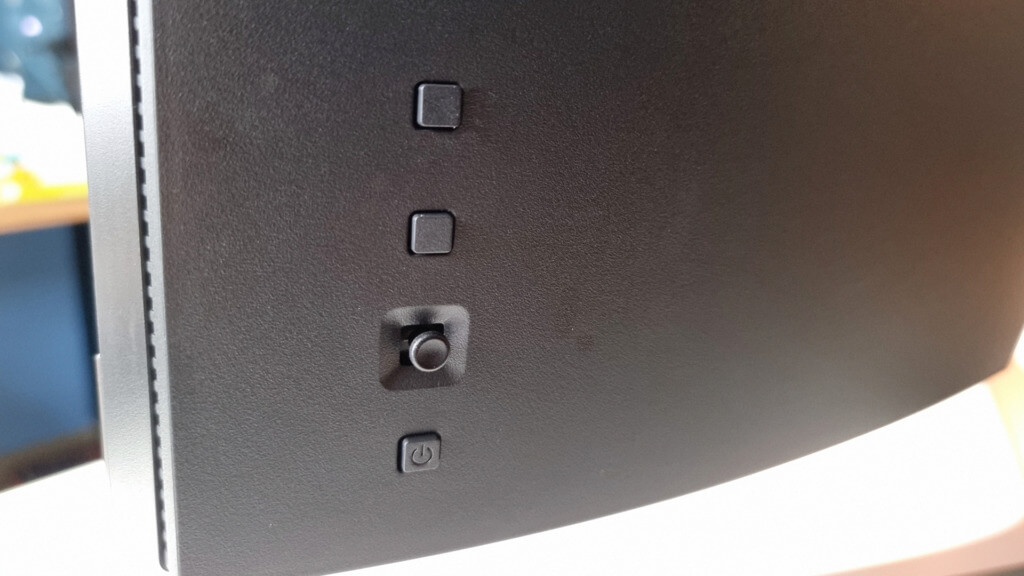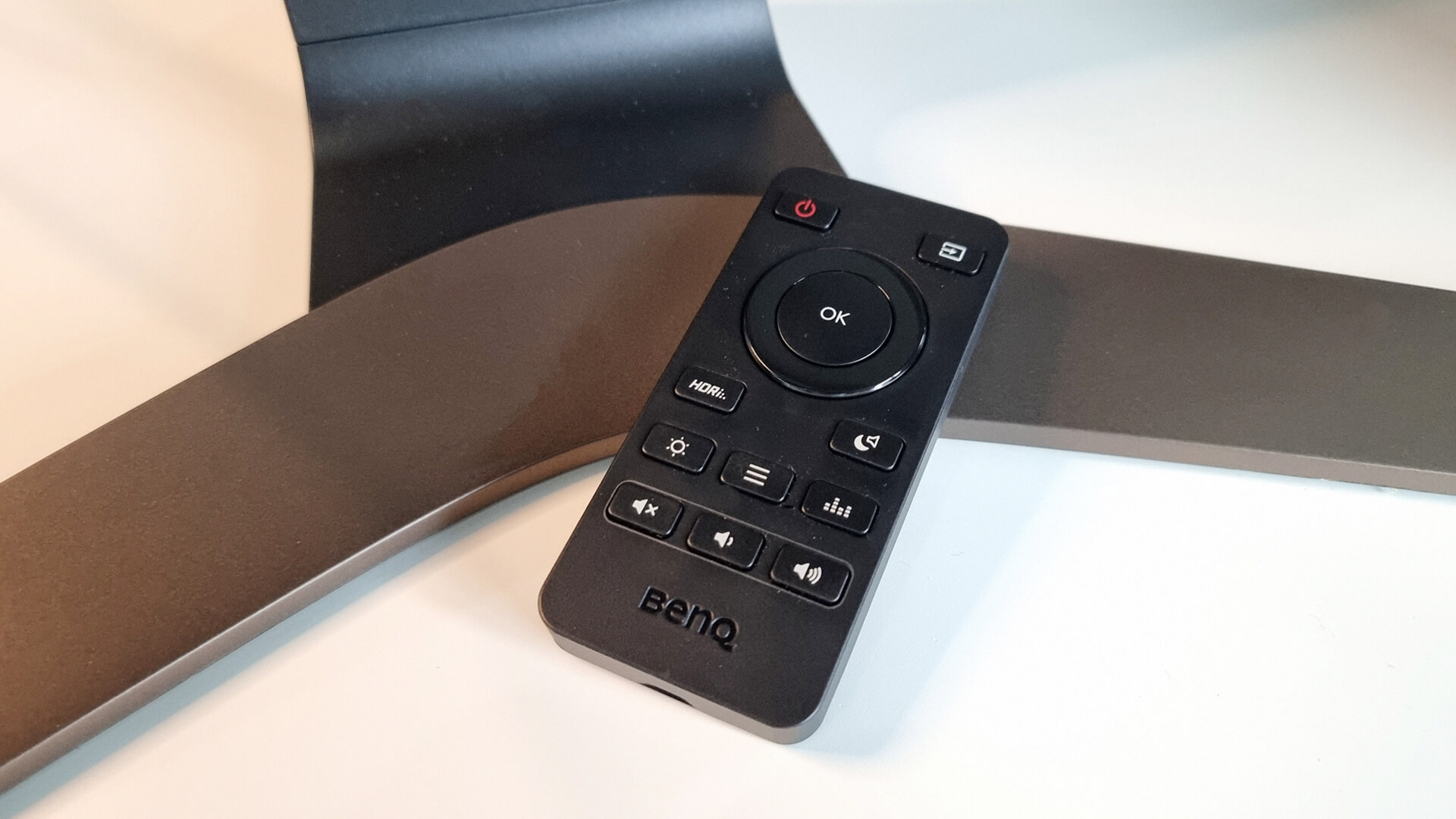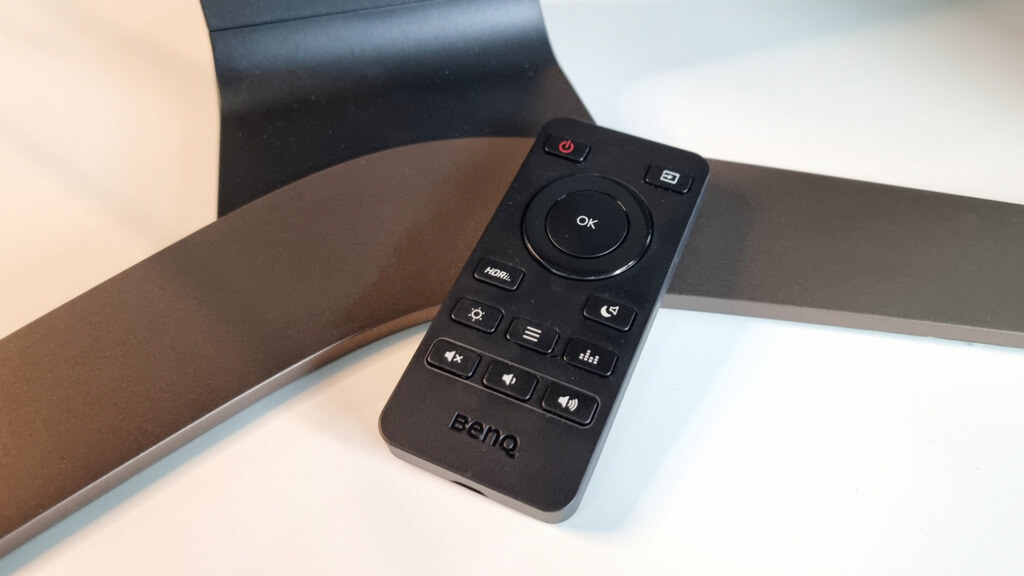 For ports, the EW3880R is equipped with two HDMI 2.0 ports and one DisplayPort 1.4 slot, one USB C port, and a single USB 3.0 downstream port.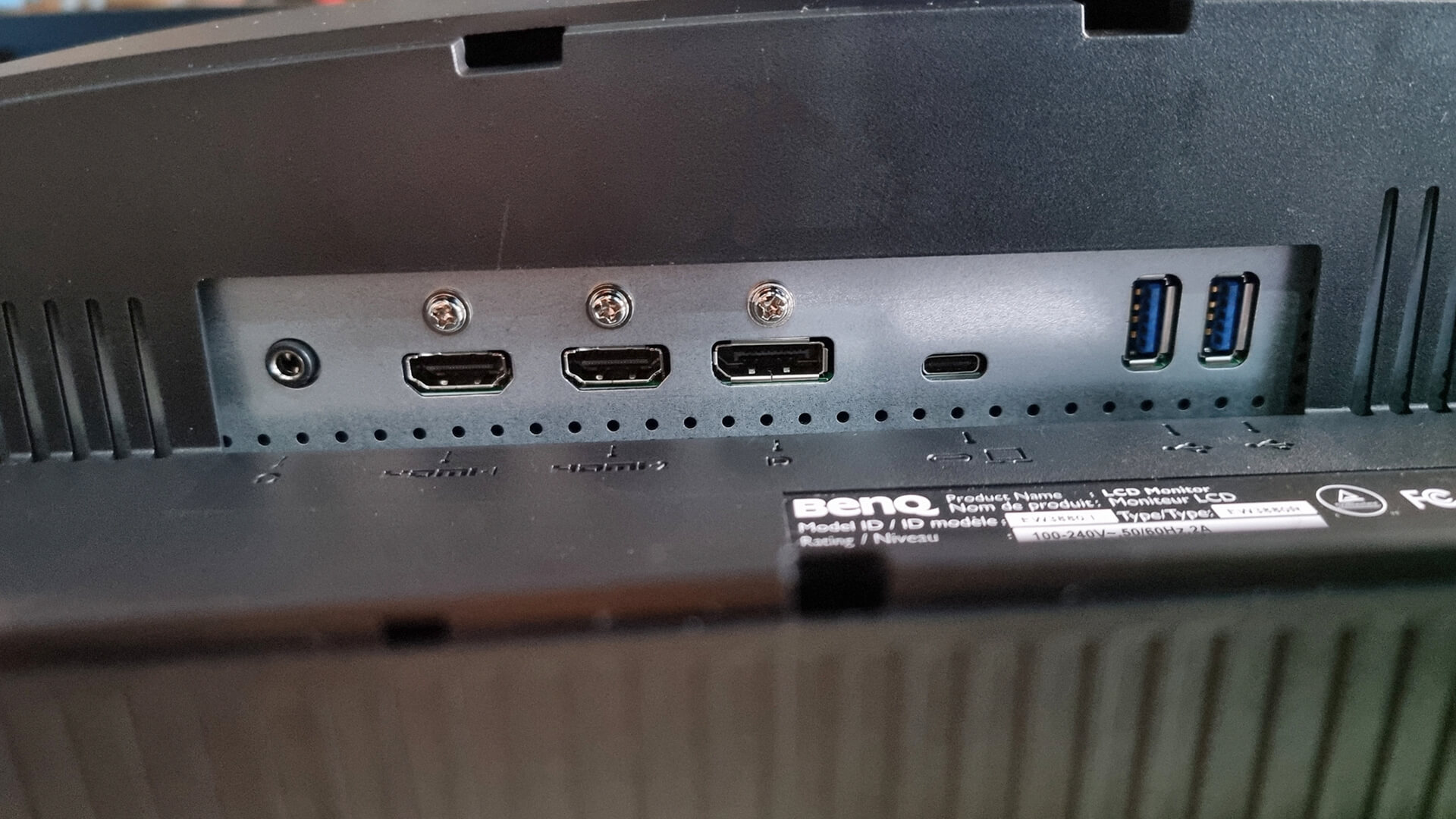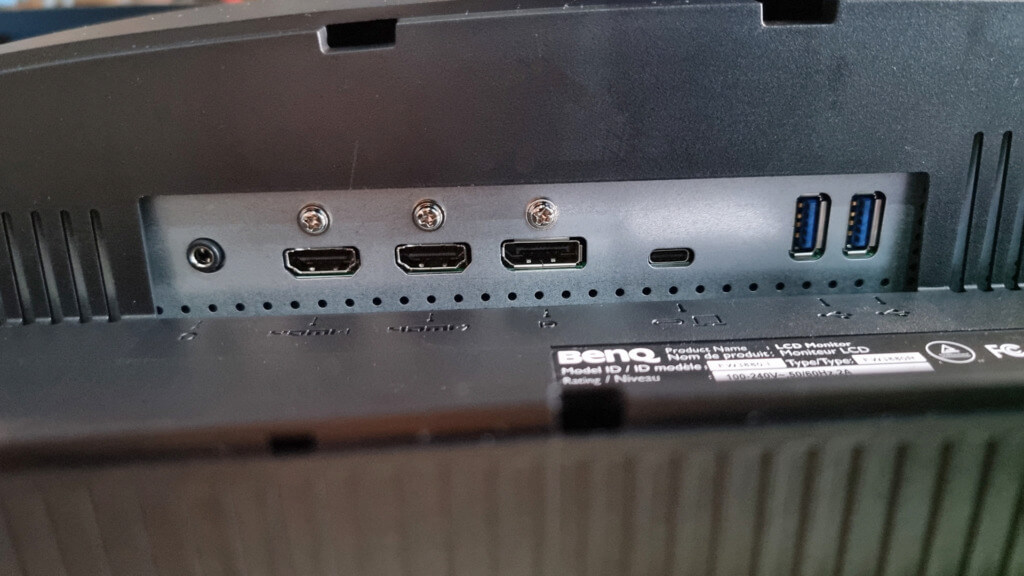 Ultra-wide immersive viewing with HDRi support
The BenQ EW3880R curved ultrawide monitor stands out even among gaming monitors, which tend to toss staid, conservative designs to the wind. While its stylish triangular base will take up a lot of desk space, the tradeoff is well worth it. This BenQ monitor features a large curved and incredibly bright screen. A vibrantly colored 37.5′′ screen with a 2300R curvature is helpful for editing super-wide spreadsheets or displaying multiple documents simultaneously. It's also great for entertainment, especially if you watch movies or play games in 4K UHD.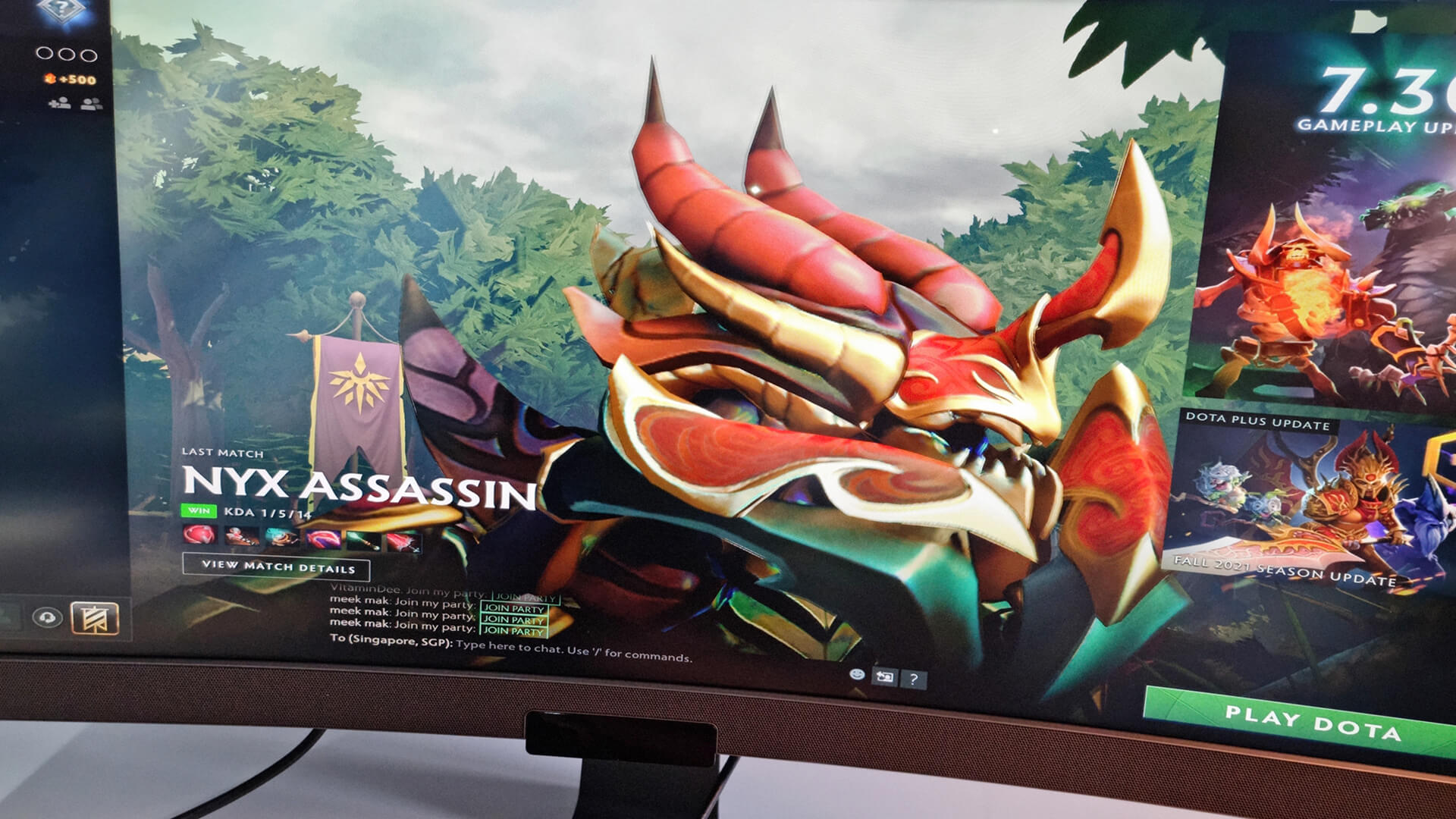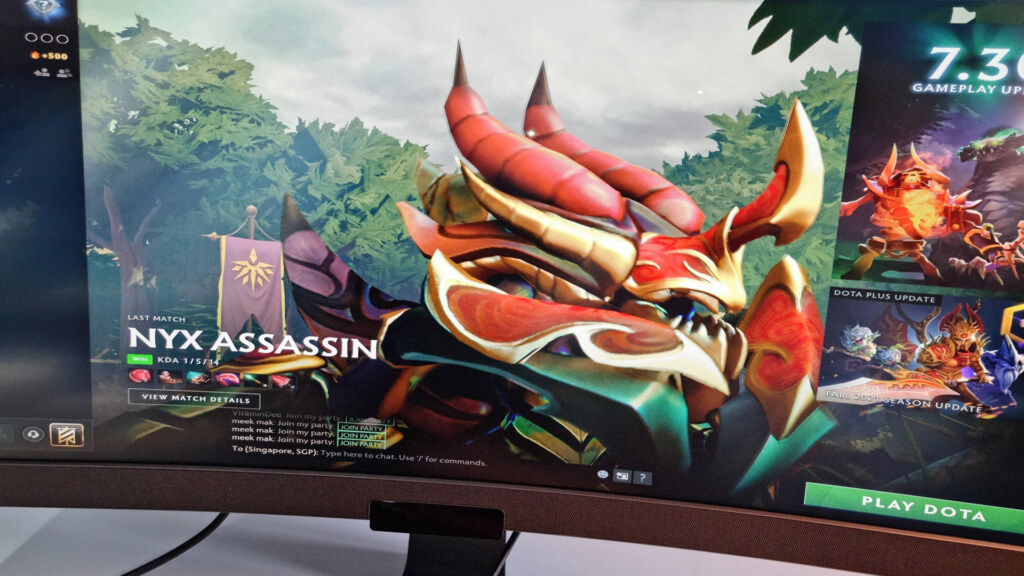 The 3840×1600 resolution on a 37.5′′ screen provides appealing benefits in terms of desktop real-estate, especially horizontally. Furthermore, it provides an immersive experience, and potential Field of View (FOV) advantages for certain movie content and games. The BenQ EW3880R expands on this with a larger screen and more pixels.
Because of the high pixel density, your documents or visuals will appear exceptionally sharp. The monitor displays HDR content in vivid color with excellent contrast, aided by HDRi support, for stellar visual performance. The monitor's colors are rich and velvety from edge to edge. Colors cascade across the screen when watching a movie or playing a game; reds stand out against deep, inky blacks, and whites are sharp and stark. These colors don't bleed or run, they're exactly where they need to be, and they never stray outside the lines. To match your viewing preference, use the handy HDRi button on the front to toggle between Cinema HDRi, Game HDRi, HDR, or completely turn it off. As stunning as this monitor appears at first glance, you'll want to make sure you can effectively leverage the wide aspect ratio before diving in.
The EW3880R is brimming with surprises. While the out-of-the-box color accuracy isn't ideal, running it through a basic calibration yields nearly perfect color accuracy if you're working on color-intensive projects.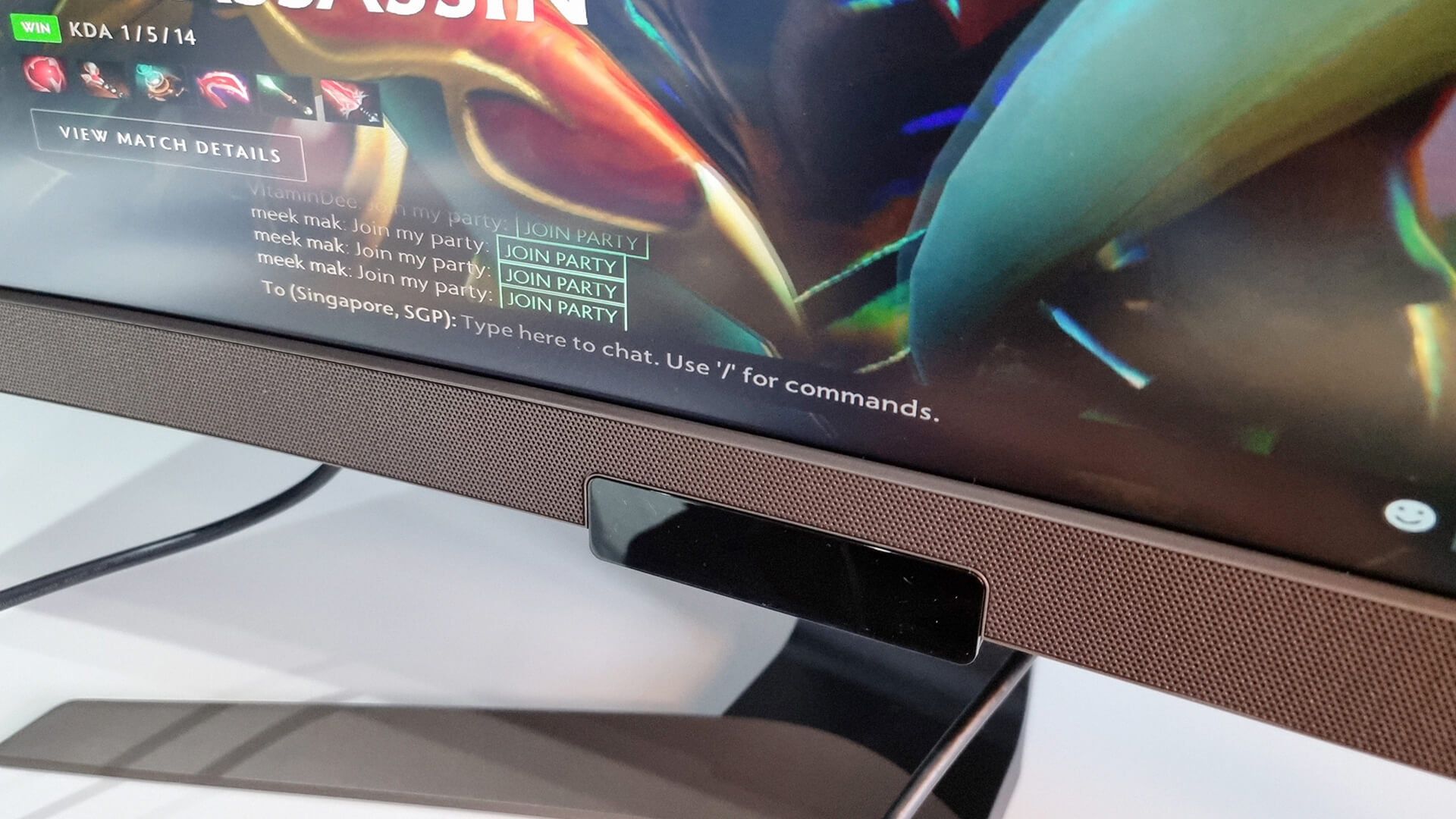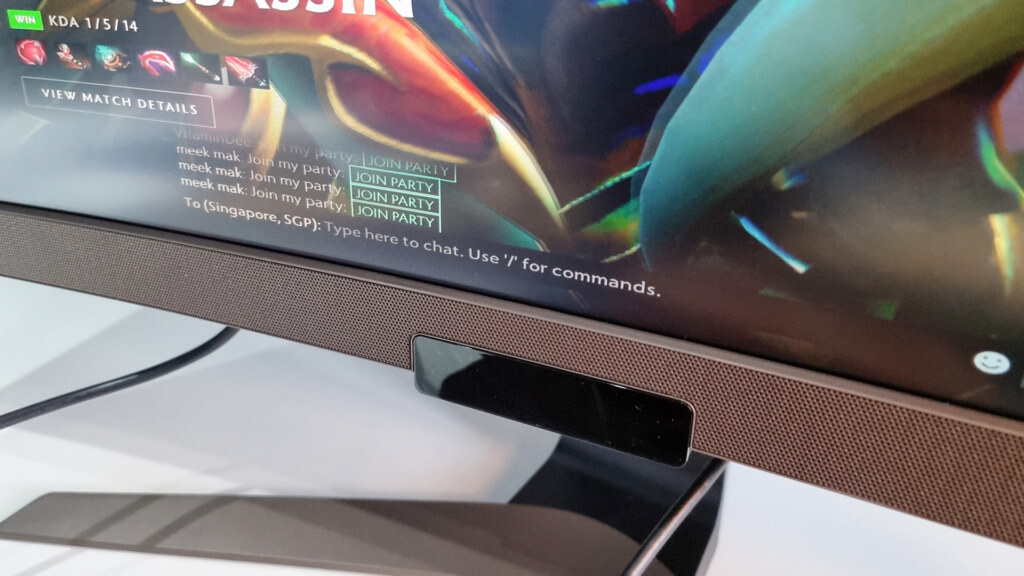 The EW3880R only supports up to 60Hz out of the box, making it ideal for general use rather than gamers who are picky about refresh rate. The lack of Freesync or G-Sync will also cause gamers to take a second look at this display. This curved ultrawide monitor is ideal for anyone seeking maximum productivity or general entertainment such as watching movies or YouTube.
On the BenQ EW3880R, Final Fantasy XV looked fantastic. The image was vibrant, and the colors were rich without being oversaturated. The motion in the benchmark appeared to be smooth, with no noticeable choppiness or judder. Shadows revealed fine details, such as the textures and cuts of the characters' clothing.
Premium sound powered by treVolo
If you don't mind not having speakers on your desk, the BenQ EW3880R ultrawide monitor has everything you need in one package. A pair of 3-watt speakers deliver stereo sound directly from the monitor. It is a powerful sound system that allows you to listen to anything on your PC easily. The inclusion of the 2.1 Channel TreVolo speaker, which produces impressive sound and is ideal for watching movies and other similar activities. It adds even more dimensions to make powerful sounds vibrate when paired with its built-in 8-watt subwoofer.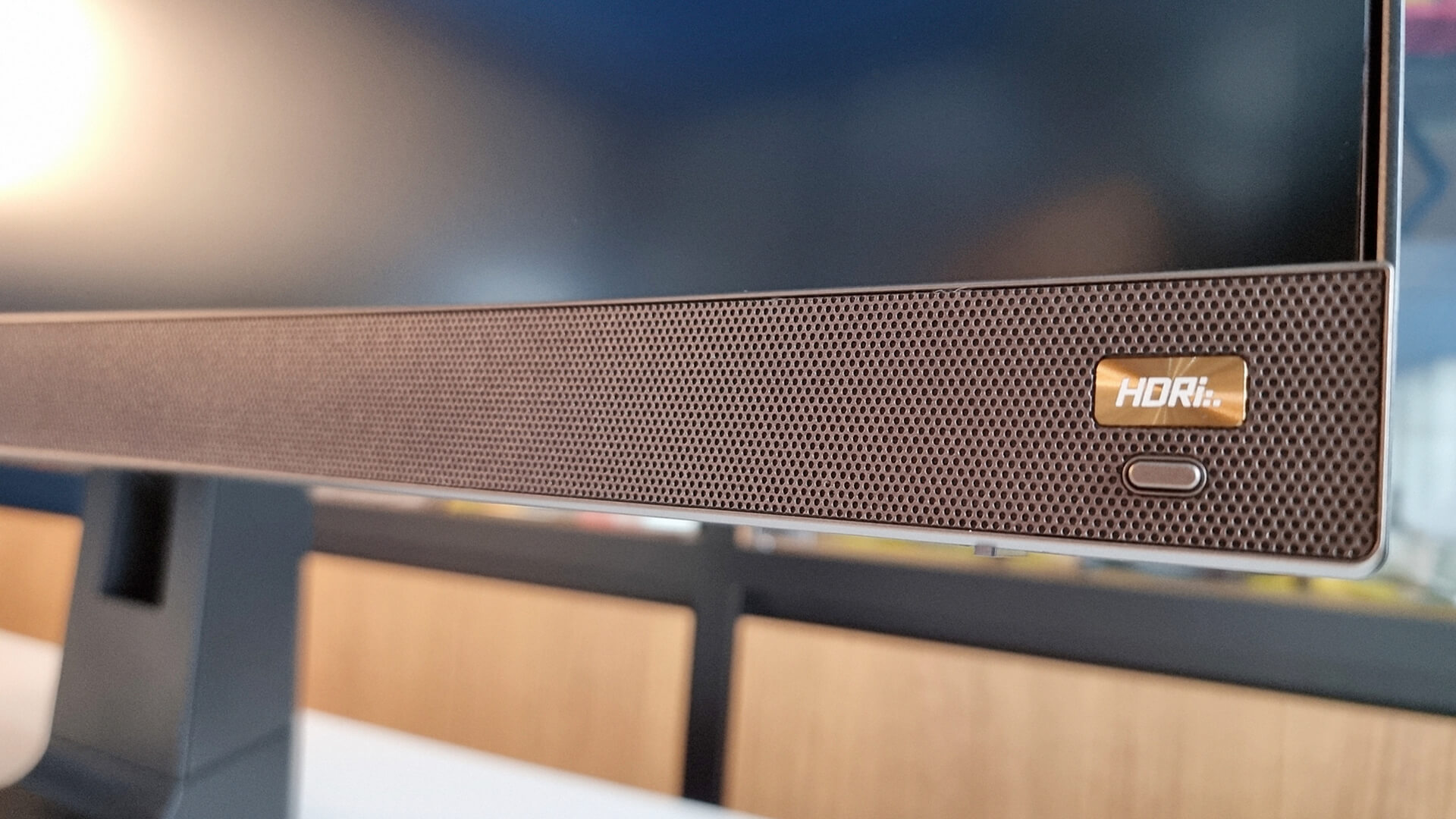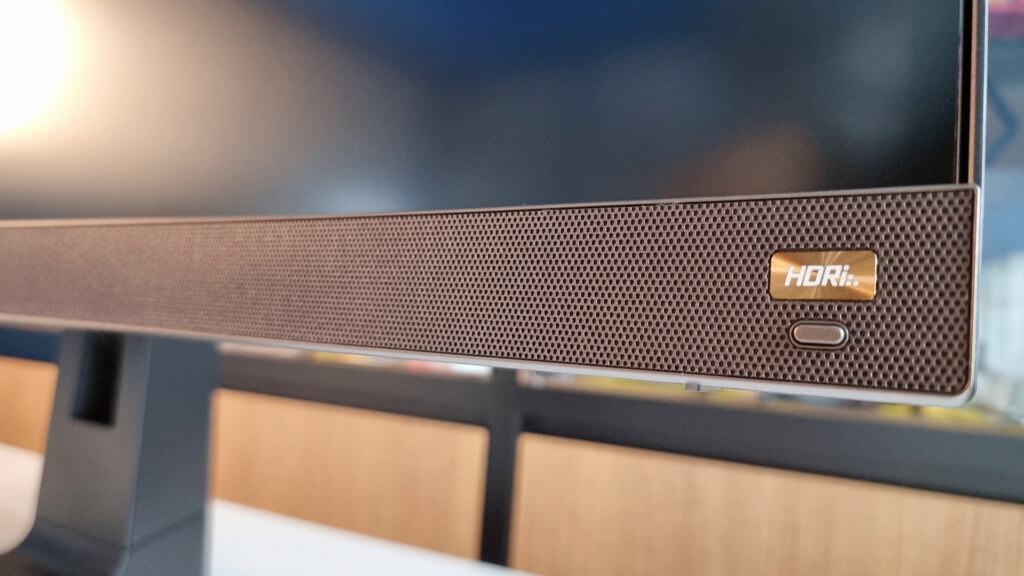 While most people prefer to watch movies on a dedicated screen, such as a TV, the EW3880R is a good alternative if you want a more personal experience. We tested the EW3880R with various movies and games, and it handled pretty much everything we threw at it like a champ. Furthermore, spoken audio is apparent, and Night Mode provides additional clarity for quiet viewing at night.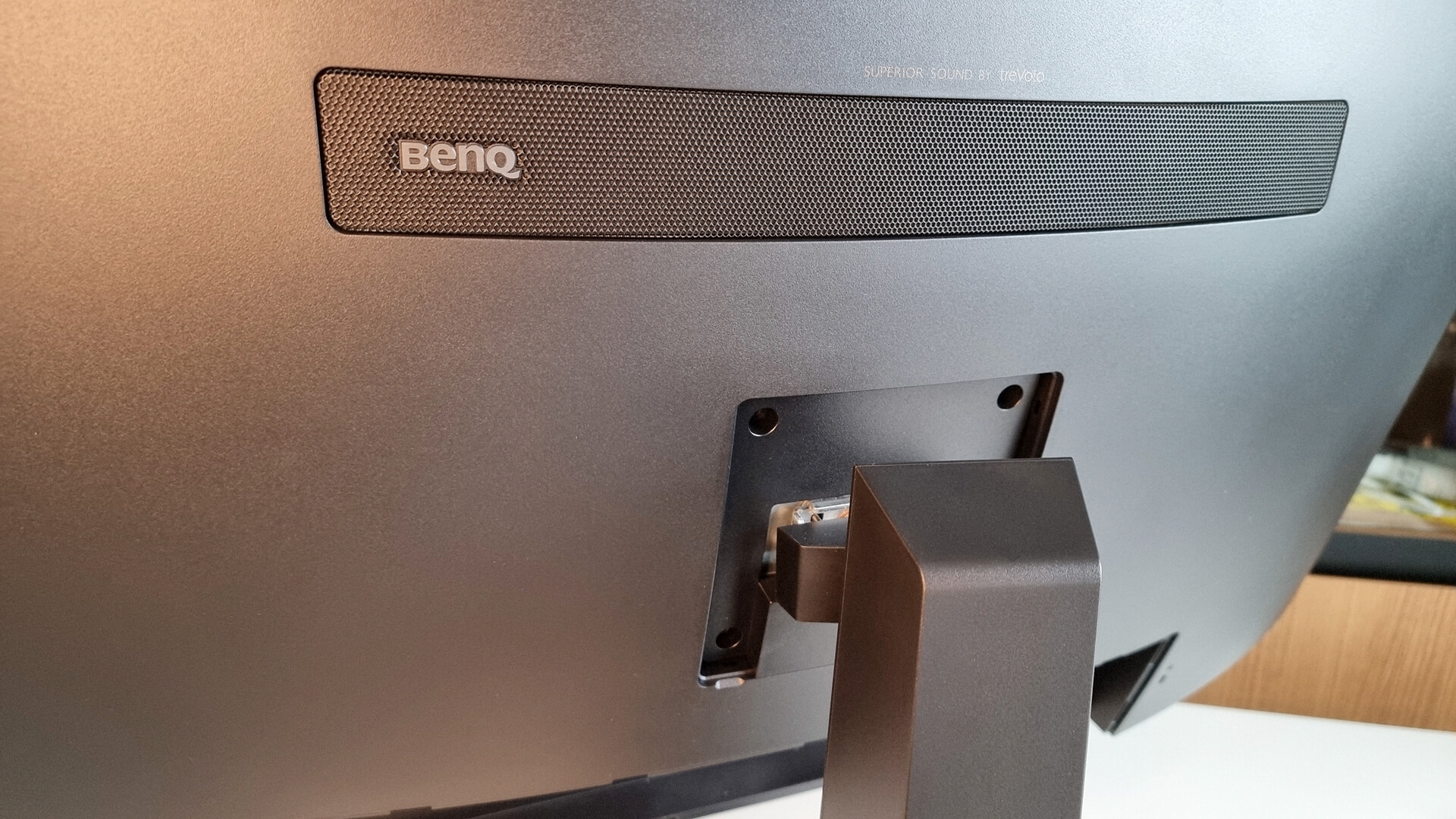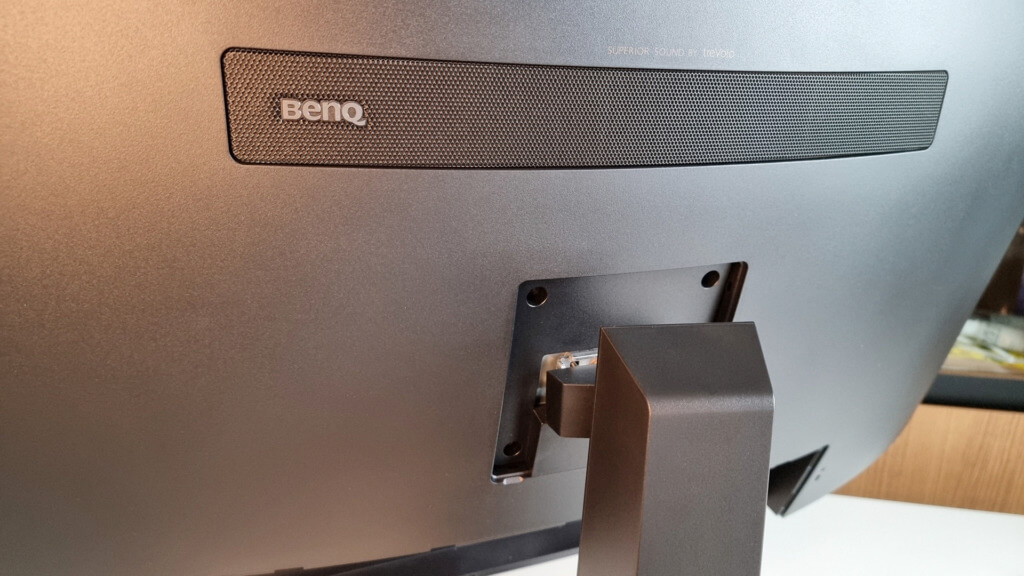 Leading-edge Eye-Care Technology
The monitor's built-in eye care technology helps keep your eyes comfortable and fresh, whether you're binge-watching or working from home.
Due to prolonged use, Brightness Intelligence Plus (BI+) Technology reduces eye strain in any lighting environment. The BI+ detects ambient brightness and color temperature levels using a light sensor mounted on a panel. As a result, it automatically adjusts the brightness and color temperature of the screen to match your surroundings. It also gradually adjusts the brightness of the screen based on how long you use it. This feature protects your eyes while also providing adequate image quality for the environment.
BenQ's High Flicker-Free and Low Blue Light technology are also included in the Eye-Care technology. These are essential features for a gamer who is concerned about the effects of staring at a screen for long periods.
The verdict: BenQ EW3880R
The BenQ EW3880R is the ultimate ultrawide display available today, both in terms of price and user experience. This monitor looks great and is aesthetically pleasing, creating a luxuriant workspace that supplants typical two-monitor setups and is immersive. Being able to see more of your game environment is also beneficial for immersion.
The 60Hz refresh rate, on the other hand, maybe a deal breaker for gamers looking for smoother gameplay and lower input lag. Having said that, the picture quality is excellent, with excellent contrast and color. So, whether you want to play the latest games or watch an extensive library of streaming media, the EW3880R's bright, bold, and beautiful screen is the right tool for the job. The BenQ EW3880R is priced at S$1,579 on the Singapore BenQ Lazada and Shopee flagship store.