One of the main reasons why most of us go to the movies is to get that immersive cinema experience that enhances both the sight and sound. Every element in the cinema is designed and positioned to create an intense experience that ensures movie magic every time the lights go down. And it was once a dream for every person to duplicate that experience in their homes. Just three or four years ago you could expect to pay thousands, if not tens of thousands of dollars for a 4K projector that is able to do that.
However, the increase in quality and dip in prices for TVs and monitors alike over the past couple years has been staggering, yet not limited to these two, projectors have also seen a similar trend. In recent years, the price of near-cinema quality projectors drop considerably, affording those of us without big budgets the opportunity to transform our home into ticket-less theaters, all for around the same price as a high-end TV. That said, it is also increasingly common to find projectors integrating into the high-tech homes in modern cities like Singapore.
The BenQ TK800M is a true 4K UHD projector, specially designed for games and sports, delivering big screen action for those on a budget, yet not sacrificing on the image quality. This projector features high brightness, suitable for use in setups with ambient light, such as the living room, entertainment room or a meeting room. With 3,000 lumens of brightness, the TK800M may not be viewable under direct sunlight, but it deals with ambient light significantly better than most 4K projectors in the market.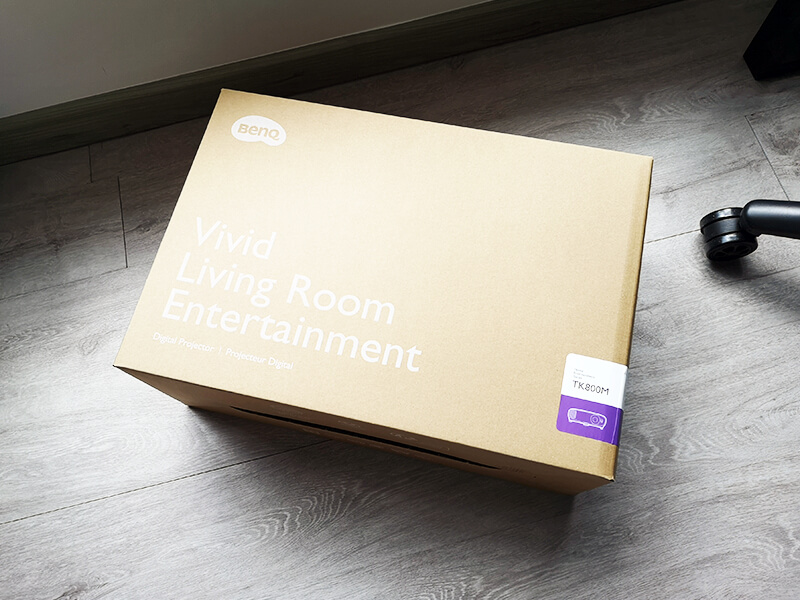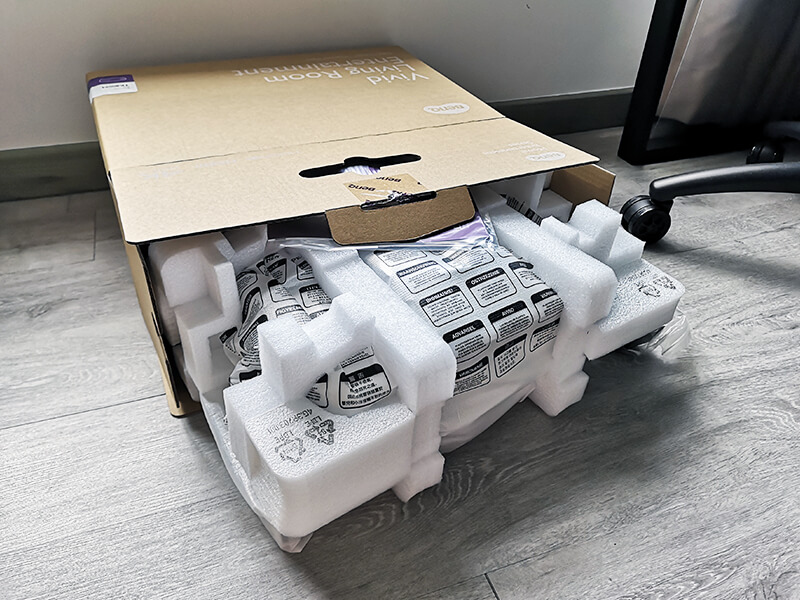 Simple design, but not for everyone
The TK800M looks identical to its predecessor, the TK800, and it is hard to really differentiate between the two. This model sports a very curvy design that is a characteristic of BenQ projectors, with a size of 353 x 135 x 272 mm. Built for portability in mind, it weighs about 4.2 kg, making it fairly portable so you can set it up wherever you want to or where the party is. Like most single-chip DLP projector, the TK800M comes with a lens off-set to the right as you face the front, and the air vents are over on its left. The extendable foot at the front of the projector helps in adjusting the projection height, making it easy to install and allowing for a quick set up whenever you need some big screen action. Above the lens, there is a recessed area that housed the manual zoom and focus controls.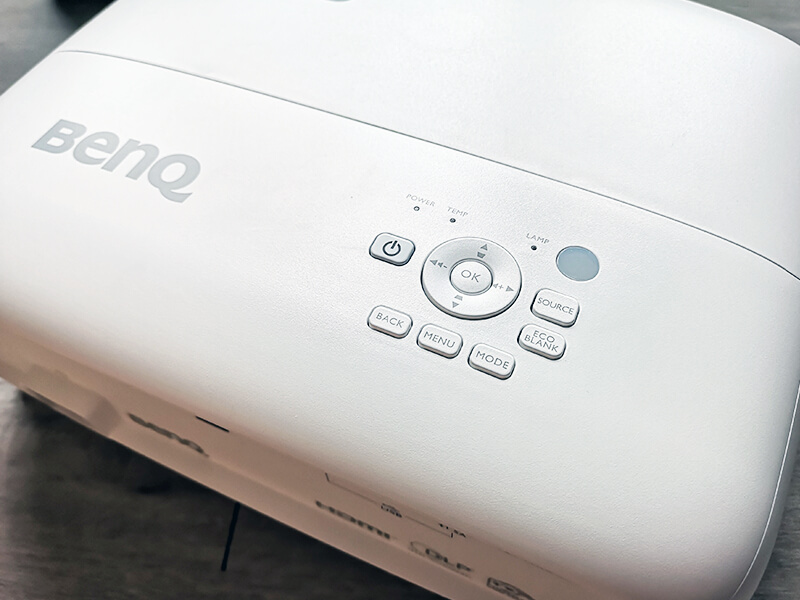 The primary controls of the projector are on top of the unit, so when you don't have the remote, you can always make some quick adjustments from the top of the unit. The controls consist of the usual circular design navigation controls with buttons for power, source selection, an Eco Blank button for hiding the screen picture as well as a picture mode button. There are also three other LED indicator lights for power, temperature, and lamp which work in combination to indicate various functions as well as conditions of the projector. To the right of these LEDs there is a big IR (Infrared) sensor that is used when the unit is placed on the ceiling.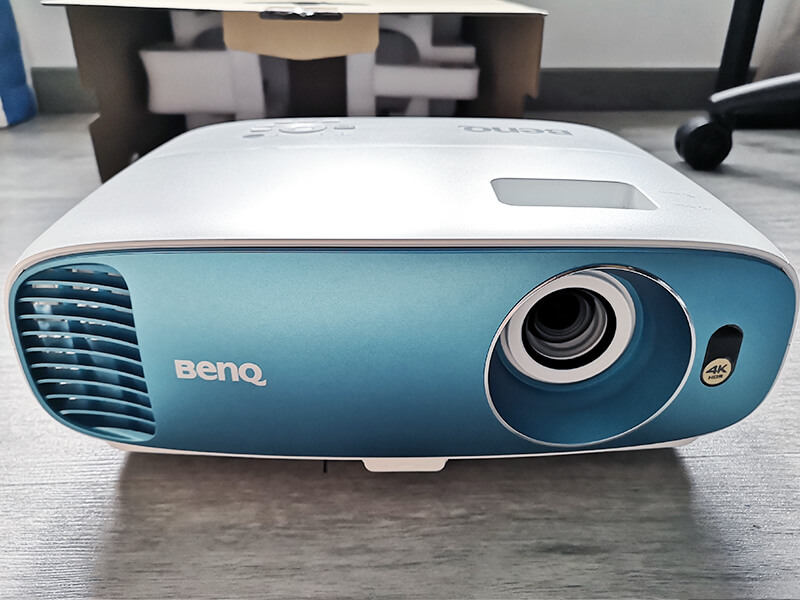 Looking from the front, it features an asymmetrical design as the lens have been placed on the right side. The TK800M's body is made up of plastic material, and it feels solidly constructed which means that you can move it around without worrying that it will suddenly fall apart. The unit is white, with an teal blue finish front that makes the TK800M stand out from the competition. In our opinion, both the BenQ TK800M and its predecessor (TK800) don't sport the best design look. The overall design is not bad and well thought of, but the teal blue color might not fit into any home decor easily.
The TK800M has a vast array of connectivity options for audio and video inputs. Most importantly for modern users, there are two separate HDMI inputs, one that supports HDCP 2.2 suitable for any 4K devices, and one with HDCP 1.4 where you can plug in 1080p devices. In essence, HDCP 2.2 is the latest specification designed to protect 4K content, and 4K TVs need to be HDCP 2.2 capable to display content in 4K resolution. HDCP 1.4, on the other hand, does support 4K resolutions, but only at 24 or 30 frames per second (fps) which works fine for movies but isn't useful for gaming and many TV broadcasts, which require 50 or 60 fps.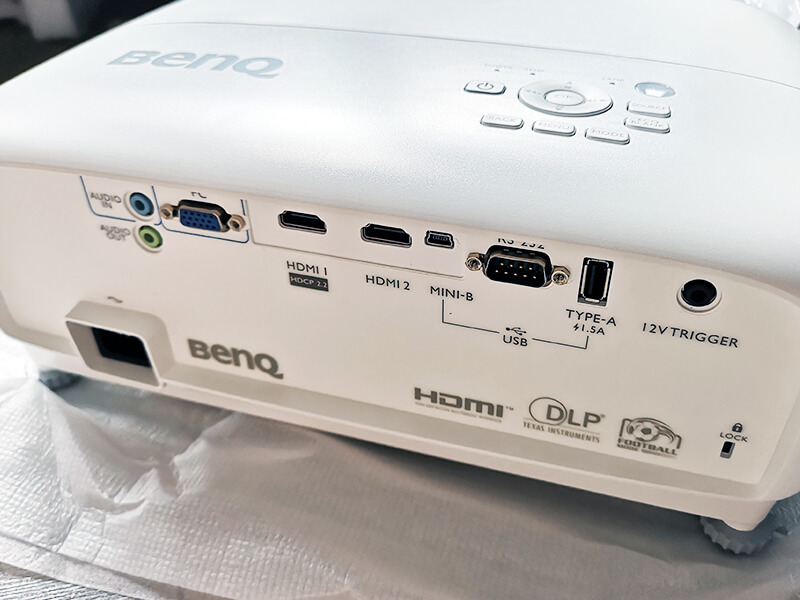 Other than the HDMI inputs, the projector also has 3.5mm audio inputs and outputs, VGA port, USB Type A port, USB Type mini B port, RS232 port and a 12-volt trigger for connectivity.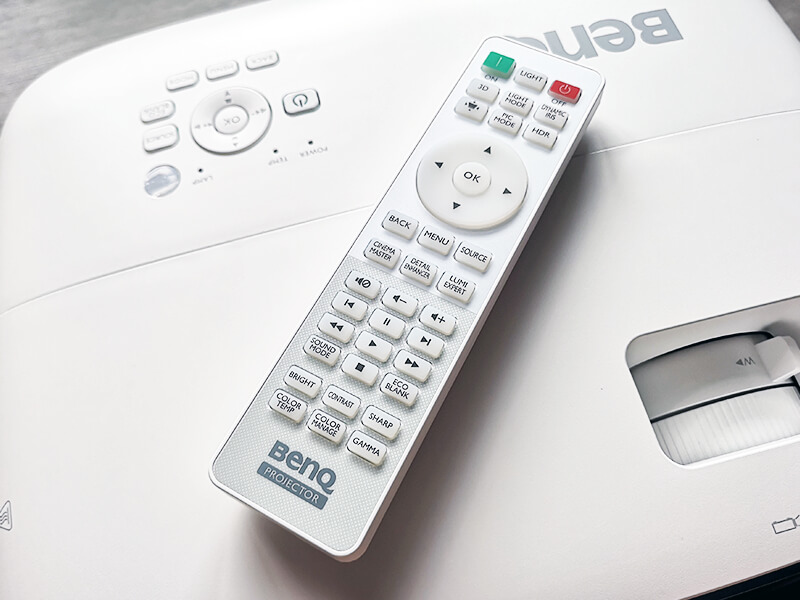 The BenQ TK800M also comes with a remote control. All navigation can be done through the backlit remote, which is quite handy in dark rooms. The backlight lasts about 15 seconds after the last button press. The white controller is well made, sensibly laid out, where all the main buttons are within easy reach of your thumb.
Stunning performance with sharp 4K and HDR images
The TK800M is a home-entertainment projector that offers full 4K UHD resolution with a high dynamic range. It is able to achieve clear picture on the display with its DLP DMD chip capable of delivering 3840 x 2160 ultra-high resolutions which contain 8.3 million pixels per frame. This resolution is four times as much as 1080P, and 2 times higher than 4K enhancement without missing every wonderful moment. The new generation 0.47″ single-DMD DLP technology also help to minimize the sleek, compact profile for modern setups.
TK800M's HDR performance has greatly improved with the addition of Hybrid Log-Gamma (HLG) support, a format of HDR that you can use for live broadcasts. It also has HDR10, a common format for streaming content and watching movies. The projector's HDR Color Rendition is capable of taming oversaturated greens and reds, in addition to bringing out a dark detail on images.
The zoom ration on the projector is 1.1x, so you might want to consider that while you are setting it up from a distance to make sure that you get the projection size that you need. From our tests in a typical room of a Singapore HDB apartment, a projection distance of approximately 2600 mm, will have a projected image of 1450 x 800 mm which is just nice for a small room.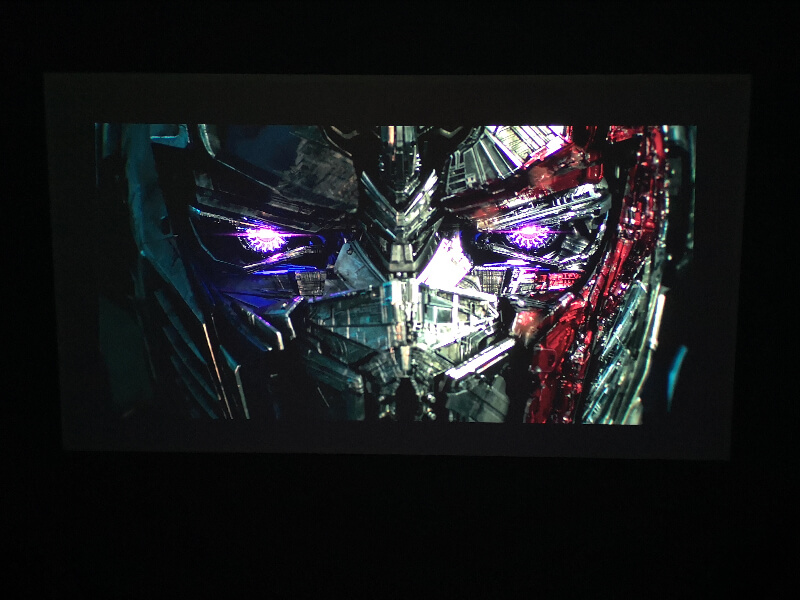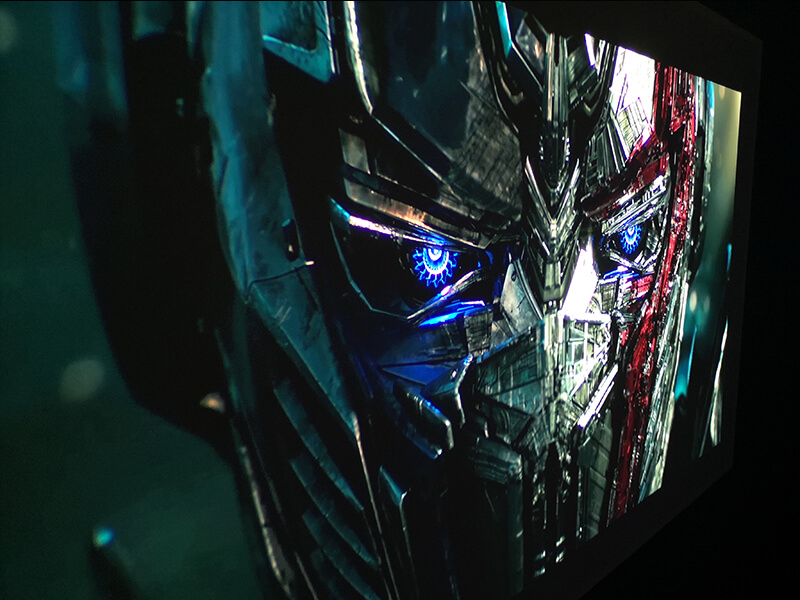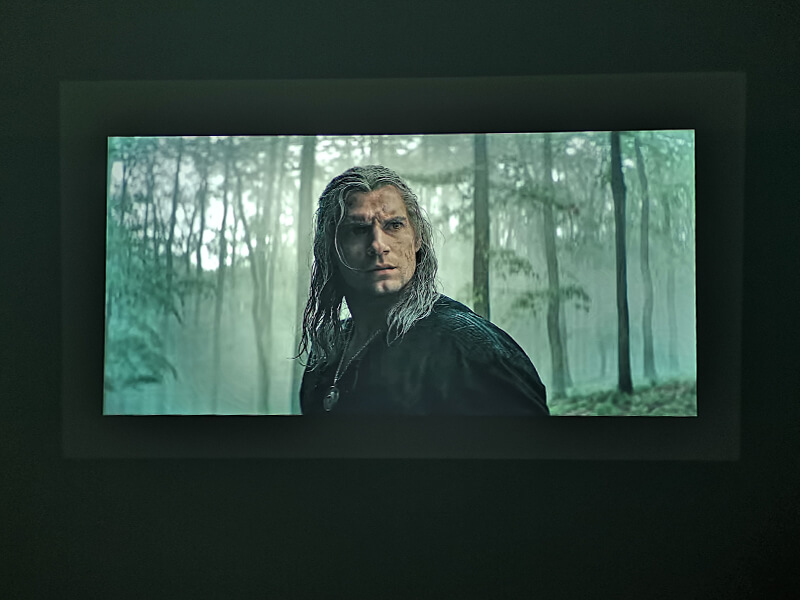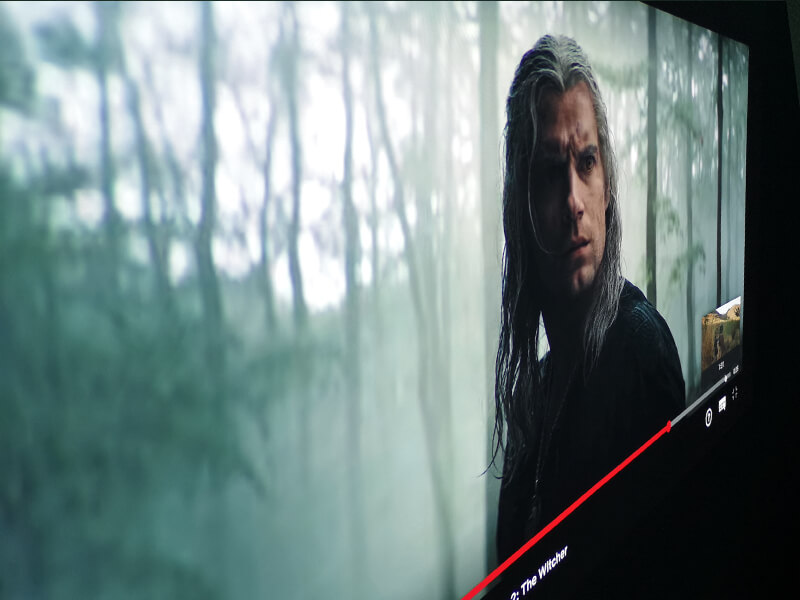 Superb 4K movie like Transformers 5 or Netflix title like The Witcher were equally as impressive in our tests, bursting with fine detail, bright highlights, and natural colors. The extra brightness of the BenQ allows for some nice HDR highlights that really pop while using the projector in a dark room environment. With its 3000 lumens brightness, it performs decently well in daylight, low light and as dark as possible conditions at night.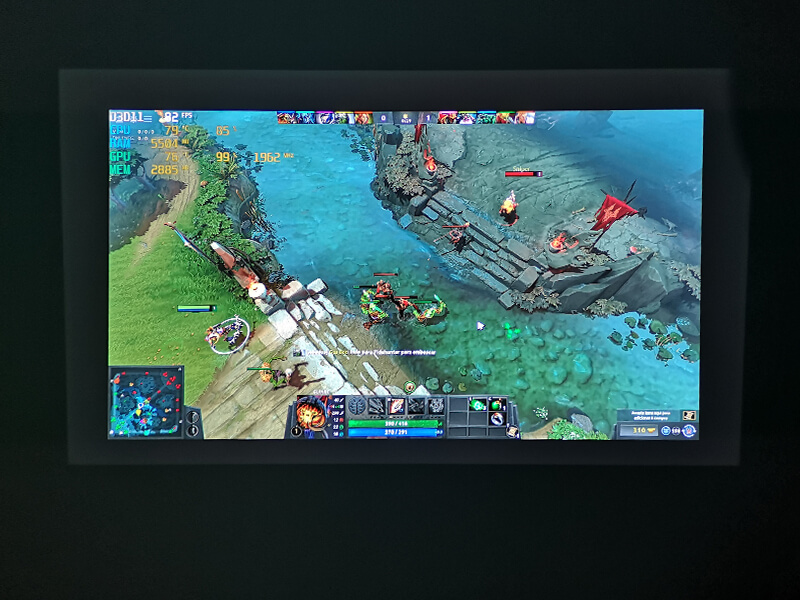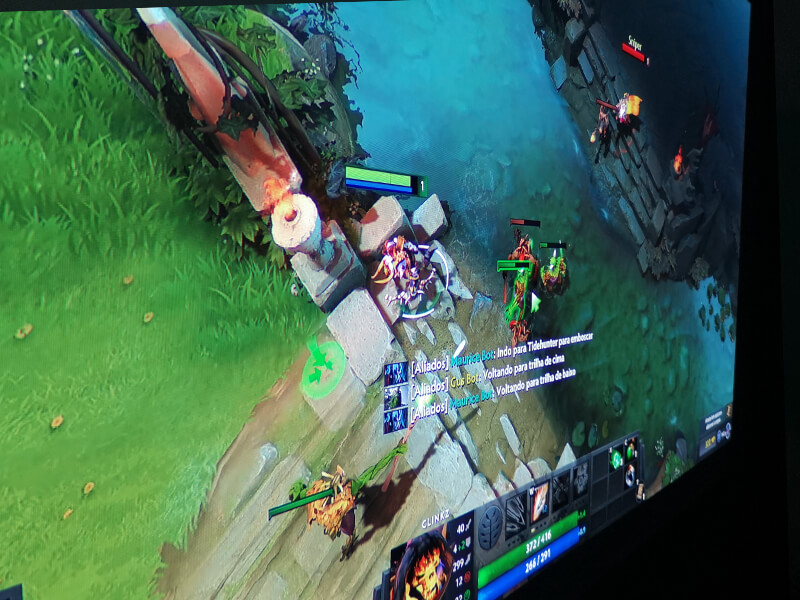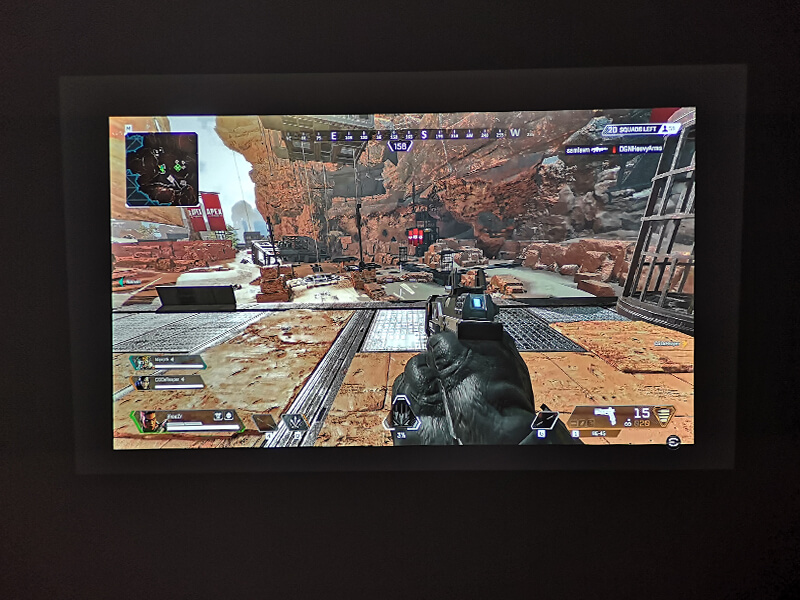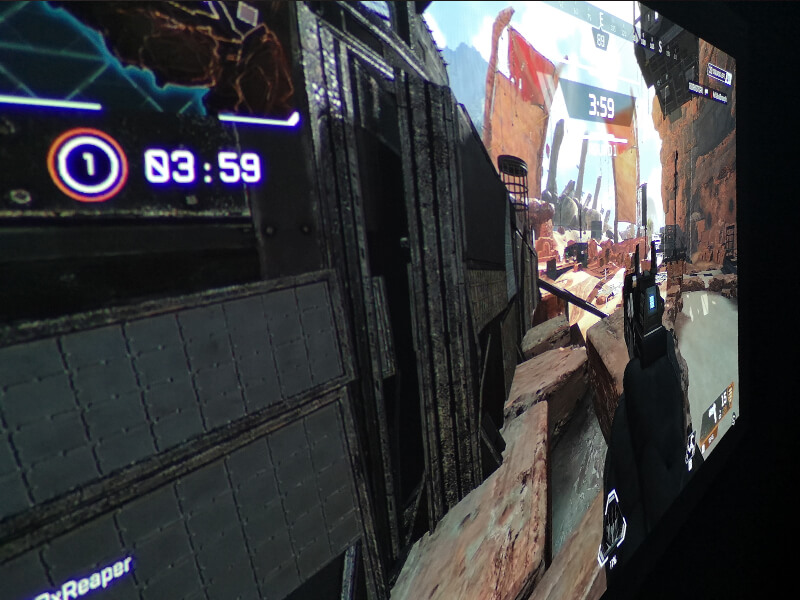 Playing fast-paced eSports games like DOTA 2 (Defense of the Ancients) and Apex Legends were enjoyable and there were hardly any noticeable lags. We were very impressed with its performance in all scenarios based on our further tests on PUBG (PlayerUnknown's Battlegrounds) and DOTA Underlords.
CinemaMaster Audio+2 system is good but not be enough
The projector comes with a speaker, but don't expect it to give you a cinema sound. Featuring a five-watt audio system that has an aluminum driver housed in a resonant sound chamber, pairing with BenQ's CinemaMaster Audio+2 system, for deep bass and soaring highs, the TK800M is said to ensure you get a better sound and offering a wider frequency range. As promising as it sounds, there is little what a little built-in speaker can do in any given situation.
Although the 5-watt speaker is surprisingly loud for its size and dialogue is comprehensible, its lack of significant bass, and distortion at higher volumes make the speaker kind of disappointing. And it is probably suitable for an office presentation instead. Despite this, it is not a deal breaker as you can easily connect it with an external speaker, just like with most projectors.
Final Thoughts on BenQ TK800M
This projector is mostly advertised as a sports projector, but that does not necessarily mean that you cannot use it for a home cinema room or gaming. It performs exceptionally well in terms of its 4K and HDR capabilities, and it is an improvement of the already great TK800. Its brightness has also improved as it comes with HLG support, which lacked in the BenQ TK800, giving it the ultimate edge over other projectors in ambient lighting environments, making it an extremely versatile home theater projector
The BenQ TK800M is well-made and sturdy, and comes all the connections you'll need, and sports a solid set of features. It's easy to set up (basically plug-and-play) and simple to operate, making it ideal for periodic use.
All in all, the BenQ TK800M projector is impressive. Considering its price, it is a projector that anyone looking for a projector worth his/her money should consider buying.
The TK800M is available on Lazada brand store at S$2,099. Alternatively, BenQ also offers gaming projector like the TH585 and TH671ST, that can fulfill your gaming needs as well.