The Dibea F20 Max is one of the most popular cordless vacuum cleaners on the market today. It's a lightweight, versatile and affordable model, so what better reason to put it to the test? We've taken a look at everything it has to offer and created the most in-depth review you'll find anywhere.
Sleek design with reliable build quality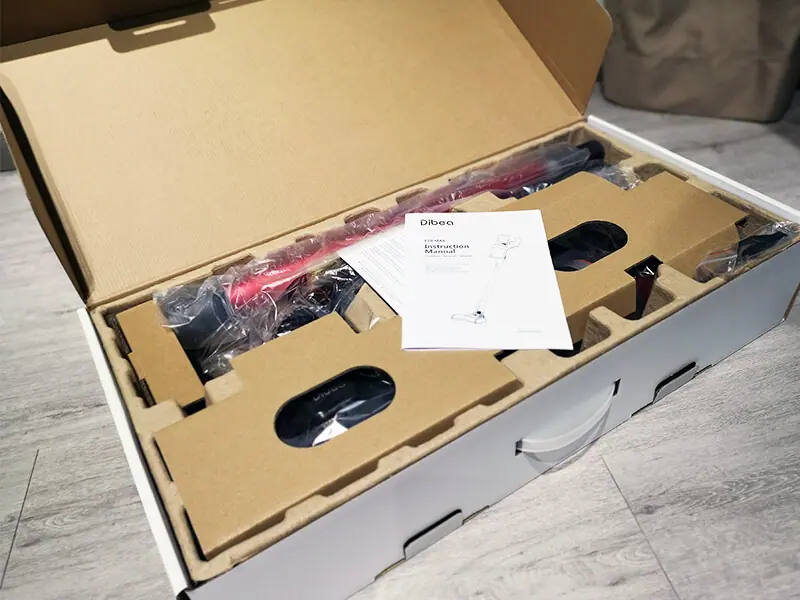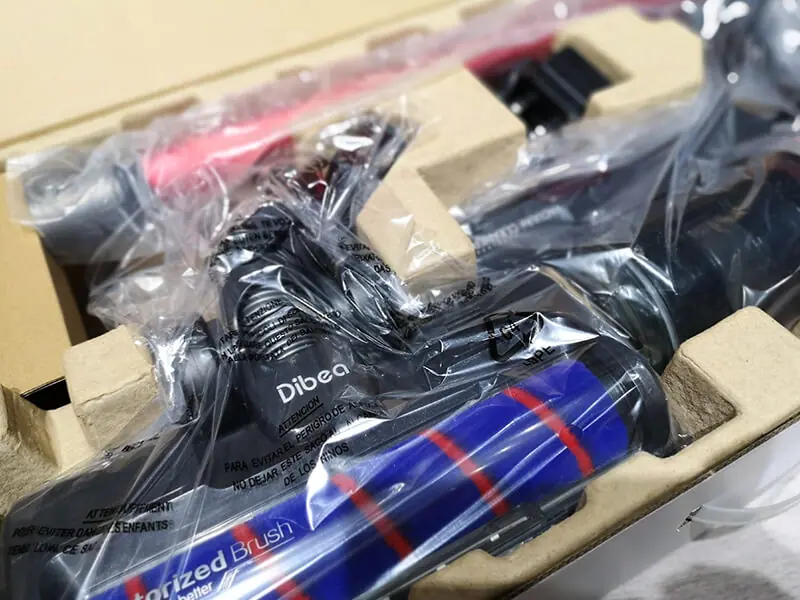 The first you think when you picture a vacuum cleaner probably isn't how good it looks, but this is a model that aims to change all of that. Here are three reasons why we were taken by their unique approach to design, and why we think you will be too: 
The sleek design means that you can enjoy adding something to your home that won't stand out for all the wrong reasons. There's a lot to be said for a product that blends effortlessly into the background and is always ready when you need it.
The build quality is evident from the moment you pick it up. The plastic molding is robust and durable, making this a portable vacuum that's undoubtedly intended to last.
We also like the quality of the finishing, especially because this is an area that a lot of manufacturers tend to sacrifice. These little things really do make all the difference when you're buying something you intend to use for years and years.
Excellent cleaning ability with three variable suction power settings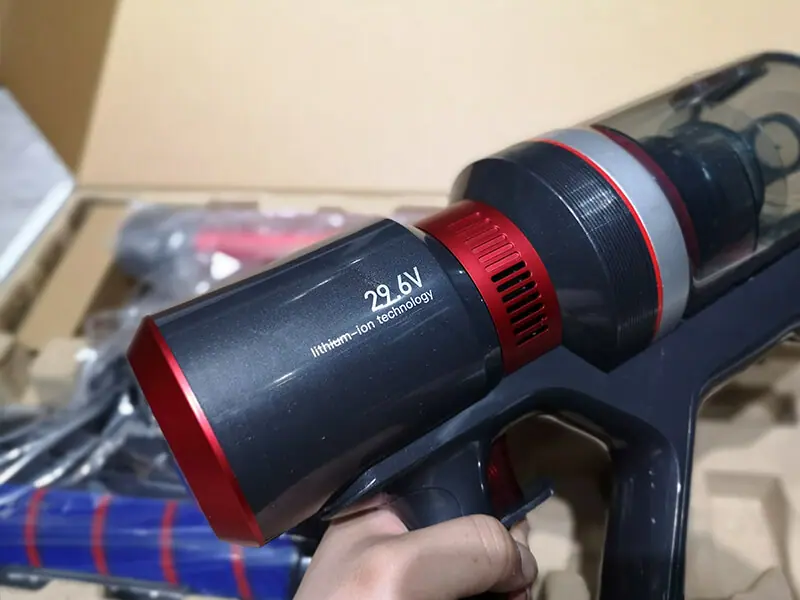 The beauty of the Dibea F20 Max is that you dramatically extend the battery life by selecting the right suction power for the task at hand. The vacuum uses rechargeable lithium-ion batteries with a capacity of 2000 mAh. The F20 Max provides 29.6 V and powers the vacuum for approximately 8 minutes in Max mode, 20 minutes in Standard mode and 55 minutes in Eco mode. There are three different suction settings, with the strongest offering the least battery life, and the weakest offering the longest. To give you an idea about how you would make use of this innovative functionality, here are a few common ways people use each of the three settings: 
The weakest setting of 7 kPa (Eco mode) will typically be used for clearing up debris from smooth flooring, such as crumbs off a tiled kitchen floor.
Medium suction of 13 kPa (Standard mode) will be most typically used for general cleaning, especially in those hard-to-reach places such as ceiling corners and the stairs. 
We'd suggest leaving the strongest suction setting of 25 kPa (Max mode) specifically for those tricky jobs that nothing else seems to be able to tackle. A typical example would be removing embedded pet hair from your carpets, curtains, and fabric-covered furniture. 
It's worth noting that while we've highlighted the different suction levels, the shape of the airflow remains the same in each case. That means that you can enjoy the same level of professional cleaning no matter what you're trying to tackle. Ideal if you want to take care of any job in just a couple of minutes, no matter where it is in the home. 
Detachable Motor and dust bin for easy cleaning
Another important thing to consider when searching for a portable vacuum cleaner is how easy it's going to be to clean and empty. The F20 Max can accommodate approximately 500ml of trash which is enough to vacuum an average home without having to stop for a trip to the trash can. The last thing you want to have to do is spend just as much time cleaning up the mess caused by emptying it as you spent cleaning your carpet in the first place. 
With that in mind, the model in question comes complete with an easy-to-use detachable dustbin. It's attached directly to the suction motor that's responsible for taking care of all of the hard work, which is actually a rather ingenious approach to take. It means that you can leave the bulk of the hardware inside before heading outside to the trash can. You then simply open with a single push, and the debris falls out effortlessly. 
That is something that will be good news for those of you who want a cleaning solution that allows you to save unnecessary work. And because removing and emptying the dustbin is always quick and easy, you won't run the risk of compromising the suction performance with an overfull bin. That is a common problem with portable bagless cleaners and one which is solved quickly and efficiently with this new model. 
The exhaust filters are washable, made of cotton or foam. Although efficient, the filtration system level is below that of HEPA, and may not guarantee protection from allergens, making the F20 Max unsafe for allergy sufferers. 
The downside of things: Potentially too heavy and lack of a docking base
Last but not least, no review would be complete without a brief mention of the aspects of the product which could do with a little improvement. 
One of the things we anticipate is that you might find the unit a little on the heavy side, weighing roughly 2.5 kg which is heavier than the lower-end models from Dibea, particularly if you're not used to cleaners of this geometry. It is entirely usable, at least initially. Still, you may well find that the strain it places on your wrists and forearms outweighs the benefits of being able to clean cordlessly. That said, if you're happy with the weight, it does offer enough battery life to allow you to tackle just about any type of cleaning job in the home. 
The other thing that may hold you back from getting maximum use from your home's latest addition is the lack of a detachable docking base. That may not be a big deal to some of you, but to others, it's bound to be of vital importance. 
If you want to be able to quickly and easily set your cleaner down to charge so that it's always ready, a detachable docking base is the way to do it. With that in mind, you might want to consider whether the lack of one on offer here is something you're prepared to compromise on or not. If not, there are several other portable solutions out there on the market that you may want to take a closer look at. 
The verdict
The Dibea F20 Max is a versatile and flexible portable cordless vacuum that offers plenty of options, but not every possible option on the market. The three suction levels allow you to extend the battery life to suit your needs, but the lack of a detachable docking station may outweigh this for some users.