The Pebble Time or Pebble Time Steel has been a favorite smartwatch among both the Android and iOS users since its launch, earlier this year. When its highly successful Kickstarter campaign concluded on March 27, 2015, Pebble had successfully achieved at least 78,000 backers with more than $20 million raised. This support resulted in massive sales for both the Pebble Time and the Pebble Time Steel. Despite these achievements, Pebble is still not finished with its 2015 lineup just yet. Recently, Pebble has unveiled a new round model, which the company has claimed to be the thinnest and lightest smartwatch, featuring four buttons arranged on the side. With this new release, Pebble aims to combine the best features of the Pebble Time into this new slim, round-faced, and classy smartwatch.
Designed in three different finishes (black, silver, rose gold), the Pebble Time Round is also made available with two other sizes (20mm or 14mm). These provide more options for users, appealing to both men and women. Despite its new classy design, and being the thinnest and lightest smartwatch, the Pebble Time Round does have its trade-off. A full charge of the Time Round can only last for up to 2 days. This trade-off is a major downgrade from the original seven (or ten) days, and this is, perhaps, a significant compromise that Pebble enthusiasts have to consider.
Pebble Time Round : The Specifications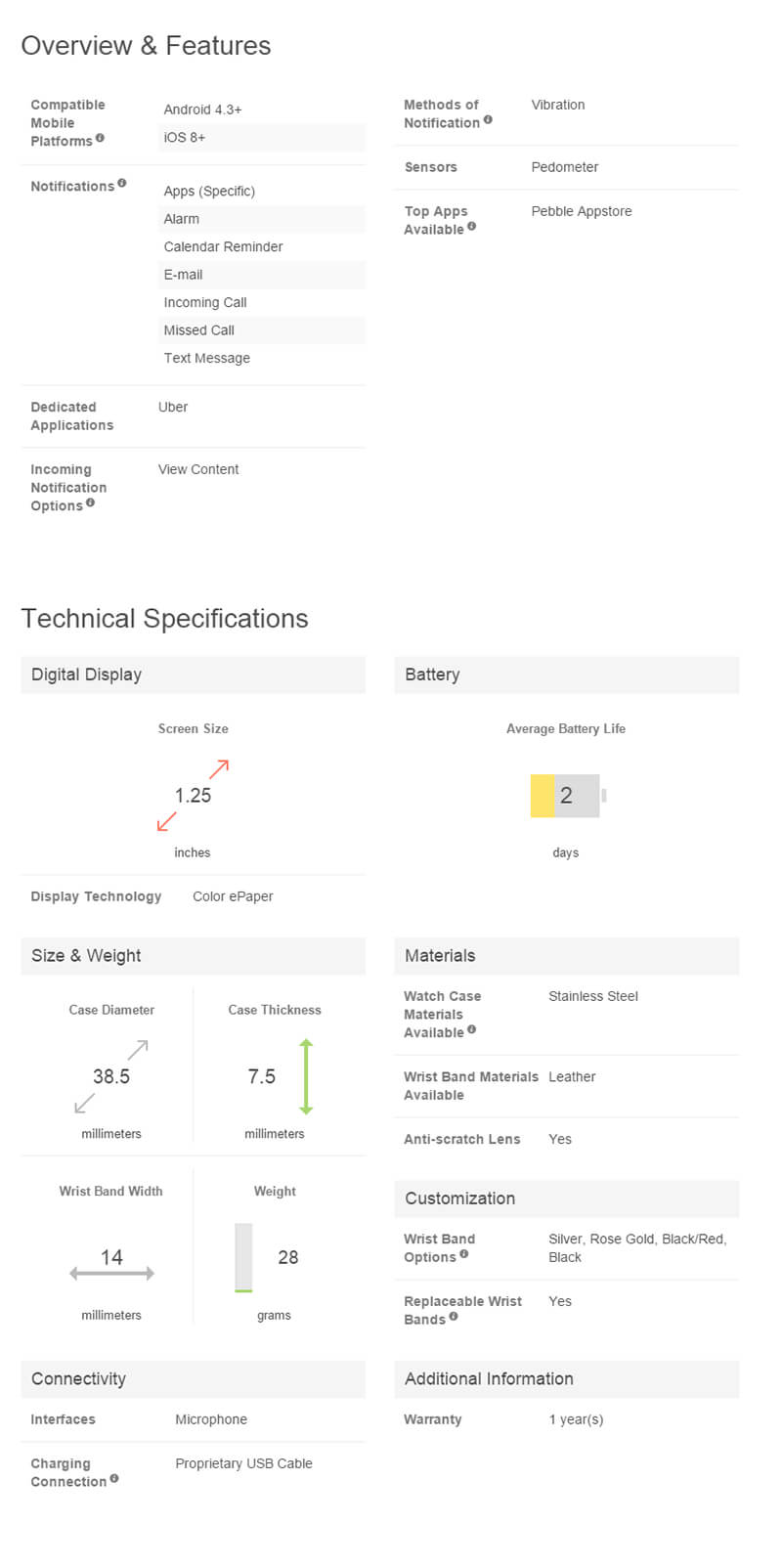 Credits to : SpecCut
Slim and Sleek Design unlike its Predecessors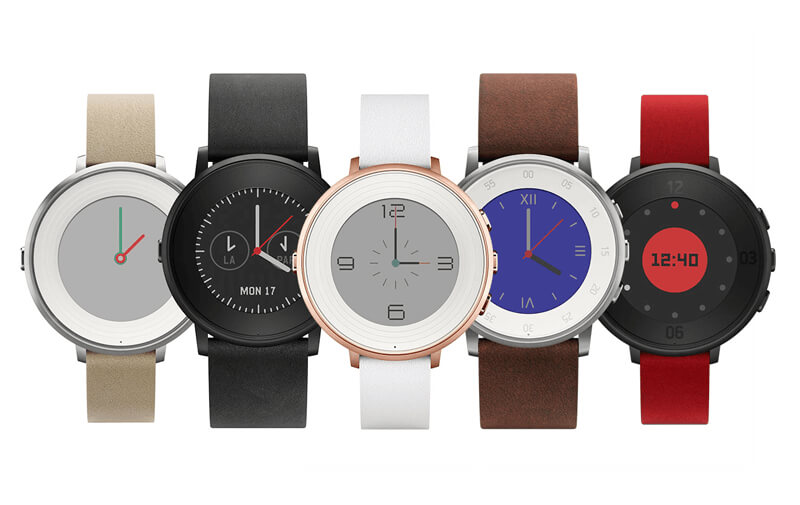 Just like its name suggests, the Pebble Time Round features a round face unlike its predecessors, the Pebble and the Pebble Time. Pebble has always been producing its smartwatches in its signature squarish design, as the company places more emphasis on the features of its smartwatches rather than their aesthetics. But now design has become a progressively more crucial factor in the battle of smartwatches, as Apple Watch and OEM-specific Android Wears enter the "arms race of smartwatches" with cooler and more stylish designs. It is no wonder that Pebble wants to launch the Time Round, to prove its capabilities in the area of luxury, innovative product design. Pebble also shrank the Time Round to just merely 7.5mm thick, resulting in a much thinner and well-built smartwatch as compared to the previous Pebble devices as well as the Apple Watch. Due to the upgrade in its aesthetics, the Time Round has to sacrifice its water resistant feature, making it only splash-proof, unlike the Pebble Time, which is waterproof to 30 metres.
Other than these tweaks, the Time Round still retains the other design and primary hardware features of the Pebble Time and Pebble Time Steel.
Same Features, but New Quick Charge & SDK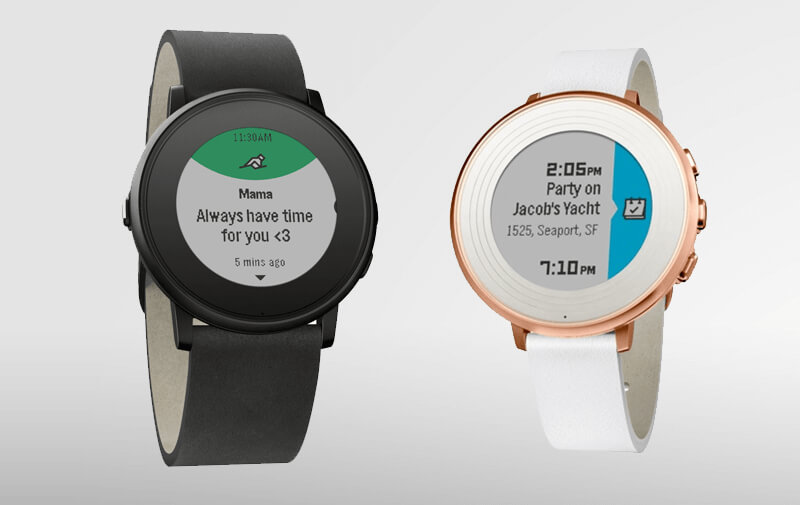 In terms of usability, the Time, Time Steel and Time Round are the same. They each feature Pebble's proprietary Timeline interface. This interface lays out all of the applications and notifications in a chronological order, allowing users to navigate through the past, present and future notifications, emails, text messages and calendar entries quickly.
Pebble Time Round furthers our mission to create useful technology that blends into your everyday life, not the other way around. We recognise that wearable technology can't be one-size-fits-all and are fiercely committed to offering unique choices that suit individual style and expression.

Eric Migicovsky (CEO and co-founder of Pebble)
One notable upgrade that the Pebble Time Round received is that it has a new feature called Quick Charge. This feature makes the Time Round, the first of its kind to be able to function for 24 hours of use with just only 15 minutes of charging time.
At the same time, Pebble also announced a new SDK, which allows their enormous community of developers to create and modify applications to work on the new circular display device. This new SDK also allows custom watch faces and 3rd party apps such as AirBnB and Uber to function seamlessly on its new screen.
The Final Judgement!
The Pebble Time Round would not amaze you with a gorgeous display, nor its fanciful features. It is just a classical-looking watch, with the essential features of a smartwatch. It is hard to deny that the Pebble Time Round might be one of the best-looking smartwatch in the market today. Unfortunately, the device sacrifices the single best feature I love about the original Pebble Time, which is its extremely long battery life, to make significant improvements to its design. As an active person, I also miss the water resistant capability of the Time.
While this new model leans more towards fashion, I still prefer the practicality of the Pebble Time.