In our quest for modern convenience, indoor air quality is often forgotten. That's where the Sterra Moon steps in. More than just a gadget, it's a remarkable example of engineering and design that seamlessly blends with our interiors while drastically improving our air quality. This comprehensive review peels back the layers of this innovative device and delves into how it is transforming our indoor spaces, one breath at a time.
You may often dust off your home, battling allergens or striving to eradicate lingering odours. However, what if a single, stylish device could accomplish all of these tasks with remarkable efficiency? That's the promise of Sterra Moon, a true HEPA-13 air purifier that isn't just a purifier; it's a declaration of war against airborne pollutants.
Elegance meets durability
When you first lay eyes on the Sterra Moon, it's immediately apparent that a great deal of thought has gone into its design. This isn't just a household appliance; it's a statement piece. Its sleek, aerodynamic silhouette gives it a distinctively modern aesthetic that stands out without intrusive. It appears more like a minimalist sculpture, aligning perfectly with both contemporary and classic interiors.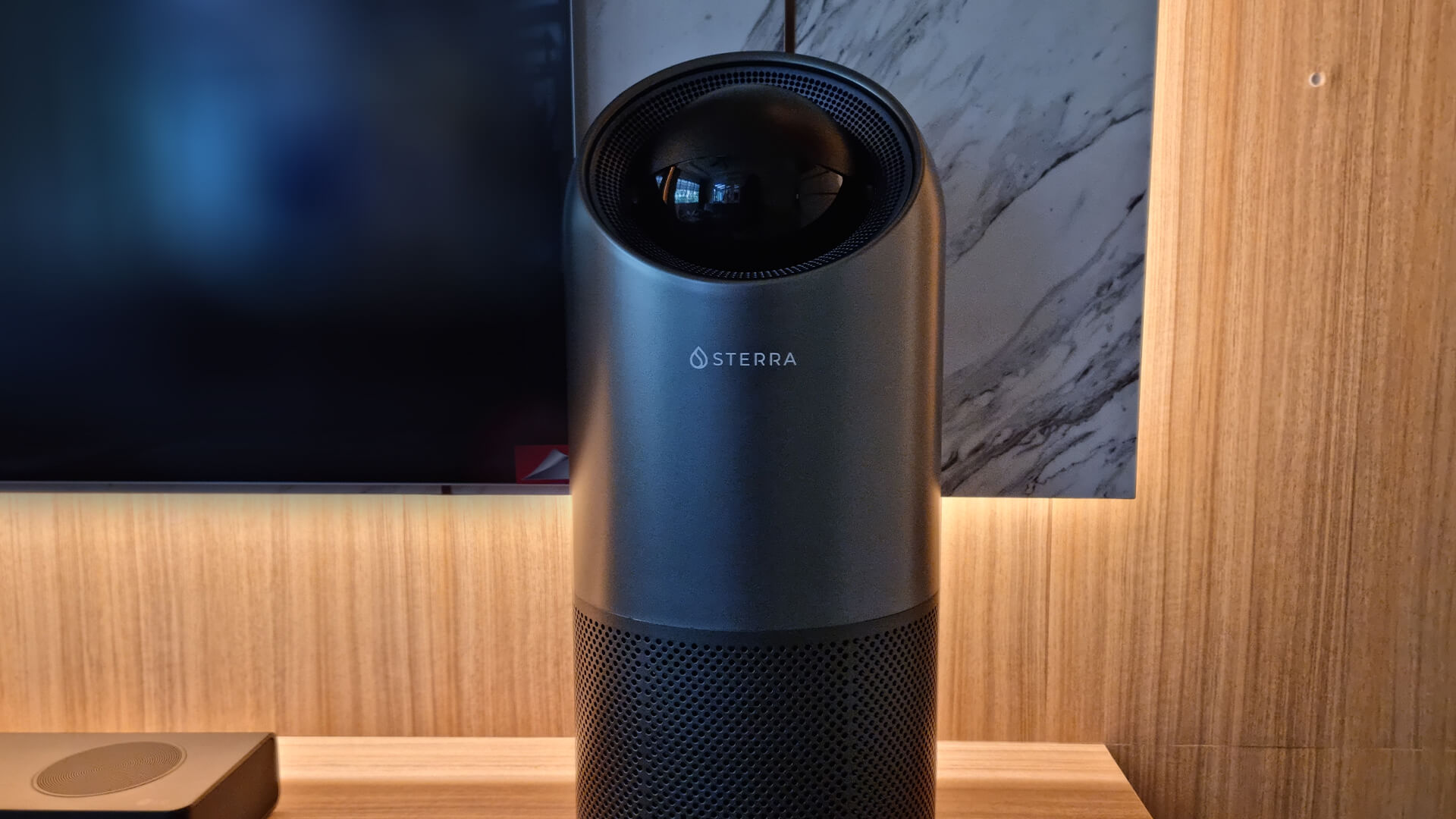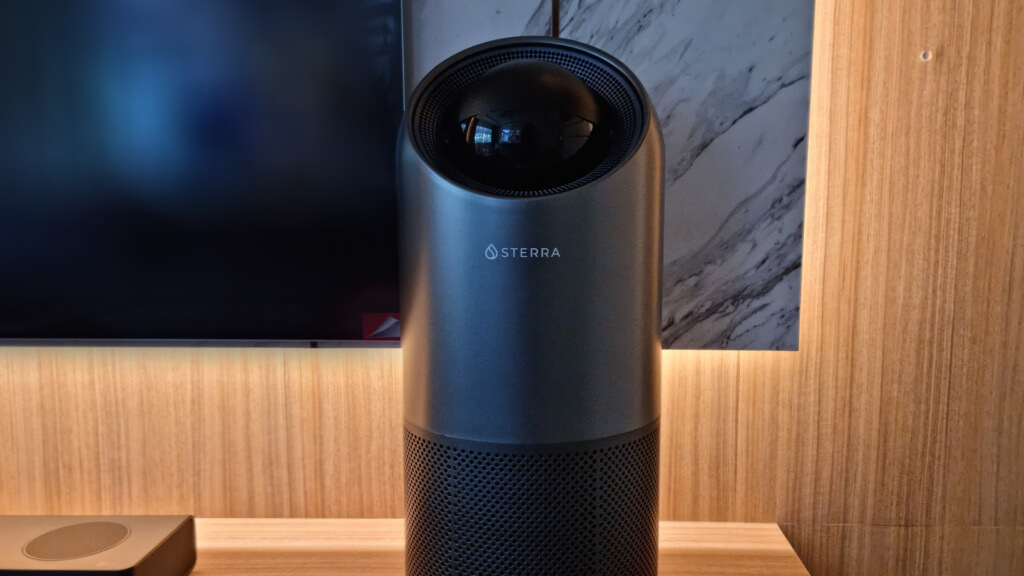 Its compact form is a nod to the needs of modern Singapore homes, where space is often at a premium. The Sterra Moon's dimensions, standing at 54.4cm tall and 24.4cm in diameter, make it a perfect fit in any room, whether a spacious living area or a cosy bedroom. The slender base and curved body aren't just pleasing to the eye; they also contribute to the lightweight build of the air purifier. At a mere 3.7 kg, you'll have no trouble repositioning it around your home, creating flexibility in air quality across different spaces.
The Sterra Moon's colour palette furthers its aesthetic appeal. The air purifier has three distinct colours – Snow White, Space Grey, and Sakura Pink. The Snow White version embodies an understated elegance, blending effortlessly into the minimalist or light-themed decor. The Space Grey model exudes a sophisticated allure, making it a standout piece in darker or industrial-style interiors. Lastly, the Sakura Pink variant adds a dash of vibrancy and charm, making it a popular choice for nurseries or rooms requiring a softer touch.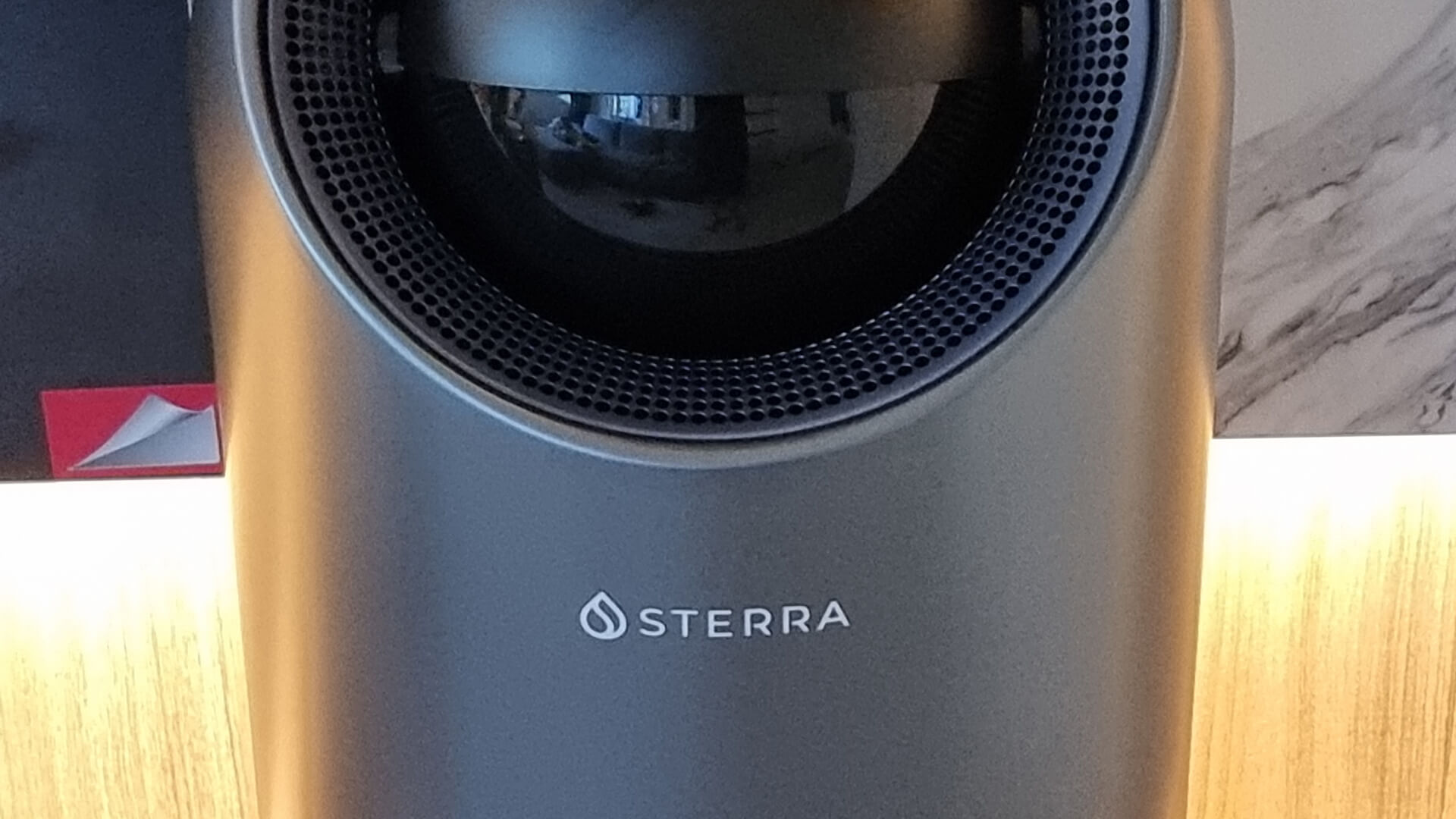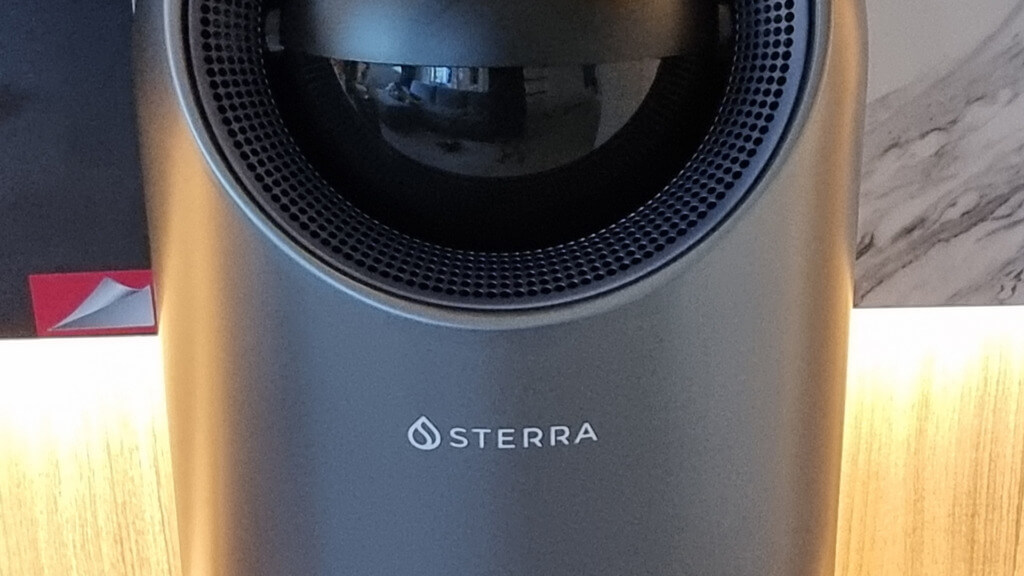 Beyond the captivating design, Sterra Moon is a testament to its robust construction. Its outer casing is manufactured from high-grade ABS plastic, renowned for its resistance to physical impact and heat, ensuring the device's longevity. Additionally, the intuitive design includes easy filter access, simplifying the process of regular maintenance and enhancing the device's lifespan.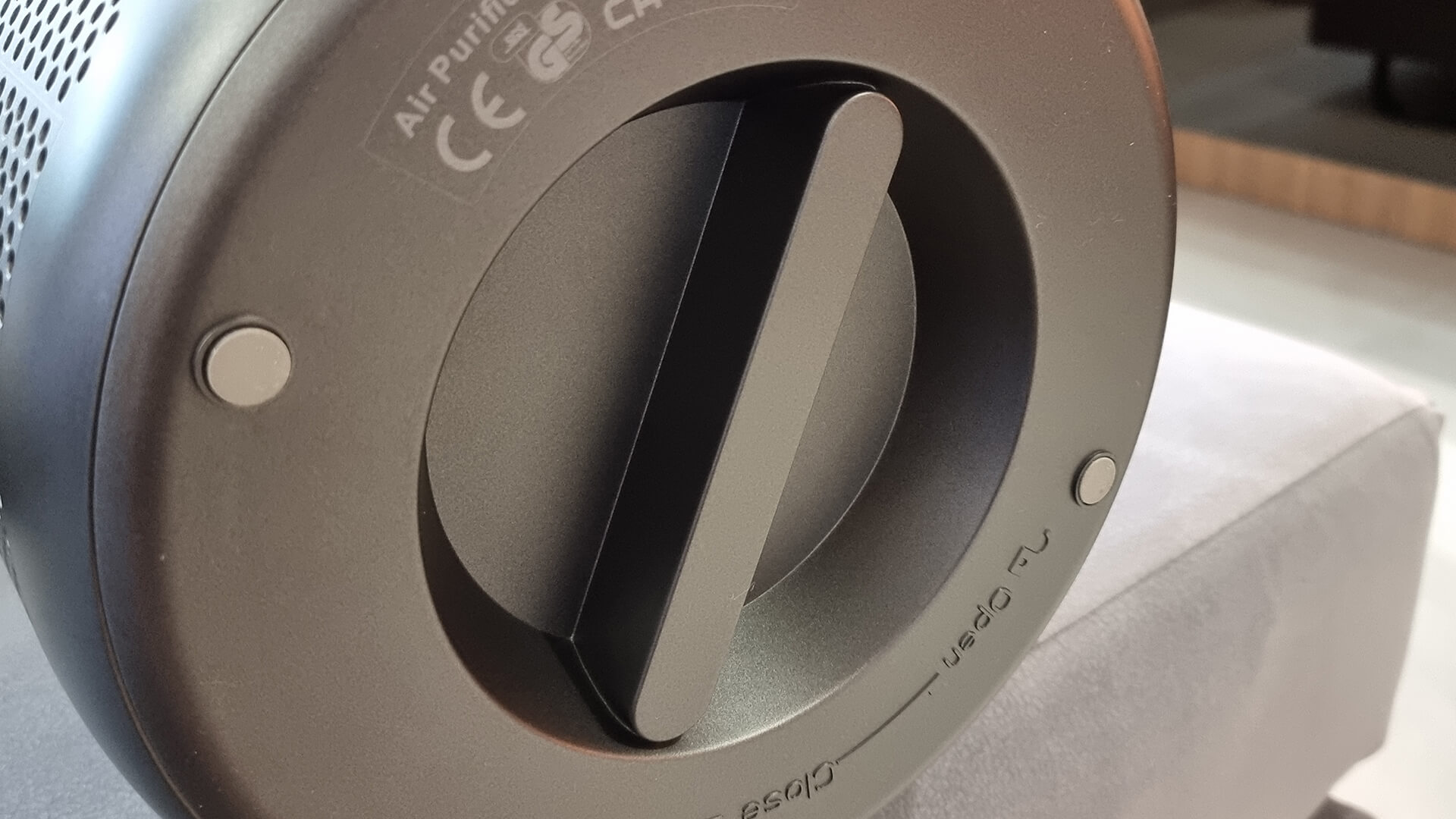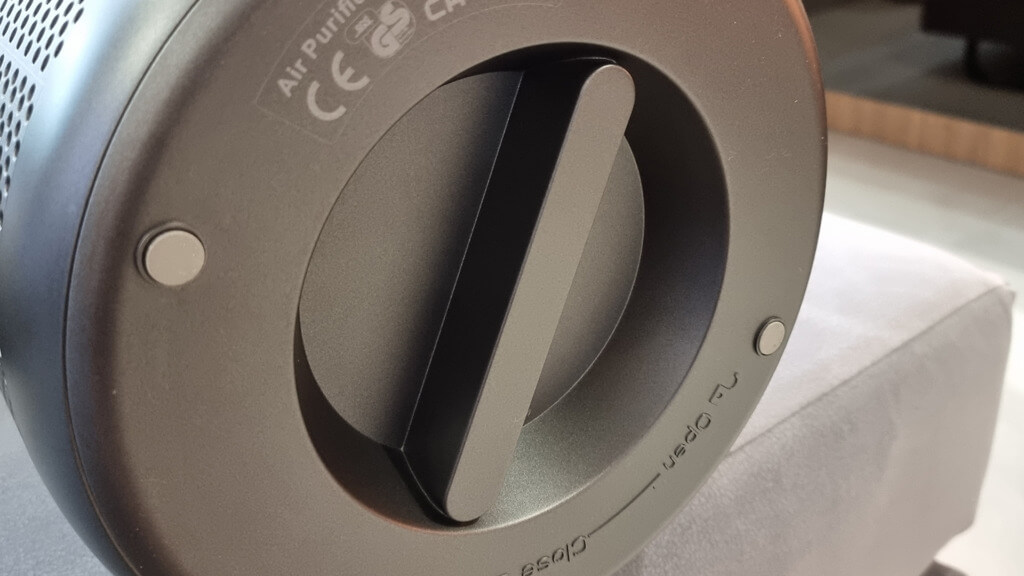 Complementing the air purifier's sturdiness is the durability of its filter system. Each filter boasts an impressive life of approximately 2200 hours before requiring a replacement. This equates to about three months of continuous usage, guaranteeing clean air for an extended period and fewer worries about constant replacements.
A silent performer with coverage up to 35 m2
The Sterra Moon air purifier delivers top-notch performance without compromising peace and tranquillity. Capable of delivering 280 m3/hr of purified air, this powerful machine can cleanse a 15 m2 room in less than eight minutes. Despite its impressive output, it operates at a whisper-quiet 20 dB at its lowest setting. This makes it ideal for households with infants, light sleepers, or anyone seeking a peaceful environment.
Beyond its silent operation, the Sterra Moon stands out for its energy efficiency. With a power consumption equivalent to a light bulb (45 W), it is up to 47% more energy-efficient than similar devices. This makes it a high-performance purifier and an environmentally friendly one.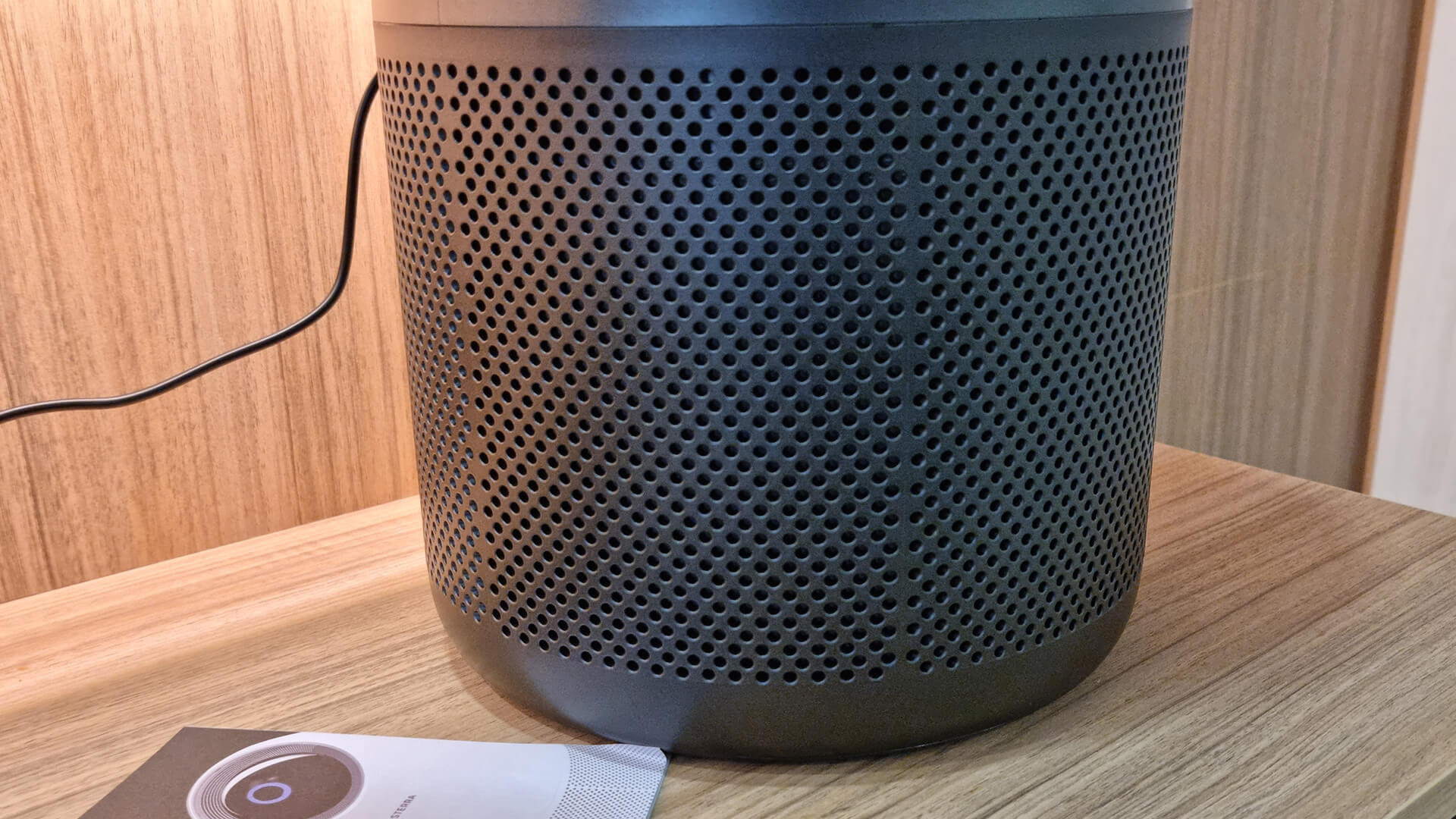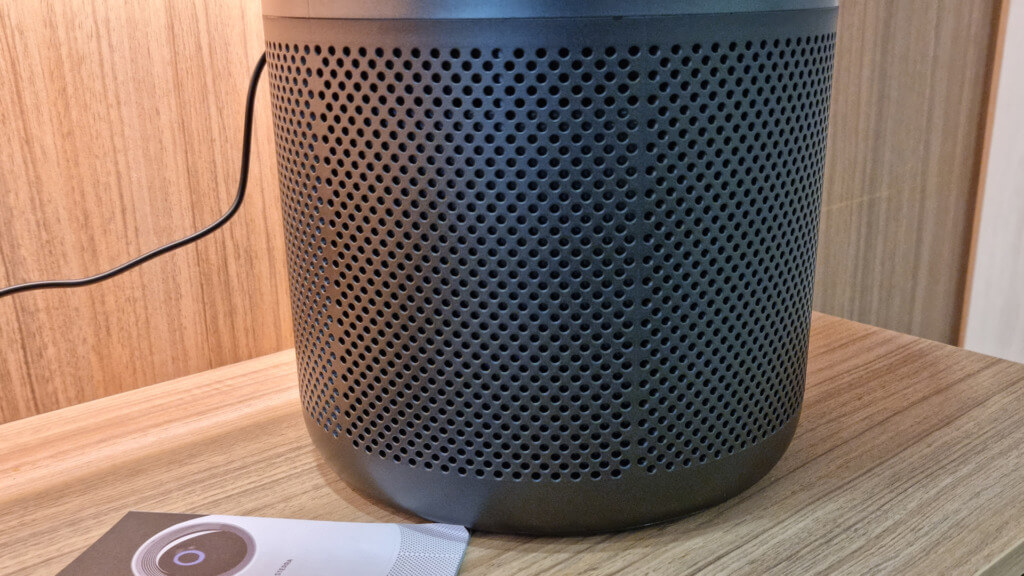 The Sterra Moon air purifier embodies an intelligent and efficient airflow system. Its grilles, located at the base, actively draw in the surrounding air, capturing pollutants that generally settle near the floor. Post this, the air is passed through the robust HEPA-13 filter where up to 99.97% of pollutants are effectively eliminated.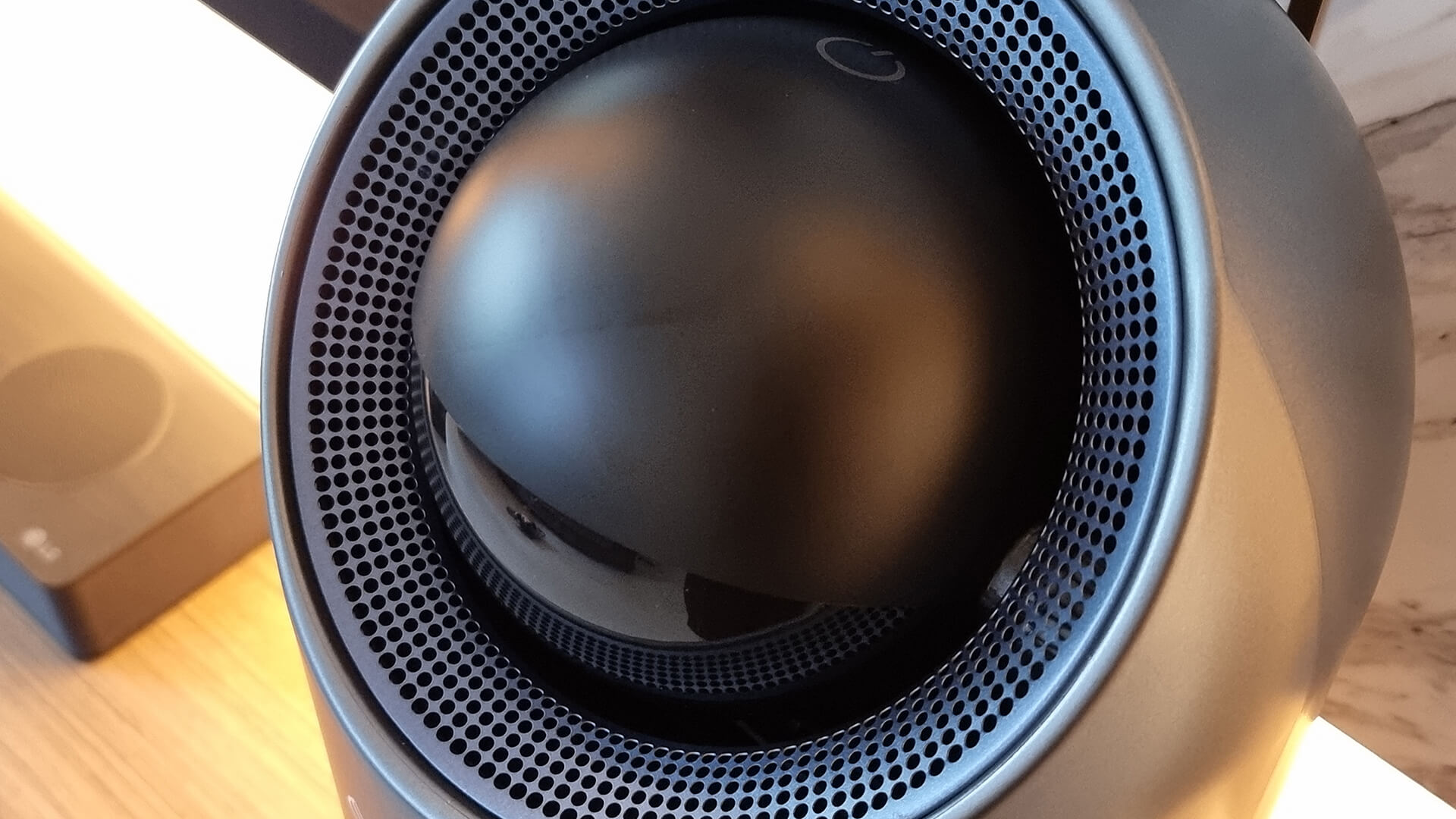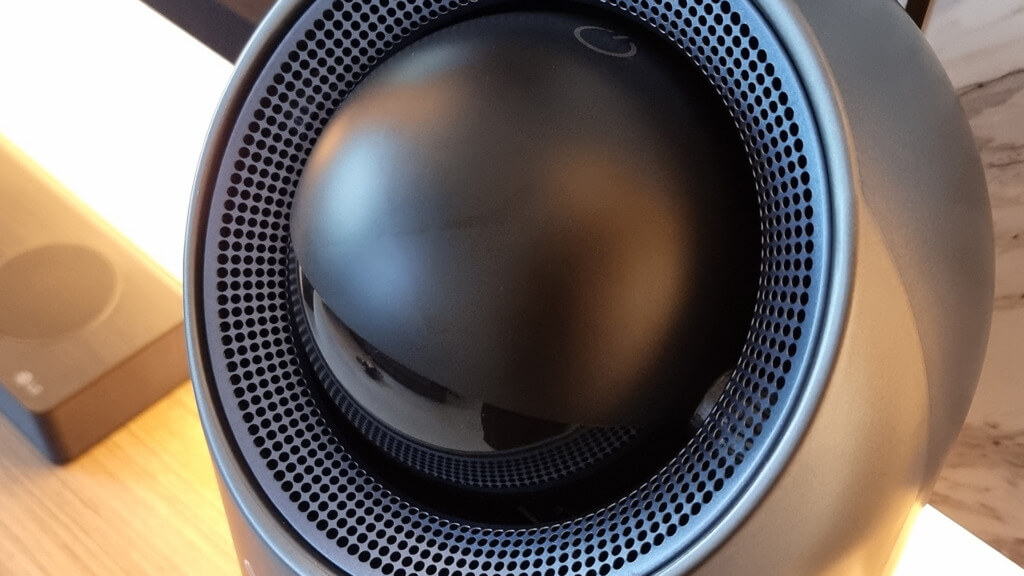 Following filtration, clean air is expelled from the top of the device. This strategic placement allows the purified air to disperse evenly across the room, maximising reach and preventing immediate re-intake, enhancing the device's overall effectiveness.
Simplicity at your fingertips
Immersed in Sterra Moon's allure is a control system that's an absolute delight to use — the ControlSphere. This isn't your regular button or switch interface. This touch-sensitive platform combines technology and simplicity, setting a new bar for user-friendly interaction with household appliances. You can power the device on or off with a tap and adjust the fan speed to suit your comfort level. The absence of conventional buttons and knobs gives the Sterra Moon a seamless and clean look while making it effortlessly straightforward.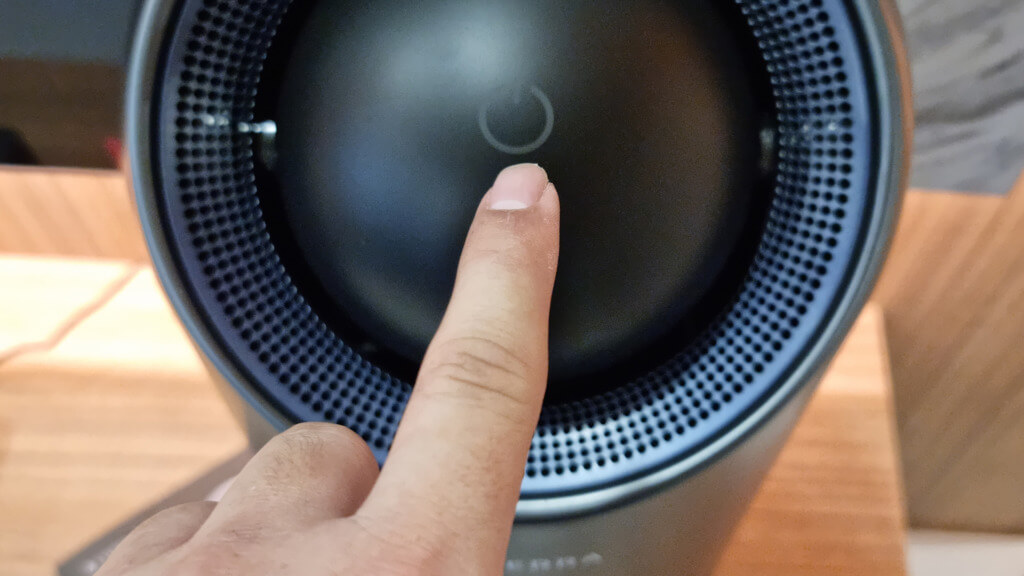 Delving deeper into Sterra Moon's advanced features, the real-time air quality monitor stands out. You'll no longer need to guess or make assumptions about the air quality in your home. The air purifier constantly analyses the air, and an ingenious design feature communicates the air quality through an LED ring colour indicator. This visual cue changes in response to the air quality levels, shifting from blue for excellent air quality to red when the air is heavily polluted.
This real-time update is a valuable health indicator and adds a subtle yet impactful ambient light element to your room. The visually stimulating LED ring offers an unobtrusive way of keeping tabs on air quality, balancing the device's practical and aesthetic features.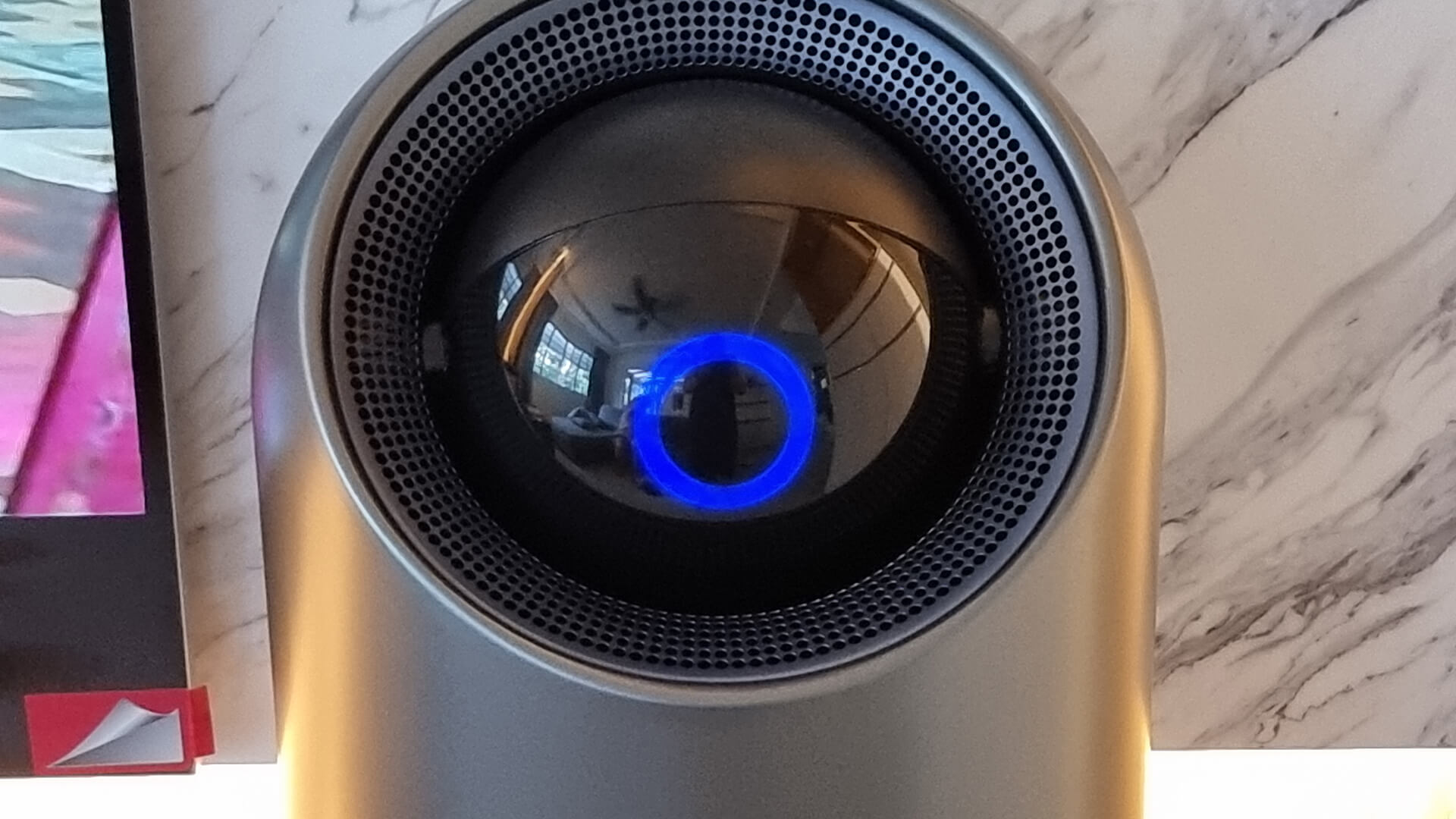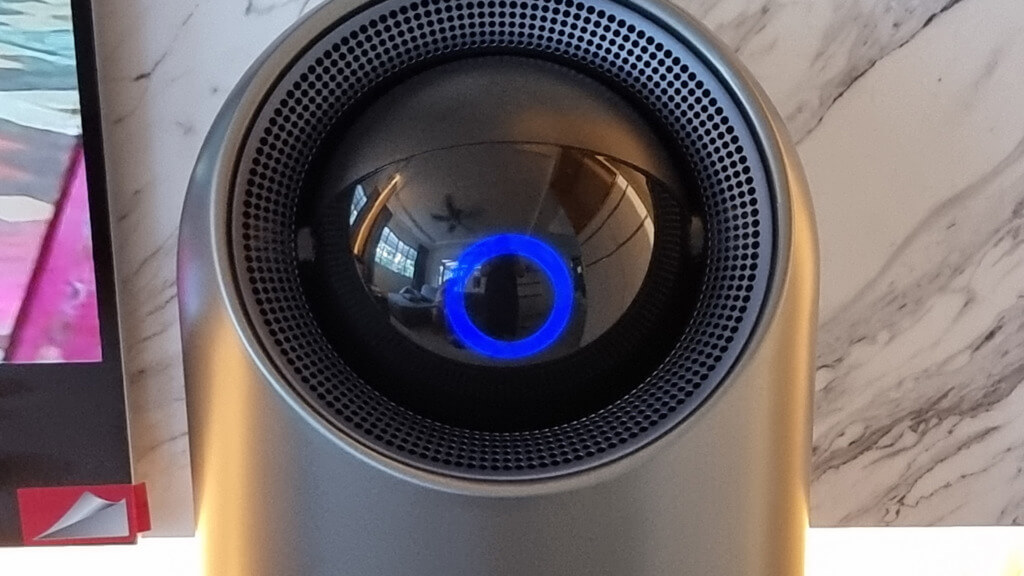 Furthermore, this feature encourages proactive measures towards air quality control. You can adjust the fan speed accordingly based on the LED indicator, making Sterra Moon a versatile solution for various air conditions and pollution levels.
A promise of clean air with HEPA-13 air filtration system
The most significant aspect of the Sterra Moon air purifier is its medical-grade HEPA-13 air filtration system. This three-stage system comprises a patented pre-filter, HEPA-13 filter, and an activated charcoal layer capable of eliminating up to 99.97% of all airborne pollutants.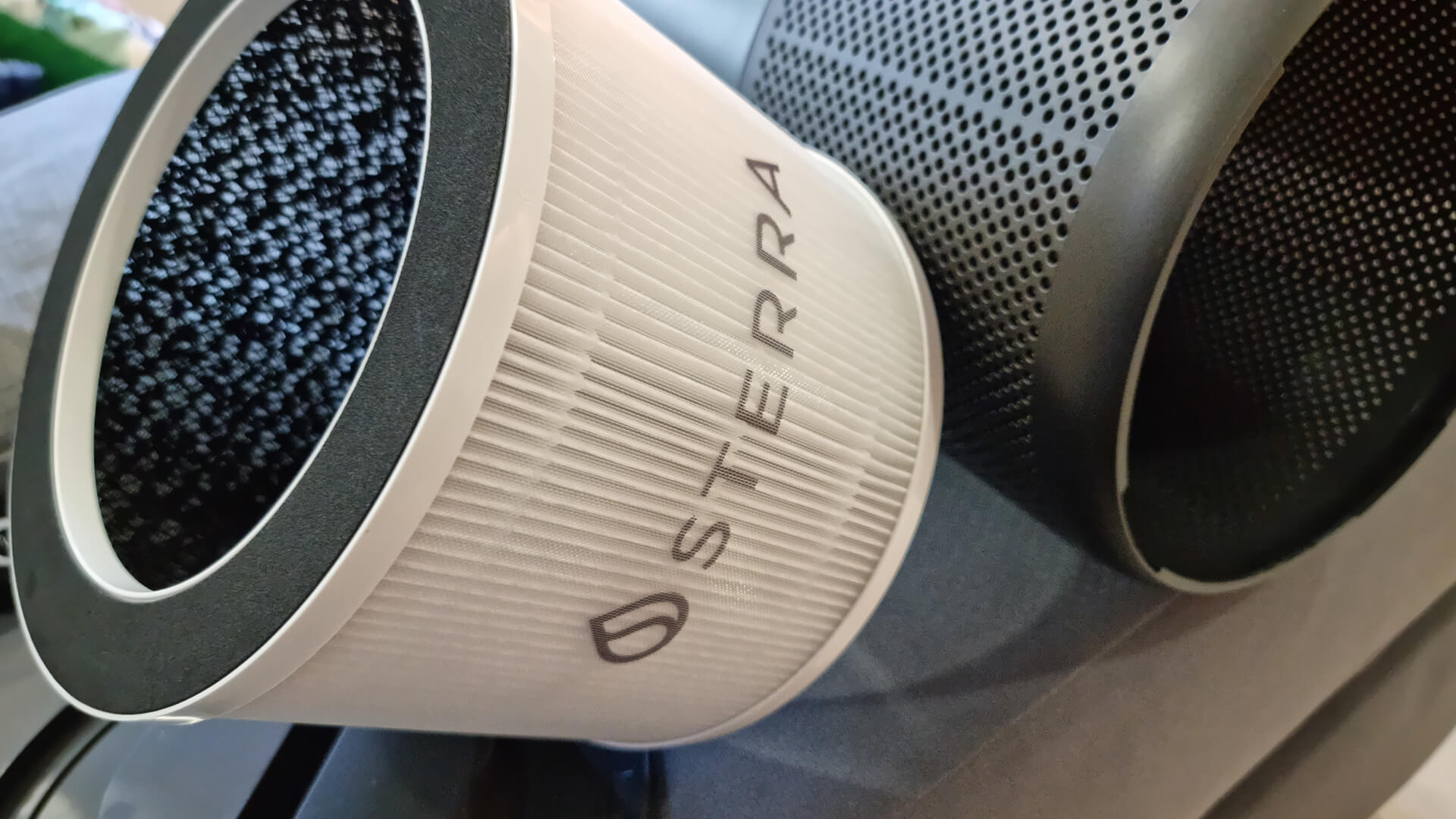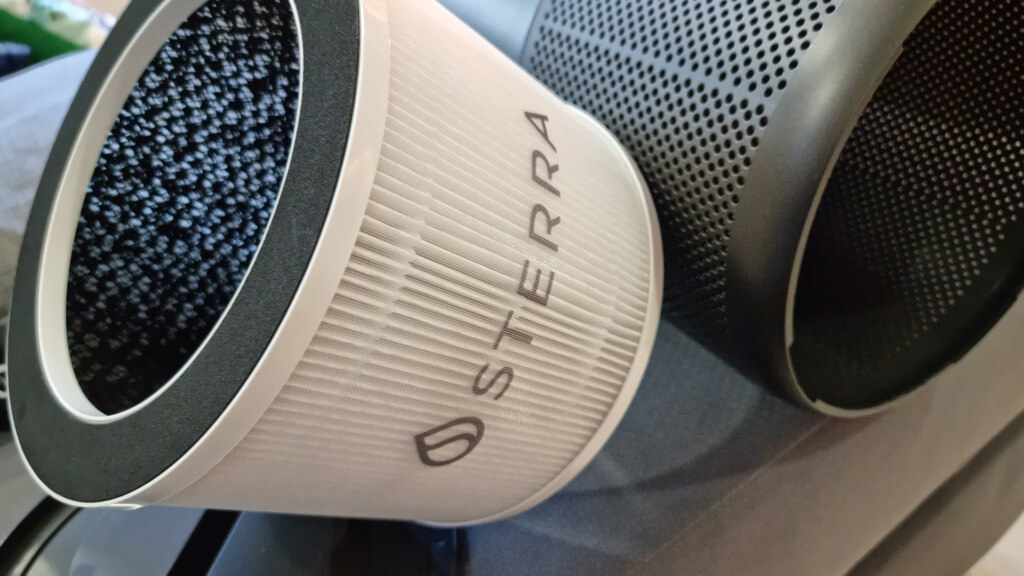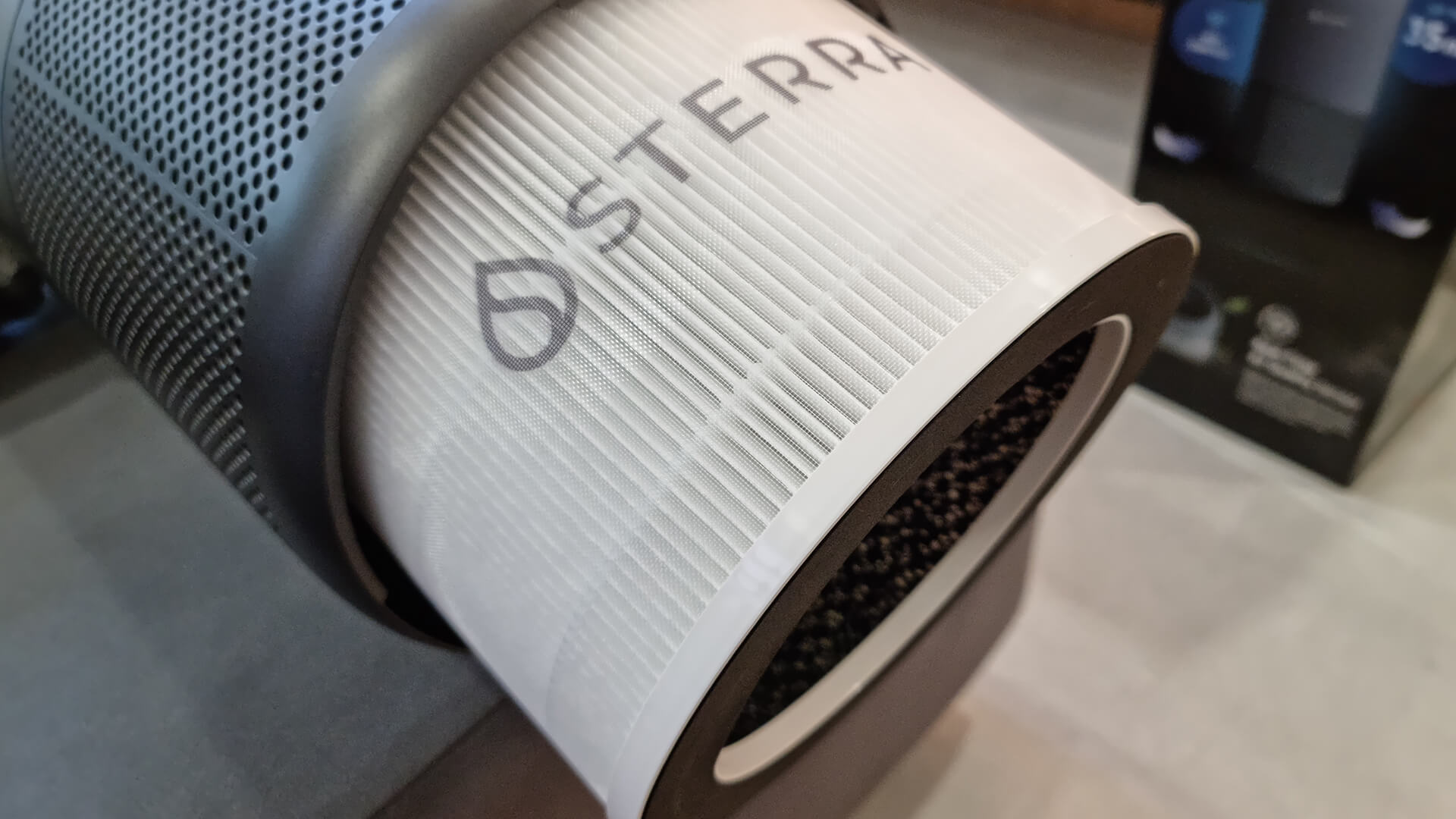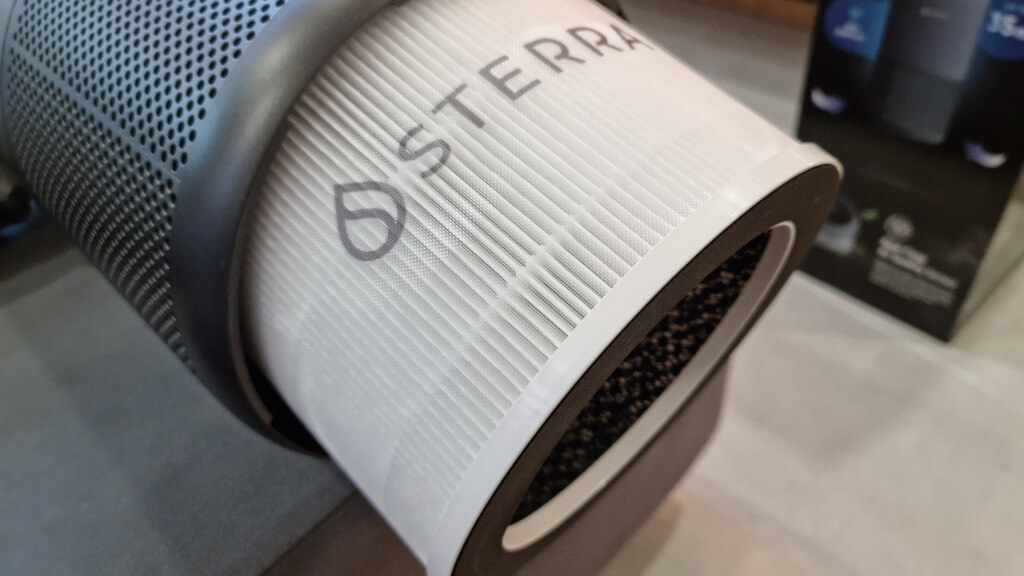 From trapping large airborne particles, dust, and pet fur with the pre-filter, neutralising foul odours and absorbing harmful formaldehyde with the activated carbon layer to capturing minute pollutants such as bacteria and allergens with the HEPA-13 layer, Sterra Moon ensures that every breath you take indoors is clean and healthy.
The verdict: Sterra Moon True HEPA-13 Air Purifier
So, does the Sterra Moon live up to the hype? The short answer is a resounding yes. Its impeccable design, high-performance filtration system, user-friendly interface, and energy efficiency make it a class apart. In a world where we are becoming increasingly aware of the importance of clean air, the Sterra Moon is more than just an appliance; it is an investment in your health and well-being.
Sure, other air purifiers are on the market, but few offer the blend of style, performance, and innovation that the Sterra Moon does. The machine effortlessly balances form and function, transforming the air we breathe without drawing attention to itself. It truly exemplifies the phrase 'quiet achiever'.
In the grand scheme of things, the Sterra Moon air purifier signals a paradigm shift in our approach to indoor air quality. It redefines what an air purifier can be – not merely a functional device but a key player in our journey towards healthier lifestyles and cleaner homes. This isn't just an air purifier; it's a leap forward, a bridge between design and health, and a promise of cleaner, healthier air for all. As such, the Sterra Moon is worth its weight in clean air.