Have you ever heard of AppSumo? You probably have, and you wonder if the lifetime deals there are good for you and your business. We will answer this question and many others you might have for AppSumo in this article. If you still don't know what AppSumo is — don't worry we will explain this as well.
What Is AppSumo?
AppSumo is a digital marketplace where you can find different online products starting from various trainings and courses, going through e-books, and on top of that, some applications and SaaS solutions. The platform launched back in 2011, and its founder is Noah Kagan. Back then, this was something completely new in the IT sector. We all have seen many daily deal sites where you can find active deals and coupons for groceries, retail, etc. But up until then, there was no daily deal site where you could discover various digital products and solutions offering lifetime deals.
AppSumo is the perfect place for a startup or a SaaS company to put its products and offerings online. You can offer a lifetime deal to people interested in what you can provide. The consumers on the platform are over 1.4M and are called Sumo-lings. The number of Sumo-lings and also the way how AppSumo works turned it into a great success and a place where many starting businesses managed to gather the funds needed to take their products to the next level.
The goal of AppSumo is to enable startups and small SaaS companies to make a lot of money and save a lot of investments in their Sumo-lings. And on top of that, for entrepreneurs, one of the biggest benefits is that the marketing of AppSumo will promote them for free through partner networks and social media. If you are wondering what the benefit for AppSumo is, they get a commission for each purchase, so it is in their best interest to have really nice SaaS products on their site, and this is why they guarantee the quality.
How Does It Work?
We already touched a bit on this but let's check all the details. For AppSumo to make some money, they need to guarantee that purchases will happen. This would mean that they need to find high-quality SaaS products to be offered on their site. Indeed many entrepreneurs are going to AppSumo by themselves, but also, AppSumo is actively searching for potential partners that are ready to provide their solutions or products at a discounted price as a lifetime deal.
This provides free visibility to each product or service that AppSumo offers on its platform. They do that not only on their site but also prepare a lot of advertisements for the startups like videos, success stories, visuals, etc. Those assets are then promoted on their site, partners' network, social media, and more. Like this, small businesses can reach a vast public that they usually won't be able to. In this way, the startup's sales will exceed their initial expectations and help them grow their product even though they offer their services at a discounted price. As a seller, you can decide how many offerings you would like to give to Sumo-lings, and the moment the limit is reached, your offering won't be accessible anymore.
We mentioned the discounted prices that SaaS companies offer to Sumo-lings, which is exactly the benefit for the paid customers of AppSumo. If you are a buyer, you will receive news about deals that might interest you. Like this, you can find attractive solutions and products at a much lower price and get them as a lifetime deal. Saving some money is important for mid-sized and big companies, so getting a sweet deal is something no one will say no to.
Why should you use AppSumo lifetime deals?
Let's talk more about the benefits of using AppSumo lifetime deals as a seller and as a buyer.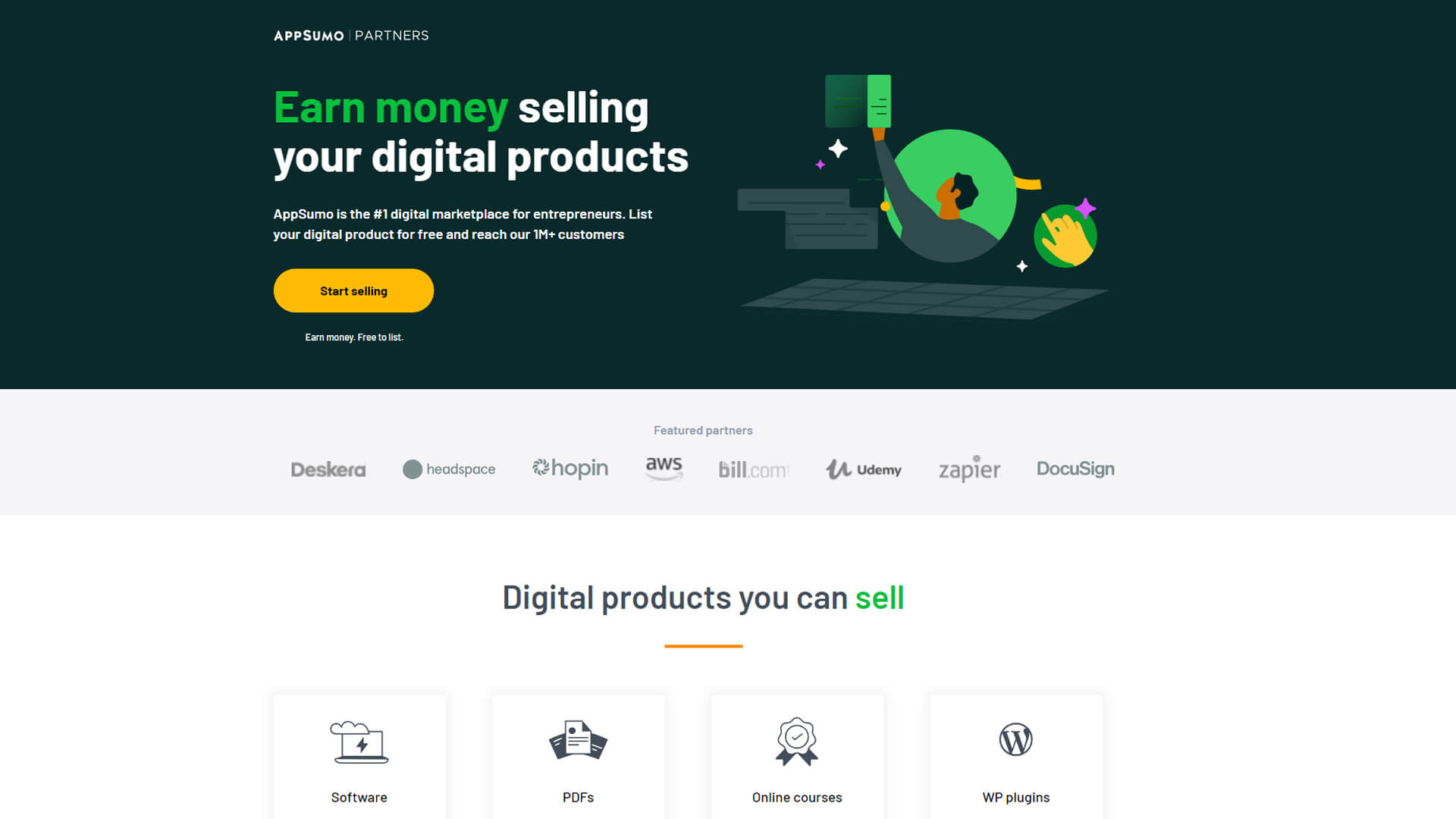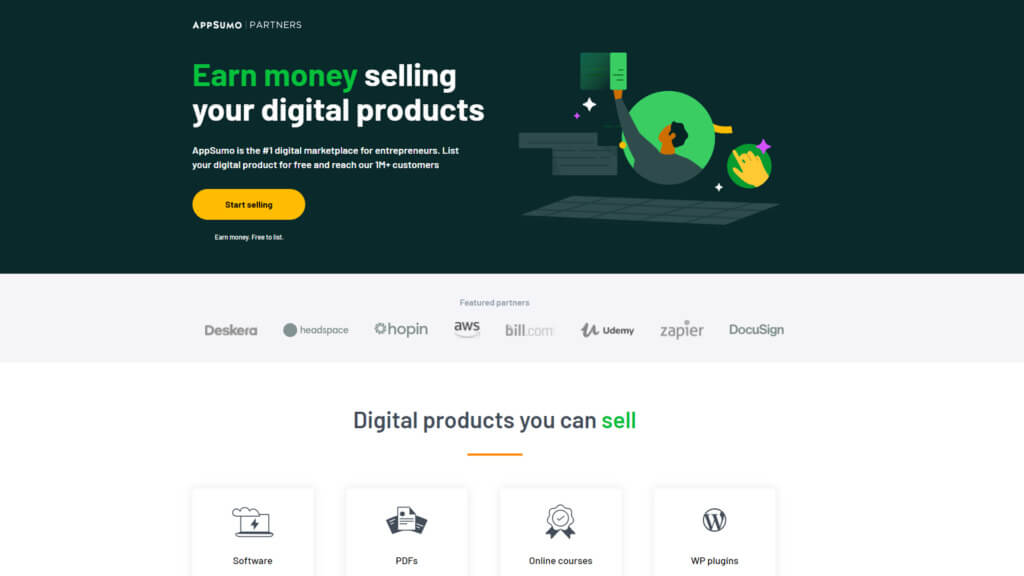 Reaching huge audience
AppSumo is a very popular site that many buyers regularly check. The Sumo-lings also periodically receive news about offers that might be very interesting for them. And if they are already Sumo-lings, this means they are more than willing to get a lifetime deal from an interesting SaaS company.
On top of all this, you are getting some free advertisements from the marketing team of AppSumo. They will share some assets for your business and exciting news on their social media and partners network. Like this, more buyers will get to know you and potentially get your lifetime deal on AppSumo, or they might even buy a full-price contract on your site.
Free marketing
We mentioned a bit about this but let's talk about all the marketing you will get:
Product listing — You will get a detailed product listing describing your company and product. Your unique selling points will be highlighted, and your offering will be explained.
Social media — AppSumo has a high number of followers, and this would mean that many people will be able to see you over there and posts might be reshared and reach even more people.
Email marketing — AppSumo has a huge emailing list with many people interested in innovations and entrepreneurs. The marketing team regularly send emails to all those receivers and all of them will see your business.
Video — You will get a marketing video created by AppSumo and shared on their YouTube channel.
Gain many user reviews
You will be able to receive helpful feedback from Sumo-lings that got your product quickly. Instead of stars, you will be getting tacos. If you have a good taco rating, this will definitely help you since it will show your product is a high-quality one. And will encourage Sumo-lings into getting a good deal that will save them some money and give them great value.
The reviews will also help you understand the best parts of your product that people enjoy and which parts might be improved. And since you know that the user of AppSumo are looking for innovative solutions from startups and they know what to expect. This is why the reviews you will get will be constructive and helpful.
Startups can win quite a lot
Many startups use AppSumo for bootstrapping their business. If you want to know more about bootstrapping, you can click here. But basically, it means that you are earning money without a big outside investment. So, you are not looking for venture capitalists that will pour a lot of money into your company, but you will get many clients who will just get your product.
Saving some money and finding great solutions
This is more on the buyers' side, where you can find great solutions and products that can be very innovative. You can find a SaaS option that will be able to improve your internal processes, optimize your workflow, offer something additional to your clients or employers, and much more. And also you will save some money from this solution because you will get a lifetime deal with a considerable discount.
Is AppSumo worth it?
The answer is very short and direct, and it is — YES! AppSumo is worth it for entrepreneurs, SaaS startups, and small businesses because it will give them great exposure. You will get some marketing help from their team and hopefully amazing clients that will love your product. It is just as great for buyers that would like to find an innovative solution or product and save a significant amount of money. If you are one of the two — try AppSumo right away.