Oral health is one of the most critical aspects of overall health that doesn't get enough press. Not only does good oral health mean your teeth will last longer and look brighter, but also it can help you head off a range of diseases from gum disease to halitosis – also known as bad breath. 
While most people know all about brushing and flossing your teeth, few consumers actually have any familiarity with a water flosser. This revolutionary tool will help you optimize your dental health and have a brighter, more beautiful smile than you ever thought possible. 
What is a water flosser?
If you're unfamiliar with what a water flosser is, don't worry because you're not alone. Even so, it's a relatively simple yet very powerful device that will help promote oral and dental health. 
Water flossers are devices that use a high-pressure stream of water that travels through a slender hollow tube to clean debris from between your teeth and at the gum line. Think of it as flossing on steroids. 
Using both the high-pressured water jet and the wand's target nature, water flossers give users more precise and optimal control over cleaning their teeth than some traditional methods. 
And when it comes to top-of-the-line water flossers, Xiaomi's MIJIA water flosser system (米家电动冲牙器) is among the world's best for a myriad of reasons that we will now discuss. 
Comprehensive dental care with efficient teeth cleaning power
Incomplete cleaning of the teeth and gingival sulcus is the culprit of oral diseases such as tooth decay and gingivitis. There are some types of debris that brushing your teeth can't entirely remove, and traditional flossing doesn't always get everything.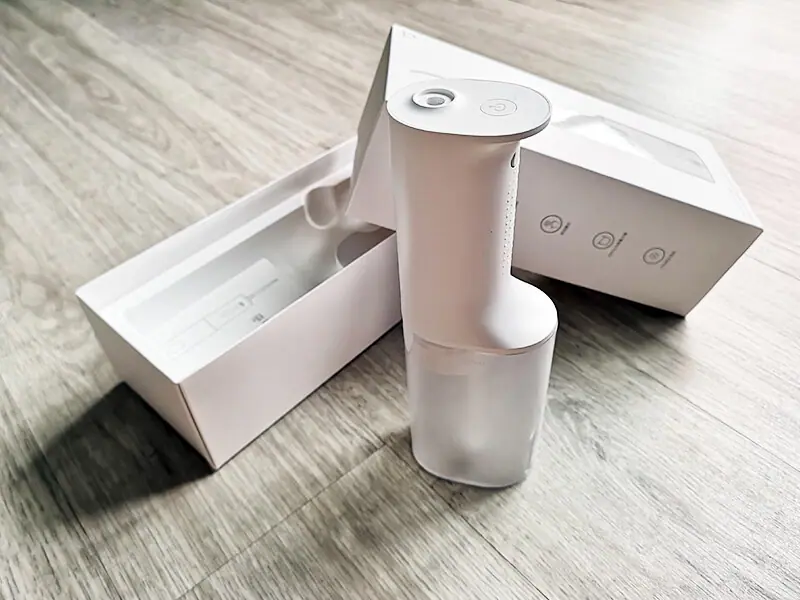 A water flosser like the MIJIA water flosser system allows you to get into the crevices often missed by traditional methods and help you achieve a cleaner, fresher feeling after use. 
When used in tandem with a rigorous and targeted dental health regimen, the MIJIA water flosser system from Xiaomi helps maintain optimal oral health and keeps your teeth shining bright. 
Four professional nozzles for different uses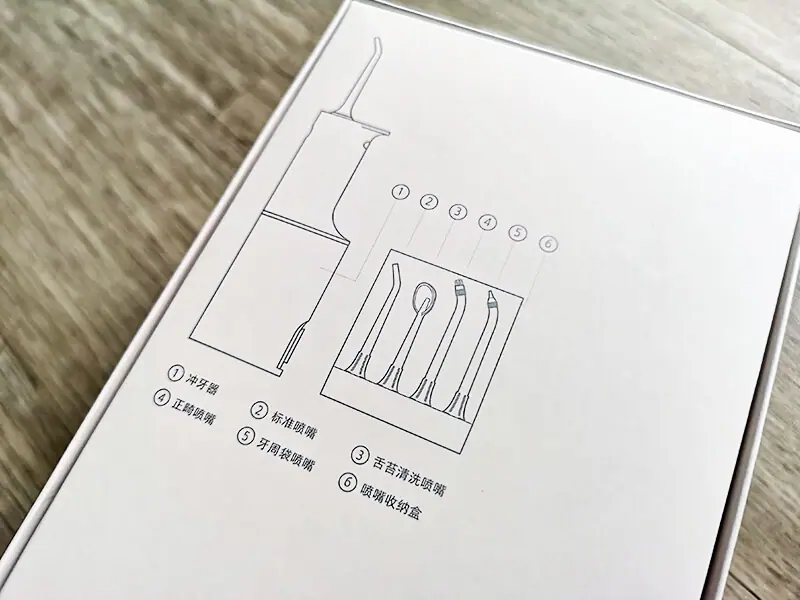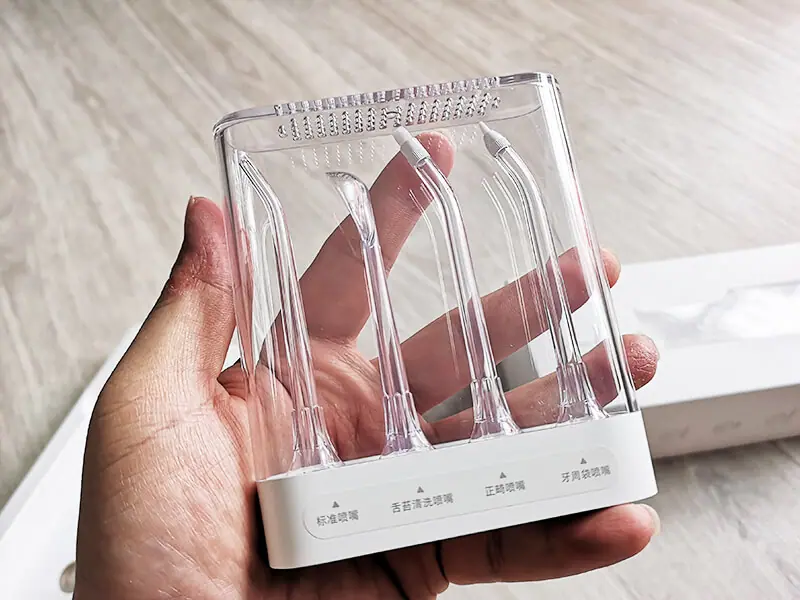 The MIJIA system comes equipped with four different professional nozzles that give the user a different level of control over the stream of water that cleans their teeth. 
The standard nozzle (0.6mm) is perfect for food and debris between the teeth and the gumline. Deep cleaning of the teeth can effectively prevent dental problems such as tooth decay and gingivitis.
The tongue wash nozzle, as the name implies, helps keep your tongue clean. There is also a periodontal nozzle, best for cleaning into 6mm dental bags, and an orthodontic nozzle for more specialized oral care such as flushing away food residues from braces. 
Comes with a nozzle storage box, the MIJIA system allows the nozzles to be stored in a hygienic and dustproof manner, and prevent them from getting lost.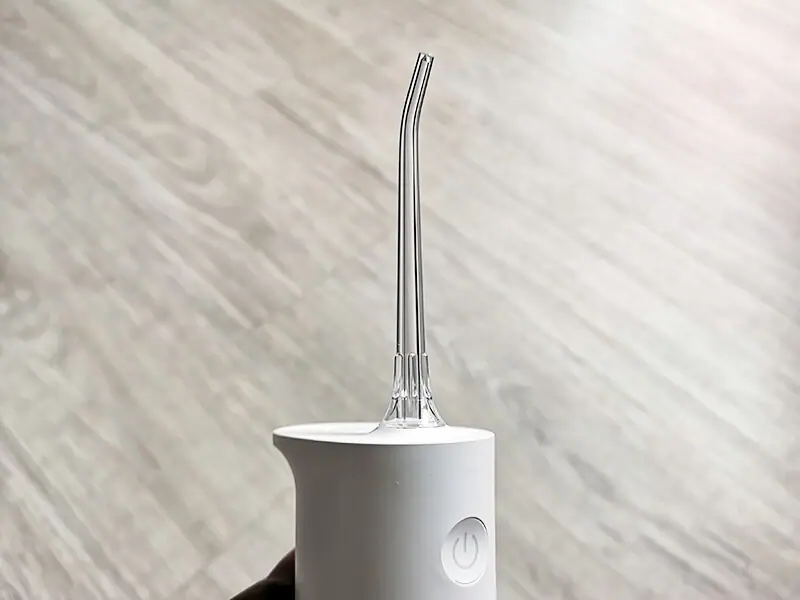 4-Speed mode for various cleaning functions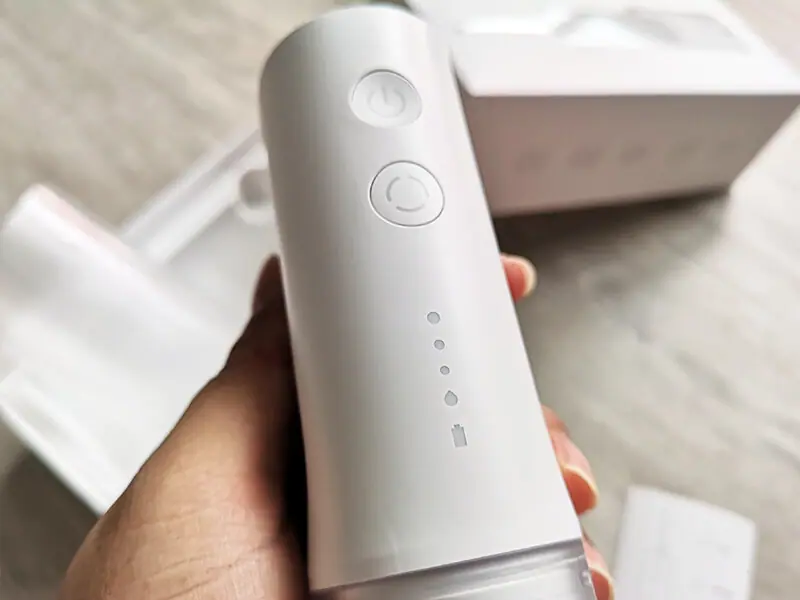 Equipped with a new carbon brush intelligent permanent magnet motor, the water flosser can achieve water pressure up to 140PSI. The product is also capable of producing 1,400 times/minute high-frequency pulse water column for instant, powerful cleaning.
In addition to multiple nozzle options, the Xiaomi MIJIA system also has various pulse strengths to cater to the user's particular needs.  
There is a strong mode that, as the name states, provides a little extra force when necessary and a standard mode that is ideal for most user applications. 
The sensitive mode is specifically attuned to users who need a more gentle touch, as well as people with sensitive gum. The pulse mode delivers short but powerful bursts of water at directed areas to help dislodge accrued materials, and relieve oral bleeding.
Large capacity and IPX7 waterproof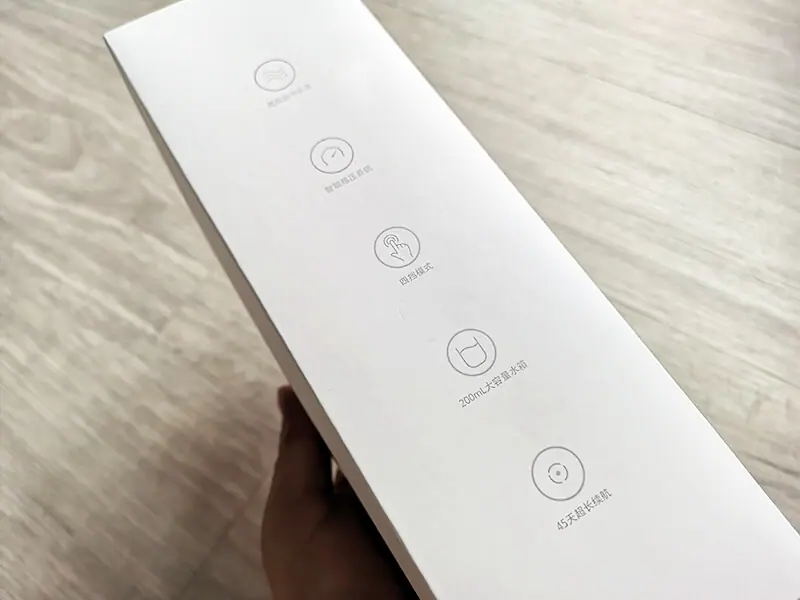 The MIJIA water flosser has both a large capacity water tank of 200ml and an IPX7 waterproof rating. This factor is important because it allows users to clean the device without fear of damaging its operability. 
The large capacity, meanwhile, allows for extended use and multiple users as well. Its tiny footprint and conveniently slender design make it ideal for storage in the home and luggage while traveling. 
The verdict: Xiaomi (MIJIA) electric oral water flosser
There's nothing like that just-left-the-dentist feeling after you get your teeth cleaned. If you want to focus on your oral hygiene yet finds that the traditional flossing is a bit cumbersome, then the MIJIA electric oral water flosser might be just for you.
The various modes and nozzles offer a wide variety of uses for different types of users. The MUJIA system is significantly cheaper than many other water flossers. For that reason, it's an affordable option for anyone hesitant about trying an oral irrigator. The reservoir holds 200ml of water (equivalent to 15 seconds of use), and it's a removable tank too, so it's super easy to clean. With a slim, easy-to-hold handle, depending on the setting you use, the battery can last anywhere from one to three weeks on a single charge.