Console gaming has become a trend, especially the COVID-19 pandemic boosts the demand, and upcoming launch of the next-gen Sony PlayStation and Microsoft Xbox also triggers gamers' expectations.
When it comes to gaming, we often focus more on the console hardware or PC in question than anything else. That's ok – we were raised to think that way by console manufacturers and the rest of the industry. But serious gamers know that things go well beyond hardware and how fast your processor is.
Yet one area that should never be overlooked by the serious gamer looking for an edge is the display itself. To immerse in games, people need to prepare the best set up for vision and sound, hence the display is one of the keys. There are many options out on the market, yet not all are created equally, not even close.
If you're just getting started with high-end accessories for your gaming experiences, don't worry, we've got you covered. You're probably wondering what a gaming monitor or gaming projector in the first place is.
Whether you are a gamer or someone who prefers a gaming monitor's versatility or a gaming projector's wider display size, we've researched the best products out there. This comprehensive guide will help you make the best purchasing decision, given your market options and your individual needs as a gamer.
Quick display buying tips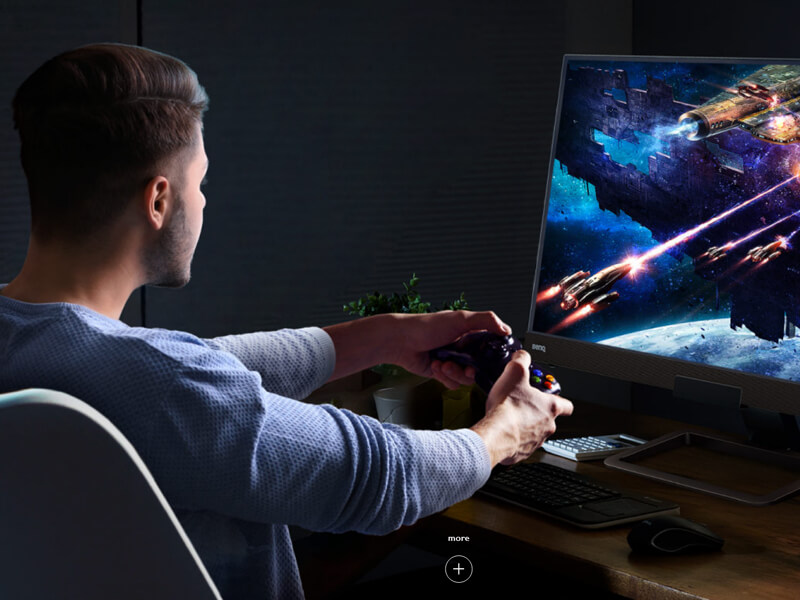 Determine the purpose of the display: Generally, gamers invest in a good display for several purposes. Some gamers focus on single-player games such as The Witcher 3: Wild Hunt and Cyberpunk 2077 for PC, or God of War and The Last of Us Part II on PS4, thus choosing a gaming monitor would be the most ideal. Others opt for gaming projectors due to their larger projection/display size, allowing more friends and family to enjoy gaming, such as Overcooked 2 and Mario Kart 8 Deluxe on Nintendo Switch.
The higher the resolution, the better the picture: The resolution tells you how many pixels a display has in width x height format. 1920 x 1080 – also known as 1080p / Full HD (FHD) / HD – is the minimum you need. If you are looking for even sharper images to play graphic-intensive games on your PlayStation or Xbox, you should get a display with at least QHD (Quad HD), UHD (Ultra HD), or 4K.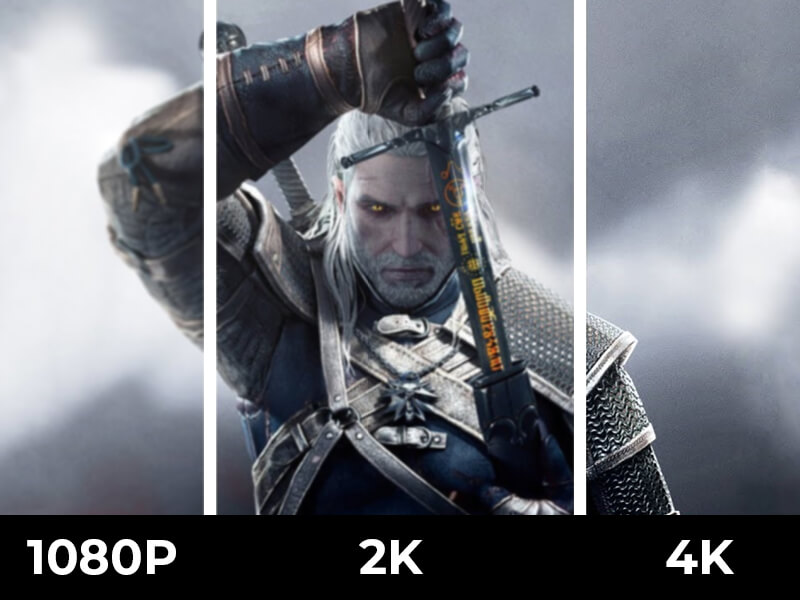 Size is all that matters: Screen size will affect the gaming experience on your PlayStation or Xbox. The display's size very much depends on the size of the room and how far you want to sit from the display. With modern consoles supporting 4K resolution, you can generally go as big as you want and not worry about losing picture quality. The typical dimensions of gaming monitors are 24-inch, 27-inch, and 32-inch.
Gamers, looking for a more prominent display, can invest in a gaming projector, projecting a larger screen, magnifying pixels across a greater distance that can achieve up to 80-inch and 100-inch of display. In contrast, a gaming projector can offer almost 4 times the size of what a gaming monitor can offer. Short-throw projectors can help to work around small rooms as it can fit a projector into just about any space.
Refresh rates, bigger is better: The refresh rate tells you the number of times your monitor updates the screen per second and is measured in hertz (Hz). Bigger numbers equal better, smoother, and less choppy images. As a gamer, the display's refresh rate is incredibly essential, combined with the lowest response time you can find.
Response times, shorter is better: Response time tells you how much time a monitor takes to change individual pixels from black to white or, if its GTG response time, from one shade of gray to another. Long response times can mean motion blur when gaming on your console. The standard response time for a gaming monitor is 5ms, while the fastest gaming monitors can achieve as fast as 0.5ms response time.
Input lag, lower is better: Input lag is the response time between when you press a button or provide other input and when the display registers it. Input lag is especially vital in multiplayer and first-person shooter games like Call of Duty on Xbox, where the action is fast-paced and competitive.
Panel / Projector technology: Generally, competitive gamers that are looking to purchase a gaming monitor should focus on fast refresh rates and low response times, especially for fast-paced games; TN panels are right for you. For gamers that prioritized color accuracy and high-contrast, you should look out for VA or IPS panels.
In the world of digital projection, there are three standard projector technologies: DLP, 3LCD, and LCOS. Each technology has its pros and cons, but generally, DLP is faster than 3LCD or LCOS technology, thus it is preferred for gaming.
High Dynamic Range (HDR): HDR was touted as the next big thing, and it's found in most of the popular displays nowadays. Dynamic range is the contrast between light and dark areas, and HDR is a technique to enhance that contrast and produce a more lifelike picture. A display with HDR support will produce a better picture compared to one without.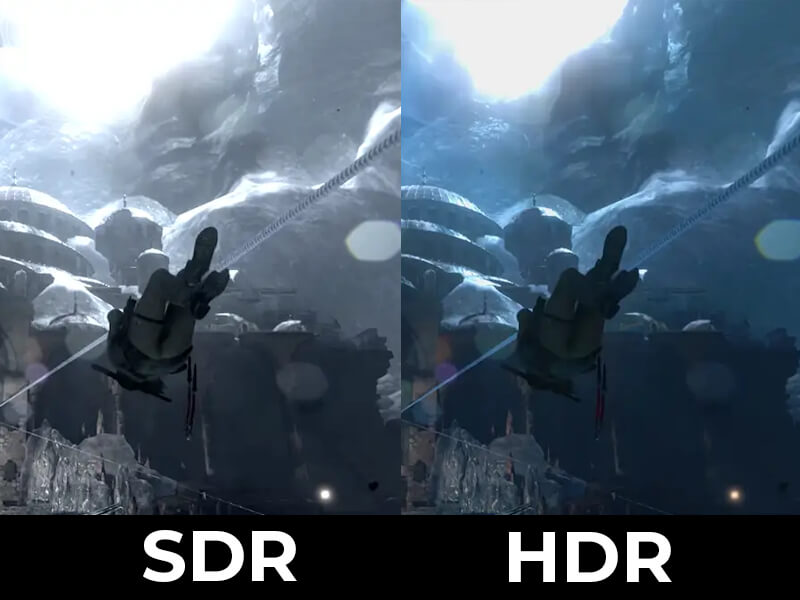 G-Sync & FreeSync: Adaptive-Sync means that the display's refresh cycle is synced with the rate at which the connected console's graphics card renders each video frame, even if that rate changes. Games generate each frame individually, and the rate can vary widely depending on the graphics card's processing power. When a display's refresh rate is fixed, the display will begin drawing a new frame before the current one has completed rendering.
G-Sync, which works with Nvidia-based GPUs, and FreeSync, which works with AMD cards, solves that problem. The display draws every frame completely before the video card sends the next one, thereby eliminating any tearing artifacts. This technology is especially useful for action-packed FPS games like Doom and Overwatch on PS4.
Eye-care technology: In short, displays with the low blue light technology filter out the harmful blue lights, causing eye strain to those sensitive to it. Another common symptom users experience is having trouble sleeping after being exposed to this low blue light. In console gaming, gamers often find themselves staring at the display for hours on end. Having low blue light technology as well as flicker-free and BI technology ensures a comfortable viewing experience while keeping your eyes healthy at the same time.
Unlike gaming monitors, a projector projects light onto a surface and then reflects it into our eyes, a process known as "reflected light." This motion differs from the "direct light" from a gaming monitor, therefore a projected image is less harmful to your eyes compared to a gaming monitor in a way.
Gaming monitor vs. Gaming projector
A gaming monitor is a high-resolution monitor that is often attuned to gamers and digital media enthusiasts' needs. This means it offers up a performance that is a cut above what you get with your regular run-of-the-mill office monitor or standard display. On the other hand, a projector, as the name suggests, is a much larger format than a gaming monitor.
In general, if you are mostly playing console games on your own then a gaming monitor would be better for you. However, if you often find yourself indulging into party games with friends and family, then you might want to look for a gaming projector.
Why choose a gaming monitor?
Why choose a gaming projector?
• Playing games by yourself
(Single player)
• Serious gaming
• Bedroom, study room, etc
• High demand on Input Lag
• Playing games and watching movies with a big group
(Multiple players)
• Casual gaming
• Living room, bedroom, etc
• Cinema-like big screen
Gaming monitors
BenQ offers some of the best gaming monitors in the market. Some of the models come with HDRi technology supported by BenQ unique Brightness Intelligence Plus Technology (BI+) which allows you to adjust brightness, contrast and color temperature automatically according to the content and ambient light, optimizing the gaming experience. There are three different HDRi modes: display HDRi, Game HDRi and Cinema HDRi, allowing gamers to choose according to their preference.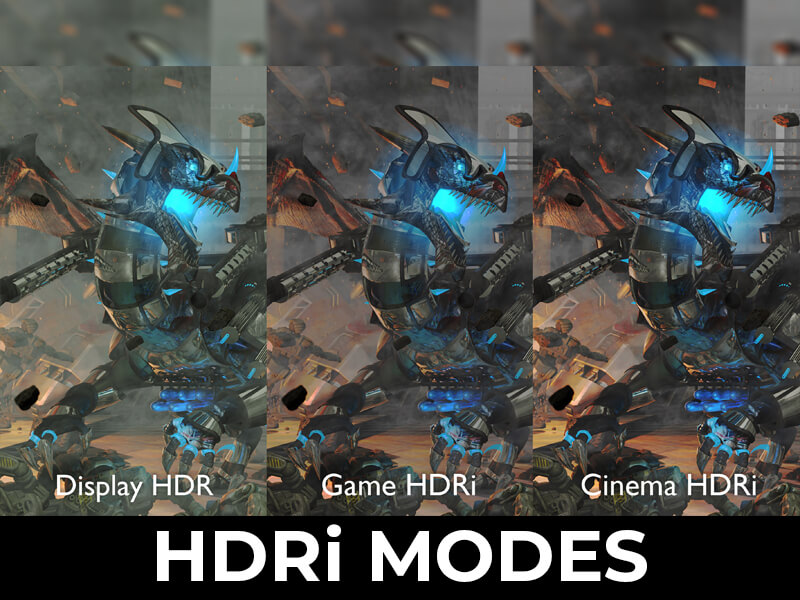 Most of the gaming monitors also comes with 2.1 built-in speakers supported by BenQ treVolo, which ensures that it hits highs, mids, and lows with precision, offering the best-in-class acoustic enjoyment. In addition, with a built-in digital signal processor (DSP) chip, the monitors can provide 5 sound modes including cinema, game, dialog/vocal, rock/party, and pop/livemode.
Apart from these, BenQ's renown eye-care technology help gamers relieve their eye strain due to prolonged gaming hours, so that gamers can deeply immerse in games without experiencing fatigue which will affect their gameplay and performance.
Best for console gaming
BenQ EW2780U (27″) / BenQ EW3280U (32″): If you are a big fan of AAA console games like Final Fantasy VII Remake and Ghost of Tsushima, you definitely can't miss BenQ's 4K gaming monitors such as the EW2780U and EW3280U.
These gaming monitors are 27-inch and 32-inch respectively, offering a 4K (UHD) high resolution display that combines BenQ's HDRi technology and 2.1 channel treVolo speakers. These gaming monitors gives you cinematic picture quality and superior audio delivery, ideal for console gaming.
Equipped with dual speakers that are supported by a subwoofer, the treVolo add-on speakers provides an unmatched audio experience which intensify your immersion when you game in front of these monitors. Offering a max resolution of 3840×2160 at a 16:9 aspect ratio, this monitor is ready for intense gaming action, digital media consumption, or productivity-oriented tasks.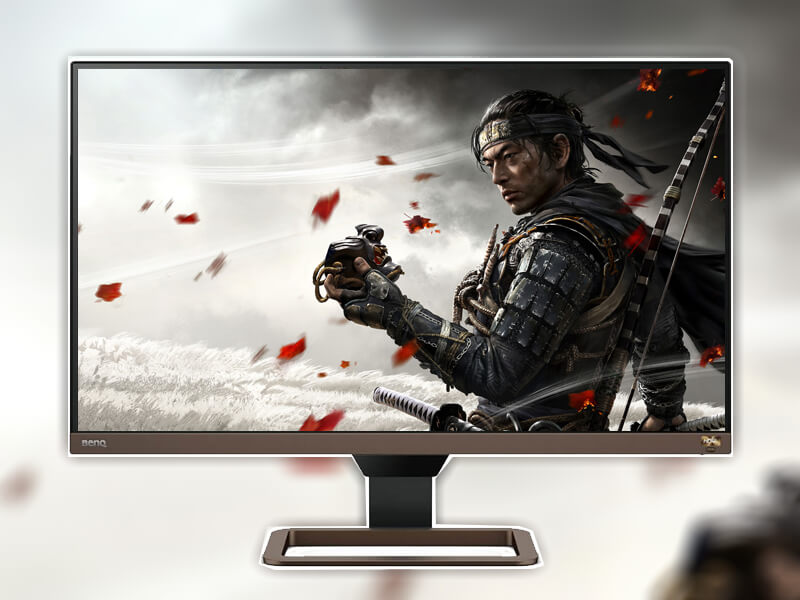 Best PC-Console hybrid gaming
EX2710 (27″): The EX2710, on the other hand, sports a 1ms MPRT IPS panel, performing beautifully on most AAA titles. It shines best at fast-moving gameplay that involves high-speed camera panorama effects. The new MOBIUZ models also comes with a new "Light Tuner" feature, which is a complete package on brightness, contrast, and gamma tuning. This feature will help gamers to see much more details in the dark without distortions. This monitor runs best with games like Monster Hunter: World, The Witcher 3: Wild Hunt, and Final Fantasy VII Remake; or any other games that has a fast fighting scenes and dark scenery.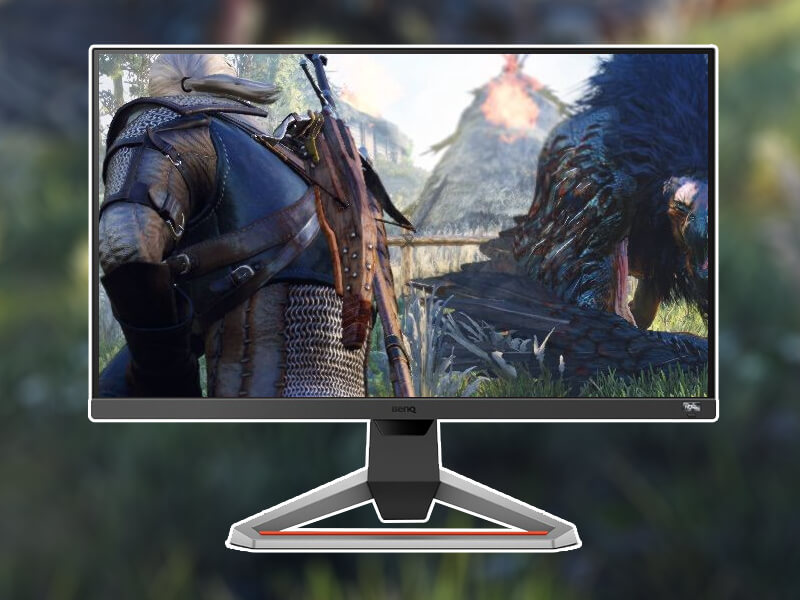 Best PC-Console hybrid gaming
BenQ EX2780Q (27″): The EX2780Q comes with a 2K QHD high-resolution display with 144Hz refresh rate and BenQ's HDRi technology with 2.1 channel treVolo speakers. Total screen space comes in at 27 inches with a max resolution of 2560×1440 powered by an LED backlight with 350 brightness and 1.07 billion colors at a 16:9 aspect ratio.
Built-in treVolo speakers offer the best-in-class acoustic enjoyment. It also reduces desktop clutter due to a need of an external speaker. Stellar acoustics and five custom sound modes are tailored for ideal audio. Add in treble, mid-range, and bass balance for the best monitor audio you've ever experienced. These gaming monitors put you in the game, offering better, smoother image for high-speed console games due to its high refresh rate, combining with FreeSync technology to eliminate tearing.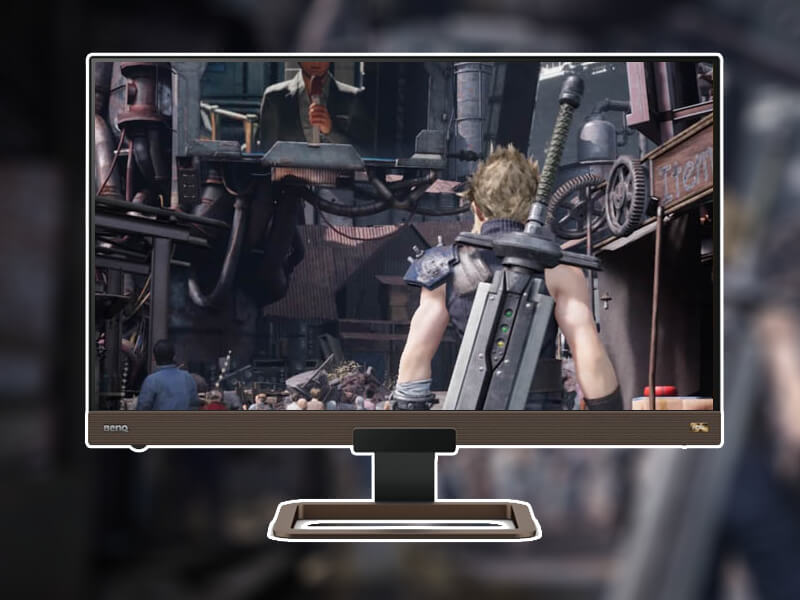 Gaming projectors
Gaming projectors by BenQ offers 80″-100″ of big screen immersion gaming experience, coupled with tailored Game Mode enhancing dark, shadowy scenes for greater clarity. BenQ exclusive LumiExpert also actively detects ambient light conditions in your viewing environment and automatically adjusts balanced visual brightness for maximum comfort.
Best for 4K / Sports gaming
BenQ TK800M: The TK800M offers gamers a sharp picture at true 4K UHD with 3840×2160 max resolution at 8.3M pixels. Max brightness comes in at 3000lm with 96% Rec.709 color space and dedicated user modes for football and sports. Its exclusive projector-optimized HDR technology delivers clear images with true color even in dark scene HDR mode. This gaming projector is best for 4K games, and sport-related titles like NBA2K and FIFA.
This gaming projector is equipped with the new generation single-DMD DLP technology to minimize the sleek, compact profile for modern lifestyles. 4K UHD reduces pixel blur for stunning visual clarity and crisply defined fine details for your console gaming needs.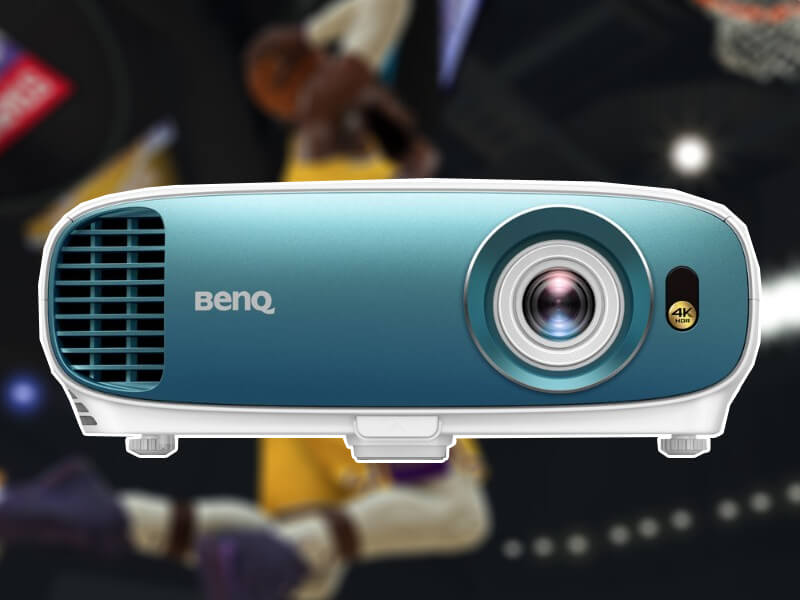 Best for short throw / Low Input Lag
BenQ TH671ST: Second to the 4K Projector thought by no means inferior to it, the TH671ST comes with a 1080p (FHD) resolution and a short throw design that provides immersive 100″ gameplay from just 1.5m. With a brightness of 3000lm and 92% Rec.709 color space, the TH671ST offers a rich, detailed picture that truly immerses one in the gameplay.
The TH671ST brings heart-pounding game action to your living room with its 16ms low input lag and microsecond DMD response time for ultra-smooth console gaming experiences without unwanted motion blur and image lag. It is most suitable for Switch party games like Mario Odyssey, The Legend of Zelda: Breath of the Wild, and Luigi's Mansion 3.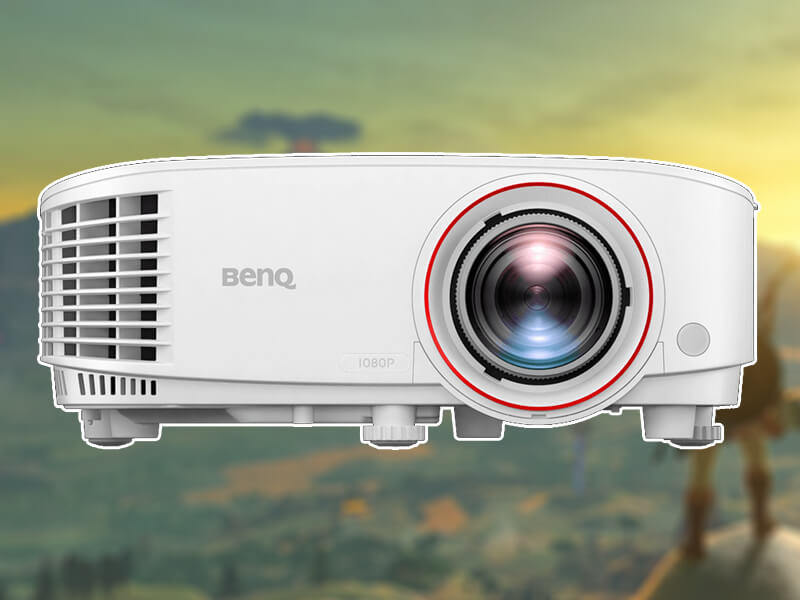 Best for family / child-friendly features
BenQ GS2: Perhaps the most straightforward projector on offer from BenQ, the GS2 is not to be underestimated. When it comes to resolution, its 720p resolution (1280 x 720 pixels) as well as 1080p supported is at the bottom of this list but, if the resolution isn't all that matters to you, then you've got other things to be excited about with this excellent device. The projector has Auto-Focus feature which could be automatically turned on. The wireless and mobility features of GS2 also allows families to enjoy the charm of 80″+ big screen projection while supporting fun activities wherever they are.
Best of all, it is splash-proof, drop-proof, and comes equipped with Eye-Protection Sensor, which will auto shut-down the light when children get near. In addition, the Parental Timer helps to manage children's usage time.
Designed with the family in mind, this projector is ideal for family party games like Super Smash Bros Ultimate, Super Mario Party, Mario Kart 8 Deluxe, Overcooked! 2, and Animal Crossing.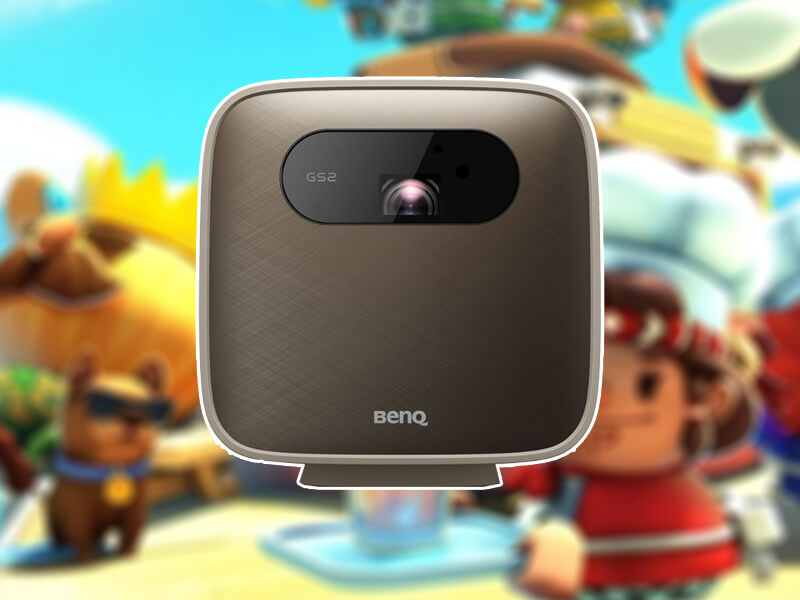 What should you buy?
For serious gamers that are looking to focus on single player console games, it is recommended to invest in a decent gaming monitor. On the other hand, if you are looking to play more of the family party game titles that involves a wider audience, by all means get a good gaming projector that meets your needs.
If you normally play console AAA game titles on the PlayStation or Xbox, then EW2780U and EW3280U will be good options to explore due to their 4K (UHD) high resolution display which can render cinematic picture quality. Alternatively, if you play both console and PC games, then EX2780Q and EX2710 would be the ideal monitor for you.
If you're looking for something that can project to a larger screen that does a little bit of everything including gaming with a low input lag, then the TH671ST is what you need. For gamers looking for the family fun on Nintendo Switch, the portable GS2 is pretty much the best choice for you. If 4K console games like NBA2K, FIFA are what you normally go for, you might want to consider the TK800M.
Here's an infographic by Tech Edt that can help you in your purchase decision whether you're considering on a gaming monitor or gaming projector for your console gaming needs: