The latest ZenBook model is smaller, lighter, and more refined than ever before, without sacrificing the screen, speakers, hardware, or performance. So, if you're looking for a compact, thin-and-light laptop with dedicated graphics, the ASUS ZenBook 14X OLED could be the one.
The form-factor is possibly this laptop's major selling point, as it is substantially smaller and lighter than other options with comparable performance and capabilities.
On top of that, two features aim to distinguish the ZenBook 14X OLED. The first is its OLED display, one of the first mass-produced 90Hz OLED displays. The second feature is that the touchpad doubles as a screen. It's basically a tiny touchscreen. You may place windows there and navigate them just like you would with any other touchscreen device.
CPU: Intel® Core™ i7-1165G7 Processor 2.8 GHz
RAM: 16GB
Display: 14.0-inch touch-screen, 2880 x 1800 (90Hz refresh rate)
Storage: 1TB SSD
Ports: 2x Thunderbolt 4, 1x USB-A, 1x HDMI 2.0b, headphone jack, Micro SD card reader
Battery life: 5 hours (tested, web surfing) | 63WHrs (ASUS website)
Wireless: Wi-Fi 6/Bluetooth 5.0
Dimensions: 31.12 x 22.12 x 1.69 ~ 1.69 cm
Weight: 1.40 kg
Dark-grey color tone with a sturdier build
The Asus ZenBook 14X models substantially improve over the previous generation in terms of practicality and ergonomics while retaining the luxury ZenBook appearance. The ZenBook 14X is definitely a ZenBook, with its angular design and subtle yet unmistakable spun-metal finish on the front panel.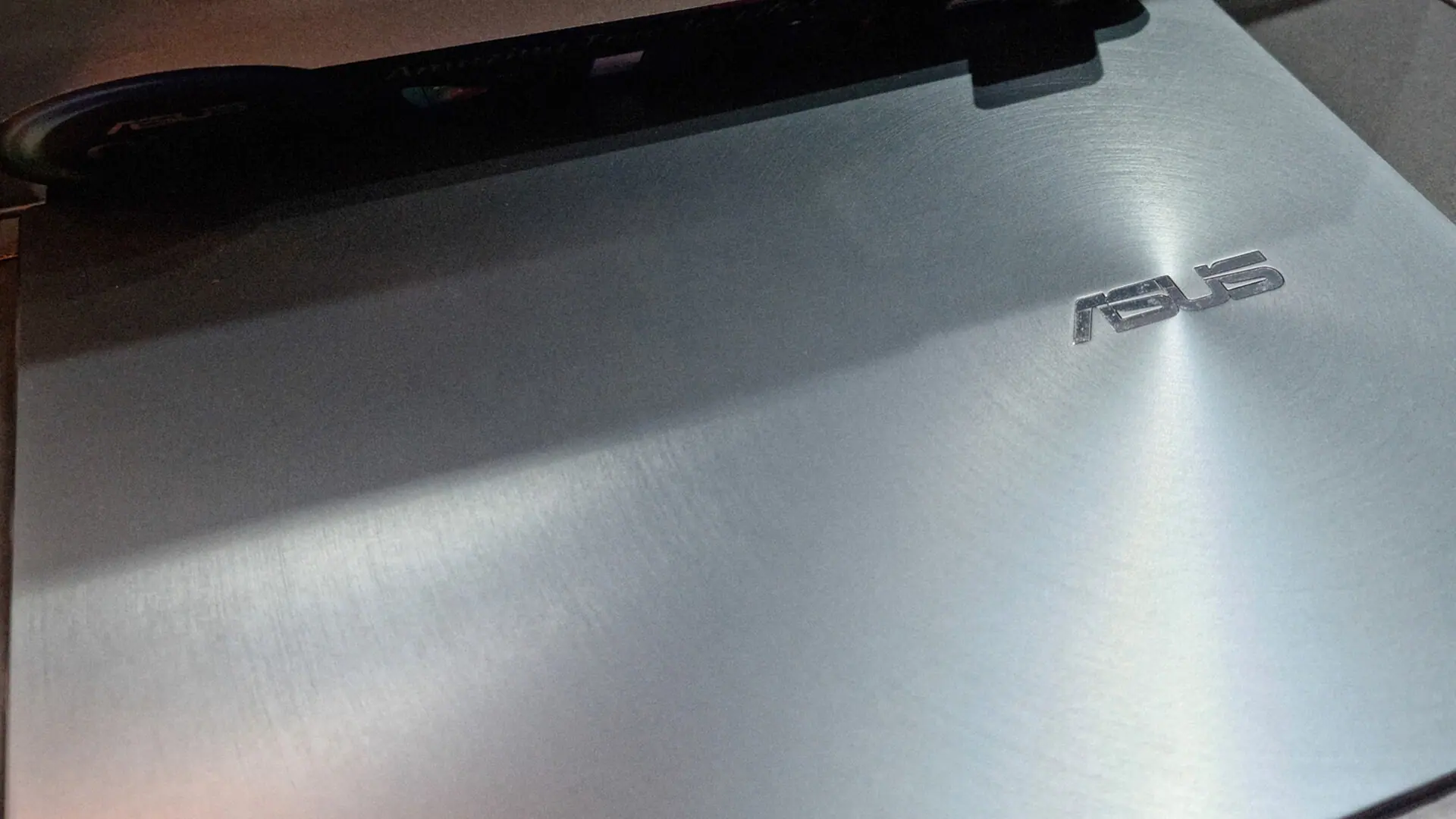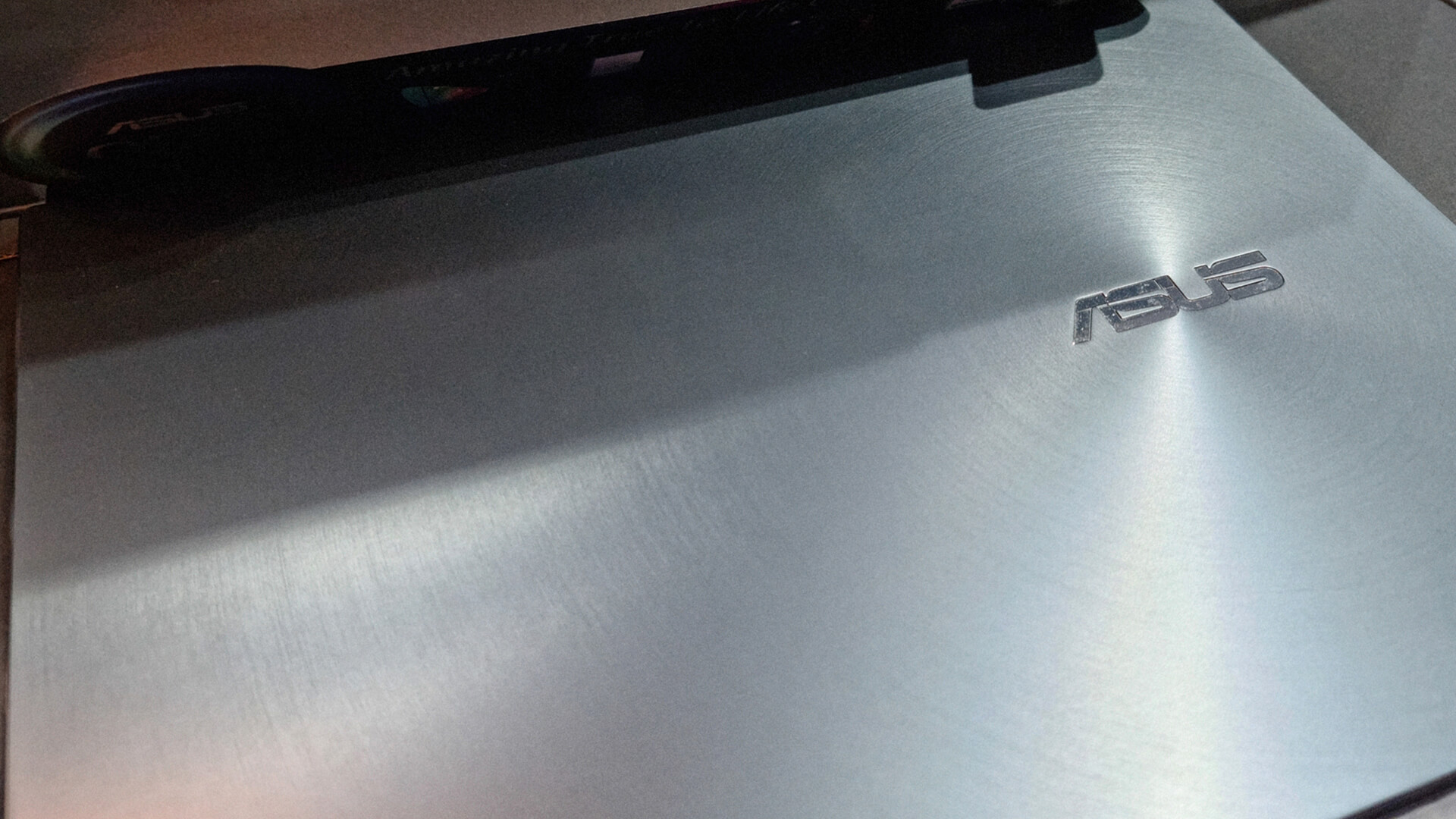 The overall design of these ZenBook 14X models is similar to prior generations, with a pine gray color and metal structure. The interior has a smooth, non-textured finish, while the lid has the trademark ZenBook finish, with a rippling effect coming out of the ASUS logo. In general, a word of caution about ZenBooks: the lids are fingerprint magnets.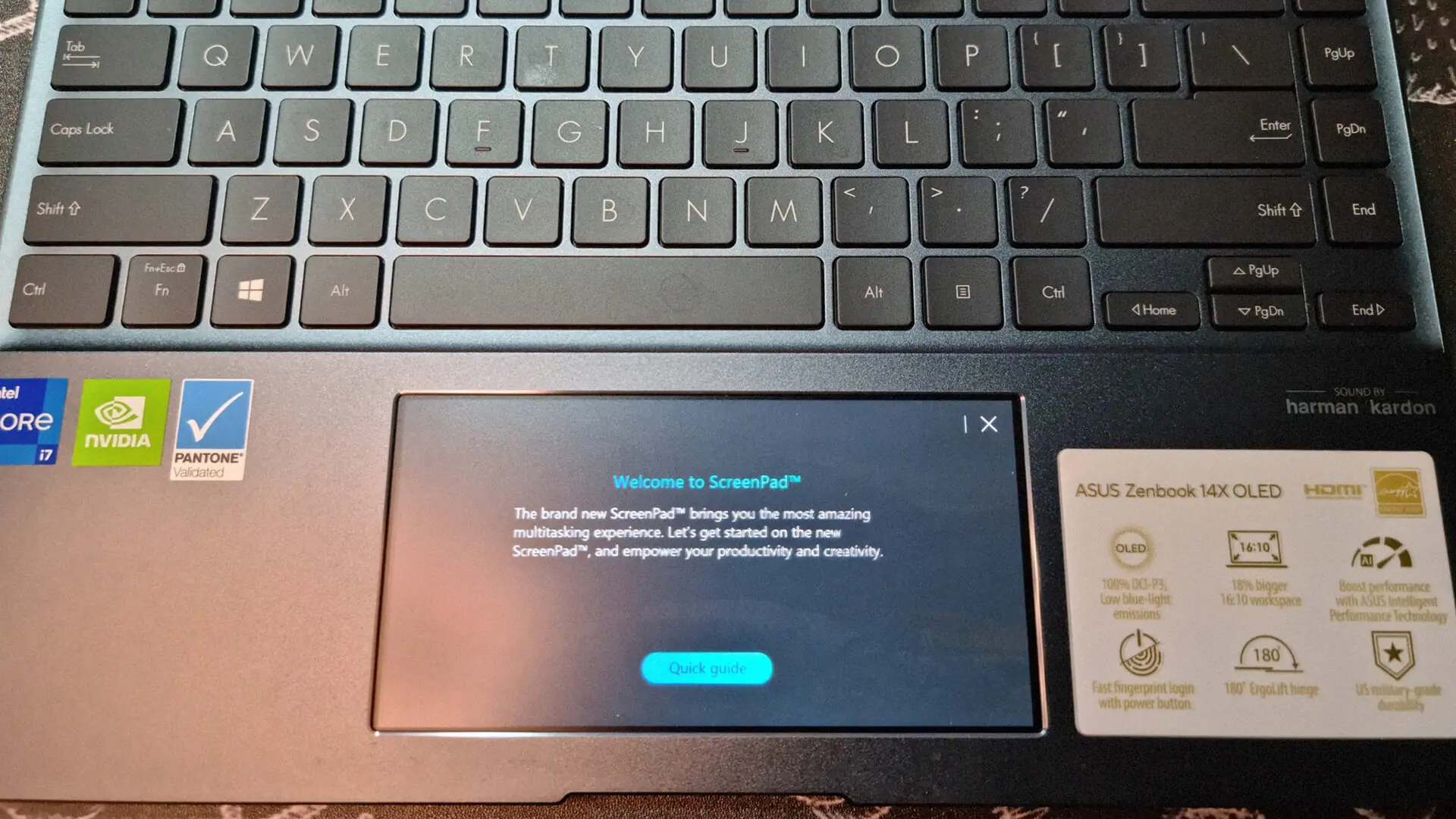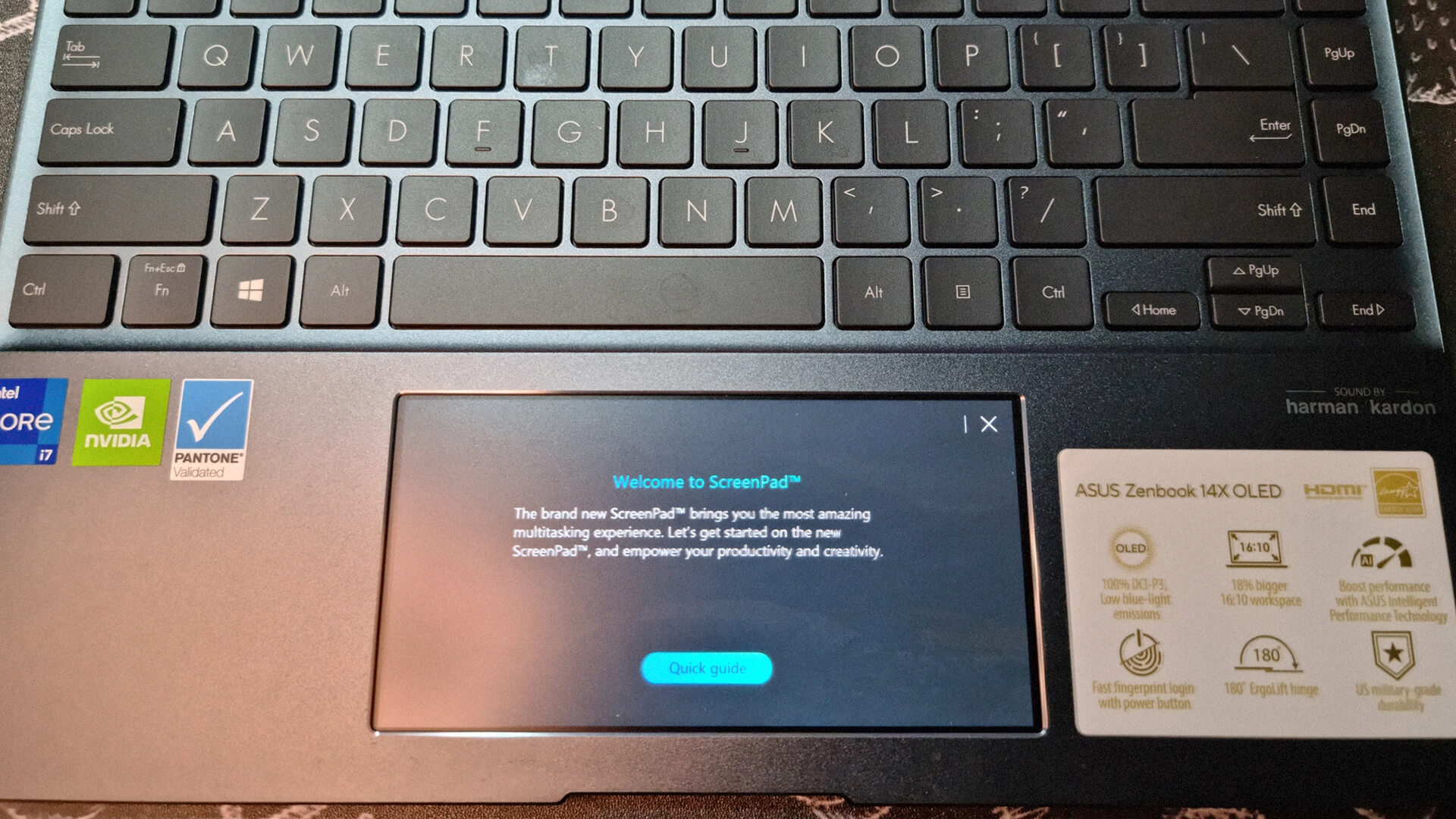 The ZenBook 14X ultraportables retain the company's Ergolift hinge concept, with the main chassis raising up on little rubber feet at the bottom of the screen to increase airflow into the fans. However, the hinges on later generations are much firmer and allow the screen to lean back to 180 degrees, which are excellent improvements over earlier ZenBooks.
The chassis has little flex, and the notebook overall seems high-quality. The high quality extends to the hinges, which are magnetically fastened to the base and allow the lid to be opened with one finger. Following that, the hinges create a solid hold that everything remains in place when carrying or lifting the device. The ZenBook 14X OLED has also been tested to fulfill the stringent MIL-STD-810H US military standard for dependability and durability.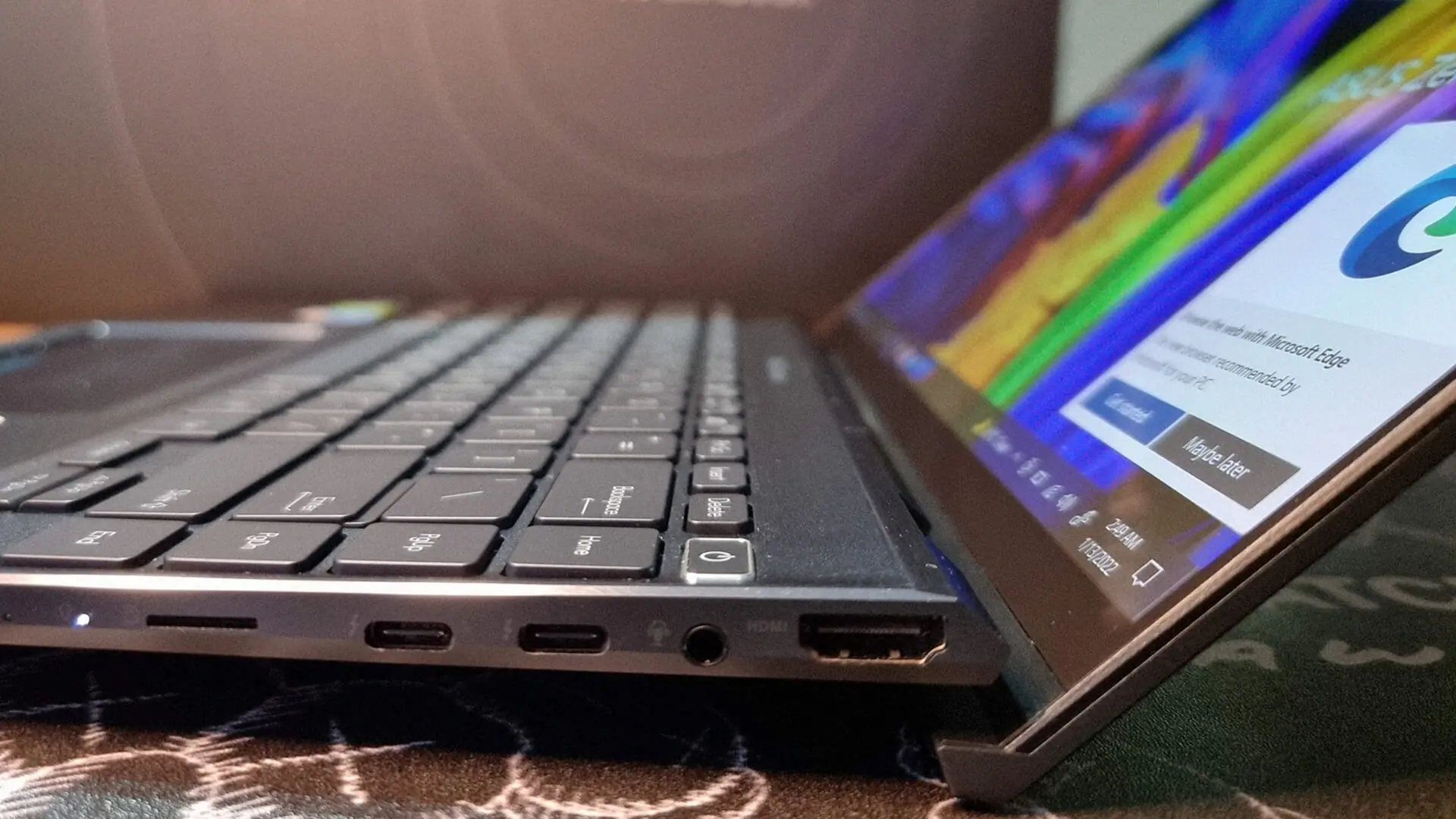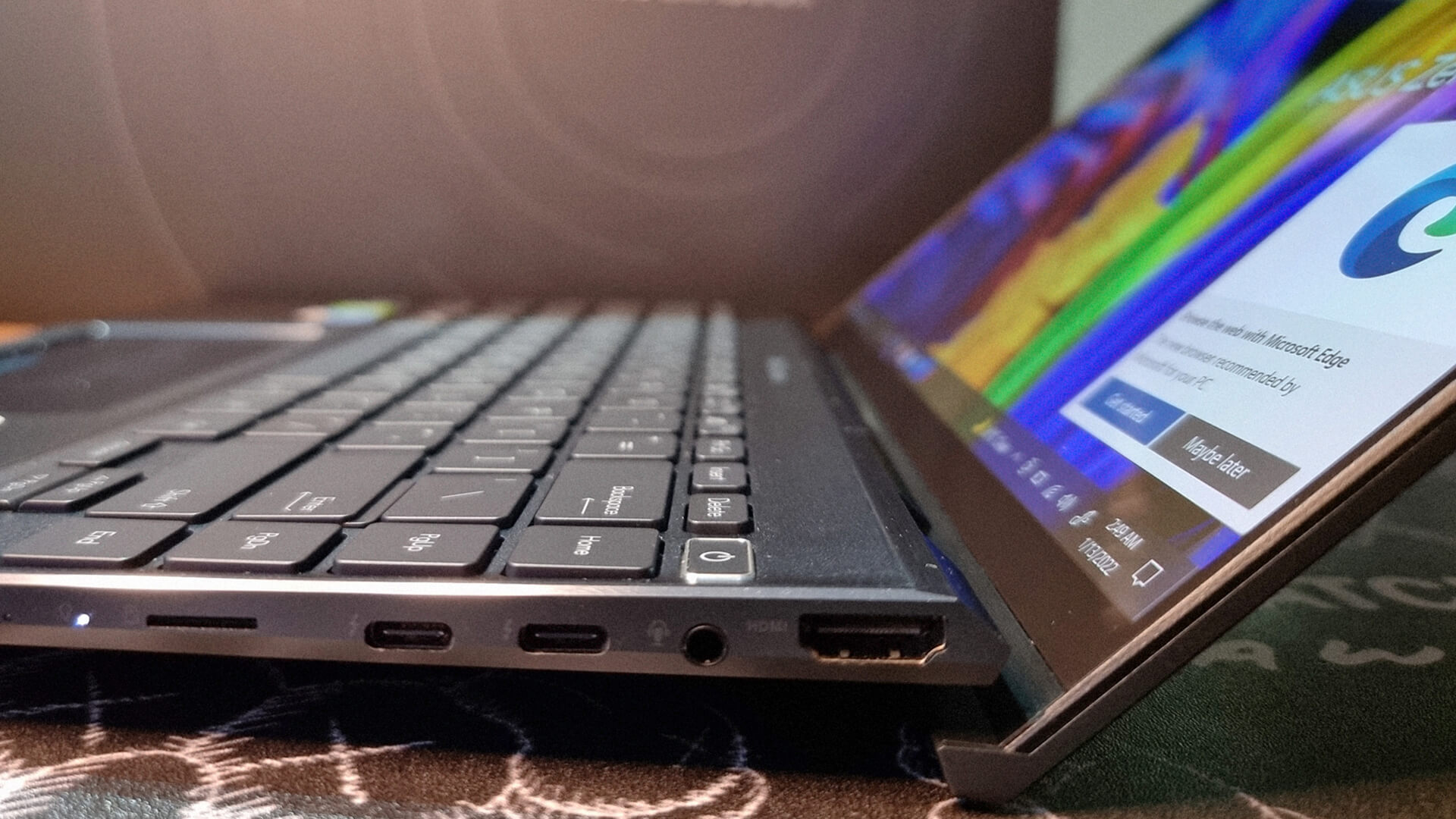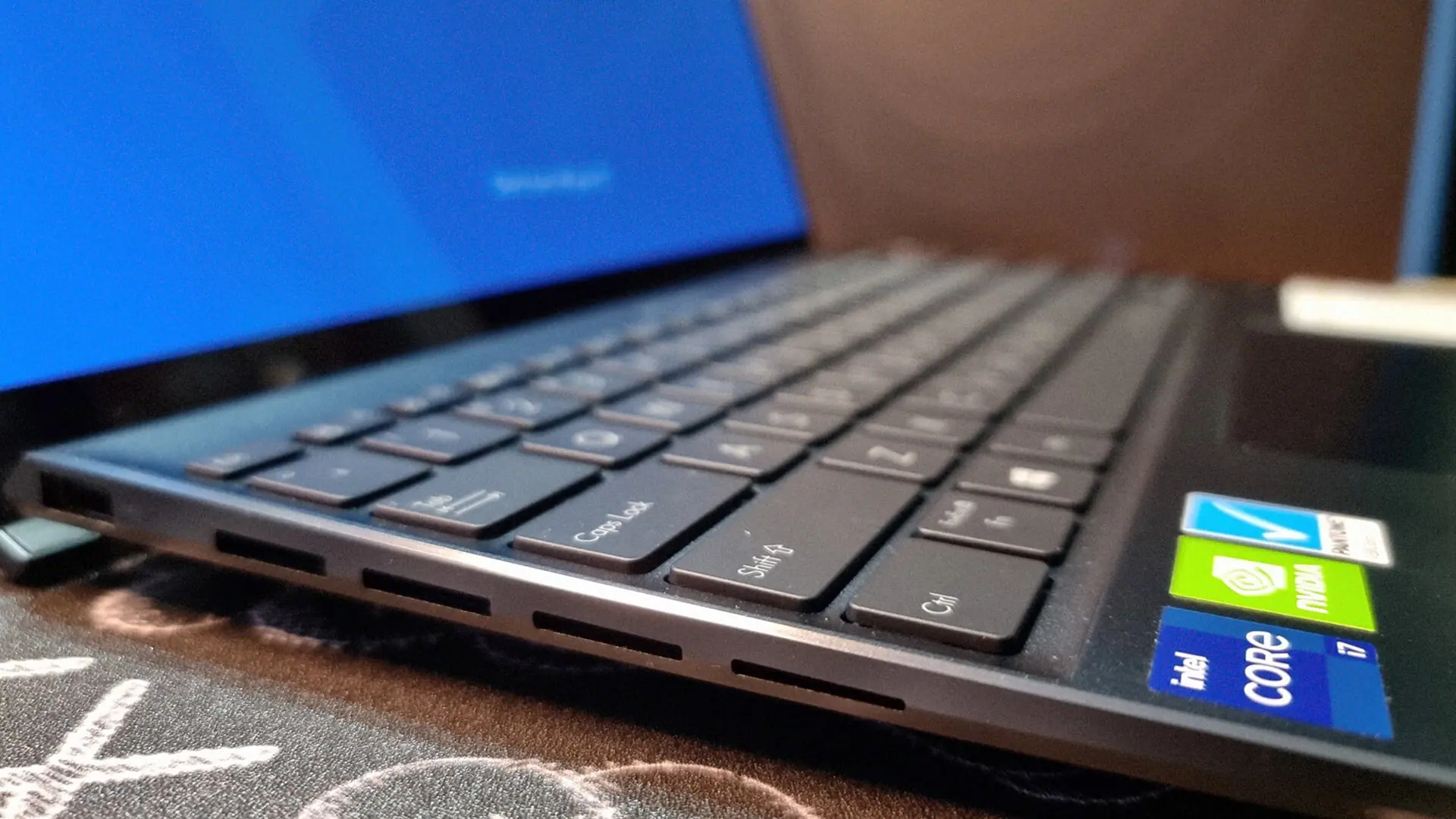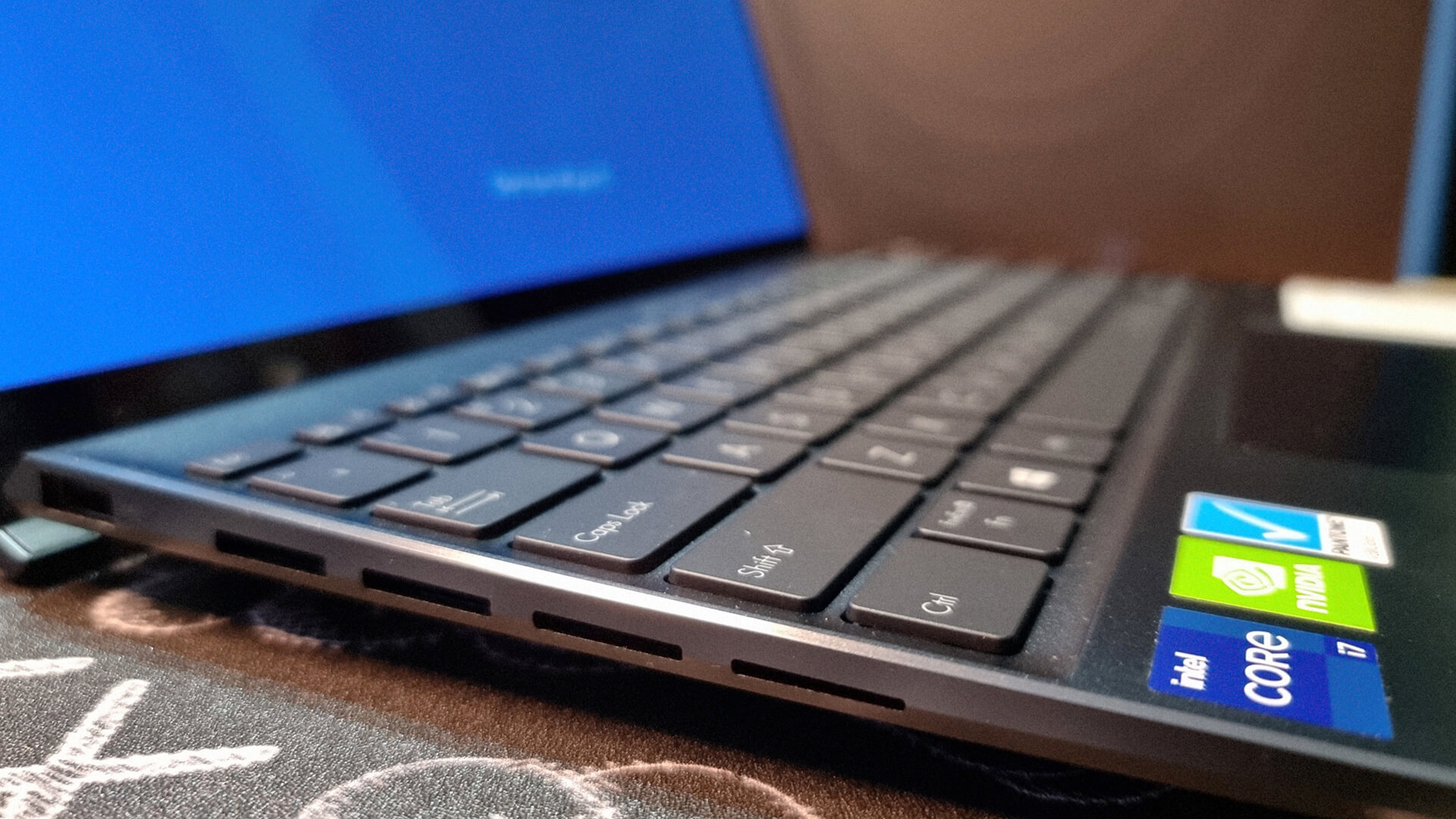 It's slightly chunkier and heavier than other similarly-sized ZenBooks, at 16.9mm and 1.4kg. There are good reasons for this, like improved ports and distinct graphics. It contains a Type-A port, an HDMI slot, a 3.5mm audio jack, and a microSD card reader in addition to two USB-C Thunderbolt 4 ports.
World-leading OLED WQXGA+ display
The ASUS ZenBook 14X OLED is a stylish laptop with a stunning OLED display. The display is unquestionably the biggest selling point for those looking for a bright display capable of editing and playing HDR video. With its display, this is a capable laptop for visual enjoyment. In addition, the panel comes with a Pantone certification and is fairly well-calibrated out of the box.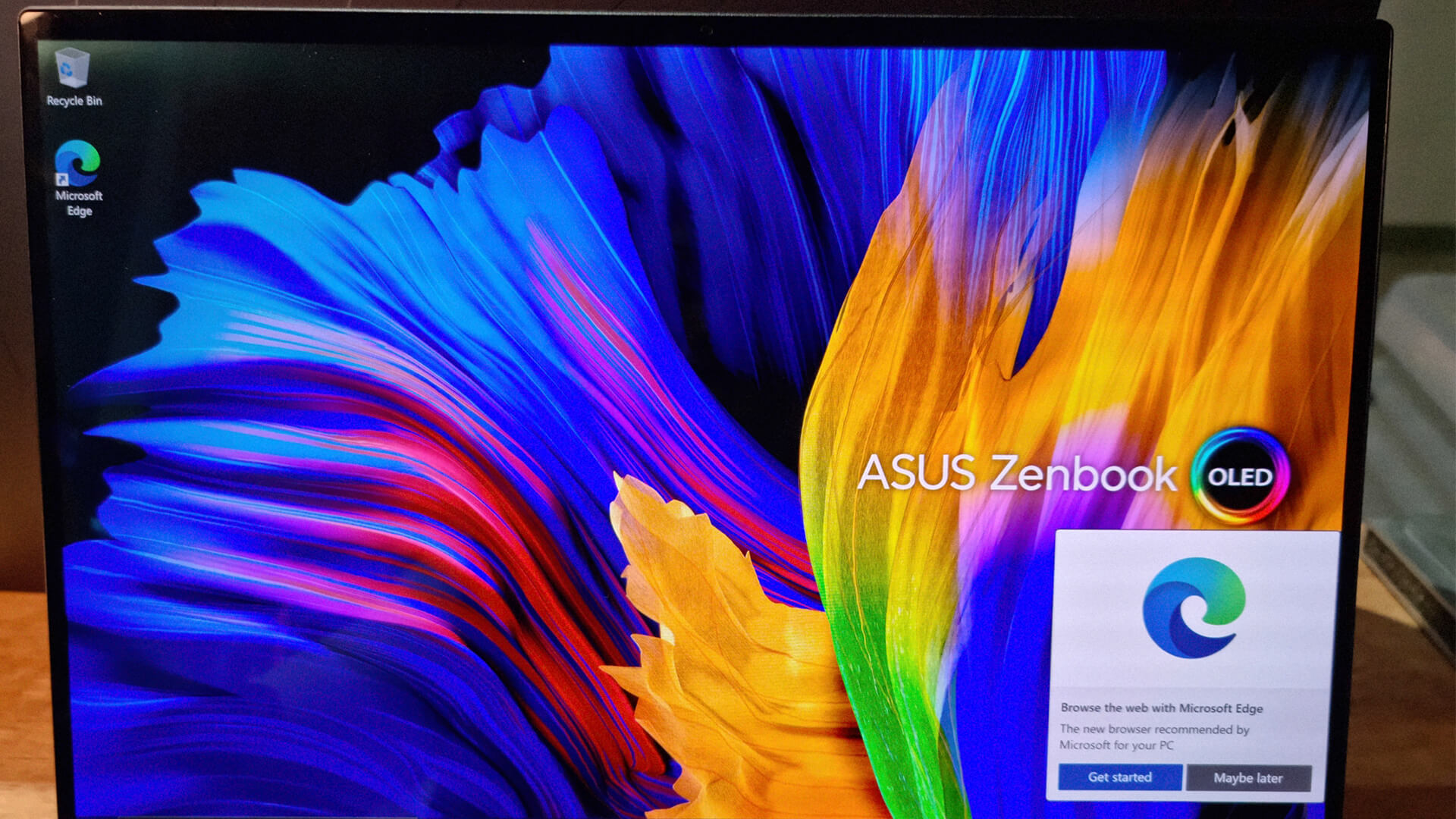 The 16:10 2880 x 1800 display improves on a regular 1920 x 1200 panel in terms of visual experience. The colors are vibrant, and the blacks, which are the signature of OLED technology, are incredibly dark. It helps text stand out a little more, which is excellent for someone who reads and writes all day. The 90Hz refresh rate is quite extraordinary, and scrolling is noticeably smoother.
It also claims a DCI-P3 color gamut of 100 percent and a brightness of 500 nits, where the colorful display outperforms any IPS model.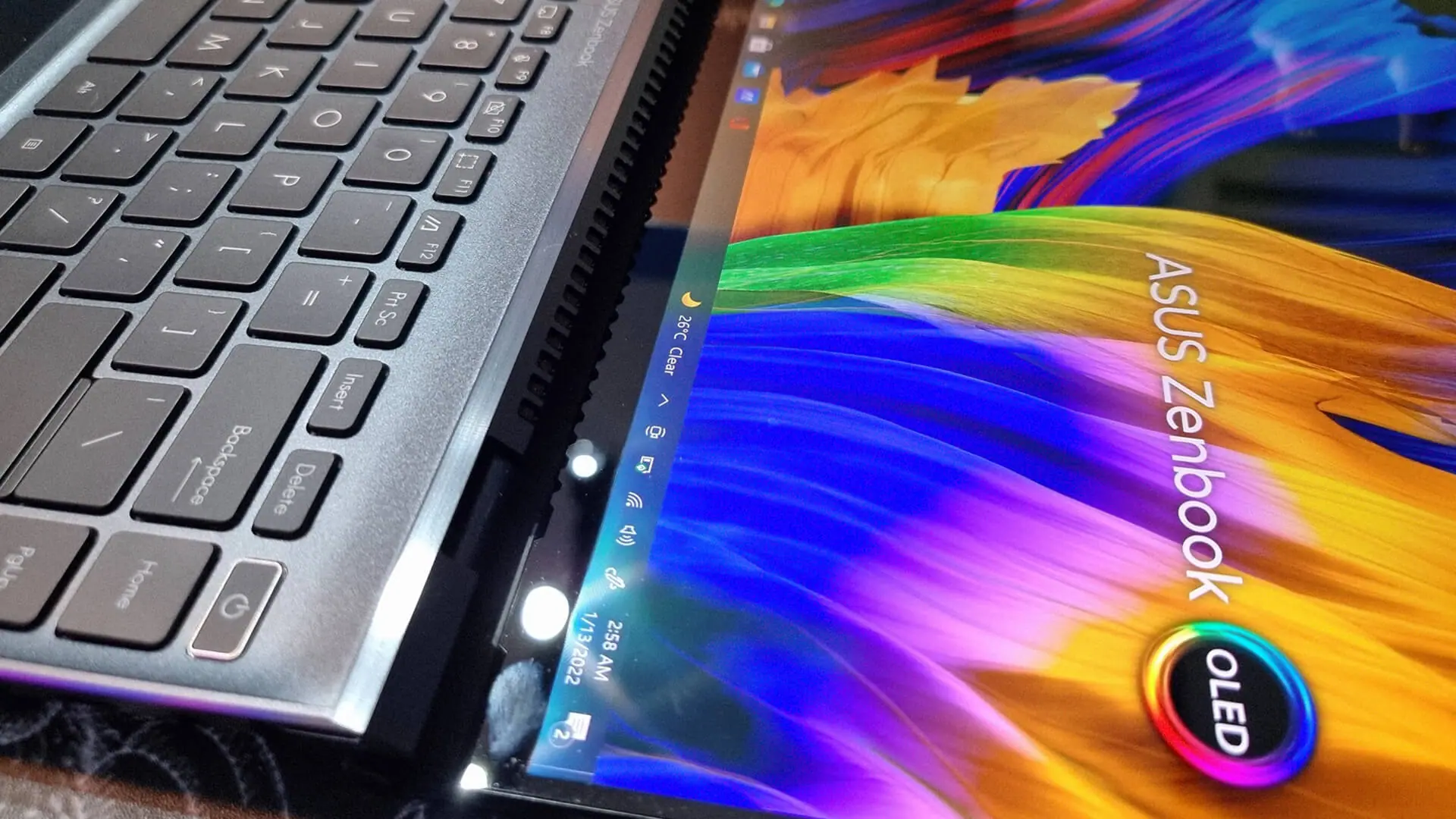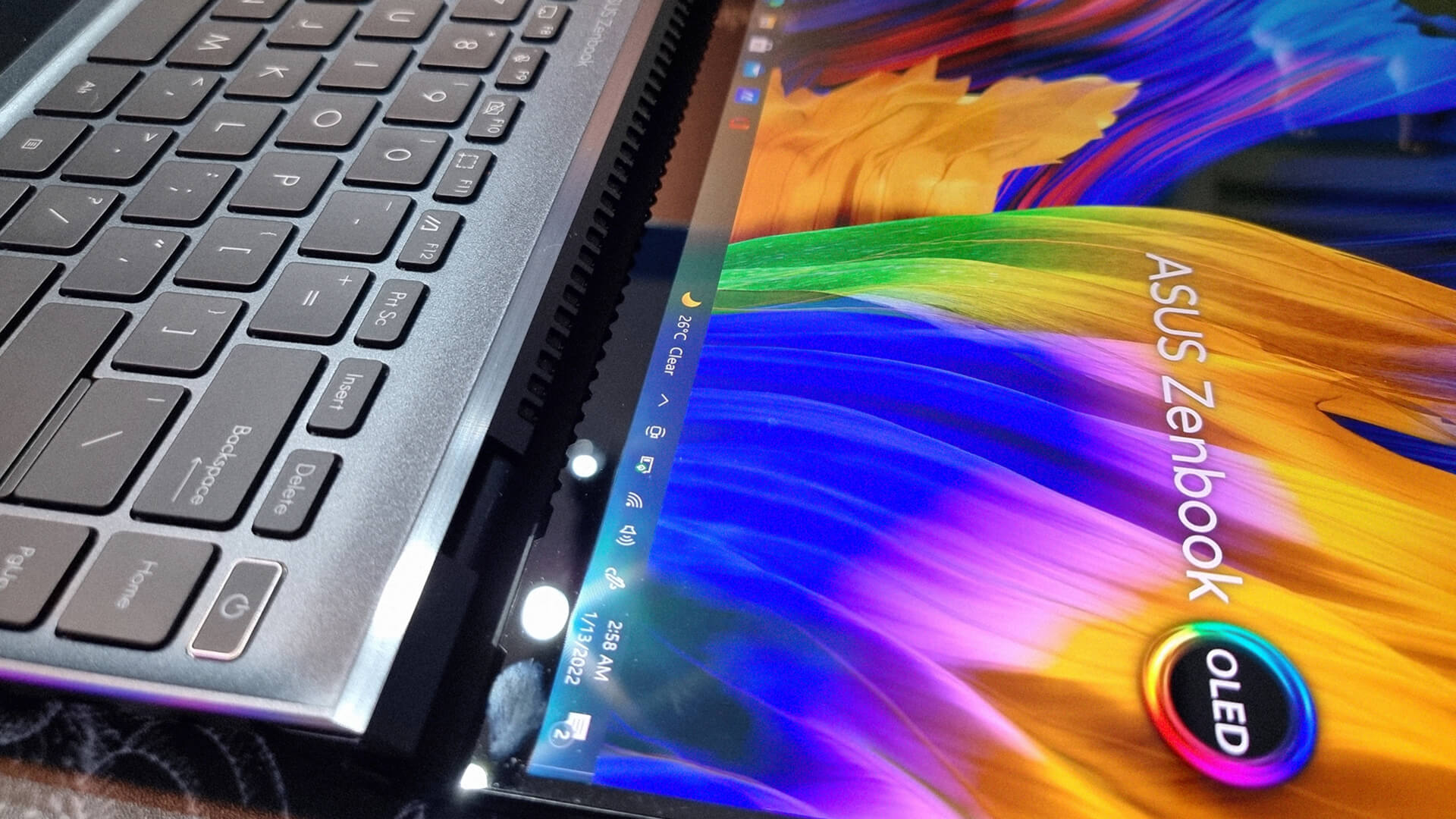 One minor point to mention is the panel's susceptibility to reflections. Because the screen's shiny surface and high light level can readily capture them, especially in an outdoor situation; thus, it's better to use the laptop indoors.
There's still a decent-sized bezel at the bottom and top, enough to house a webcam and move the screen away from other components.
Good performance for daily activities
This ASUS 14-inch laptop combines a magnificent OLED display with an exemplary configuration. As a result, the ZenBook 14X, like other models in its class, is a capable workhorse that breezes through day-to-day operations and less GPU-intensive tasks like basic touch-ups or editing in Photoshop and Lightroom.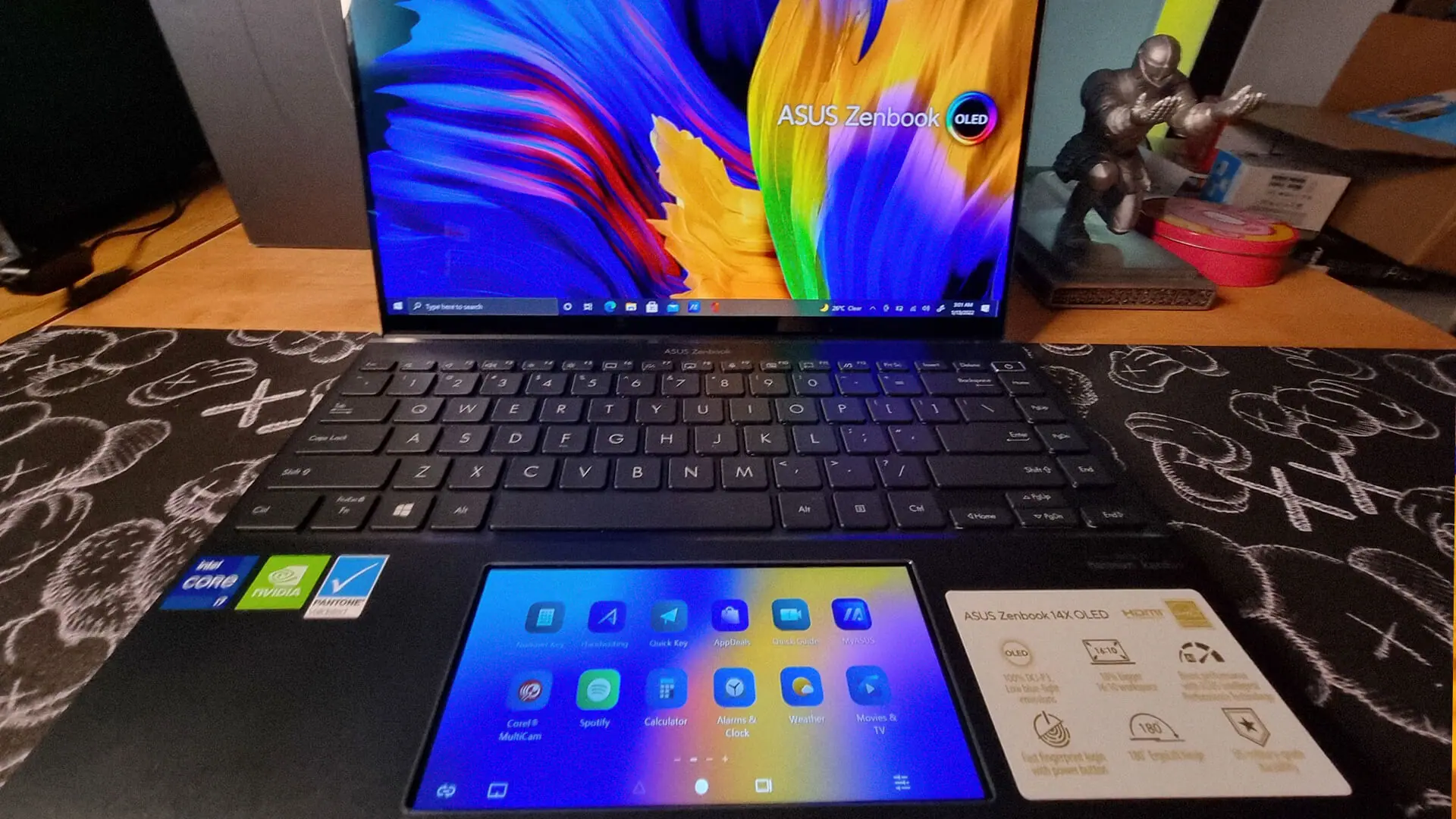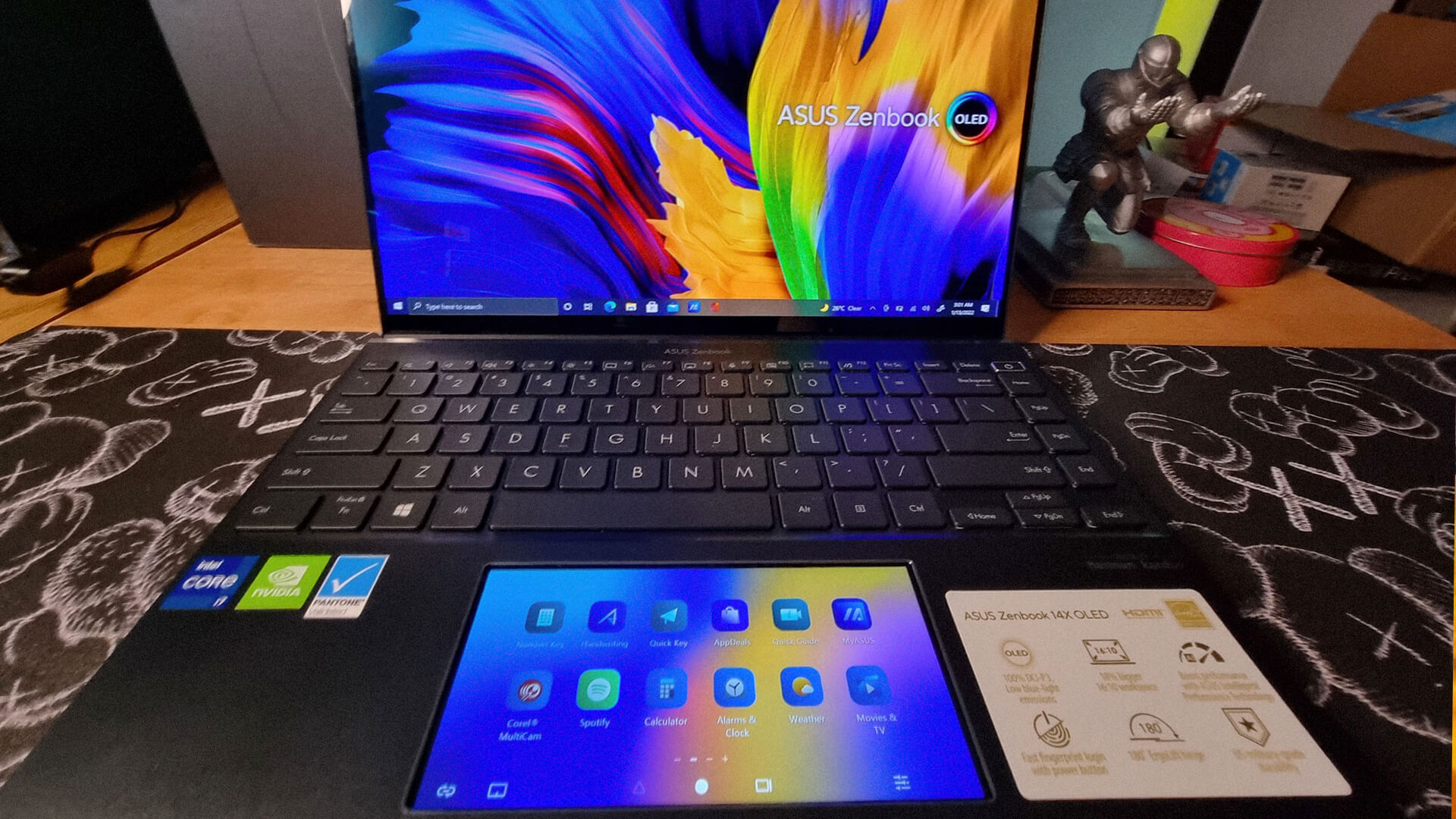 The ASUS ZenBook 14X OLED is powered by Intel's Tiger Lake Core i7 processor, found in practically every other notebook in its class. It also includes 16GB of memory and is one of just a handful of laptops with discrete NVIDIA GeForce MX450 graphics.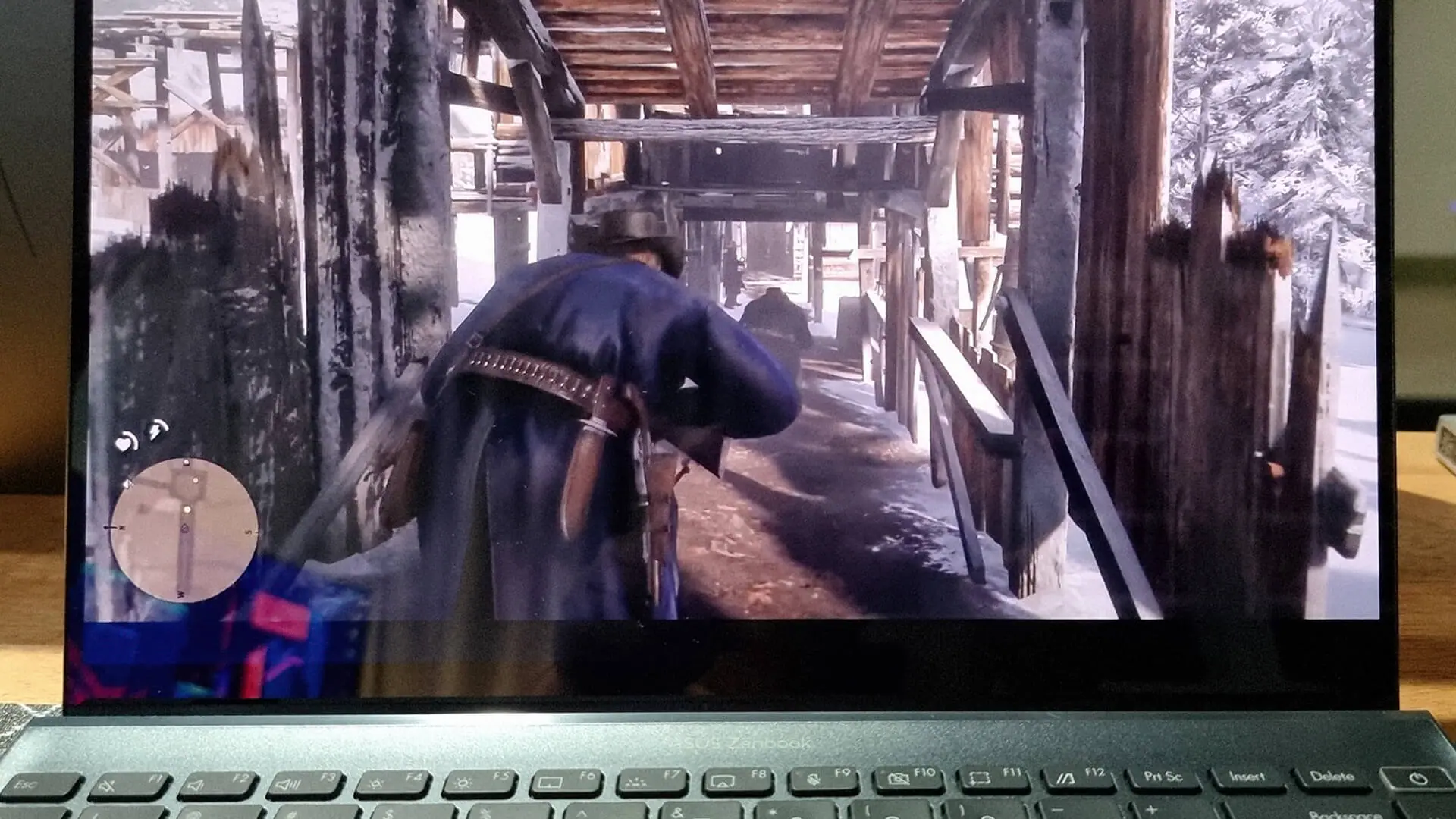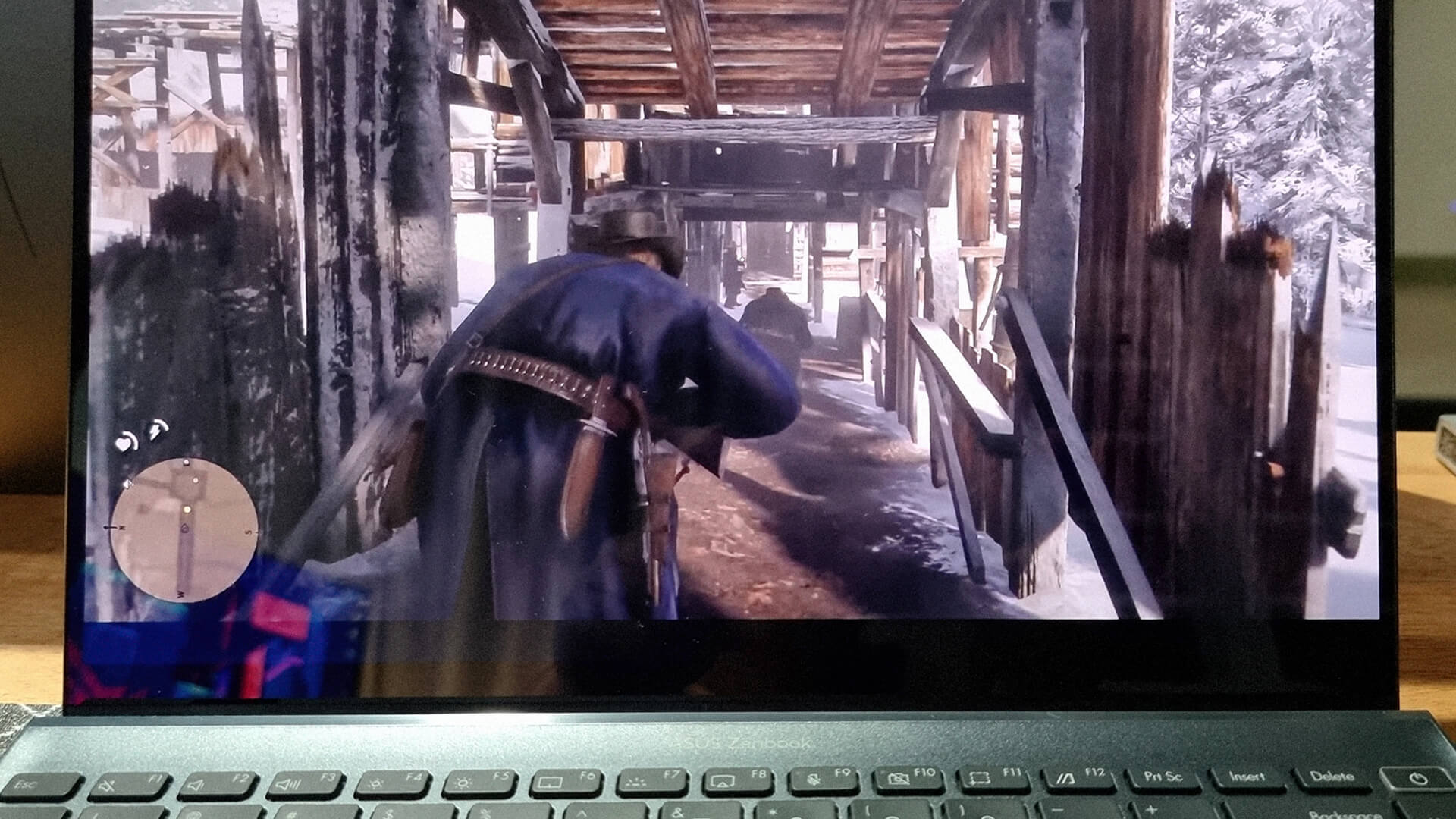 Overall, the performance is satisfactory. Intel's 11th generation quad-core CPUs are powerful enough to handle general computer workloads. This is ideal for everyday usage and is even suited for light professional work, as the color and brightness uniformity is more remarkable than most other OLED laptops. NVIDIA Geforce MX450, on the other hand, has mid-range gaming performance. It has no trouble running GTA V or Far Cry 5, but it appears to struggle with graphics-intensive AAA games like Red Dead Redemption 2.
ScreenPad 2.0 for added productivity
The ScreenPad 2.0 is matte and features a Full HD+ resolution (2160×1080). This is an IPS display. In Windows, the secondary display functions as an expanded desktop, just like any other HDMI-connected monitor. You can drag windows inside it, such as the Steam app, an editor, or Photoshop tools. This is similar to ASUS's ZenBook Duo, Zephyrus Duo 15, and other dual-screen laptops that the company has experimented with.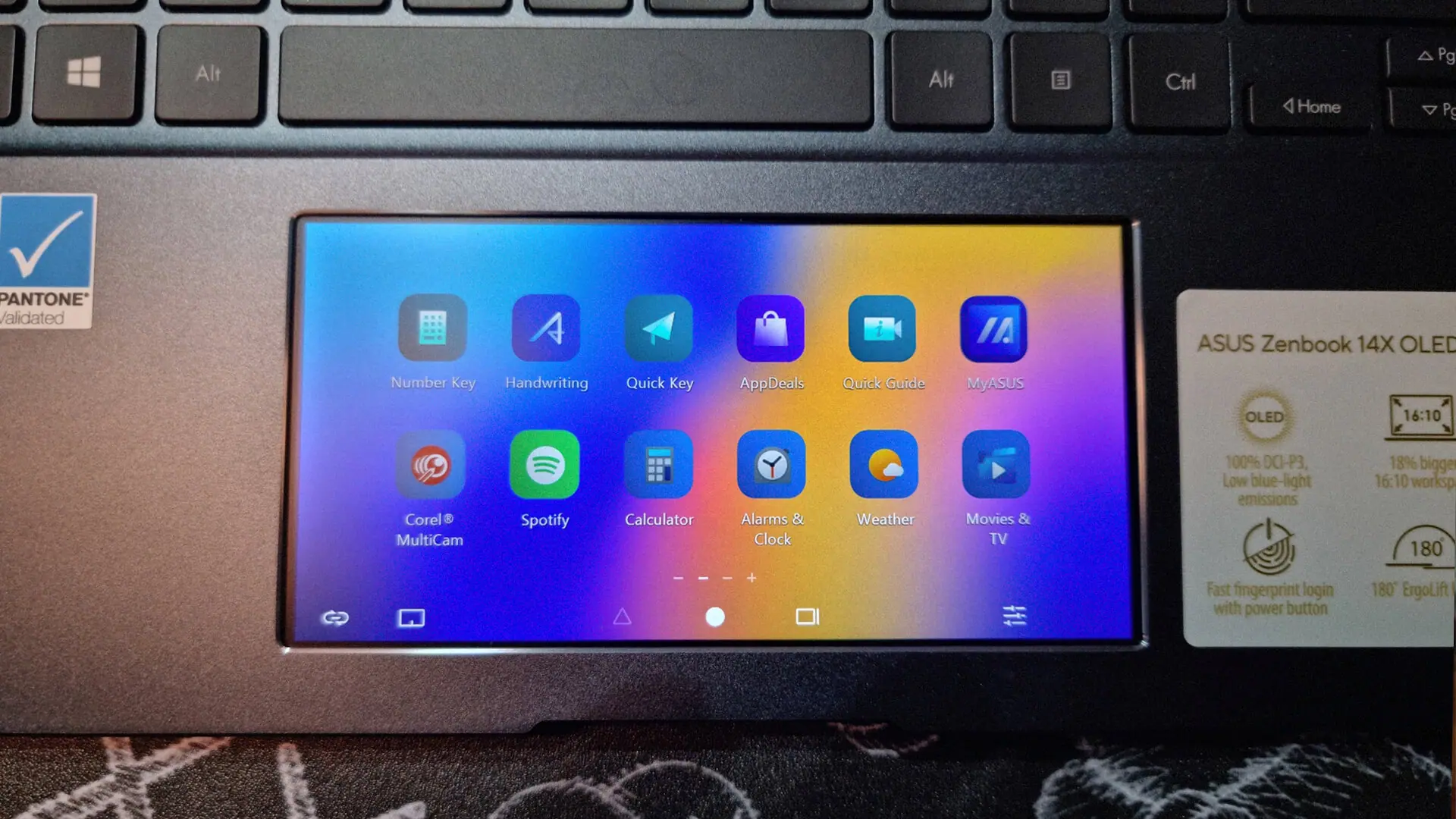 The ScreenPad is sensitive all the way to the edges and has a small travel distance. It makes a dull, silent noise when it works. The matte finish is smooth but not slick. It gives a smooth surface for fingers to glide on.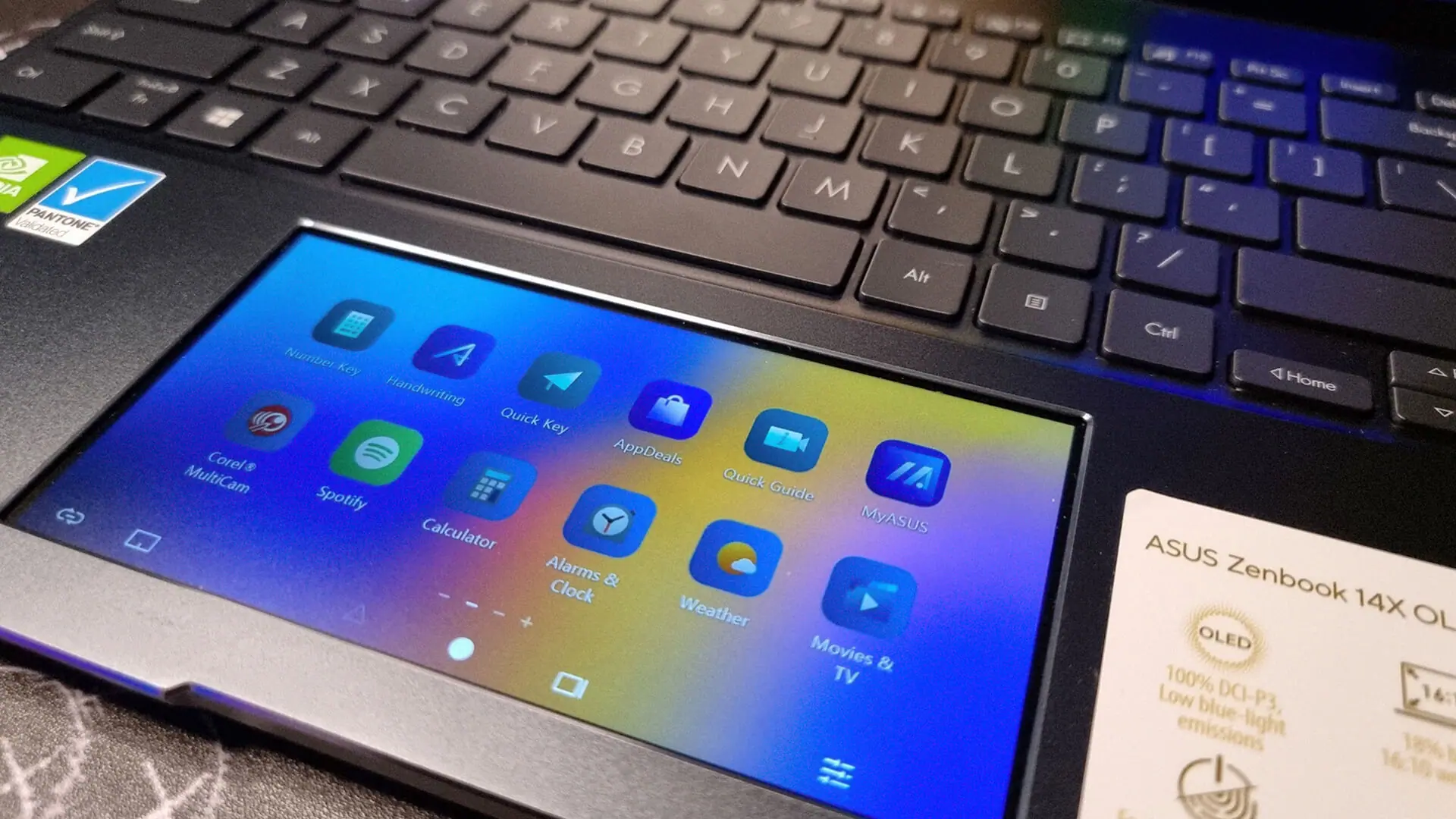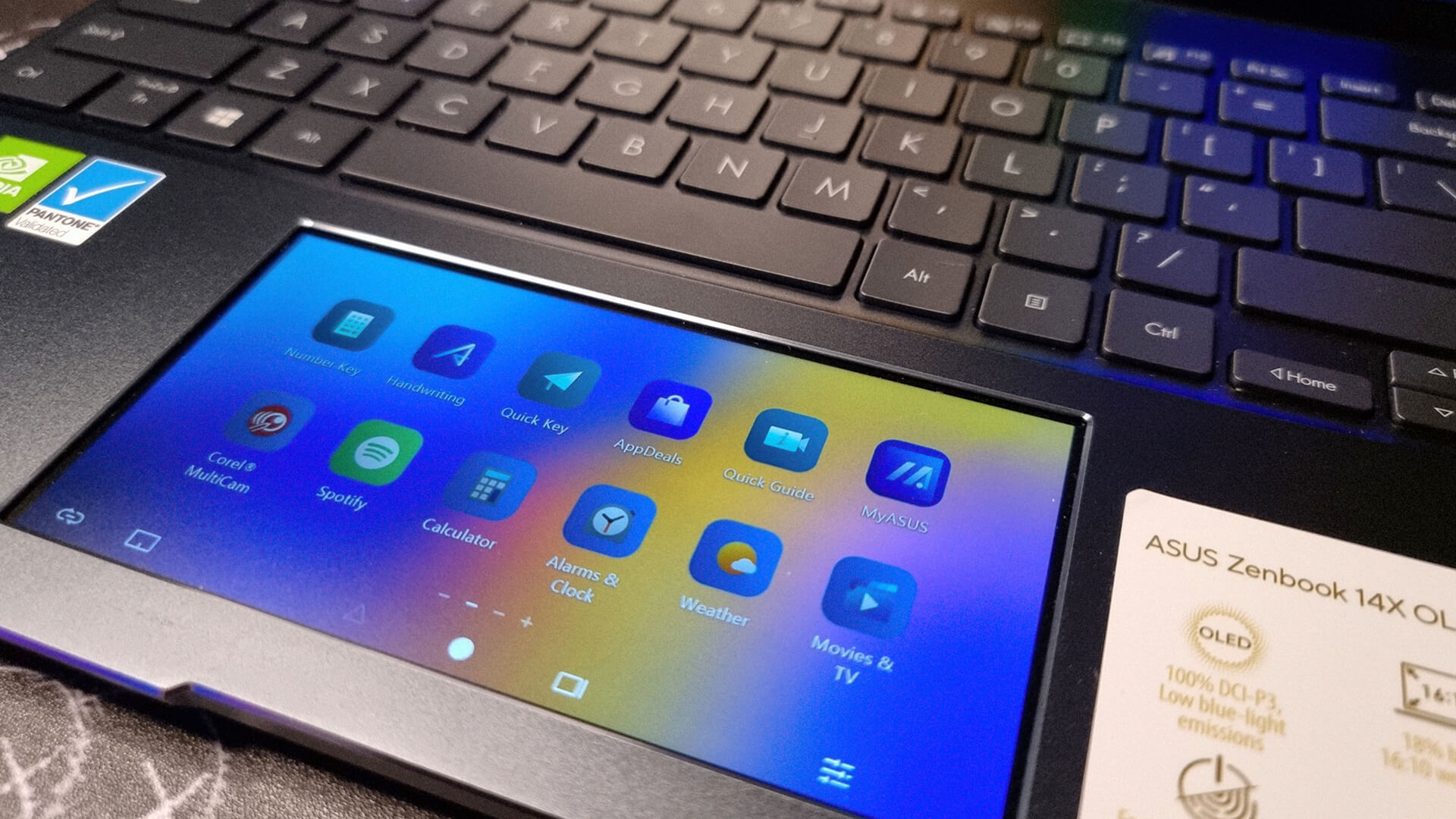 On the ScreenPad, Asus has preloaded groups. Each group can be filled with programs that are helpful on the small display, such as handwriting, a number pad, an app store, a calculator, or Spotify. This can also be useful for launching additional tools on the side, such as Telegram, Steam, Calculator, or Microsoft Excel, which can help with multitasking.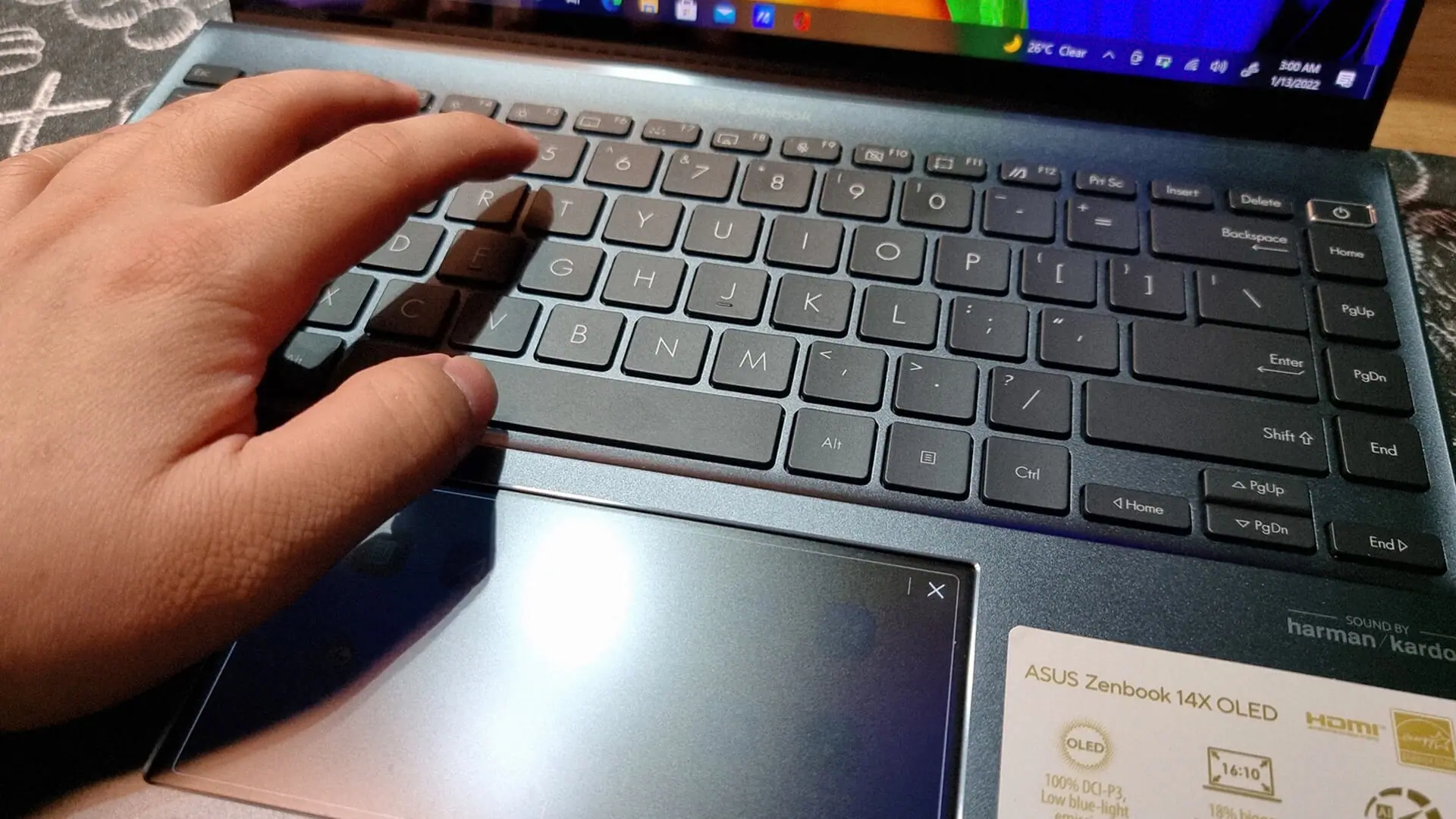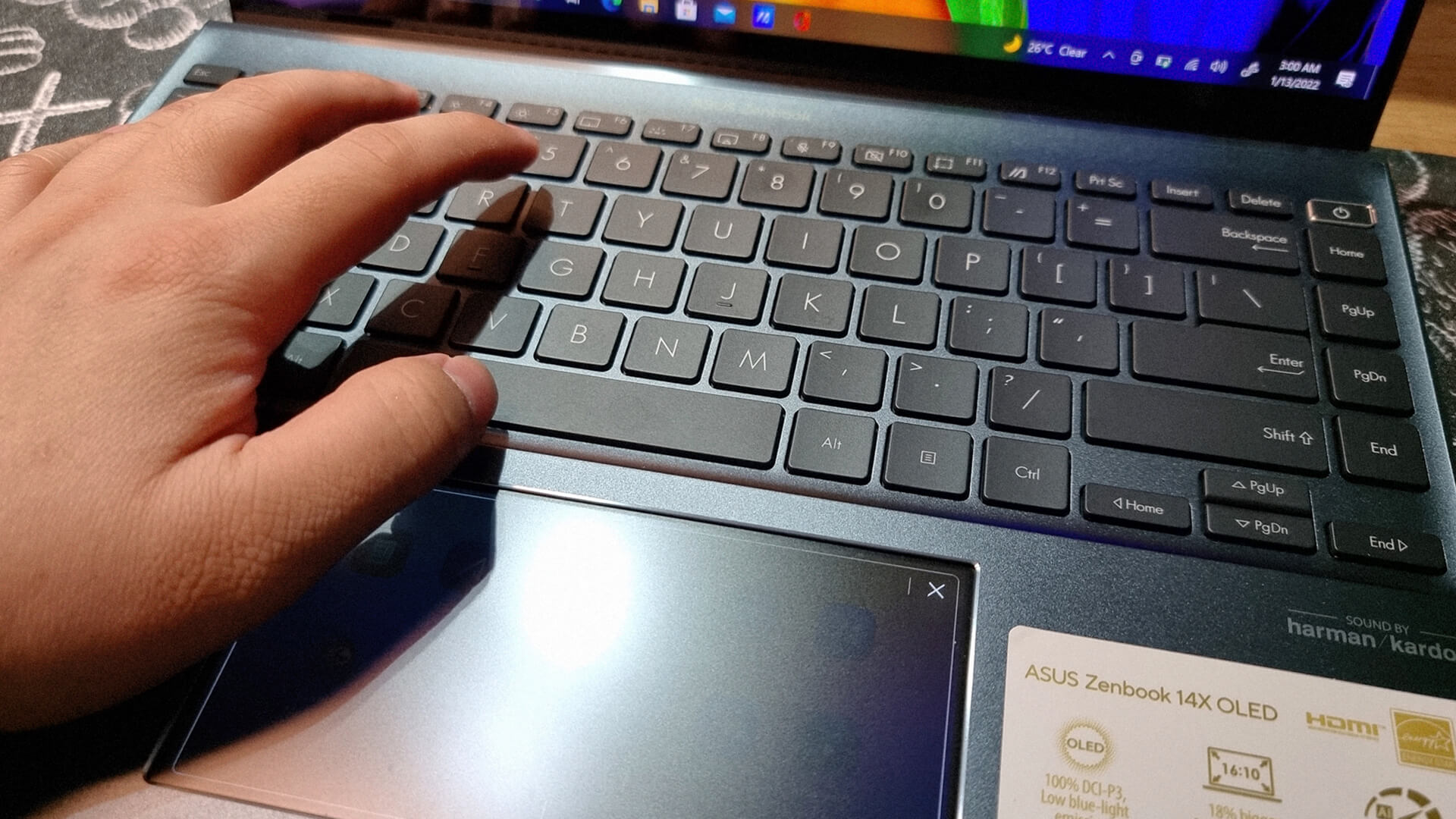 The keyboard on ZenBooks has always been good, and the ZenBook 14X is no exception. The keys are a reasonable size, and the layout is quite standard — except for the extra column of navigational keys.
The verdict: ASUS ZenBook 14X OLED
The ZenBook 14X OLED is a reasonably affordable way to get a 90Hz OLED screen with a GPU. It is, however, still on the expensive side. It meets the three key requirements for an ultraportable: mobility, productivity, and an excellent display. Even though its gaming capabilities are expectedly on the lesser side, overall performance was outstanding. The only drawback is that the laptop's battery life isn't particularly long. The limited runtime is sad but not surprising: after all, the ScreenPad and a higher-resolution, brighter display would take more power. Despite this, using the ZenBook 14X is still a delight because it is a robust and well-built laptop.