Growth hacking is an umbrella term used for strategies focused solely on growth. It is usually related to early-stage startups that need massive growth in a short period of time with minimum budgets. Coined by Sean Ellis, who was the founder and CEO of GrowthHackers in 2010, growth hacking involves constant experimentation, testing, and data tracking to find out the best way to grow in any channel available for your business.
Many startups use Dave McClure's "pirate funnel" as a recipe for growth hacking. This recipe covers acquisition, activation, retention, referral, and revenue (in short AARRR). Other strategies include raising awareness as a crucial part of growth hacking. Either way, the focus is to get traffic and visitors, turn visitors into users, and then retain those users as happy customers.
In order to carry out growth hacking effectively, you have to leverage on growth hacking tools and resources that will enable you to check your market, generate effective conversions, and see these data from your channels. It will also mean that you should take a growth-centric approach to your website or business by adopting new tools and using them to the best of your abilities.
If you need new growth hacking tools to accelerate growth in 2020, these 28 growth hacking tools are what you may need to get started.
Email / Automation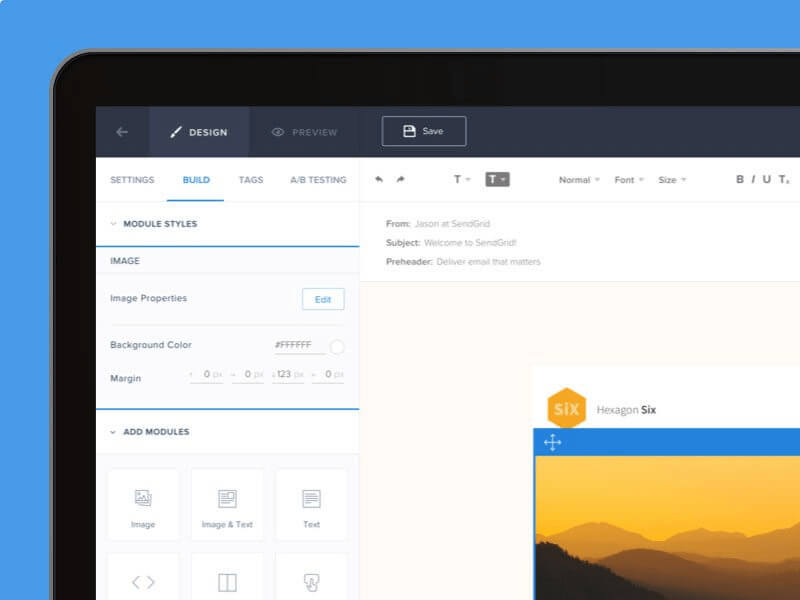 #1 SendGrid – SendGrid combines email marketing with an email API to enable you to create, send, and automate email all from one app. The company is arguably the industry leaders in the transactional email space. SendGrid Automation offers intuitive workflows that allow you to create a single recurring email that triggers at just the right moment or build a drip series sent at intervals to nurture leads towards your campaign goal. With flexible design and HTML editing options, you can also quickly and easily create beautiful, responsive campaigns with SendGrid. Tracking and evaluating email marketing statistics is easy with robust metrics and analytics from SendGrid to allow you to make informed, data-based changes to your email program.
Cost: From US$14.95 per month
#2 Mailchimp – Mailchimp is often the first newsletter tool that springs to mind because they have great marketing and has a free-tier for lite users. The company has long held a leadership position in the email marketing space, offering generous plans for startups and can also handle large volumes of emails from big enterprises. You can automate routine mailing tasks, customize signup forms, segment your subscribers, and send blast emails or targeted emails based on their open/click history and set triggers. While it does offer a free plan, the paid plan offers much more such as automation, A/B testing, retargeting ads, advanced segmentation, and audience insights.
Cost: Free or starting from US$9.99 per month
#3 Drip – Drip is a powerful email marketing platform for e-Commerce, bloggers, and digital marketers. They offer a variety of tools to make marketing automation and personalization easy. Drip can seamlessly integrate for most CMS, including WordPress (with WooCommerce), Magento, Shopify, and more. It also allows you to easily add sign up forms to your website and capture more leads. The platform provides intelligent marketing automation tools, smarter email segmenting, list groups, and a visual workflow builder to allow you to reach targeted customers in your email list to get more sales.
Cost: From US$49 per month
#4 GetResponse – GetResponse is a comprehensive marketing software platform for small businesses that helps you create content, boost sales, and increase traffic to your website. It offers amazing marketing automation tools that allow you to create smart, automated campaigns with ready-made workflows to welcome, win back, upsell, and more. GetResponse also has a drag and drop builder that you can use to build great-looking emails that engage and sell, at the same time, create campaigns, segment contacts, and send custom content for specific groups. GetResponse comes with beautiful responsive forms, landing pages, A/B testing, tracking, and autoresponders. It also has the ability to integrate with third-party platforms like Magento, SalesForce, WordPress, Facebook, Google Docs, ZenDesk, etc.
Cost: From US$15 per month
#5 Sumo – Sumo offers the easiest way to turn your visitors into e-commerce customers. They provide a suite of free and premium growth hacking tools to help you accelerate growth. Basically, Sumo offers three categories of marketing tools, which include email, social sharing, and analytics. The app includes a list builder to help you build an email following, heat map to show where visitors are clicking on your website, social sharing, conversion optimization, contact form, and more. The free/basic allows you to use all of the apps with Sumo branding, while excluding features like A/B testing, additional insights, advanced email integrations, etc.
Cost: Free to starting from US$39 per month
#6 Nimble – Nimble is a simple and smart full-service Customer Relationship Management (CRM) platform with features like email, calendar, contact synchronization, task management, automatic profile creation, calendar management, and reminders to help you follow up with your clients and leads. The platform works directly inside your Office 365 or G Suite inbox, updating contacts, accessing company and contact insights, and manage deals right from within your existing workflows. Nimble is extremely powerful, offers most of the essential tools you need for growth hacking, and is relatively affordable even for small businesses.
Cost: From US$19 per user per month
LiveChat
#7 Acquire.io – Acquire.io is one of the most popular and fully featured customer service software. Their core features are live chat, co-browsing, chatbot, voice and video call, and customer profile management. It is a Saas based business model and is used by many businesses worldwide. Acquire meets advanced security and privacy requirements, and offers omnichannel capabilities and native integrations with popular CRM, CMS, and helpdesks.
Cost: From $300 (fixed platform fee) per month billed annually plus $40 per month per agent
#8 SnapEngage – SnapEngage is a powerful and scalable live chat software that allows you to offer a chat service to visitors on your site. It integrates well with workflow applications like CRM, social networks, and other e-Commerce tools. Unlike many other chat services, SnapEngage also allows you to see which pages your visitors have been to, what they are looking at, and if they have an existing customer profile with your accounts.
Cost: From US$16 per user per month
#9 Olark – Olark is a live chat tool that integrates with your website to allow you to customize and manage your live chat experience. It allows you to engage your customers, answer questions, and gather feedback, at the same time, store structured notes and chat transcripts in Olark or your CRM. Unlike other platforms that refresh on a daily basis, Olark provides real-time reporting on the chat volume, so you can monitor what day and time you are busiest, which agents are managing the chats, and how your customers are rating their chat experience. Their analytics also offer customer satisfaction, and agent activity as often as you need to make smart staffing and prioritization decisions — or have summary reports delivered straight to your inbox. There is also a feature to integrate with your favorite software such as HubSpot, Salesforce, Google Analytics, MailChimp, etc.
Cost: From US$12 per month
#10 HubSpot – HubSpot Live Chat allows your team to communicates with visitors quickly and easily. Since it integrates directly with the HubSpot free CRM you'll know exactly who you're chatting with (e.g., prospect, long-time customer, new contact) and has the ability to track their history with your company. HubSpot Live Chat offers you to manage incoming chats with Conversations, a free, collaborative inbox that your entire company can use to collaborate on incoming messages. Deals, tickets, and more can be created from live chats. And transcripts are stored on the contact's record in the CRM.
Cost: Free
Landing Pages
#11 UnBounce – UnBounce gives you the ability to build, launch, and optimize landing pages with no technical knowledge. The platform integrates a buffet of 100+ templates with a drag and drop builder for creating individual page elements. You may also customize your pages with optional JavaScript and CSS. With this solution, you can create custom landing pages that convert, integrating with other 3rd party platforms like WordPress, HubSpot, Infusionsoft, Marketo, or Salesforce, and then A/B test to improve the conversion of your pages. UnBounce is a very powerful tool because it allows you to create unlimited custom landing pages even without a web designer.
Cost: From US$79 per month
#12 Landingi – Landingi allows you to create and optimize your own custom landing pages without any programming skills. It's very similar to Unbounce with its diverse features while being one of the easiest-to-use tools available, even for a novice. Landingi integrates with many tools like Campaign Monitor, MailChimp, HubSpot, Salesforce, WordPress, and more that allow you to streamline the landing-page process. It also allows you to automate the steps that are tedious and time-consuming. With over 200+ templates and the huge icon library that allows you to customize landing pages to almost any business or niche.
Cost: From US$11 per month
#13 Leadpages – Leadpages is the perfect tool for people with the budget to spend on a tool that will let them create stunning and high-converting landing pages and opt-in boxes. Leadpages is designed to help its users make beautiful landing pages for generating leads by collecting emails or other relevant information. They have built-in payment systems to efficiently run your store and have a library of entirely mobile and tablet-optimized templates. Leadpages also offer features like A/B testing, drag-and-drop functionality, nearly unlimited integrations, and more. You should also know that most templates aren't free, which typically cost US$10-15 each.
Cost: From US$25 per month
Analytics / Tracking
#14 KissMetrics – KissMetrics offers advanced customer intelligence and analytics to help you understand your consumer behavior to drive growth. It combines behavioral analytics, customer segmentation, and email campaign automation to understand and engage your customers in every step of the marketing funnel. The platform is built to help increase conversions, drive engagement, and grow retention. They can be integrated with Facebook and Instagram to create dynamic, automated Facebook Audiences for better targeting and higher ad ROI, with Slack to get channel alerts when someone joins a Population, with Shopify and WooCommerce to import shopping history, customer segments and follow them from the first visit to purchase and beyond.
Cost: From US$500 per month
#15 Colibri IO – Colibri IO allows you to easily monitor and track your brand online to see mentions and brand awareness. It is also a product that enables you to find opportunities on social networks and in search engines, in terms of finding conversations about your brand as well as your competitors. You can also use it to discover quality websites to build your brand visibility, at the same time, develop your SEO by improving your organic position through participating in Google-crawled places.
Cost: From US$95 per month
Search Engine Optimization (SEO)
#16 SE Ranking – SE Ranking is an all-inclusive cloud-based SEO software that allows you to get 360° SEO analysis of your website. It helps to save time by grouping selected keywords and distribute them effectively and efficiently among pages of your sites. At the same time, the platform allows you to do keywords and competitor research, which puts you in a better position for SEO and SEM efforts. SE Ranking also can perform backlinks monitoring to see who is linking back to your website. It is a simple yet powerful platform for your SEO needs.
Cost: From US$18.60 per month
#17 SEMrush – SEMrush is a popular SEO tool that specializes in keyword research, competitor analysis, and Google Ad campaign optimization. It provides detailed information about those keywords, including their position in SERPs, the URLs to which they drive traffic, and the traffic trends over the past 12 months. SEMrush also allows you to easily find out what keywords your competitors are ranking for and craft great content around those terms and phrases. It is a very inclusive marketing tool that provides you with outstanding competitive intelligence, SEO optimization, and comprehensive analysis that repositions your digital marketing efforts for remarkable success.
Cost: From US$99.95 per month
#18 Ubersuggest – Ubersuggest is a simple keyword research tool that scrapes data from Google's Keyword Planner for keyword ideas based on a keyword you provide. With this tool, you can enter a keyword and also set a location before your search. The results are well-laid out in an excellent looking format, showing you different metrics, including search volume, paid difficulty, SEO difficulty, and so on.
Cost: Free
#19 Ahrefs – Ahrefs is one of the market leaders when it comes to checking backlinks, thanks to the massive amount of links they have indexed with live updates. This is a powerful tool to quickly cover your competitors' backlinking strategy to see what's working best for them so you can do the same if not better. They offer a Content Explorer which allows you to learn what content is working well in your niche that can easily be uncovered also. The tool also helps you to track your position ranking, set up custom alerts, and things such as brand mentions or position changes.
Cost: From US$82 per month
Social Media
#20 Buffer – Buffer is a social media management software for the web and mobile, designed to manage accounts in social networks, by providing the means for a user to schedule posts to Twitter, Facebook, Instagram, and Linkedin, as well as analyze their results and engage with their community. It allows you to build your audience and grow your brand on social media, as well as, plan and schedule thumb-stopping content that drives meaningful engagement and growth for the brand.
Cost: Free to starting from US$15 per month
#21 Hootsuite – Hootsuite is the gold standard for social media management tools, allowing you to schedule, track, and collaborate on your social media accounts. It has a free tier for small businesses or startups, as well as paid tiers for large organizations or agencies who manage multiple accounts and pages. The analytics tool provides metrics, reports, and visual streams for multiple profiles of all the leading social networks and online presences that a small and medium-sized business might need to track.
Cost: Free to starting from US$29 per month
#22 Sprout Social – Sprout Social is one of the first and most venerable social media management and analytics solutions in the industry, offering a good balance of social media management and analytics that can be the sweet spot for most businesses and their social media managers. The tool provides social listening and influencer identification features and even has some social media-oriented CRM functionality. The intuitive user interface (UI), and impressive analytics capabilities are what keep the solution in its market leadership position, especially for small and medium-sized businesses that may find that it answers most of their needs.
Cost: From US$99 per user per month
Graphic / Video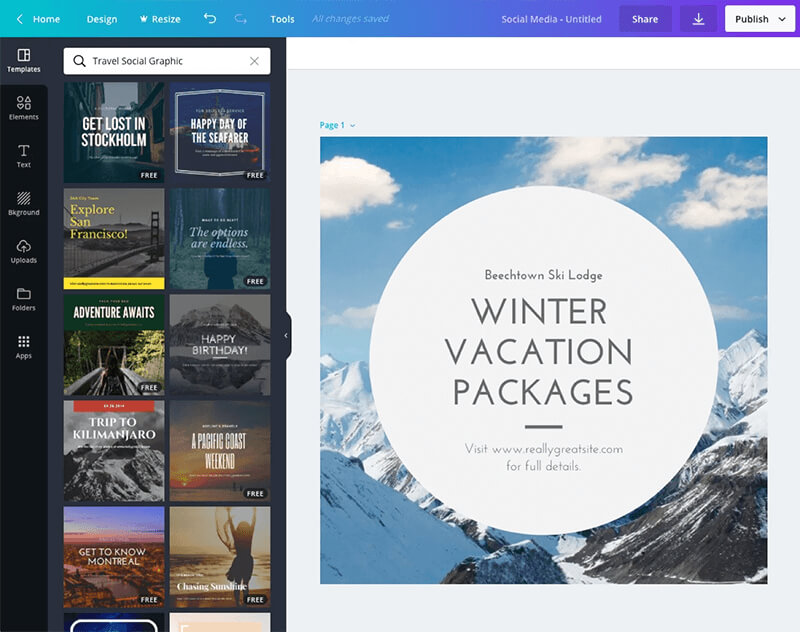 #23 Canva – Canva is a web-based platform that enables small to large businesses to create customizable graphs, prints, and presentation slides with professional layouts, templates, frames, voice icons, and more. Canva offers less customization and flexibility than some of the more professional tools in the market (especially compared to major graphic design software like Photoshop), but what it lacks in settings, it makes up for in an intuitive interface and beautiful templates.
Cost: Free to starting from US$9.95 per month
#24 PicMonkey – PicMonkey is one of the best Canva alternatives as an online editor and graphic design maker. It is an easy-to-use tool you need to create stunning social posts, cover photos, ads, and more. The tool allows you to edit photos, create new designs using templates, and create a design from scratch, offering 6,000+ graphics & textures, 100s of gorgeous fonts, and 1000x of design templates. The tool also lets you share work with the whole team, organize and store all your designs, leave comments on image files, and even create together in real-time for more collaborative workflow.
Cost: From US$7.99 per month
#25 DesignCap – DesignCap speeds up your creative process to make striking graphic designs for your business, event, social media, and more. The tool offers hundreds of posters and flyer templates and thousands of resources (1,000,000+ high-resolution stock photos, 220,000+ delicate illustrations, and 100+ fonts), including clipart images, shapes, fonts, and backgrounds. It allows you to create fully customizable designs that stand out from the crowd in minutes at no cost.
Cost: Free to starting from US$4.99 per month
#26 FlexClip – FlexClip is a simple yet powerful video maker that creates marketing videos and family stories in minutes. It is a handy video editor with an easy-to-understand interface that allows everyone to create videos in minutes with no video design experience. With an extensive library, you can search for millions of high-resolution photos, and royalty-free videos & audios to create a highly original video. The tool also provides stunning video templates to boost your creativity, whether you want to create a business video or a personal video story.
Cost: Free to starting from US$4.99 per month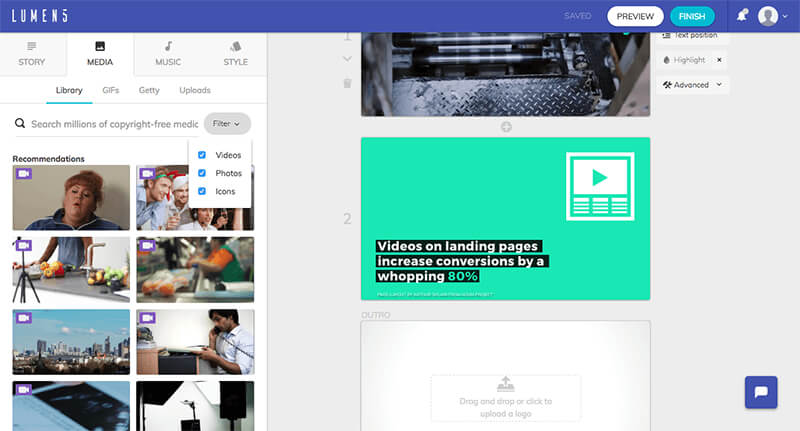 #27 Lumen5 – Lumen5 is one of the top favorites when it comes to creating a video for social media marketing. It is a video creation platform powered by A.I. that enables anyone without training or experience to easily create engaging video content within minutes. Thanks to its cutting-edge A.I. that uses proprietary text-to-video technology, you can easily transform text content like blog posts into vibrant videos. In addition, Lumen5 offers a sizable media library of resources, which includes millions of royalty-free photos, videos, and audio tracks.
Cost: Free to starting from US$19 per month
Bonus: Veed – Veed is a simple online video editing platform for creating social media video content to promote your brand or business, in a matter of minutes! It is perfect for anyone looking for simple and fast video editing without the need to install or setup complex software and keep all your content, fonts, logos, and color palettes in one place so you are always on-brand. You can record through your webcam & screen, edit your Zoom recordings, add soundwaves to your podcast videos, add company logos/watermarks, and – perhaps most importantly – add subtitles to any video instantly, without the need for manual annotation. 
Cost: Free to starting from $24 per month
Productivity
#28 Zapier – Zapier is a productivity platform that automates data sharing between apps so that you can focus on growth hacking. It offers easy automation for busy people, integrating with your favorite apps to import data, set up workflows (called Zaps) based on events, create automation to finish routine tasks, and set up easy actions that react based on events without any knowledge of coding. Zapier also allows you to set up automation with just a few clicks, inside of over 1,500 popular applications.
Cost: Free to starting from $20 per month
Growth hacking is extremely crucial for small businesses and startups because it allows you to rapidly expand through any available channels. As a growth marketer, you should explore and try new software, adopt the applications that are profitable, and progressing forward. Most of the growth hacking tools include a free trial so you can test their effectiveness before you invest. All the best, with your growth acceleration!
Finding a reliable web hosting provider

Exabytes – Great hosting boils down to the 3 S's: speed, support, and security. Exabytes provides an All-in-One solution to grow your business online. Their web hosting plans provide emails hosting, websites hosting and more to kickstart your online presence. With 24 x 7 local support, they are available to you either by phone, helpdesk, live chat or email.