As you all know, Spotify had been launched eon years ago. But thanks to the free seven days trial for the Premium features, I managed to enjoy its full features without paying a single cent. I must say that Spotify has done itself proud by being one of the best (if not, the best) music streaming, podcast and video service in the decade. Digital music might not have the same enticement as sitting down to listen to a record on your turntable. But although it lacks atmosphere, it makes up for it with convenience – especially when you are out of your home, and you need to listen to your collection.
It's been seven years since Spotify publicly launched and shifted the music industry's focus toward streaming as a way to combat illegal downloading. For just $9.99 a month, Spotify Premium on mobile is already a very solid deal. You can listen to nearly anything you want, at anywhere you want, without the need to bring around multiple CDs (for the case of portable music players in the 90s) or the need to sit down in front of your computer to do music files transfer (for the case of MP3 players). You just need to search, download and play your tracks from the full range of tracks available on Spotify.
Content is King!
While music remains Spotify's top priority, the service is expanding its service offerings by adding podcasts and radio shows – and these might be a major deal-sweetener for its users. They include shows from CBS Radio, BBC Worldwide Radio, Radiolab, The Nerdist and This Week In Tech. With Spotify, it is easy to find the right music for every moment on your mobile devices or your computers. There are over 20 million songs made available across multiple devices on Spotify. So whether you are working out, relaxing or partying, the right music is always at your fingertips.
From my personal experience, I am surprised that they even have Chinese tracks dated back in the early 80s, or even Singapore SG50 songs. With the number of albums and tracks on its database, I believe almost everyone can fall in love with it instantly.
Offline Spotify Playlists
The cool thing about Spotify is that it allows you to select the tracks you want, make them into a playlist and convert them to be available offline. That is right! You can listen to music on the go, even when you do not have any 4G/ 3G network. This feature is the major plus point for me because I do not want to be surprised by my hefty bill at the end of the month. The next exciting part of Premium users is that you can download music at 320 kbps (kilobytes per second). This unit indicates the rate at which data streams to your devices; the more data, the better the audio quality, allowing you to enjoy a high-quality audio experience.
Artificial Intelligence is The Way to Go
This feature of Spotify brings you daily song recommendations. Based on the time of your day, the recommendation AI engine will serve up Spotify-curated tracks, your favorite podcasts, and your music playlists. The AI engine is also designed to study your preferences over time, pushing relevant content to match your daily activities. This function is especially useful if you have no idea what to listen to, for any mood, or occasion.
Anything I Hate on Spotify?
J-Pop/ K-Pop – Some things I would like Spotify to have is that there should be more K-Pop and J-Pop tracks in their database. As I am a lover of J-Pop (especially the anime soundtracks) and K-Pop, more of these genres of music will be an important pull factor for people like me. I have an issue finding my favourite Japanese or Korean soundtracks on Spotify.
Local Radio – Maybe they could include a local radio station function where you can listen to your local radio channels or even global radio channels. I feel that this will be a great feature to have.
UX – The whole app is quite intuitive, but some of the functions are still unclear. For instance, there was once, I switched to the "offline mode" and listened to my offline playlist for quite some time. And after awhile, I completely forgot about it and was wondering why my device cannot communicate with the server. Only after some googling, I found out that I was in offline mode.
Bugs – There are still bugs here and there. I once experienced going "offline mode" and then went "online" after that. The app basically cannot communicate with the server, no matter what I do. In the end, I have to reinstall the whole app.
Despite all the cons of using Spotify, it is still a great app to have on your devices or computers.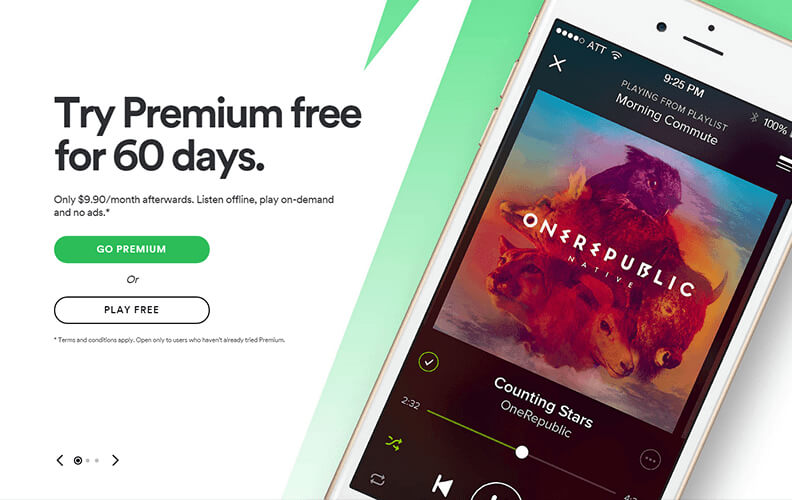 Now, you can try Spotify Premium free for 60 days, after which you will be billed at $9.90 per month. The only catch is you will need to link your credit card to your account. But I firmly believe that if you are a music lover, and money is not an issue for you, there will be a high chance you will continue its service after 60 days. Happy listening!