Apple's tagline for the iPhone 6s is "The only thing that's changed is everything". Despite looking the same as its predecessor, the iPhone 6s has almost every element of iPhone 6 upgraded, which makes this an attractive phone in its own right. This new instalment features Apple's newest technology, the 3D Touch. 3D Touch is an entirely different technology as compared to the Force Touch that is already available on the Apple Watch as well as the new MacBooks. Apple has already brought depth to its user interfaces with Force Touch, but this new piece of technology adds another layer of depth to how you can interact with your iPhone. Also, the iPhone 6s is made available in a new Rose Gold colour, adding to its arsenal of Gold, Silver and Slate Grey that we have seen previously.
Despite these changes, many critics have argued that Apple is becoming more predictable. Every other year, Apple puts an 'S' at the end of its previous phone, by enhancing it with a few new features and delivers it with a grand applause. Up to a point that the new iPhone 6s and 6s Plus are certainly predictable upgrades to its best-selling iPhone line.
iPhone 6s : The Specifications

Credits to : SpecOut
Same Old Brand New You
All 'S' phones look and feel like their forbears, and the iPhone 6s is no different in this case. Even the screen is the same. The only difference is that iPhone 6s came with a sturdier chassis and a sharper camera. And some very subtle differences, such as a slightly thicker frame and a little more heft, these differences are so minor that you can hardly notice them. The volume buttons, power key, silencer switch and speaker are all in the same place as the predecessor.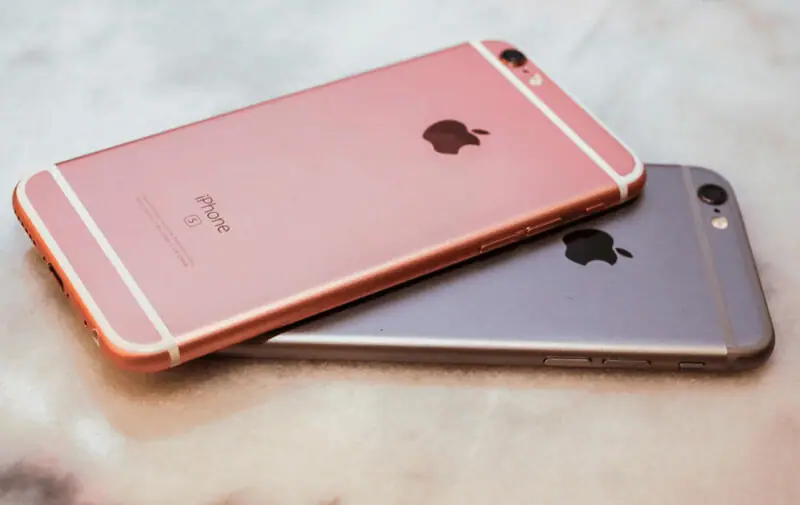 The new iPhone 6s comes with a Series 7000 Aluminium, which is the same material used for the Apple Watch; much stronger and durable, reducing the risk of the phone bending when sat on in your pocket. It also offers a curved 4.7in display and is made with a sleek, rounded aluminium casing just like iPhone 6, which gives it the elegant look.
Other than that, there is nothing much to highlight about the design of the iPhone 6s. In terms of design, if you have already seen the iPhone 6 then you will most probably know how the 6s will look.
Although the design remains the same, Apple has introduced a new rose gold colour option for both the iPhone 6s and 6s Plus, which will appeal to the lady users of the iPhone.
3D Touch : Force Touch with an Upgrade
When Apple launched the iPhone 6s and iPhone 6s Plus with an advertising campaign, it focused primarily on the introduction of 3D Touch. It seemed like 3D Touch would be the game changer for Apple, at least for the iPhone 6s and 6s Plus.
According to Apple, there is another level of sensitivity to Force Touch that is implemented in the new iPhone 6s. These two technologies, Force Touch and 3D Touch, actually do the same things; however the new 3D Touch is much more sensitive and reacts almost immediately as compared to the Force Touch.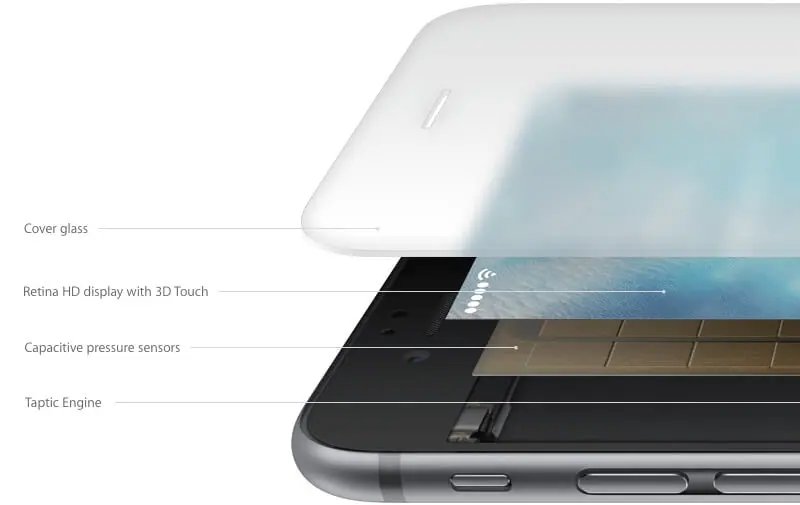 3D Touch offers additional functions based on a lighter push or a firmer push. And if you have ever experienced that you had to use a significant force on the Apple Watch based on the Force Touch technology, the 3D Touch should alleviate your problem with its higher sensitivity.
The 3D Touch is indeed an interesting feature that allows users more options to interact and use their iPhone.
Power Packed Performance
As usual, Apple has powered up its engine at the heart of the iPhone 6s, creating a super machine with its fastest chipset till date. A Geekbench 3 test marked its A9 chip's multicore performance at 4410, almost doubling the predecessor's score of 2886. Pixel Toys also showed how the A9 chips make graphics stands out during the official iPhone debut of its 3D Touch technology, at the same time, showcasing its upcoming game Warhammer 40,000: Freeblade.
In the usual day to day use, performing standard tasks do not seem to have any issue or lag. The lengthy and complicated tasks of web browsing, using maps and social media apps also do not slow the machine down a little. The iPhone 6s is an absolute beast despite its elegant appearance!
Upgraded Camera with Superior White Balancing
Apple has made some improvements to its camera, introducing a 12MP camera at the rear and a 5MP camera at the front. The camera is extremely impressive as usual, especially its ability at white balancing.
The camera app also has some minor tweaks like the Live Photos, which takes a 1.5-second picture before and after the snap and transforms it into a short video or animated GIF that you can play back.
iPhone 6s Key Features
Series 7000 Aluminium Chassis – Slightly thicker and heavier frame which is much stronger and durable.
12 MP Camera – 12MP camera at the rear and a 5MP camera at the front.
3D Touch – Enhanced Force Touch that changes how users interact with their iPhone.
A9 Chip – New level of performance and efficiency to iPhone 6s.
Live Photos – Allows users to create short video or animated GIF that they can play back as memories.
 My Opinion on iPhone 6s
Apple's idea that "The only thing that's changed is everything" seems instantly to be a bit of a misnomer.
The iPhone 6s is indeed an impressive phone; however the improvements between the 6s and 6 are not significant enough to motivate Apple users to upgrade from their iPhone 6. In reality, in my opinion, the only significant upgrade is the new 3D Touch technology. Moreover, iPhone is one of the, if not the, most expensive flagship phones in the market. It does not make sense to pay the high price for being part of the new Apple experience if you are using the iPhone 6. However, it is reasonable if you intend to upgrade from a 5s or older models.
I believe that the 3D Touch is a good to have, but not a must-have, at least not for now. Having said this, I think this piece of technology is useful, and it will unlock unlimited possibilities for developers to develop apps that can fully utilise its potential in the future.
Although excited about the new iPhone 6s, I would give it a pass and wait for iPhone 7. Hopefully, we can see more significant innovations then.