There is no denying the trend that mobile is taking over the digital space, particularly among the 18-34-year-old demographic. There are currently 2.6B mobile users, and this number is expected to grow to 6.1B by 2020. Due to this shift in the trend, there is an increasing number of industries going mobile. And one of such industries is tourism.
There seems to be a mobile app for every phase of travel – from inspiration to planning and booking. As travel becomes more frequent, personalized and convenient, the potential of such apps to influence the travelers' purchasing decisions, while creating business opportunities for the tourism industry is limitless. With the advancement of technology, it is so much easier to plan and book a holiday than it used to be.
Traditionally, mobile apps have simply duplicated the desktop experience, by providing the same functions on the mobile devices. Travelers do their research, plan their trip, and book the necessary whether it is the flight, the accommodation or the leisure activities. However, latest mobile apps have evolved to offer some personalization for modern travelers – for before, during, and after a trip. By leveraging on big data and monitoring the user's behavior, these apps can provide information and services that are relevant to each user.
Here are some cool travel apps that might be useful to modern travelers.
TripIt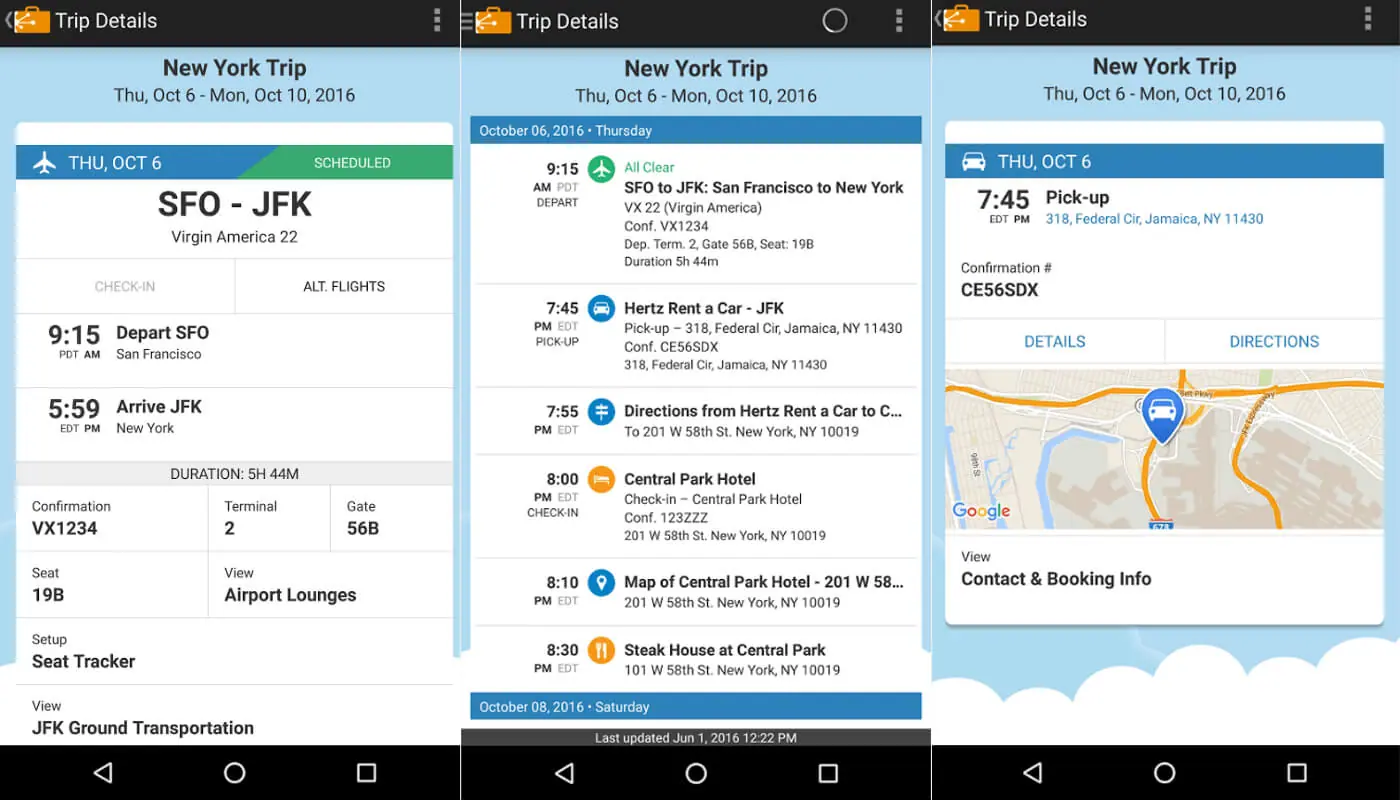 TripIt offers a complete, hassle free organizer to combine all of your travel confirmations, itineraries, tickets, hotel bookings, car rental reservations, etc. in a single app. Basically, it allows you to keep all your travel plans organized in one place. It can be a life saver if you have more than a dozen of flight confirmation emails, hotel emails, and other trip documents all over the place.
Some of its key features include instantly creates a schedule with all your travel details in one place. It allows you to imports travel plans directly from your email while giving you access to your travel plans from any devices. It can also add your travel plans to your calendar. TripIt Pro further extends its capabilities by providing reminders, real-time flight alerts to you and quickly locates alternate flights if there is a need to.
PackPoint (Sponsored by Sheraton)

PackPoint is an intelligent travel packing list organizer and packing planner for frequent travelers. It can help you make sure you have all the necessities with you for your trip. Based on the relevant information you keyed into the app, it can help you organize what you need to pack in your luggage. Once the packing list is completed, it allows you to save it and share with your friends and family.
Some other information PackPoint may take into account is whether it is a business or leisure travel and the activities you plan on doing. It will also advise what you need for an international trip, warm weather clothes, cold weather clothes when necessary, or even an umbrella if the forecast calls for rain. It will also take into consideration if you are willing to repeat wearing basics like shirts and pants and if you will have access to laundry facilities.
TripAdvisor
TripAdvisor is the quintessential travel planning and booking app. It features millions of traveler reviews, photos, maps which can help you plan and book your perfect trip with just a few taps. With more than 225 million reviews and opinions contributed by travelers, TripAdvisor makes it easy for you to find the lowest air tickets, best hotels, great restaurants, and fun activities to do, wherever you go.
Trivago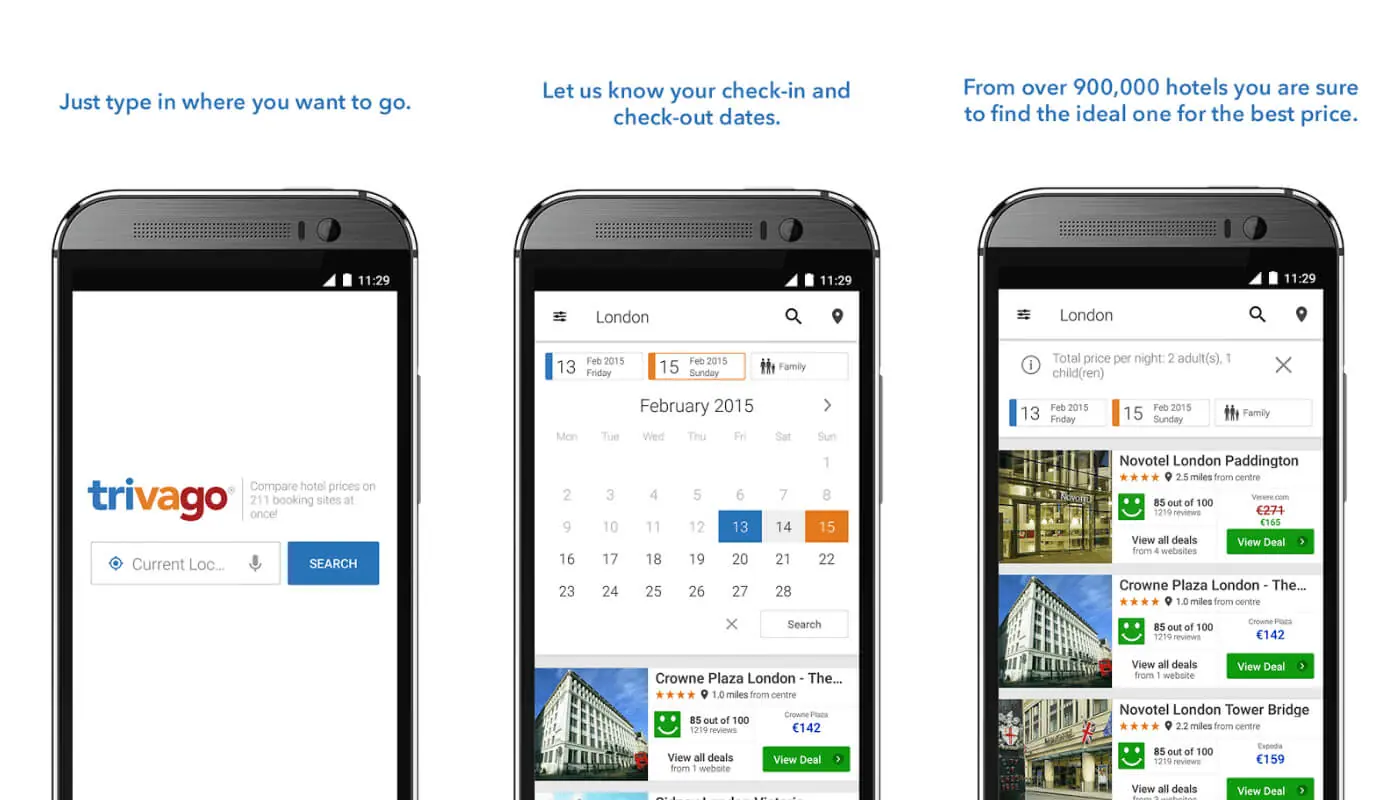 Trivago is a simple app that helps you to find just the right hotel in the right place. It offers travelers the ability to compare over 1 million hotels from more than 250 booking sites worldwide. You just need to type in the city where you want to stay in, select your dates, pick your preferred room size, and then run a search. The app will list out the available hotels so that you can compare and then book – even on the go!
Some other features include allowing you to filter your search results by price, rating, and amenities, such as free Wi-Fi or a swimming pool. For each listing, you can also see prices from the major booking companies, including Expedia, Priceline, Hotels.com, and Travelocity.
Expedia

Similar to the TripAdvisor, Expedia helps travelers in the planning and booking of their trips. It will let you find hotel deals and flight deals, saving you up to 40% with mobile-exclusive hotel deals when you use it on mobile. For hotel booking, you can sort them by price, deals or reviews when it comes to finding your perfect accommodation. For flights booking, you can sort by price, duration or departure & arrival time, and you will be able to choose from hundreds of airlines. It also allows you to enjoy round-trip car rentals from any airport – with no cancellation fee. Furthermore, you can also browse & book activities for hundreds of destinations worldwide. It is a travel app that can take care of most planning and booking needs of a modern traveler.
Musement

Musement enables you to live like a local, wherever you go. It is a free travel app that helps you enjoy the fullest experience of your holiday by turning your mobile devices into an exciting local city guide. The app highlights the best hangout places at the destinations and also makes it easy to sort what is nearby and open right now. Their selection includes the best, most authentic and locally sourced attractions, restaurants, bars, neighborhoods, and concerts. Integrating Foursquare's recommendations and venue contact information, you can easily research and book event tickets directly via the app.
The Outbound (Only on iOS)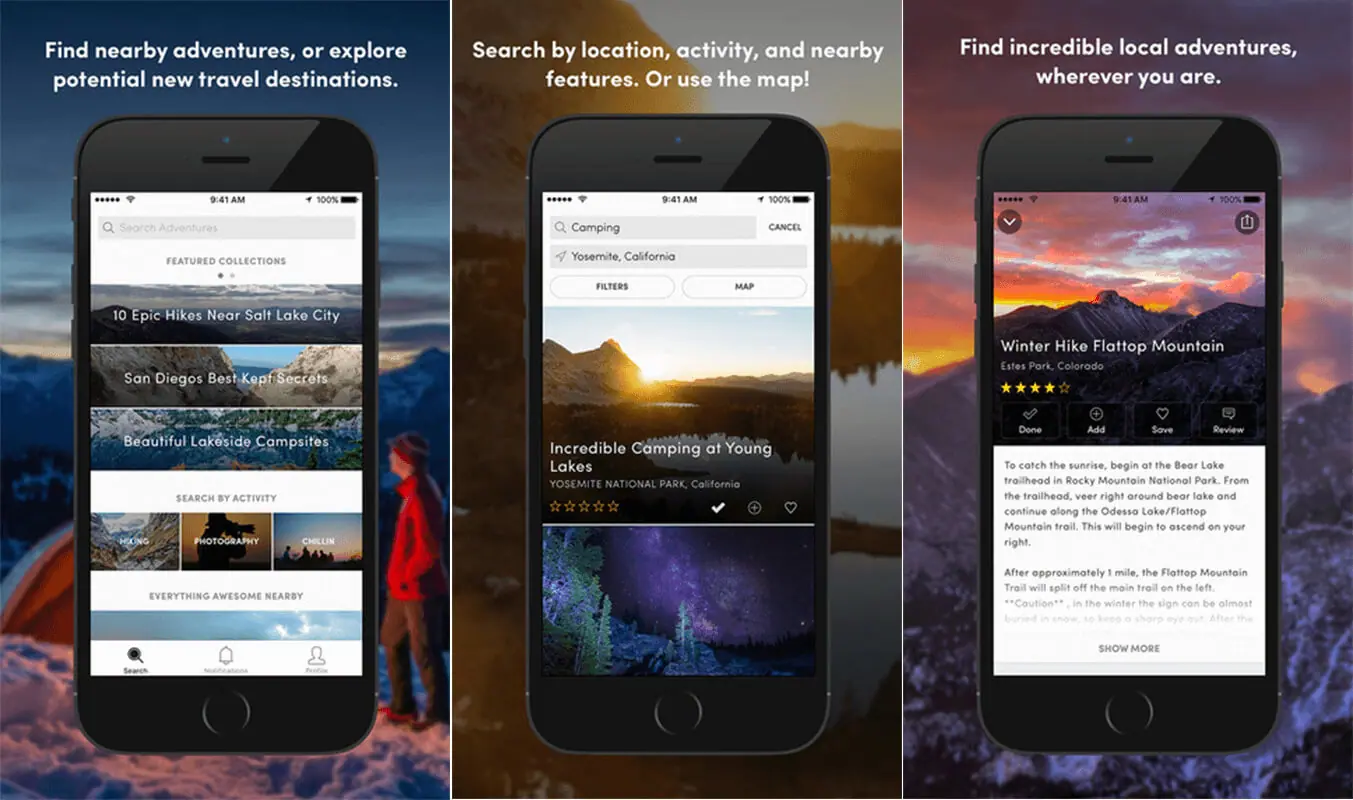 If hiking, surfing and hang gliding excites you, then The Outbound might be the app for you. It is an app for sporty outdoor travelers to plan for an outdoor adventure. It allows you to search for destinations to go surfing, backpacking, mountain biking and even more. You can discover new places by exploring adventures created by your friends and other community members and get inspired about future travel through curated collections. The app also allows you to filter activities by skill level, season, and features, like dog-friendly, family-friendly, etc. Whether you are looking for local hikes, after-work runs, waterfalls, or the best spots to catch a sunset, they have got you covered.