Digital Marketing is fast becoming the primary form of communication for customers with their friends and relatives, particularly while making purchasing decisions. This trend is the primary reason why digital marketing and advertising are so popular among marketers.
Which are the most effective? Which ones genuinely assist organizations in achieving their bottom line and business objectives?
If you're a marketer, you might be unsure how to use digital advertising to reach and convert your target audience. That's why we've compiled a summary of the many forms of advertising to assist you in determining what works best for your target demographic.
The RACE (Reach, Act, Convert, Engage) Framework is for you whether you're trying to optimize your marketing strategy, combine your digital operations, or need some assistance prioritizing your subsequent actions. Advertising is one of several digital channels that make up your marketing efforts across reach, act, convert, and engage, as seen in the funnel below.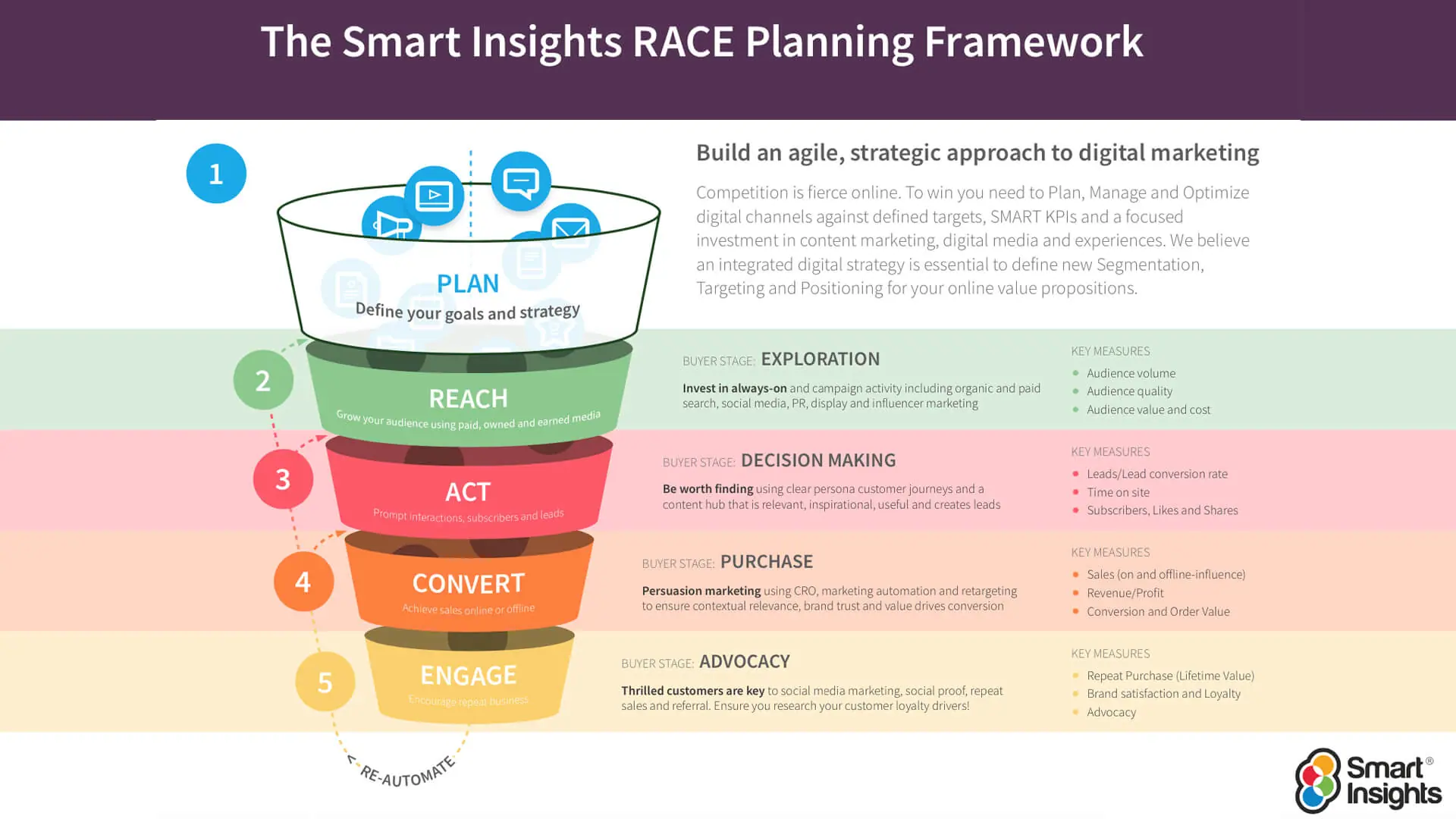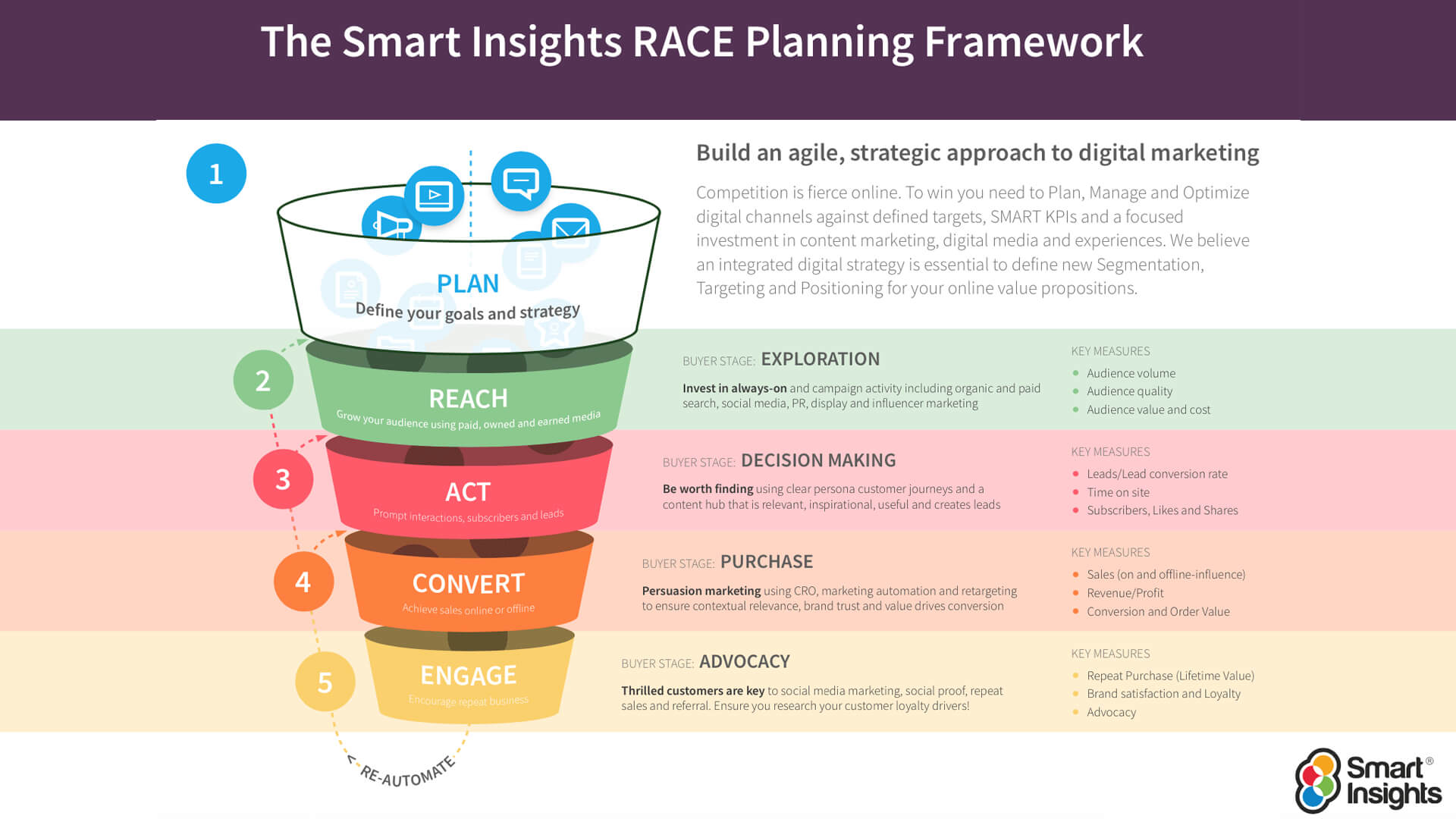 1. Static display ads
A static banner ad is often a single still frame with a compelling message. Studies have shown that static advertising outperformed animated commercials in nearly every campaign.
Static advertisements were more effective than animated commercials because prior visitors quickly identified the company logo. Still, animated ads feature a sequence of pictures that do not contain the brand logo. Static, on the other hand, is not restricted to just banner advertisements. One-way webinars, website pages, eBooks, emails, and landing pages are just a few examples.
2. Interactive ads
Aside from being inexpensive to set up, an interactive ad boosts company loyalty and reputation. Customer reviews, smartphone applications, and social media are all examples of this.
It does, however, have certain disadvantages. You have to check the channels constantly to keep your consumers interested; you must give new and relevant information. To succeed, it takes a lot of labor, training, and skill.
One good example is interactive advisor banners displaying the first question before redirecting viewers to a campaign-specific landing page where they may complete further questions and receive quick product recommendations. Interactive advisor banners are an engaging way to assist consumers in having a positive emotional experience, improving brand awareness, and increasing click-through rates by providing relevant material. According to studies, consumers are 2.5 times more likely to interact with these sorts of advertisements than with traditional ad alternatives.
3. Animated ads
Animated GIFs or flash ads need more effort to design than text or a typical picture, but they are well worth the cost. With animated advertisements, you have up to 30 seconds to get your message through to your clients. As a result, it can provide you more freedom than a static ad.
Advertisement Positioning
It would help if you placed your advertising where your consumers are. This allows you to reach out to your ideal consumers with the correct message at the right moment. If you're thinking about advertising on social media sites like Facebook, Twitter, or YouTube, you already know where to put your advertisements. However, in the realm of digital advertising, social media is a game-changer. Let's take a deeper look at the many forms of internet advertising.
Google Ads: SEM advertisements give immediate returns because you may expect increased traffic to your website within hours of beginning a campaign. In addition, advertisers may track how much money they spend on SEM and which keywords drove visitors to their site. Lower advertising costs, better control over your ad campaigns, and more precise consumer targeting are just a few of the benefits of SEM Ads.
Bing: Bing Ads has announced the availability of retargeting for search and retail ads. Advertisers may now target people who have visited their site with advertisements from Yahoo or Bing search results.
Facebook: You'll be able to reach out to your specific target audience via Facebook. Make sure you understand ad design and content, segmentation, ad formats, and your budget before beginning your Facebook marketing plan.
Twitter: Promoted tweets, promoted accounts, and promoted trends are the three sorts of advertising opportunities available on Twitter. Promoted trends are estimated to cost about US$200,000 each day, according to Penna Powers.
Google Display: According to Google, Google Display Network (GDN) reaches over 90% of worldwide internet users and spans two million websites. So when you're browsing your favorite websites or blogs, you'll notice banners or little boxes called "display advertisements."
Retargeting Ads: According to AdRoll, retargeting works by tracking visitors to your site and showing them your retargeting ads as they browse the internet. In general, they aid in the conversion of window shoppers into paying customers.
Mobile ads: They are outpacing all other forms of digital advertising in terms of growth. According to Business Insider Intelligence, mobile ad spending in the United States has reached over US$42 billion in 2018.
Creating a variety of ad formats
It's also vital to think about the designs of your advertising after you've selected which sorts to employ and where to put them. The first thing to consider when creating a clickable banner ad is its size. Whenever possible, choose a standard size. According to Google AdSense, the following are the most popular sizes:
Leaderboard: 728×90 
Wide Skyscraper: 160×600 
Large 336×280 
Medium 300×250 
Leaderboard: 728×90
If you want a clickable banner ad, you'll need to keep everything in order. With these considerations in mind, you should always include the company logo, a value proposition, and a call to action in your ad to guarantee that it is approved by ad networks and helps your ad convert better.