ASUS is a well-known brand, and now their Zenbook Pro 14 Duo OLED is undoubtedly going to become a favorite of many. It has a unique design with a dual-display backed up with astonishing performance. It is the perfect machine for people working from home, especially content creators. Let's cover everything you need to know about this fantastic laptop in more detail.
Unique design that will make you say "wow"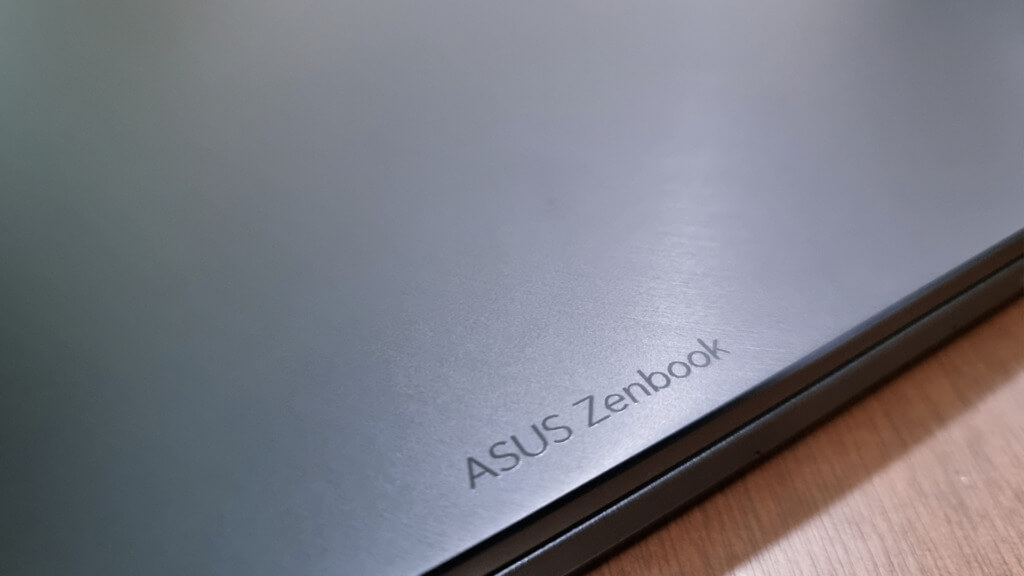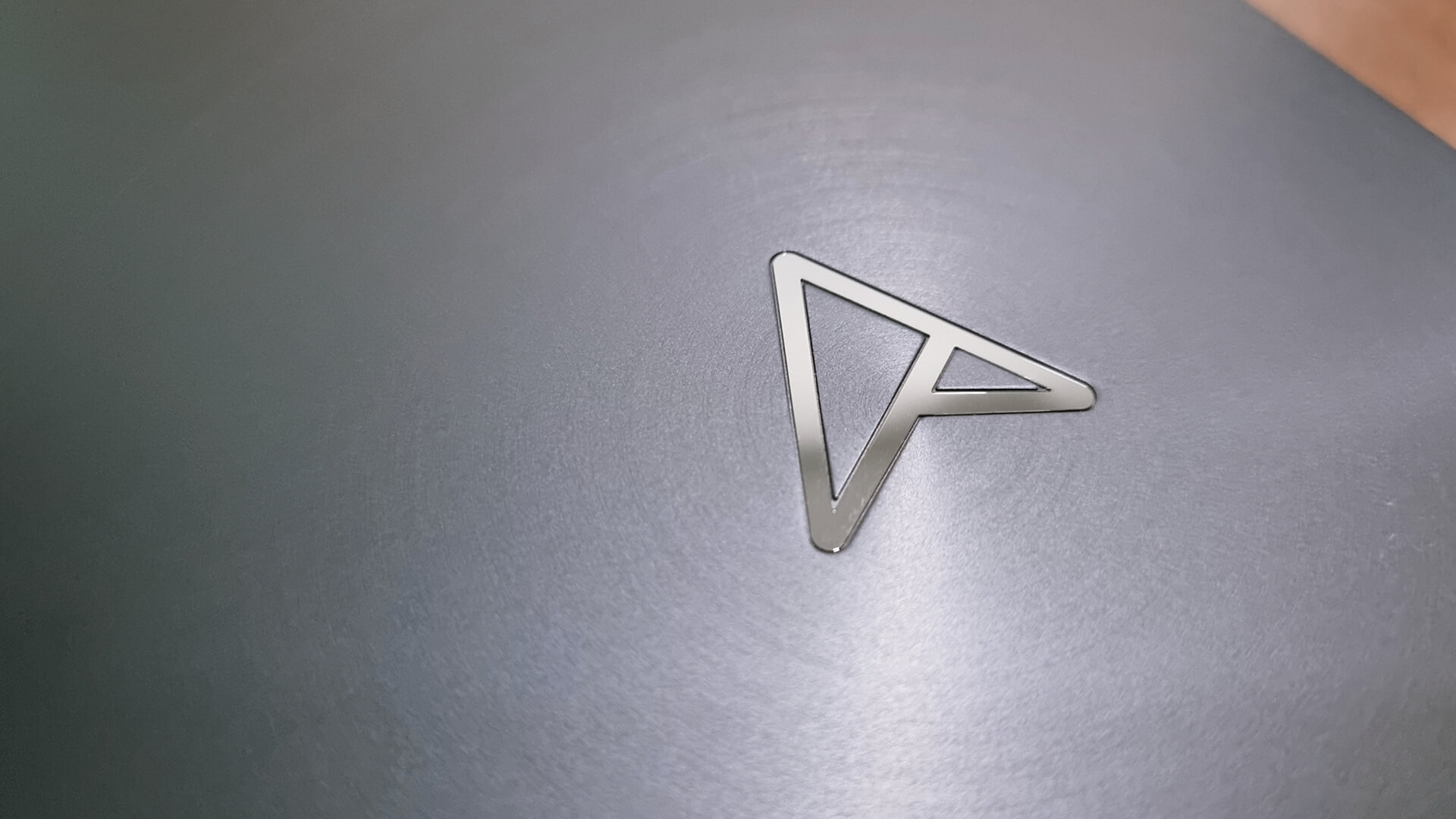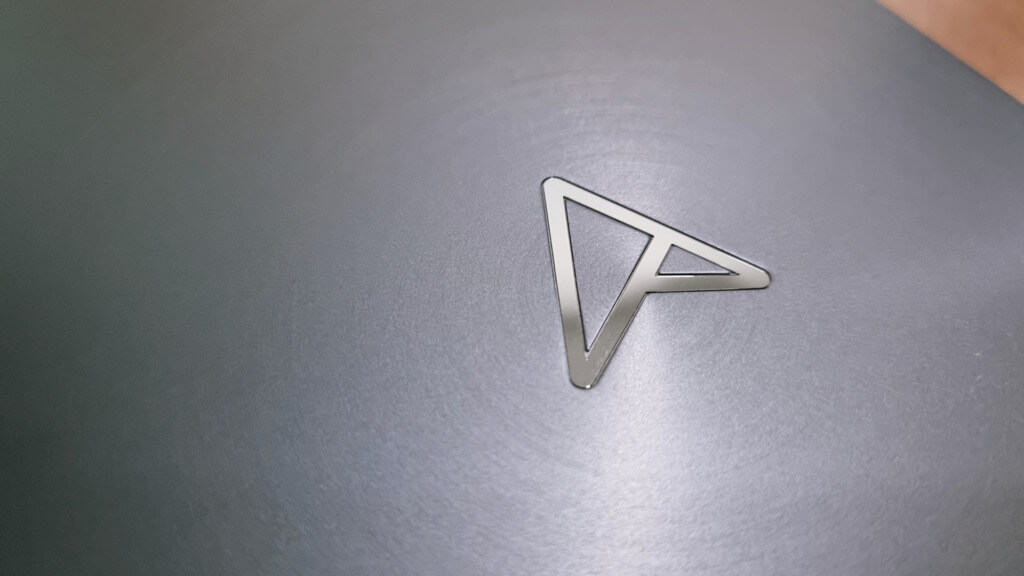 The stunning dark blue magnesium-aluminum alloy is something you will see on ASUS Zenbook Pro 14 Duo OLED (UX8402Z), similar to other ASUS laptops. It makes it look very sleek and modern. When you first open the computer, you might need a couple of seconds to grasp everything. The second display, which is called ScreenPad Plus, will slightly rise, and you will see 2 gorgeous OLED displays. This is what a designer would love to see every time they open their computer and ASUS gives it to them. The mechanism built behind the second screen is very solid, and you can rest assured you won't have issues with that display rising at every opening of the laptop.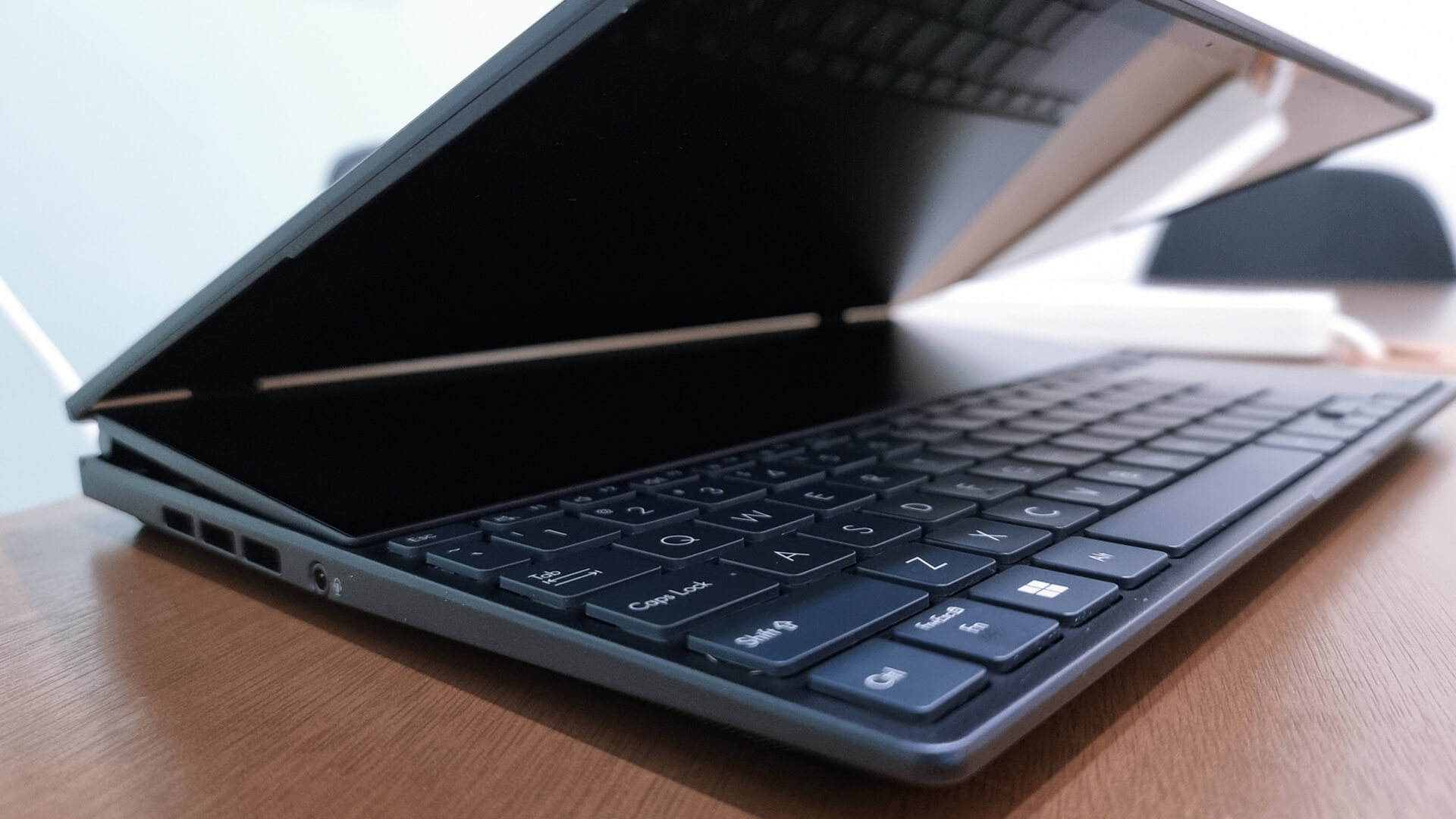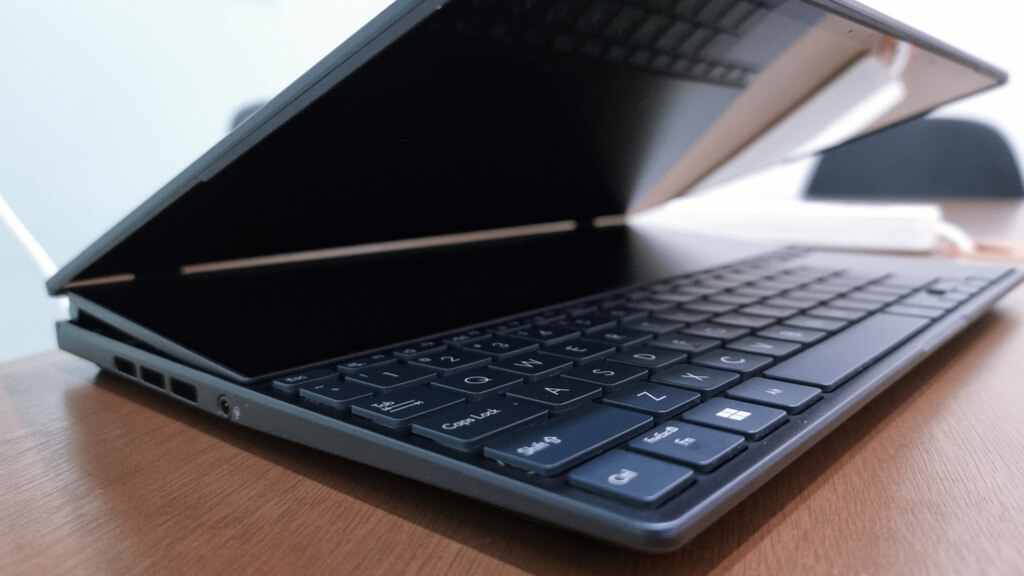 ASUS aimed for a frameless design, and they achieved it. You will barely notice the frames, and you might even not see the webcam, which is so tiny and is positioned at the center of the upper frame of the main display. The keyboard is logically a bit smaller because of the presence of the second display but is very beautiful and still big enough to be perfect for work. The touchpad is on the keyboard's right side, which might not be ideal for left-handed users, but you can always get an external mouse.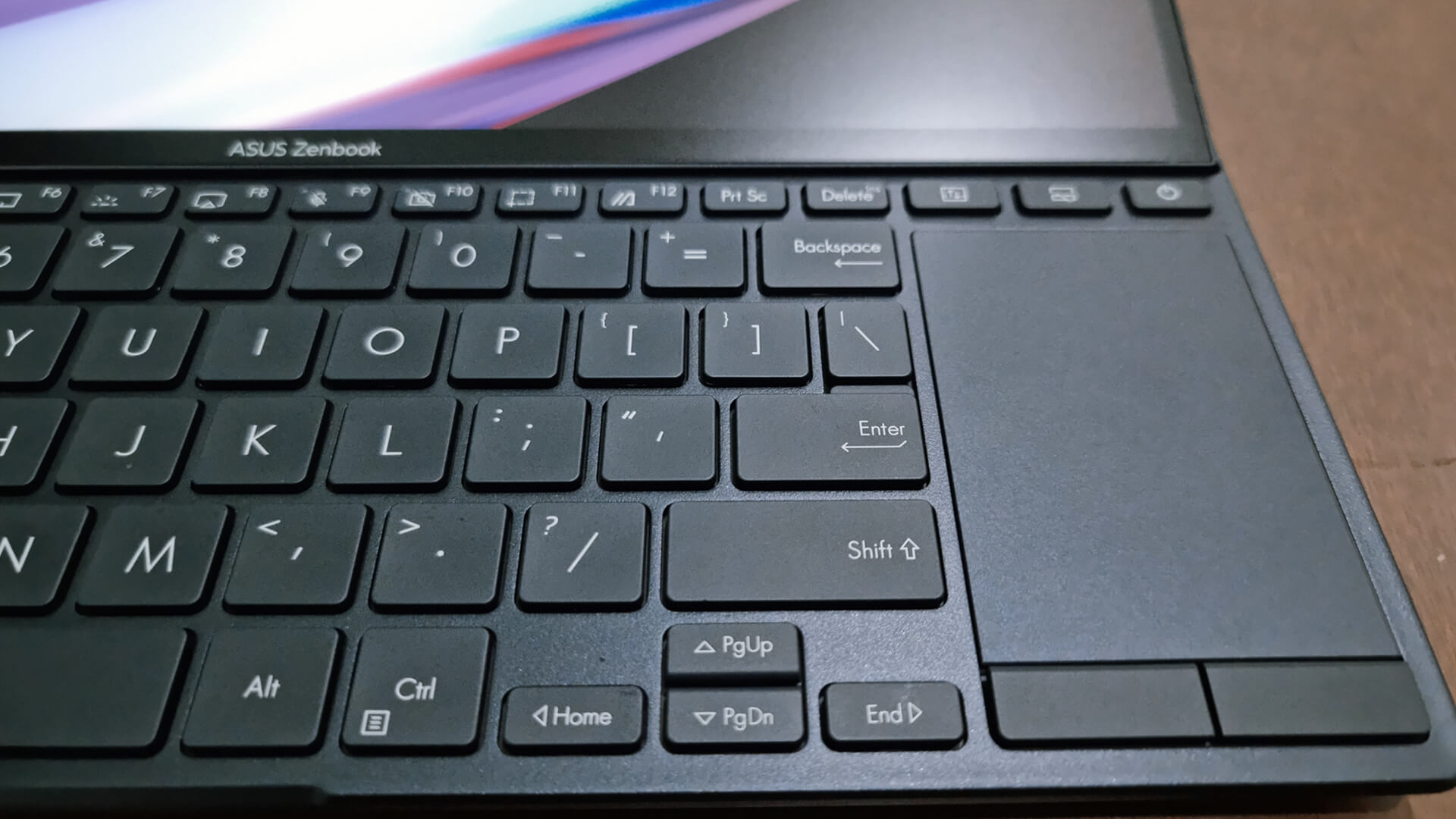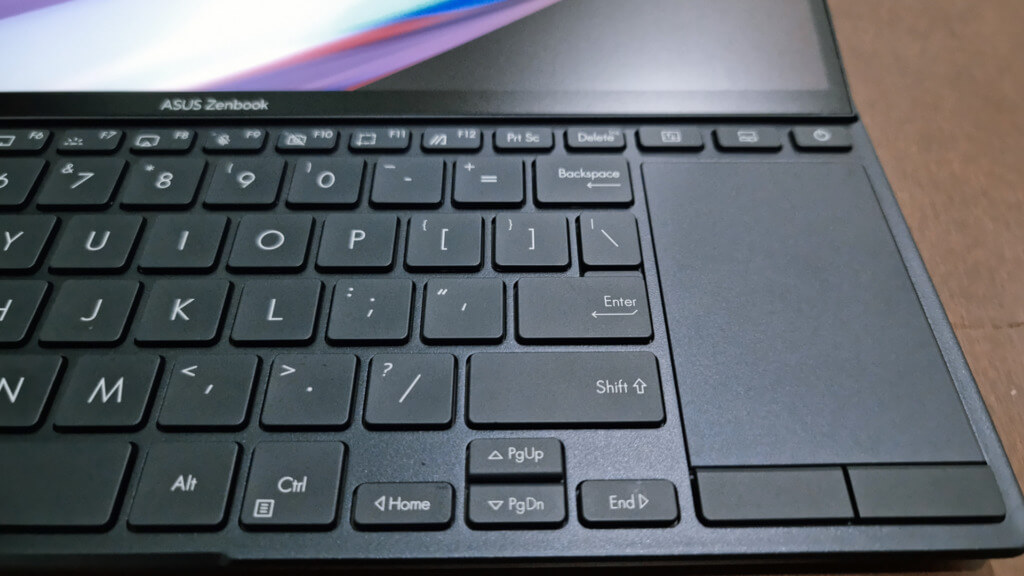 The design is very clean and is again in that amazing dark blue color on the outside. You will see only the tiny tag saying ASUS Zenbook and the brand's logo on the lid. The laptop is very compact with thinness of 1.79 mm and a weight of a bit over 1.7kg. As the laptop's name suggests, the main display is 14.5 inches, and the second one is 12.7 inches across. We will talk more about the specifications and the performance of the displays and the laptop itself in the next section, so keep reading.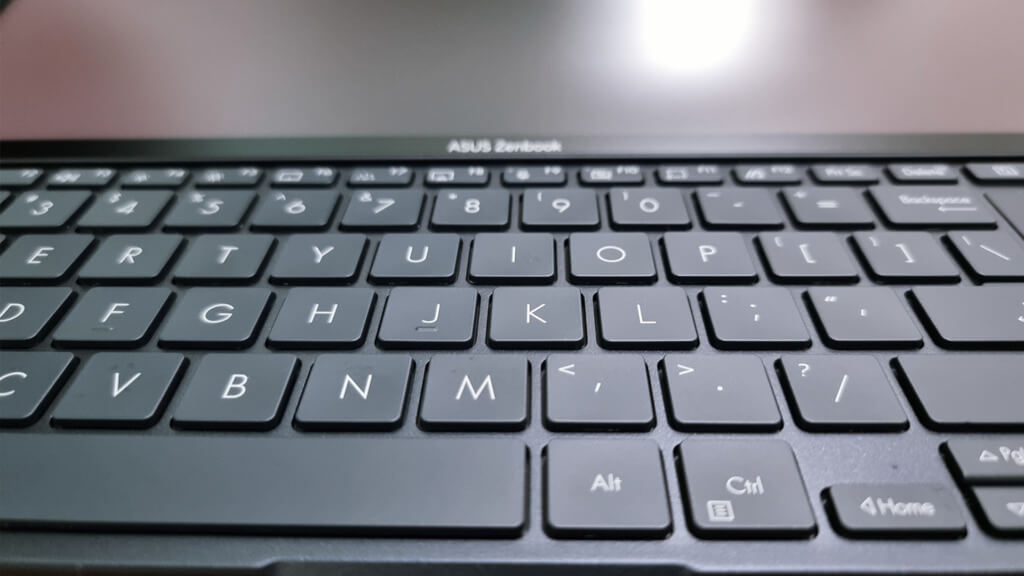 Smooth and powerful performance
Let's start with covering the ports that ASUS Zenbook Pro 14 Duo OLED has:
1 x 3.5-millimeter headphones jack;
1 x DC-in port;
1 x HDMI 2.1 port;
1 x microSD card slot;
2 x  Thunderbolt 4 USB-C ports;
1 x USB 3.2 Gen 2 Type A port.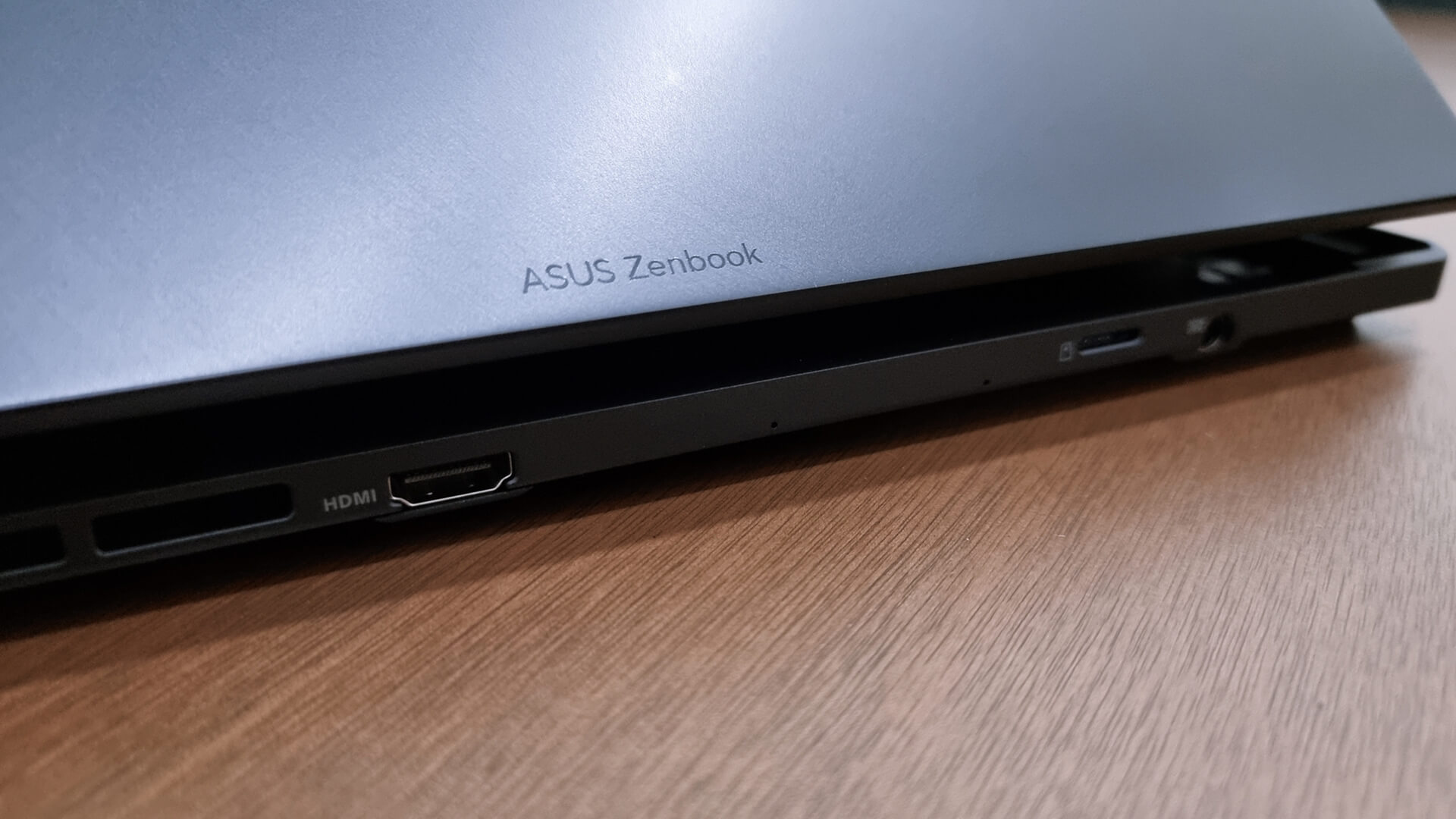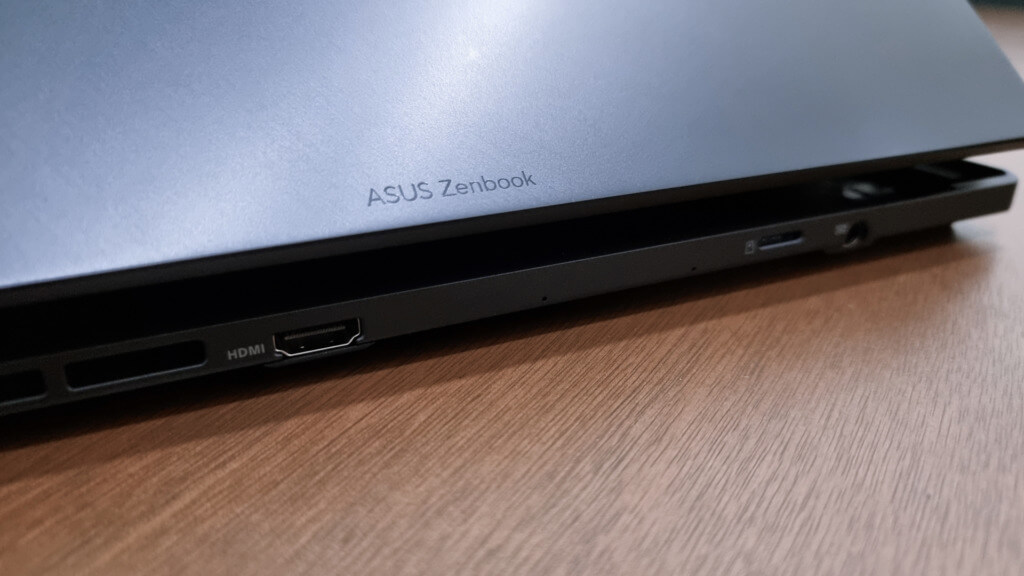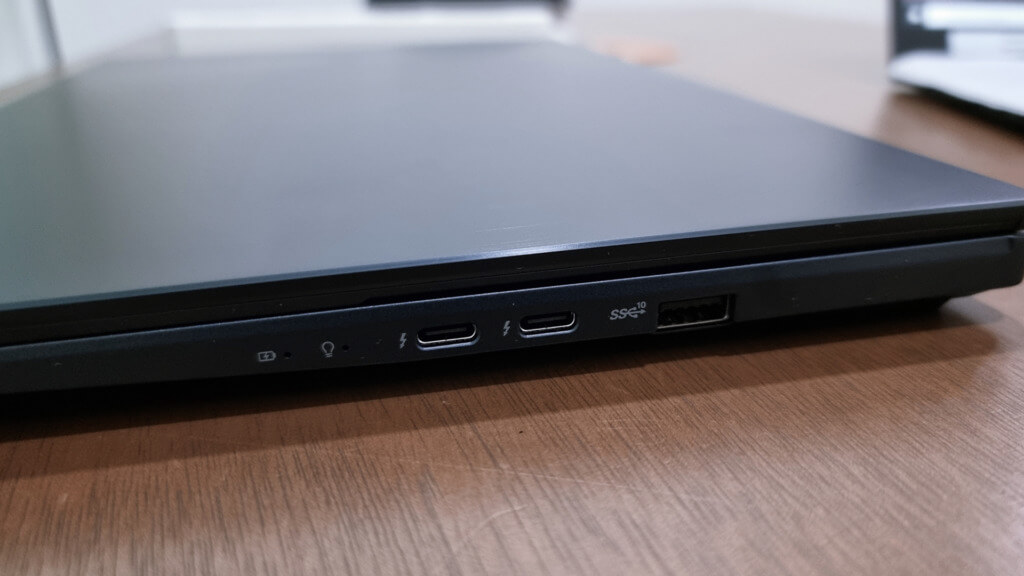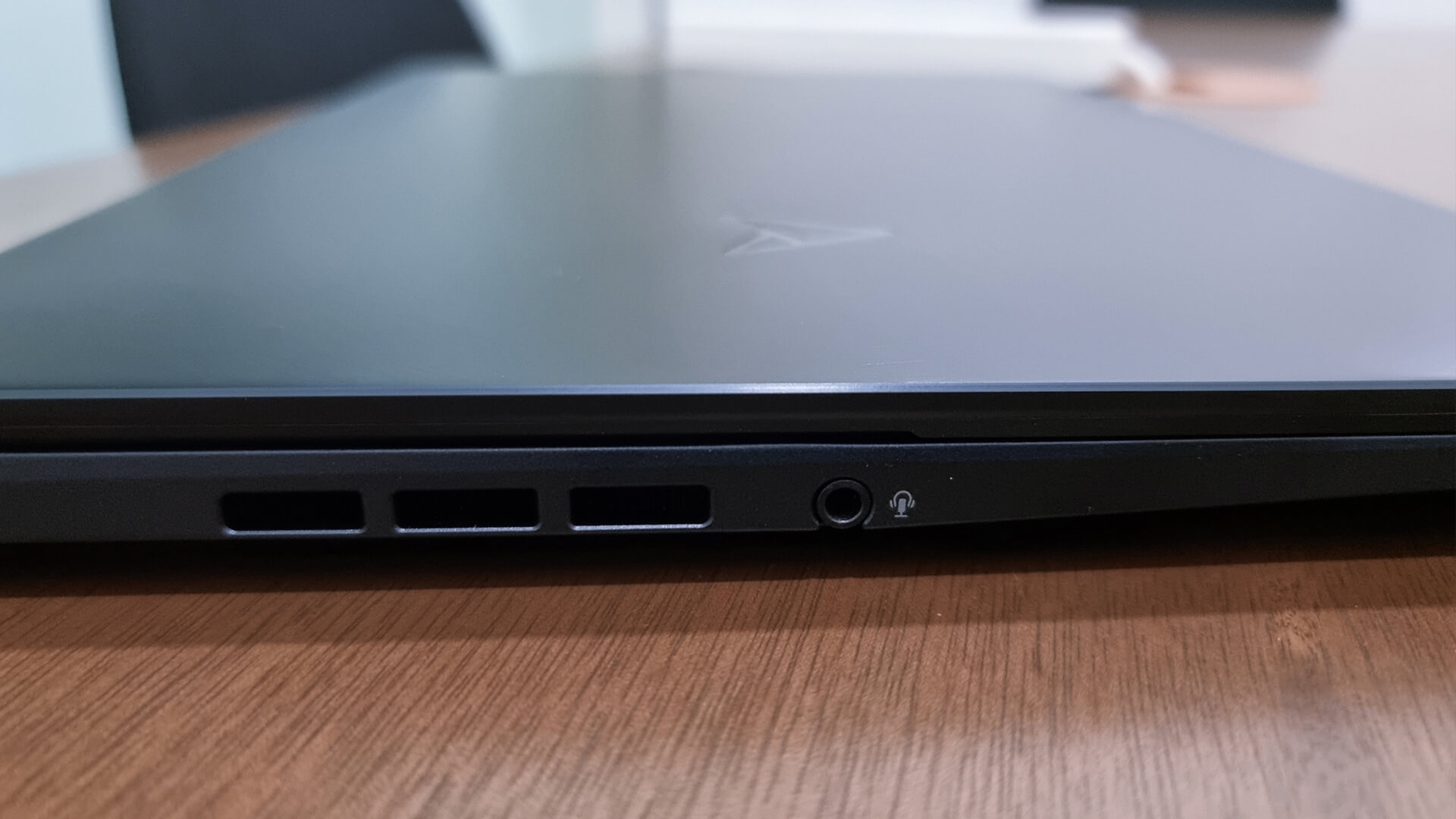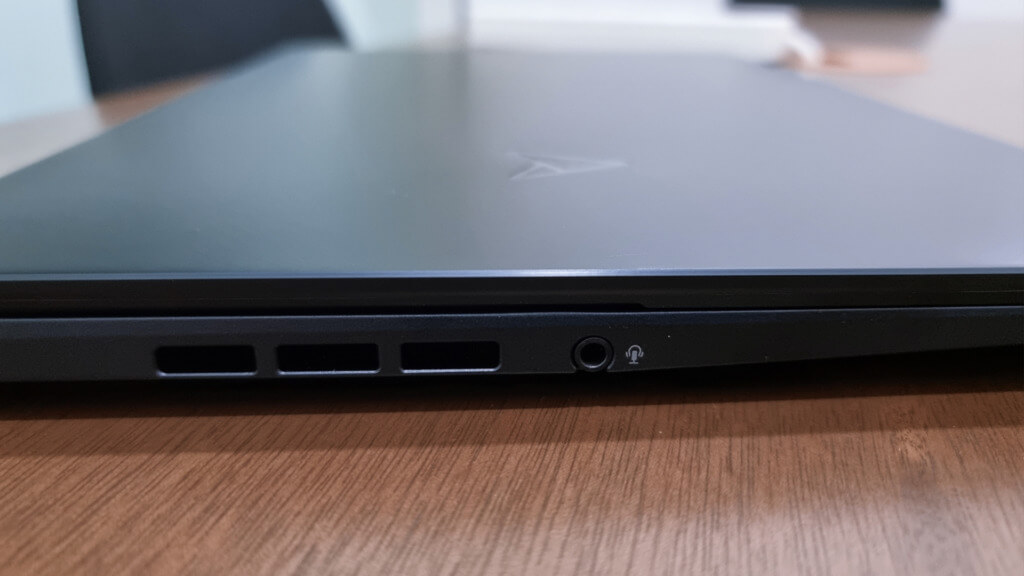 In other words, this laptop has you covered no matter what connectivity means you would like to use, which is more than great. The laptop comes with a 12th Gen Intel Core i7-12700H CPU, making it very powerful for a work laptop. The 16GB of Ram and 1TB of SSD contribute to that. It is fascinating to see such powerful performance in such a small machine. When it comes to graphics, we already said that everything looks stunning on those displays, and this is thanks to the Nvidia GeForce RTX 3050 Ti GPU with 4GB VRAM. This makes the machine perfect even for some gaming.
The audio quality is superb, and what else can you expect from a laptop that comes with speakers with a certificate from Harman Kardon. The combination with Dolby Atmos audio technology and smart amplifier which is 350%-louder, makes it even better. The sound is very clear, and the bass is decent for a laptop. And something very important to cover — the battery life. Considering you have two displays, you can't expect too long battery life, although the unit comes with a 76Wh high-capacity battery, which claims to be able to last for 9.5 hours, our tests came around 5 hours with moderate usage.
World-leading motion clarity with 120 Hz OLED display
As we mentioned, the main OLED touchscreen display of 14.5 inches is the world's first, with a resolution of 2880 x 1800p, and is very bright and colorful, making it perfect for all kinds of content creators. But also, if you want to just use your laptop for playing some games or watching movies, this is a great plus. The second screen is also very colorful, but it has an etched anti-glare coating, giving all the colors a bit of matte finish. It has a 2880 x 863-pixel resolution which for its 12.7 inches is more than excellent. Both of the displays have a refresh rate of 120Hz.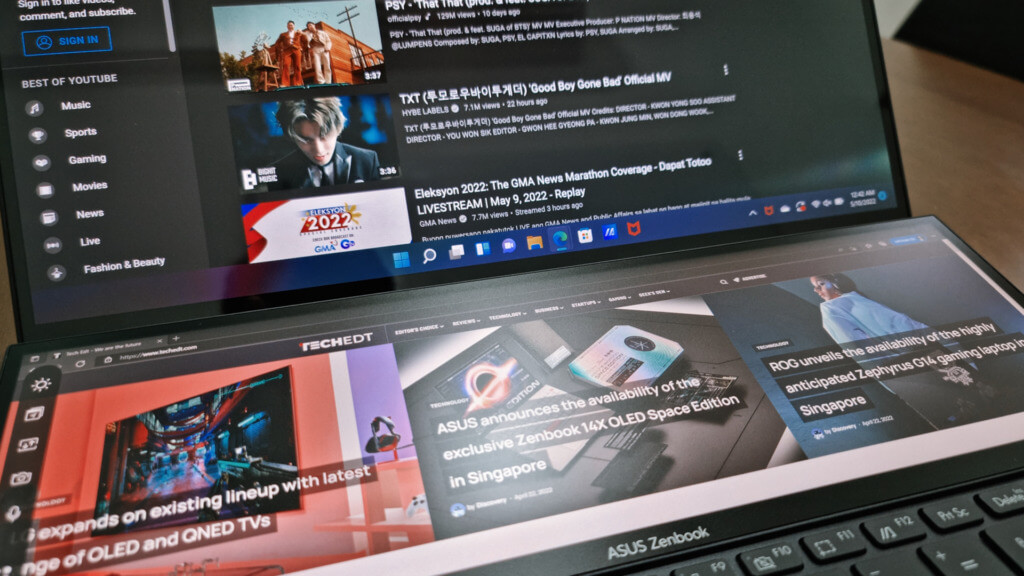 ASUS Zenbook Pro 14 covers 100% of the DCI-P3 color gamut, which is impressive for such a small laptop, but this was one of ASUS's goals when creating this machine. The second display is very handy when you would like to go through different apps that are open or available, drag items on the main display, draw or write, etc. People who will use the laptop for work are perfect if they need to work on multiple documents all the time or for designers who would like to draw on the second display and see their work on the main one. The DisplayHDR True Black 500 offers deep blacks that allow you to see previously unseen details in dark movie scenes.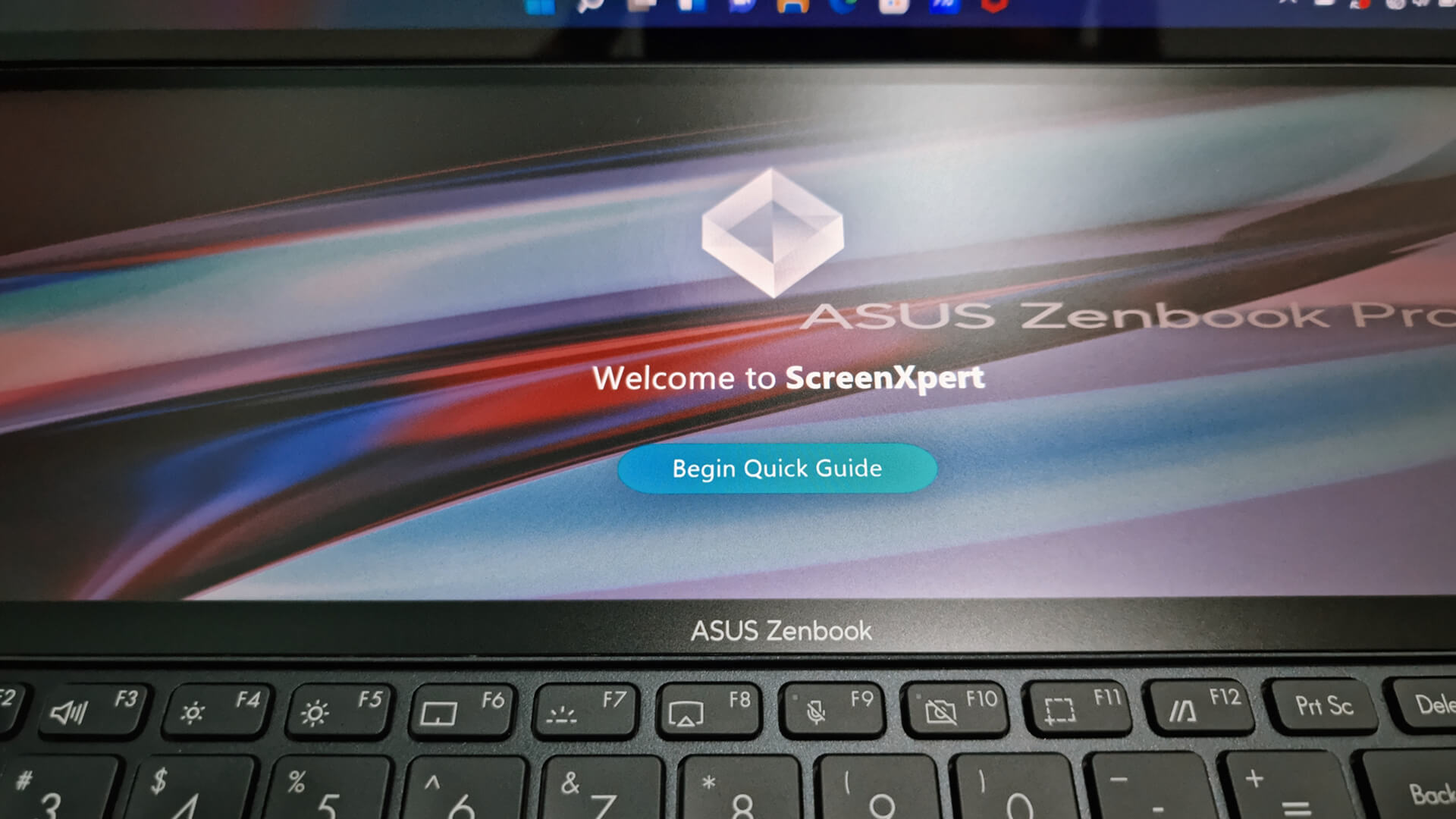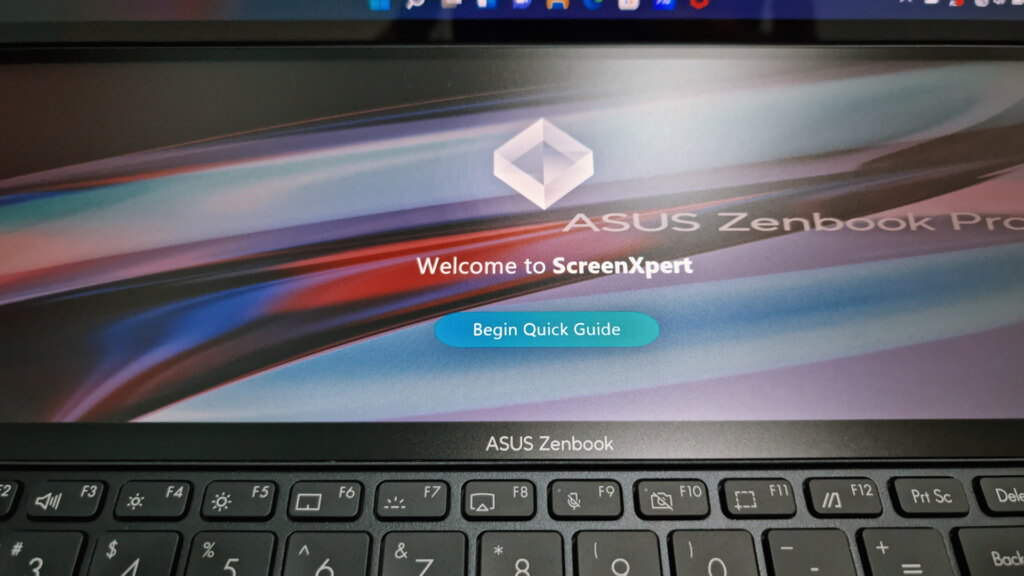 With the world's first OLED laptop display with 120 Hz refresh rate and a response time of 0.2 ms, you'll be able to enjoy the smoothest-than-ever gaming, creating, working, and media consumption experience.
AAS Ultra technology for improved cooling
Considering you have two OLED screens meant to be used by creators with pretty demanding software solutions, this laptop needs to stay cool. And it does, which is one of the main benefits of using it. The ASUS Zenbook Pro 14 also features the world's first AAS Ultra technology with 2nd display with enhanced airflow for supreme cooling and optimal viewing angle.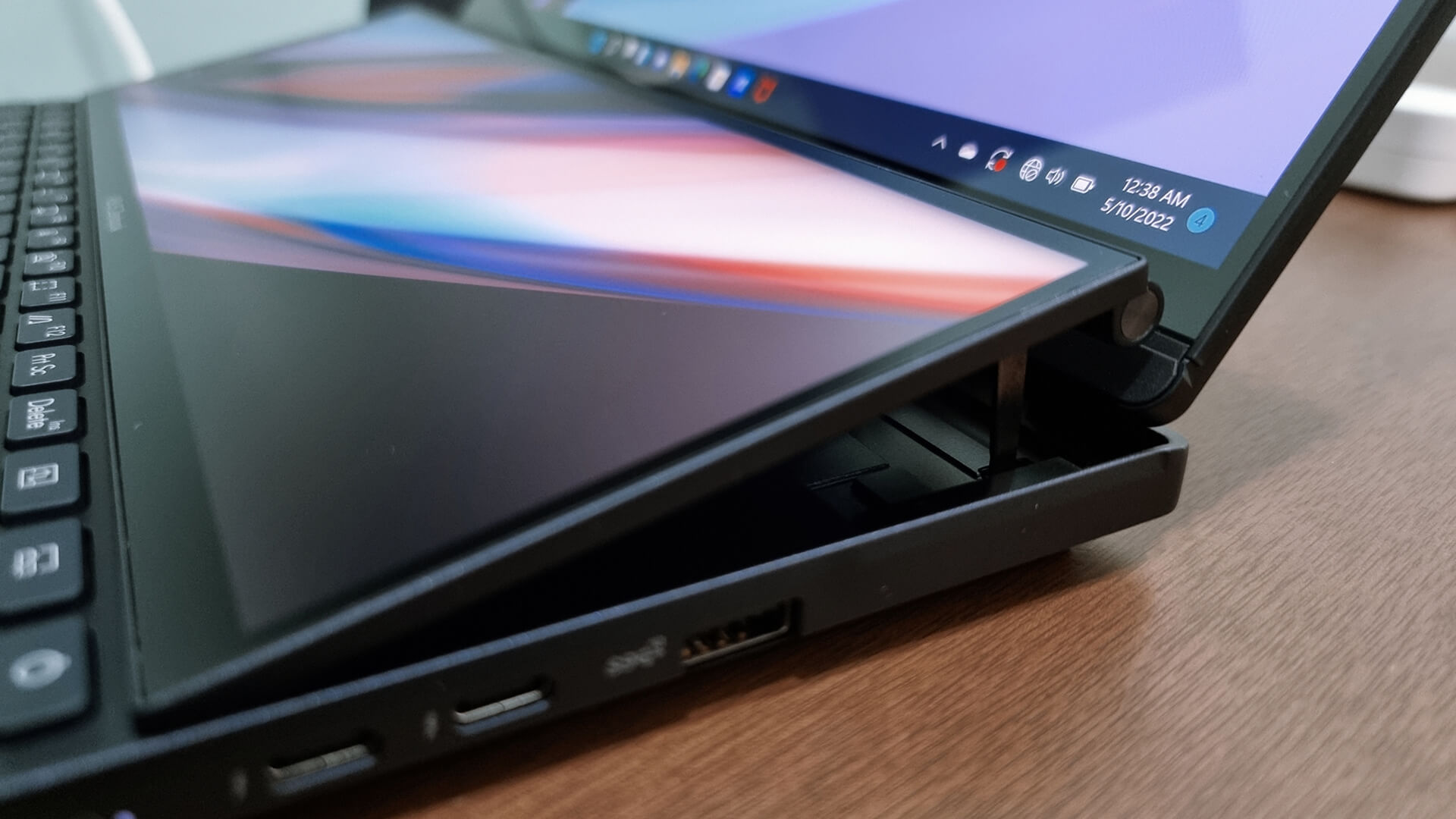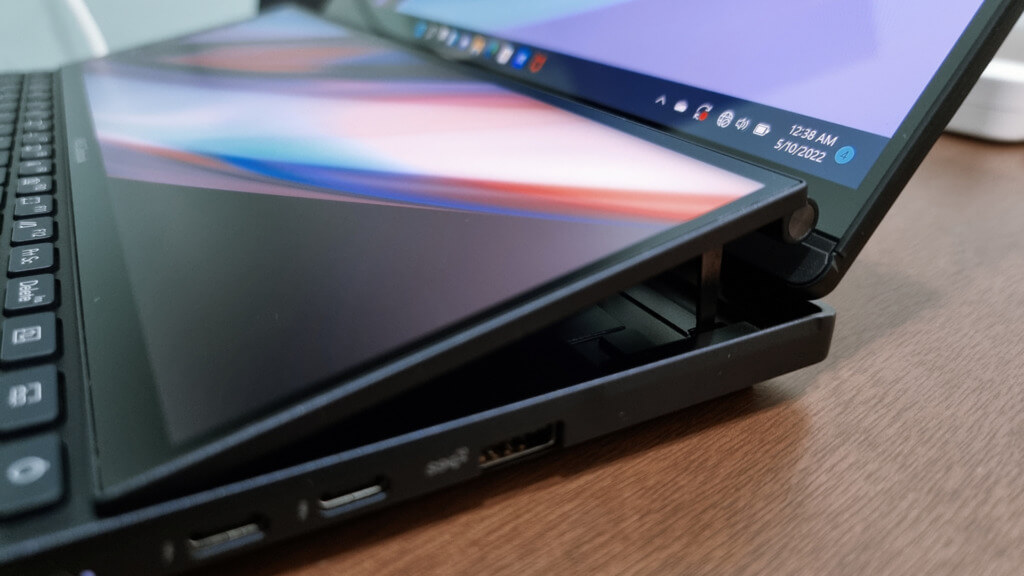 To develop AAS Ultra, the tilt mechanism was totally overhauled, with a precision-engineered mechanism that lifts the back of ScreenPad Plus by up to 20 mm and tilts it by 12° when the laptop is opened. This places ScreenPad Plus at the optimal viewing angle for easy cross-screen interaction with the main touchscreen. It also improves cooling by providing 38% more airflow than the previous version.
Other features that will impress you
When it comes to security and durability, ASUS outdid themselves this time. Thanks to the IR-capable camera, you can unlock your computer with face recognition. But this is not something that impressive since many laptops already have this. However, in combination with TPM or Trusted Platform Module, this becomes one of the most secure laptops. This technology will use hardware-based cryptography to ensure all your files are safe and well protected.
What is worth mentioning is that ASUS ProArt Creator Hub allows you to define the system performance and how you would like to use your two displays. In addition, with Control Panel, you'll be able to control your creative apps in a precise and straightforward manner. Change brush size, color saturation and layer opacity quickly and effortlessly using this tool. Dial, Button, Slider, and Scroll are the four sorts of controls available for easy integration into any creative process. Adobe® Photoshop, Illustrator, Lightroom Classic, Premiere Pro and After Effects are all supported by Control Panel, and more apps are on the way!
The verdict: ASUS Zenbook Pro 14 Duo OLED
ASUS Zenbook Pro 14 Duo OLED (UX8402Z) is just amazing. This is the perfect machine for creators or people that want to optimize their work performance. If you are looking for a new laptop and need some innovative, powerful, and great design, this is definitely the laptop for you.