Home projectors have come a long way in the last few years. Today's models can manage a broad range of multimedia content — films, photos, documents, and games — and many can play music files, too. While models with a resolution of 720p or less are still sold, higher resolutions, from 1080p and up, are popular. There's also a surge of 4K variants over the past year or so, with a horizontal resolution of almost 4,000 pixels. Plus, most home projectors offer a wide variety of connection options. When state of the art improves, whether your den or living room has the right characteristics, your next TV might be a projector.
The BenQ TK850i is BenQ's new true 4K HDR projector with high brightness for sports watching and streaming in a room with ambient light. It supports the HDR-PRO technology, which enhances 4K HDR for improved detail. It is also designed to provide streaming content, integrated with the Google Play Store, and is a Google-certified Android TV for all your entertainment needs.
Curvy design with a solid build
Like its predecessor, the TK850i is a home theater projector through and through. Rectangular in shape, the BenQ TK850i projector features rounded edges and corners, giving it a good smooth look. While most of the projector is white in color, the front panel is a metallic blue, similar to the TK800M, but a few shades darker and obviously looks more premium as well. Featuring a size of 380 x 127 x 263 mm and a weight of 4.2 kg, this projector is undoubtedly built with portability in mind, and you can understand why it comes fitted with several features.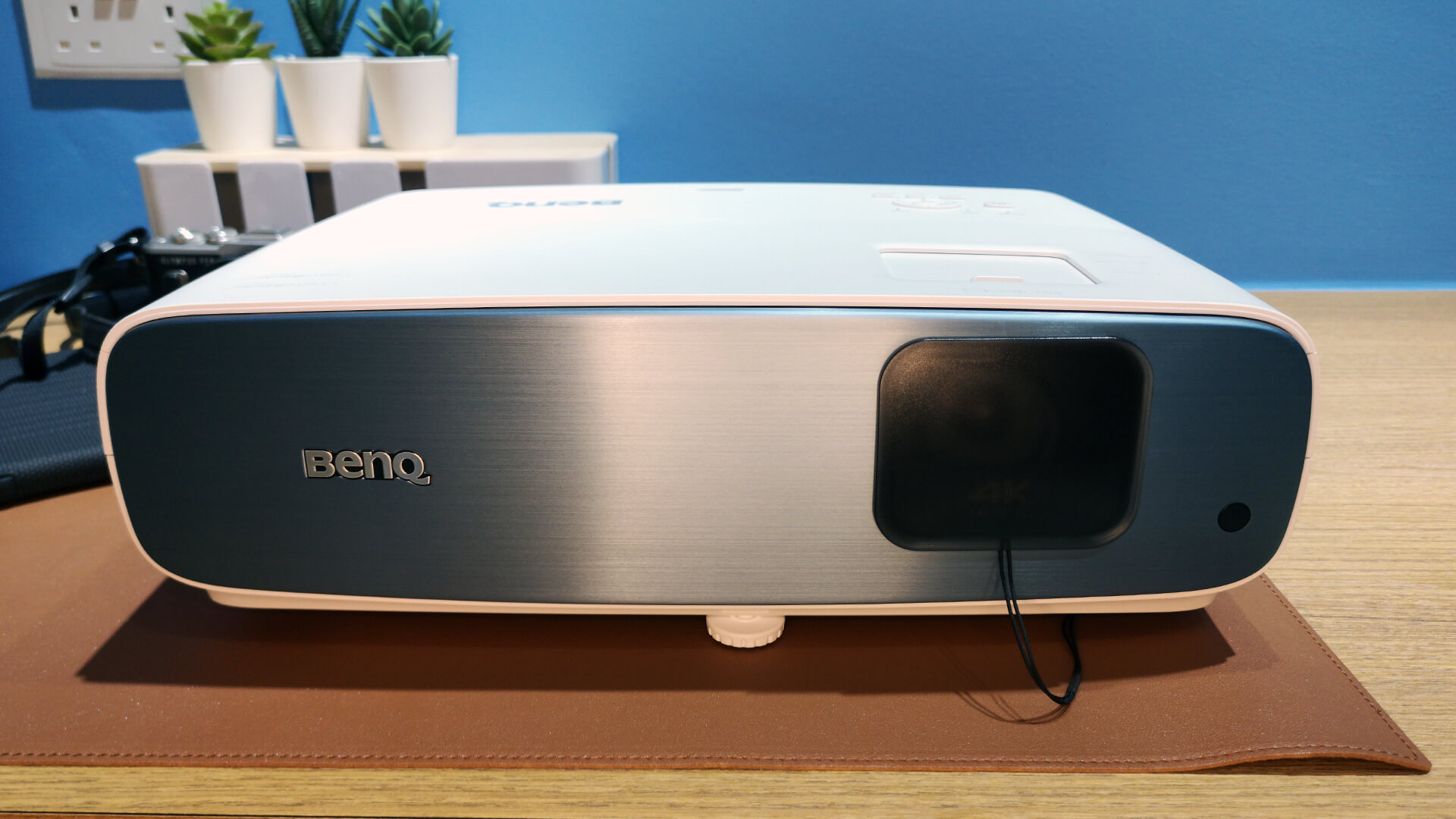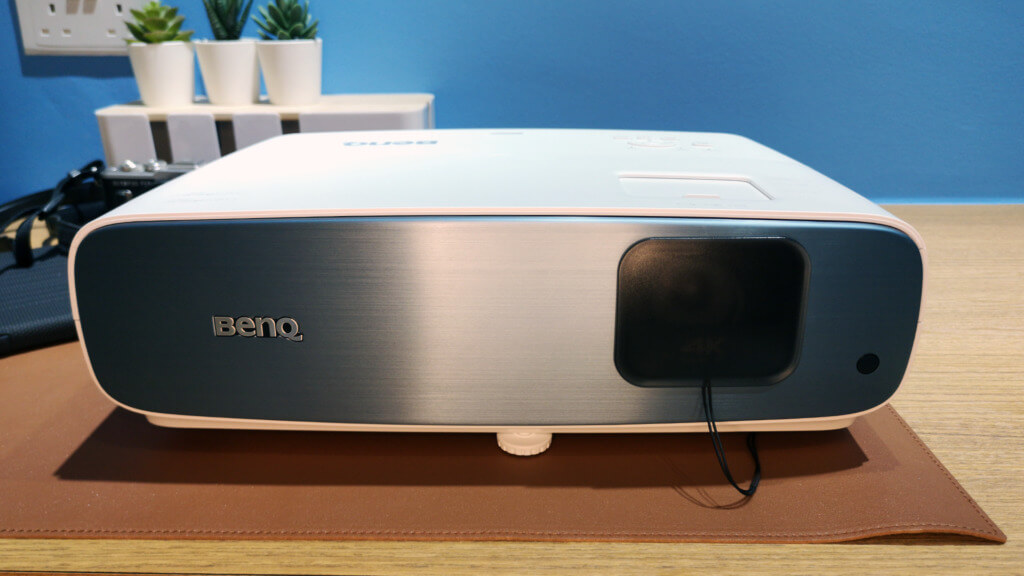 The TK850i comes with two adjustable rear legs and a large adjustable front leg to change the image height while sitting on a flat surface. There are three M4-size mounting screw points on the bottom for a ceiling mount.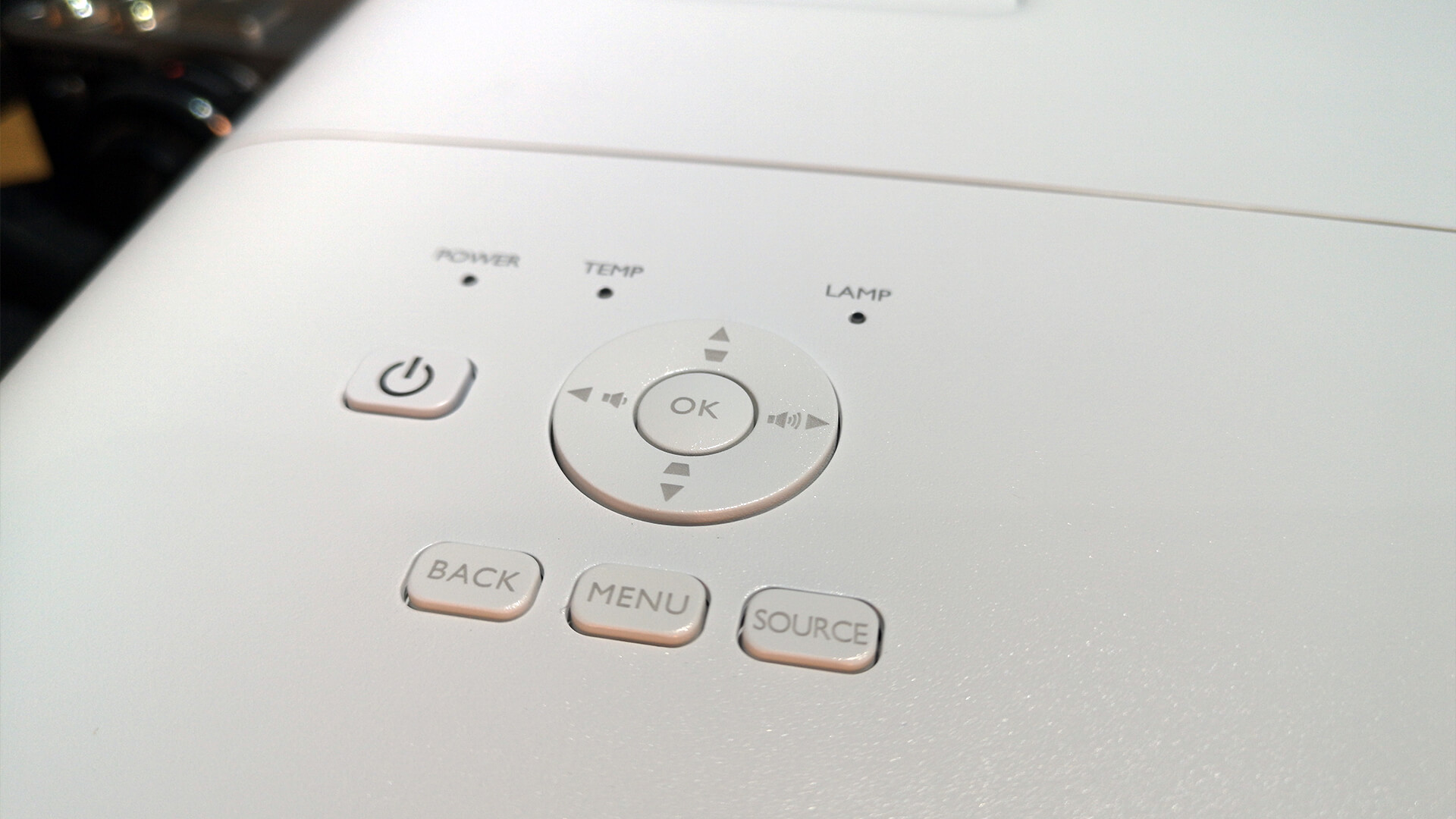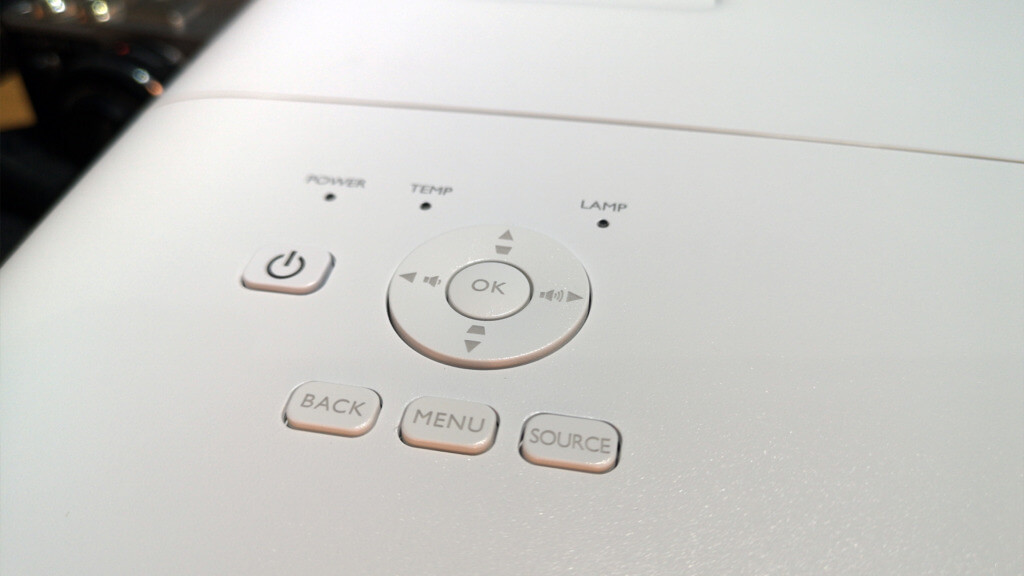 The control panel with the power button, menu navigation keys, back, menu, source buttons, and three LED (power, temperature, and lamp) indicators are located at the top of the projector. They're intuitive, and their response is fast.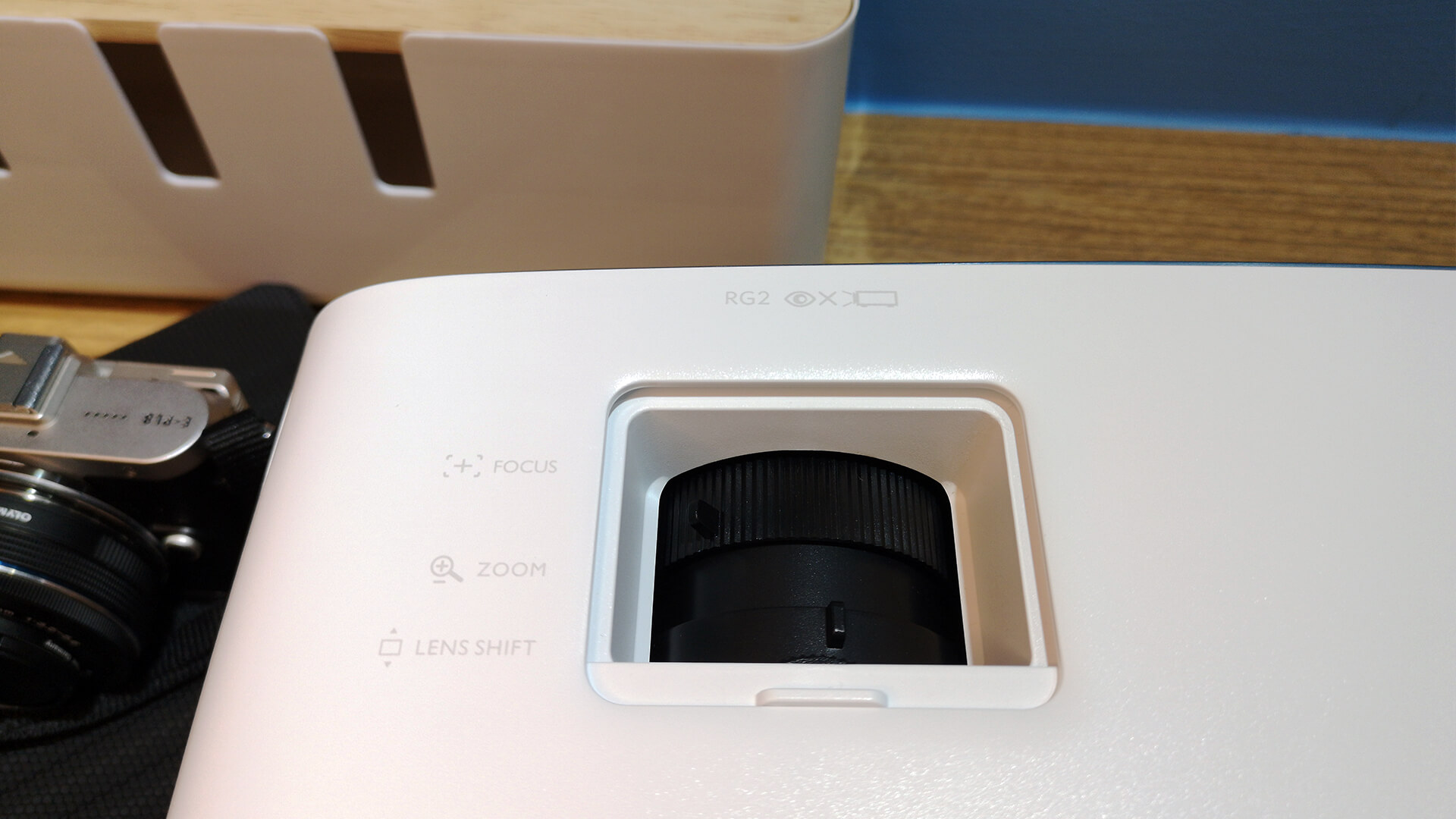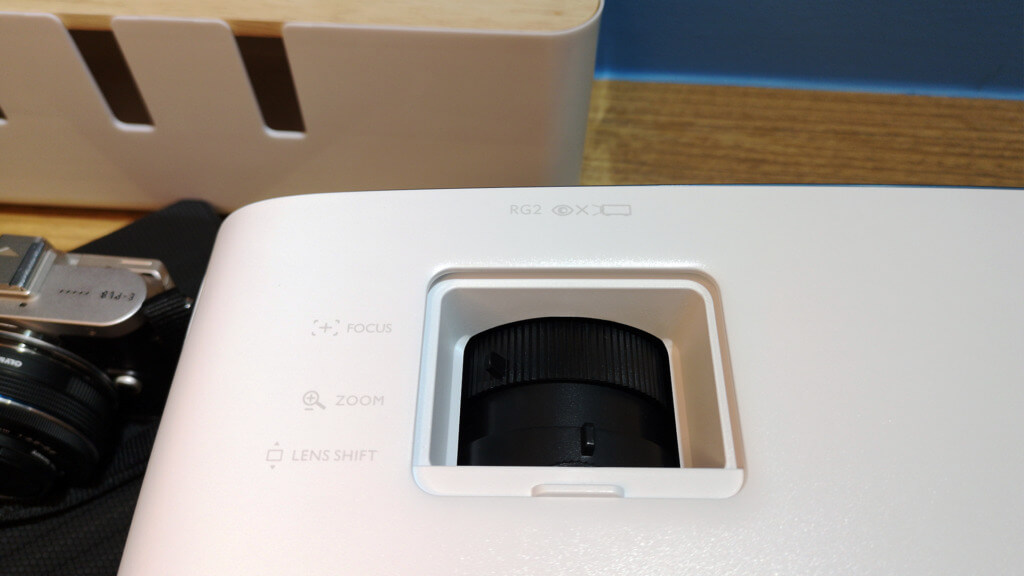 Towards the front of the top panel near the lens, there are two wheels, one for focus and one for zoom. The zoom ratio of the TK850i is 1.3x, which is a little more than the TK800M. This new model also features an asymmetrical design, as the lens was positioned on the right side, with the front IR sensor sitting right next to it. There is a large air vent on the left and right for intake and blasting the hot air out of the unit.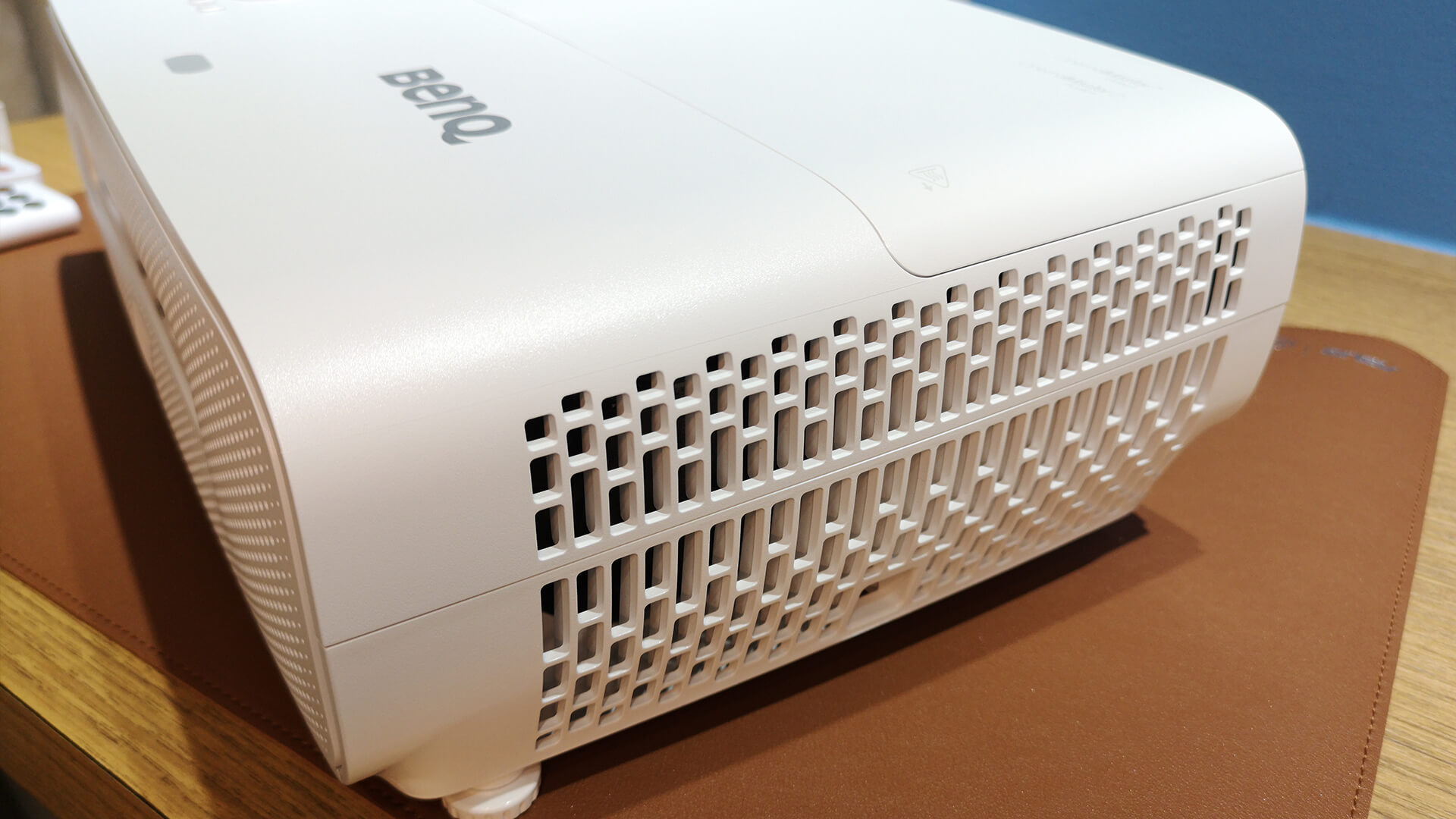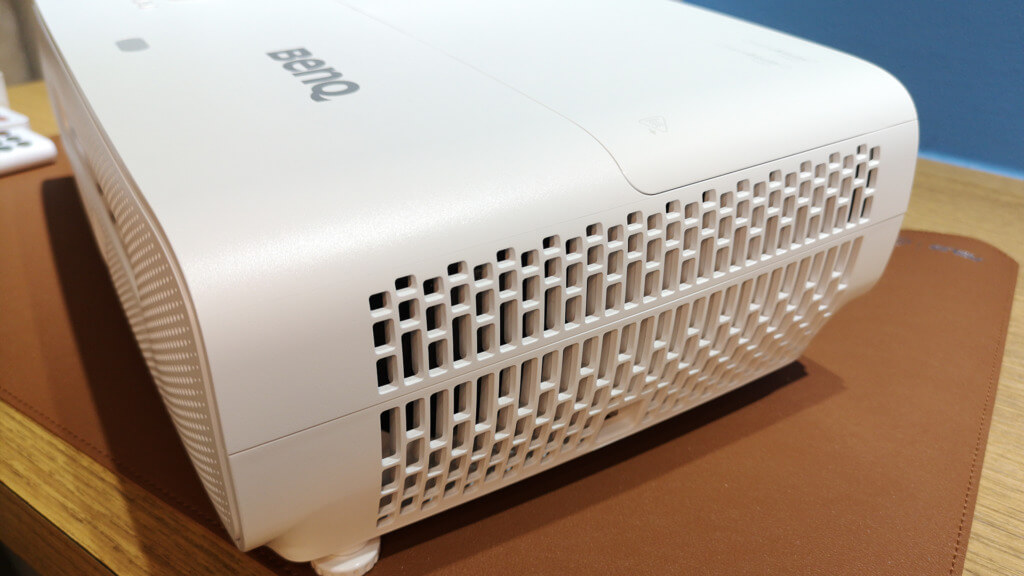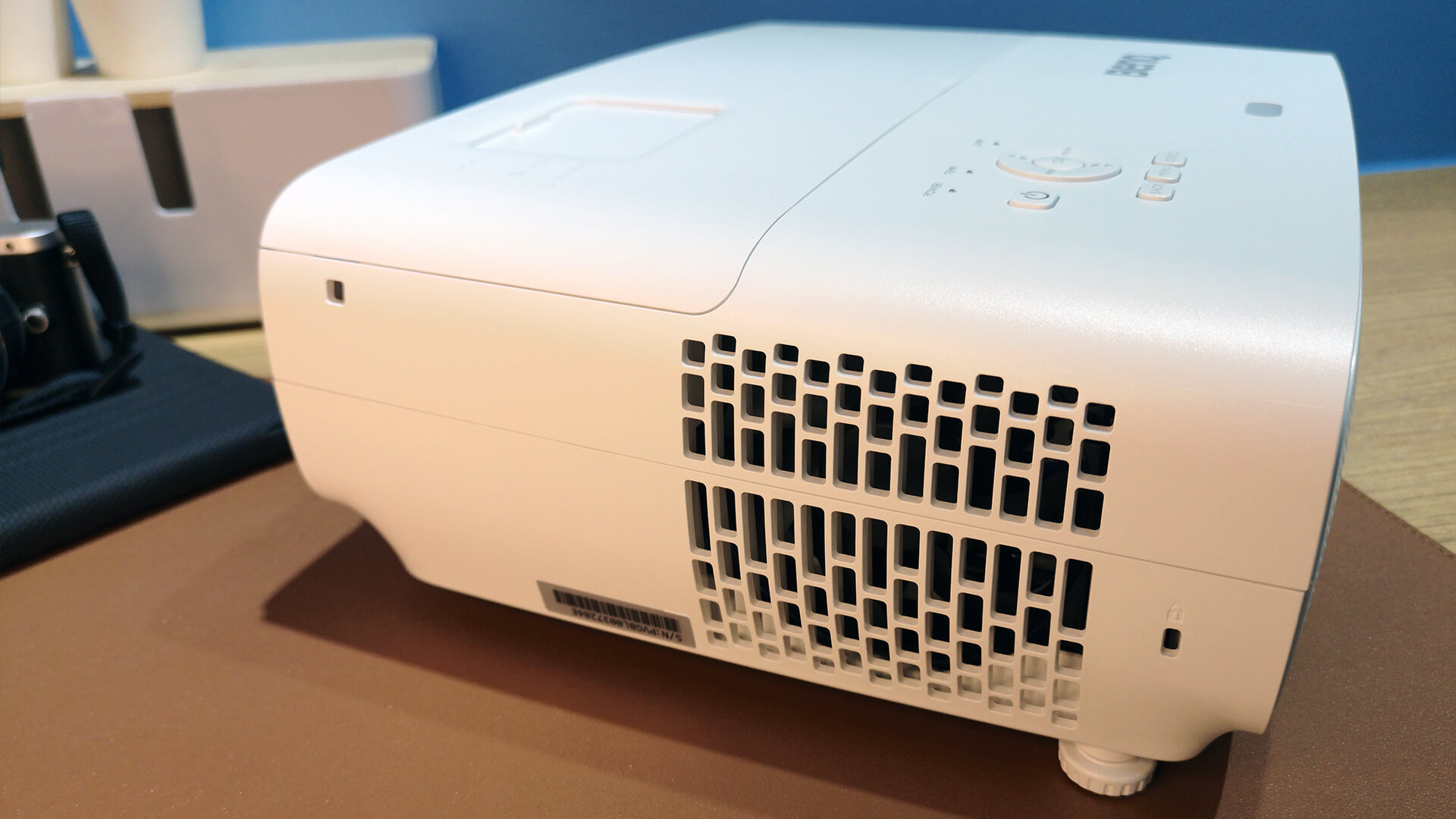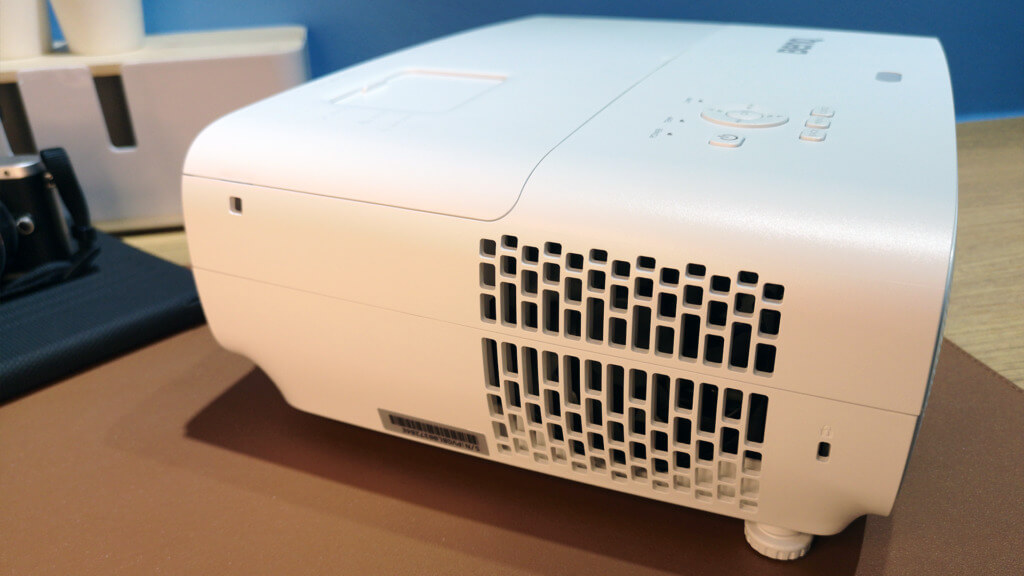 There is a standard collection of connections at the back, which includes two HDMI inputs: HDCP 2.2 compliant and can be used with any 4K/HDR source. There is also an RS232 serial connector, two audio outputs (3.5mm Mini-Jack and S/PDIF), a 12V trigger, a USB Type mini B, and two USB Type-A. In the case of the latter, the former is for service updates, while the latter can be used to power other devices.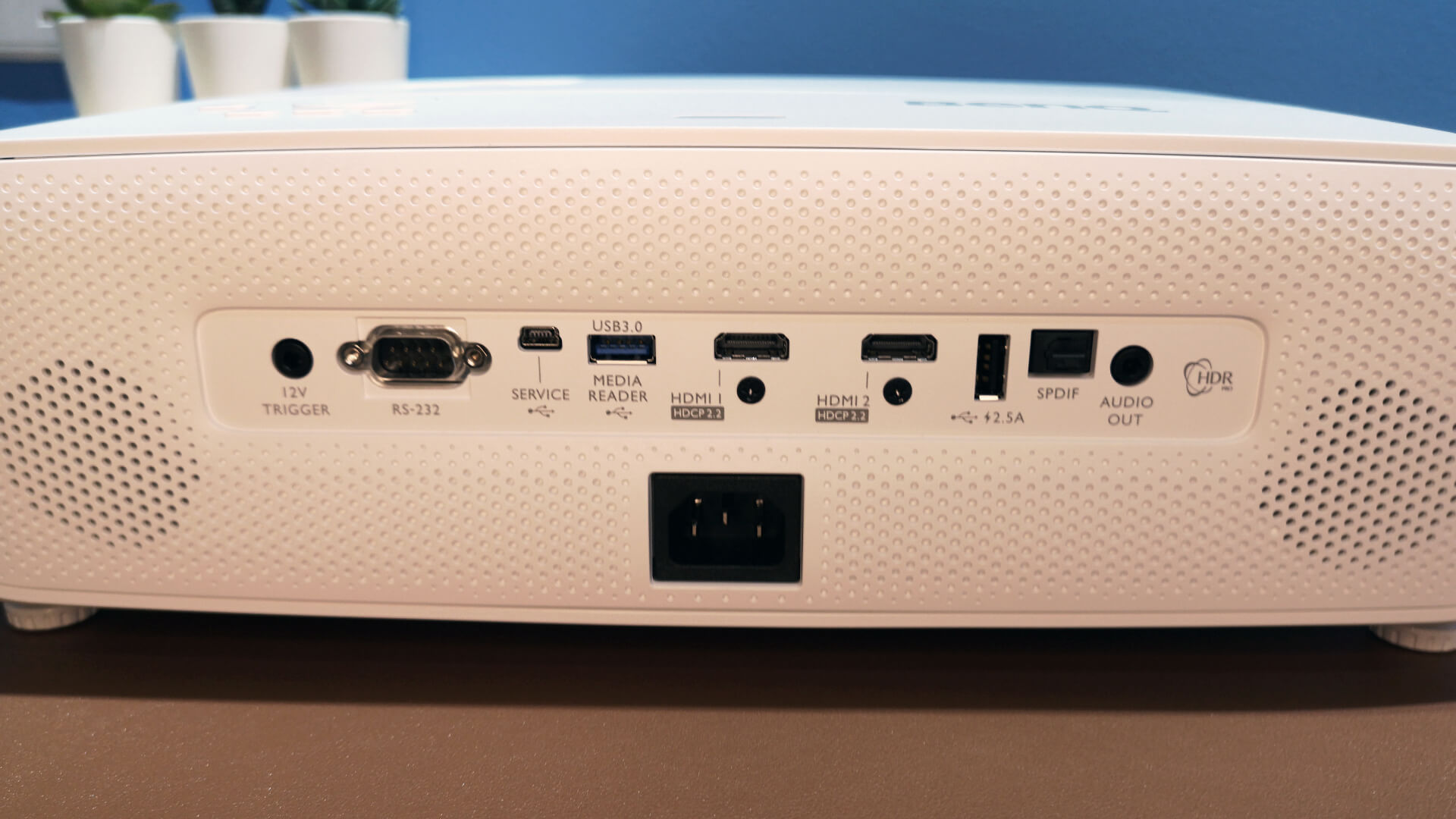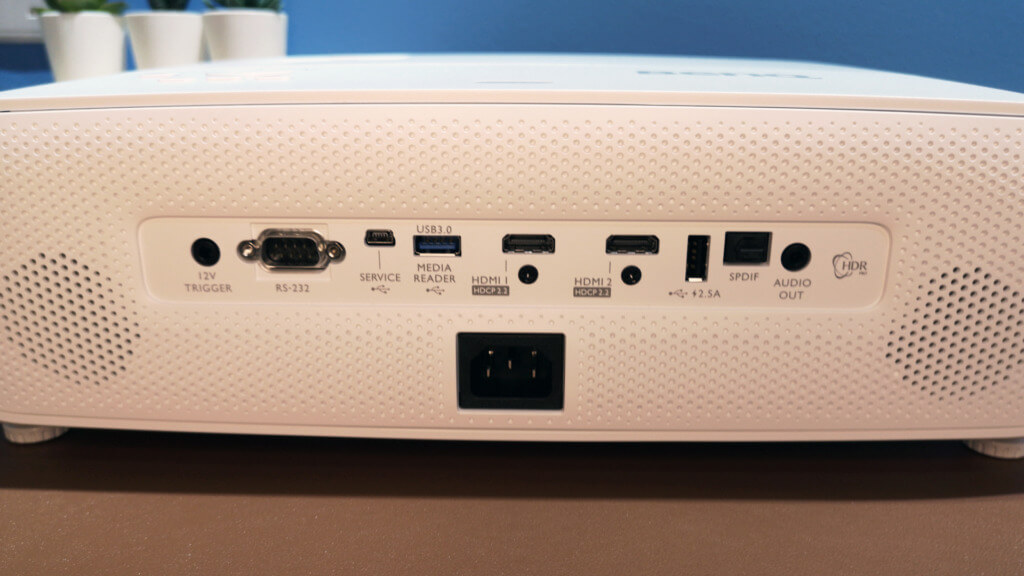 Excellent true 4K UHD with hyper-realistic projector-optimized HDR
The BenQ TK850i is a top-of-the-line performer; whether you're a gamer or an entertainment enthusiast, this projector has got you covered. That said, the TK850i is designed to provide streaming entertainment with true 4K resolution, 3000 lumens high brightness, and dedicated Sports Mode.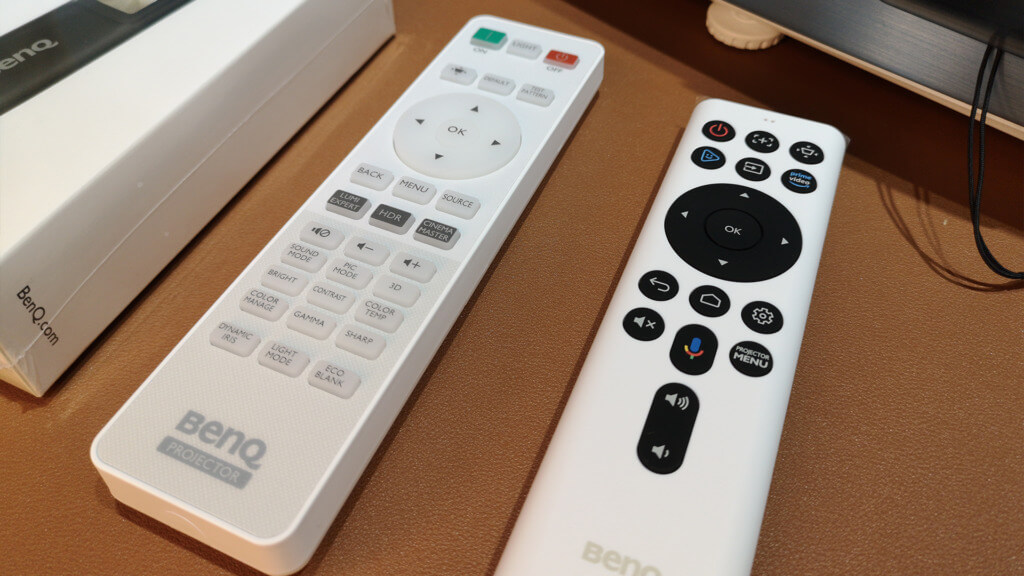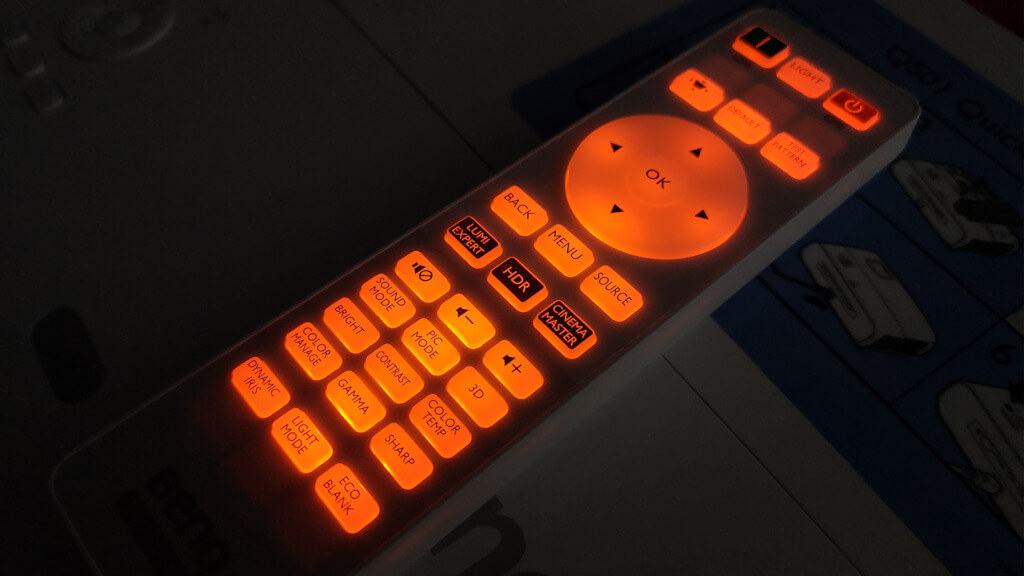 The key selling point of the BenQ TK850i is that it supports true 4K and the projector's DLP chip is 3840×2160 pixels (4K UHD) with 8.3 million distinct pixels. This setup eliminates blur for stunning clarity and crystal-clear details of every moment of every exciting game. No matter what kind of content we put this machine to the test, we were mesmerized by the clarity of the projector. The sharpness of the picture is also certainly aided by the exclusive BenQ HDR-PRO technology, which improves the 4K HDR contrast range for better detail. Supercharged with HDR10 and HLG (Hybrid Log-Gamma) support, you can enjoy the best visual experience. From live sports to 4K Blu-ray disks, where entertainment will never be the same again. CinemaMaster Video+ also manages to turn any space into a world-class home theater with video-enhancing technology that is sure to appeal to even the most critical film enthusiasts.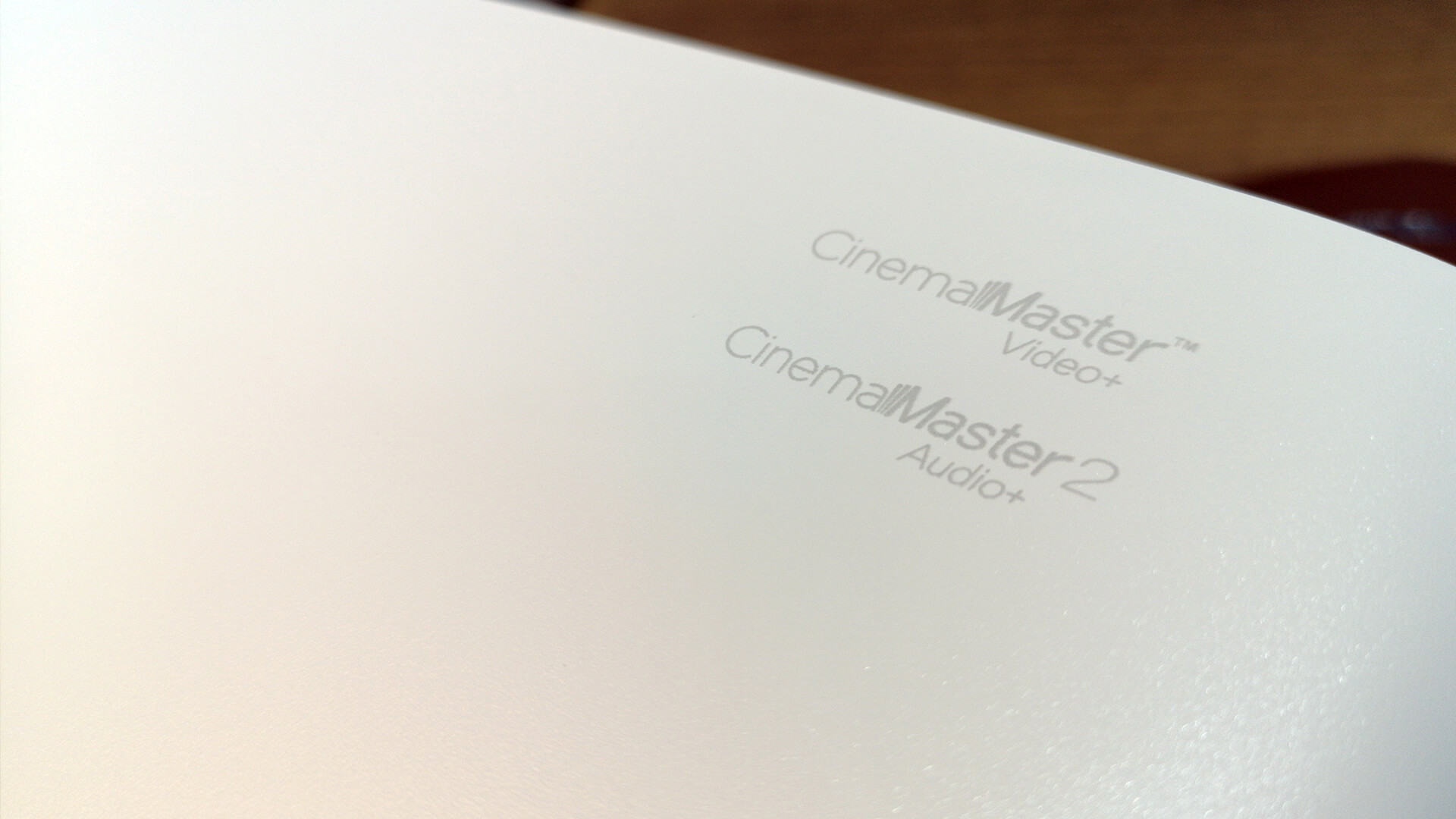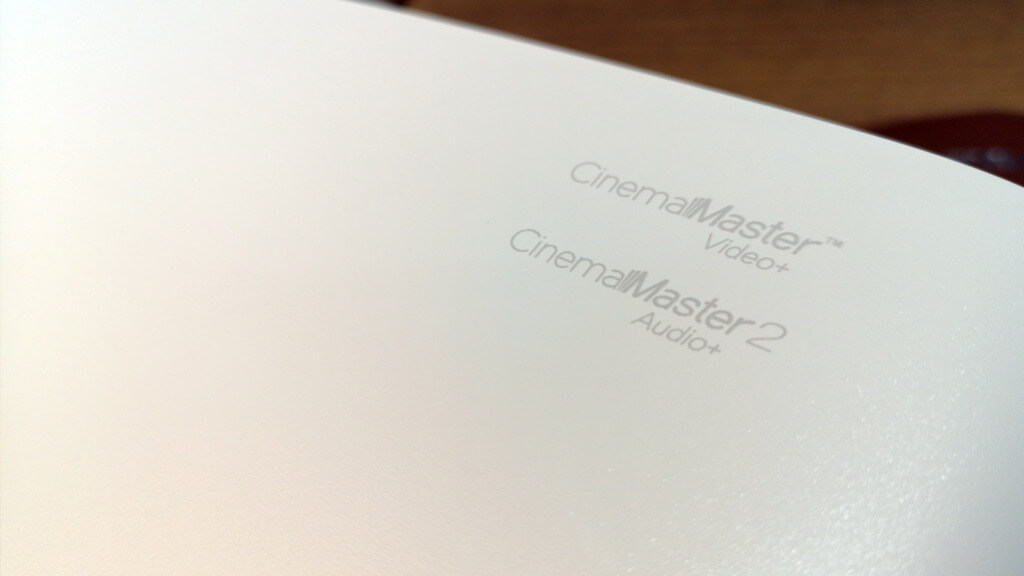 The TK850i has an optical lens architecture optimized for 4K resolution, which means that it uses high-quality glass for superior image quality and realism. The precision ten-element, eight-group lens array (better than the BenQ TK800M) allows for greater light penetration at higher resolution, and the low-dispersion lens coating minimizes chromatic aberrations and enhances clarity.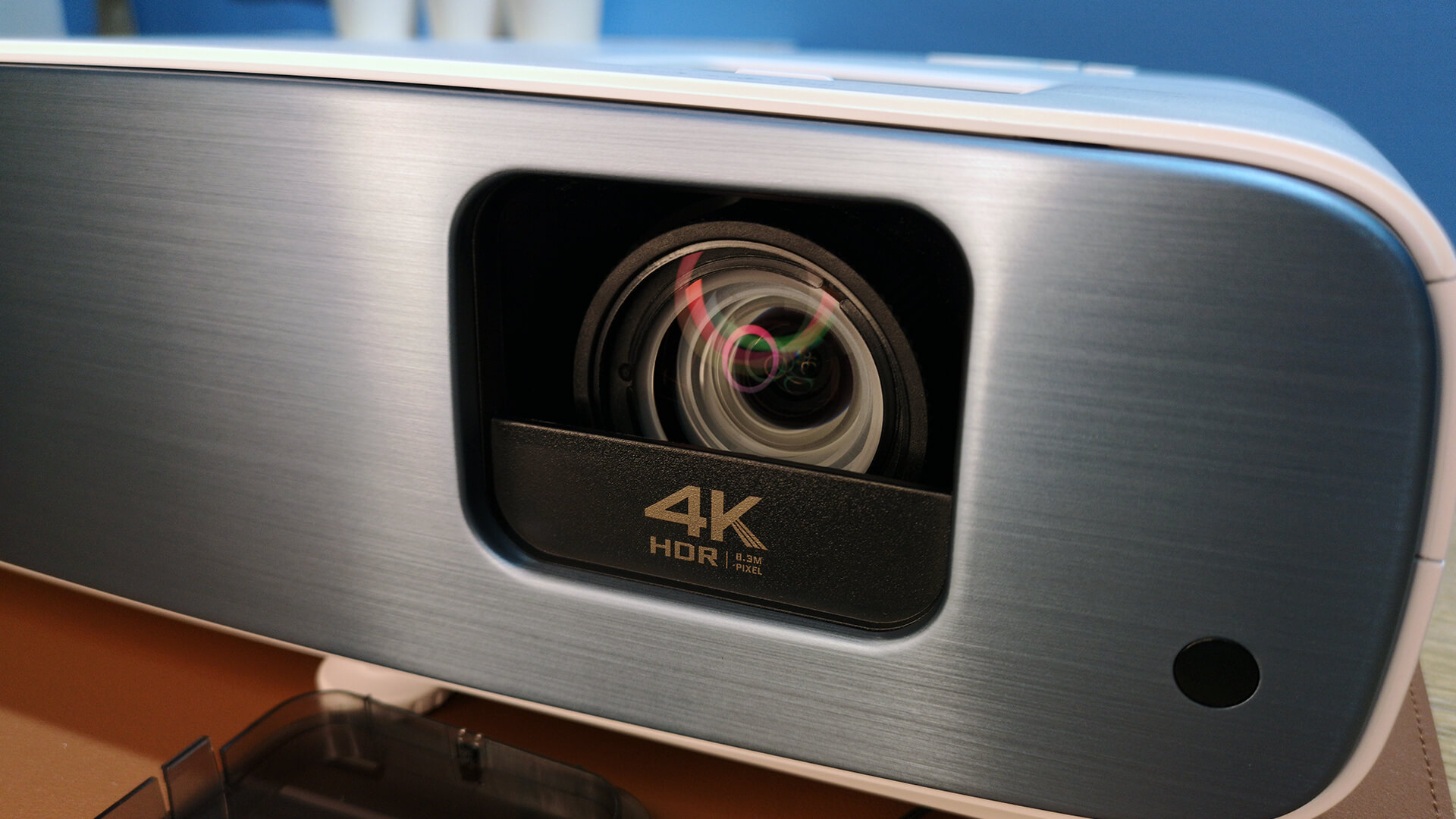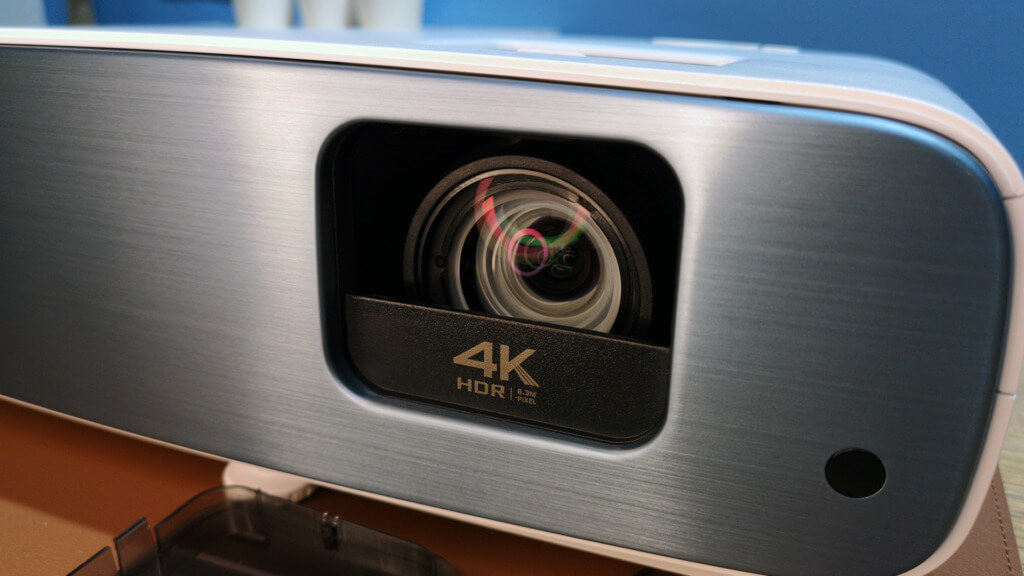 TK850i's dedicated Sports Mode improves video quality with realistic skin tones, naturally balanced blues and greens for beautiful grass fields, and warm wood grains for indoor sporting action to completely immerse viewers in athletic action and provide live entertainment experience for any kind of content.
Superior sound with CinemaMaster Audio+2
The onboard audio system on most projectors is a joke, but BenQ has paid some attention to it in the TK850i. The speaker boosts its CinemaMaster Audio+2 and integrates a powerful 10-watt (5 watt x 2) chamber speaker that improves sound quality for elevated enjoyment. The speaker is powered by custom-tuned sound modes and unique EQ algorithms for pure clarity and sensual sound quality as used by Hollywood studios.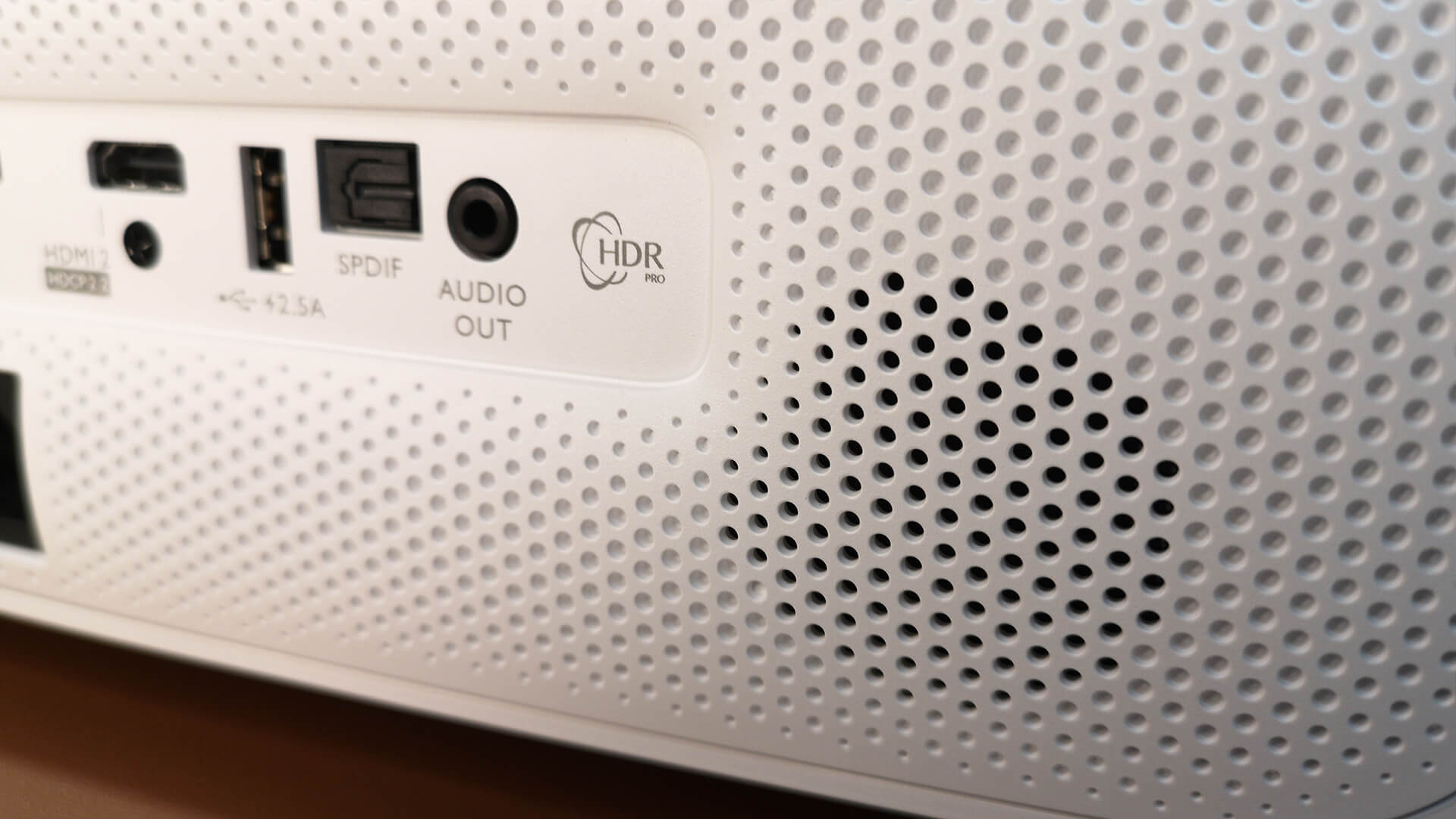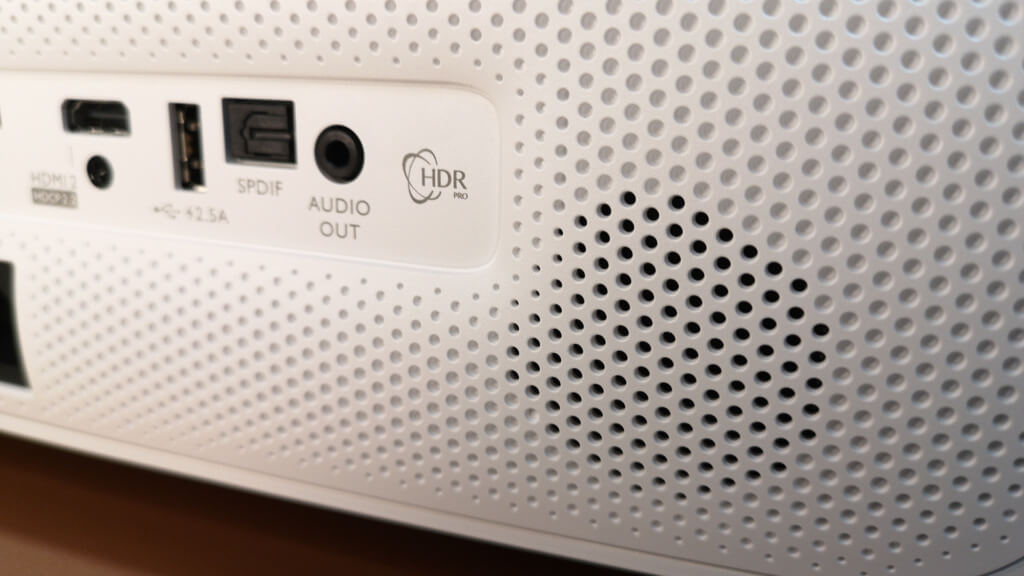 During our tests, the 10-watt speaker is shockingly loud, and the dialogue is intelligible. Bass is also significant, and at higher volumes, it still remains some level of clarity. While watching The Witcher on Netflix or playing Star Wars Jedi: Fallen Order, speakers could easily fill a standard 15 square meter room with clear and crisp sound.
Google-certified Android TV with Google Play Store for your entertainment needs
Whether it's movies, plays, sports, or live TV, the BenQ Android smart projector has the largest entertainment library available. Featuring an easy-to-use interface, BenQ's projectors provide easy access to Google Play for family fun.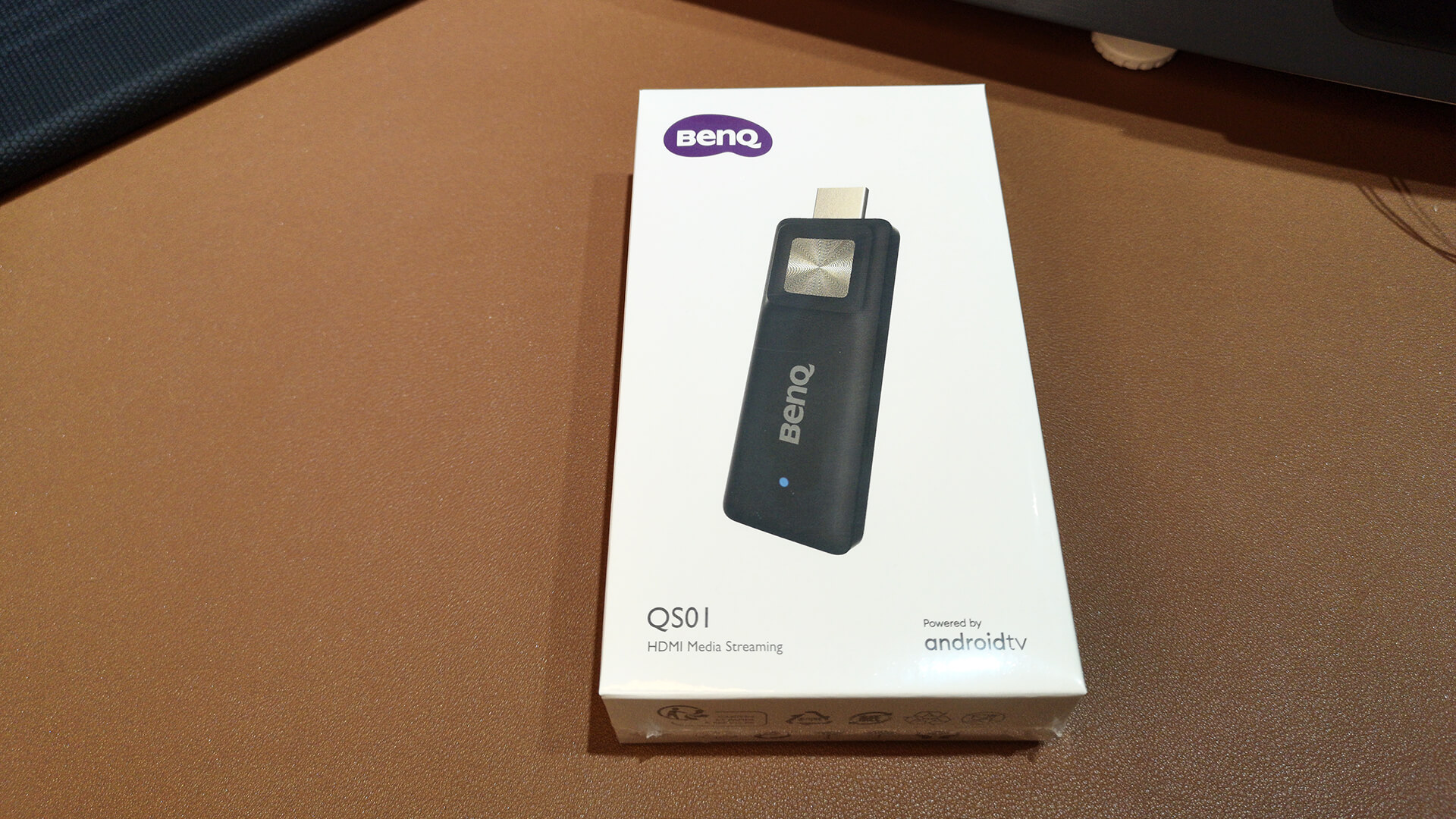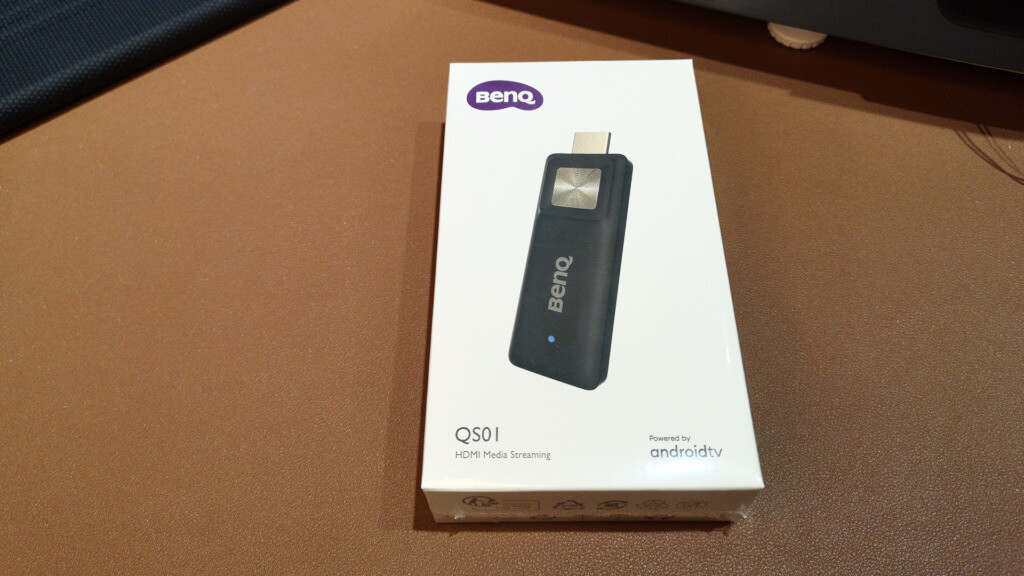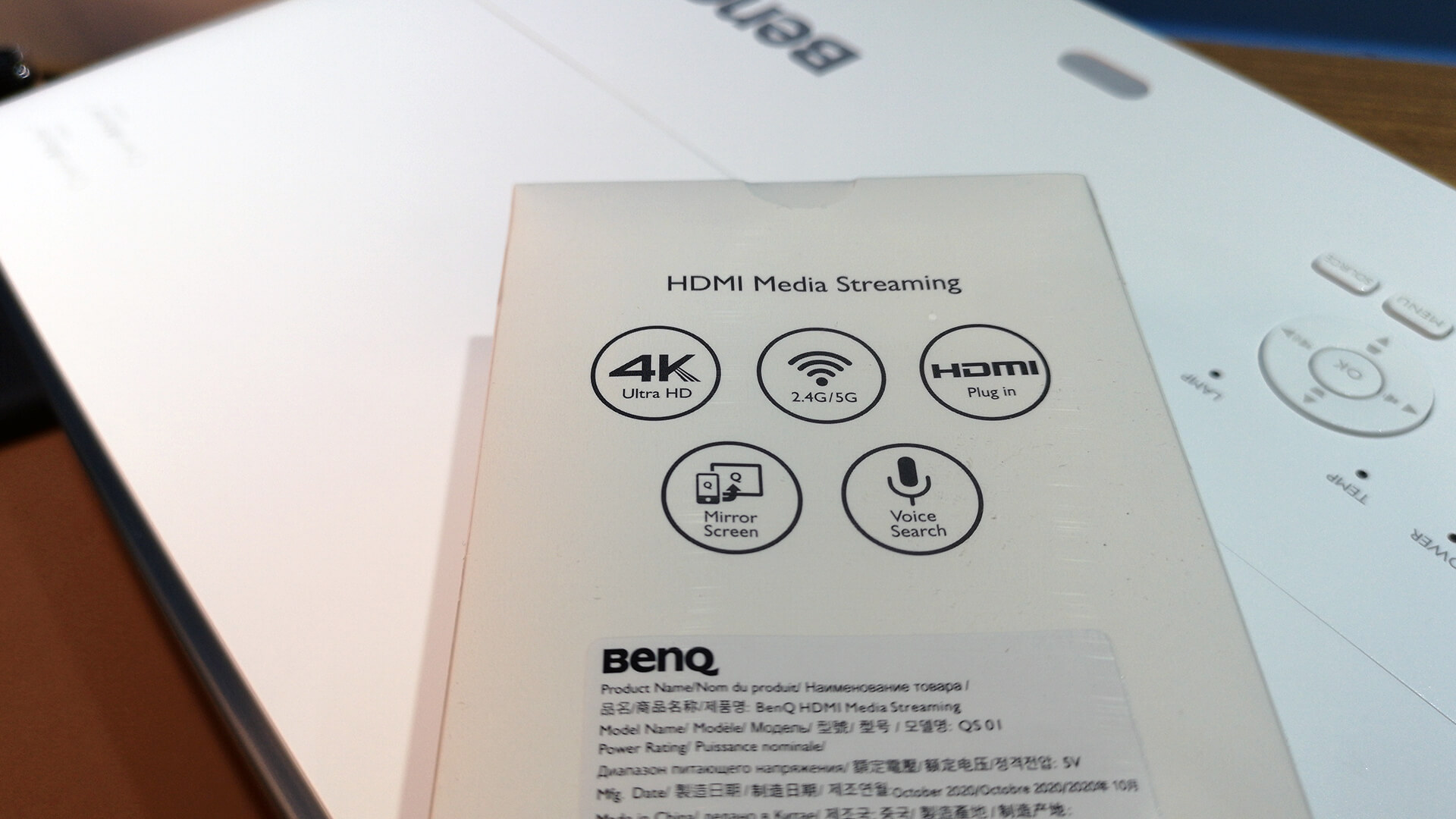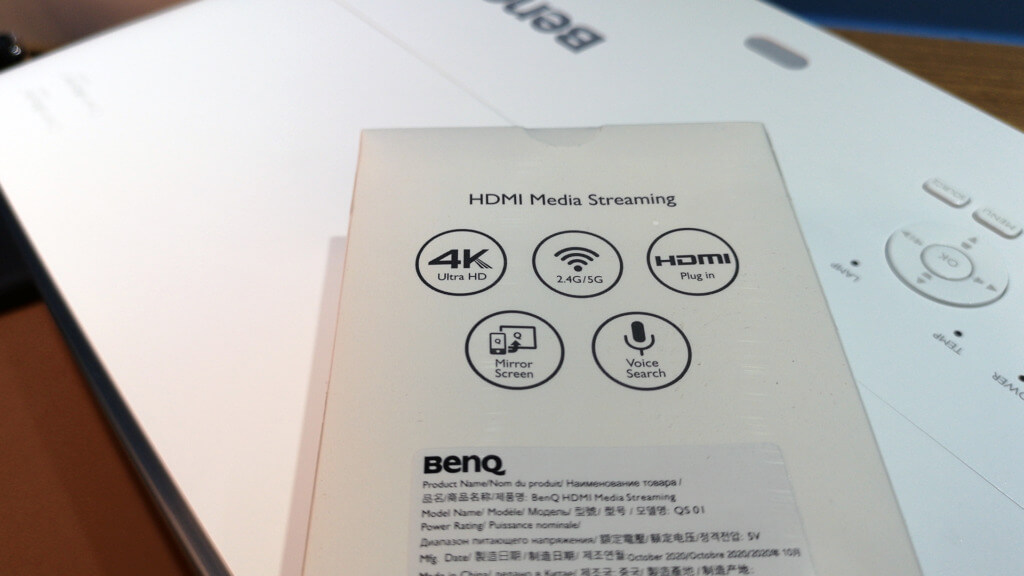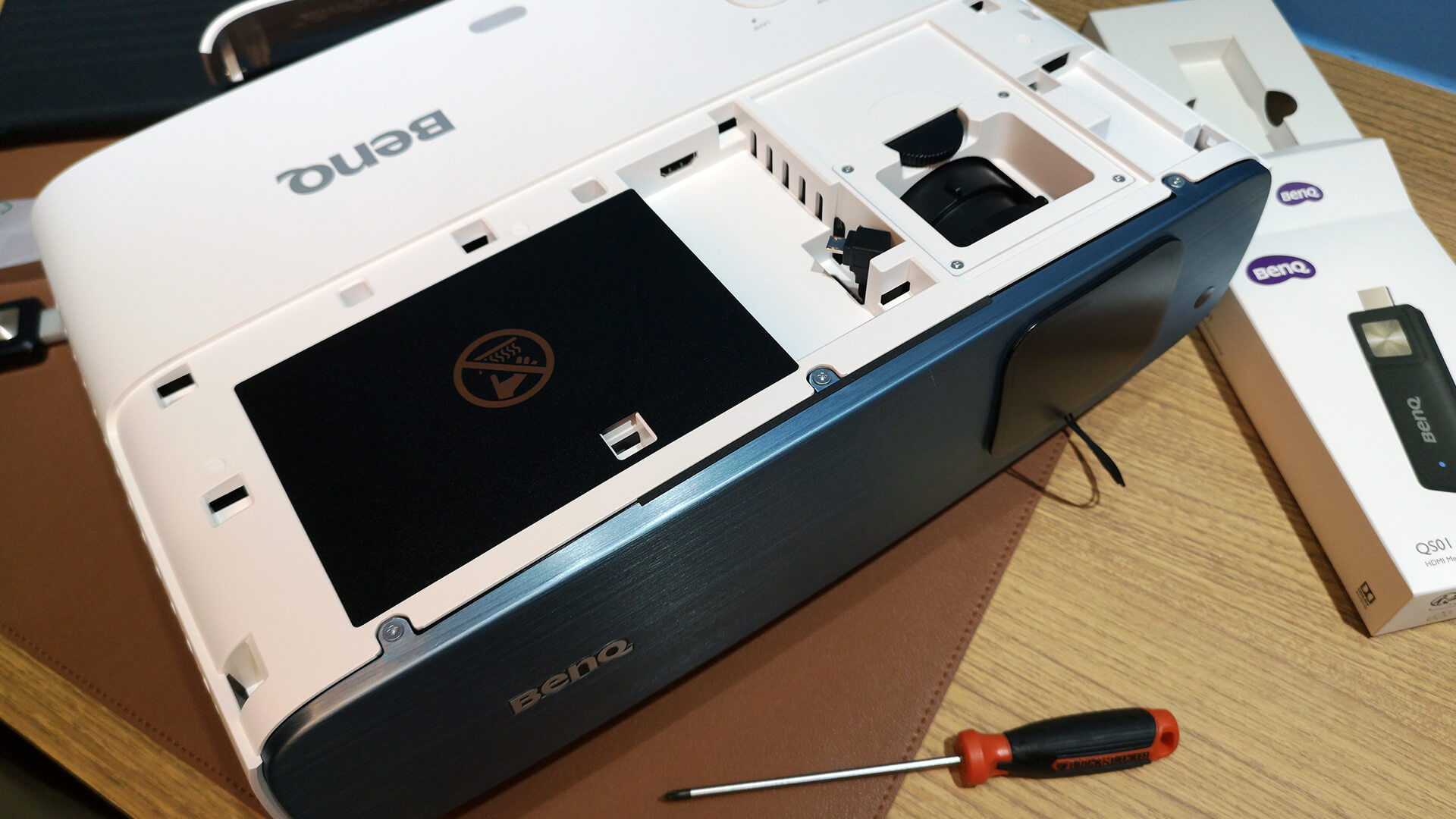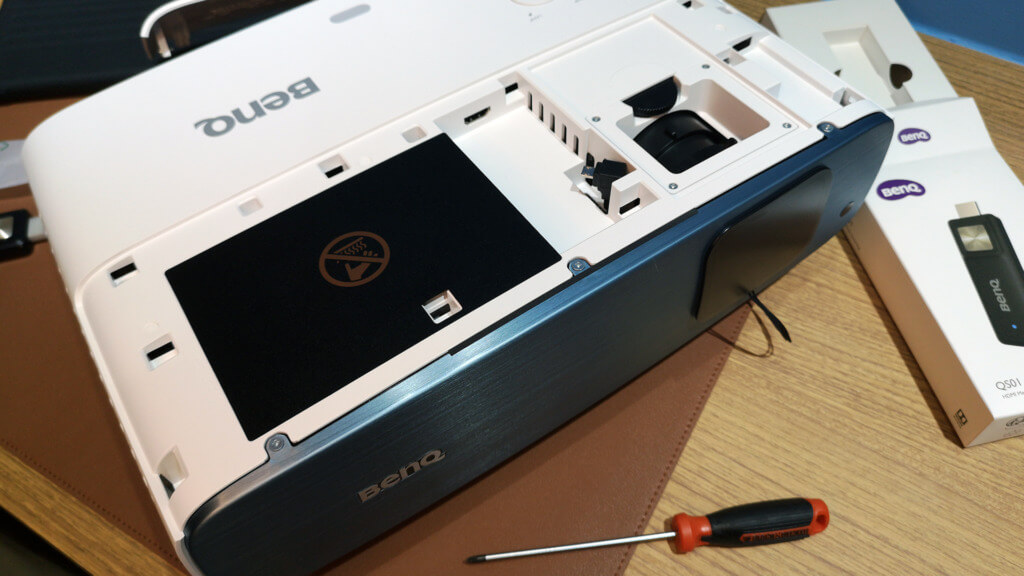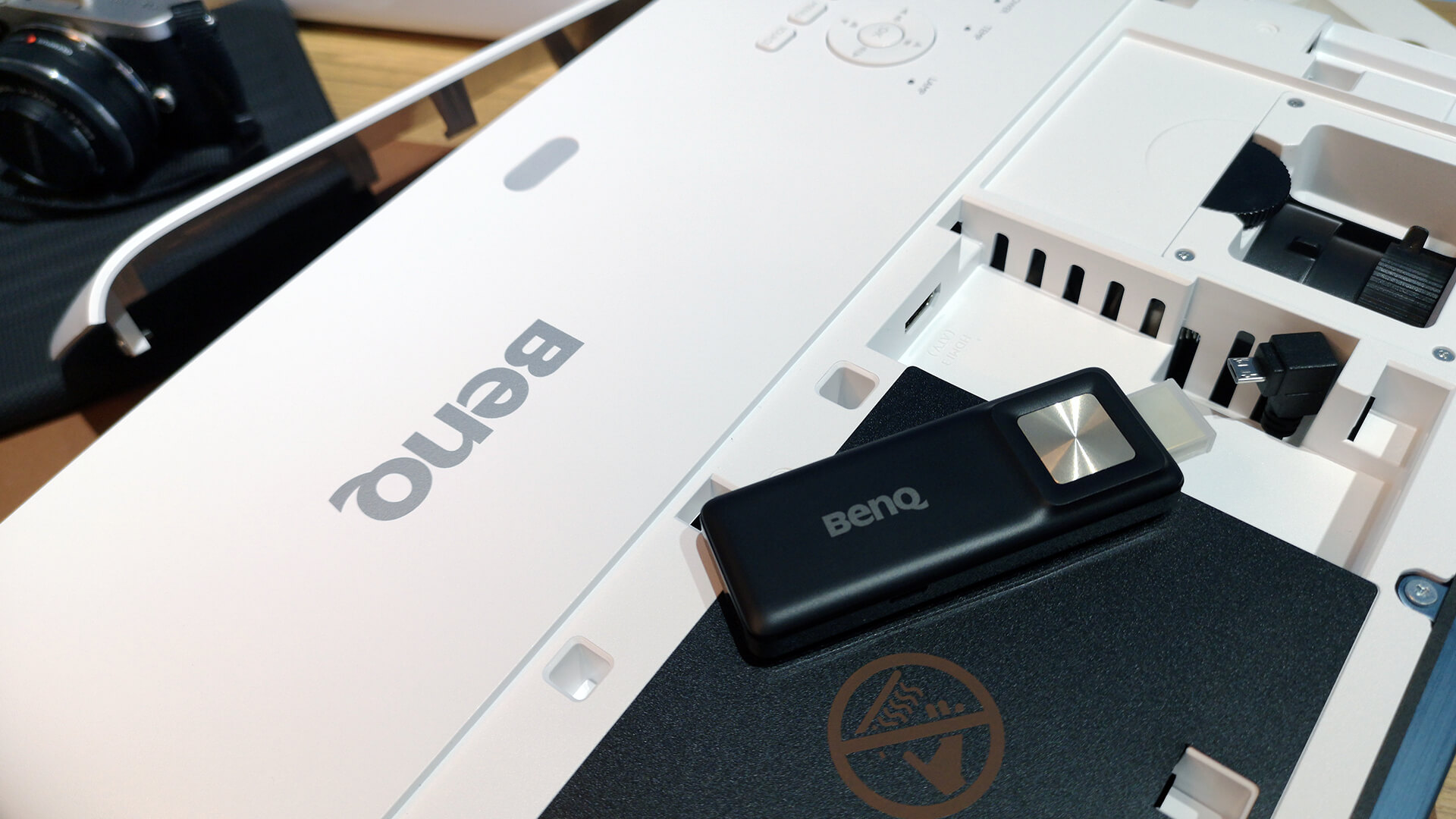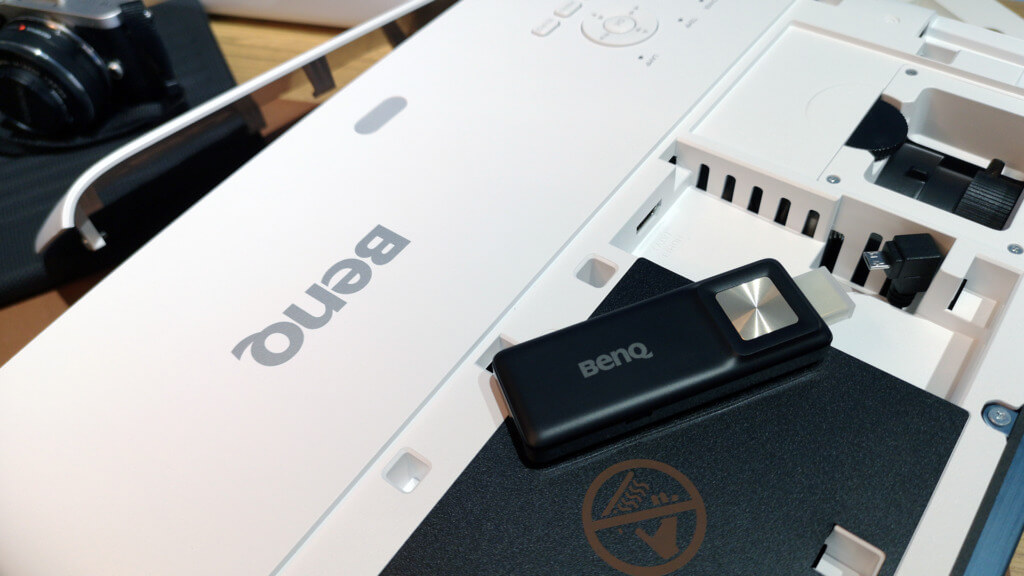 The BenQ TK850i comes with an additional HDMI streaming dongle (BenQ QS01) and remote control, which requires a separate setup and fixing. This TV dongle offers you an all-in-one entertainment system where you can:
Enjoy Amazon Prime video, parental control, and access to all the new Android apps from Google-certified Android TV.
Enjoy Netflix by casting a Google Chrome Browser on your laptop or connecting to an HDMI cable.
Wireless multi-platform casting (Android, iOS, Mac, Windows computer, or Chromebook).
It's a perfect addition because you can get all the stuff you want, exactly as and when you want it. The TK850i with Google-certified Android TV will bring you all the TV shows and movies you love on the big screen and even make voice search commands. Best of all, these projectors are super easy to use, allowing you to watch, play, and do anything you love, only bigger and better.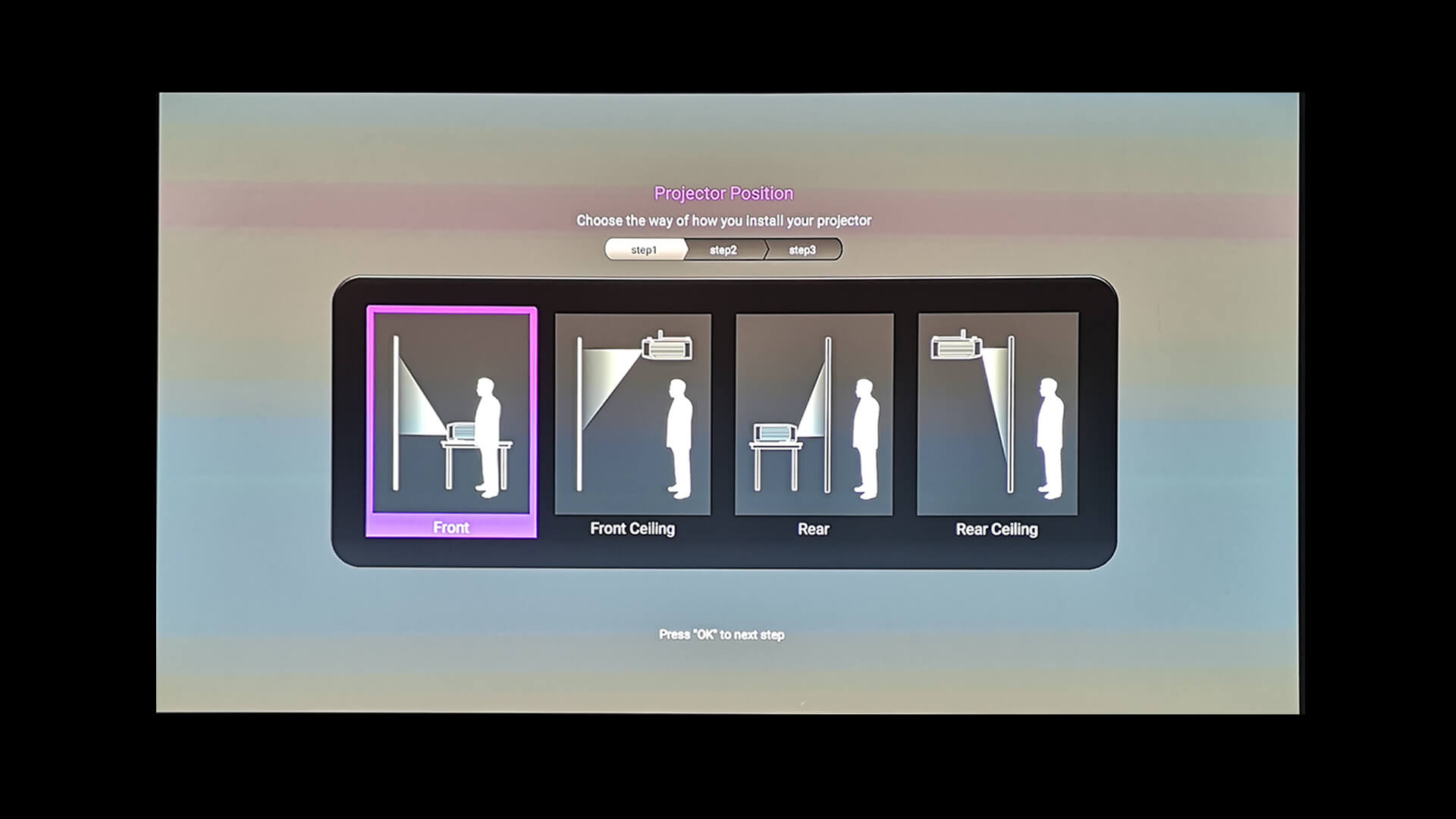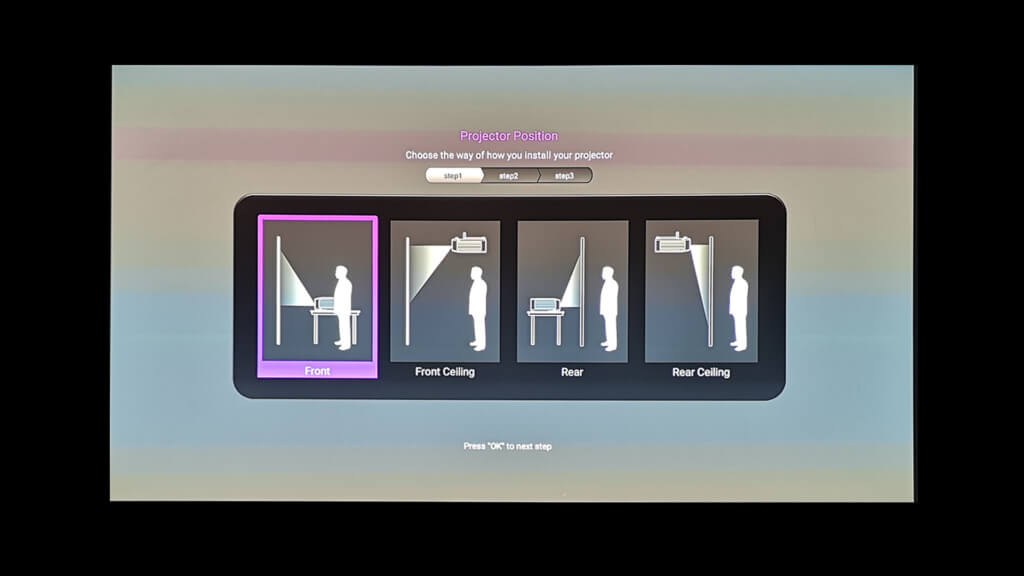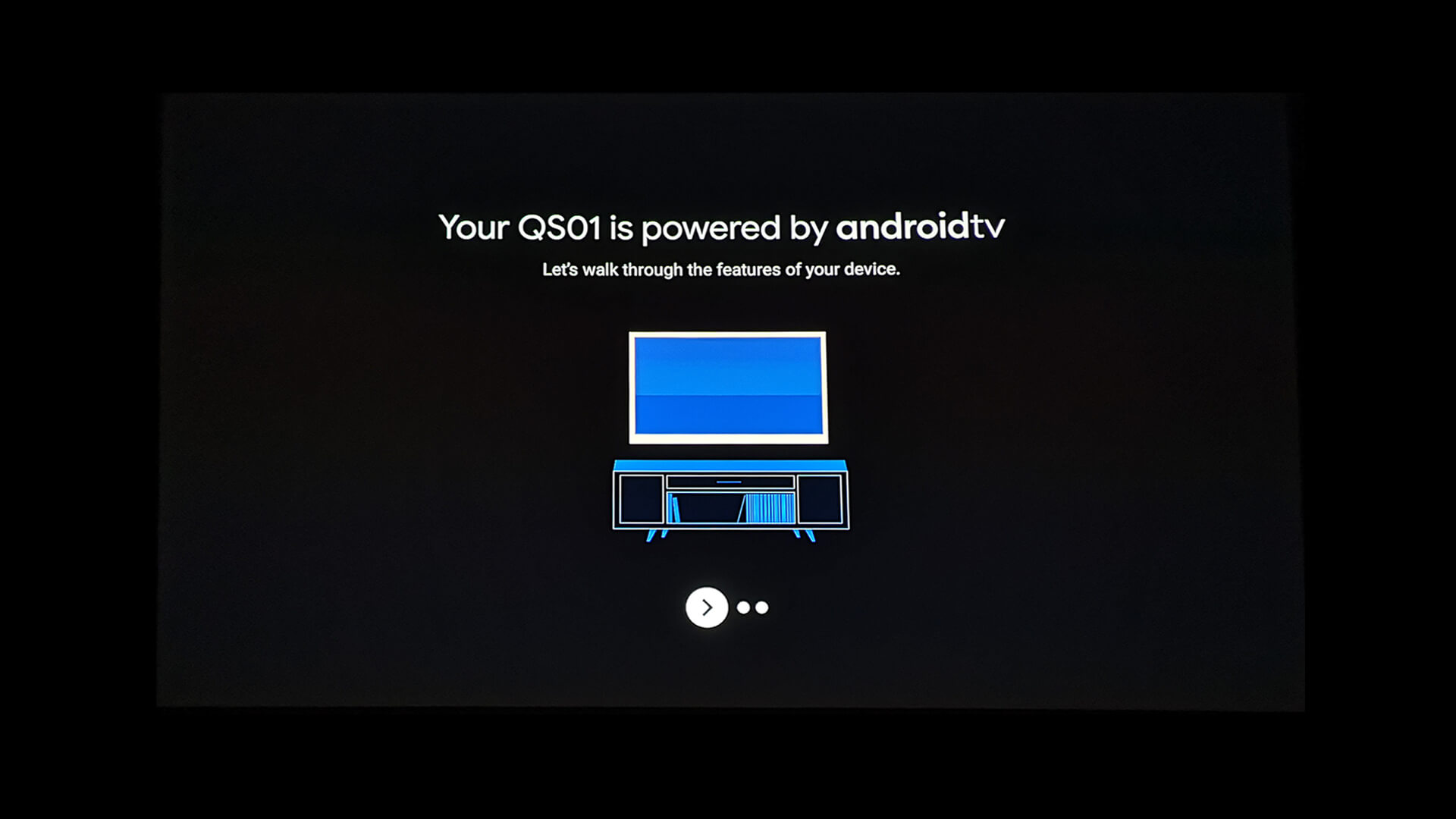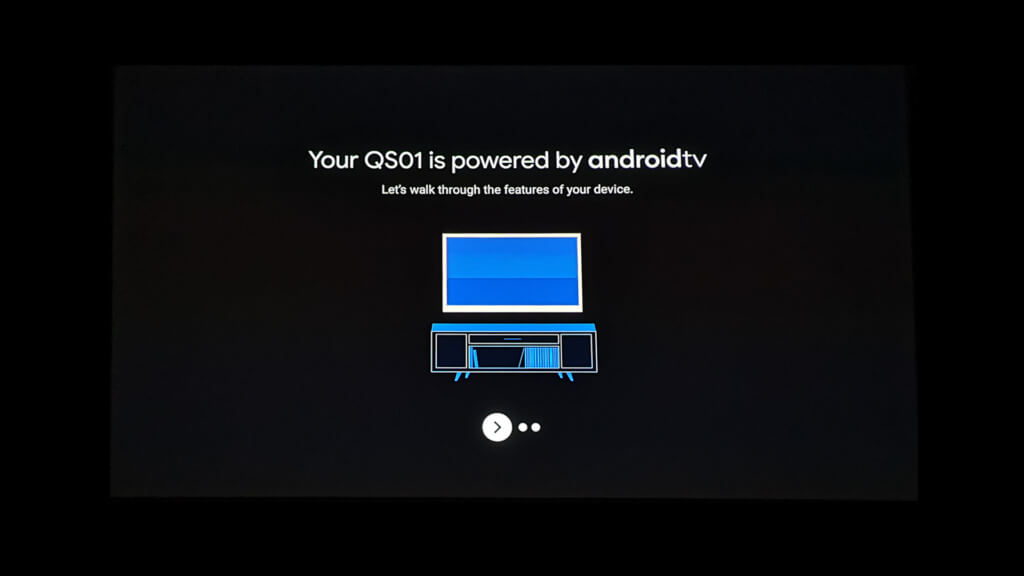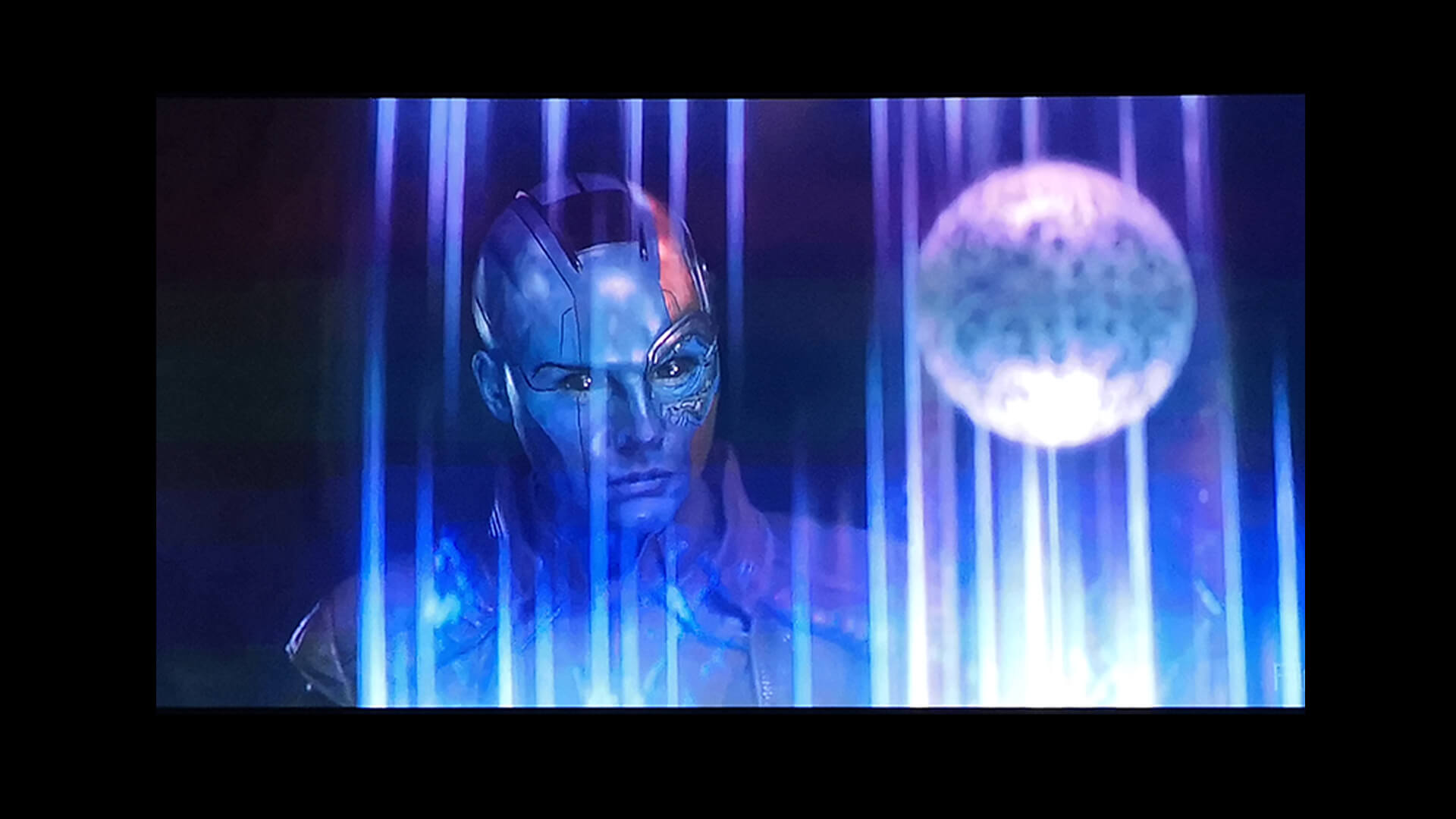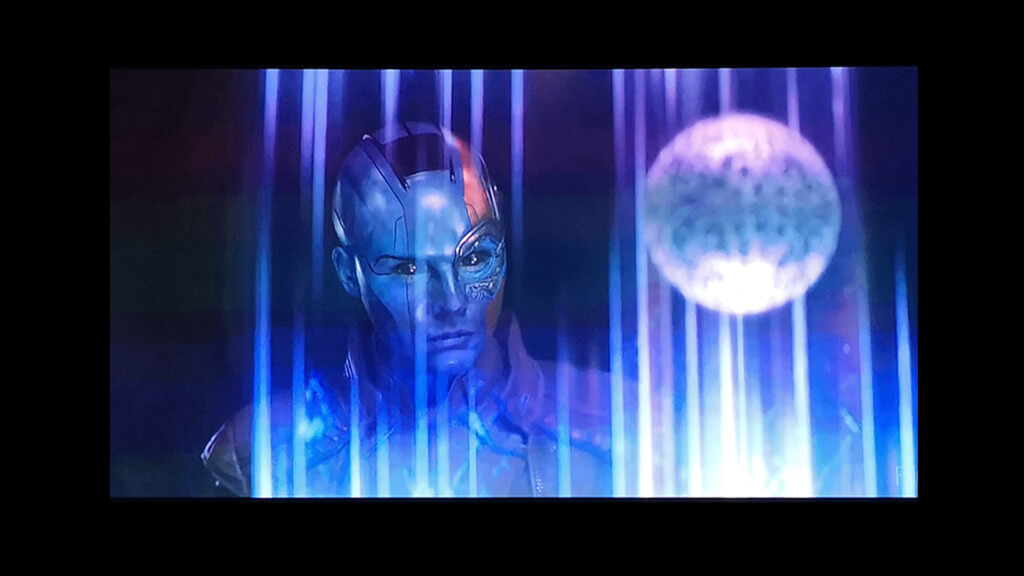 The verdict: BenQ TK850i
The BenQ TK850i is an outstanding home entertainment projector that shines through all aspects. It's well-made, it has all the connections you're going to need, and it's boosting a solid collection of features. With its true 4K resolution and HDR-PRO technology, it is capable of offering highly detailed images. It's also really bright – making it suitable for less than optimal conditions, such as a space with white walls or wide windows. The sound is loud and crisp with its 10-watt speaker system, giving you a more immersive entertainment experience.
Compared to its predecessor, TK800M, the BenQ TK850i is a big improvement to your entertainment arsenal. BenQ took all that was positive with the TK800M model and enhanced it, with the end result being more than impressive.
The TK850i is available on Lazada brand store at S$2,799.