ASUS today announces the much-anticipated ASUS Zenbook 17 Fold OLED (UX9702), while uncovering its inspiration, design story, specifications, pricing and availability during its Zenbook 17 Fold OLED virtual launch event and The Incredible Unfolds with Zenbook 17 Fold OLED media day. This unique foldable 17.3-inch laptop will rollout globally starting in Q4 2022.
This remarkable laptop, which has impressed the world with its versatility, originality and ingenuity since it was first presented at CES 2022, has a unique design that allows two configurations of the OLED display in a single device. A large 4:3 17.3-inch 2.5K touchscreen folds in the middle to create two seamless 3:2 12.5-inch 1920 by 1280 displays, giving the ASUS Zenbook 17 Fold OLED (UX9702) a unique form factor offering never-before-seen versatility. When combined with the full-size ASUS ErgoSense Bluetooth keyboard and touchpad, the folding design allows multiple versatile usage modes.
The ASUS Zenbook 17 Fold OLED (UX9702) will be available for hands-on demonstrations in the ASUS booths during IFA 2022, alongside a full array of innovations. Products available for hands-on testing in the ASUS IFA booth include consumer, gaming, creator, commercial and smart health solutions, delivering a wide perspective of our latest groundbreaking innovations, technologies and products.
Envision a new reality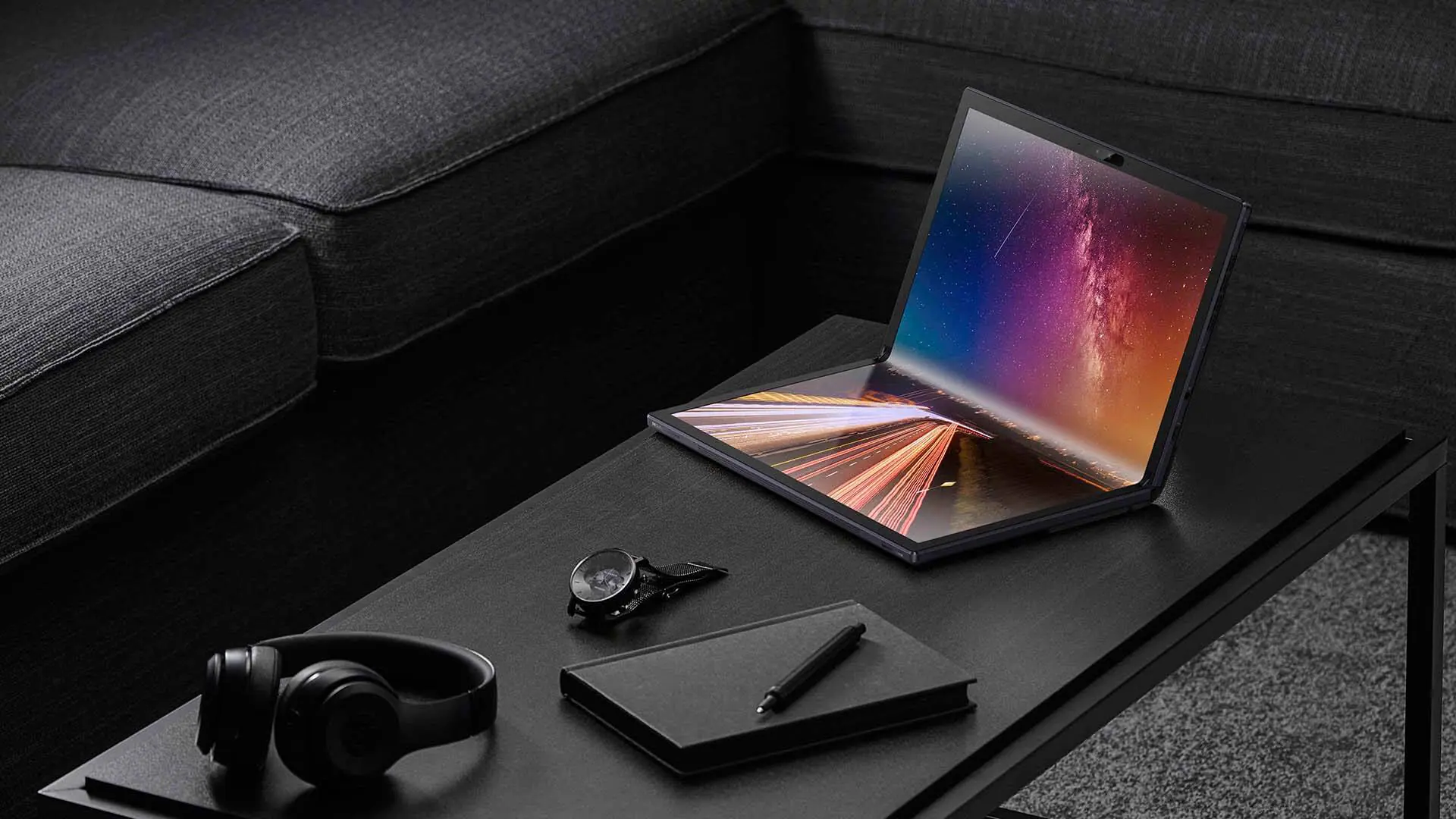 Co-engineered with Intel, the ASUS Zenbook 17 Fold OLED (UX9702) is the world's first 17.3-inch foldable OLED laptop verified by Intel® Evo, and offers users two sizes of OLED display in one device: a large 4:3, 17.3-inch, 2.5K touchscreen that folds in the middle to create two seamless 3:2, 12.5-inch, 1920×1280 displays. Multiple versatile usage modes — Desktop, Laptop (with Bluetooth keyboard), Laptop (with virtual keyboard), Tablet, Reader, and Extended — are enabled by the folding design in conjunction with the full-size ASUS ErgoSense Bluetooth keyboard and touchpad.
ASUS and Intel developed industry-first solutions to advance innovation in the foldables category, and collaborations between domain experts and ecosystem partnership. Effortless performance is ensured by 12th Generation Intel Core i7 U-Series processors, Intel Iris® Xe graphics, Intel WiFi 6E, up to 16 GB RAM and a fast 1 TB PCIe® 4.0 SSD. For connecting to peripherals, there are two convenient Thunderbolt 4 ports, which support fast charging of the long-lasting 75 Wh battery, and connections to external displays.
The Zenbook 17 Fold OLED Story
At the media day event, a wide range of topics was covered including technical innovations, design, environmental aspects and the user experience. Zenbook 17 Fold OLED is designed to provide the functions of multiple devices — laptops, desktops and tablets — in a single compact device, with versatile modes that meet any need. The looks are eye-catching, with an ASUS monogram logo on the matte glass coating that catches the light in a fascinating way. Adding to the premium looks, the device's cover is made from dark green faux leather, which also gives it a comfortable feel.
Technical challenges were also discussed at the event, including the engineering behind the robust 180° hinge, and how gyroscopic sensors are used to ensure the best sound from the quad-speaker audio system, regardless of device orientation. It also explained how the laptop was made so light and powerful, sufficient to achieve Intel Evo verification.