In the vibrant and continually evolving gaming world, few things are as thrilling as the arrival of a new titan in gaming laptops. Your attention should be firmly set on such a newcomer – the ASUS ROG Strix G18. This formidable contender, fully equipped with a profusion of powerful features, has surfaced from the depths of the competitive gaming market. The Strix G18 is a beast of a machine, wrapped in a package that exudes a sense of luxury, distinguishing it from the hordes of conventional gaming laptops.
The ASUS ROG Strix G18 embodies a perfect storm, boasting a design with distinctive charisma, unrivalled performance, and a price point that gives its adversaries a run for their money. It fearlessly steps into the battlefield to rival the giants of the gaming world, the Razer Blade 18 and the MSI Titan GT77 HX 13V, refusing to be overshadowed.
CPU: 13th Gen Intel Core i9-13980HX Processor 2.2 GHz
RAM: 16GB DDR5-4800
Display: 18.0-inch, QHD+ 16:10 (2560 x 1600, WQXGA), 3ms response time, 240Hz refresh rate, 100% DCI-P3 color gamut, G-Sync, Pantone Validated, MUX Switch + NVIDIA Advanced Optimus
Storage: 1TB SSD
Ports: 2 x USB 3.2 Gen 2 Type-A, 1 x USB 3.2 Gen 2 Type-C, 1 x HDMI 2.1, 1 x 3.5mm Combo Audio Jack, 1 x RJ45 LAN port, 1 x Thunderbolt 4 support DisplayPort
Battery life: 90WHrs (ASUS website)
Wireless: Wi-Fi 6E(802.11ax) (Triple band) 2*2 + Bluetooth 5.3
Dimensions: 39.9 x 29.4 x 2.31 ~ 3.08 cm
Weight: 3 kg
The model's aesthetics alone are a sight to behold, meticulously crafted to command attention and respect in equal measure. But it's not just about the looks; the Strix G18 is a laptop powerhouse that doesn't compromise performance. Packed to the brim with the latest tech and advanced gaming features, it is designed to deliver an immersive gaming experience that leaves a lasting impression.
Magnificent aesthetics and brilliant design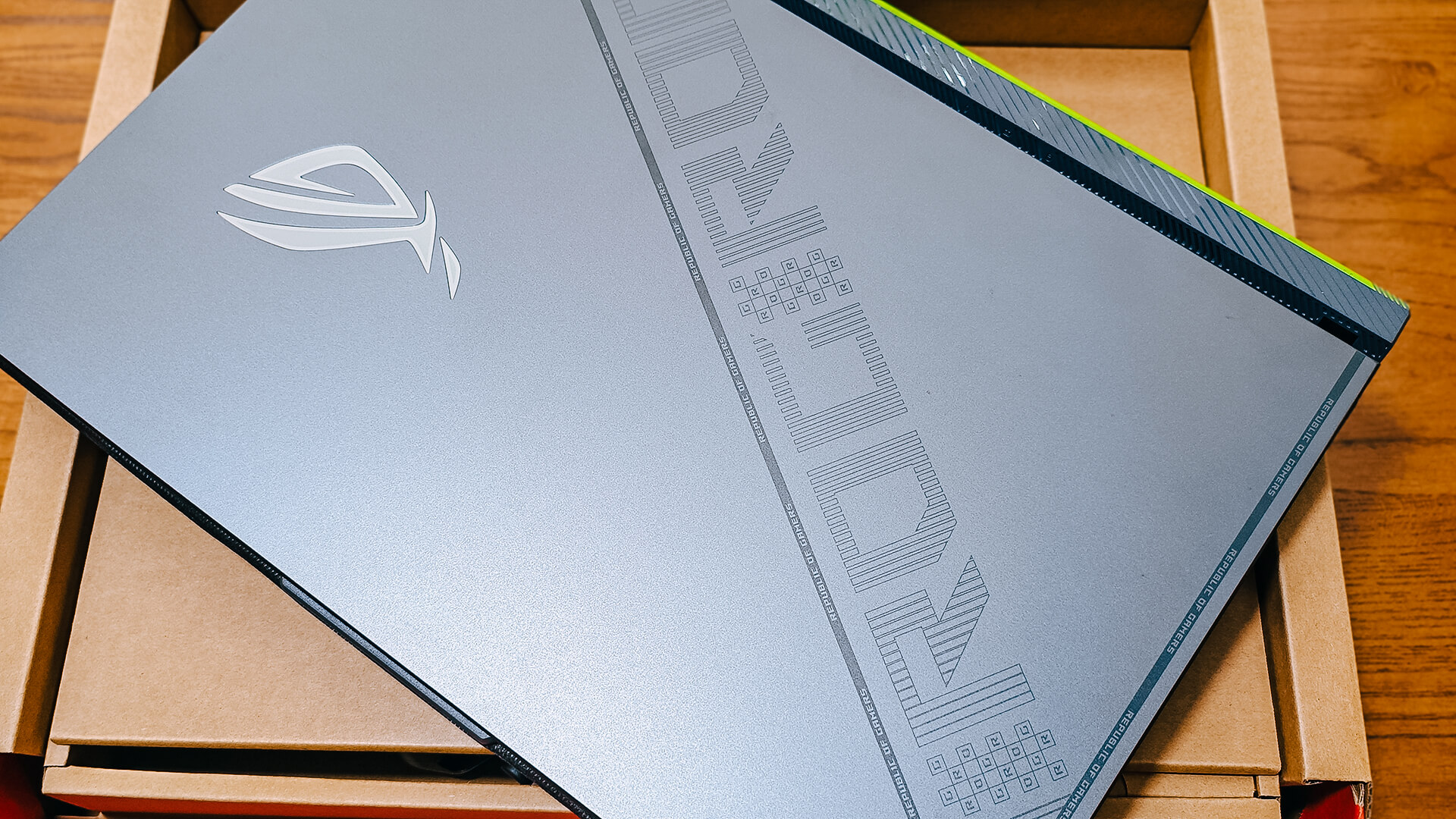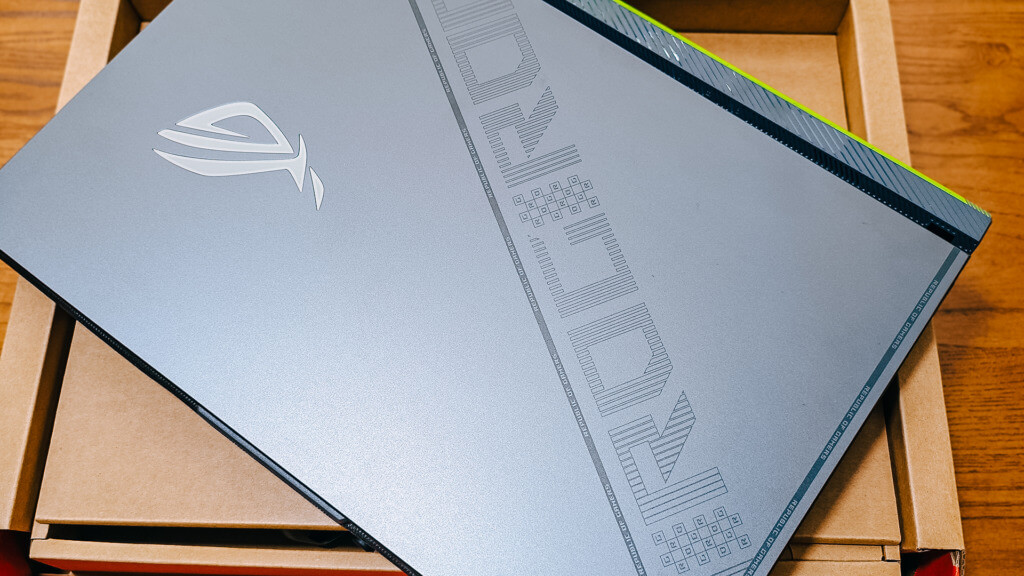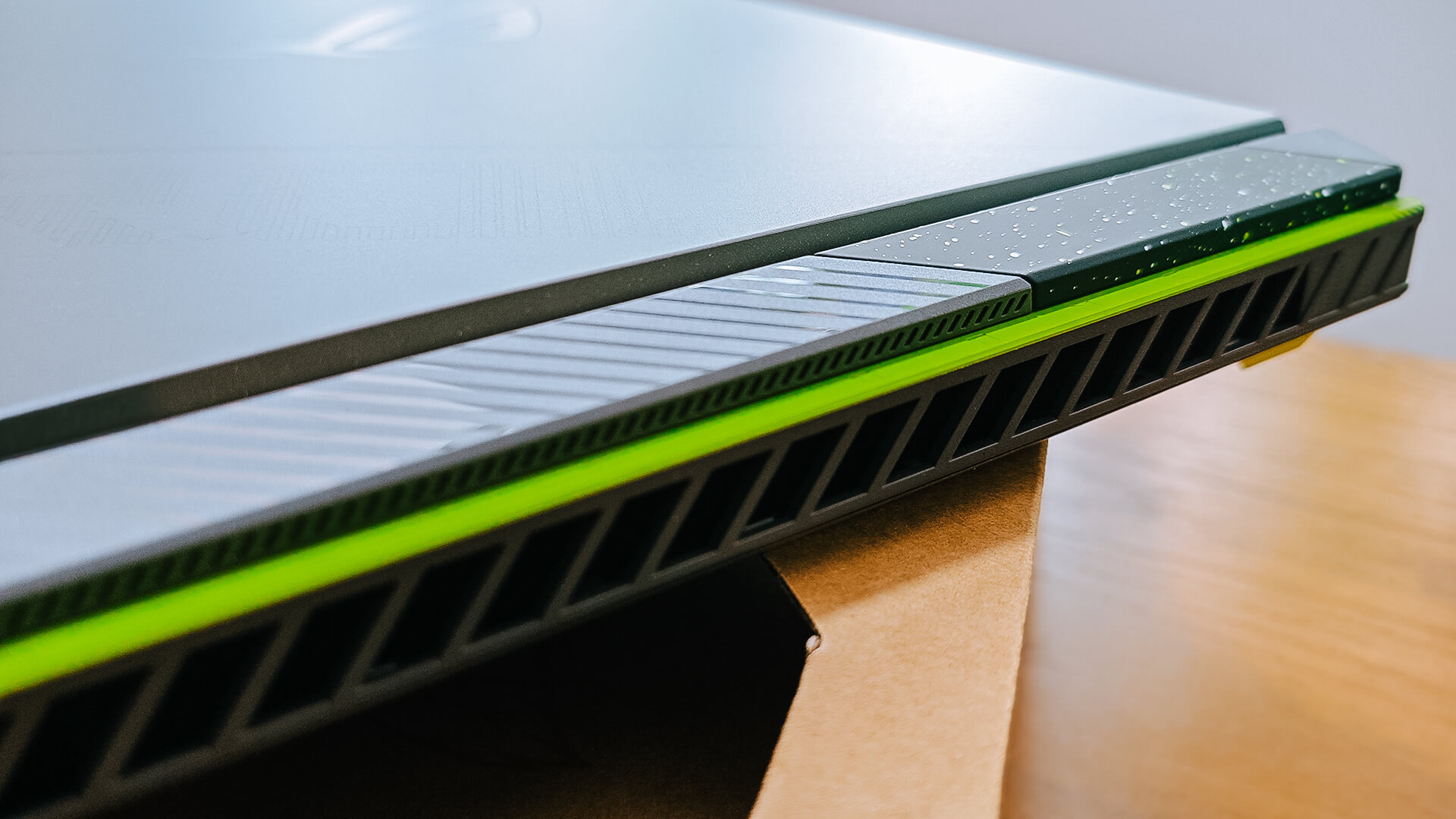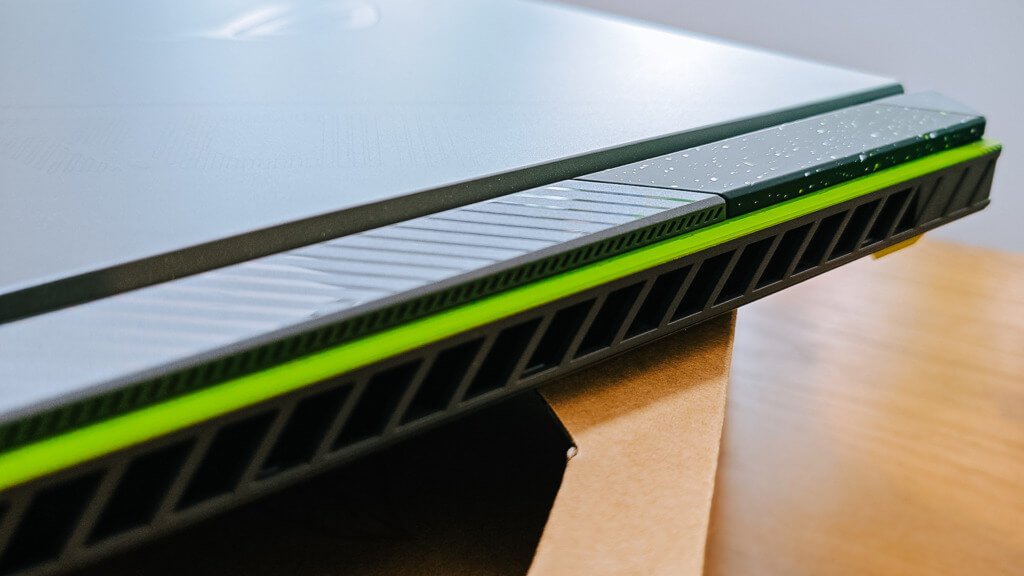 Embracing the joy of gaming is a feast for the senses, and with the ASUS ROG Strix G18, the feast is magnificently indulgent. The instant you gaze upon the Strix G18, you'll appreciate how it is a laptop cut from a different cloth. It's a gaming machine aimed squarely at the serious gamer, with its expansive dimensions and feature set crafting an irresistible appeal. While its hefty stature may challenge some laptop bags, the considerable size gifts it a striking 18-inch QHD+ ROG Nebula display that's hard to ignore.
The allure of the Strix G18 goes far beyond its size. As your fingers glide across the keys, the Aura Sync per-key-lit keyboard flickers to life with a vivid burst of light as if to echo its readiness for the thrill of your next gaming session.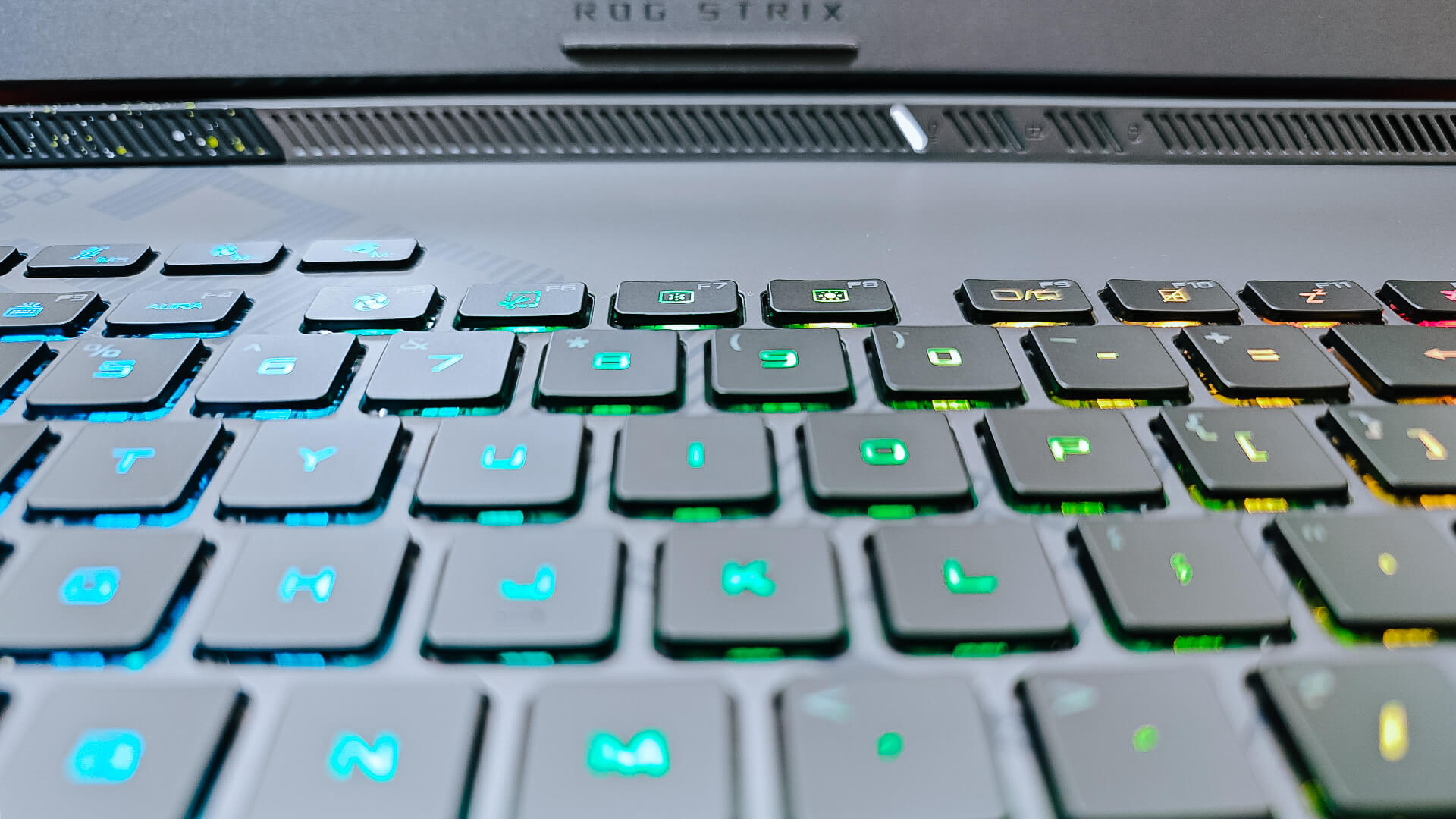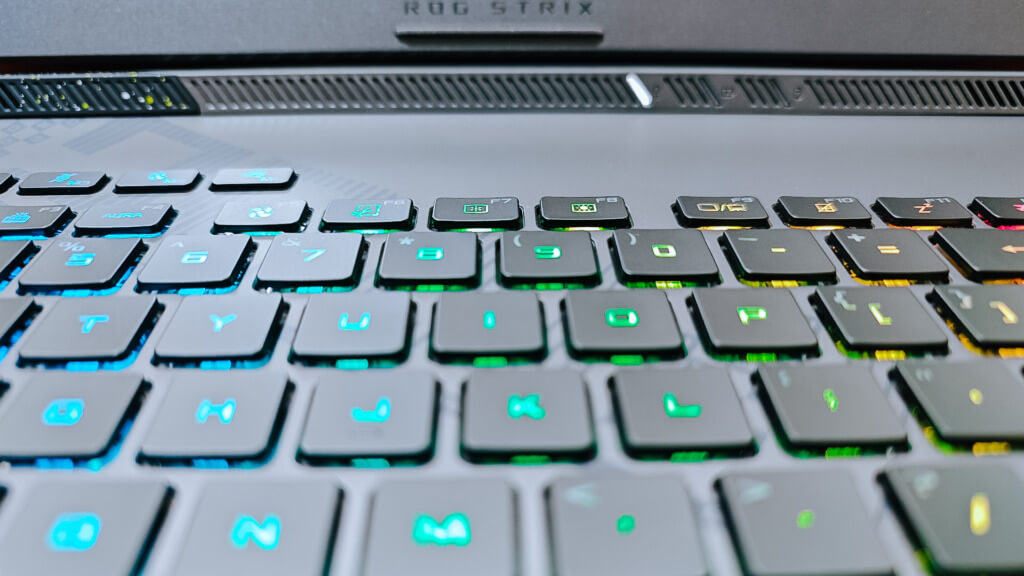 The Strix G18 doesn't merely rest on its laurels of being substantial and robust. It goes the extra mile with a design language certain to kindle any gaming enthusiast's spirit. The chassis features a laser-polished surface, razor-sharp edges, and an anti-fingerprint finish, all merging to provide a sleek, modern aesthetic.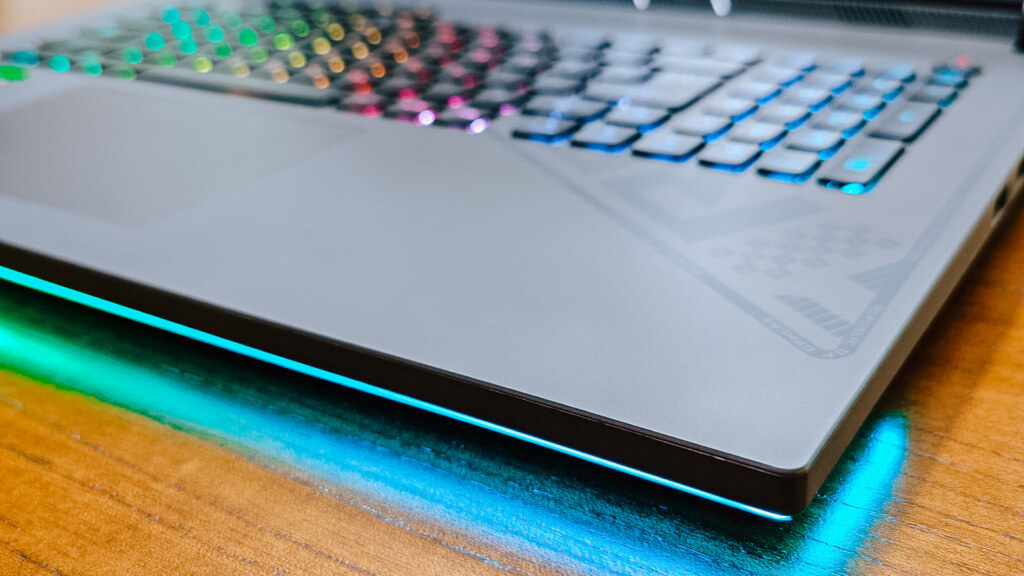 Complementing the clean lines are the RGB light bars, adorning the front of the laptop and under the keyboard area, presenting an eye-catching spectacle. These details infuse a unique cyberpunk flavour to the design, completing an experience that's as much about the joy of gaming as it is about the gratification of possessing an impressive piece of technology.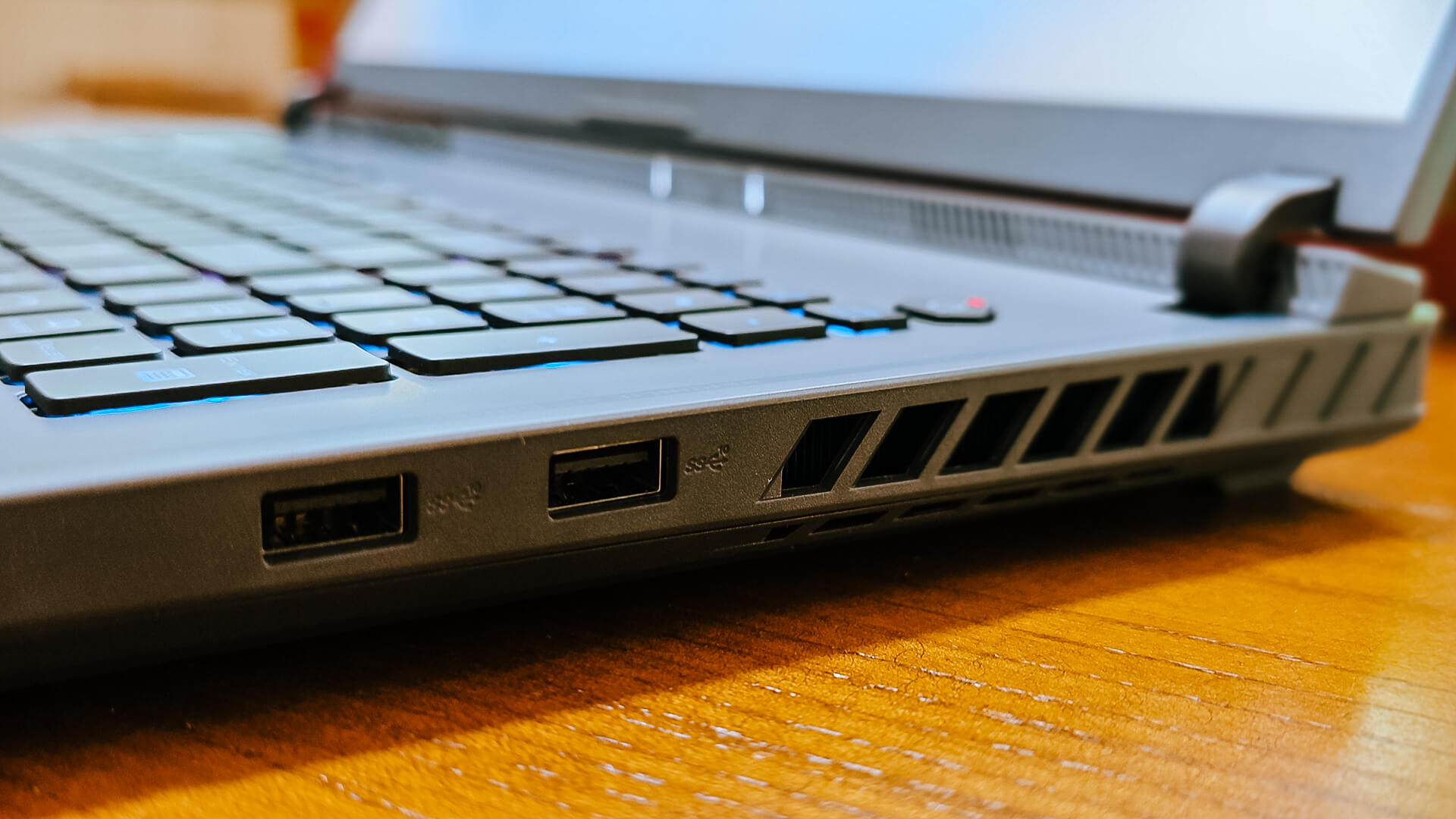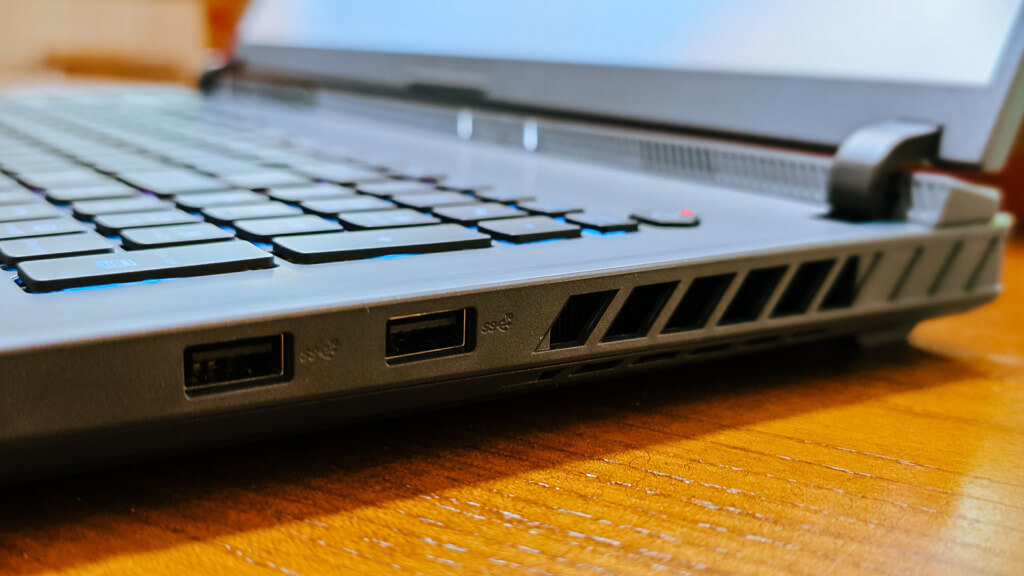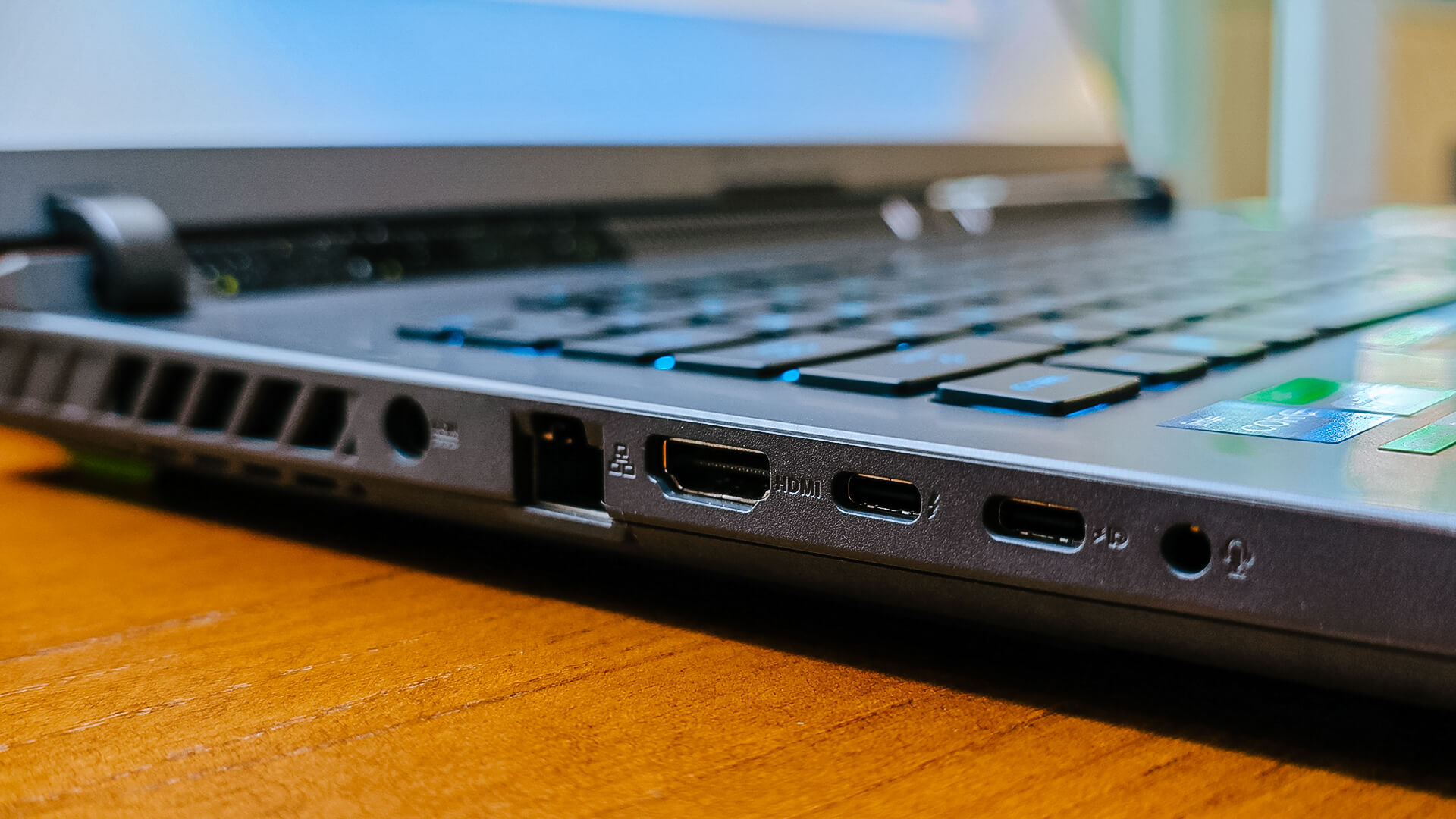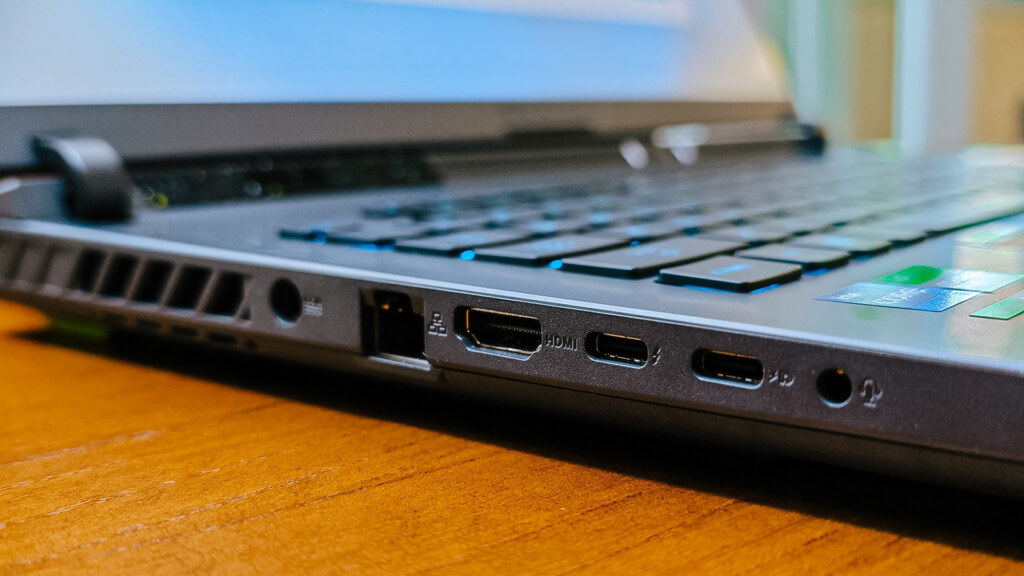 But there's more to the Strix G18 than what meets the eye. The laptop also scores high on connectivity options, packing in many ports to cater to all your gaming needs. There's an HDMI 2.1 port to connect to an external display, 2 x USB 3.2 Gen 1 Type-A ports, a USB Type-C port with Power Delivery and DisplayPort 1.4, and an Ethernet jack. Also included is a 3.5mm audio jack for your gaming headset.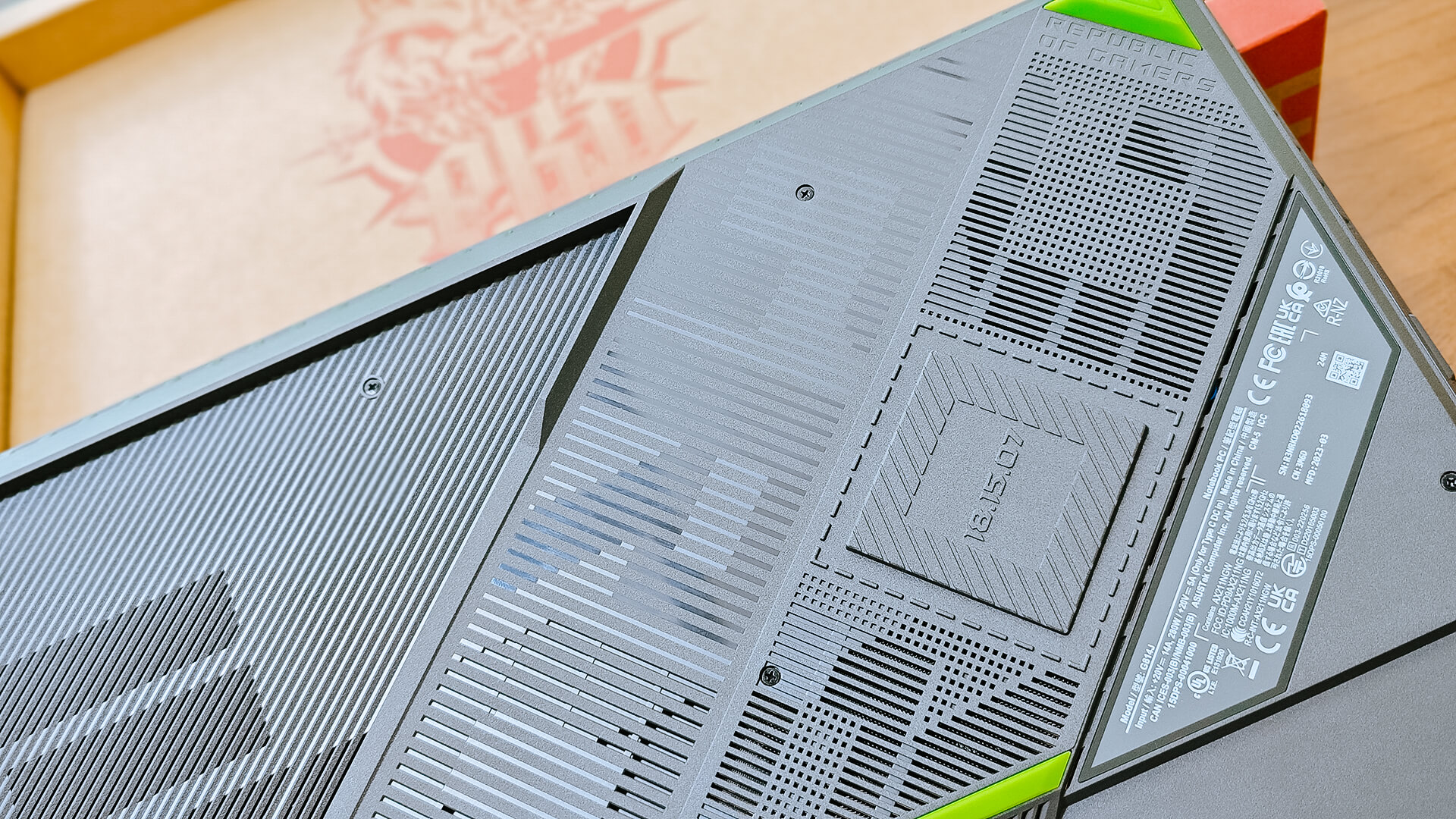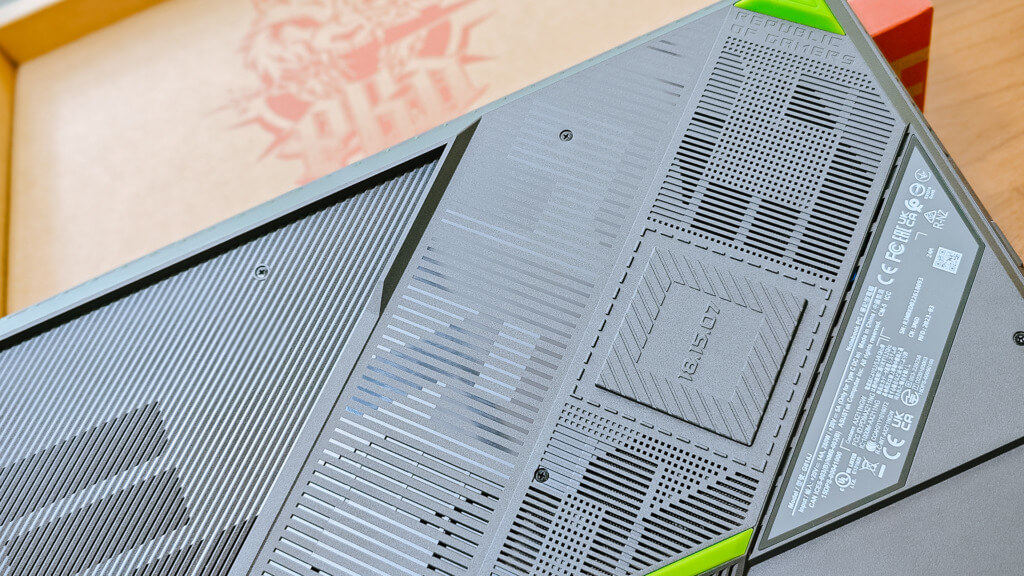 An 18-inch QHD+ display that enthrals
The immersive gaming experience that the Strix G18 offers is heavily anchored by its impressive 18-inch QHD+ ROG Nebula display. For those of you who enjoy popular AAA titles such as 'Assassin's Creed Valhalla' or 'The Witcher 3: Wild Hunt', the 16:10 aspect ratio and thin bezels bring alive every pixel, every landscape, in vivid colour.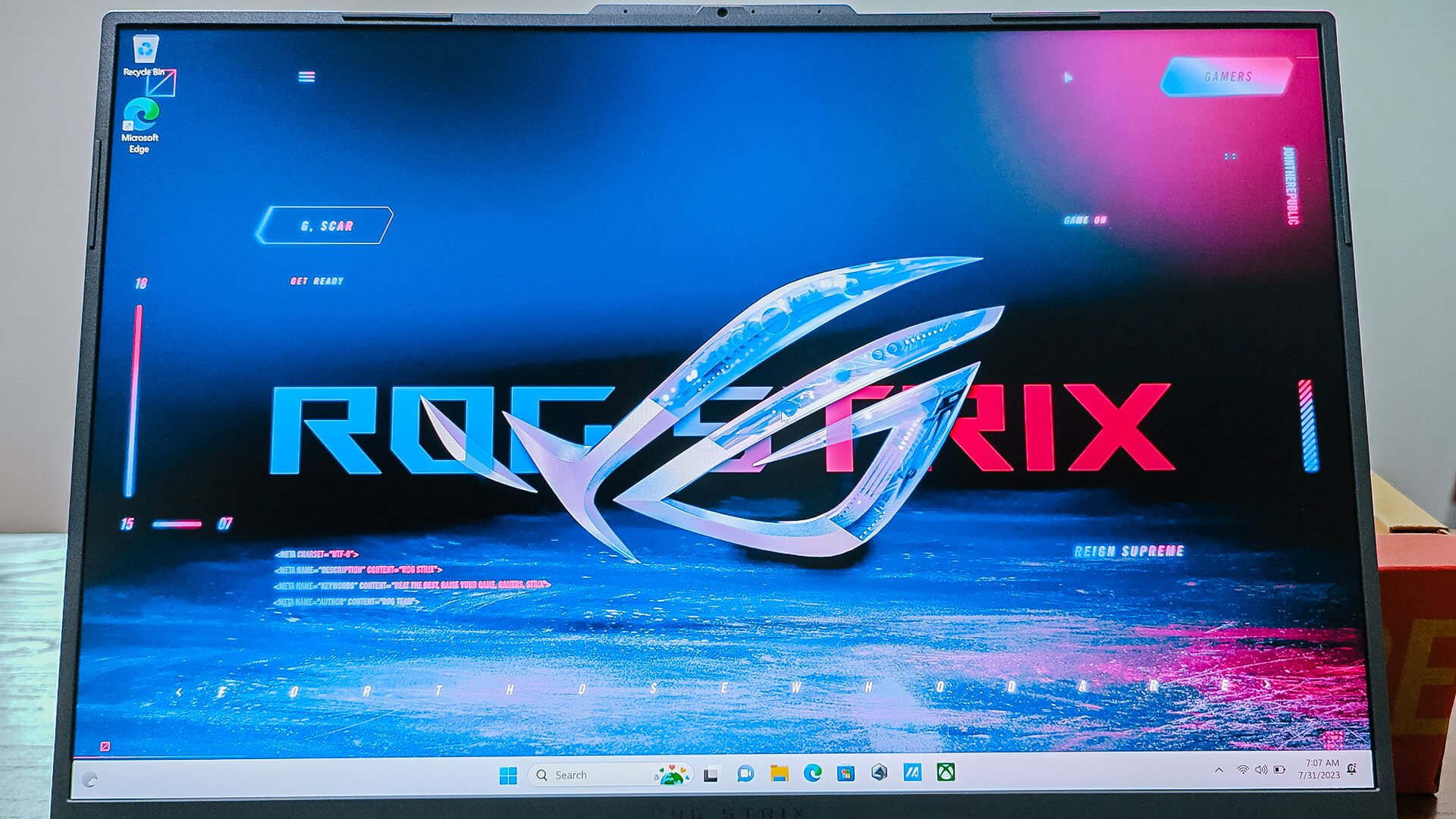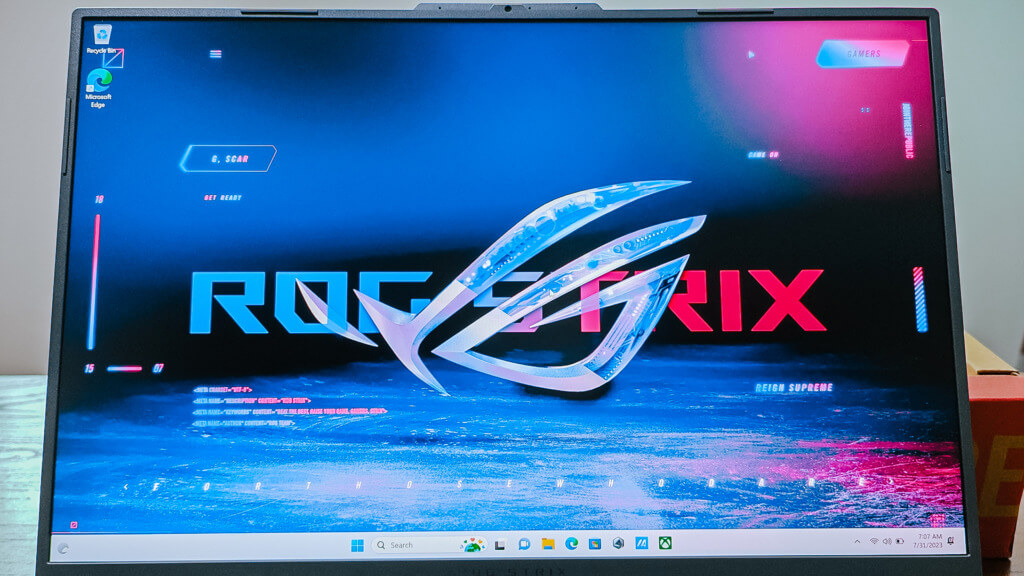 However, note that the conventional IPS-level LCD panel may lack a certain depth of contrast in darker images. Nonetheless, the display remains a standout feature, especially when you factor in its Dolby Vision and G-Sync capabilities.
Performance unleashed with its powerful CPU and GPU
Venture beneath the robust exterior of the Strix G18, and you'll find a powerhouse that brings your games and projects to life. Under its hood roars an Intel Core i9-13980HX CPU coupled with the formidable NVIDIA GeForce RTX 4060/4070, a combination that makes it one of the most powerful gaming laptops on the market. This partnership promises a gaming experience that rivals even some of the most potent desktops.
Experience the dark fantasy world of Diablo 4 with unrivalled detail and fluidity. Thanks to the laptop's high-end configuration, you'll witness consistently high frame rates, ensuring that no fragment of the action escapes your notice, even in the heat of the most intense battles. Whether you're exploring the gritty landscapes of Sanctuary or slaying legions of hellish foes, every moment on the Strix G18 feels alive and incredibly immersive.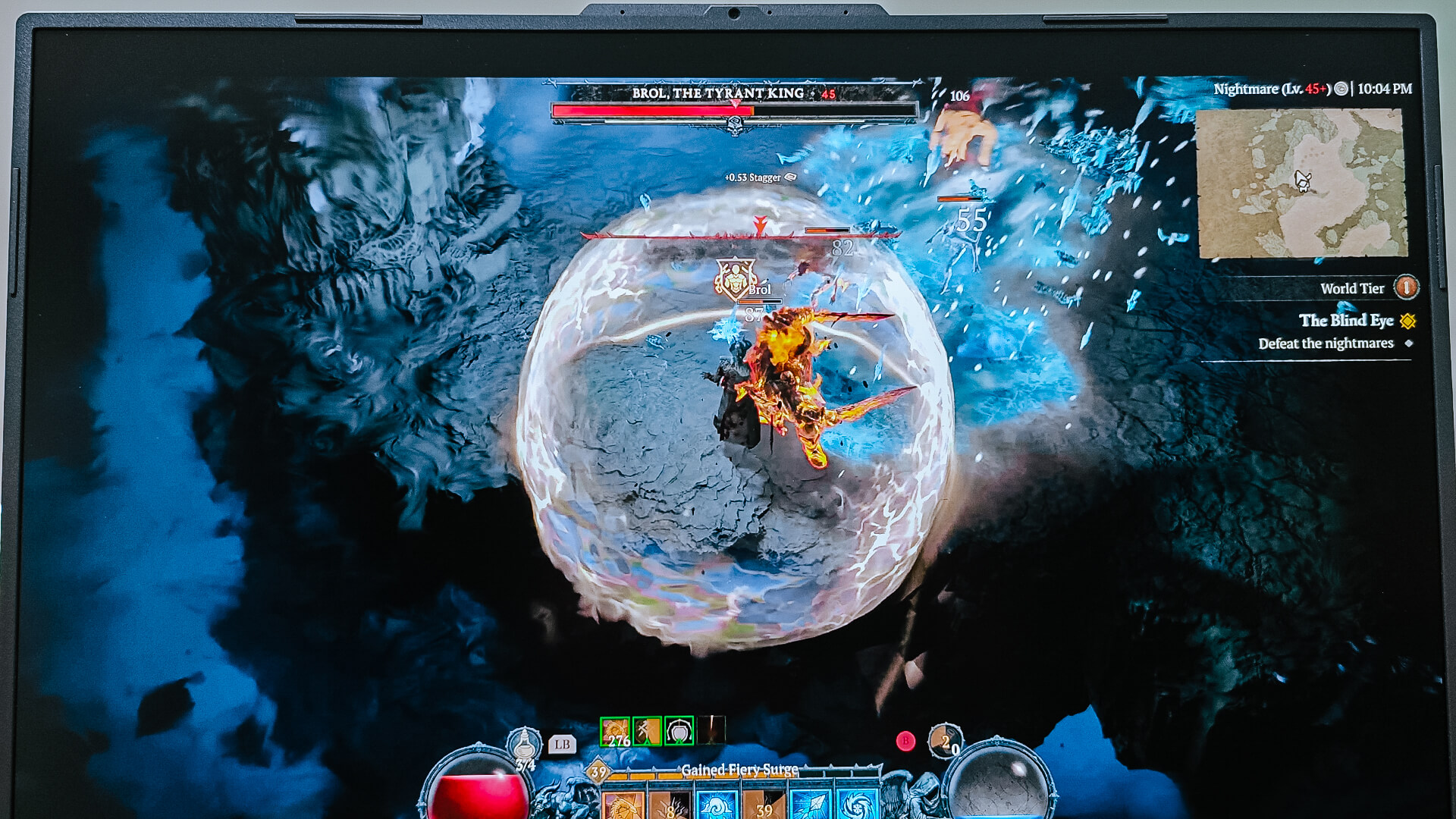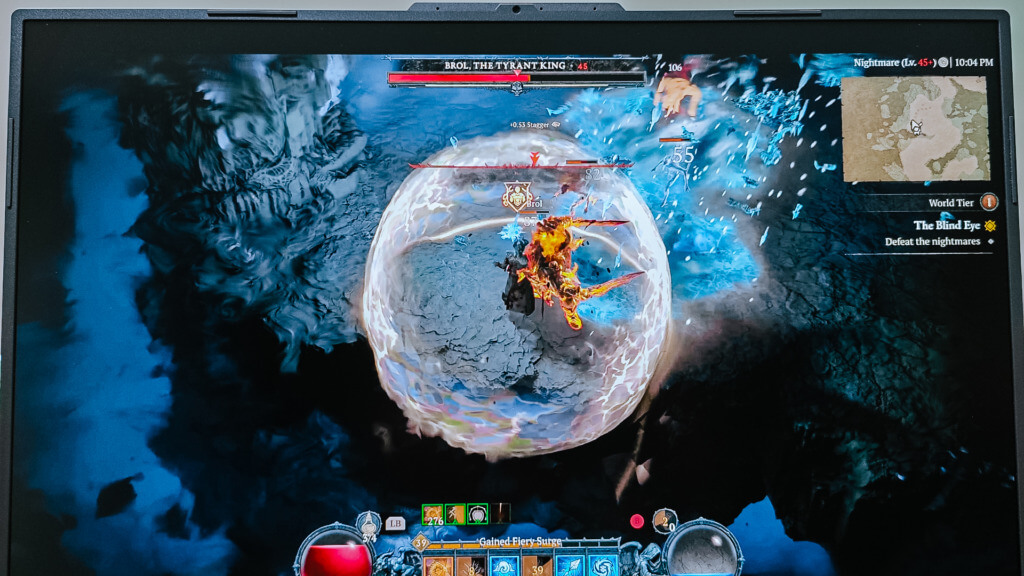 The Strix G18 is not just for gamers; it's also a splendid machine for content creators. Run intensive programs like Photoshop, and the laptop delivers. Thanks to its powerful CPU and GPU combo, it efficiently handles complex layers and high-resolution images, meaning your creative potential can flow without pause.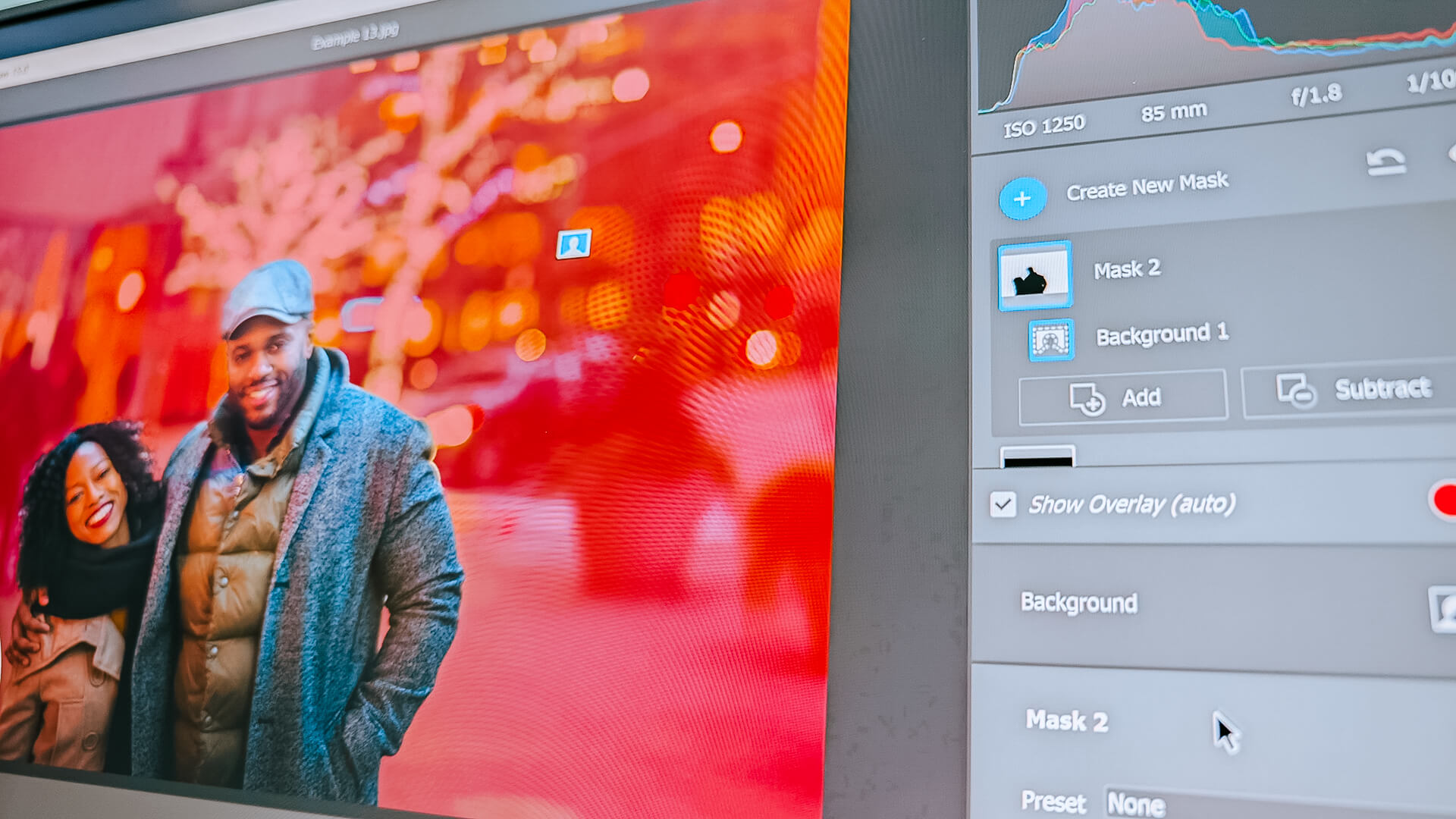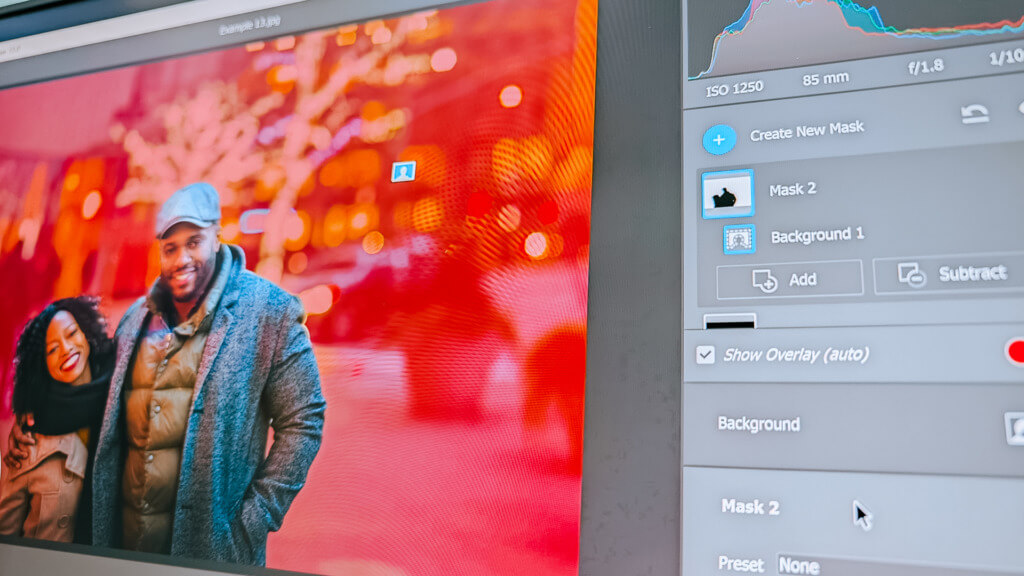 The audio prowess of the Strix G18 also stands out, even though its sound system may seem somewhat average for a laptop of its size. However, it balances the scales by featuring Dolby Atmos and Hi-Res audio support. This means you're not only seeing every detail in games like Dishonored 2 and Battlefield V, but you're also hearing every footstep, every whisper, and every gunshot in astonishing clarity. Whether you're carefully evading foes or launching an all-out assault, the Strix G18 ensures an immersive, all-encompassing auditory experience.
The verdict: ASUS ROG Strix G18
In summing up, the ASUS ROG Strix G18 rises as an exceptional gaming powerhouse that brilliantly meshes impeccable design with top-tier performance. The laptop, sporting the powerful Intel Core i9 and NVIDIA GeForce RTX 4060/4070, delivers an exhilarating gaming experience further enhanced by its stunning QHD+ display and immersive sound system. It's a dream machine for any ardent gamer, offering a complete package that makes it hard to resist.
Beyond gaming, it's a proficient workhorse for content creators, tackling intensive applications like Photoshop with absolute ease. Its unique cyberpunk design aesthetics, including an Aura Sync per-key lit keyboard and RGB light bars, ensure it's as much a visual delight as powerful. Yes, it's slightly larger, and the price tag might appear steep, but given its unrivalled performance and premium experience, it's a worthwhile investment. The ASUS ROG Strix G18 isn't just a laptop; it's a statement, an identity for the passionate gamer and creator within you.
The ASUS ROG Strix G18 retails at S$3,298 (for NVIDIA GeForce RTX 4060 variant) and S$3,848 (for NVIDIA GeForce RTX 4070 variant).