It's possible that the best wireless gaming keyboard isn't as important as the best wireless gaming headset or wireless mouse. However, if you want to go for the whole minimal desktop look, you'll need the cable-free trifecta. Cutting the cords might give you the freedom you need for couch gaming, or it can just save up space on your desk.
With the advancement of technology, the problems with wireless PC gear are diminishing, so there's absolutely nothing to lose by cutting the cord nowadays. The best wireless gaming keyboard will continue to provide a fast reaction for gaming. Wireless keyboards will no longer have a one-hour battery life, sluggish action, or poor dependability. The difference between the finest wired gaming keyboard and the best wireless gaming keyboard is now insignificant.
Although it costs a little more than some of the best mechanical keyboards, you get a lot more freedom in return. You won't even have to sacrifice the tactile experience of using your favorite mechanical switches. The finest wireless gaming keyboards all use the same switches; however, the more power-hungry optical switches are unlikely in cable-free versions.
Whether you connect through Bluetooth, a USB dongle, or both, the type of connectivity you use is crucial. USB dongles offer reduced latency and are easier to set up, but you'll be limited to devices that have a spare USB port. If you have a lot of Bluetooth gadgets, connections can be a pain, but for the most part, they work nicely. 
Logitech G915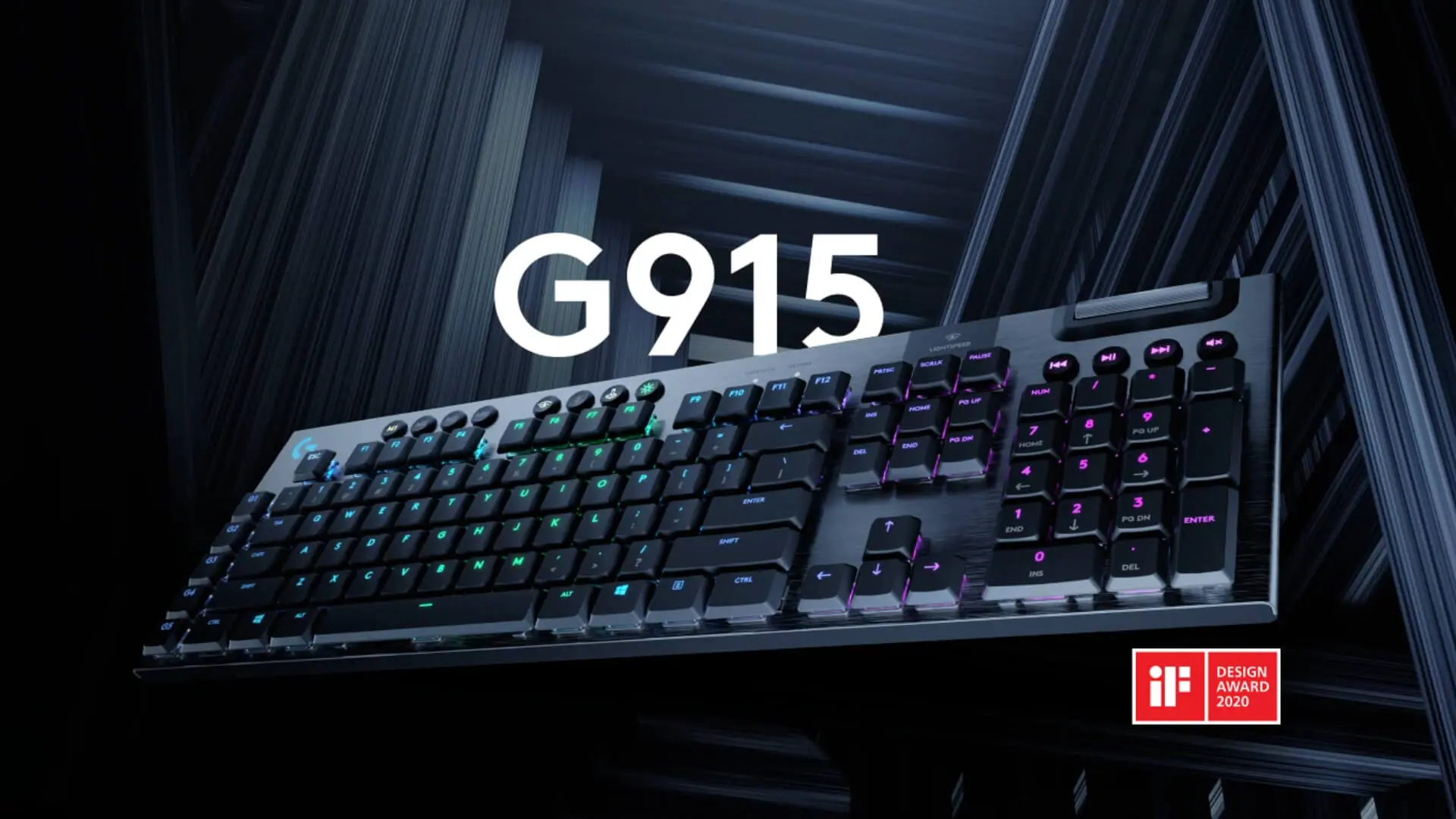 Wireless keyboards are frequently perceived as the polar opposite of what a gaming keyboard should be. Still, Logitech's latest wireless technology integrated inside the G915 attempts to change that. The low-profile design comes with all of the bells and whistles of the top mechanical gaming keyboards on the market, including several mechanical switches, dedicated macro keys, media controls, and complete per-key RGB lighting.
The G915 is tiny but surprisingly thick, weighing a little more than you'd expect based on its appearance. However, the aluminum-on-plastic frame is exceptionally durable and seems to be a work of modern art. The battery life of the G915 passes with flying colors, with a 30-hour battery life with full RGB brightness on a single charge. Turning off the RGB lights improves the life of the device significantly, enabling it to run for up to 100 hours without needing to be recharged.
The G915's only disadvantage is its exorbitant price. Unfortunately, it's significantly more costly than some mechanical keyboards, including the Corsair K95 Platinum.
The Logitech G915 seems like a natural development of what a wireless mechanical keyboard should be — featuring superb connection, impressive battery life, and an uncompromising variety of capabilities to those who can afford it.
Logitech G613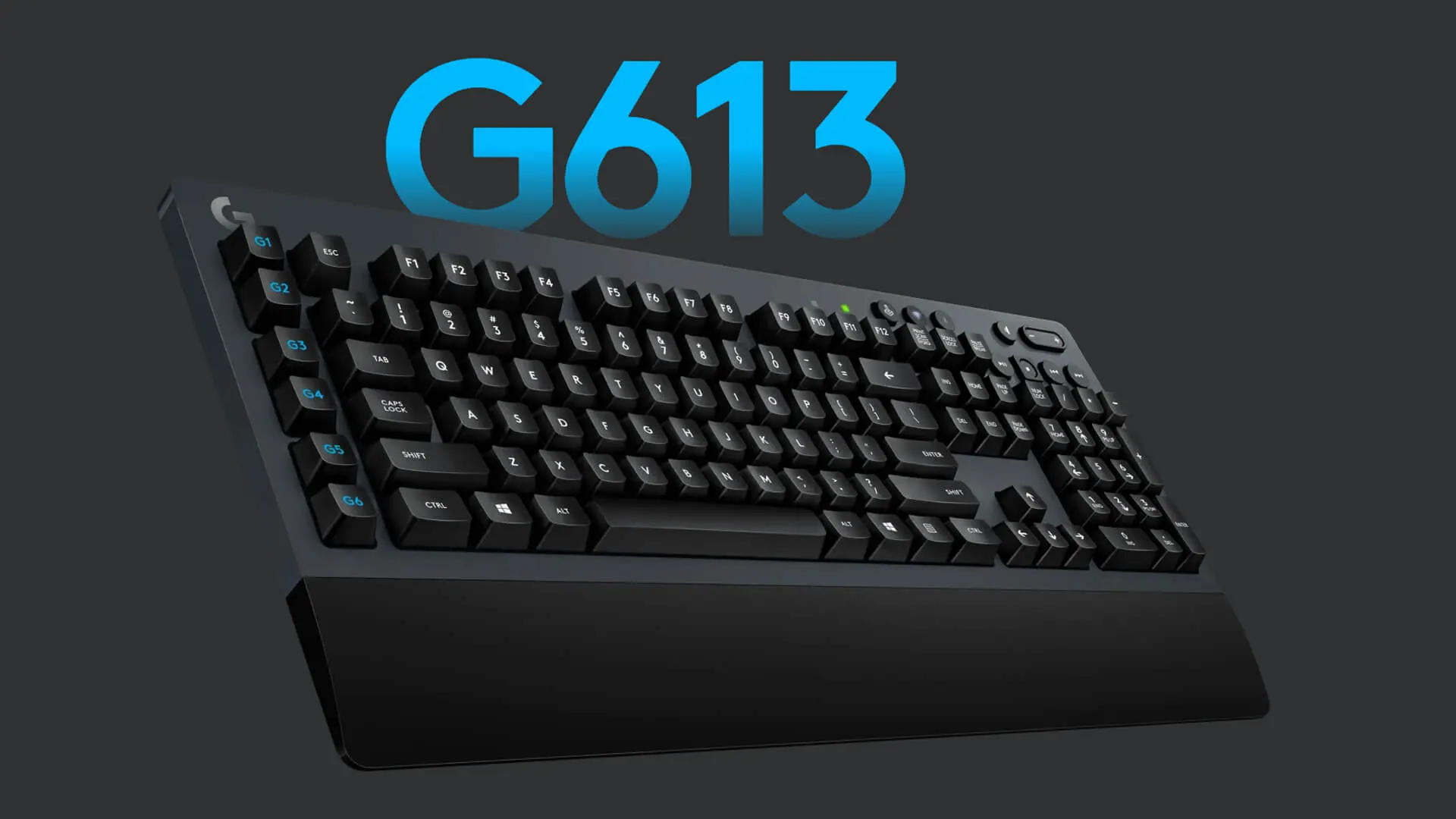 Logitech's Lightspeed wireless connection is an excellent illustration of how far wireless peripheral technology has progressed. In terms of stability and responsiveness, it is comparable to other wired peripherals. It's also cost-effective as a pair of AA batteries may last up to 18 months when used continuously.
Though it was created with pragmatism in mind, it is far from boring. A closer look reveals a dedicated macro row, media controls, and a volume rocker. The grippy wrist rest is very roomy, but it should be noted that it isn't detachable. Backlights were, understandably, turned off to save battery life.
This unique Romer-G switch has a 3mm travel distance and a little tactile bump. Its gentle, quiet nature makes it ideal for gaming as well as typing.
Look no farther than the Logitech G613 for the most pleasing combination of gaming performance, battery life, and usability in a wireless keyboard. 
In everyday usage, it isn't easy to discern the difference between the G613 and an identical wired model thanks to the company's LIGHTSPEED wireless technology, which improves connection reliability and keystroke registration speed.
Corsair K63 Wireless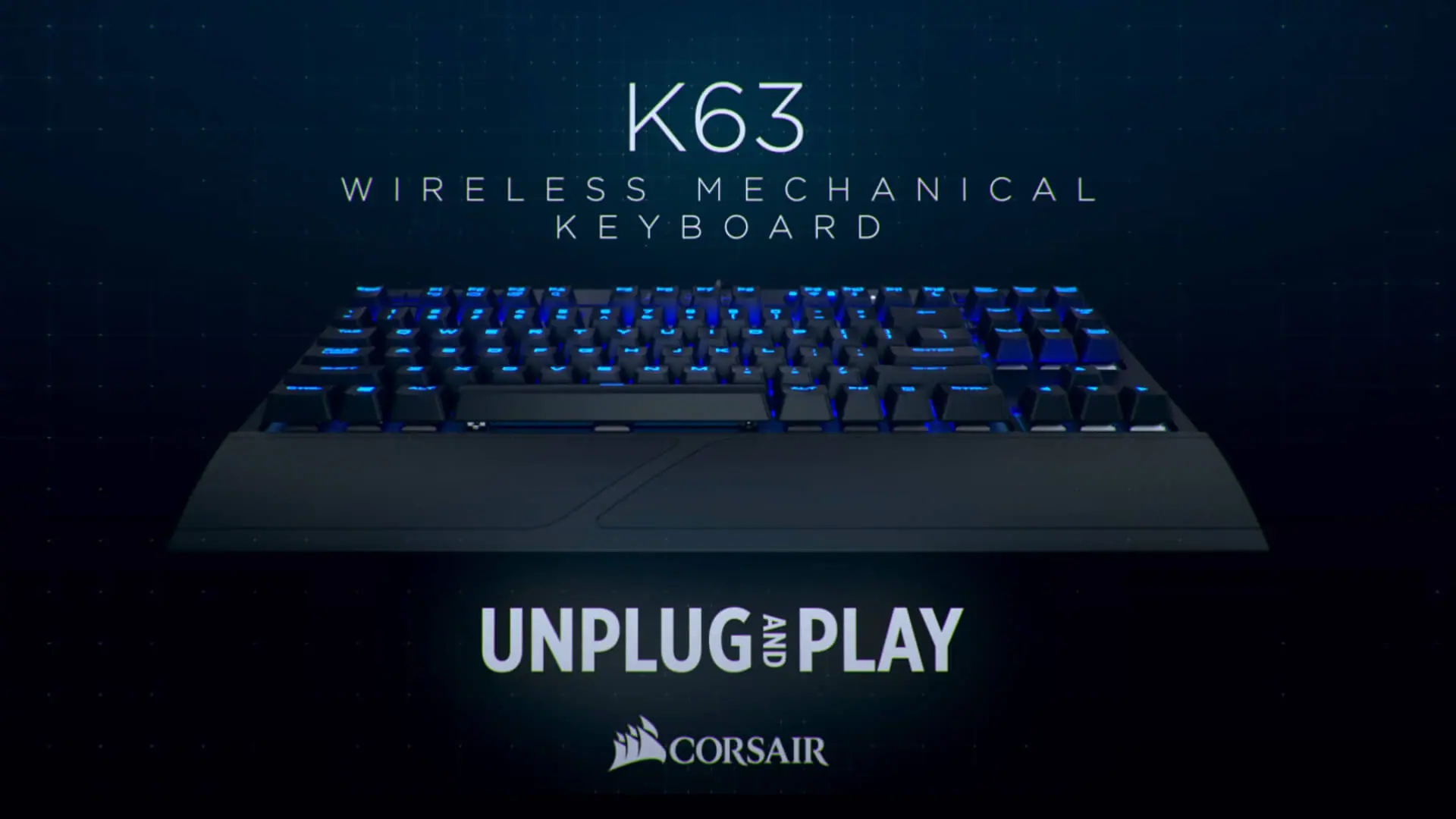 The Corsair K63 Wireless is a tiny device with a lot of power. It comes with Red Cherry MX switches, wrist rest, blue backlights, and media controls.
The only issue is the K63 Wireless's battery life is already somewhat lacking. Its built-in rechargeable battery lasts up to 15 hours when the lights are set to medium brightness and 25 hours when they are turned off. With the backlights switched off, Corsair claims a battery life of up to 75 hours, making the presence of the lighting an extra option. Corsair suggests plugging it in for uninterrupted gaming, but that will defeat the point of a wireless keyboard.
Aside from the battery problem, the K63 Wireless is a good gaming keyboard. The keys are snappy, and all of the valuable functions help you get through your day. If you require a small, wireless mechanical keyboard, there is currently no better alternative. The K63 Wireless may also be seated in the Corsair Lapboard for gaming in the living room. 
Razer Turret
The Razer Turret got you covered if you want to address many cord-related concerns with a single strike. It's a great, robust mechanical keyboard with a built-in, retractable mouse pad combined with a top-shelf wireless mouse (modeled after Razer's BlackWidow and packed clicky, tactile Green switches). In addition, the Turret is compatible with both PCs and Microsoft's newest console family, the Xbox One.
With a 16,000 DPI sensor and a strong IPS rating, the Mamba-equivalent of the Turret performs as well as its standalone counterpart. In terms of performance, the keyboard is identical to Razer's BlackWidow. It's a beautiful method to clip two cables at the same time, and it's made to withstand your most ferocious tantrums.
The mouse and keyboard both include full Razer Chroma RGB illumination, making this one of the most attractive alternatives on our list. They can also last up to 40 hours on a single charge.
Razer BlackWidow V3 Pro Wireless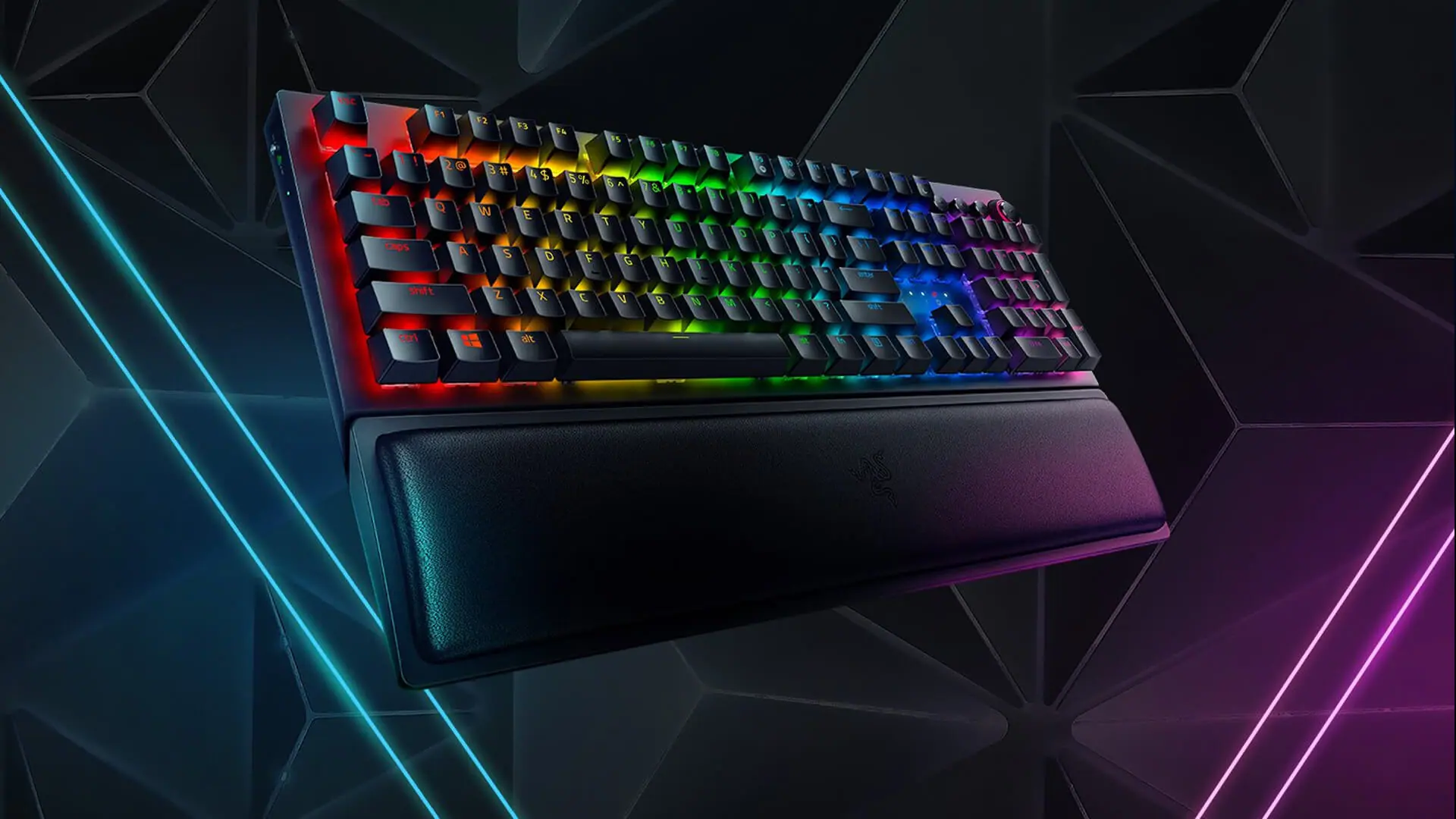 The Razer Blackwidow V3 Pro is a wireless reworking of Razer's classic Blackwidow design. On the surface, not much has changed: PBT keycaps, specialized media controls, and a magnetic wrist rest remain. This version, on the other hand, has Bluetooth and 2.4 GHz wireless communication choices.
The V3 Pro retains both clicky, green, and linear yellow switches and is similar to its wireless siblings, except for the lack of USB or 3.5mm audio passthrough.
If you don't use RGB backlighting, the V3 Pro's internal battery is said to last up to 192 hours on a single charge. In addition, the V3 Pro has a USB-C connector for fast charging whether you need to top off your keyboard or choose to keep it attached to your desktop. The V3 Pro is essentially a wireless version of a decent keyboard design with a premium price.