In high-performance laptops, ASUS has consistently been at the helm of crafting machines that cater to many users, from professional creatives to avid gamers and everyone in between. Their latest addition, the Vivobook 15X OLED (K3504), is no exception and continues to raise the bar with a bouquet of impressive features. Beyond its specifications, it presents an allure, making it a compelling choice for anyone who demands a potent blend of performance, versatility, and aesthetics.
Serving as your steadfast accomplice, this laptop is a paradigm of efficiency designed to empower you to get things done. At the core of its unrivalled performance lies a powerful 13th Gen Intel Core i7-1360P processor, capable of handling even the most complex tasks. The Vivobook 15X OLED doesn't just talk the talk but walks the walk. It is a proof to ASUS's unwavering commitment to cutting-edge technology and premium quality. And the cherry on top? All of this power and brilliance is wrapped in a sleek, durable frame, ready to accompany you on every journey.
CPU: Intel® Core i7-1360P Processor 2.2 GHz
RAM: 8GB DDR4 on board, 8GB DDR4 SO-DIMM
Display: 15.6-inch, 2.8K (2880 x 1620) OLED 16:9 aspect ratio, 0.2ms response time, 120Hz refresh rate, 100% DCI-P3 colour gamut, VESA CERTIFIED Display HDR True Black 500, PANTONE Validated
Storage: 512GB SSD
Ports:
1x USB 2.0 Type-A, 1x USB 3.2 Gen 1 Type-C support power delivery, 2x USB 3.2 Gen 1 Type-A, 1x HDMI 1.4, 1x 3.5mm Combo Audio Jack, 1x Headphone/Headset, 1x DC-in
Battery life: 50WHrs (ASUS website)
Wireless: Wi-Fi 6E(802.11ax) (Dual band) 1*1 + Bluetooth® 5.3 Wireless Card
Dimensions: 35.97 x 23.25 x 1.79 ~ 1.79 cm
Weight: 1.60 kg
Elegance meets function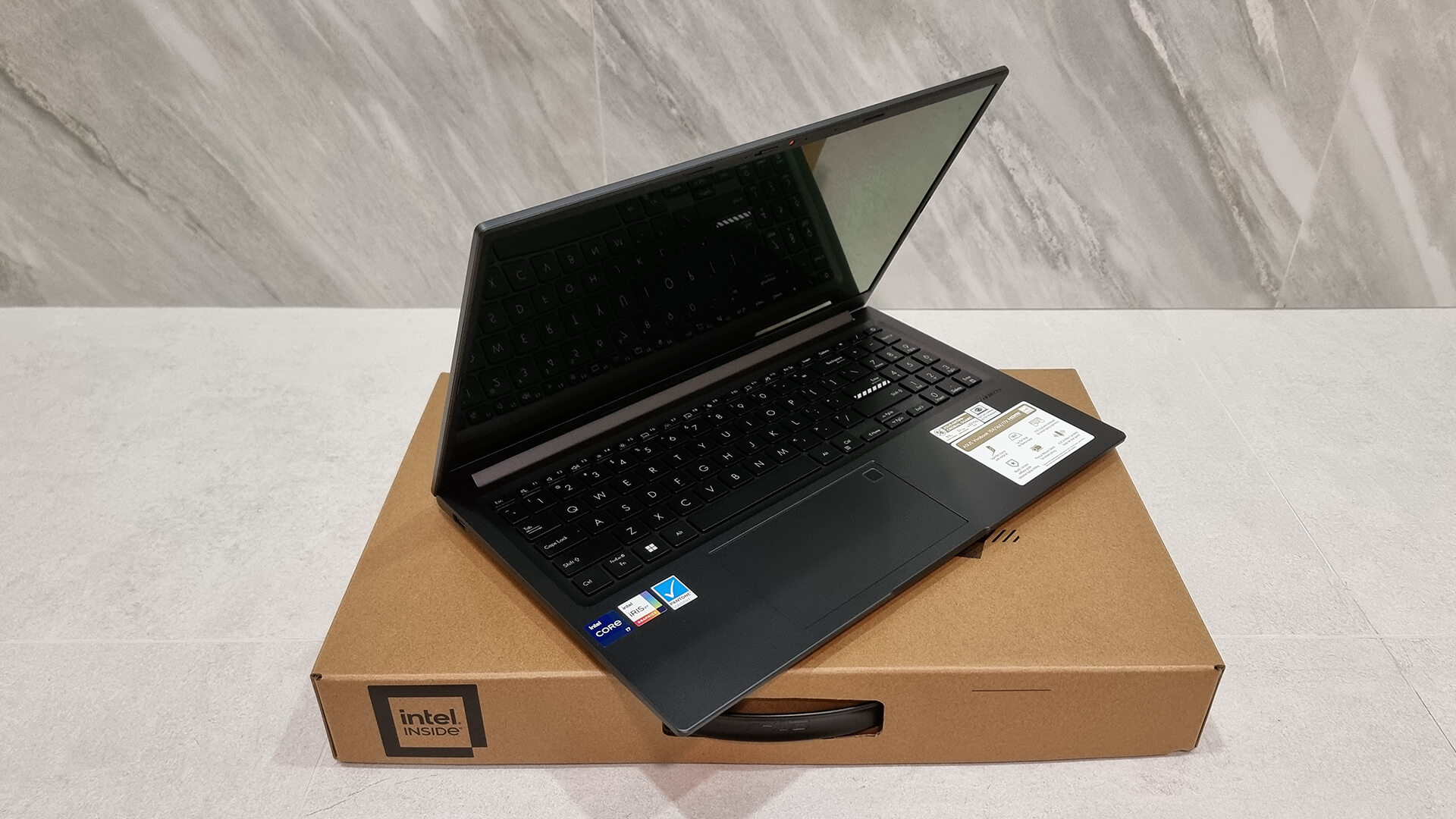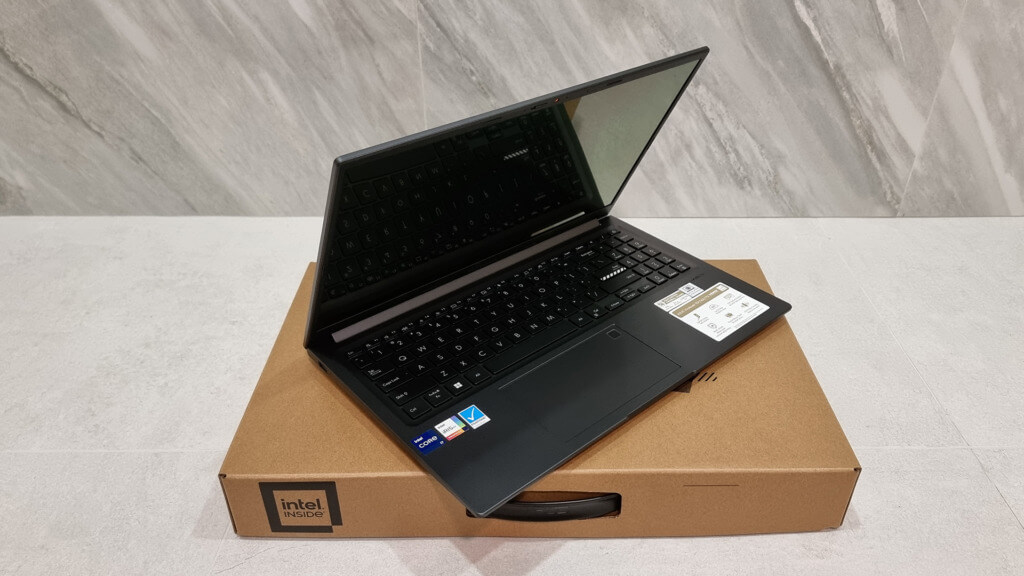 Diving into the design aspects, the ASUS Vivobook 15X OLED strikes an impressive balance between aesthetics and functionality. Its construction and detailed features align well with the needs of the modern user, presenting an elegant blend of style and substance.
The first thing you'll notice about the Vivobook 15X OLED is its sleek profile. With a thickness of just 17.9mm, this laptop is incredibly slim and stylish. It's a testament to ASUS's commitment to compactness and portability without compromising performance. Weighing in at just 1.6 kg, the Vivobook 15X OLED is the perfect companion for those constantly on the move, effortlessly fitting into their backpack and not adding unnecessary weight to their daily commute.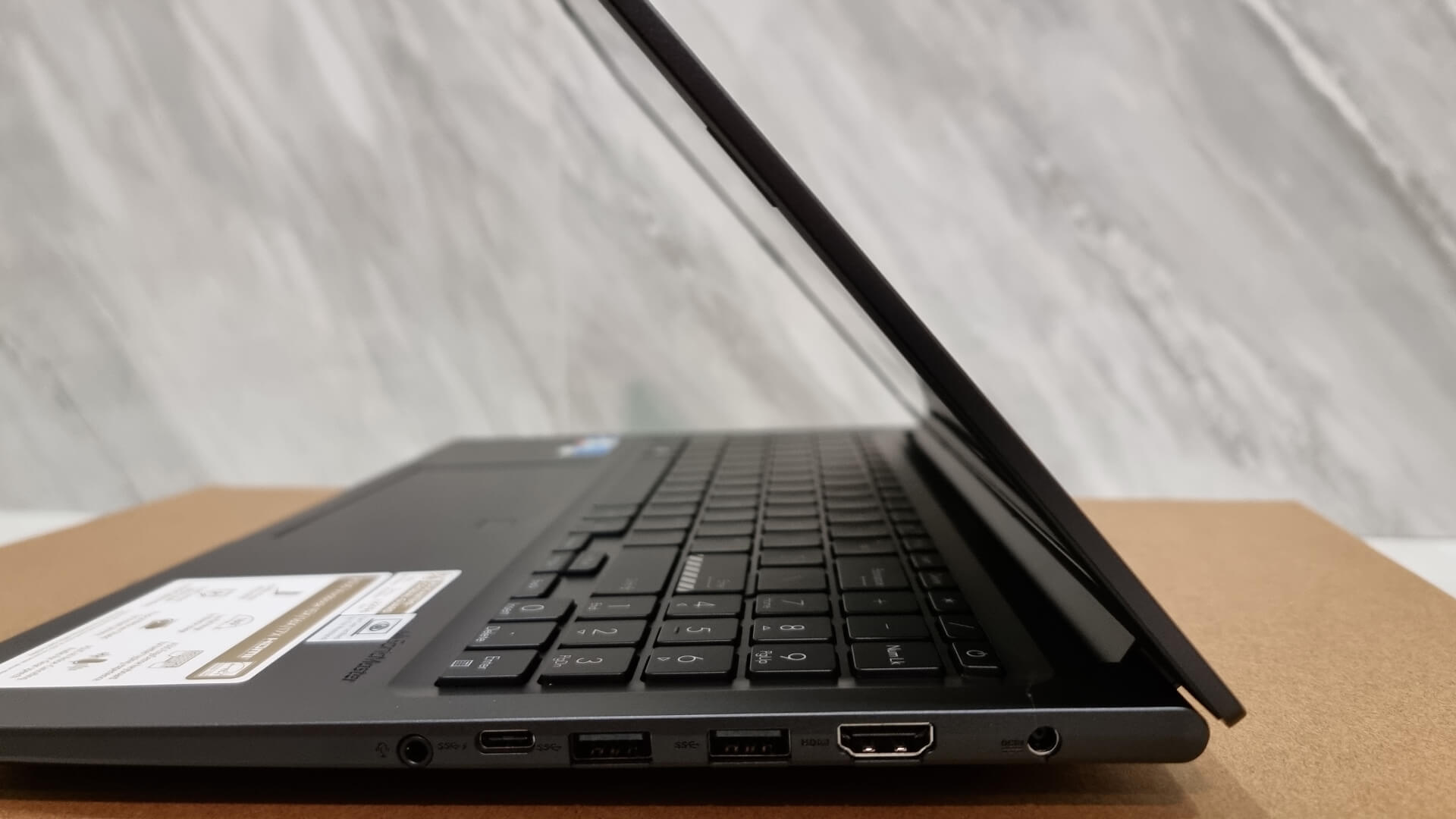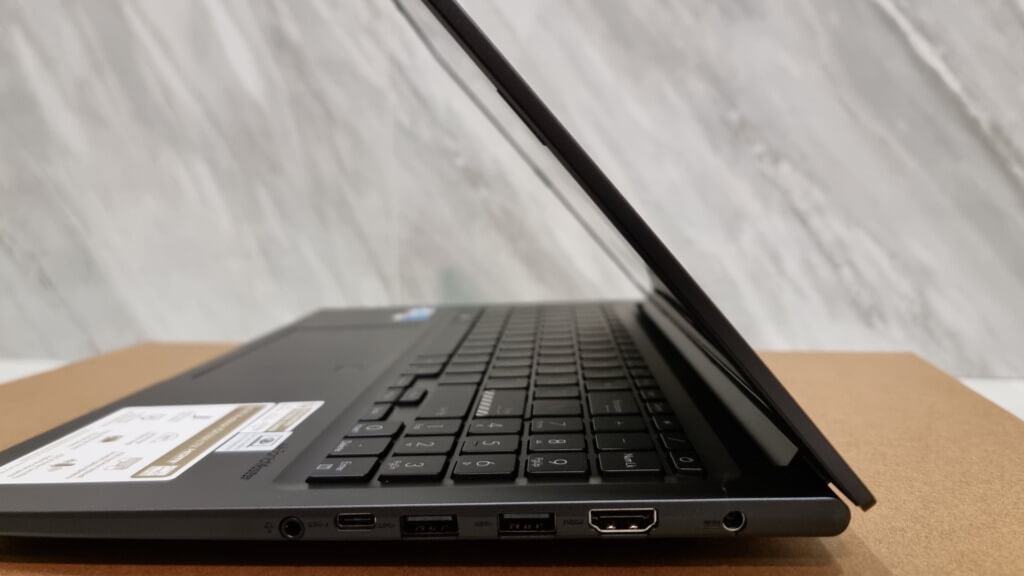 The laptop's metallic lid offers a durable, robust exterior and adds a touch of premium elegance to the overall design. Its solid build ensures that the laptop can withstand the rigours of daily use, meeting the military-grade 810H standard for toughness. Whether tossed into a bag or used on the go, this laptop is designed to take on the challenges of an active lifestyle.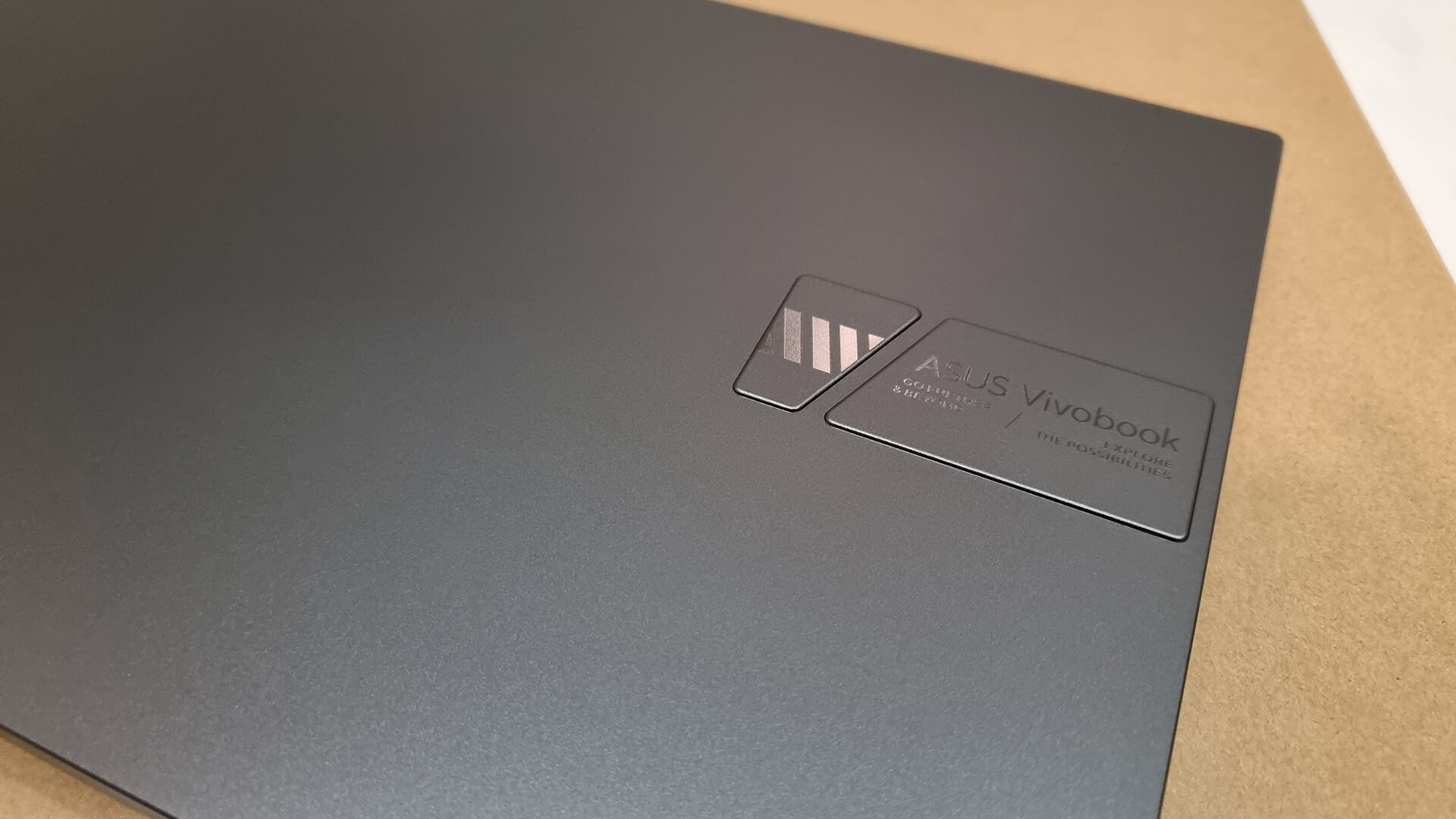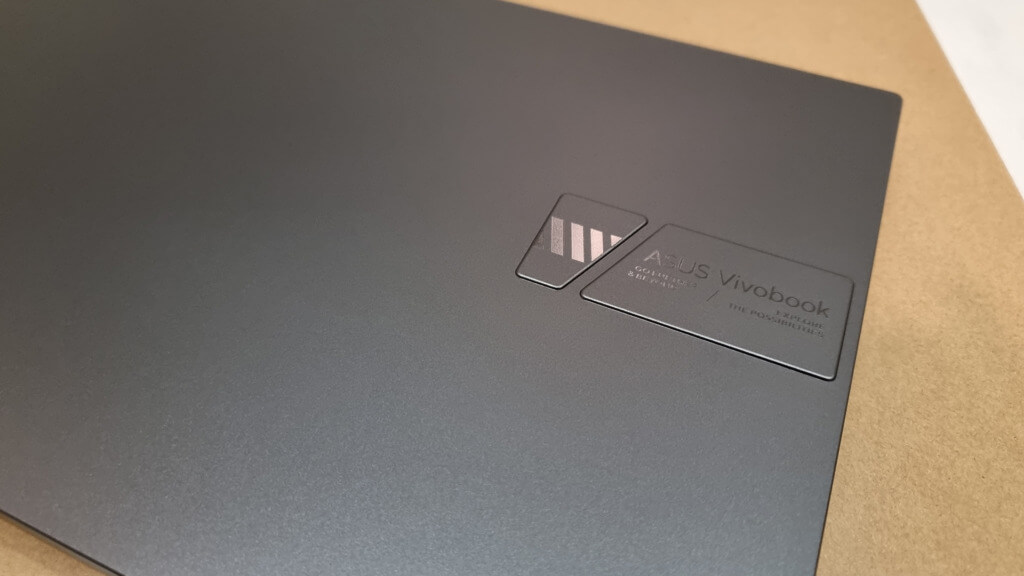 The Vivobook 15X OLED's 15.6″ OLED 2.8K NanoEdge display is nestled within thin bezels, resulting in an immersive 84.3% screen-to-body ratio. This makes for a more engaging viewing experience and contributes to the laptop's compact form factor. The 180° hinge design provides flexibility for various usage scenarios, such as sharing content with peers or adjusting to your comfort when working from a café or on a flight.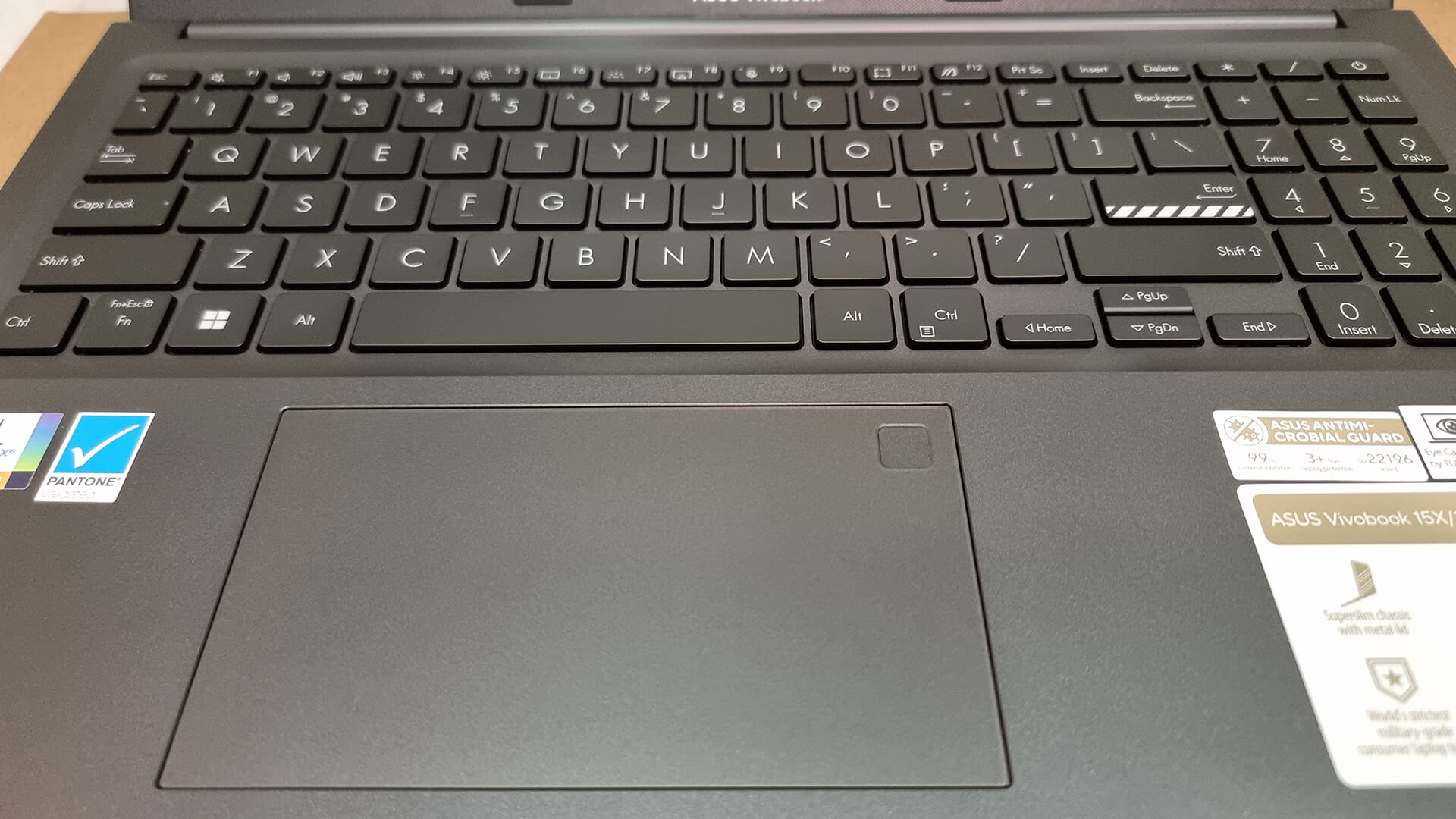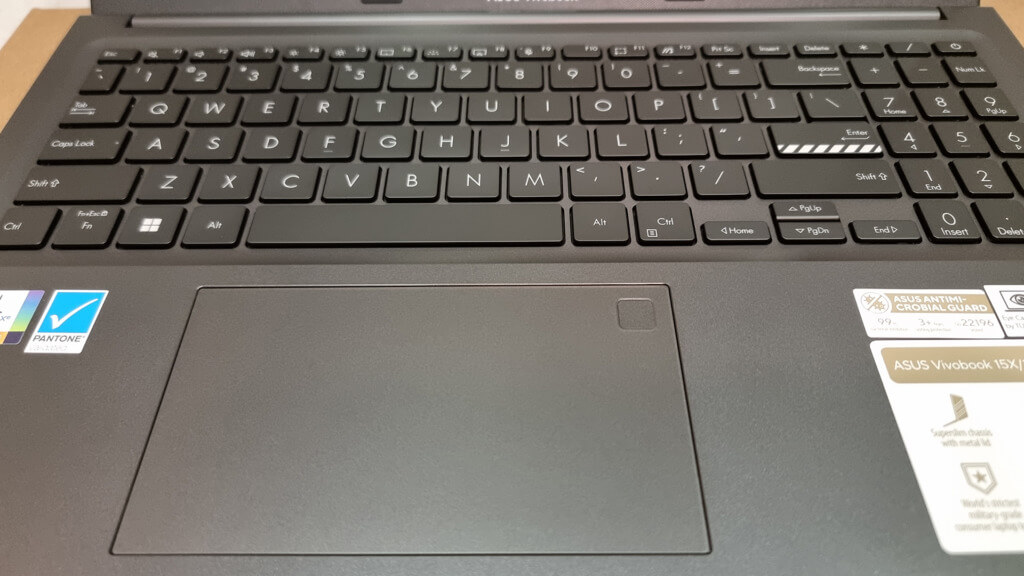 Furthermore, the ErgoSense keyboard presents a comfortable typing experience. Every key press feels satisfying, thanks to the optimum bounce and travel, meticulously calculated to enhance your productivity during extended typing sessions. In addition, ASUS has included a built-in fingerprint sensor in the touchpad for quick and secure one-touch login, adding to the convenience of the laptop.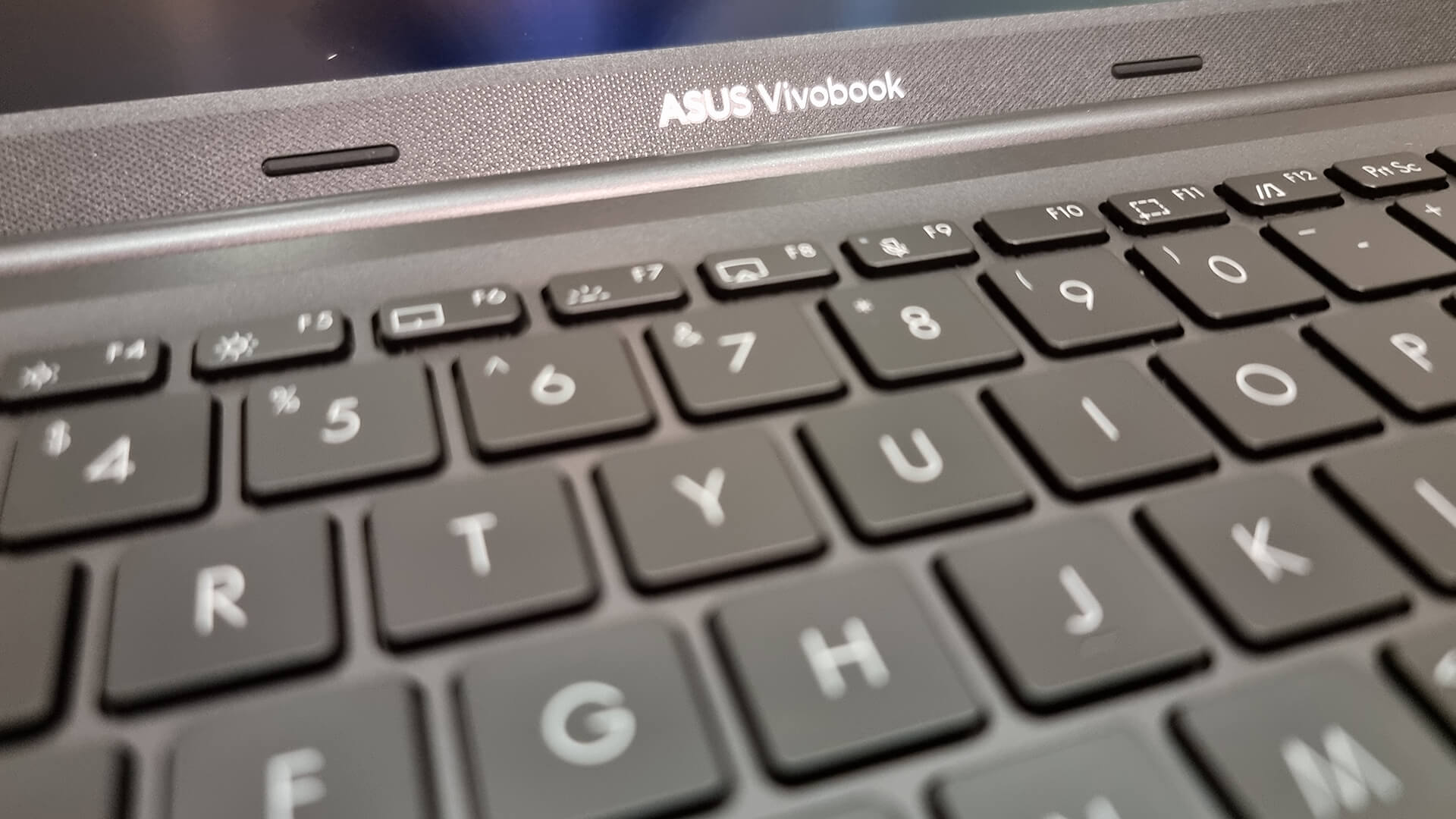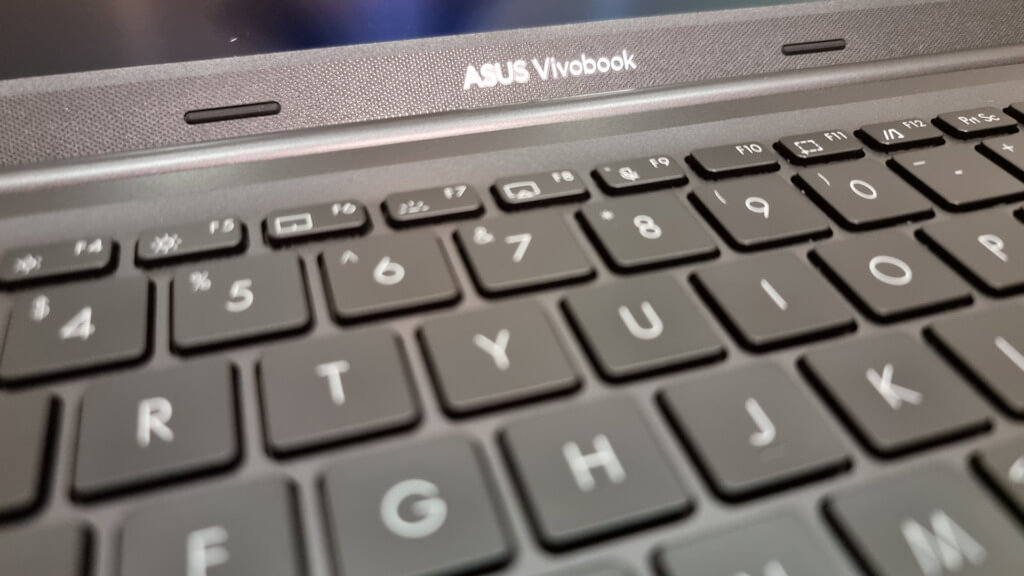 Prioritising your hygiene, the ASUS Vivobook 15X OLED incorporates ASUS Antimicrobial Guard, which inhibits bacterial growth by 99% for at least three years of protection. This thoughtful addition highlights ASUS's dedication to digital and physical well-being.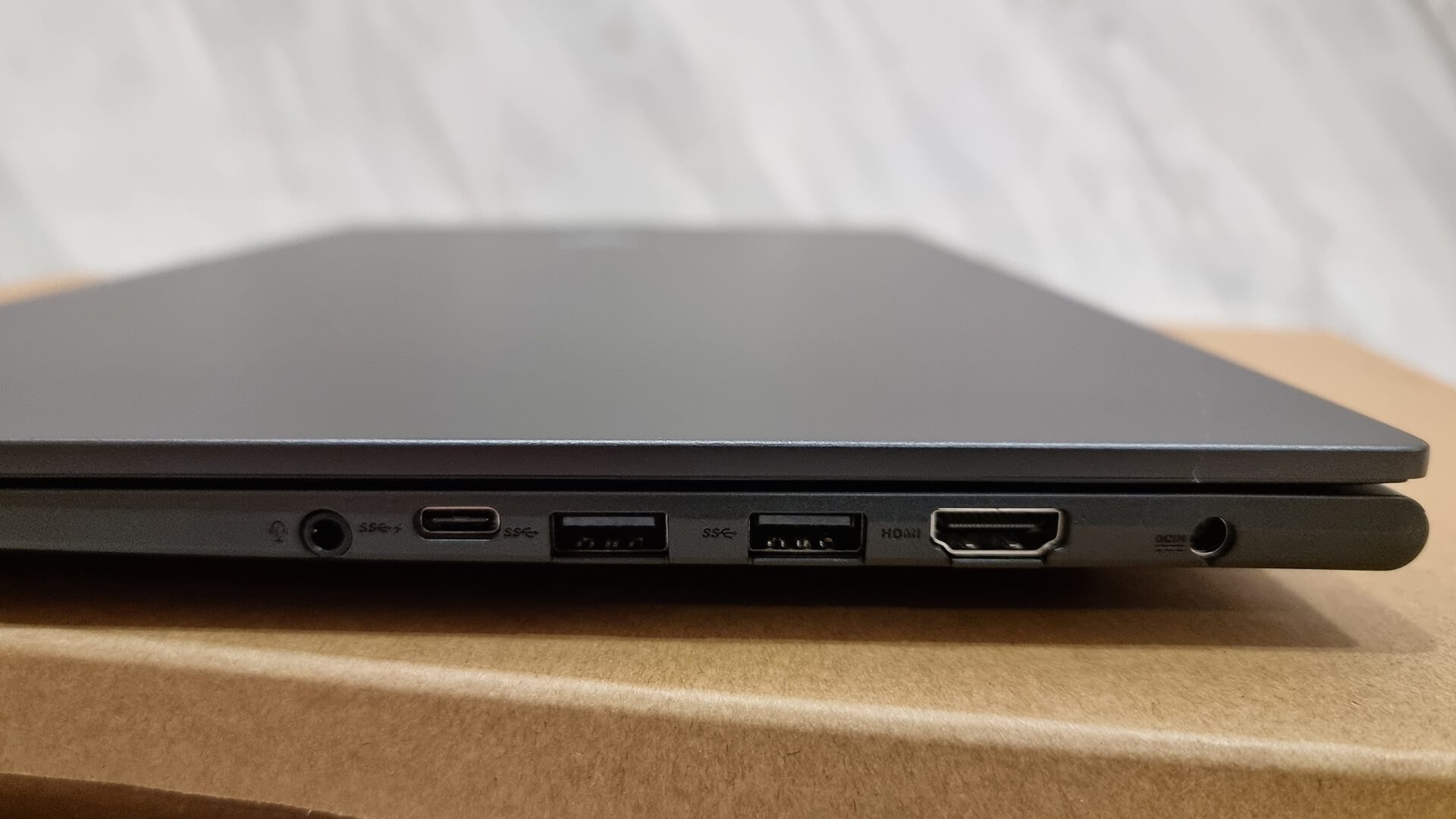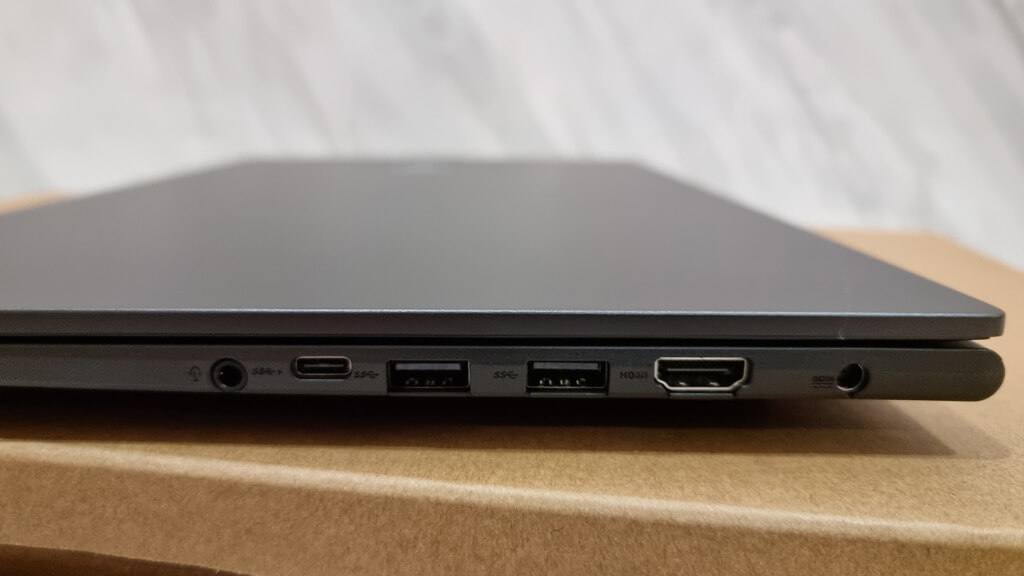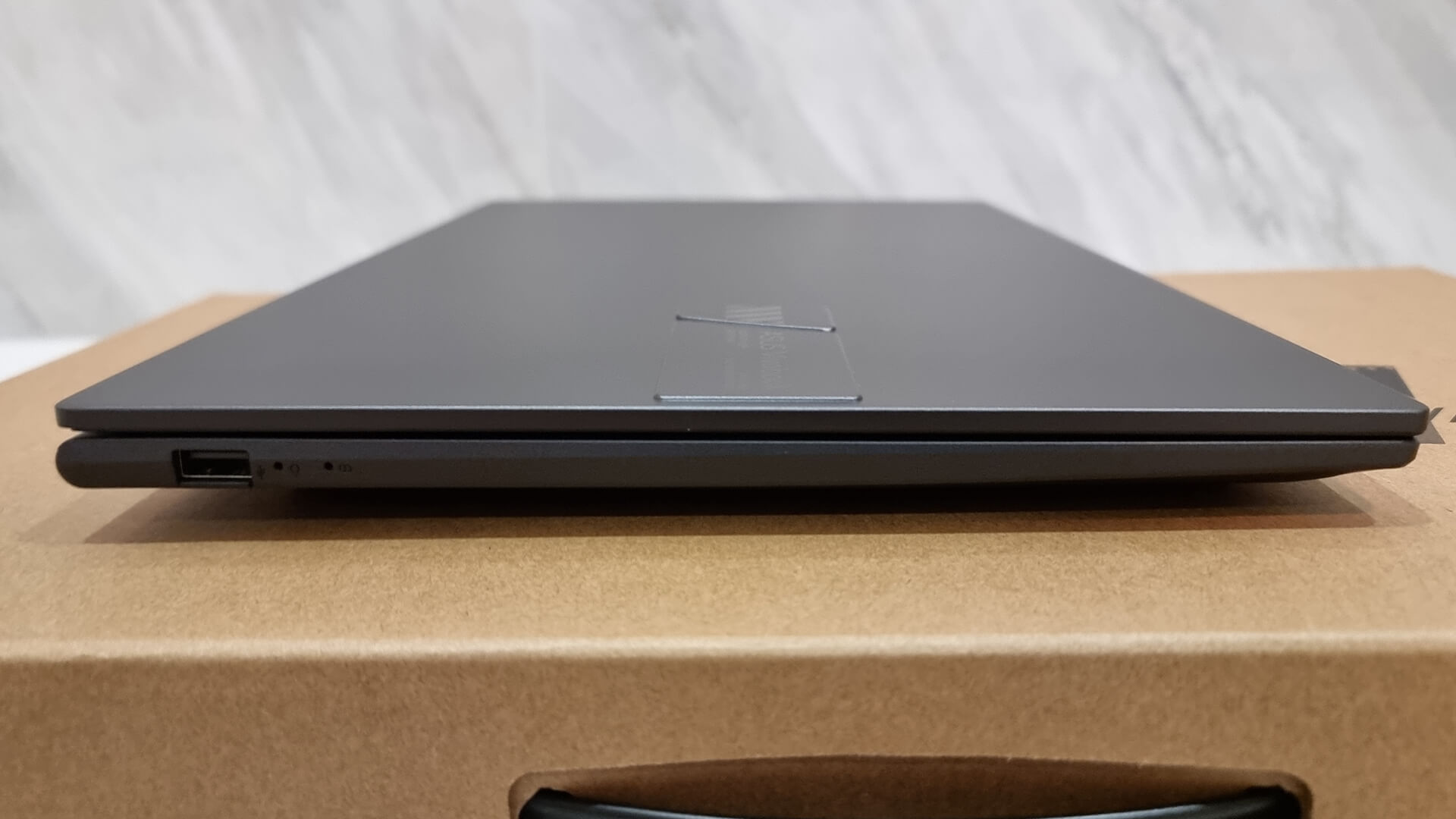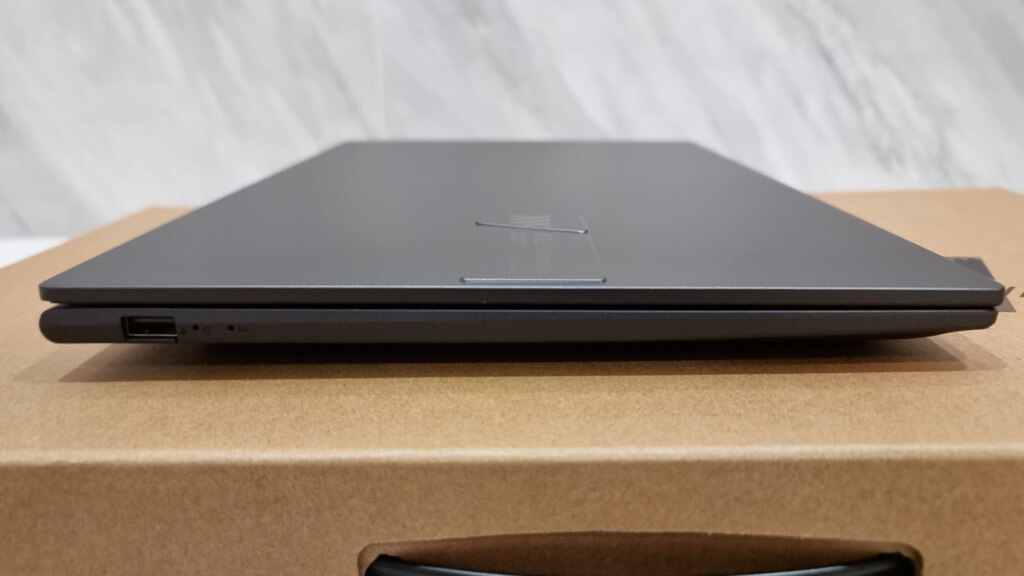 Moreover, the Vivobook 15X OLED offers a versatile selection of ports to cater to all your peripheral needs. With a USB 3.2 Gen 1 Type-C port that supports power delivery, two USB 3.2 Gen 1 Type-A ports, a USB 2.0 Type-A port, an HDMI output, and an audio combo jack, you're always prepared, whether you need to connect a projector for a presentation, hook up an external drive for backups, or plug in your headphones for some immersive audio experiences.
Stunning 2.8K OLED display for a visual feast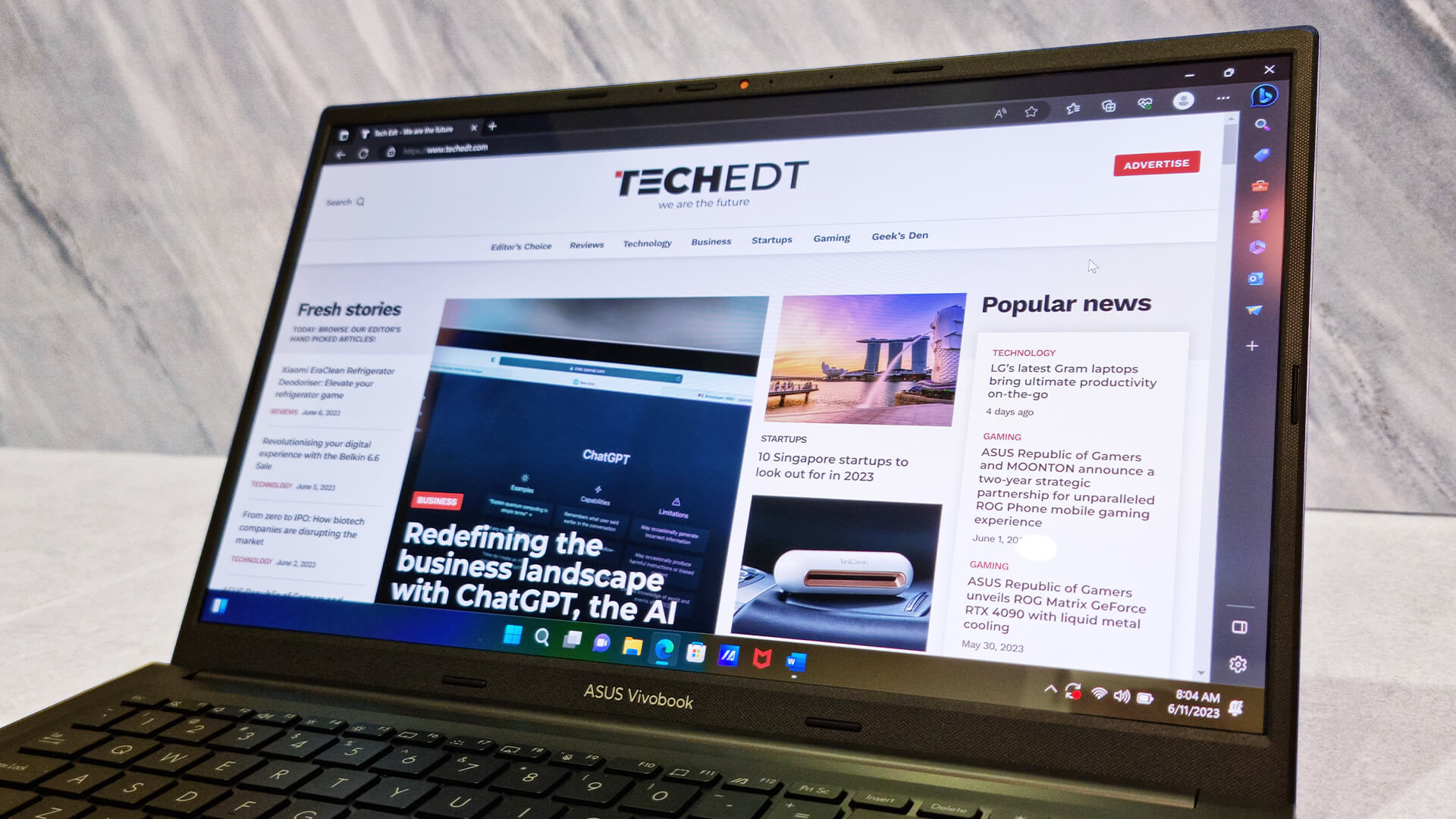 The centrepiece of the Vivobook 15X OLED is its magnificent 15.6″ 2.8K 120Hz OLED NanoEdge display. The world-leading OLED panel with a resolution of 2880X1620, 120Hz refresh rate and 84.3% screen-to-body ratio are bright, sharp, and vividly colourful, making your visuals pop with clarity and detail.
The laptop's PANTONE Validated display ensures professional-grade colour fidelity. A 100% DCI-P3 colour gamut delivers cinema-grade colours, while TÜV Rheinland certification guarantees low blue-light emissions and flicker-free operation, reducing strain on your eyes during long usage periods. This perfect blend of technical prowess and aesthetic charm makes the Vivobook 15X OLED a go-to choice for graphic designers and multimedia professionals.
Powerhouse performance with the latest 13th Gen Intel processor
Driving the ASUS Vivobook 15X OLED is a formidable suite of components. At its heart is the latest 13th Gen Intel Core i7-1360P processor, ably supported by 16GB DDR4 3200 MHz RAM, a 512GB M.2 NVMe PCIe 4.0 SSD, and Intel Iris Xe Graphics. This high-performance combination assures seamless operation, regardless of your tasks' complexity or scale, allowing you to game with remarkable fluidity or binge-watch your favourite series without a hitch.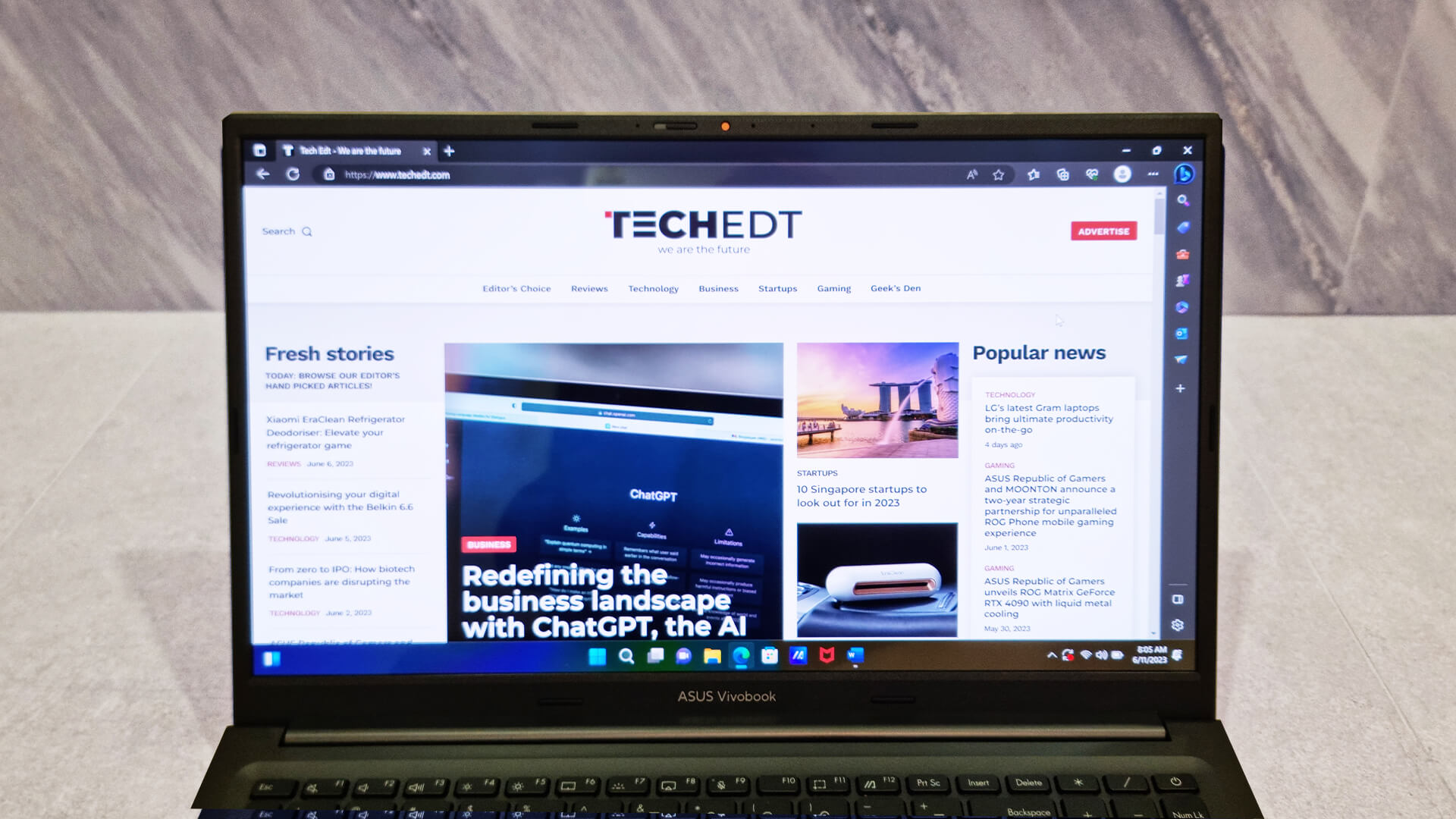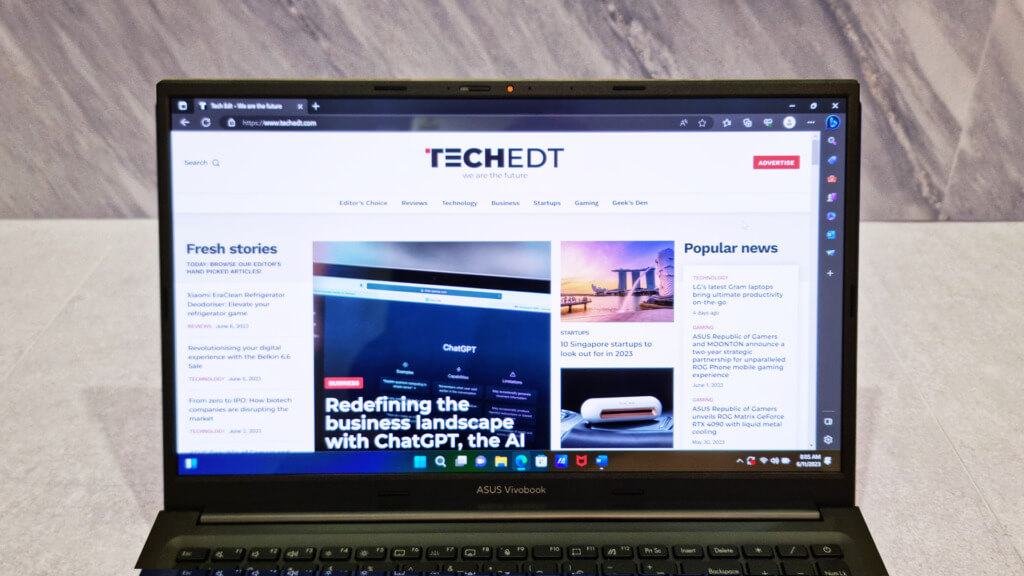 To put these specifications to a real-world test, we embarked on a content creation journey using some of the most demanding applications, such as Adobe Photoshop and Adobe Premiere Pro. With the powerful Intel i7 processor and the ample 16GB of RAM, editing high-resolution photos in Photoshop was as smooth as silk. Even with multiple layers and filters, there were no signs of lag or stutter, a testament to the sheer computational power under the hood of this machine.
Next, we switched to Adobe Premiere Pro, throwing a 4K video editing task at the Vivobook 15X OLED. It handled this with decent agility and speed, clearly indicating its capability to serve content creators who need to edit and render high-resolution videos regularly.
Furthermore, including the WiFi 6E ensures superfast connectivity, enabling you to upload your large creative files or stream tutorial videos without hiccups. In a world where lag can mean the difference between a job well done and missed deadlines, the Vivobook 15X OLED ensures you're always caught up.
Running the show on this impressive hardware is Windows 11, delivering an intuitive, fluid user experience. Whether quickly accessing files, toggling between apps, or using voice commands with Microsoft's assistant, Cortana, you'll appreciate the seamless interaction that Windows 11 facilitates.
Immersive audio experience with Dirac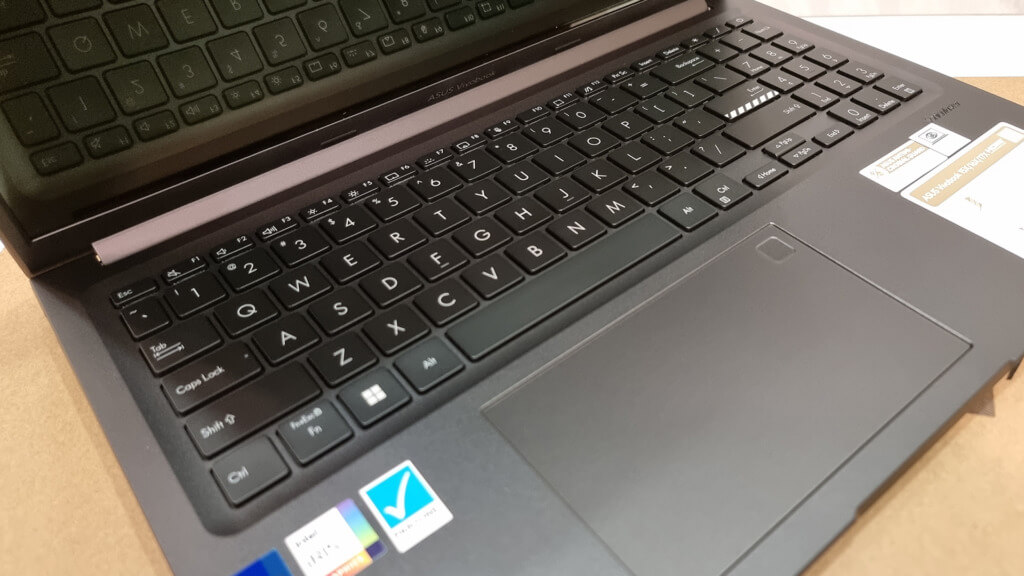 Sound is an integral part of the overall computing experience, and ASUS has addressed this with the help of audio experts at Dirac. The audio system on the Vivobook 15X OLED delivers immersive, clear, and balanced sound that takes your auditory senses on a joyride. Whether you're catching up on your favourite podcasts, listening to music, or engaging in a high-octane gaming session, the audio quality will leave you impressed.
Designed for the long haul
One of the standout features of the Vivobook 15X OLED is its robust 50Wh battery. Equipped with fast charging technology that can replenish 60% of the battery life in under an hour, this laptop ensures you're always ready to seize the day, no matter how demanding your schedule may be.
We tested this by running the laptop until the battery drained out. Plugging it in, we watched as it juiced up from zero to 60% in just 49 minutes, as promised by the specs sheet. But we didn't stop there. We let the charger stay plugged in, and within approximately an hour and a half, the battery was fully charged and ready for another round of rigorous work and play. This means you could be back to full charge within a short coffee break, bringing the phrase 'time is money' to life.
The fast charging capability of the Vivobook 15X OLED is a lifesaver for busy professionals and students alike. Whether you still need to plug it in overnight or have been caught in back-to-back meetings, a quick charge will have you back in action in no time.
The verdict: Vivobook 15X OLED
The ASUS Vivobook 15X OLED (K3504) truly shines as a testament to ASUS's innovative spirit, dedication to excellence, and commitment to user-centric design. Whether you're a professional craving power, creative seeking breathtaking visuals, or an everyday user demanding performance and reliability, this laptop checks all the boxes.
With its top-tier performance, stunning OLED display, and thoughtful, user-friendly features, the Vivobook 15X OLED doesn't just meet expectations; it surpasses them. Its power, versatility, and aesthetic appeal make it a prime choice for those seeking a laptop that can effortlessly glide between work and play.
As the digital landscape continues to evolve, the ASUS Vivobook 15X OLED is a laptop that is ready to adapt and excel, providing a computing experience that's as efficient as it is enjoyable. With this dynamic powerhouse at your side, you'll be ready to take on the world. So set your imagination free, and let the Vivobook 15X OLED be your enabler to achieving your goals.