Projectors are no longer only AV devices placed on a desk or hung from the ceiling. Instead, they are now portable and may be taken to almost any place.
BenQ, a proponent of such projector portability, has released several products that match the bill. However, while most have had good visuals and sound at best, BenQ hopes that the new BenQ GV11 with an even smaller form factor than its predecessor, the BenQ GV30, will change this.
Projection System: DLP
Resolution: WVGA (854×480)
Contrast Ratio: 100,000:1
Throw Ratio: 1.3 (35″@1M)
Zoom Ratio: Fixed
Input Lag: 51 ms (1080p@60Hz)
Speaker: 270-degree 5W speaker with Bass Extensions
Inputs: 2x HDMI, USB Type A-1
Dimensions: 113.5 x 153.3 x 140 mm
This new battery-powered device offers a video playback length of up to 160 minutes and a sound system with treVolo-tuned audio settings, capable of 270° booming bass extensions. In addition, you can watch videos from various streaming providers on the built-in Android TV 10 and use Google Assistant voice commands and Chromecast.
Unique form factor with its round shape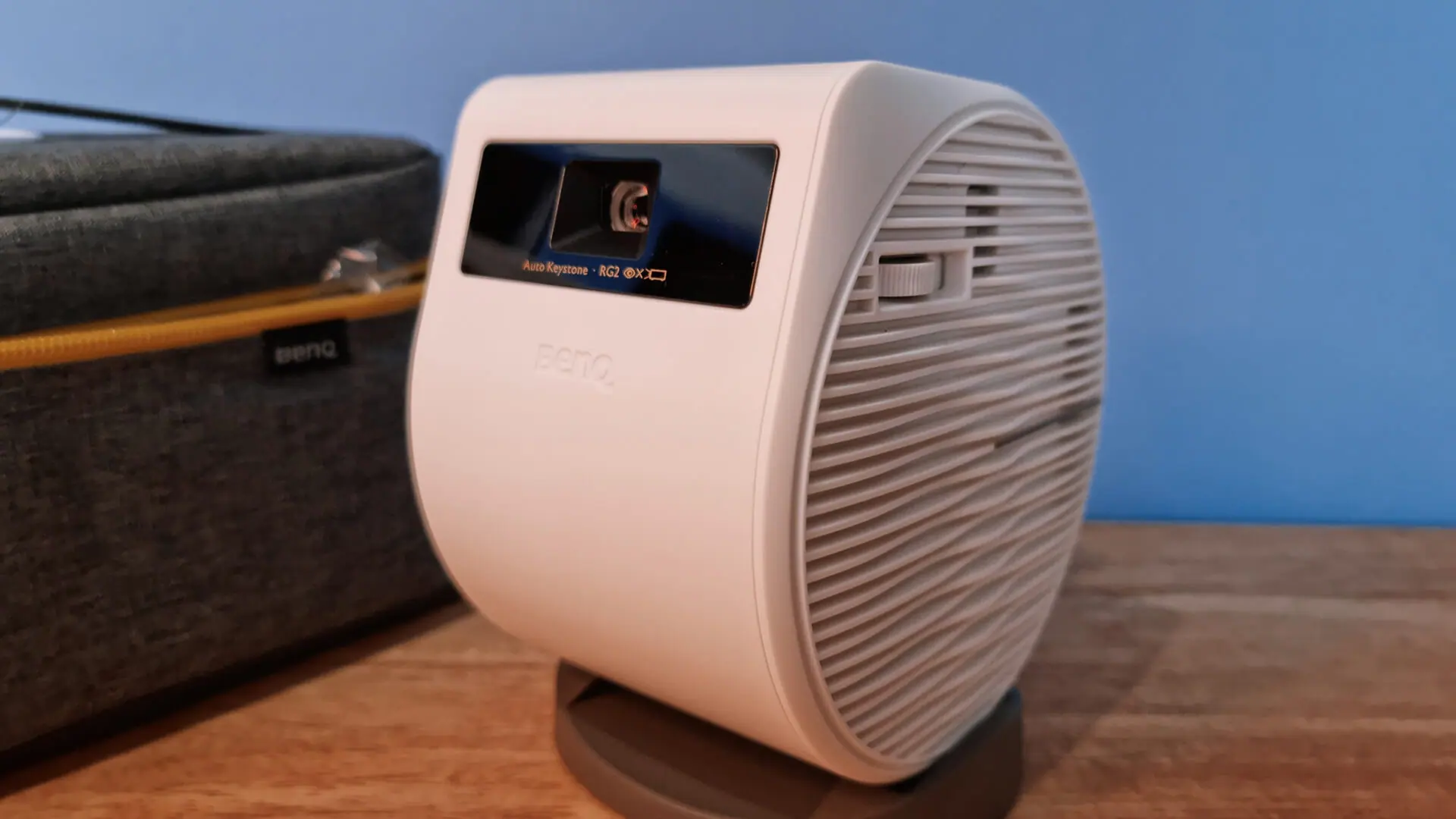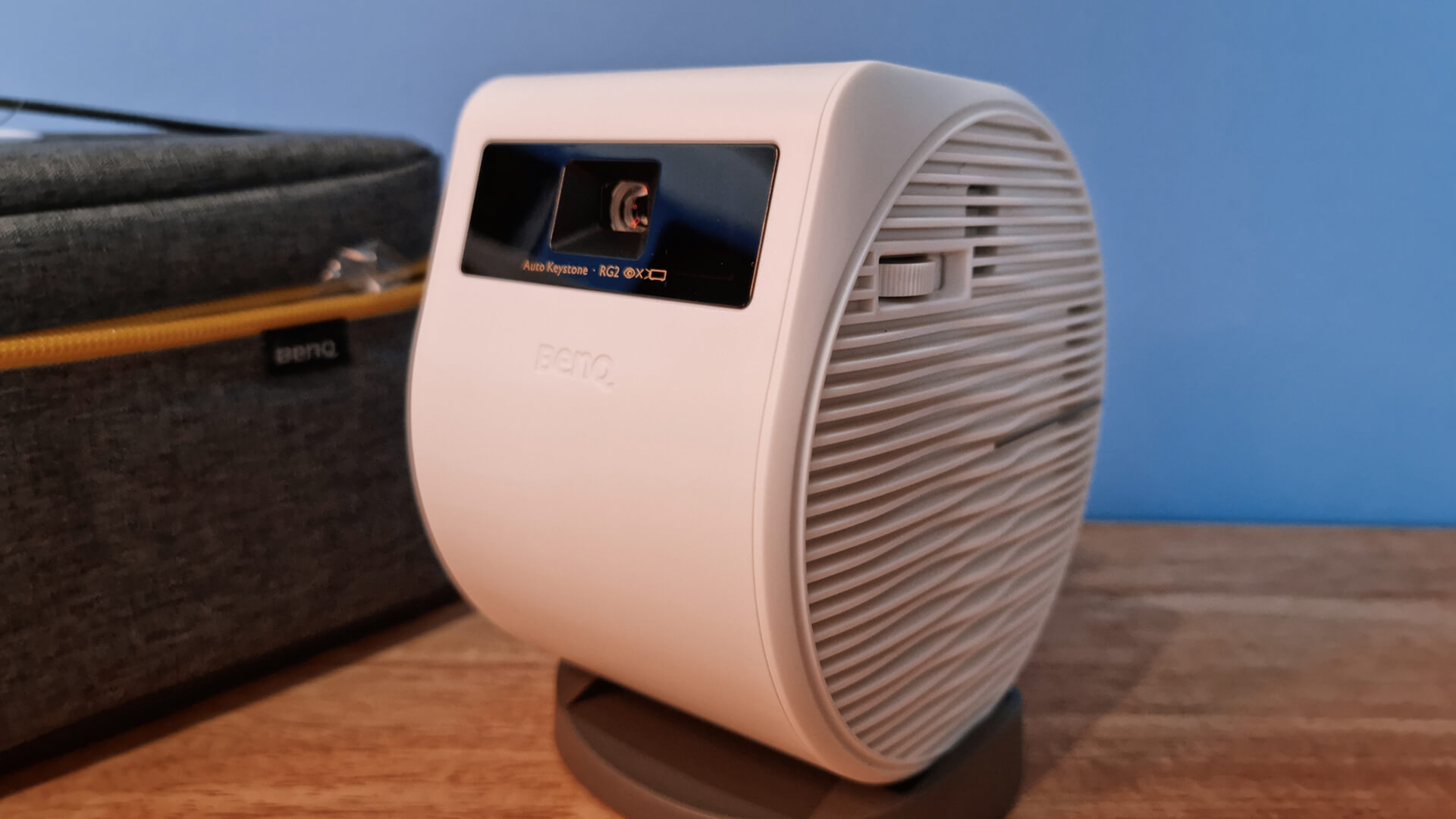 The near-circular form of the GV11 is not a gimmick; it is superbly functional. Unfortunately, many portable projectors are difficult to set; on a table, the projected screen may be excessively low, forcing you to push the device up on a couple of hardback books or even more alarmingly slanted upward by shoving stuff under one side or the other.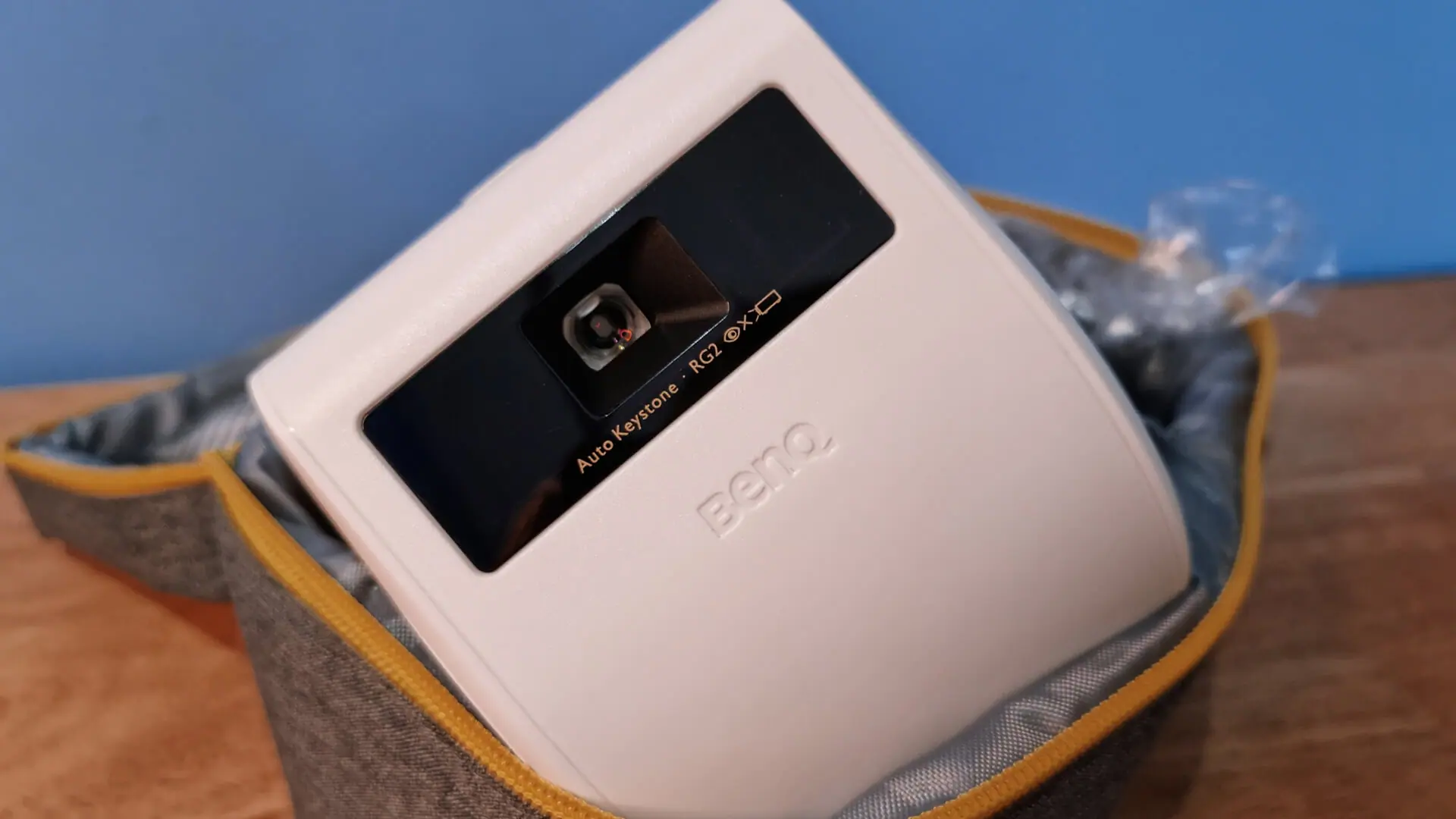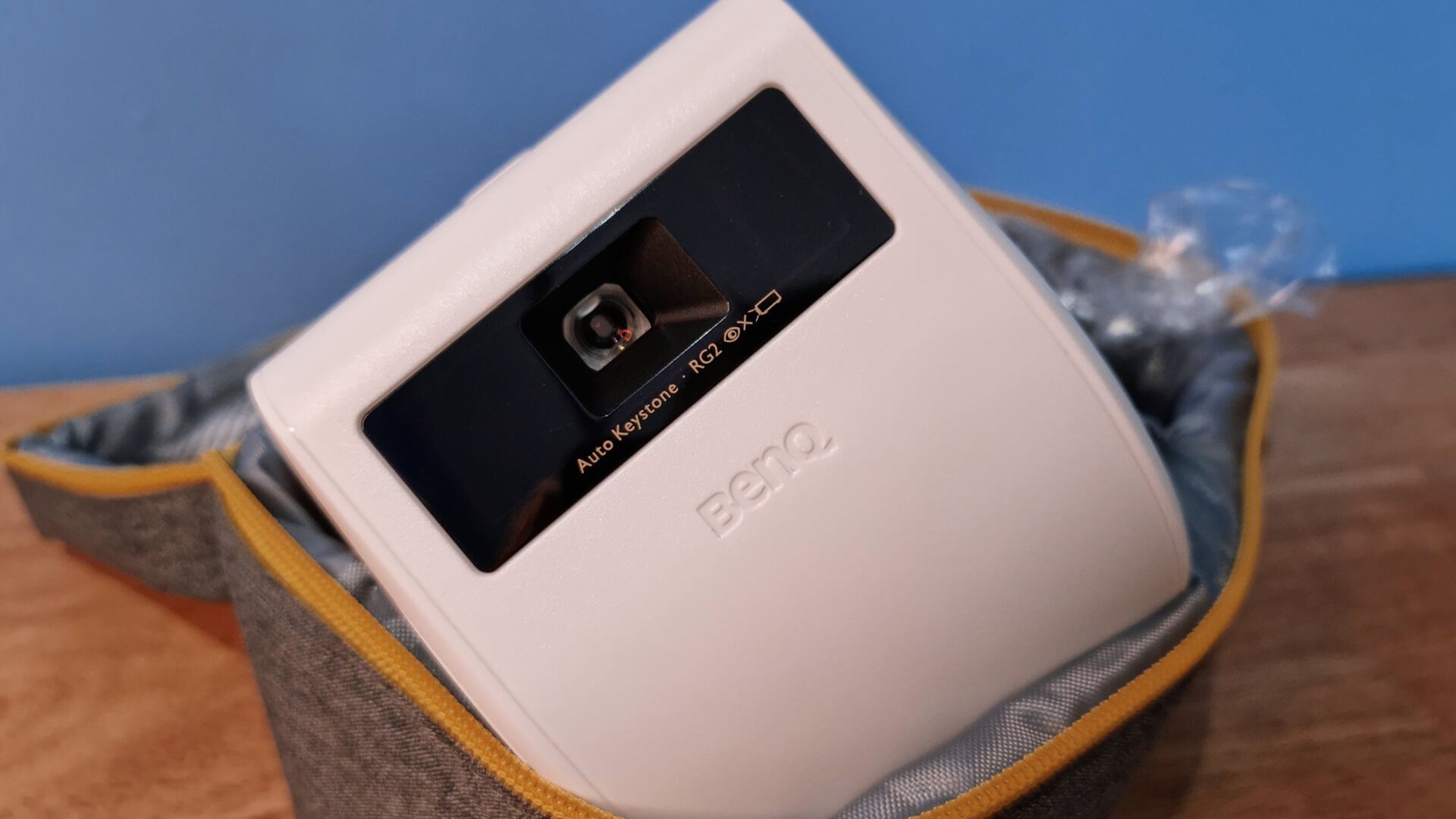 By rotating the projector on the base, you can project at any angle, but if you set the base at the edge of a table, you can go much further, from virtually straight down (to project on the floor) to straight up the ceiling. Keystone correction to square off the image is enabled by default; however, manual correction can be used instead.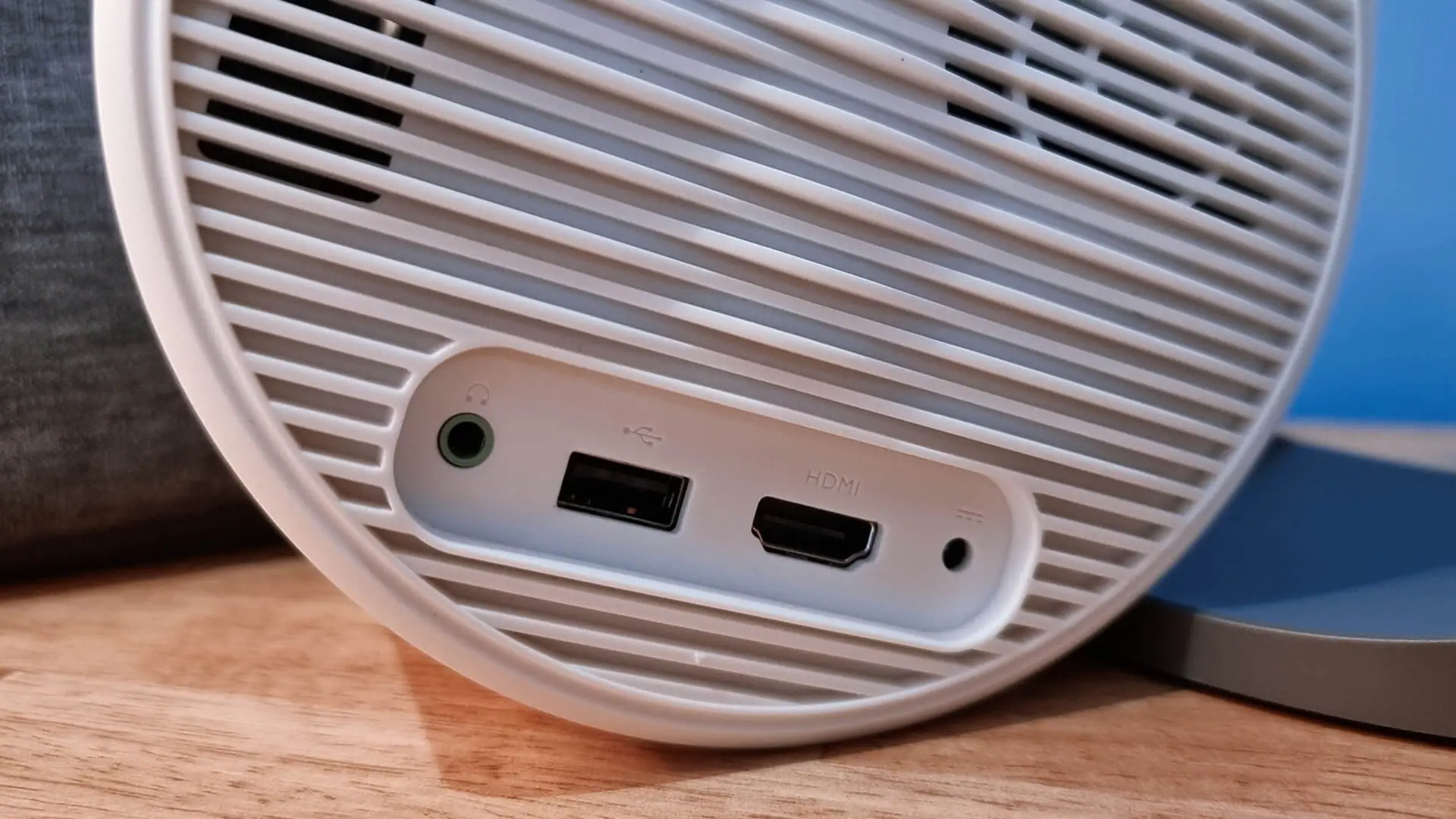 In terms of design, the new projector appears to be pretty similar to the BenQ GV30. It has the same round design, side speaker grills, and ports like a 3.5mm audio jack, USB, HDMI, and DC power. However, these projectors have significant differences. The new BenQ GV11 weighs only 0.97 kg and measures 113.5 x 153.3 x 140 mm, making it more compact than the BenQ GV30. Furthermore, it runs more silently at 23 dBA.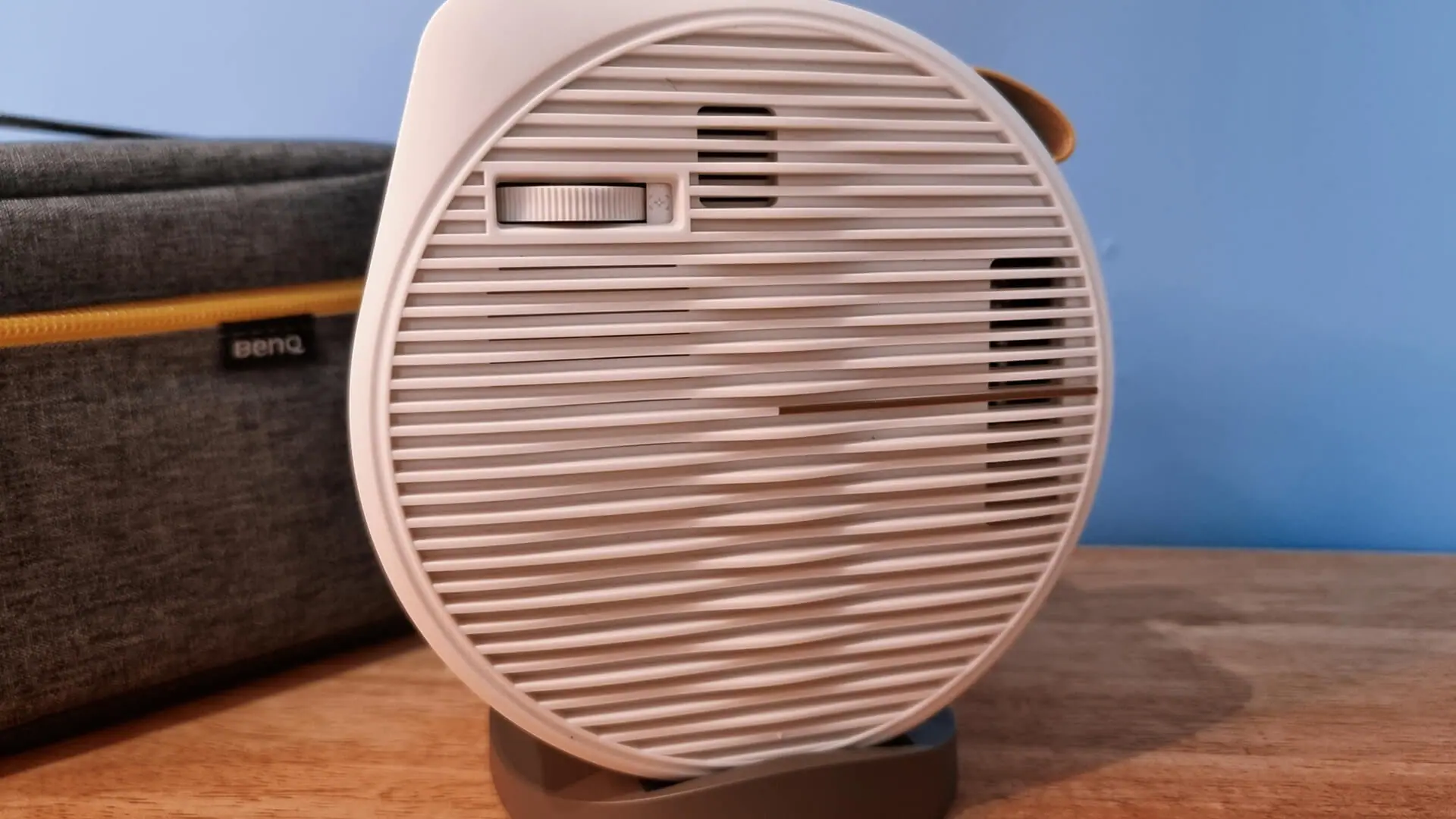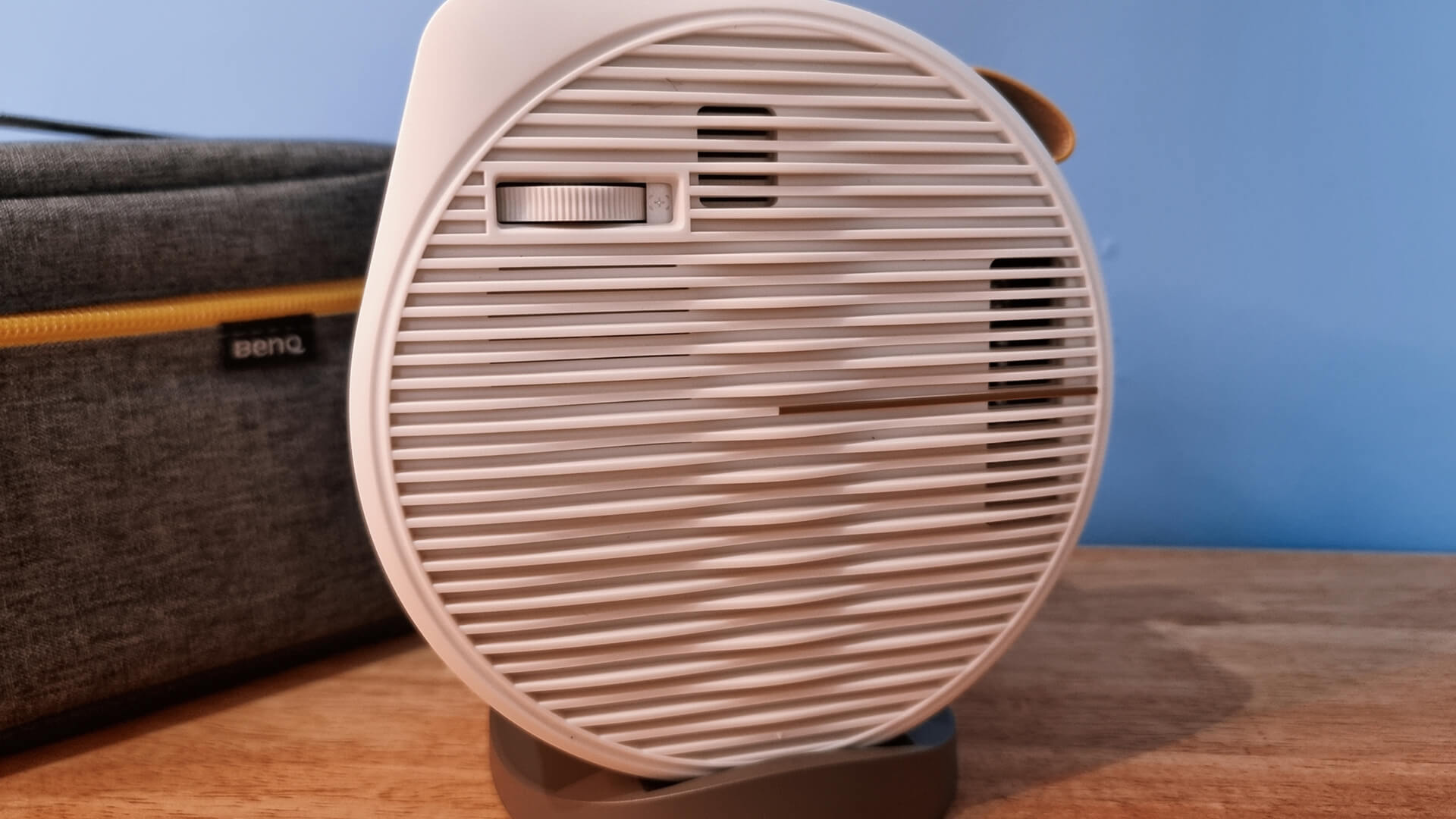 The two side panels of the BenQ GV11 are densely packed with linear vents to ensure heat dissipation and silent operation. It includes a little leather handle on the upper end, making it easy to carry and transport. It has an entirely white body and a brown base, and the color matching is delicate and brief.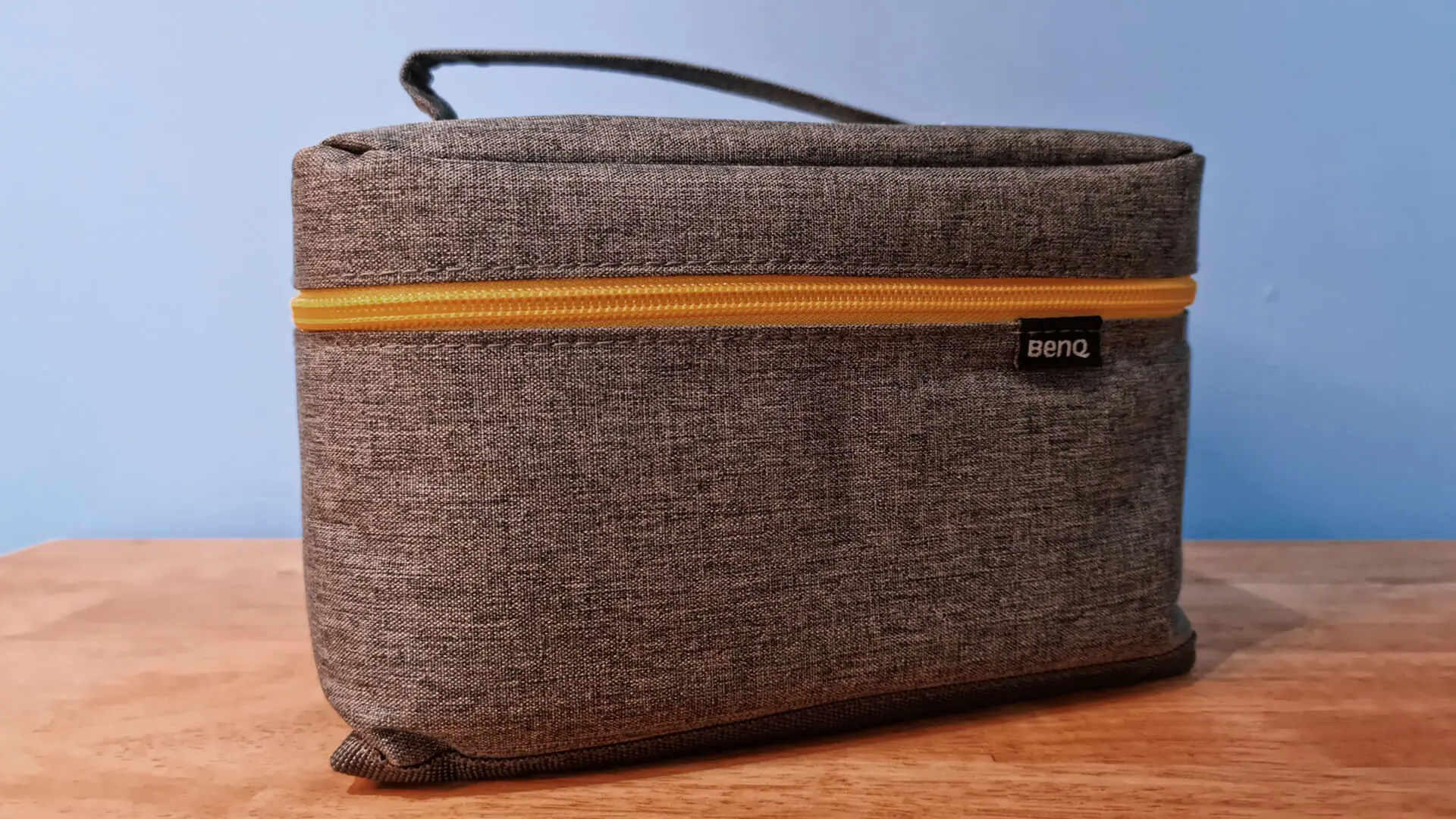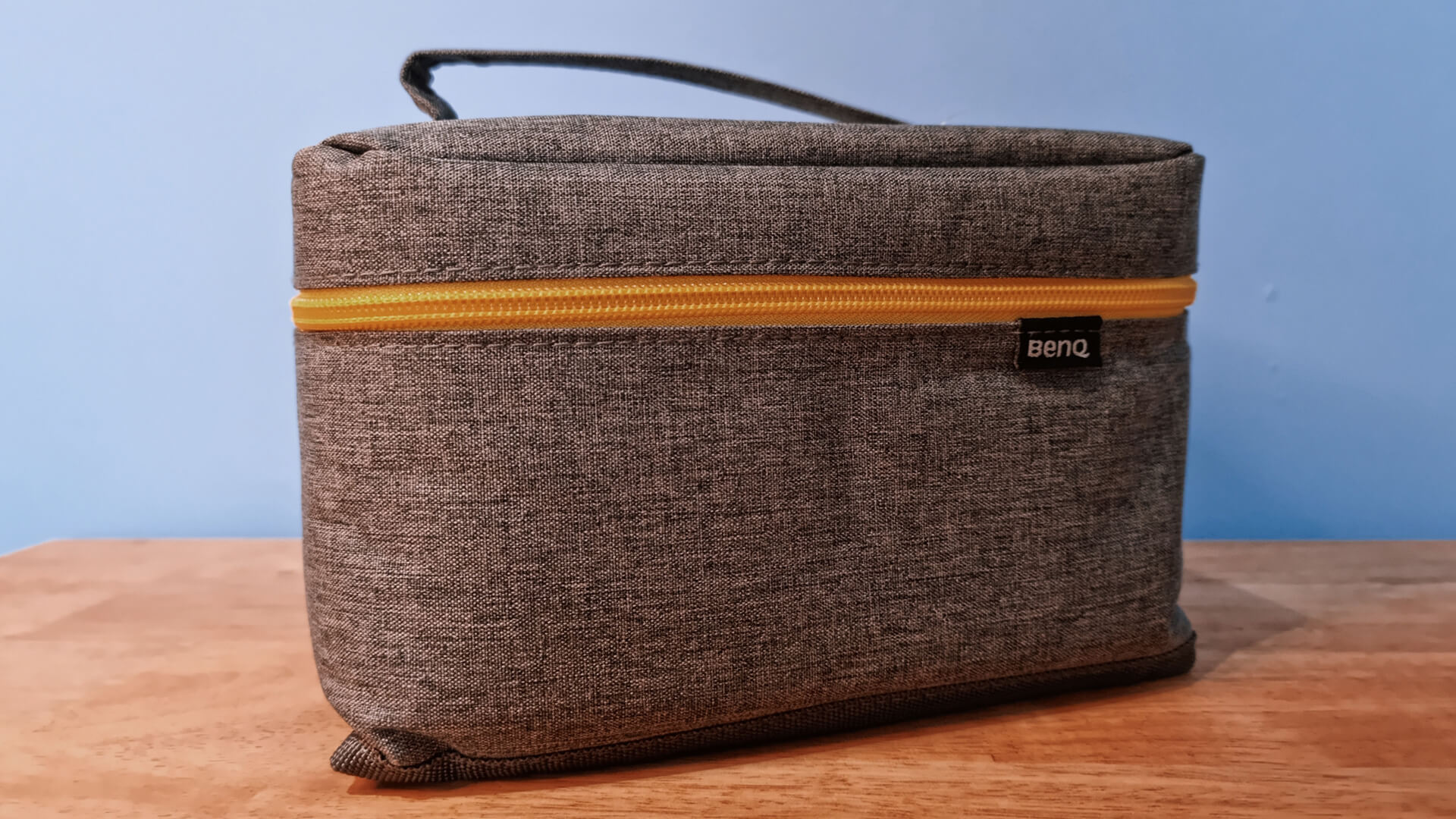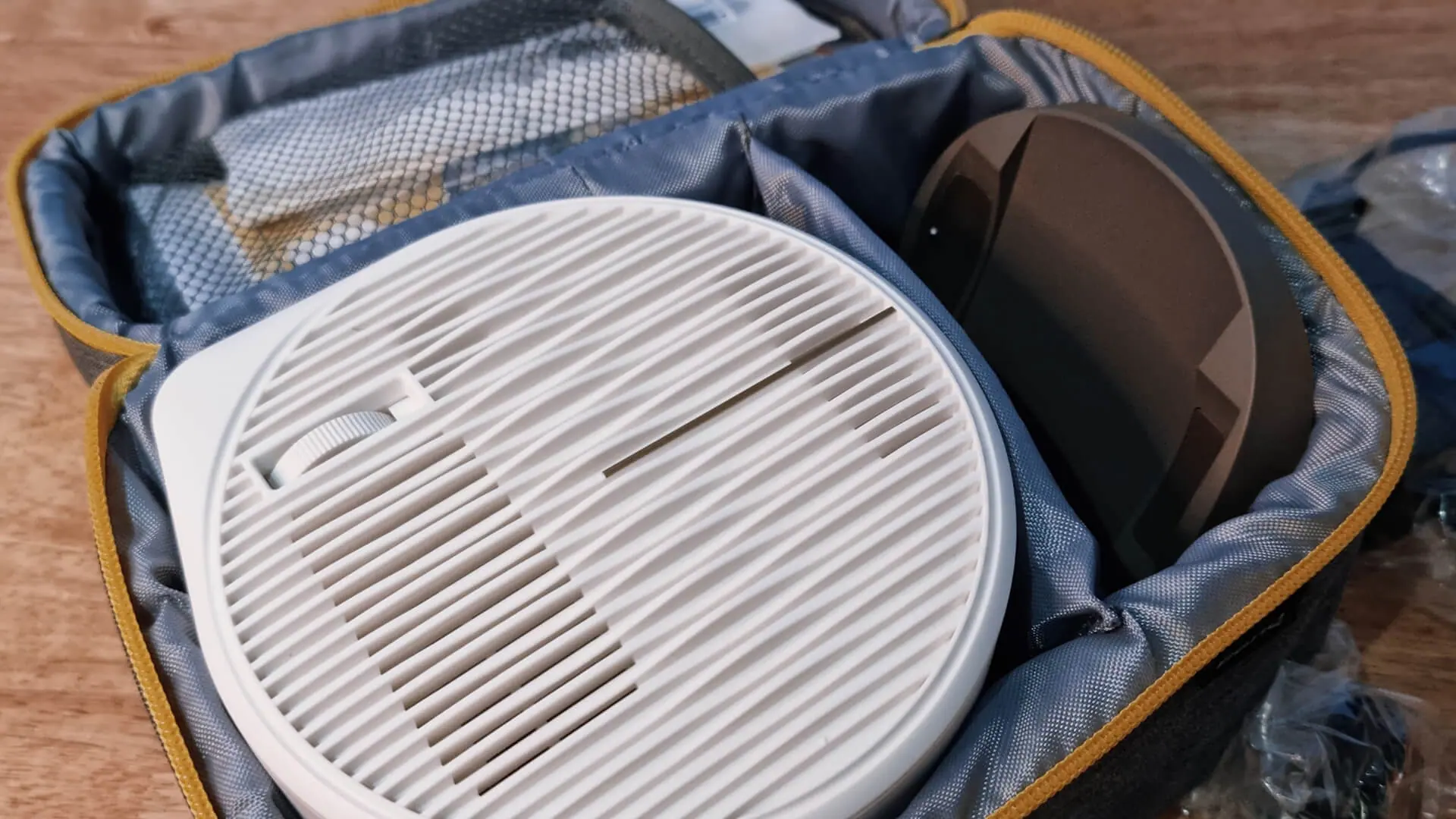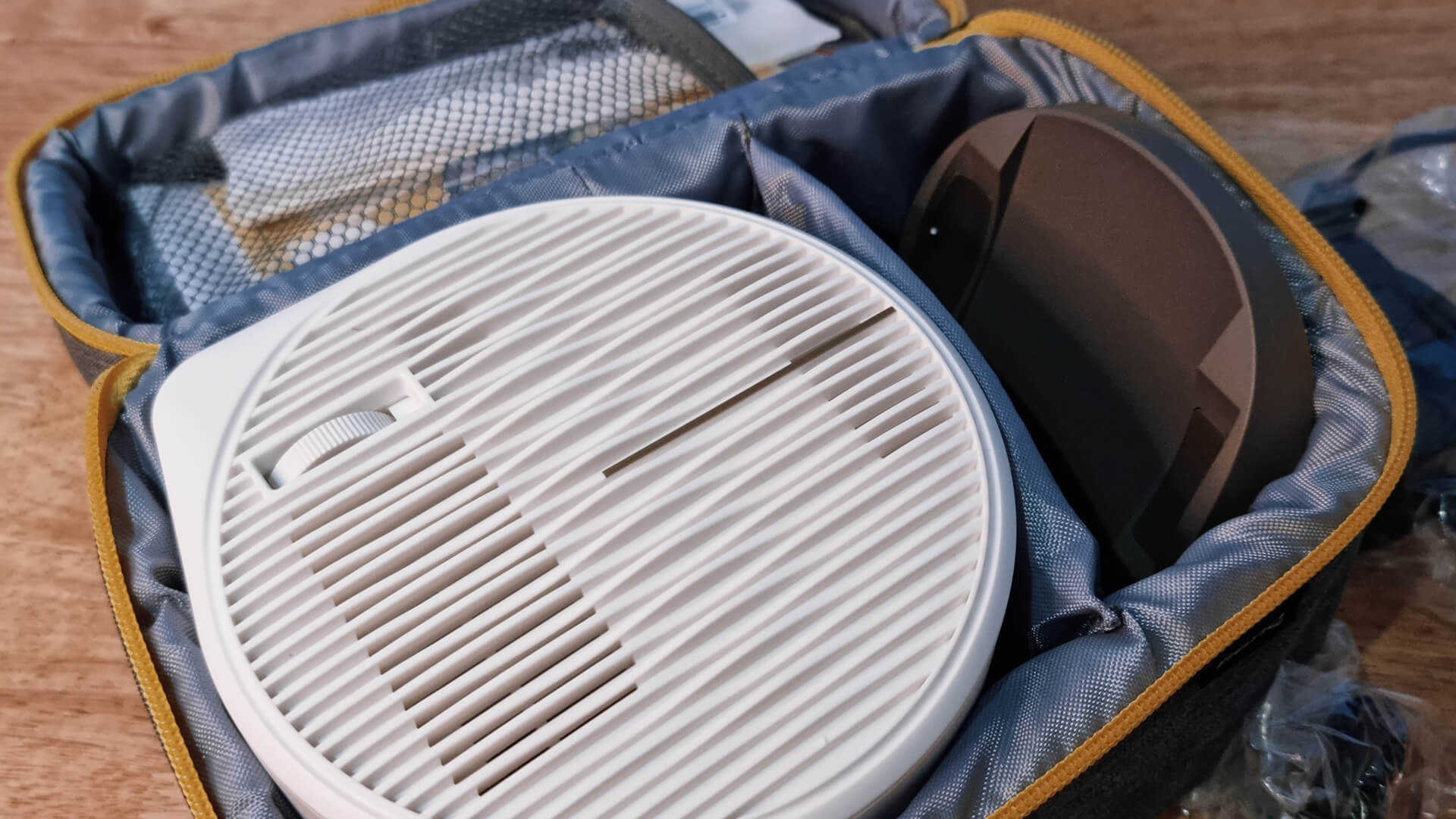 The portable projector also includes a carrying case and ready flexibility, so you can sit back and enjoy your favorite movies in your private resort anytime and anywhere. The portable device is battery-powered and can play up to 160 minutes of video or 240 minutes of audio.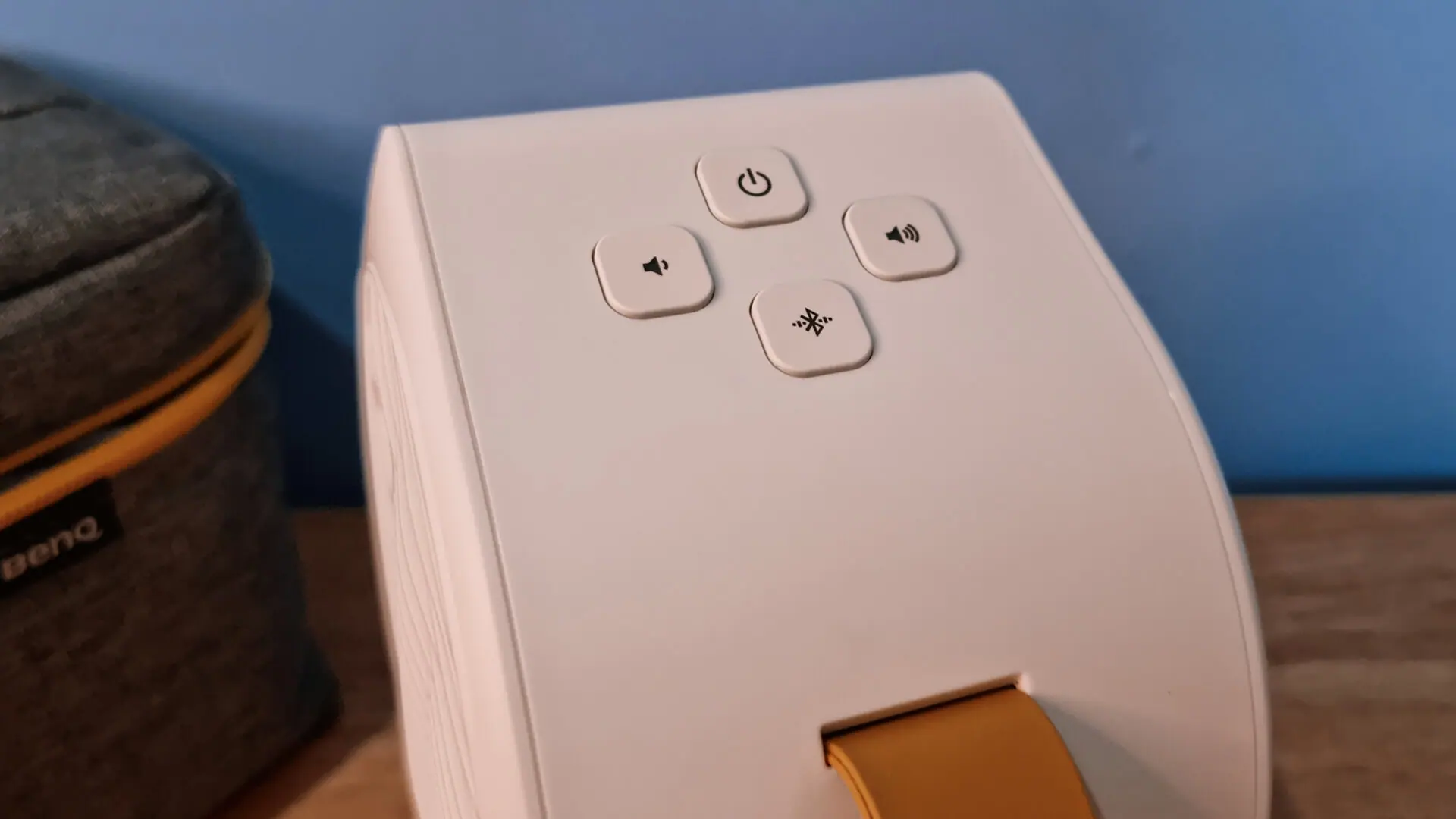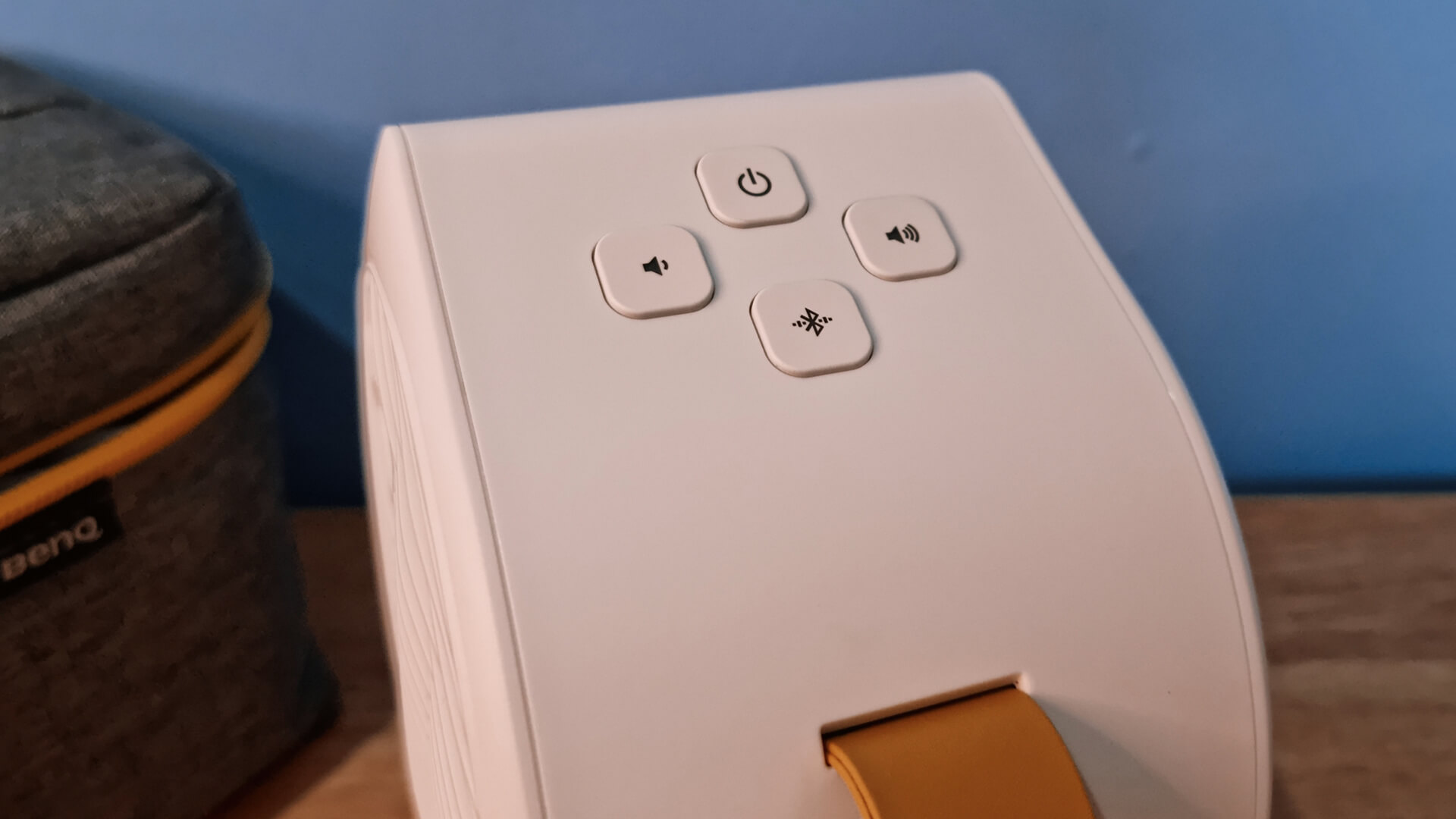 On the top, there are four buttons: power, Bluetooth pairing, and volume up and down.
Decent visual at 480p with an incredible range of projection angles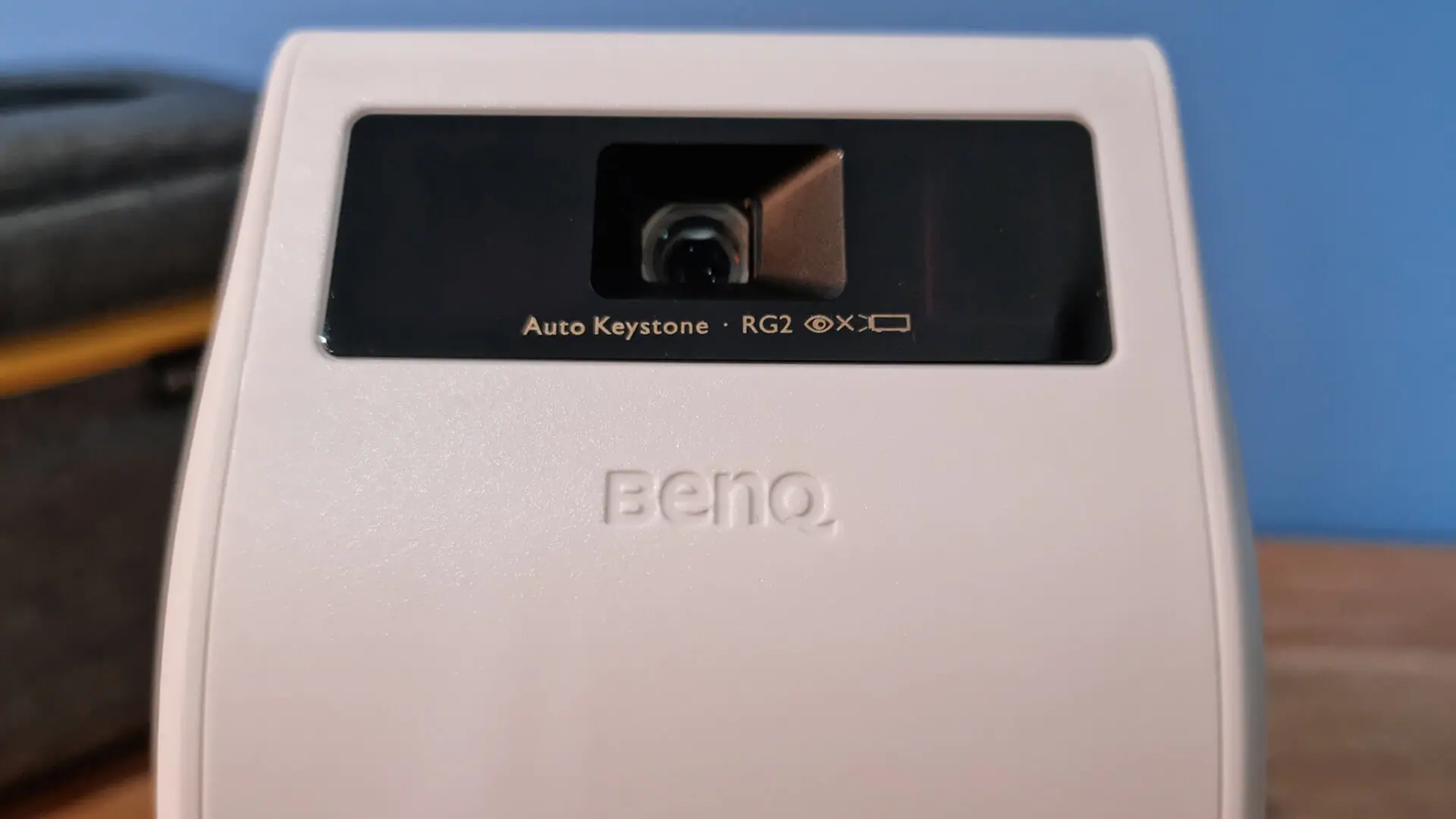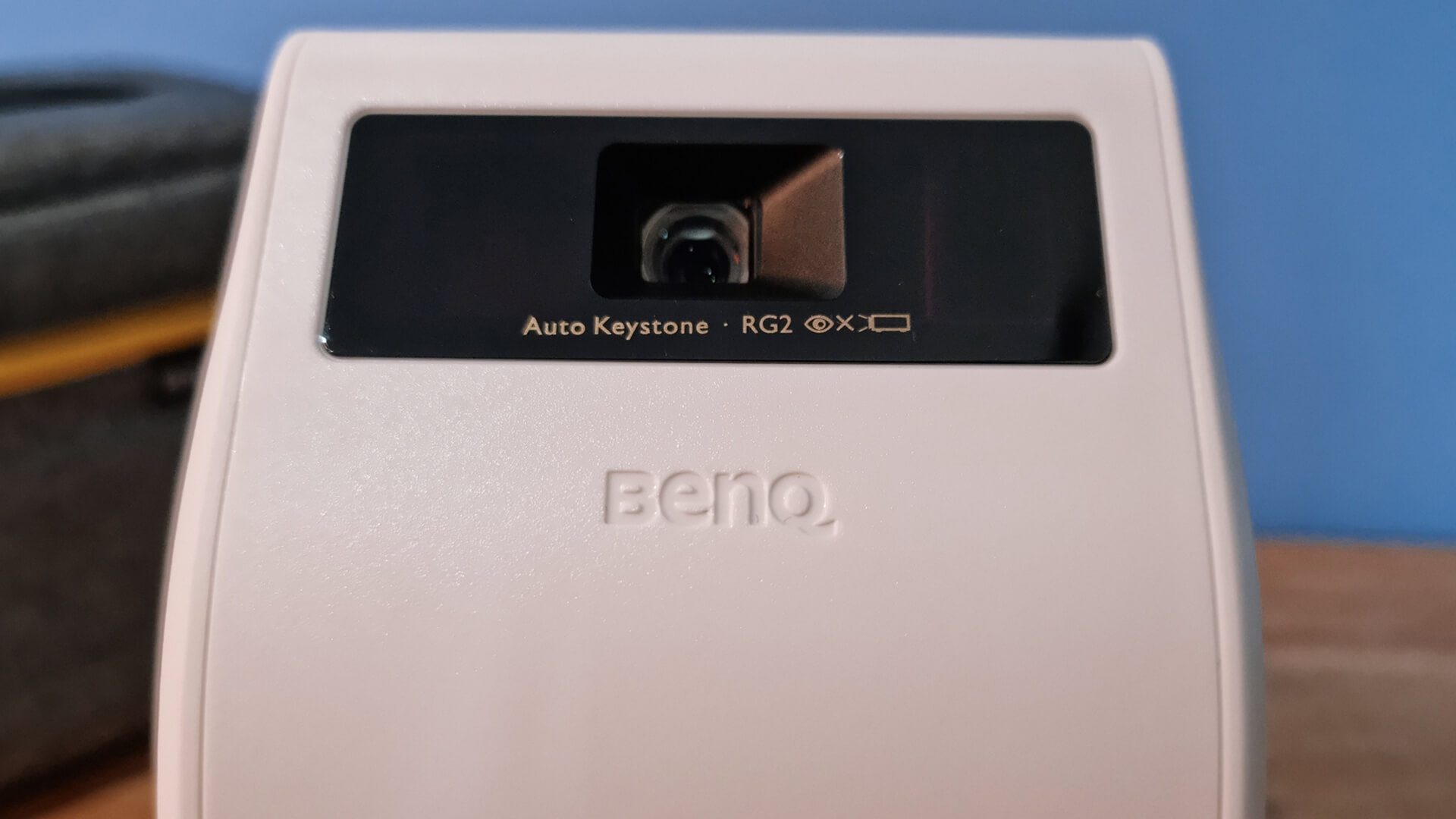 The BenQ GV11 is a portable projector with a native resolution of WVGA (854×480) and a compatible resolution of up to 1080p. The projector has a brightness of 200 ANSI lumens and displays 480p images with an LED light source, which is an acceptable brightness for popular portable projectors. Although the resolution on paper is not as high, it is not a deal breaker, considering its portability.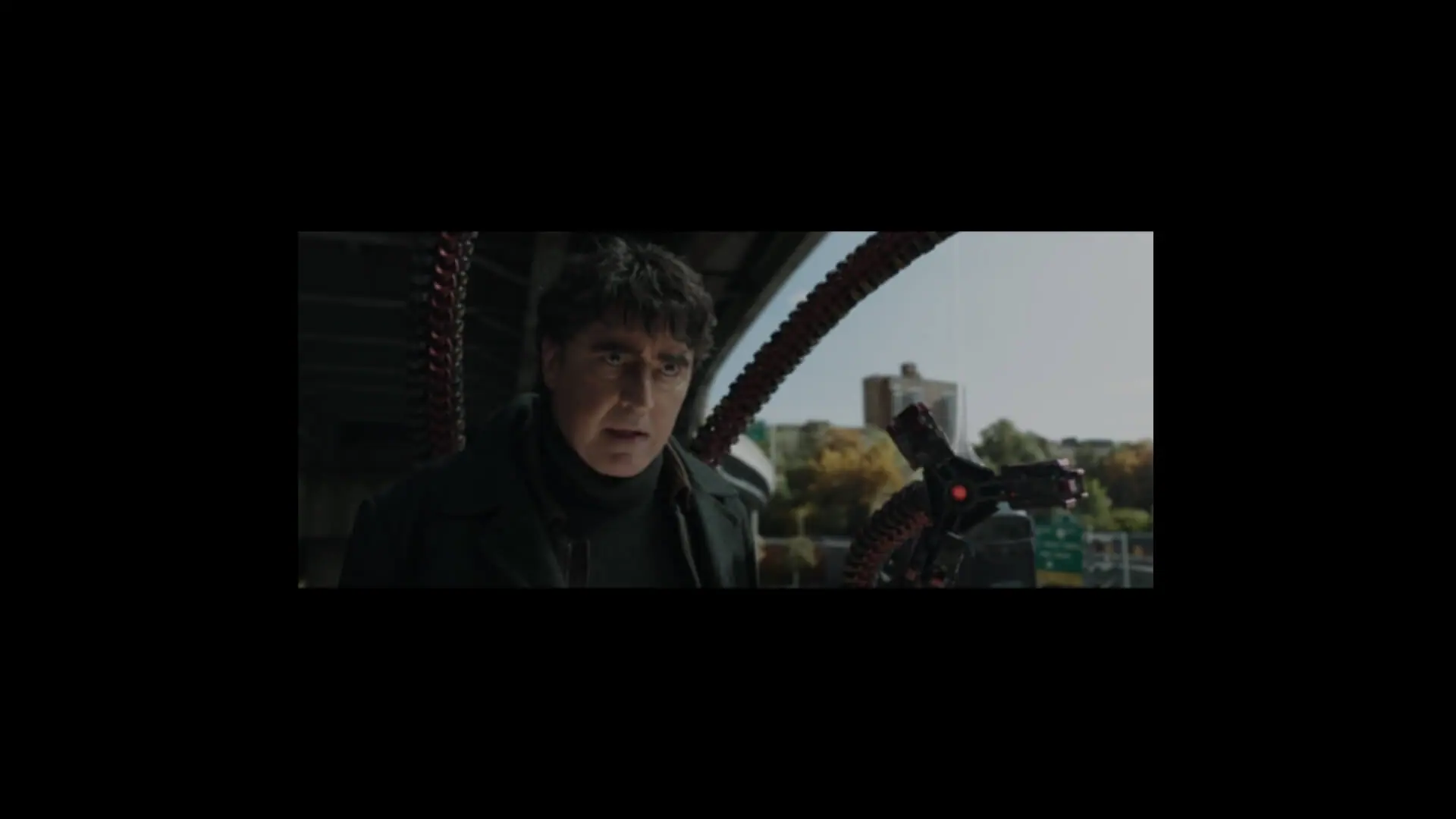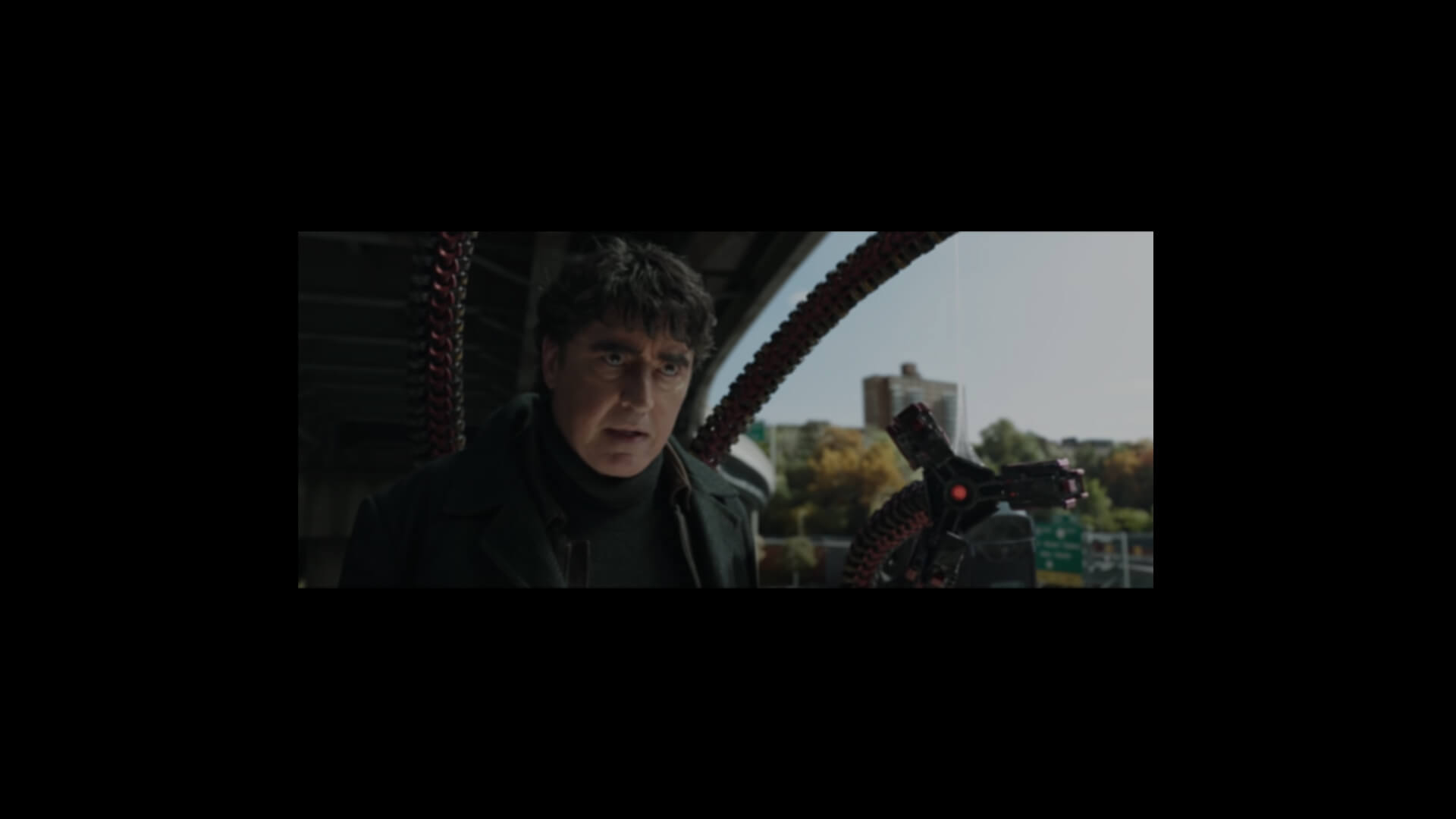 The projector boasts 92% color coverage of Rec. 709 and provides viewers with decent images. Color accuracy was easily good enough from the viewing tests to be satisfactory even to individuals with a critical eye.
Superior sound with treVolo
The treVolo sound system has a variety of audio modes and bass extensions. Additionally, sound diffusers on the sides of the portable smart projector improve audio output. As a result, the sound is noticeably better than average. However, there are several caveats once again. There's only so much stereo effect a small unit can produce, and the bass isn't particularly outstanding. Nonetheless, this compact projector has more weight, detail, and dynamic range than other portable projectors.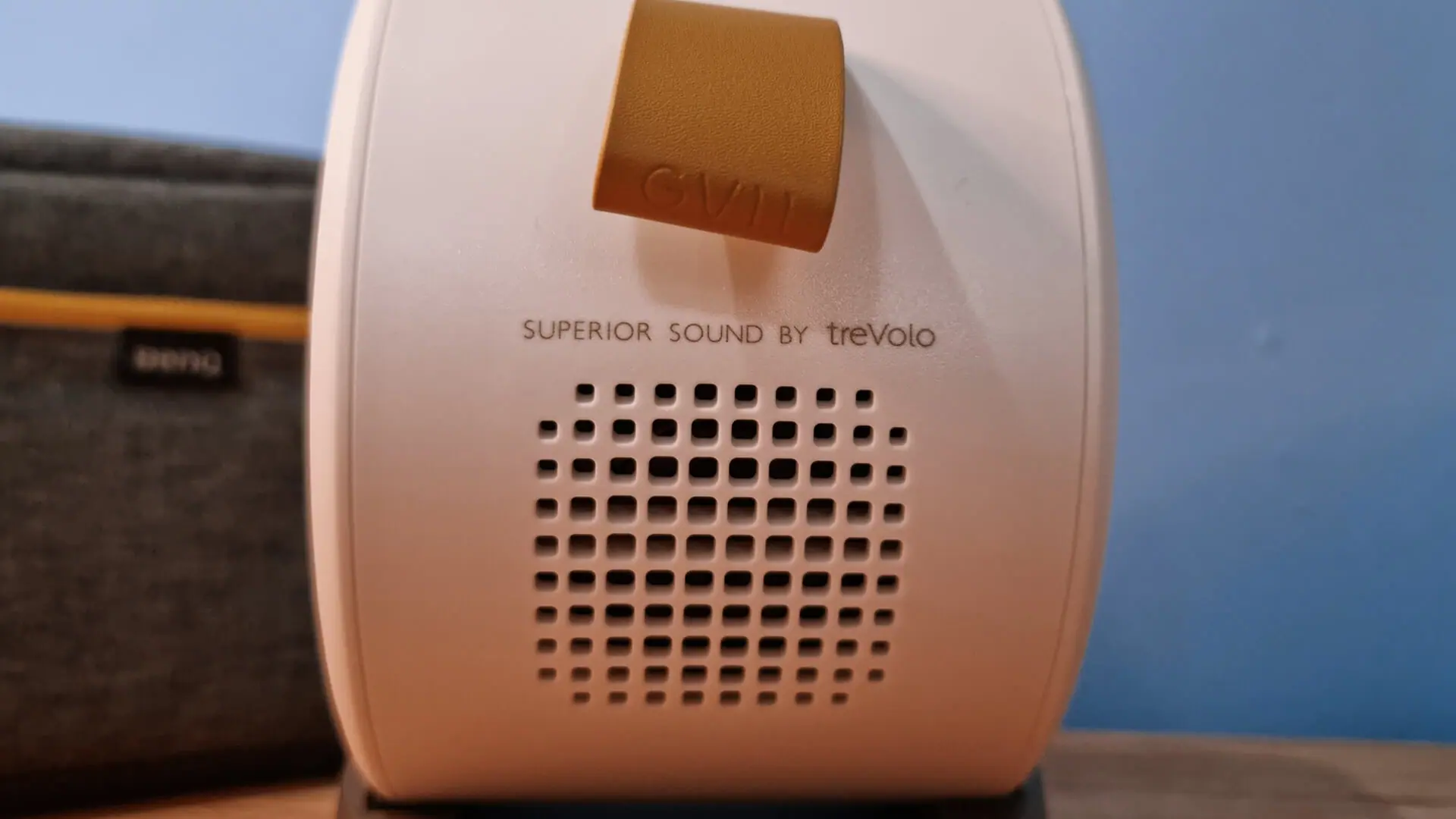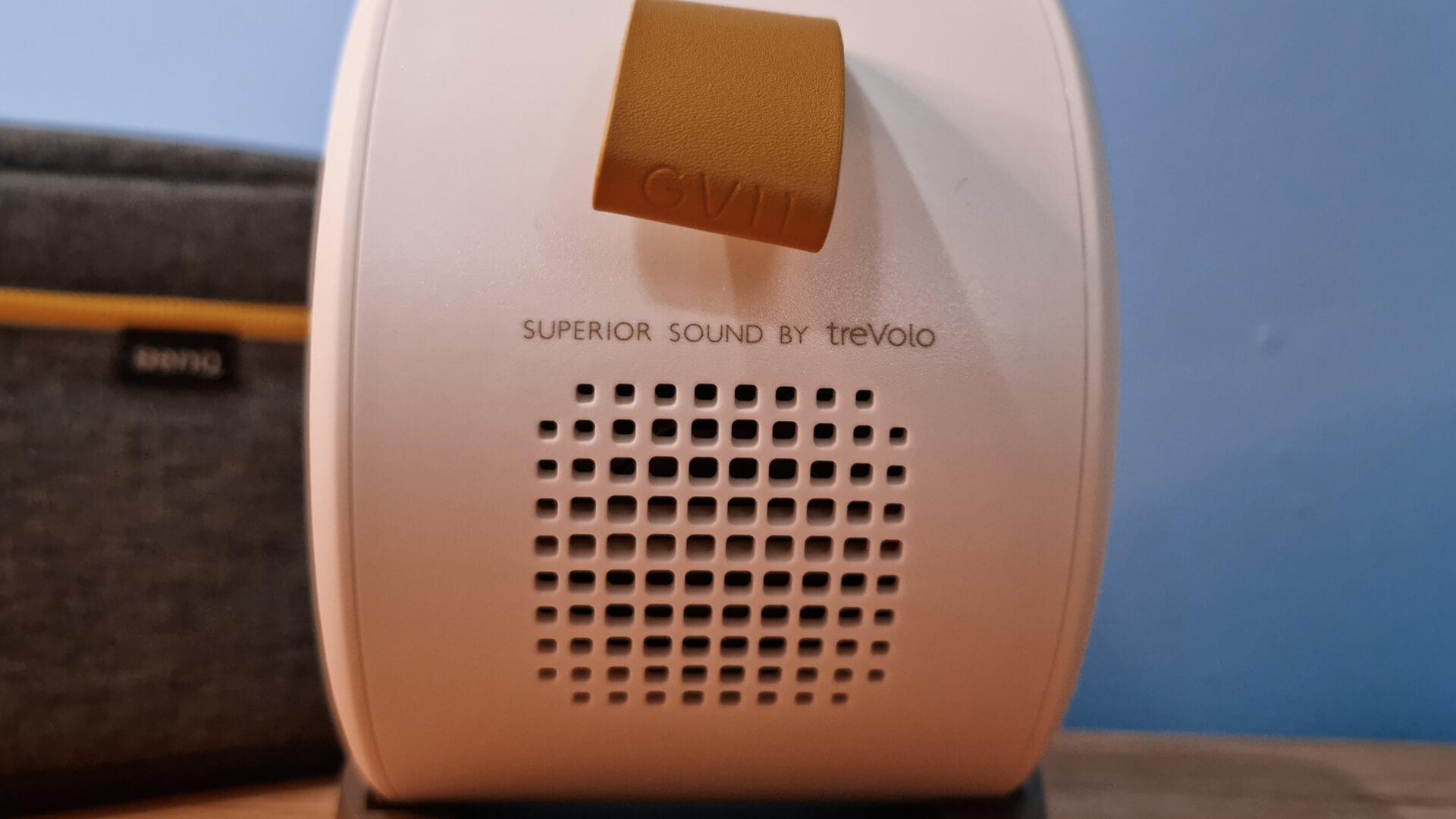 Equipped with a 270° 5W sound system with treVolo-tuned audio modes and bass-extending sealed enclosure design to offer the best audio experience for rotating angle projection, the GV11 comes with everything needed to stream endless entertainment, cast from any device, play music in a neatly integrated all-in-one device with a seamless interface, Voice Assistant, Chromecast built-in, or you can use the accompanying app.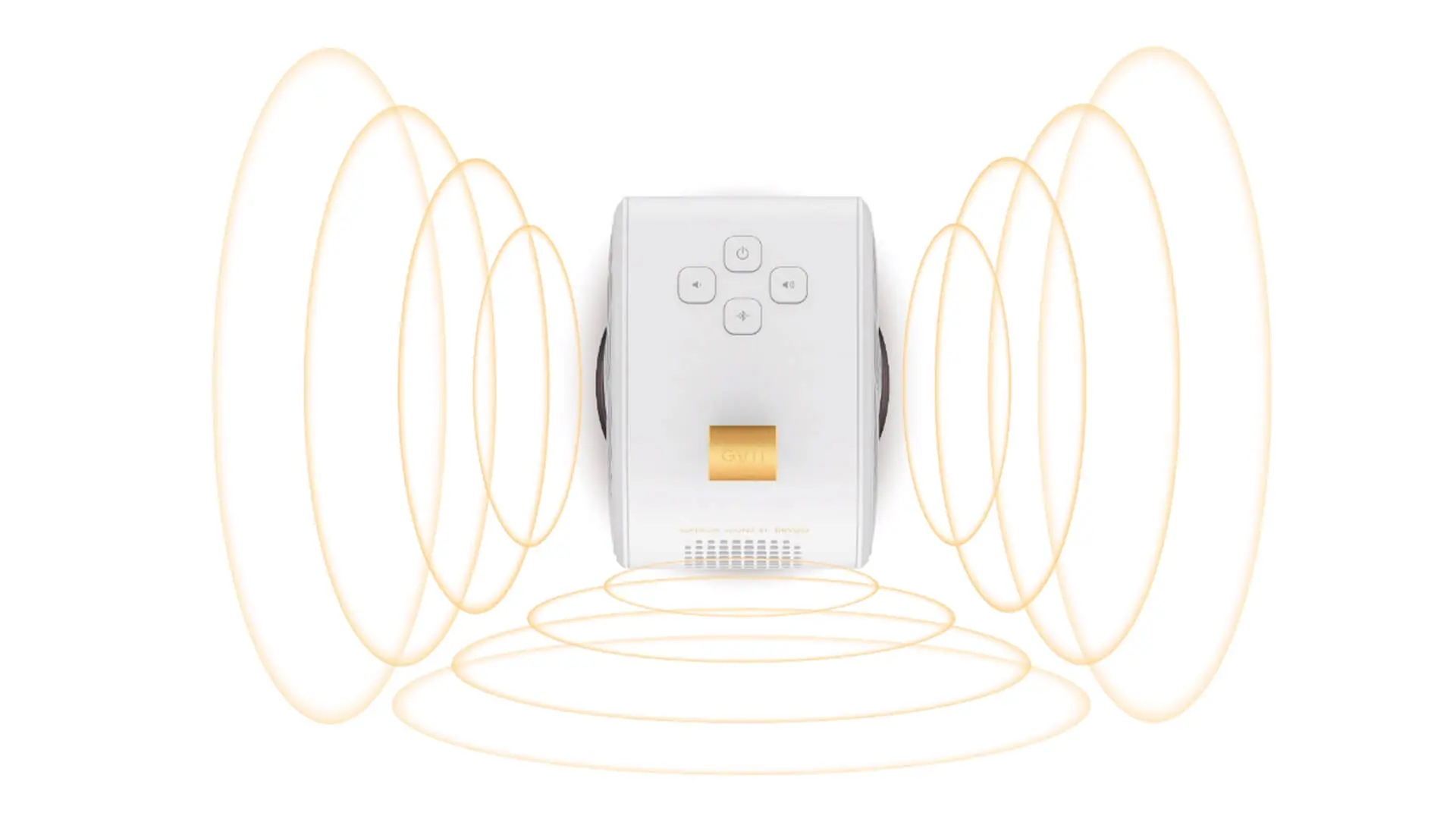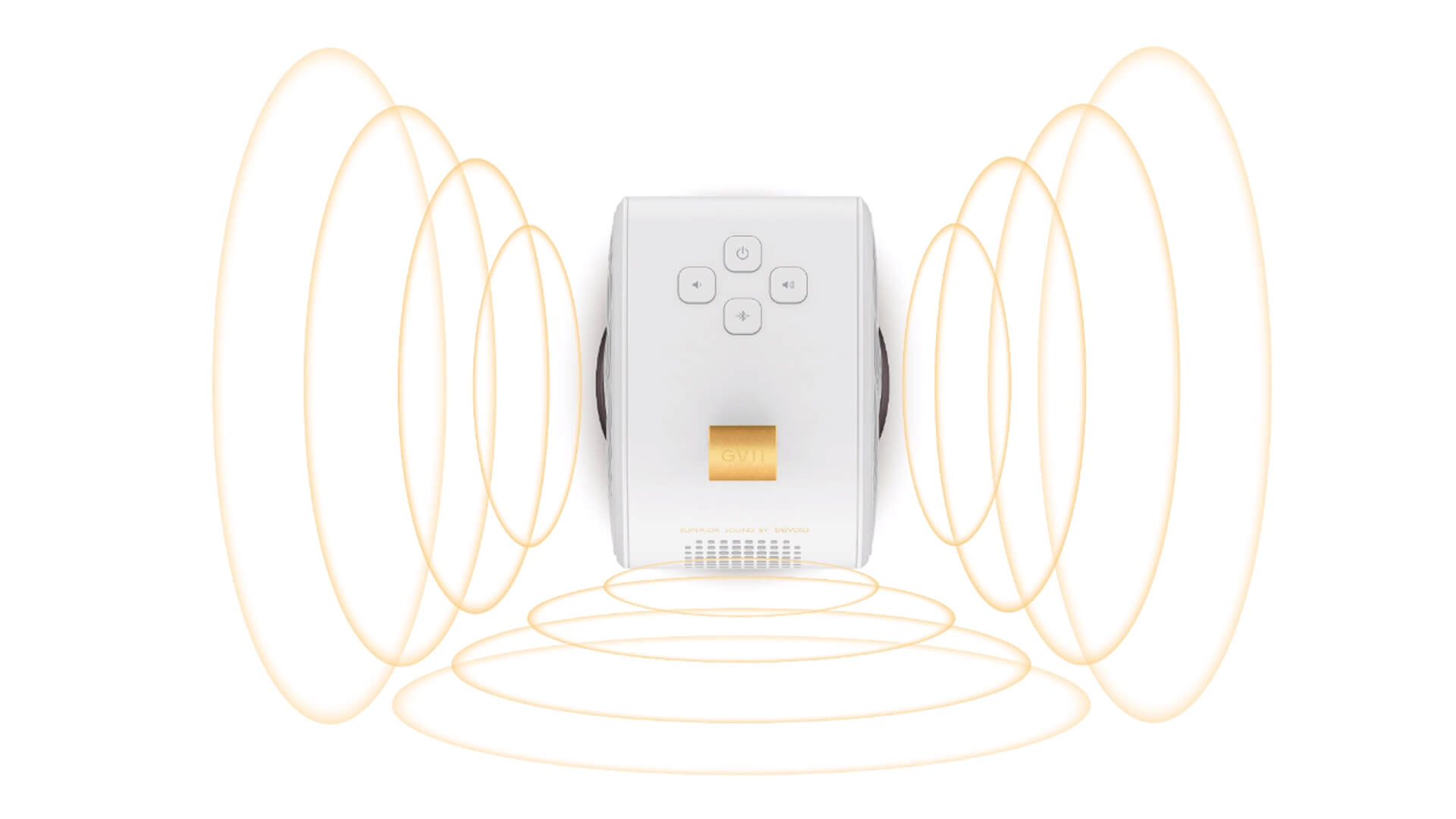 Excellent entertainment suite with Google-certified Android TV 10
Raise your head above small screens and snuggle up to supersized bedtime movies and TV shows late at night. The tiny BenQ GV11 delivers a laid-back streaming experience to your home, day and night. The GV11, powered by Google-certified Android TV 10, instantaneously provides a sea of content from over 5000 streaming apps, including Prime Video, Hulu, YouTube, and others. Unlike other low-cost projectors, the GV11 delivers smooth movies, TV shows, sporting events, and music without additional streaming equipment.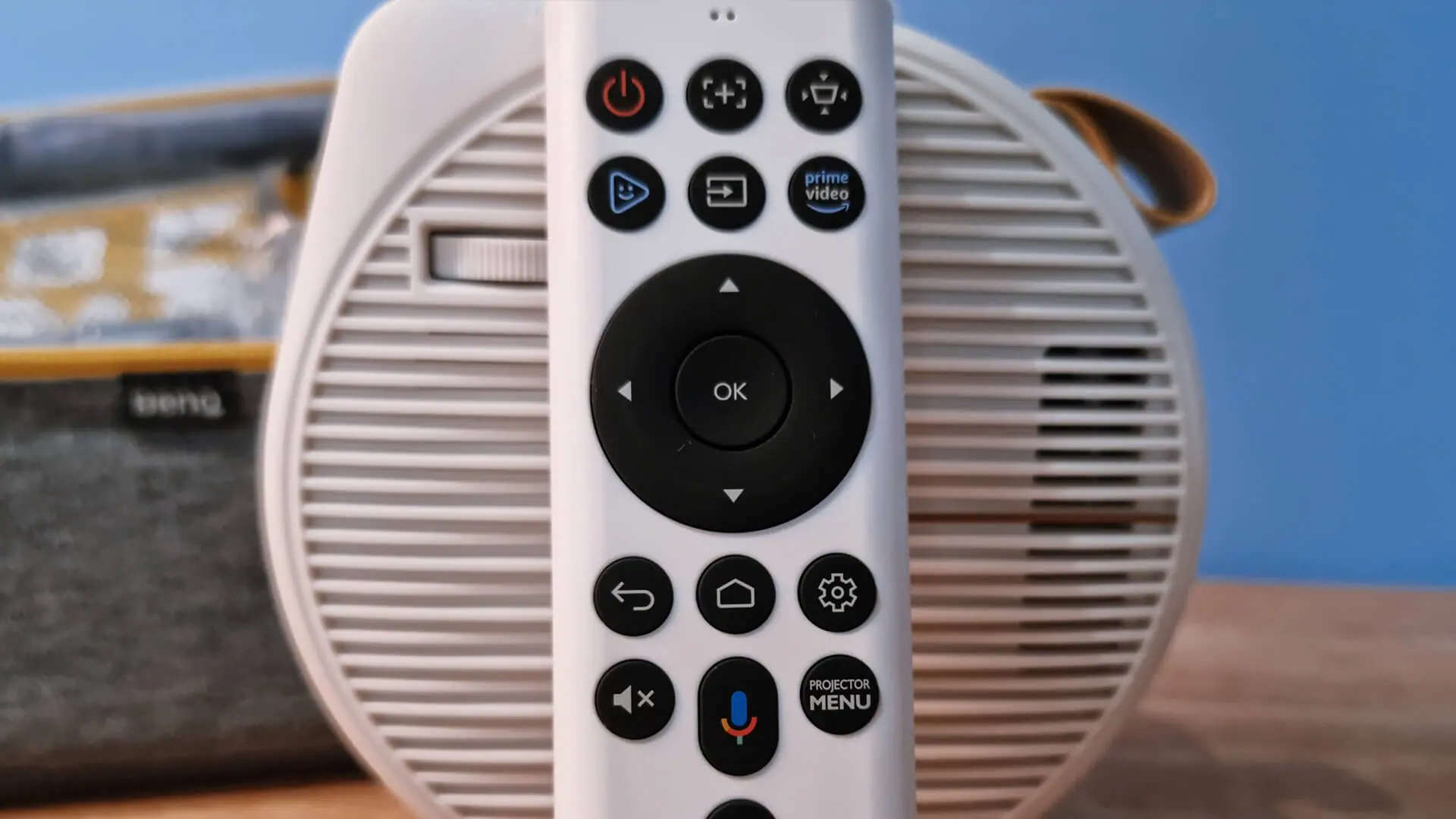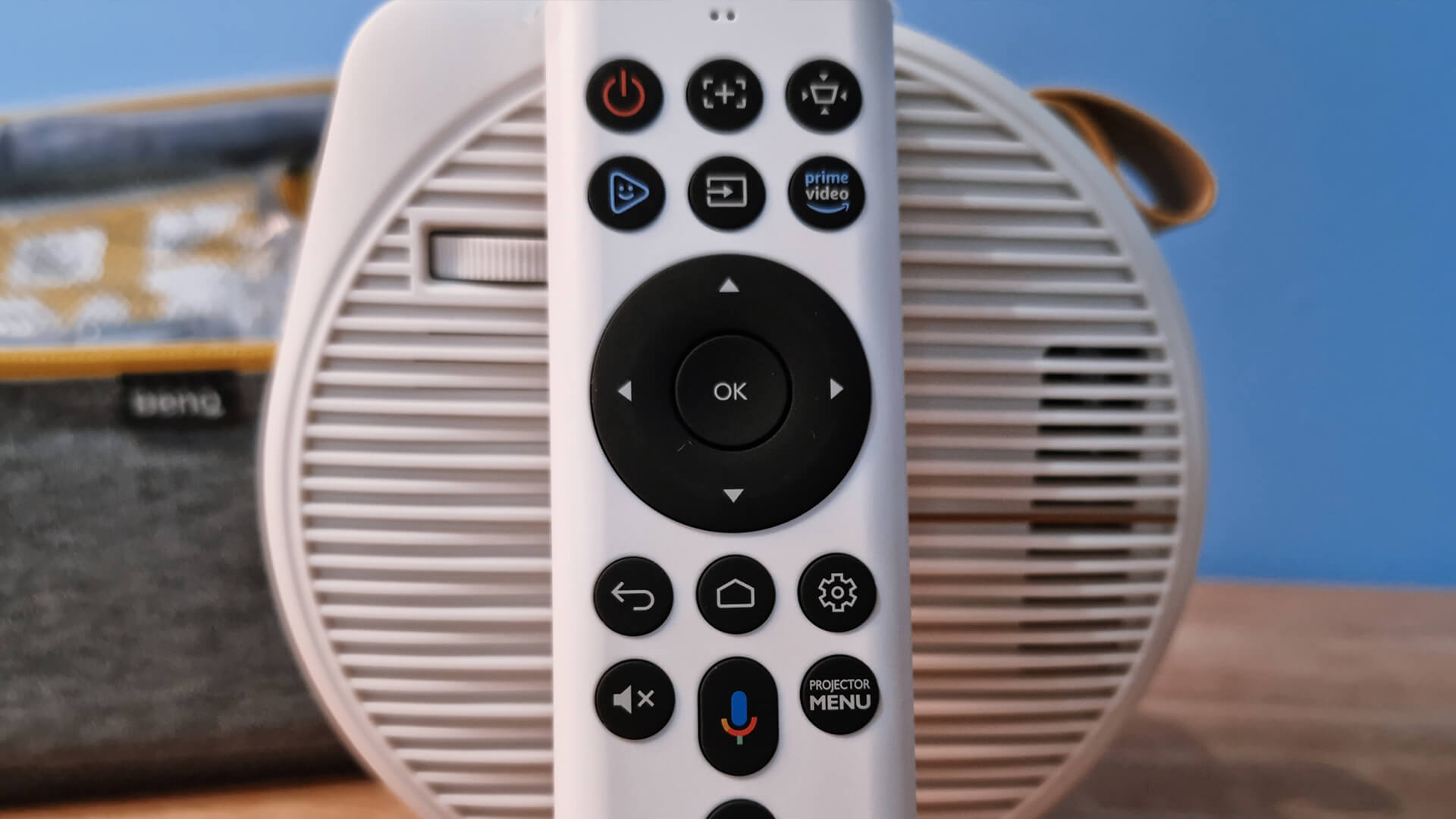 However, the first setup may take a few more steps as you will have to remove the panel to access the concealed compartment for the Android TV dongle under a panel on one side. After exposing the compartment, insert the dongle into the HDMI port, attach the USB wire already in the compartment for power, and snap the cover back on. With the dongle plugged in, switch on the power, wait for the auto-focus to complete, and then set up the Android TV, which requires a Wi-Fi network with an internet connection.
The verdict: BenQ GV11
It isn't easy to imagine a better projector for moving around the house, bringing on vacation, or watching a movie at night on the porch, in bed, or anywhere else you can think of.
The BenQ GV11 is an innovative portable projector. It is more compact than its predecessor, the GV30, and has an unusual design. Even if the picture quality isn't the best, the BenQ GV11 is an intelligent portable projector that delivers a decent sound and a more flexible, easy-going approach to projecting.
In the world of portable projectors, simplicity and ease of use usually precede performance. Fortunately, this is where the GV11 shines the brightest. The BenQ GV11 is available for pre-order with an Early Bird Offer exclusively on the BenQ Shopee store with S$70 off and free shipping till 6 November 2022.