Market instability, lower budgets, and significant adjustments in the marketing mix have made this a challenging year for marketers. A greater focus on digital marketing to promote corporate growth in 2021 is one common feature for all organizations.
SME marketers who are familiar with the Harvard Business Review's five phases of business growth, which were initially published in 1983, can mention the stages as follows:
Existence
Survival
Success
Take-off
Resource Maturity
Notably, both Success-Disengagement and Success-Growth are examples of success. The techniques listed assist business owners and marketing managers during the Survival, Success-Growth, and Take-Off stages of their company's lifespan.
Large firms or corporations are generally more distanced from the survival attitude, though that hasn't always been the case this year. Instead of beginning from scratch, multinational corporations (MNCs) expand strategically:
Expansion through concentration
Expansion through integration
Expansion through diversification
Expansion through cooperation
Although growth implies various things to different organizations based on maturity, certain universal truths apply to all marketers seeking development. We'll look at conversion, retention, and how to optimize your channels to help you expand faster in 2021.
1. Improve conversion rates by using a data-driven strategy.
If all goes right, a company that converts more internet visitors will expand. As a result, putting testing and analytics to work on your website to optimize client journeys may add a lot of value to your existing assets. Testing is a low-risk technique that appeals to low-resource firms when the need to innovate and grow is pressing, yet major mistakes might be expensive, such as in the survival stage of their development.
Conversion Rate Optimization (CRO) is a systematic testing and optimization method for enhancing a website's key performance metrics. Audience engagement, lead conversion rates, and sales or revenue and profitability are examples of these.
2. Create an omnichannel marketing plan to keep your consumers happy.
The conversion rate of your website is, of course, an important KPI for marketers wanting to expand. The next step is to attract even more quality traffic through your marketing funnel with a higher conversion rate.
To optimize your marketing channels for growth at each stage of your marketing plan, such as reach, act, convert, and engage, you'll need an omnichannel marketing framework like the RACE Framework.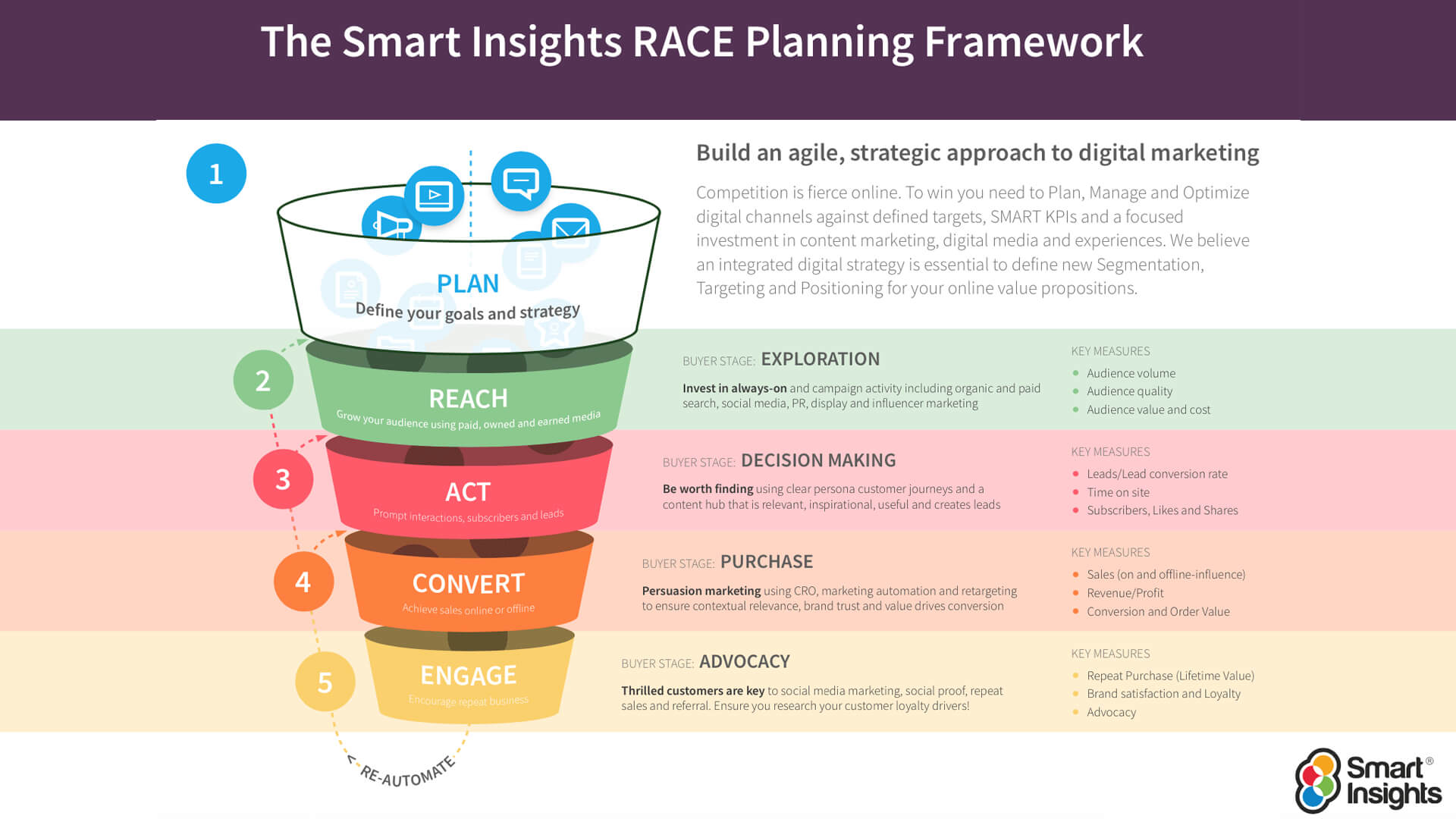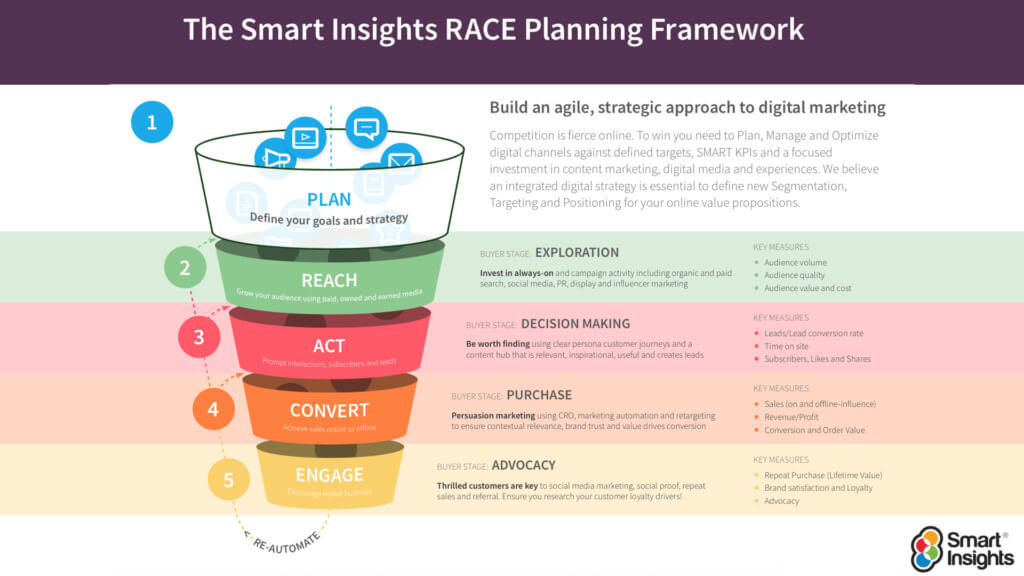 You may compare channels across all elements of their behavior, from reach to engagement, using channel-based benchmarking, such as the free benchmarking tool in Google Analytics. For example, if organic search accounts for most of your traffic, it's a critical component of your reach, with specific blogs aiding conversion and producing a high page value.
Understanding the worth of each of your channels can help you plan for development in each channel using data-driven insights in your marketing strategy. For example, which channel provides the highest return on investment? What would happen if you raised the amount of money you spent on this channel? Which channel is in desperate need of improvement? What would be the consequences of growth in this area?
3. Keep your customers
More clients are being reached and converted as a result of your efforts. The next stage is to ensure that those customer ties are maintained. Customer loyalty, after all, is critical to increasing your ROI because it is so much less expensive than acquisition.
Existing clients give a fantastic chance for diversification through up-sell or cross-sell alternatives for major businesses wanting to expand through diversity.
Product reviews, post-purchase emails, and sales are three forms of automated email content that assist create loyalty in the retail category. Email is a wonderful medium for this type of activity since there are so many segmentation choices. Social media, display advertisements, text, post, telephone, website customization, and other options may be considered depending on your target demographic.
Your company's expansion plan
Without the appropriate tools, business development is nearly impossible. Therefore, choosing the proper tools is one of the most important aspects of good marketing.
Naturally, you need to determine your objectives, budget, target audience, and other considerations before working on your business growth strategy.