Marketing is essential for all types of organizations, regardless of their budget. Maybe you've lately launched a company, or perhaps you have a small business that you're attempting to get up and going.
Of course, now is the time to start spreading the news about your new business. The good news is that digital marketing is quite affordable for businesses of all shapes and sizes, regardless of their budget.
However, the scope of digital marketing is quite broad. If you don't know what you're doing, it's easy to get lost in the shuffle, wasting your time and effort with little to show for it.
On the other hand, if you execute digital marketing correctly, you may grow your client base, stay in business, and even prosper. Here are some digital marketing best practices for startups to achieve the desired outcomes.
1. Persona-based digital marketing for startups
When it comes to digital marketing, there are two aspects to consider:
Your company
Your target audience
All you have to do is use marketing channels to link your company with its target audience and persuade them to perform the desired activities. But how can you market to an unknown audience? It's nearly impossible.
This is why creating buyer personas should be the first step in your digital marketing strategy. It provides all of the information you need about your customers. These are some of them:
Name
Age group
Job
Income
Location
Solutions they need from your business
How they research products online
Their favorite social media channels
Their favorite customer support channel
When you have this information, you may concentrate on marketing channels that are most likely to produce results for your company. Furthermore, data suggest that personas may increase the effectiveness of your website by two to five times for targeted consumers.
After all, you need to know who you're going to sell a product or service to advertise it successfully.
2. Make your content search engine friendly
You will receive more visits if your website appears when people search for the solutions you provide. Because these visits are highly targeted, converting them is much easier.
The first step in improving your search engine exposure is to do keyword research. You can identify the phrases your target consumers use on search engines by conducting keyword research. It's preferable to target long-tail keywords as a new business (three or more words). To begin your keyword search, you may use a service like Ubersuggest.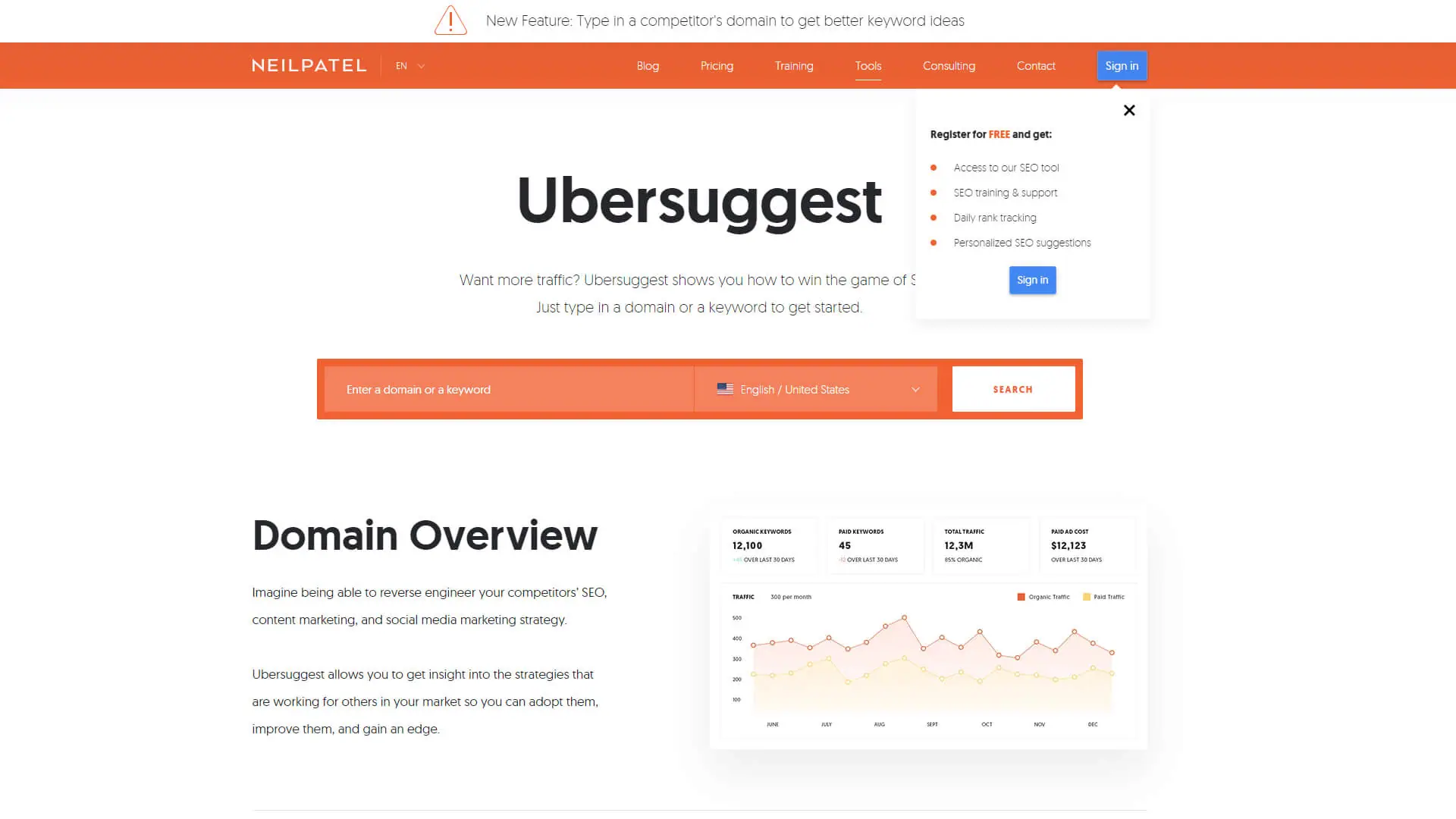 These long-tail keywords offer three significant benefits:
They have a clear intent.
They have less competition (making it easy to obtain the top places).
They make up a substantial part of all searches.
Furthermore, if you own a local business, you should optimize it for local search. This entails submitting your company's information to major local directories and soliciting feedback from your consumers.
Another thing to consider is paid ads. It might take a long time to see the benefits of search engine optimization (SEO). However, when you target relevant keywords in your business while working on your SEO, you may obtain faster results.
3. Maintain a blog that is updated regularly
Your prospective consumers require material to assist them in the purchasing process. According to the DemandGen Report, 47% of customers looked at three to five pieces of content before speaking with a salesperson. Create an editorial schedule to help you produce new material on your blog regularly.
A regularly updated blog can help you rank higher in search engines for more keywords and generate more leads. According to HubSpot, organizations that produced 16 blog articles per month received 4.5 times more leads than those that wrote zero to four posts per month.
However, you should be aware that blogging entails more than just writing articles. You must write blog entries to address difficulties for your readers. It would help if you also guested blog on other websites to reach a larger audience and increase the number of inbound links to your website, which will help you improve your SEO.
4. Use customized emails to engage your audience
Email is one of the best ways to connect out to your audience on a personal level. The end outcome is self-evident. According to one study, email marketing generate a US$44 return on investment (ROI) for every US$1 invested.
It would help if you kept in mind, though, that email marketing has evolved. For example, to encourage your subscribers to read your emails and click on your website, you must now send tailored emails. Emails with customized subject lines, for example, are 26 percent more likely to be opened.
Investing in an email service provider that enables automated emails is a critical step to take. You'll be able to send emails to your subscribers depending on their interests, and your emails will be automatically customized.
5. Make a social media marketing strategy
Your potential consumers use social media regularly to communicate with friends and companies. When you consider that social media is now used by more than half of the world's population, it's a platform you can't afford to ignore.
However, there are several social networking platforms to choose from. Here are a few examples:
Facebook
Instagram
TikTok
Twitter
LinkedIn
As a startup company, you should concentrate on a handful of them. These are the few places where you may find your potential clients regularly. 
The following are some social media best practices to follow:
Create content regularly to stay in touch with your audience.
Use visuals such as pictures and videos to increase engagement.
Interact with your audience by responding quickly and resharing.
Share industry-related content with your followers.
To reach a larger audience, invest in sponsored ads.
When you consider that 73% of marketers have found social media beneficial to their business, you know you need to pay attention.
6. Create an excellent customer service program
Customer service was probably not considered part of your marketing strategy in the past, especially for offline firms. However, in the digital age, customer service should be viewed as a marketing channel.
Because information travels quickly, you give poor customer service today, and you'll hear about it on Twitter the next day. You go above and beyond to address a customer's problem today, and you'll see it on Facebook the next day.
Before you realize it, you've earned a reputation for either lousy or excellent customer service. As you may expect, having a good reputation for customer service will attract more consumers because it demonstrates that you care about your clients.
You can have the following customer service channels for your company:
Live chat
Telephone
Social media
Email
FAQs
Knowledgebase articles
7. Have a strategy in place to keep track of your progress
It's fantastic to put effort into digital marketing initiatives. First, however, you must ensure that your efforts are yielding benefits for your company.
Of course, the outcomes you seek will be determined by your company's objectives. What motivates you to participate in digital marketing? The majority of companies do so for the following reasons:
Brand recognition
Promotion of a product
Creating a following
Obtaining leads
Getting customers
Increasing sales
How do you evaluate success or failure in digital marketing, no matter what your objectives are? It's critical to track your progress to enhance your digital marketing strategy. So how to figure out what works and what doesn't?
Make sure you can track outcomes from marketing channels like social media, email, search engines, and your website – don't waste time and money on activities you won't be able to track.
For startups, digital marketing is essential
It's challenging to succeed in digital marketing, especially given the fierce competition, especially on social media and when it comes to content marketing.
It takes a lot of effort and time to master digital marketing for startups. However, you'll be far more able to stand out and create actual results from digital platforms if you start with the proper approach, the appropriate attitude, and follow these essential digital marketing best practices.