High refresh rate IPS-type (In-Plane Switching) models are popular with gamers who want a responsive and color-rich experience. The MOBIUZ EX2710U gaming monitor is a 27-inch 4K screen, packed with features like a refresh rate of 144Hz, support for AMD FreeSync Premium Pro, a 1ms (GTG) rated response time, and HDR10 support. And maybe the best is that it will be quite affordable so that it will fit every budget. If you are looking for a new monitor, keep reading to find out if this is the one for you.
Aesthetics that will please every gamer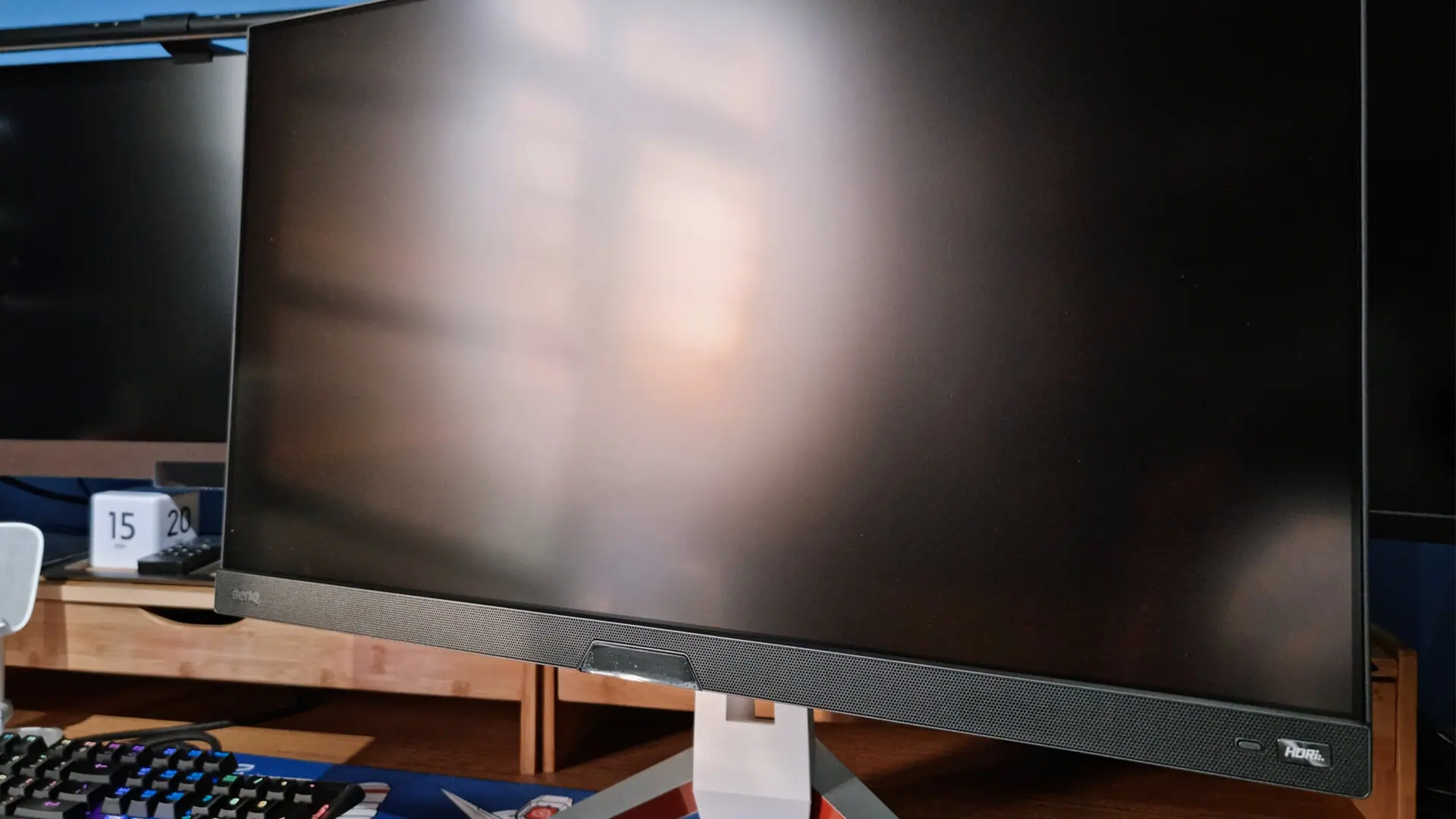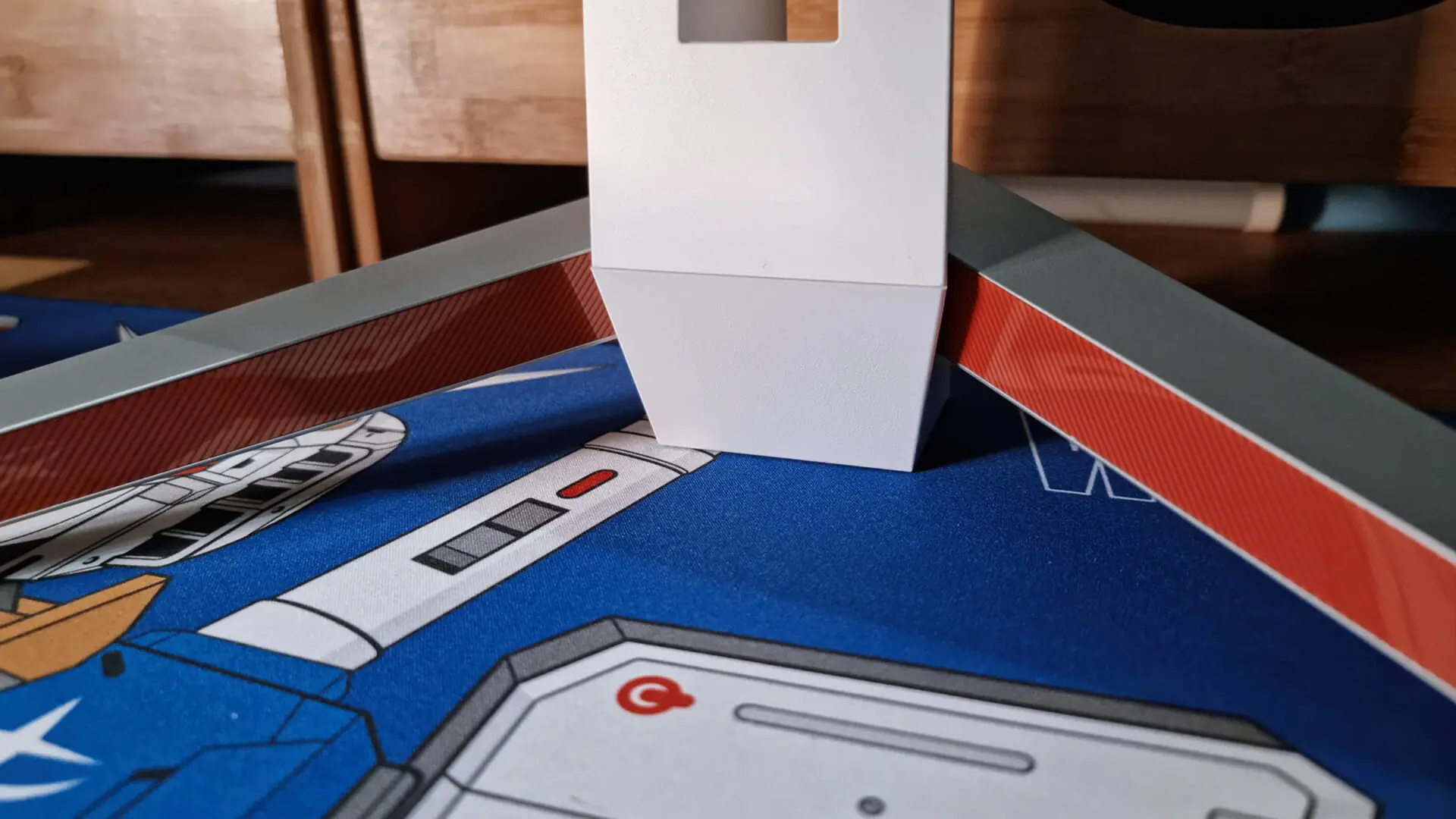 The monitor's design is very clean and sleek, which is what most gamers are looking for right now. Everything is very tidy, and there are no buttons and flashing lights all over it, but just a minimalistic beautiful design. What stands out the most is the stand base which is very modern and futuristic. It is made of silver plastic but also has a very bright orange element made out of rubber. This strip that is on the inside gives you that game-like feeling. The stand allows you quite a lot of adjustments, it has a tilt range of -5 to 15 degrees, a swivel range of -15 to 15 degrees, and a height range of 100 millimeters. Build quality seems excellent as well, and the monitor stands firmly in place.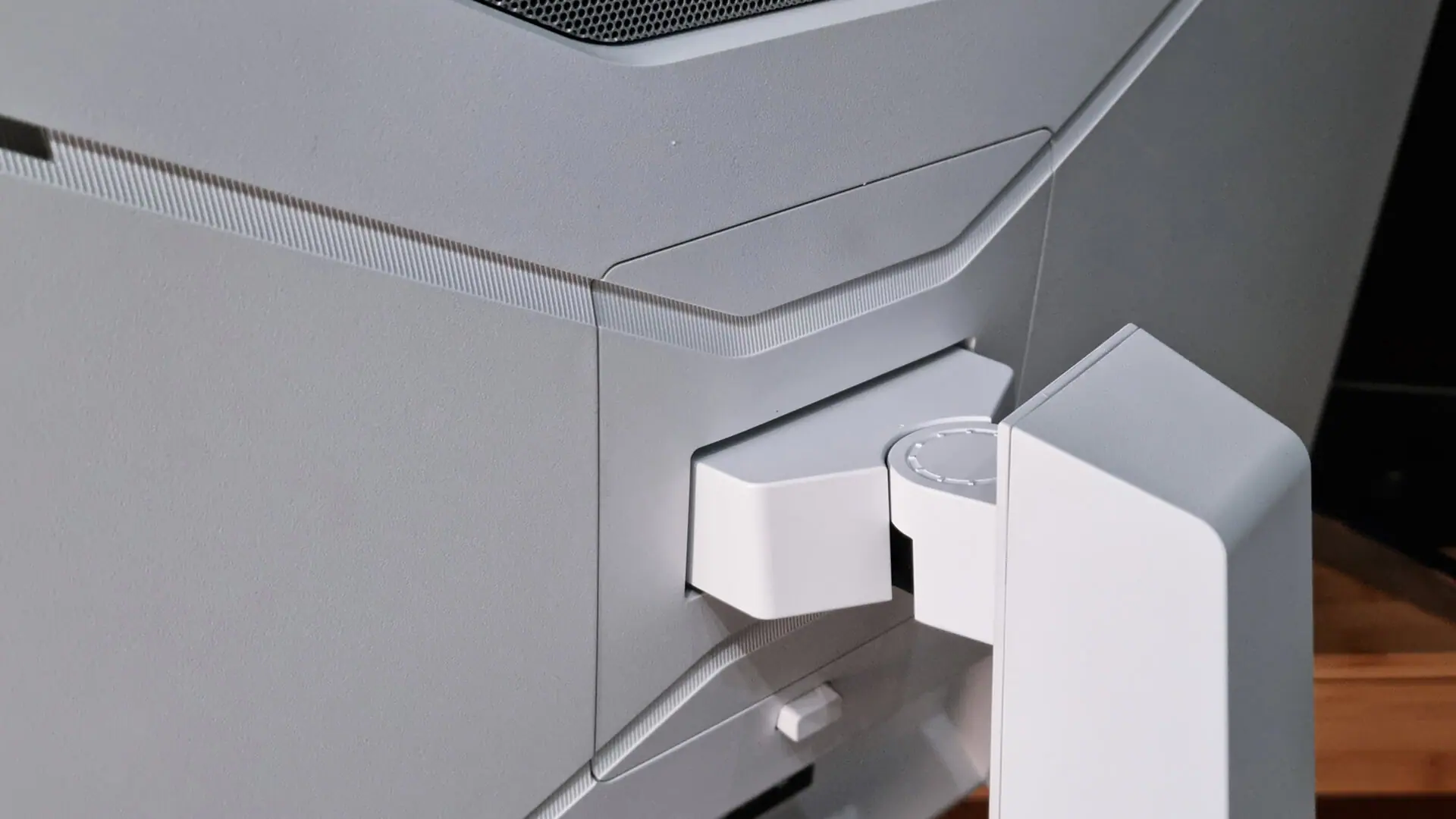 The monitor is very sleek on the bezel at the upper, left, and right sides and a bit thicker on the bottom, where you will also see the BenQ logo. The center of the gaming monitor has the sensor suite hidden which is used for the Brightness Intelligence+ and the HDRi features. Quite smart and also stylish from BenQ. The only other thing you might notice because of its silver color is the HDRi button on the bottom right side of the monitor. The screen also has an anti-glare finish, which gives it a cool matte finish when turned off.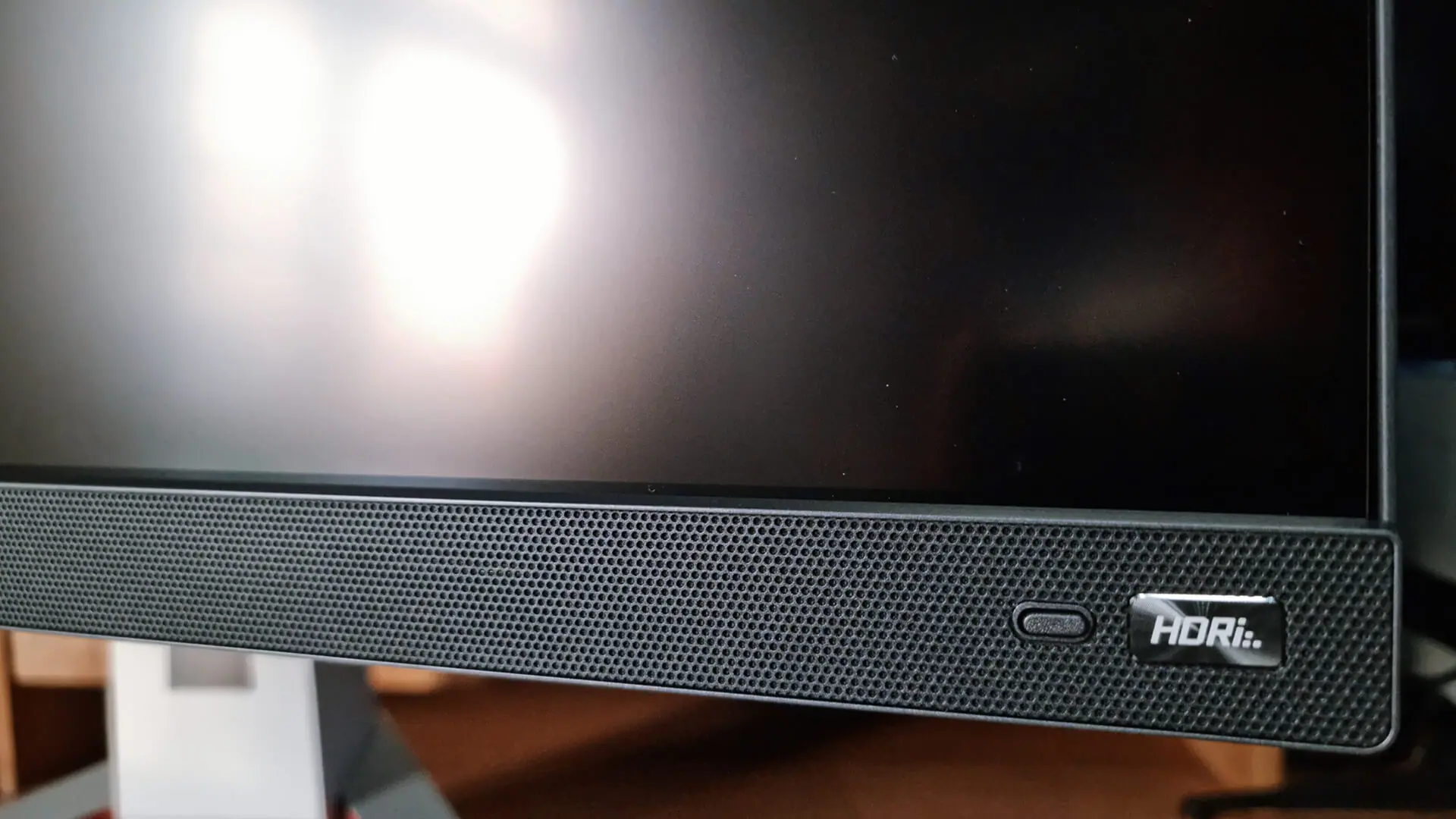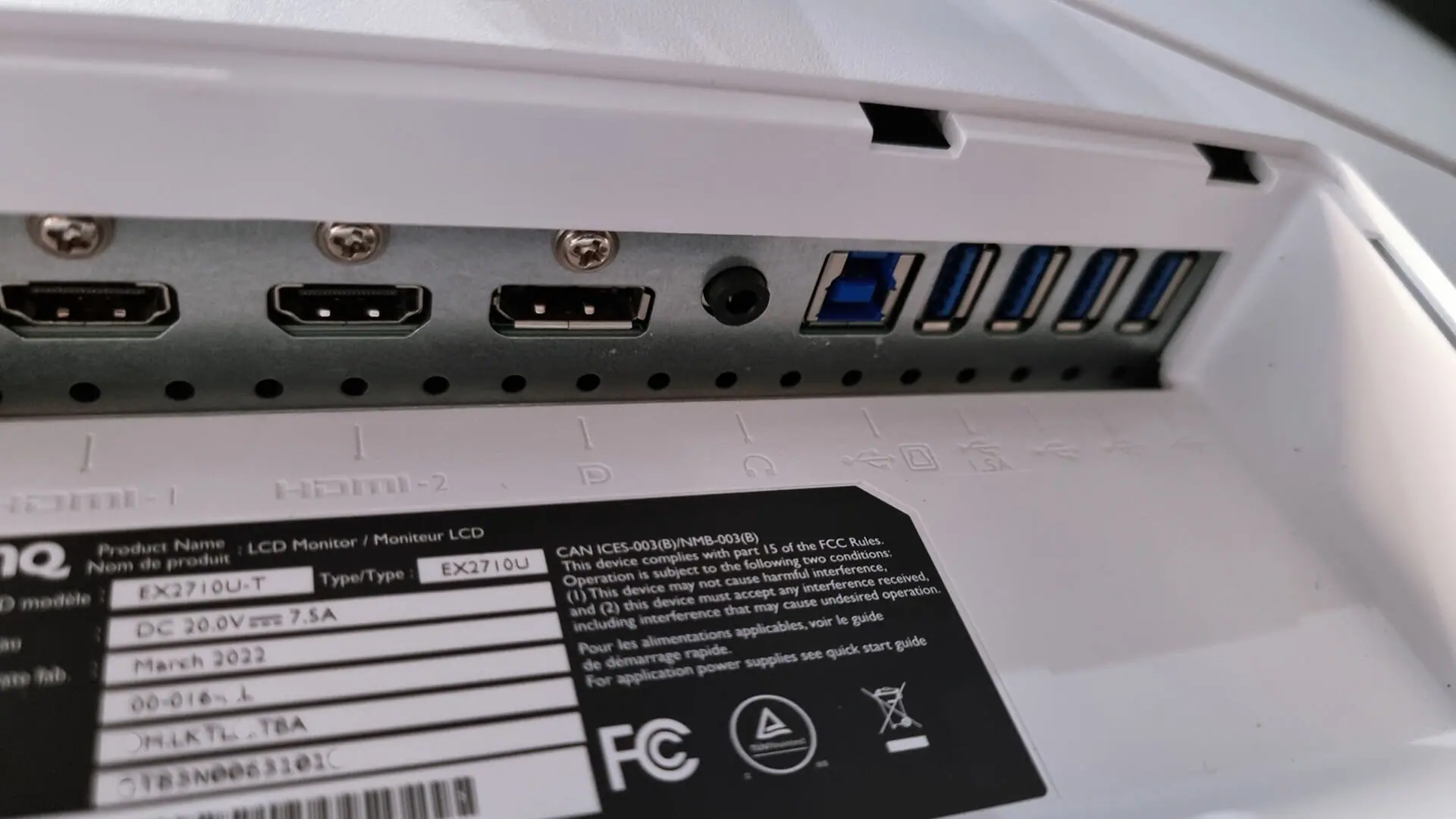 The ports that the BenQ MOBIUZ EX2710U offers are hidden behind the little panel at the back of the screen. You will find:
2 x HDMI 2.1 ports;
1 x DisplayPort 1.4 connector;
4 x USB-A ports;
1 x USB Type-B port;
1x power input;
1x headphone jack.
At the back of the display, you will find something similar to the EX2710Q, a 4-triangular design that contributes to the futuristic look of the display. The back is white in color, and it has orange lines separating it. The only logo is the MOBIUZ one at the left part of the screen, which makes the design from the back also very clean and modern.
Top-notch performance
This monitor was designed to be used with the most powerful gaming computers so that you can expect top-notch performance. BenQ EX2710U, with its 27-inch and 4K resolution, won't disappoint. The panel resolution is 3840 x 2160 pixels, and the max brightness can get up to 600nits. The viewing angles (both vertically and horizontally) are up to 178 degrees, and the contrast ratio is 1000:1. All this can already show you that this is a monitor that will offer you outstanding performance no matter what games you like to play. But this is not all. The response rate of 1ms GtG and refresh rate of 144Hz are more than enough to cover all your needs. The DCI-P3 color space is covered to up to 98%, and the reproducible color shades are 1.07 billion. Even the most colorful games will look great on this monitor.
Another feature that will make this monitor even more pleasant is the AMD FreeSync Premium Pro which will remove all the stutters. On top of it, you can also use a Variable Refresh Rate or VRR, which makes gaming even better. Blur Reduction is also a feature that BenQ included and is terrific to have when you play some FPS.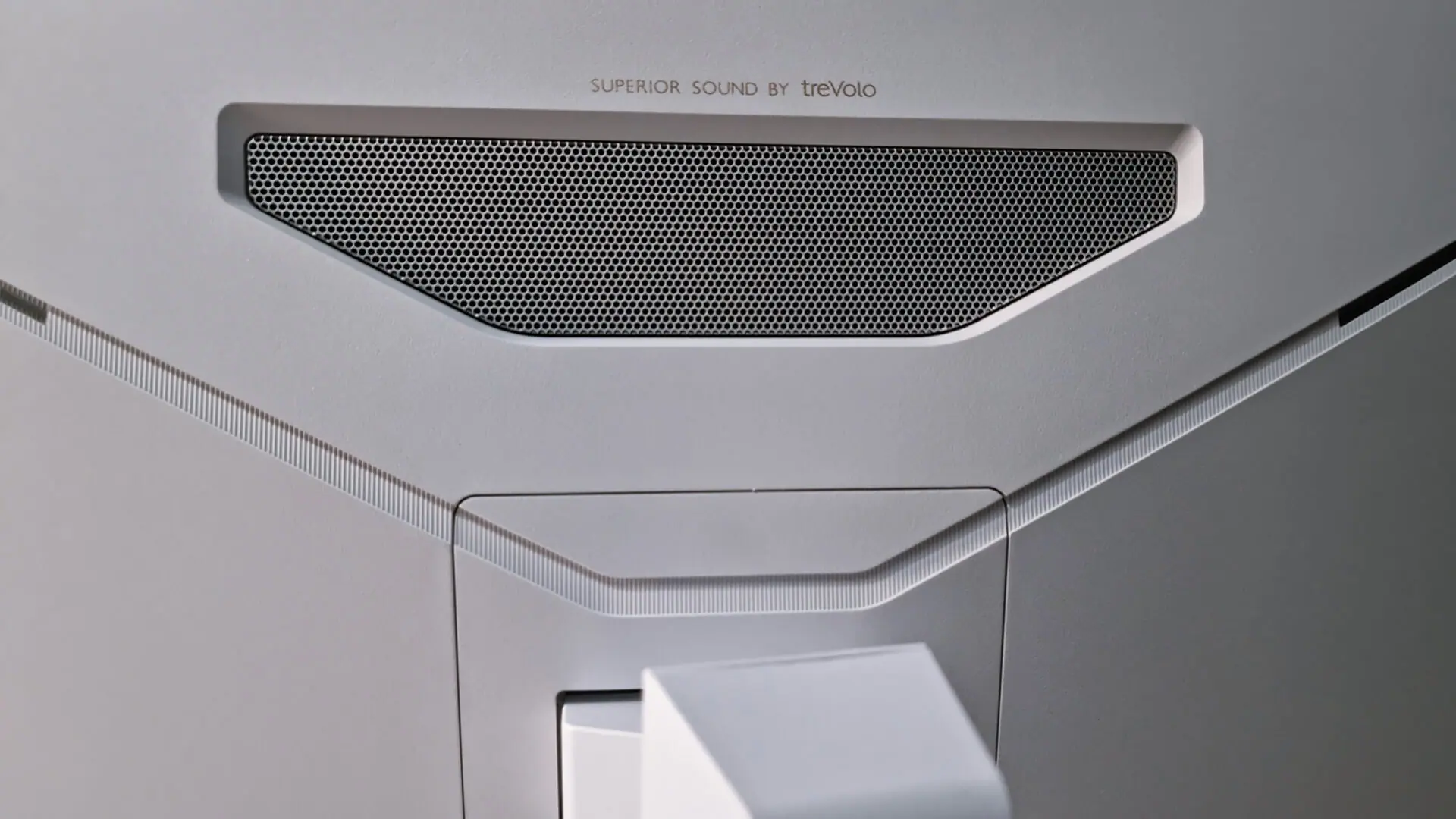 And since audio is one of the most aspects of gaming, we need to mention that the monitor has a 2.1 Channel (2Wx2 + 5W woofer) speaker, guaranteeing you an excellent sound. The monitor also comes with Bongiovi DPS sound technology to augment depth, clarity, bass definition, presence, and enhanced stereo field imaging. The speakers are located at the bottom of the monitor alongside the AI noise-canceling microphone. Of course, they can't compete with an external speaker or good headphones, but they still are pretty good if you prefer to spend some time without your headphones.
There are a few preset sound modes for gaming:
FPS: Full Audio Intensity
Racing Game: Eye-popping Engine Revs
Sport Game: Crystal-clear Sportscasts
There are also three gaming modes: "Light Tuner," which allows you to modify the brightness of the screen in 20 levels, "Black eQualizer," which improves the visibility of dark situations, and "Color," which fine-tunes the vividness of colors to make them look three-dimensional. It has features such as "Vibrance."
Game HDRi for detailed landscapes with clear, vivid graphics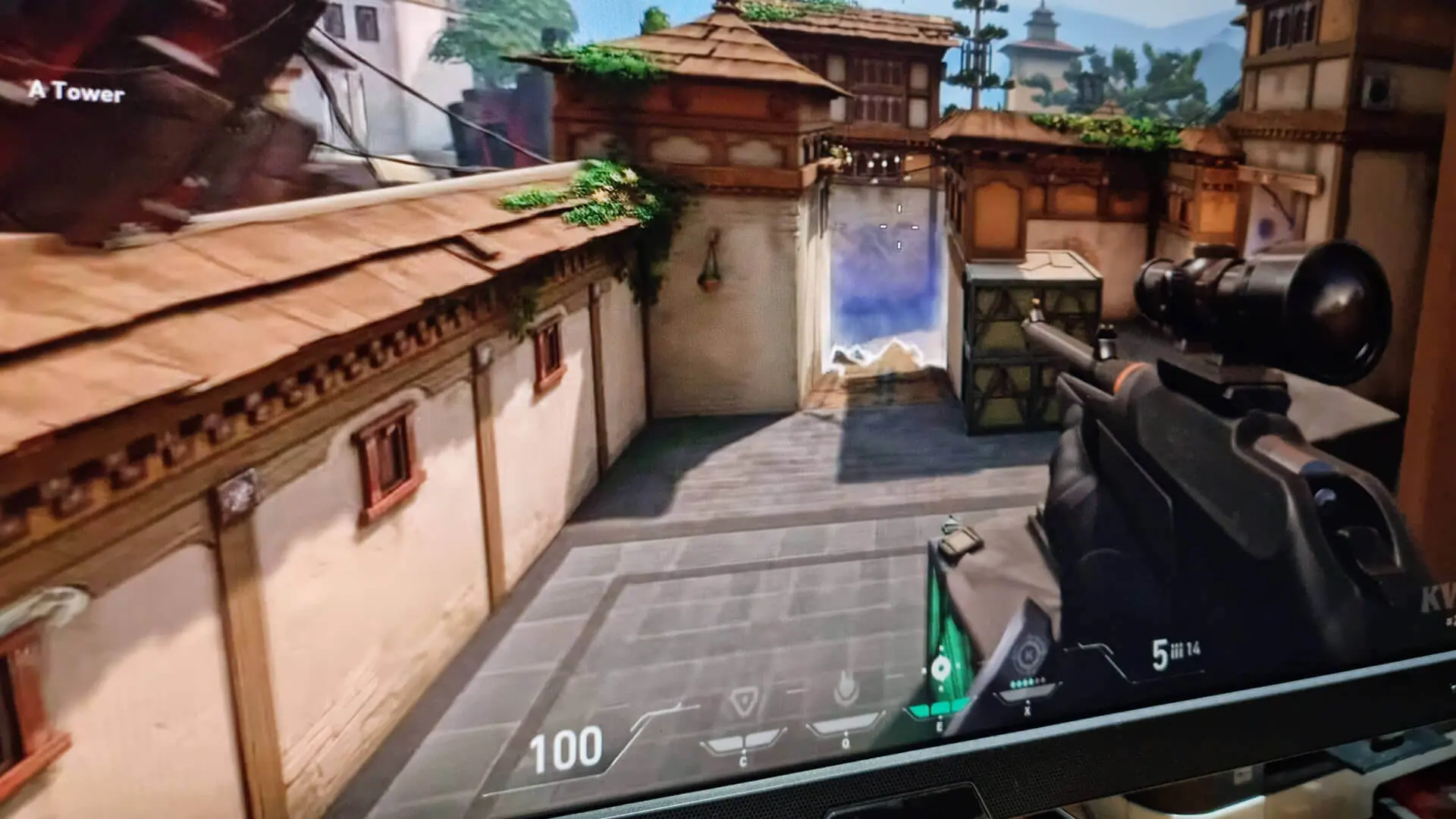 Having an HDR display is becoming increasingly popular as more HDR content becomes available. However, not every monitor can provide adequate HDR performance. HDRi, a BenQ-exclusive HDR technology, improves HDR output by fine-tuning parameters to ensure the greatest results for viewers. Whether you're gaming or watching movies, a corresponding HDRi mode will provide you with an enhanced HDR effect and hence a much greater level of immersion.
Game HDRi enhances contrast, and detail and boosts color performance. When playing Death Stranding on the EX2710U, the flesh tone and the red are emphasized on the figures and the scenarios are rendered in cool colors. On the other hand, DisplayHDR has less detail and shows overexposure concerns.
Excellent Eye-Care technology for extended play
Since BenQ knows how important it is to protect people's eyes spending hours in front of the screen, they haven't neglected this when it comes to the BenQ MOBIUZ EX2710U monitor. The Flicker-free and Low Blue Light technology are excellent and protect your eyes from fatigue even after long gaming nights or working days.
B.I.+ tech is also BenQ's exclusively smart feature for the display. It can automatically adjust the brightness and color temperature to the appropriate level based on the ambient light detected by the light sensor.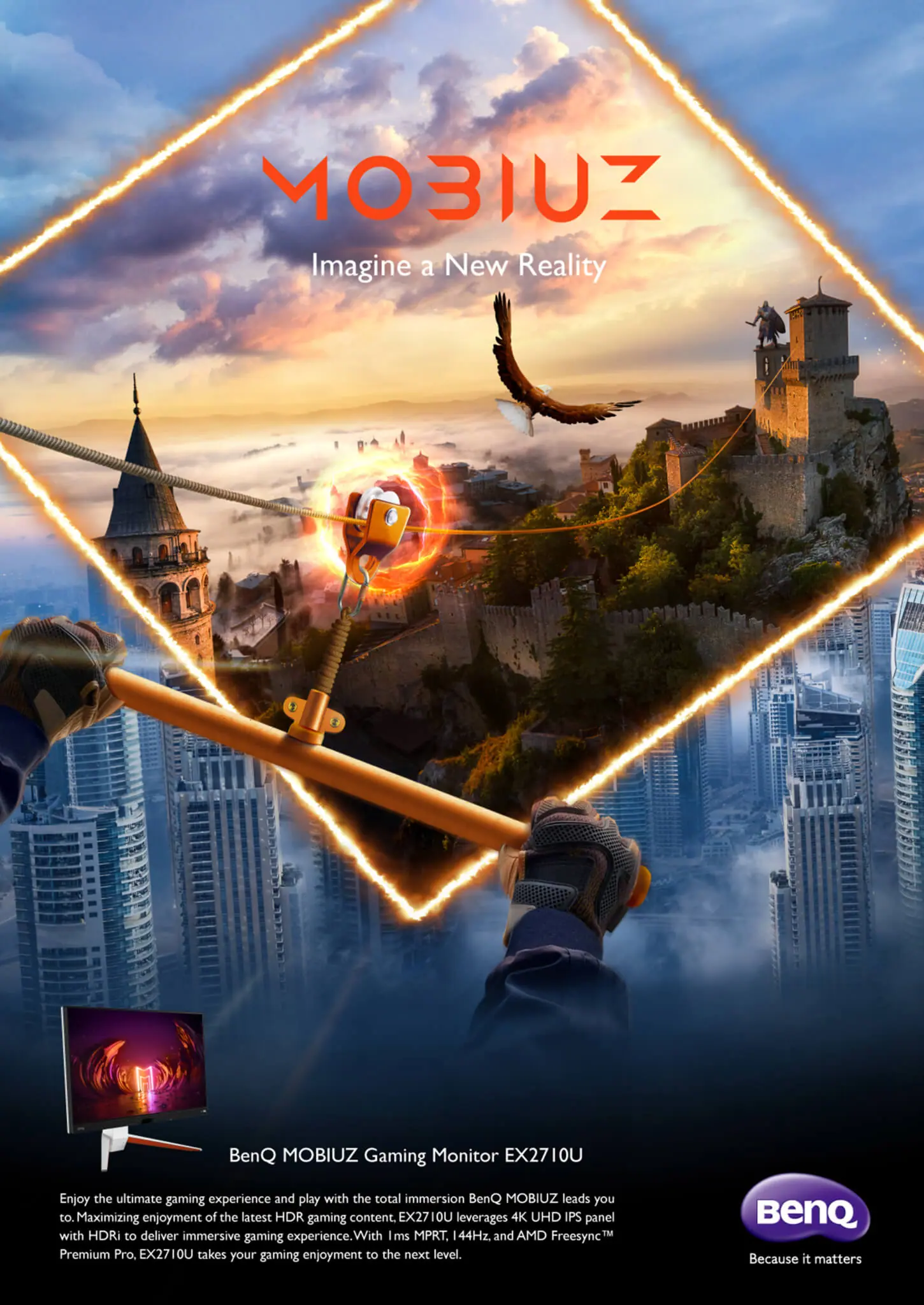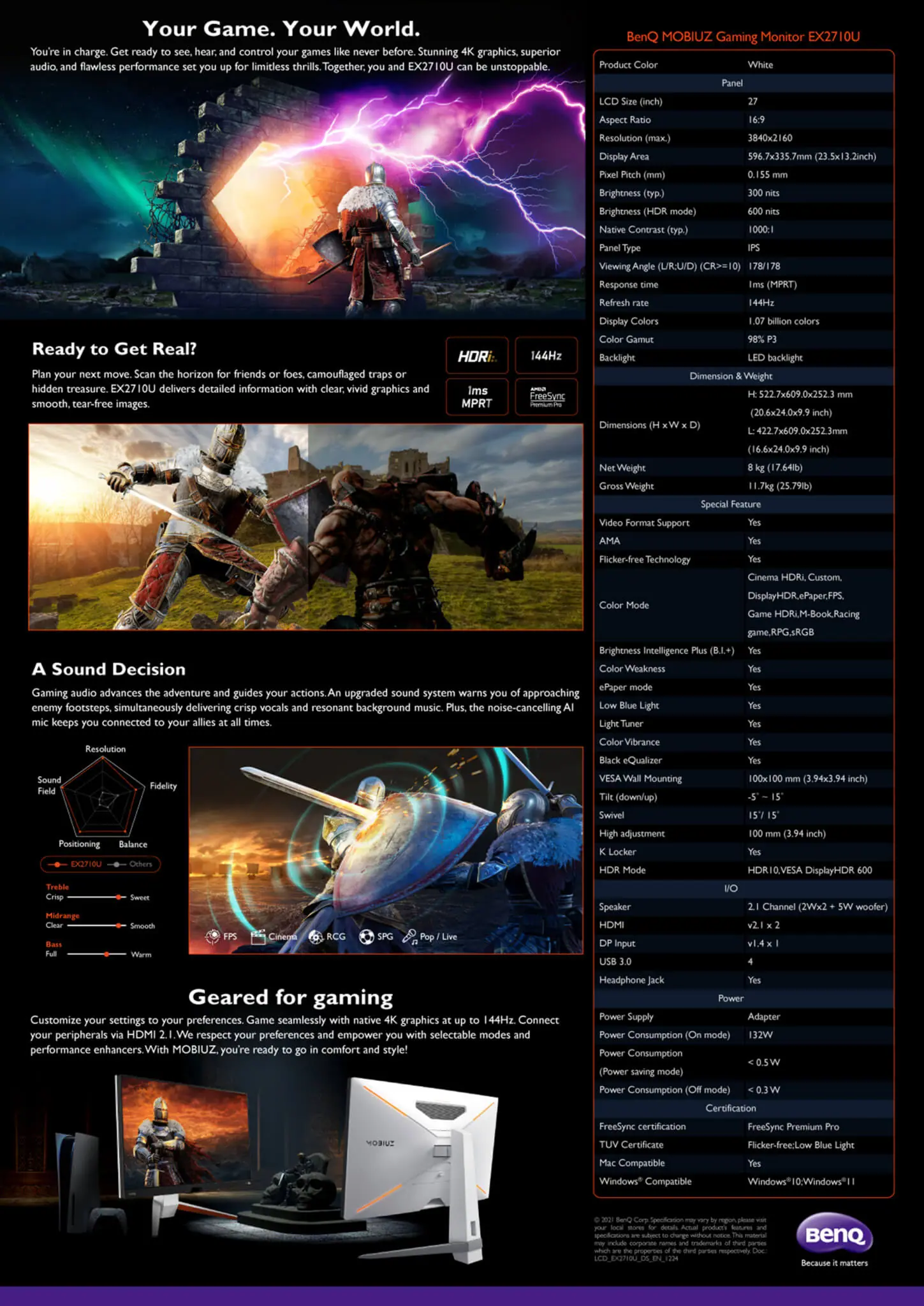 The verdict: BenQ MOBIUZ EX2710U
Overall, the BenQ MOBIUZ EX2710U is an excellent choice for individuals who wish to enjoy AAA games such as RPGs & MMORPGs at high refresh rates on a large screen. It has a sleek design, and excellent performance, this gaming monitor is definitely worth it. If you are looking for a new monitor, this might be for you. It is perfect for gaming and working, and it will look beautiful in your home.