Every so often, a device graces the technological stage, reshaping our perceptions of what's possible. The Microsoft Surface Pro 9 stands tall in this narrative, epitomising a groundbreaking fusion of a tablet's portability with a laptop's performance. For those questing for an embodiment of versatility, finding a parallel to this marvel becomes a daunting task.
The Surface Pro series, over time, has carved its identity as the vanguard of innovation. The Surface Pro 9 is the company's latest, as Microsoft seamlessly weaves the captivating aesthetics of a near edge-to-edge 13″ PixelSense touchscreen with unparalleled technological prowess. If your voyage has been to discover a device marrying form with function most harmoniously, the universe might hint that your journey concludes with this.
Diving into the crux of the Surface Pro 9, this beacon of Microsoft, it's that with each iteration, they've improved their craft, bringing faster and more user-friendly devices to the fore. Yet, the problem for the discerning user lies in choosing the suitable variant. While on the surface (pun intended), both models might seem to offer a premium experience, the intricacies in their components and capabilities hold the key to making the right decision.
CPU: 12th Gen Intel Core i5-1235U/i7-1255U processor or Microsoft SQ 3 processor
RAM: 8GB, 16GB or 32GB
Display: 13 PixelSense Flow Display (2880 x 1920), Dynamic refresh rate up to 120Hz, 10-point multi-touch, Gorilla Glass 5
Storage: 128GB, 256GB, 512GB, 1TB SSD
Ports: 2 x USB-C 3.2, 1 x Surface Connect port, Surface Keyboard port, 1 x nano SIM (for 5G model)
Battery life: 47.7 Wh for 5G, 47.7 Wh for Wifi (Microsoft website)
Wireless: Wi-Fi 6E(802.11ax) + Bluetooth 5.1
Dimensions: 287 x 209 x 9.3 mm
Weight: 879g
The premium design and craftsmanship of Surface Pro 9
At first glance, the Microsoft Surface Pro 9 is a vision of impeccable design and craftsmanship. Its slender frame, weighing just 879g, immediately radiates elegance, defining a new standard for portability. This is coupled with the Surface Pro Signature Keyboard, seamlessly switching between modes, presenting a perfect amalgamation of elegance and functionality.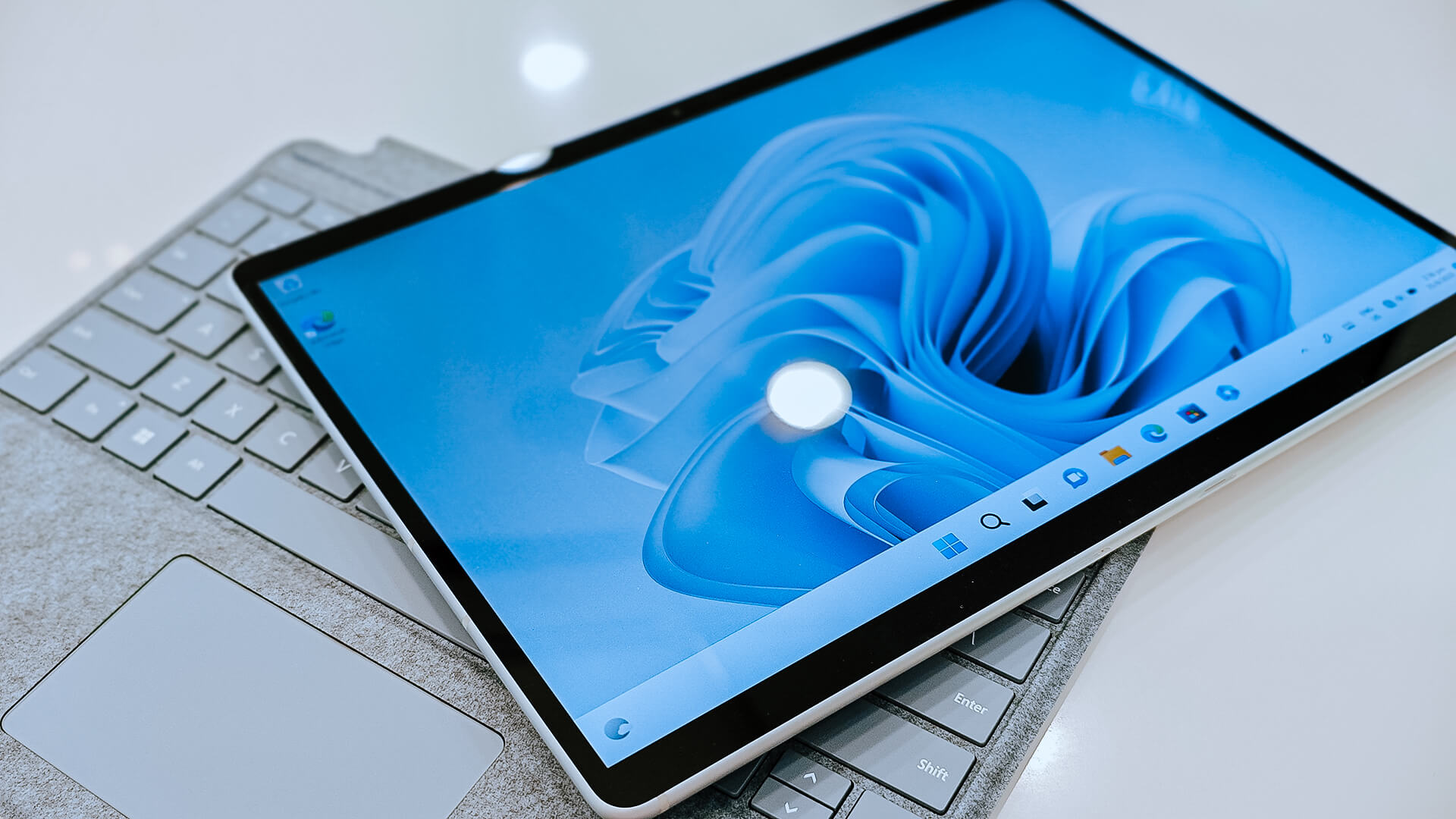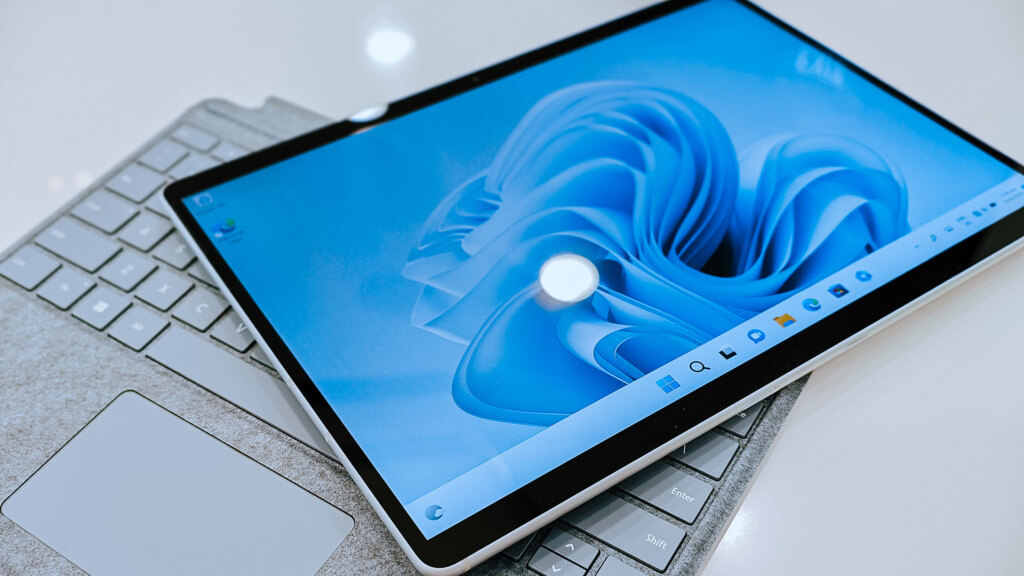 Microsoft's meticulous attention to detail is further highlighted with enhanced security features, such as the Firmware TPM 2.0 and Windows Hello face sign-in, ensuring both style and safety. Moreover, the device doesn't compromise on connectivity; boasting 2 x USB-C ports and Thunderbolt 4 in select models, it caters to both high-end display docking and swift file transfers.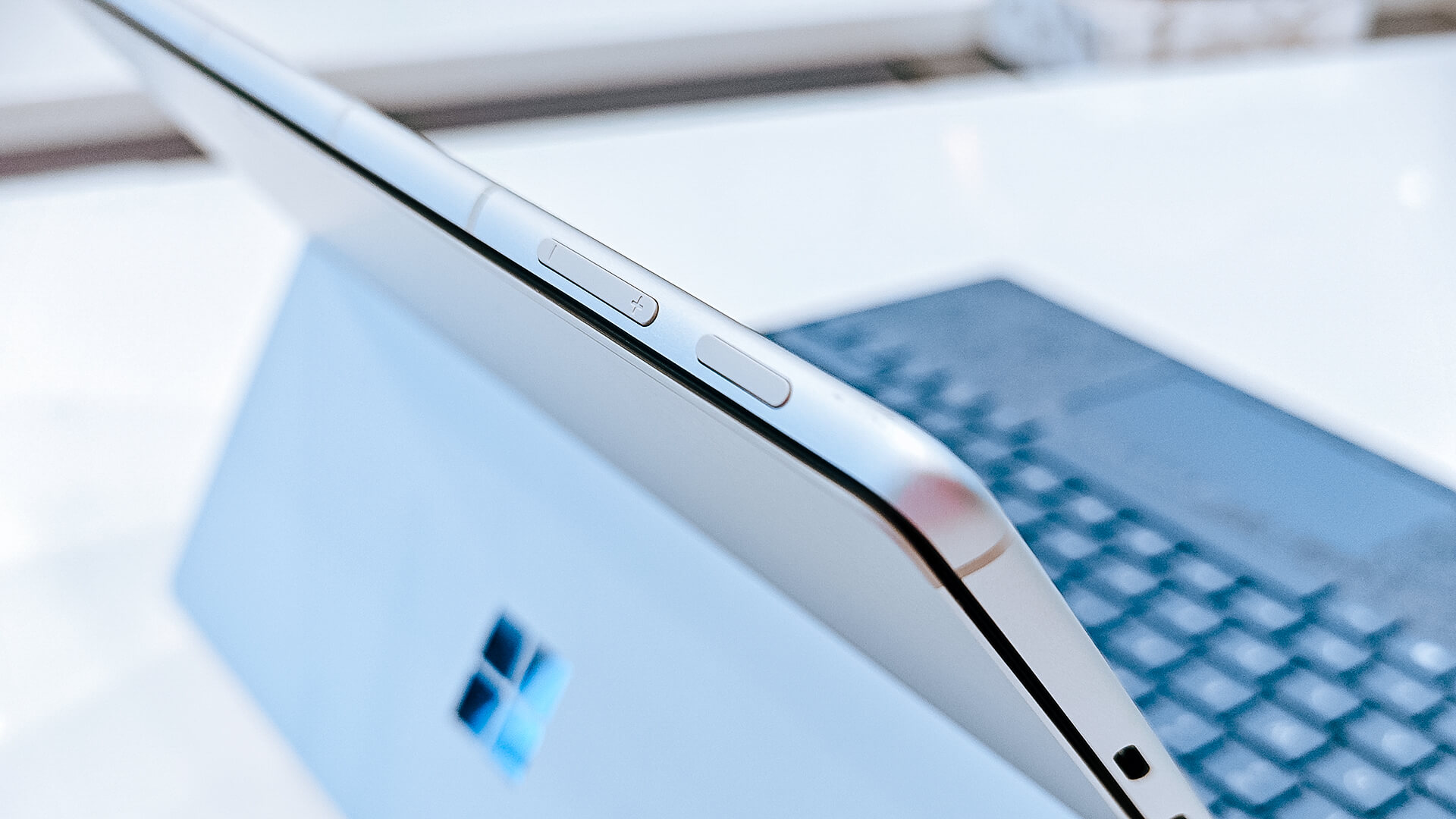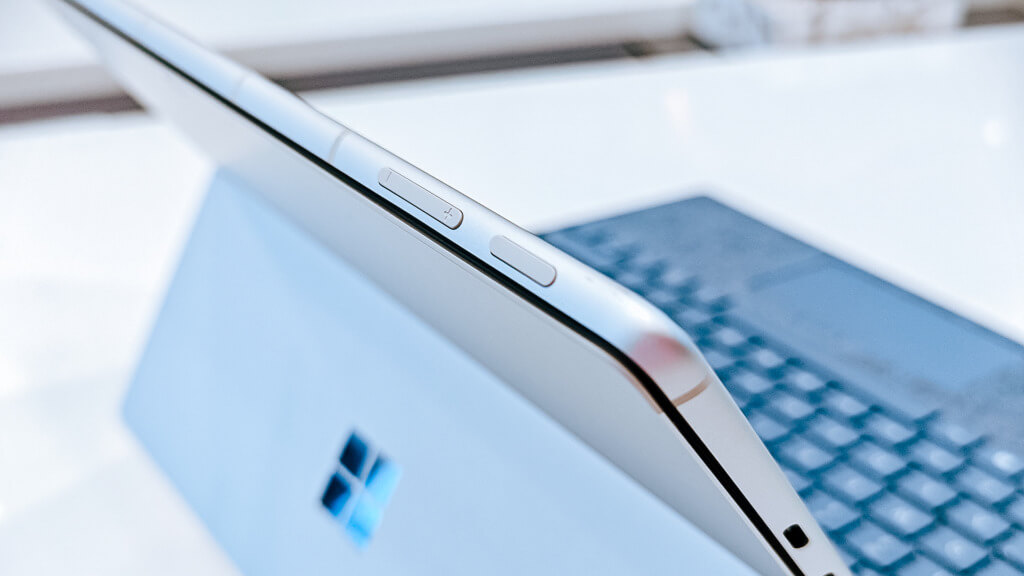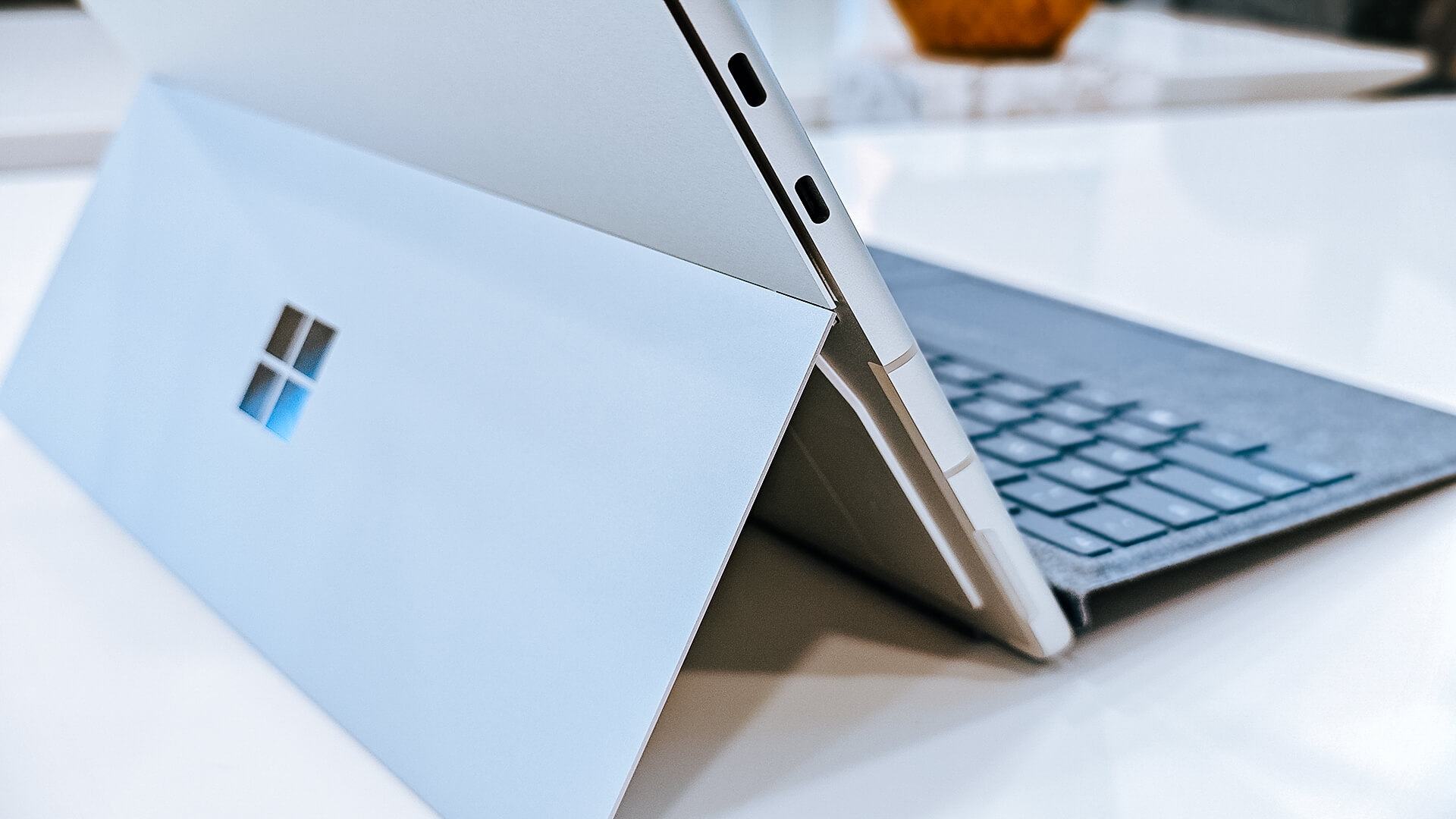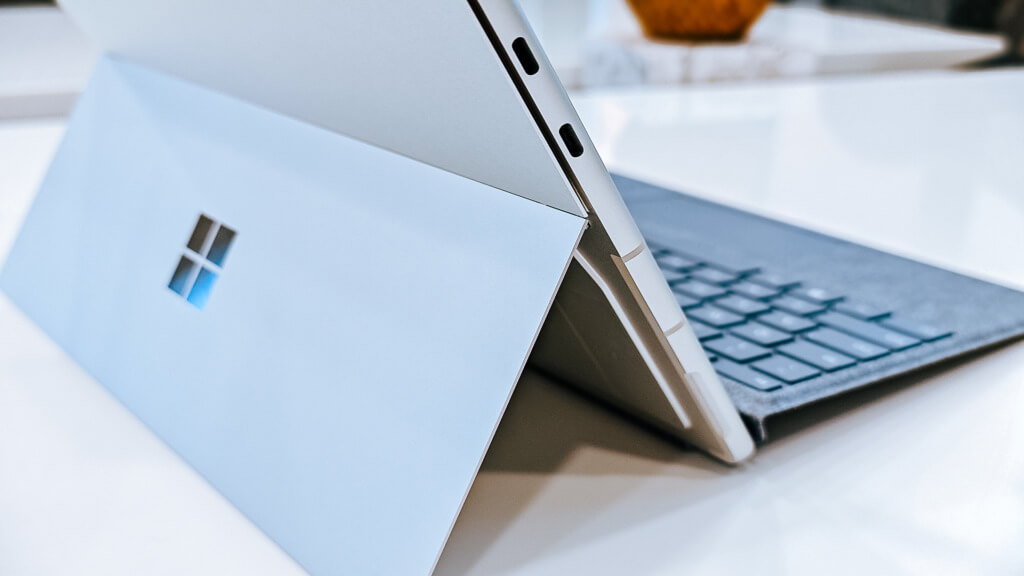 While the Surface Pro 9 shares a physical resemblance with its predecessor, the Surface Pro 8, it continues to carry the legacy of its innovative design. Encased in a harmonious blend of glass and aluminium, its premium feel justifies the price point. However, its weight makes prolonged hand-held usage slightly uncomfortable, but Microsoft's built-in kickstand offers the perfect solution, extending across the device's back to provide stability. This kickstand has been a distinct feature, setting Surface tablets apart from their budget counterparts.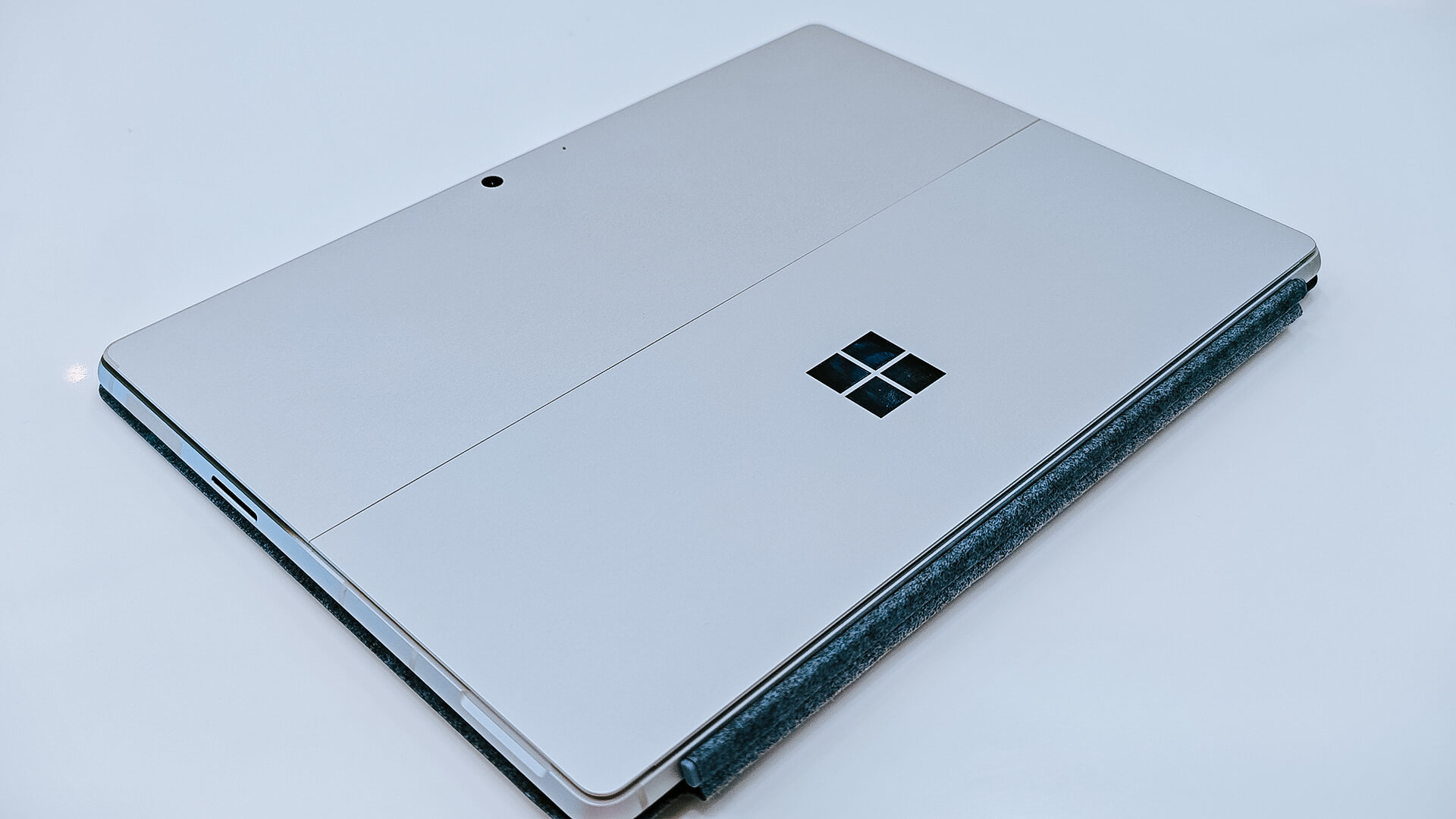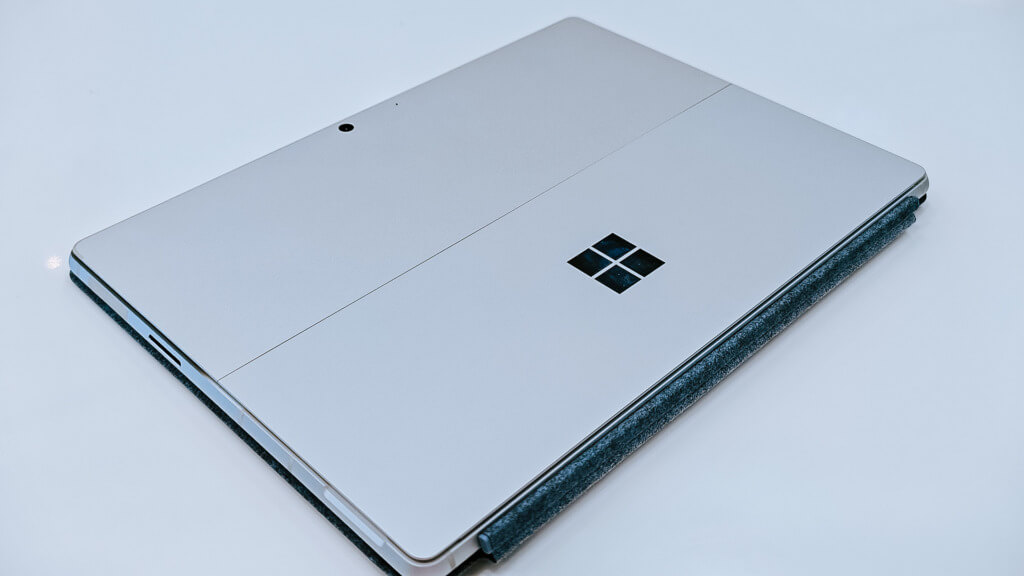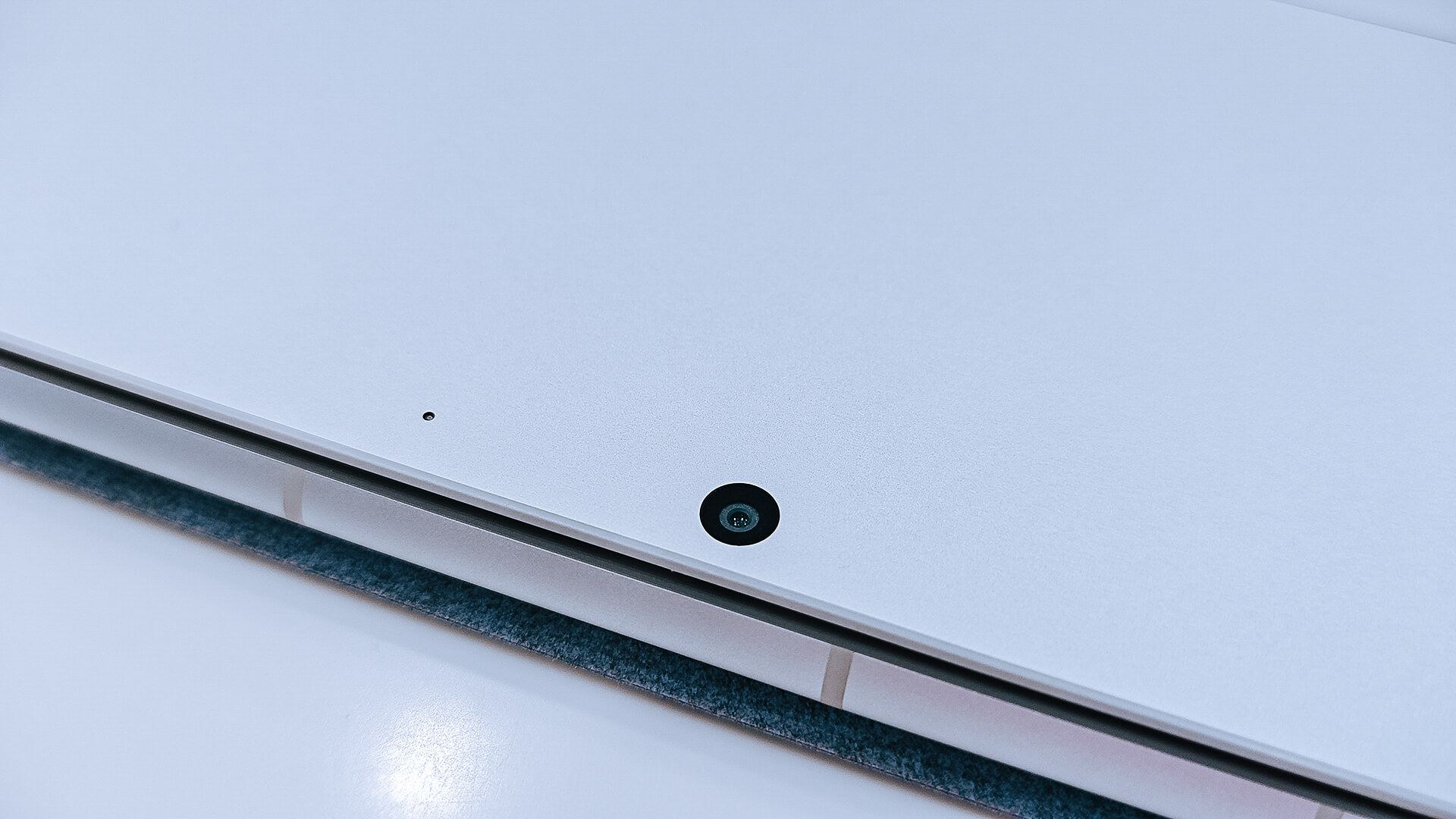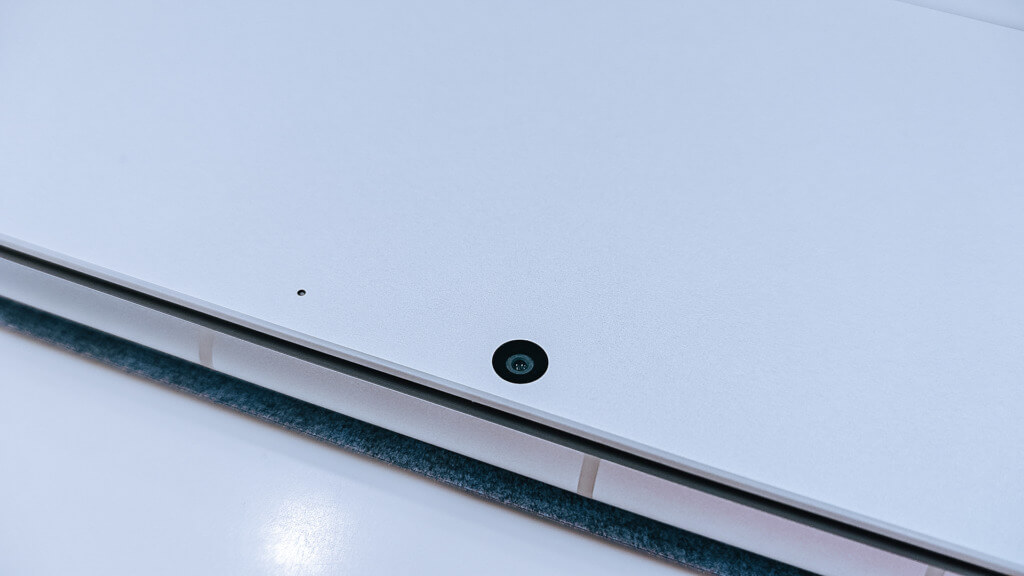 The simplicity of the design on the rear is accentuated by a minimalist Windows logo and a 10.0MP rear-facing autofocus camera, capable of 1080p HD and 4K video. While the camera isn't meant for professional photography, it's sufficient for document scanning or casual home photography. The design also offers colour choices. Specific colours are restricted based on configurations, such as the 5G models available only in Platinum, while Sapphire, Forest, Platinum, and Graphite are available for the rest.
Bright and vivid display on its 13-inch PixelSense Flow screen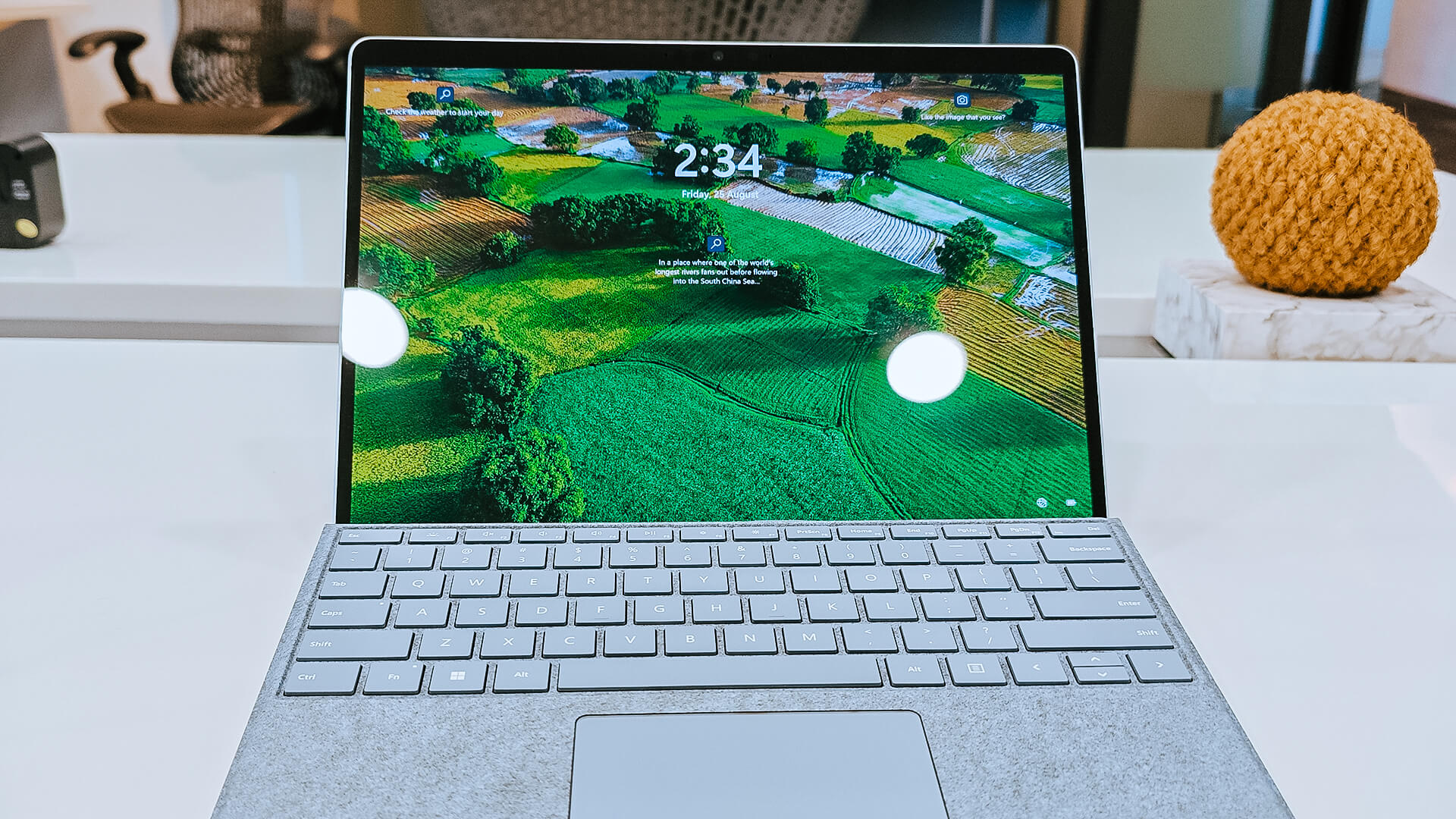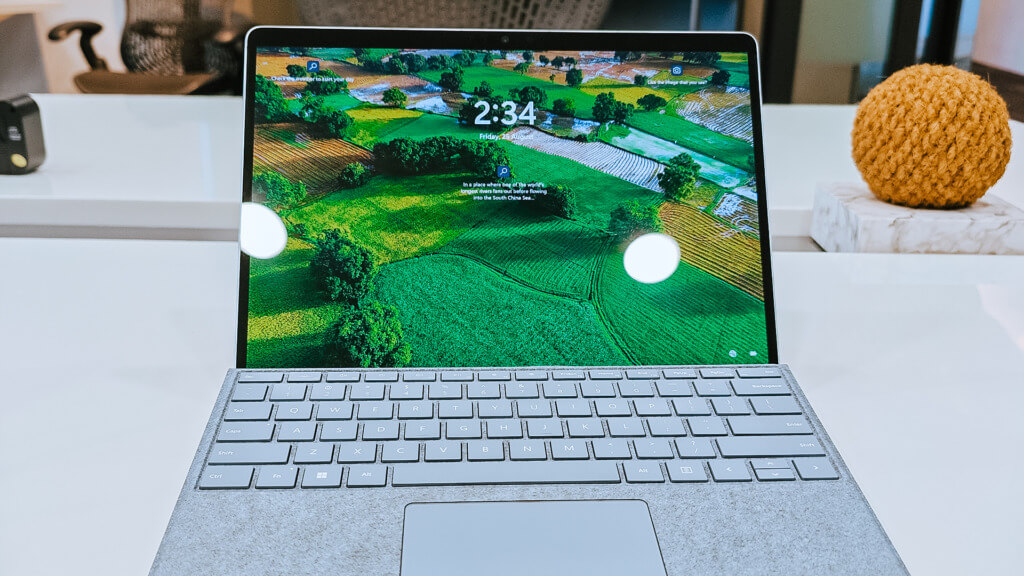 From the moment you power on the Surface Pro 9's 13″ PixelSense Flow Display, the sharp and vibrant imagery stands out. The resolution of 2880 X 1920 ensures that viewers get a detailed perspective, bringing out the subtle elements of visuals to the forefront. The 3:2 aspect ratio, albeit unconventional, comes across as a thoughtful feature, providing additional vertical screen space, which proves invaluable for reading lengthy emails, analysing documents, or navigating extensive spreadsheets.
In design continuity, the Surface Pro 9 mirrors its predecessor's choices. The decision to forgo an OLED screen might be a point of contention for some, but the display's sharpness and colour vibrancy can hardly be disputed. The commendable brightness levels render the device suitable for outdoor use, although direct sunlight could pose some challenges.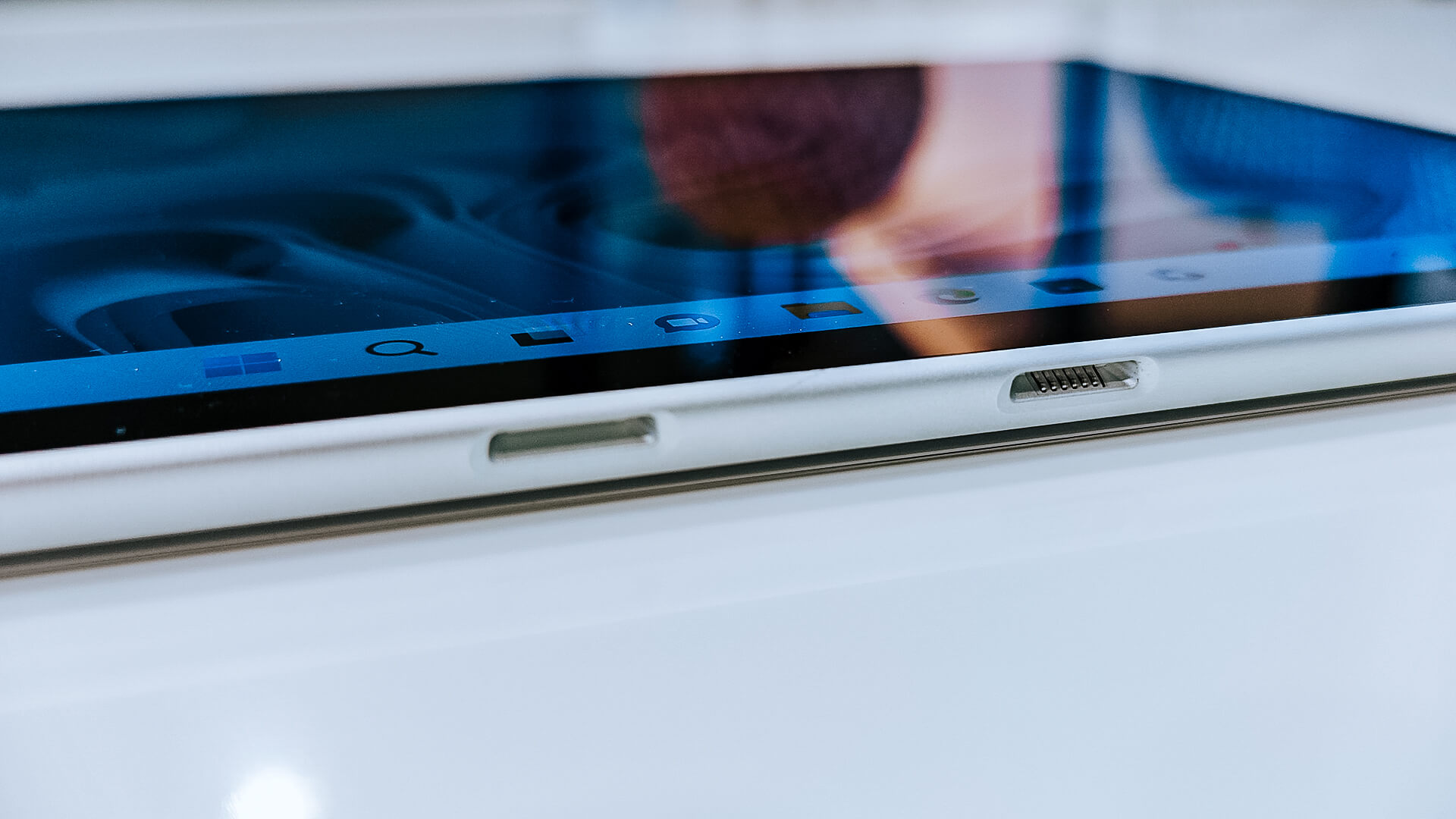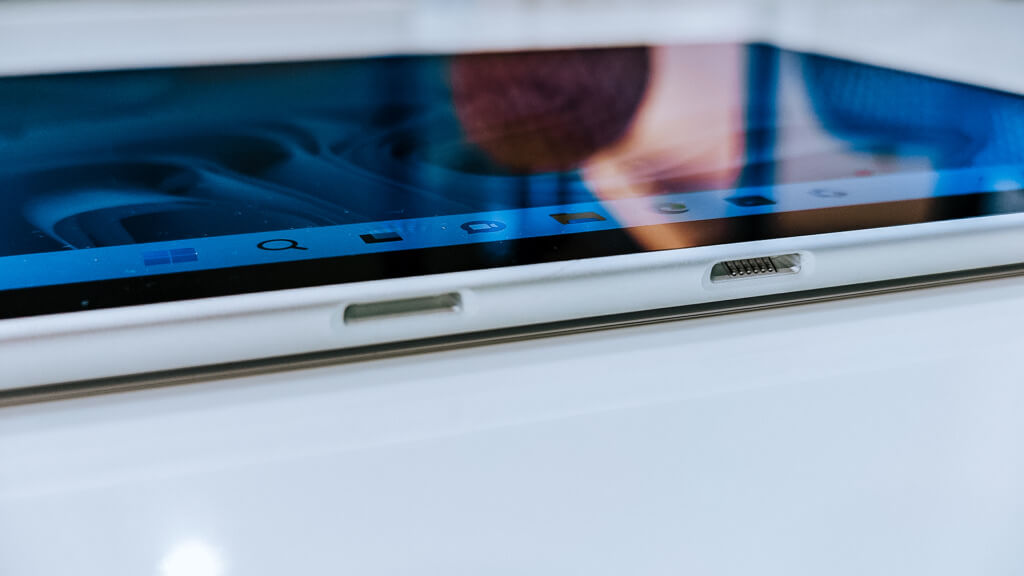 A highlight of the display is undoubtedly its dynamic refresh rate, capping at 120Hz. This, combined with the durability of Gorilla Glass 5 and the immersive experience from Dolby Vision IQ support, ensures that user interactions remain fluid, be it a quick swipe or an involved task. The heightened responsiveness due to the 120Hz refresh rate stands out. While this might be a game-changer for the gaming community, the average user will undeniably benefit from the smoothness of their everyday tasks and multimedia engagement. Whether engaged in design work, catching up on shows, or general browsing, the Surface Pro 9's display promises an immersive and efficient journey.
Decent performance on Surface Pro 9
The Surface Pro 9 stands at the forefront of modern technology, offering users a choice between the powerful 12th Gen Intel Core processors and the energy-efficient Microsoft SQ 3 processor. Those leaning towards the Intel options can choose from the Core i5-1235U or the more robust Core i7-1255U, both optimised for varied tasks. Furthermore, the device showcases enhanced connectivity with Wi-Fi 6E support, allowing access to the spacious 6GHz band. Yet, while the Intel version promises impressive performance and connectivity, it does have limitations, particularly with its integrated Iris Xe graphics.
In contrast, the ARM variant, powered by Microsoft's custom SQ3 chip designed with Qualcomm, emphasises power conservation over raw performance. With great power comes reduced battery longevity – the Intel model is no exception. The ARM model impressively endures up to 19 hours when assessing battery longevity, dwarfing the Intel model's respectable 8 hours. While the ARM variant may captivate with its remarkable battery life and futuristic appeal, the Intel model's reliability and broader application spectrum make it a more pragmatic choice for many users.
Flexibility for every professional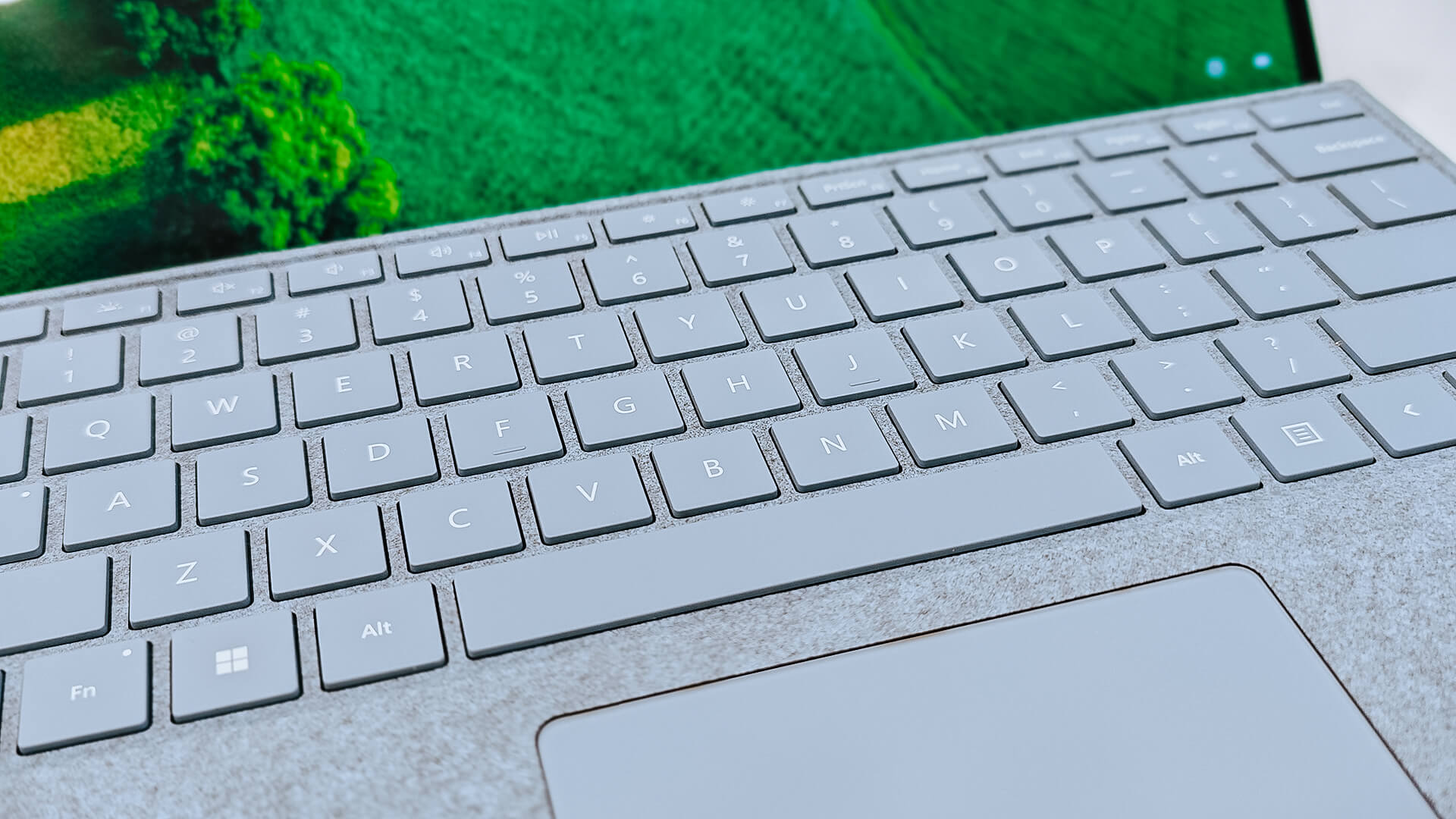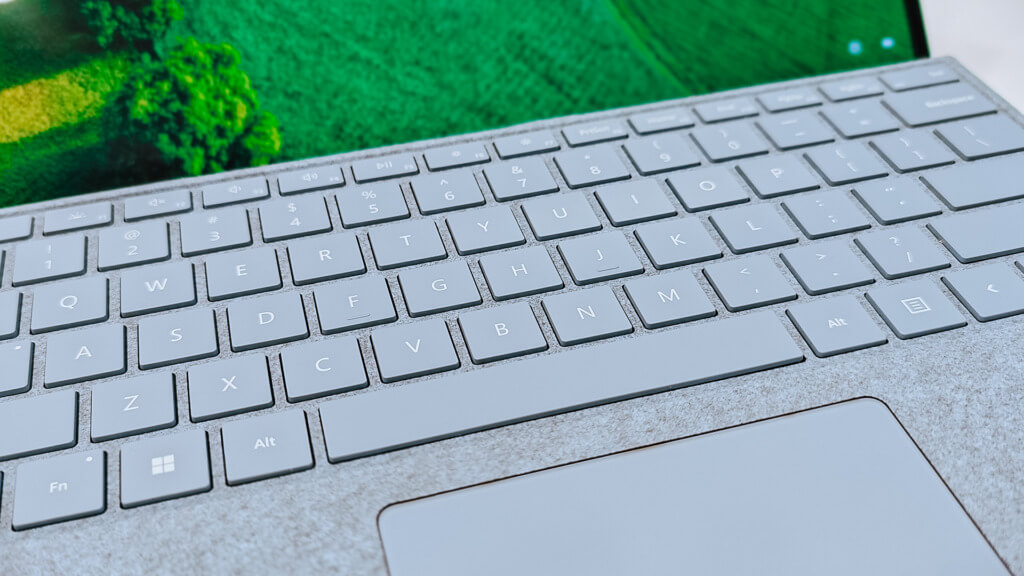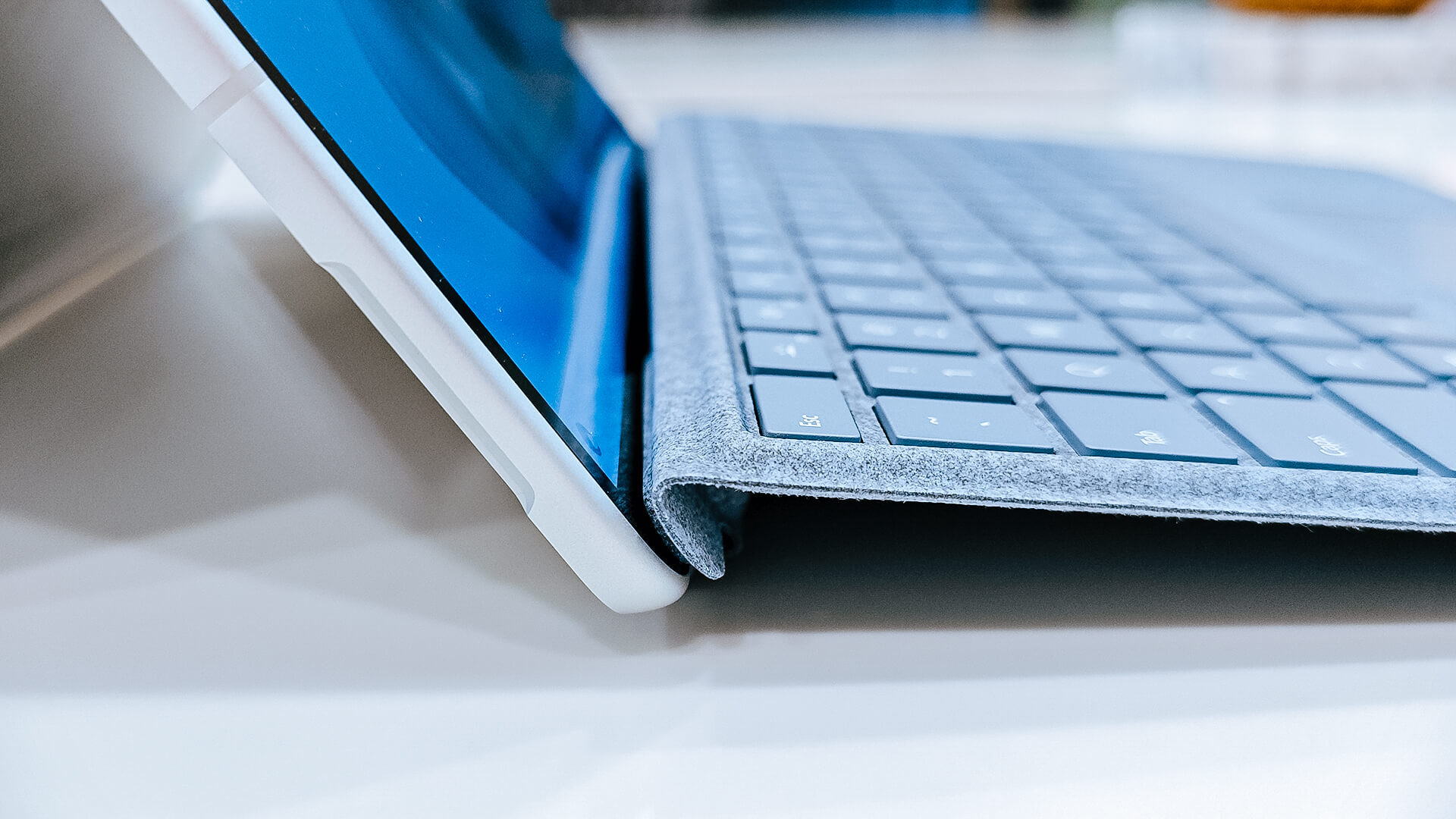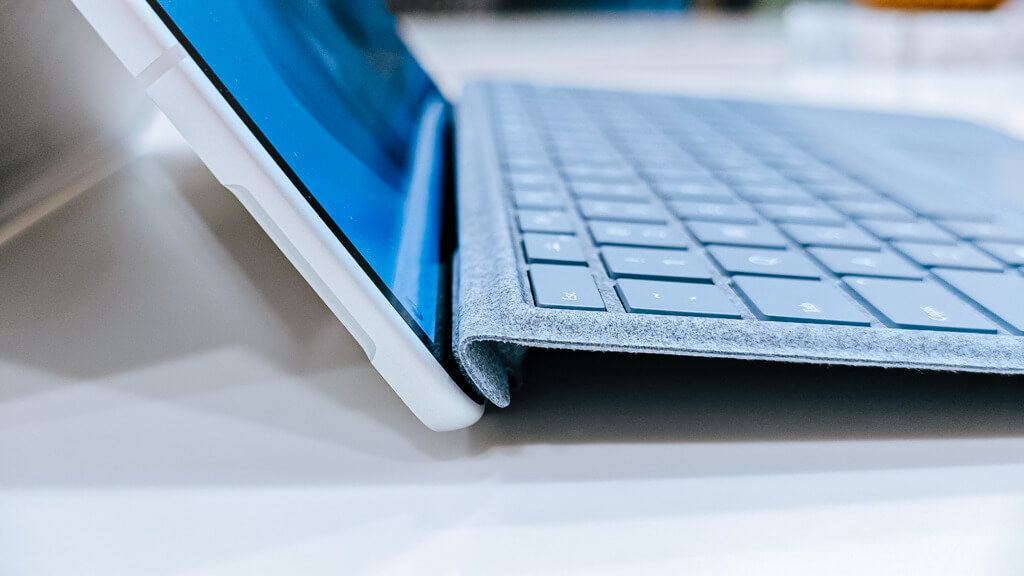 The Surface Pro 9's core appeal lies not only in its robust performance but also in its adaptability to fit seamlessly into diverse professional arenas. Thanks to the Surface Pro Signature Keyboard, switching between tablet and laptop modes is smooth and effortless. Additionally, the Surface Slim Pen 2, with its true-to-life pen-on-paper feel, offers a remarkable avenue for spontaneous creativity, ensuring no spark of inspiration is ever missed.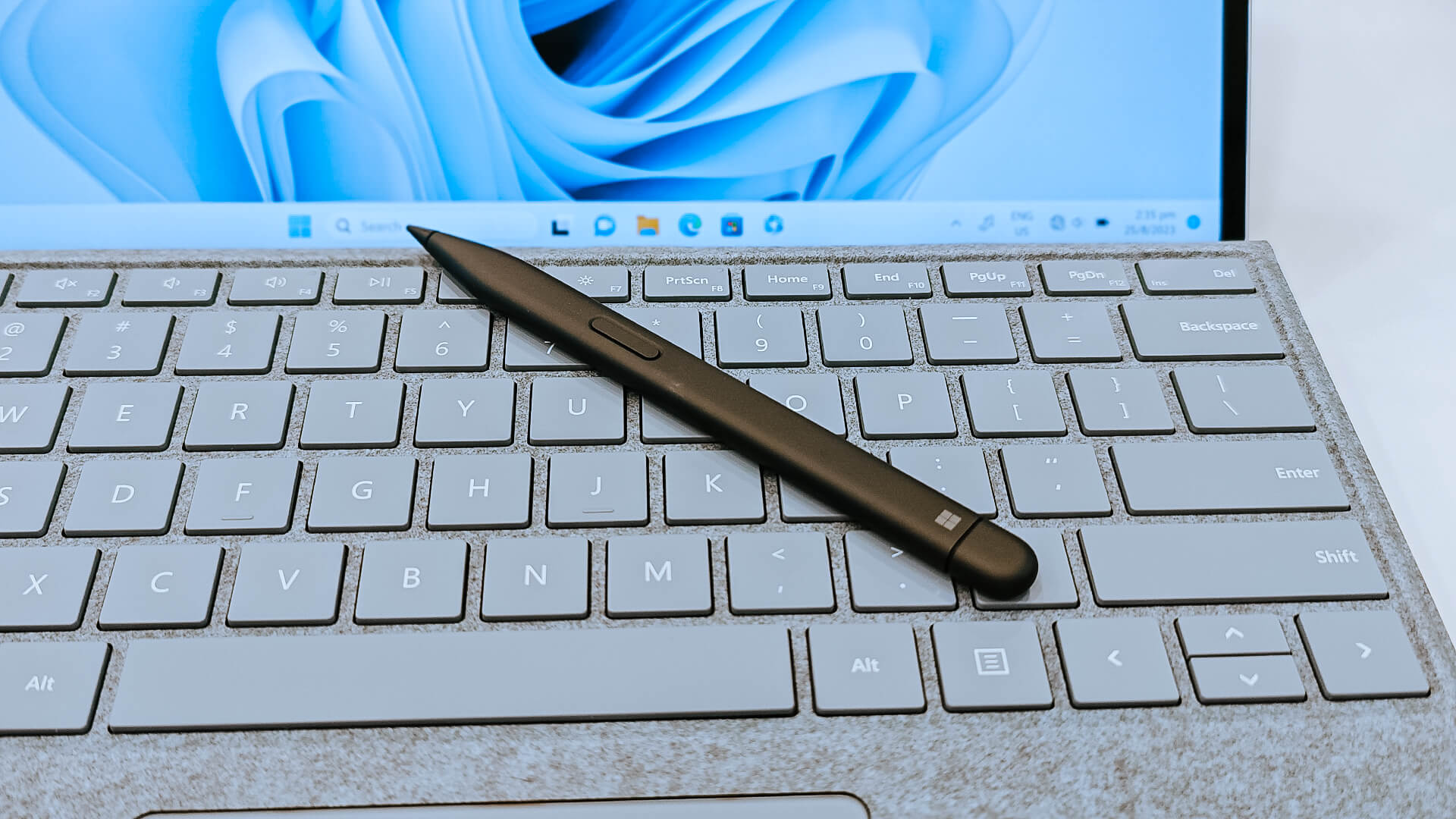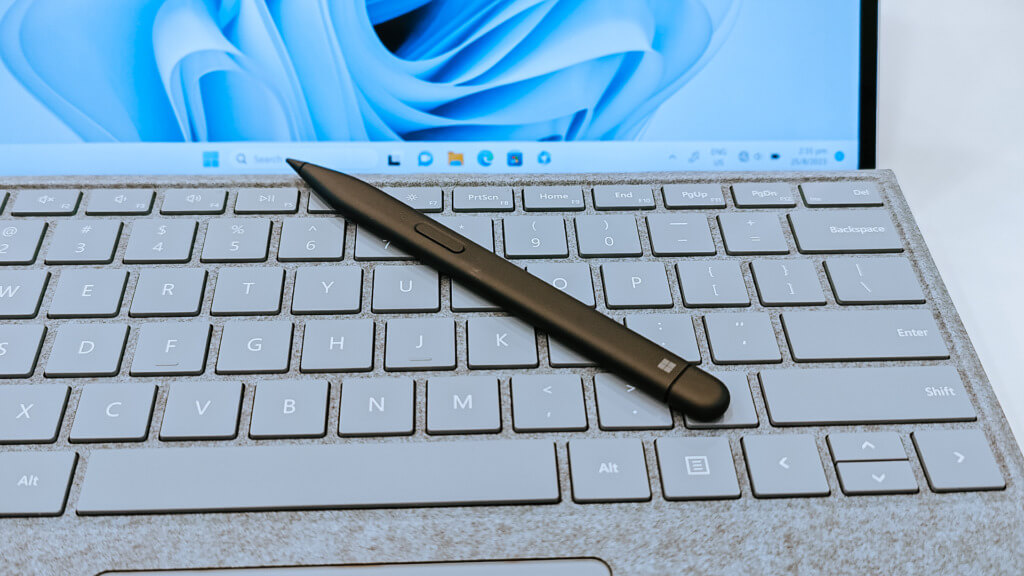 Artists and Illustrators: In laptop mode, artists can easily employ robust graphic design software suites. When inspiration strikes, they can transition to tablet mode, using the Surface Slim Pen 2 to sketch or paint directly on the screen, capturing the nuances of every stroke.
Business and Design Professionals: With its laptop capabilities, professionals can seamlessly transition between spreadsheets, presentations, and design tools. The tablet mode is handy during client meetings for interactive presentations on the go.
Journalists and Writers: In the dynamic world of journalism, the laptop mode offers the stability of a traditional typing experience for long-form content. But when in the thick of the action, tablet mode, combined with the Slim Pen 2, allows for quick note-taking or even capturing handwritten quotes.
In both its avatars, the Surface Pro 9 emerges as more than just a device; it's a dynamic partner, adapting and elevating tasks across the spectrum. Whether it's the structured feel of a laptop or the tactile freedom of a tablet, the Surface Pro 9 ensures users always have the right tool at hand.
The verdict: Microsoft Surface Pro 9
Microsoft Surface Pro 9 continues its legacy as a trailblazer in the 2-in-1 category, flawlessly oscillating between a tablet and a laptop. This versatility, largely unrivalled in the market, is emphasised by its exceptional build quality, brilliant display, and responsive performance, especially with the 12th-gen Intel chips. However, while its adaptability and performance are commendable, the device has challenges. The ARM-based 5G variant is an ambitious leap, promising superb battery life and enhanced video calling experiences. Still, the Intel version is a more reliable pick for most.
Though it's undeniable that the Pro 9 offers a stellar Windows experience in a sleek, portable design, it's accompanied by a hefty price tag that is hard to overlook. Users must shell out even more for the quintessential accessories like the keyboard and pen, which, while elevating the 2-in-1 experience, significantly inflates the overall cost. Nevertheless, with tangible upgrades, the Surface Pro 9 stands out in the sea of Windows tablets. Its principal challenge lies in balancing its unparalleled utility with its premium price, a consideration any potential buyer should keenly evaluate.