Many big brands have been eyeing on the title of the "best enterprise hybrid tablet" since the launch of Apple iPad Pro and Samsung TabPro S. However; no one has managed to live up to the Surface Pro, which was hailed as one of the fastest adopted enterprise tablets soon after its release.
If you are looking for a detachable PC, or simply a 2-in-1 device that can allow you to work on the go like a tablet while running on Windows Operating System (OS), Microsoft's latest Surface Pro may be your best bet. At a starting price of S$1,188 (US$799), this Microsoft tablet offers a sophisticated design, a near flawless display and solid performance across the board.
There's a lot to love about the new Surface Pro, and it's not just about its new processor or a few upgrades. Here are a few things that you should take away when considering the Microsoft Surface Pro.
Windows OS

Microsoft has been creating OS for PCs for the longest time, and it is no surprise that the Surface Pro is adopting Windows 10 as its Operating System. The Surface Pro is designed for the full Windows 10 and Office experience, allowing you to run programs easily just like any desktops and laptops on the market. The ability to run Microsoft Office on Windows is also a critical winning factor over other tablets running on Android and iOS.
Superior PixelSense Display
The display is a work of art and a thing of beauty. The Surface Pro comes with brilliant color and razor-sharp resolution on the 12.3in, 3:2 screen with 2736 x 1824 pixels (267ppi). That's even better than the iPad Pro (264ppi for 13-inch) and also the MacBook Air (128ppi). This stunning display also responds well to the new Surface Pen and touch.
Versatility and Power
The Surface Pro can operate in 3 modes – Laptop, Studio, and Tablet.

In the Laptop Mode, you can transform Surface Pro into a working laptop by opening the built-in Kickstand and adding on the Surface Pro Type Cover allowing full keyboard experience.
In the Studio Mode, you can lower the Kickstand further, placing the Surface Pro at a perfect angle for the writing and drawing with the new Surface Pen.
In the Tablet Mode, you can close the Kickstand, and remove or fold Surface Pro Type Cover back for a powerful, stand-alone tablet.
Thanks to a powerful Intel® Core™ processor with up to 50% more battery life than its predecessor and 2.5x more performance than Surface Pro 3, the new Surface Pro delivers exceptional power and performance.
Amazing Pen-and-Ink Experience
With the new Surface Pro, Microsoft has a brand-new processor that dramatically cuts down inking latency (the "lag" between the pen tip movement and visible digital ink), and it raised the levels of pressure from 1,024 to 4,096.
Also, a new tilt feature has been introduced which allows you to shade on the Surface Pro. These features allow the Surface Pro to compete with drawing tablets like Wacom and serve as an alternative for creatives.
Lightweight and Ultraportable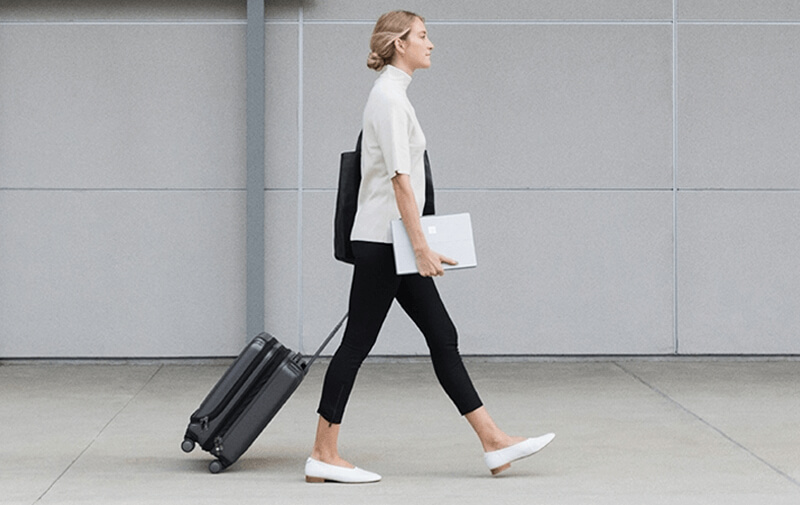 If you always find yourself to be on the road for business, whether you are traveling by car, plane or train, and you want something that isn't going to weigh you down or take up a lot of space to carry along. The Surface Pro is the right device for you. At about 8.5mm (0.33") of thickness with a 770g (1.70 lbs) weight, it throws the stereotype of "cumbersome business laptop" out the window.
Despite its compact build, the Surface Pro is not sacrificing any of its power, allowing you to say productive, but at the same time, it offers all the entertainment features you'll want in your leisure time.